These photos were taken in the last three months or so, up to about 02-07-09.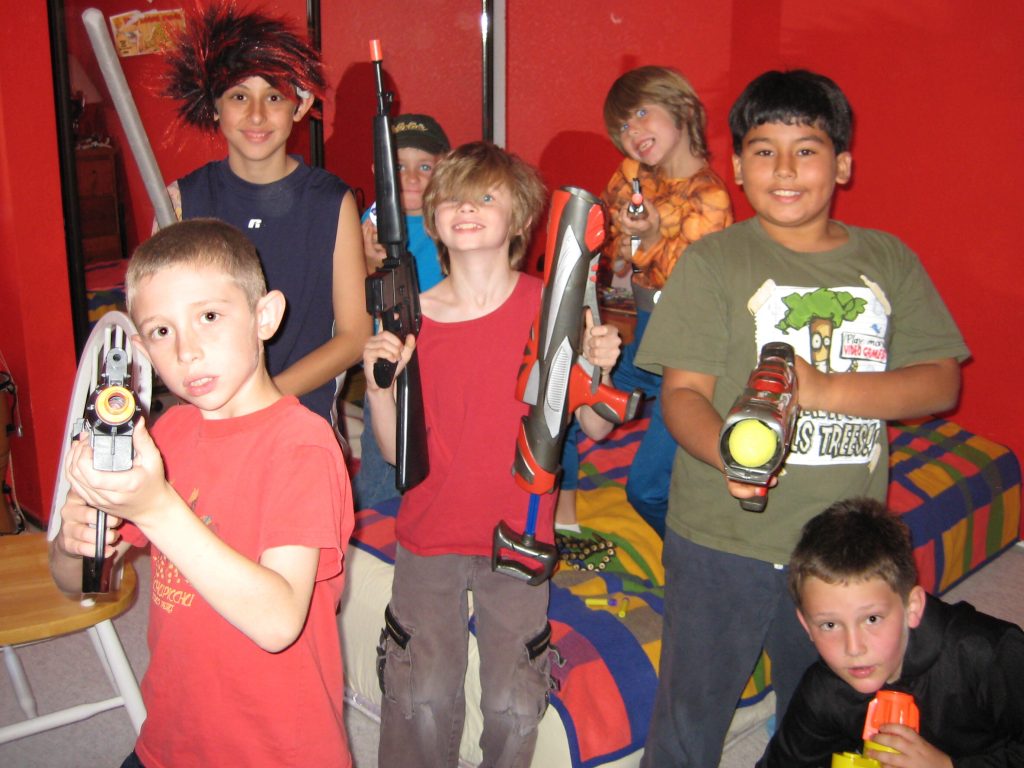 Zak had his birthday party. 10 years old. That's Francisco in the lower right corner.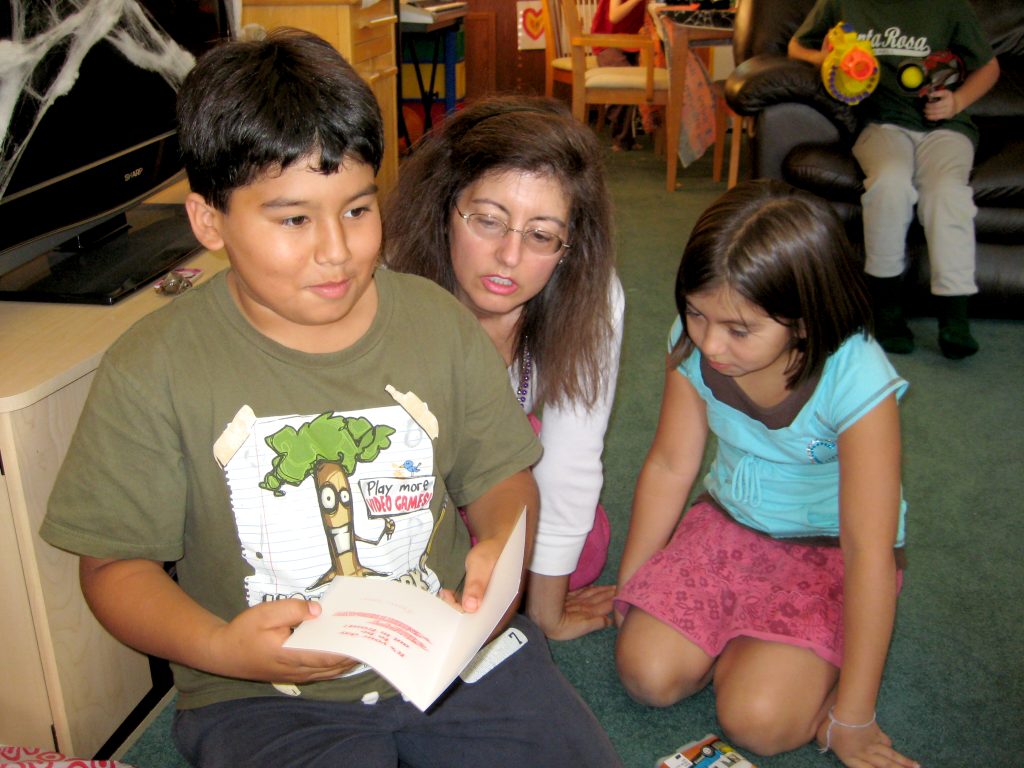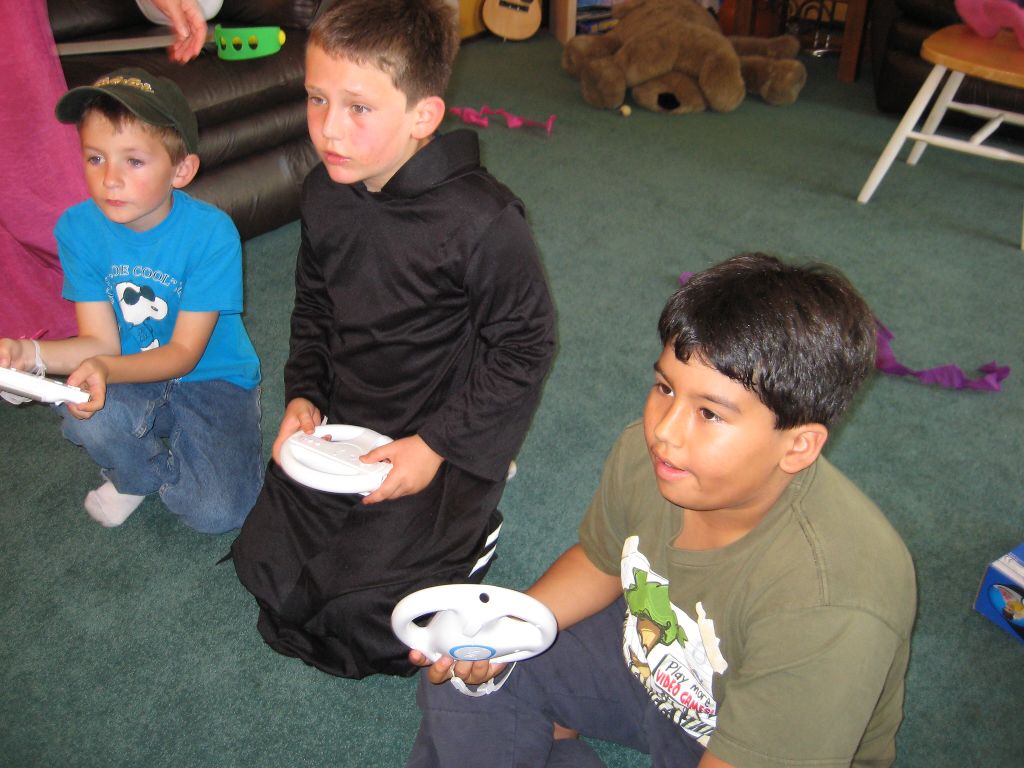 The kids played Wii games.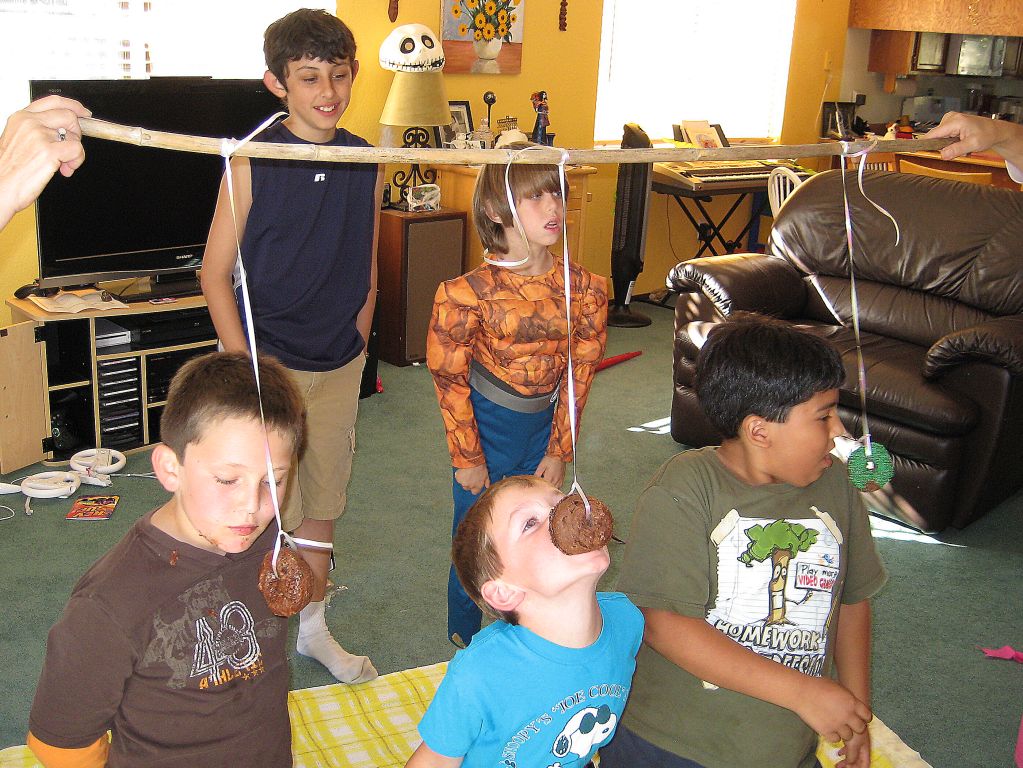 There was a donut-eating contest.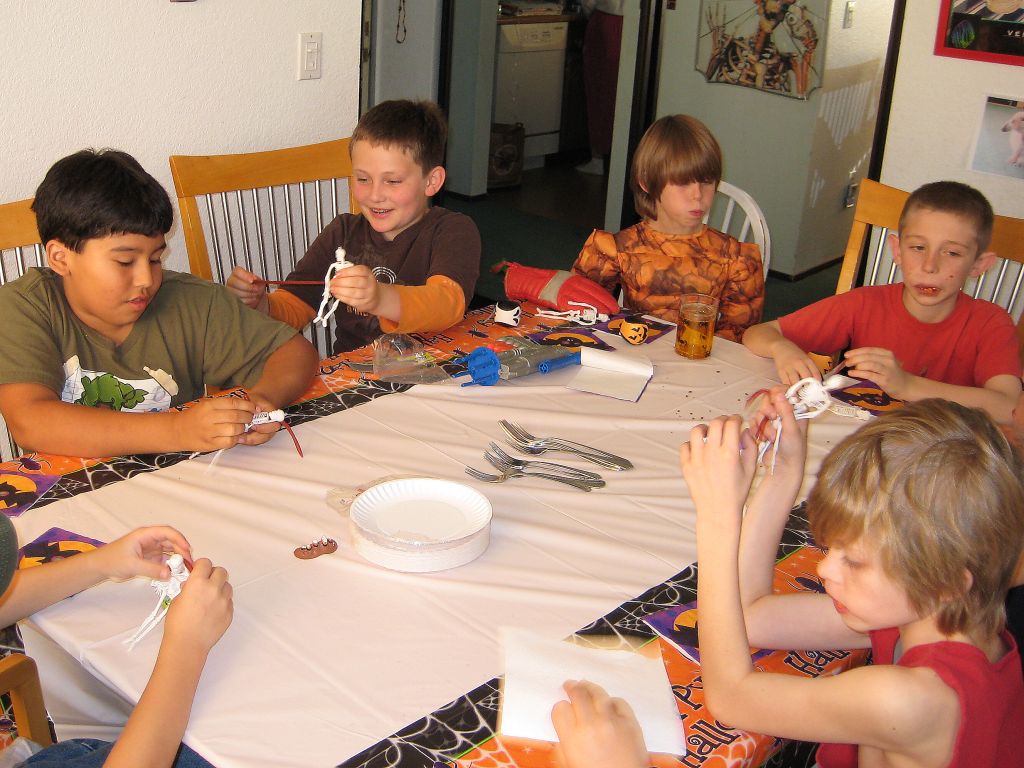 Each kid got a skeleton party favor -- the party was Halloween-themed.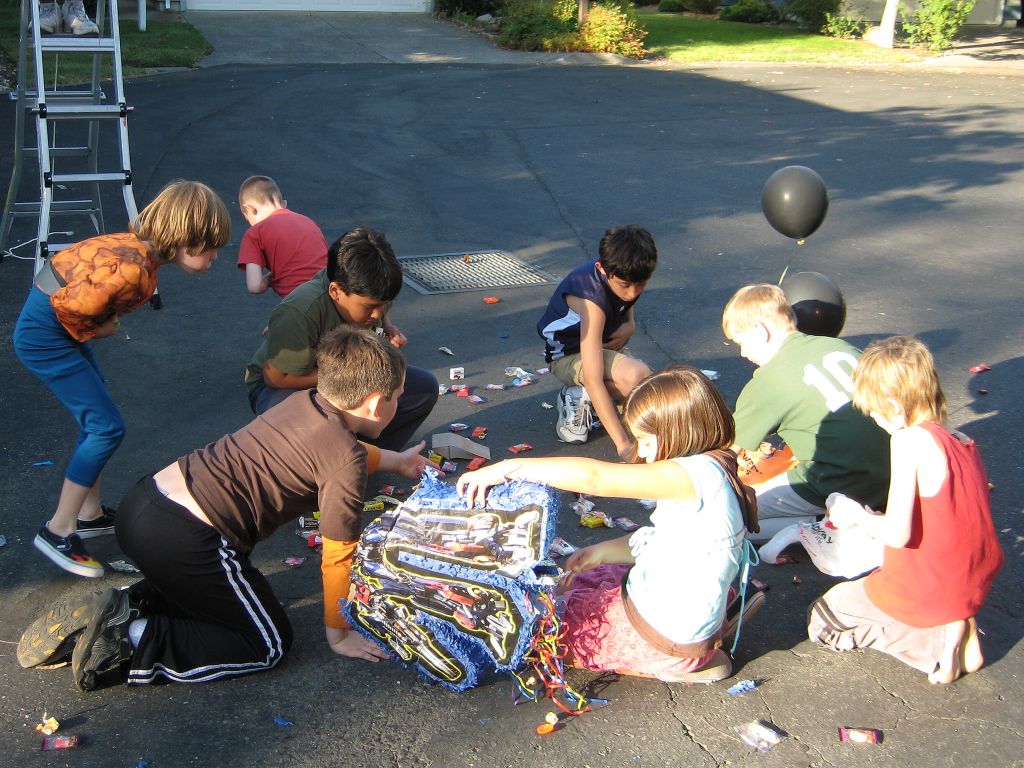 The pinata yielded its treasures after a strong Zak whack.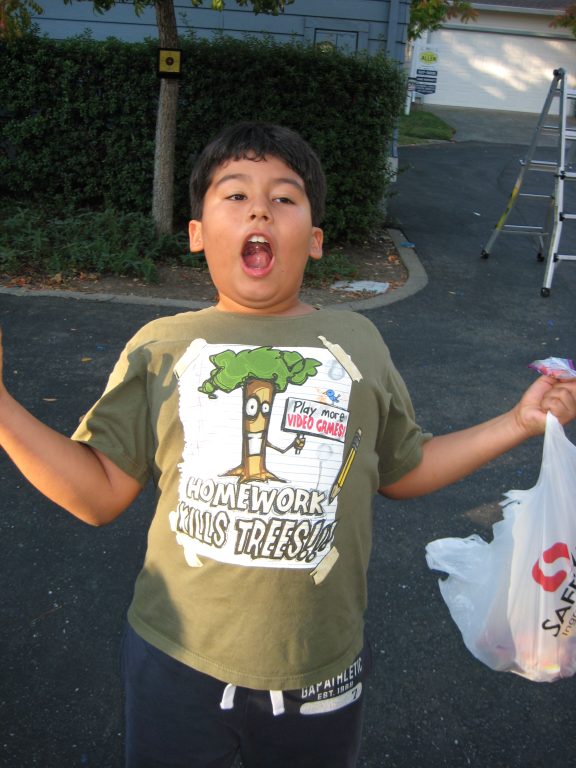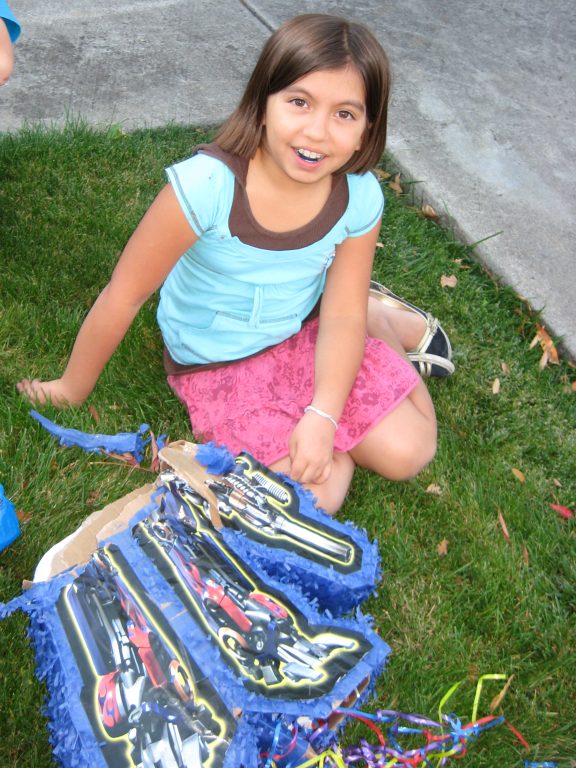 No one said it would be quiet.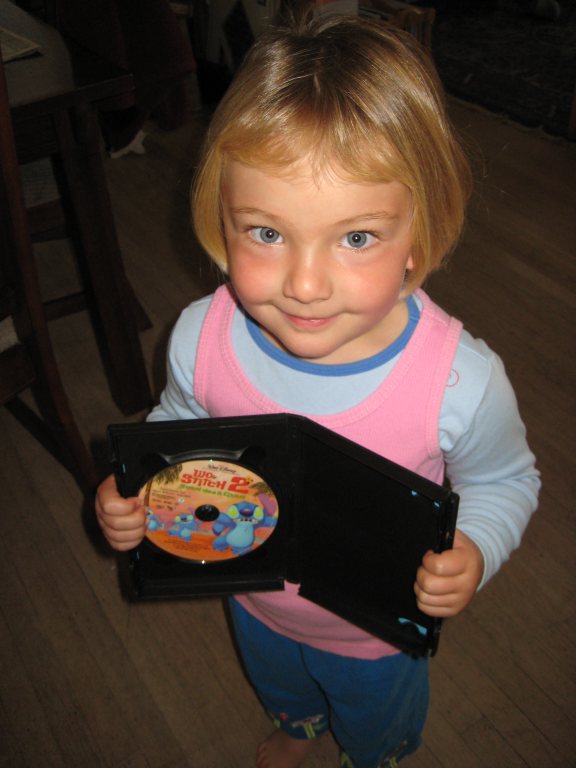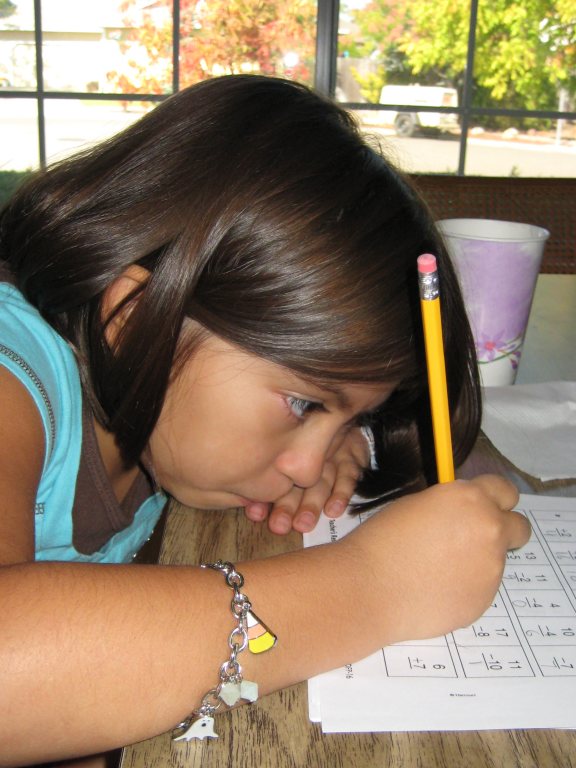 Isabelle with one of her favorite videos. Sofi doing homework.

Zak doing homework. Neither kid is fond of it.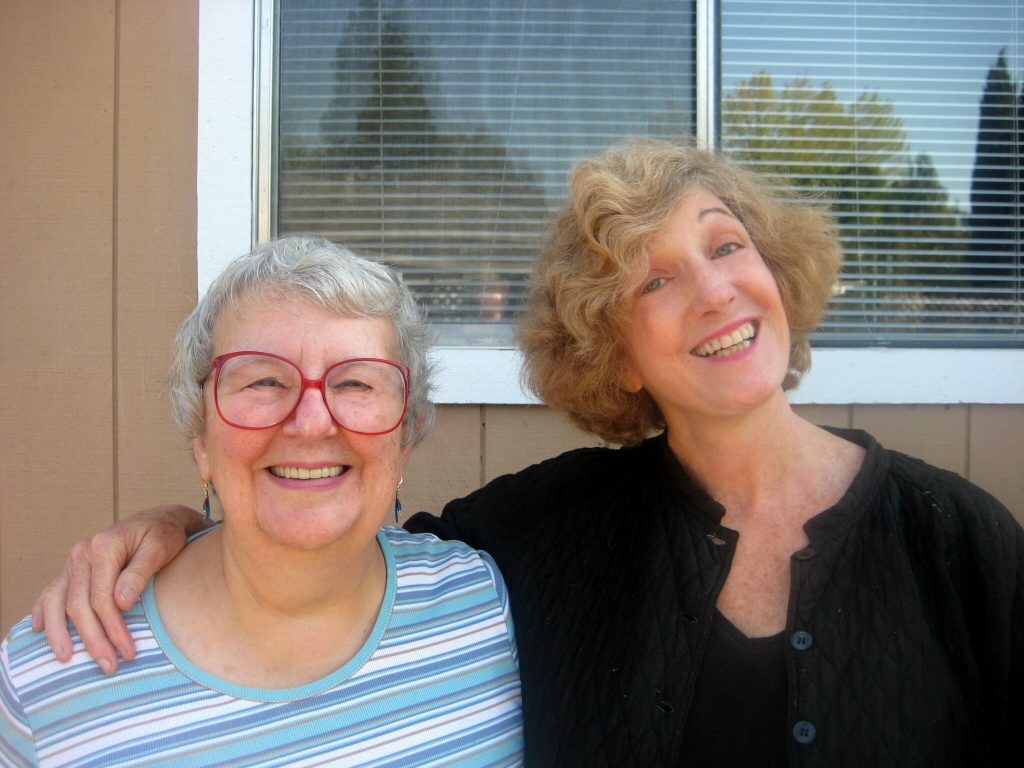 Judy and Catherine on their way to ArTrails in Santa Rosa.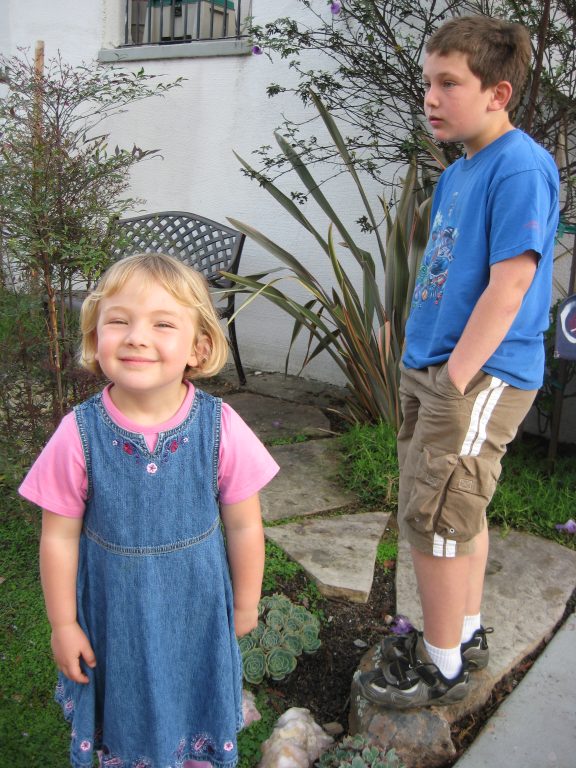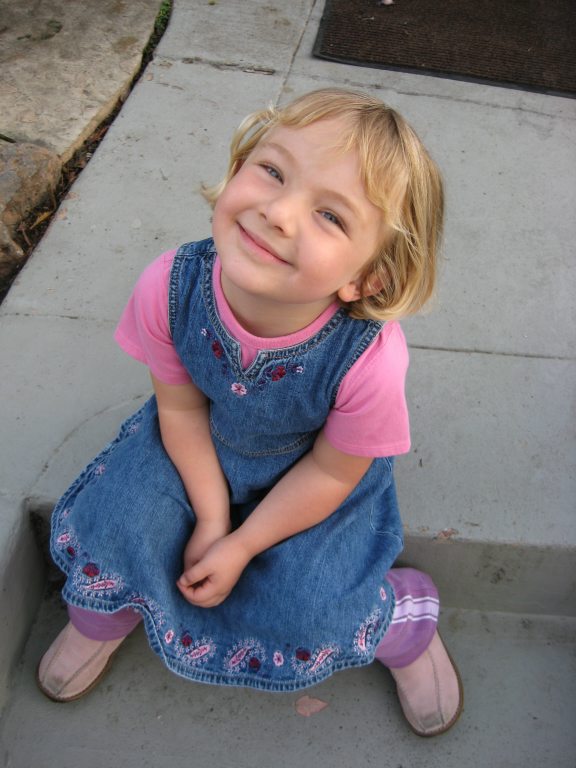 Isabelle & Francisco.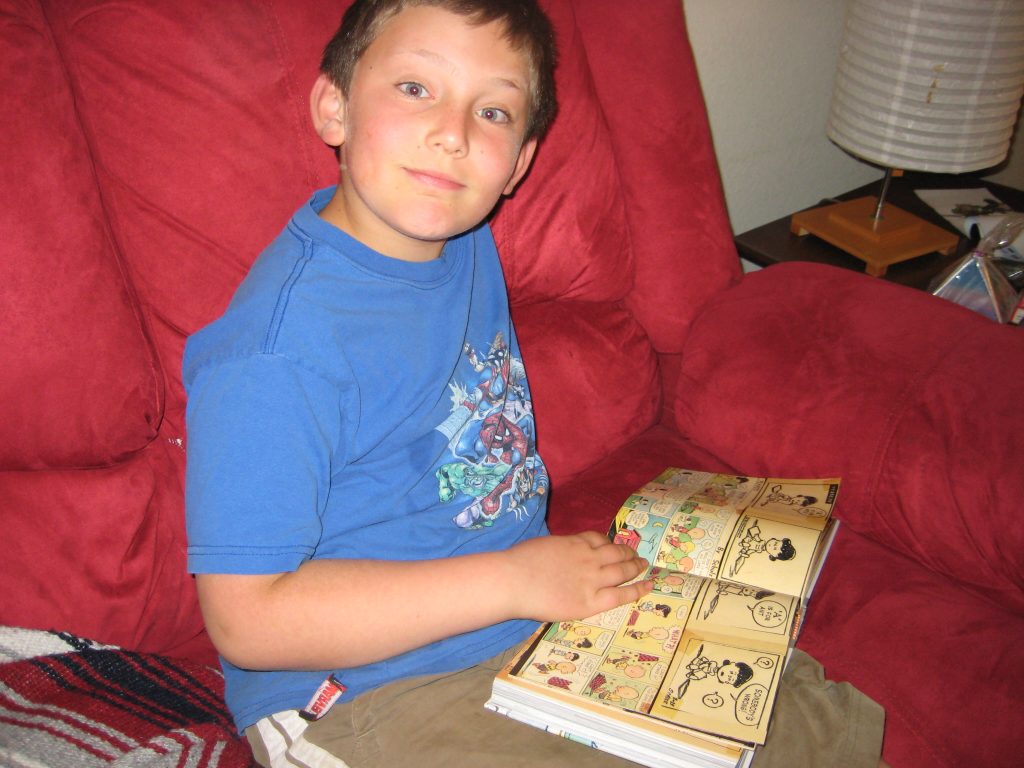 Francisco likes Peanuts.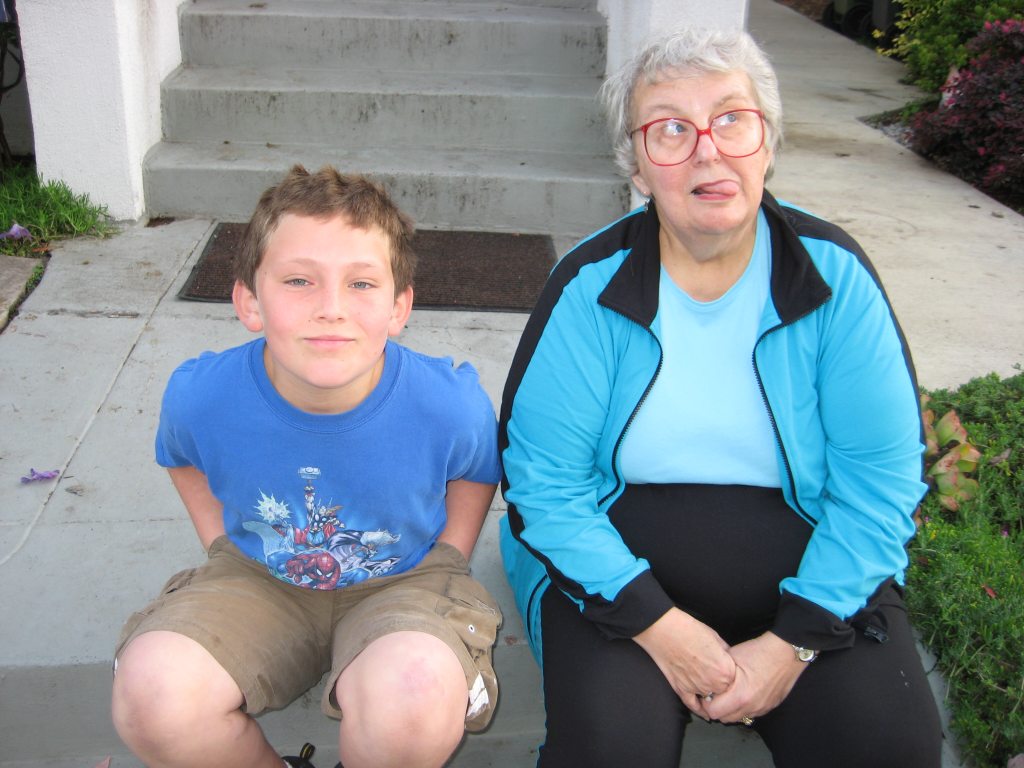 Grammy goes a little goofy when she spends a weekend in Berkeley.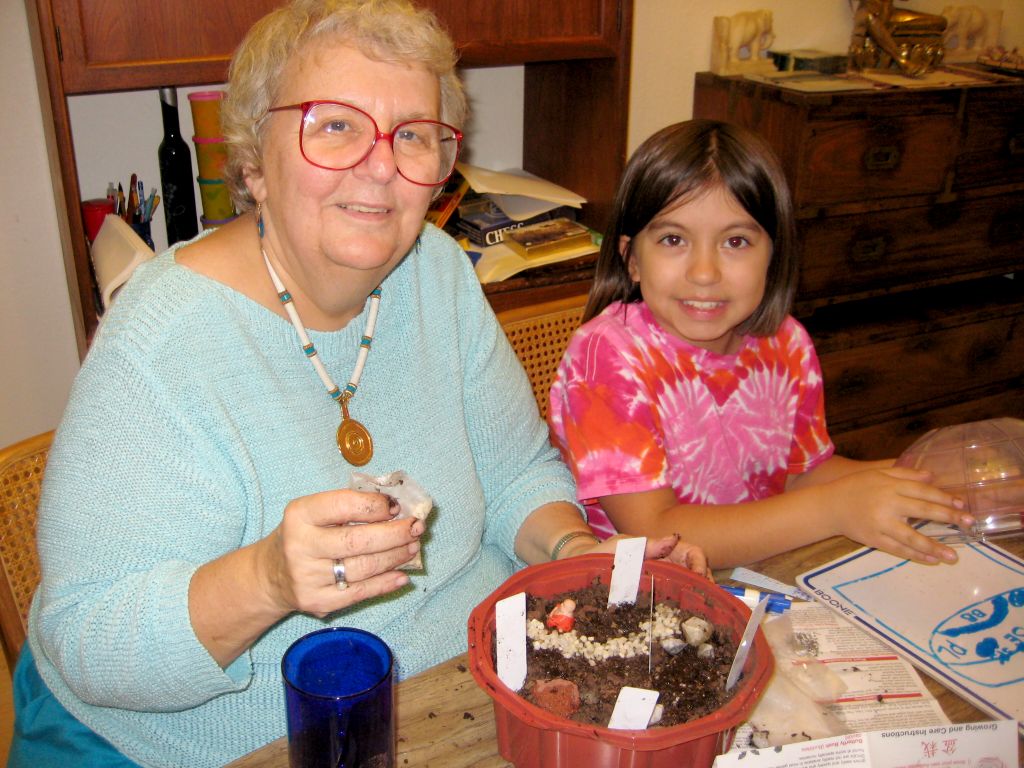 Grammy and Sofi made a bonsai pot.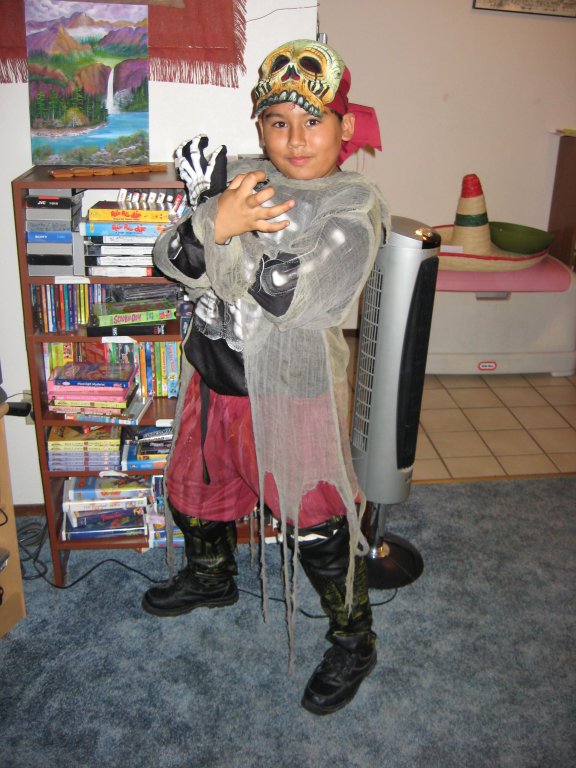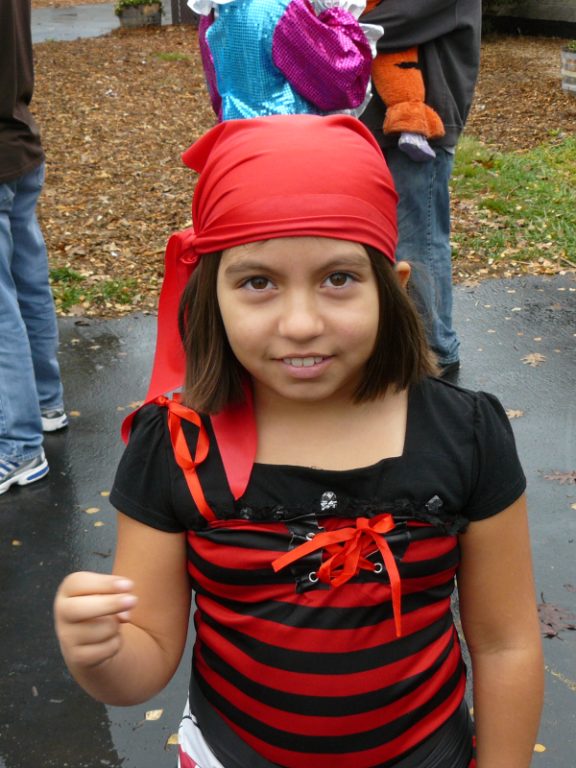 Halloween 2008. Zak was a ghost-pirate from the movie, Pirates of the Caribbean. Sofi was a generic but stylish pirate.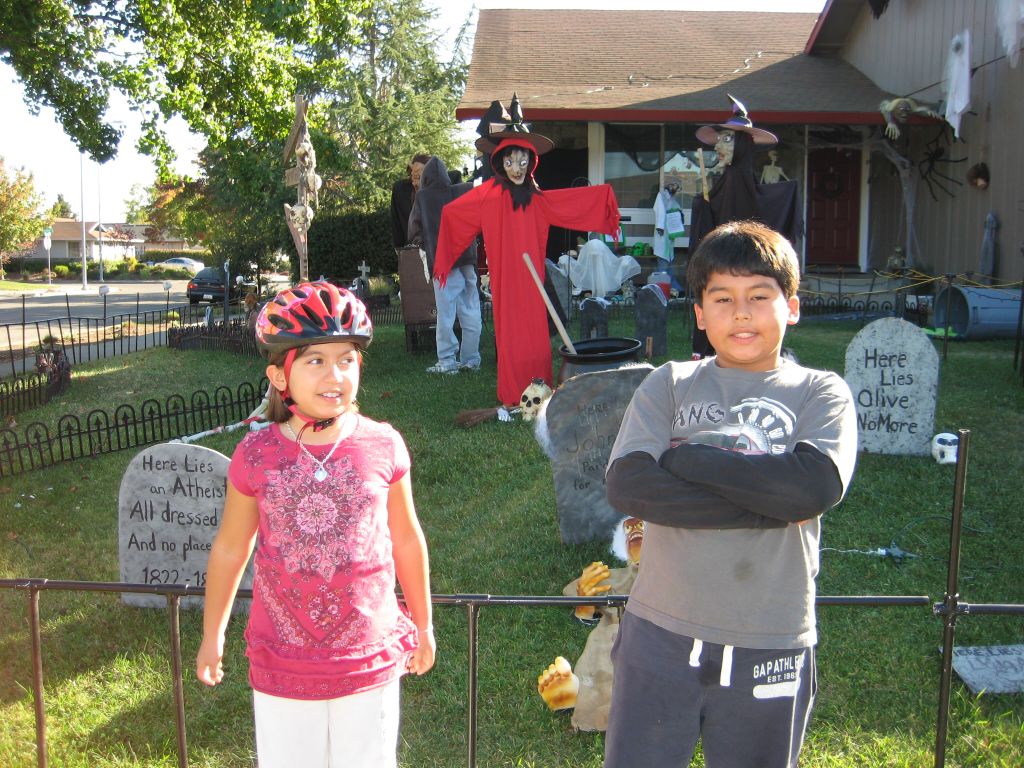 Sofi and Zak went on a bicycle ride to visit a house in our neighborhood known for its wonderful Halloween decorations.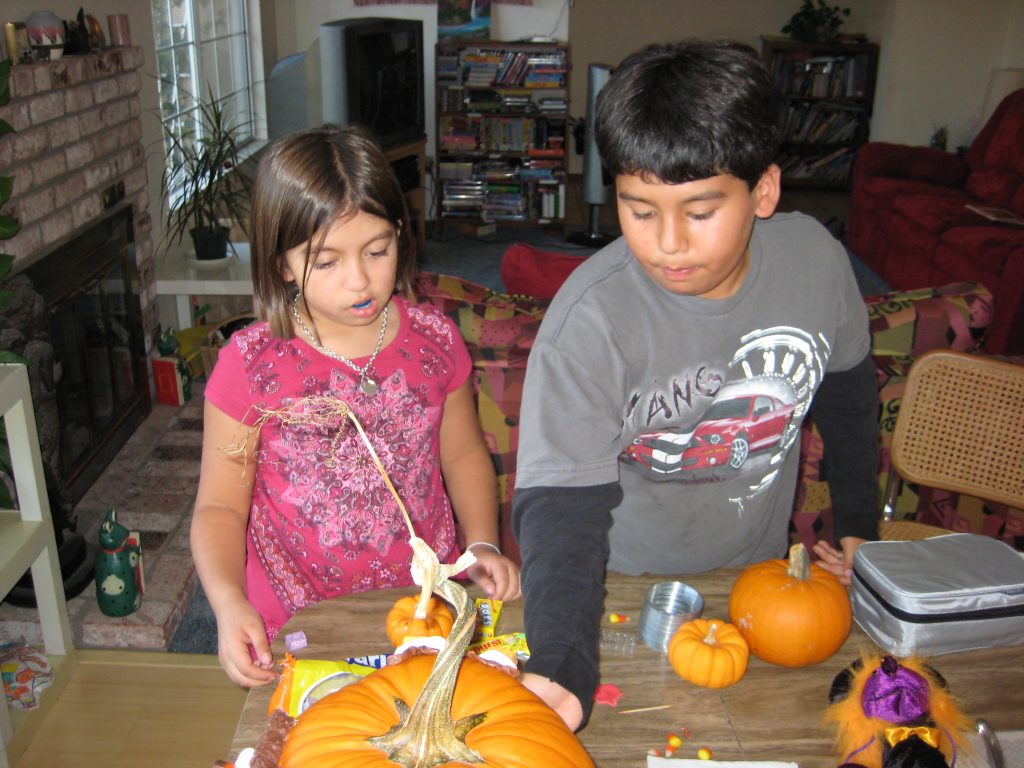 They carved and decorated pumpkins.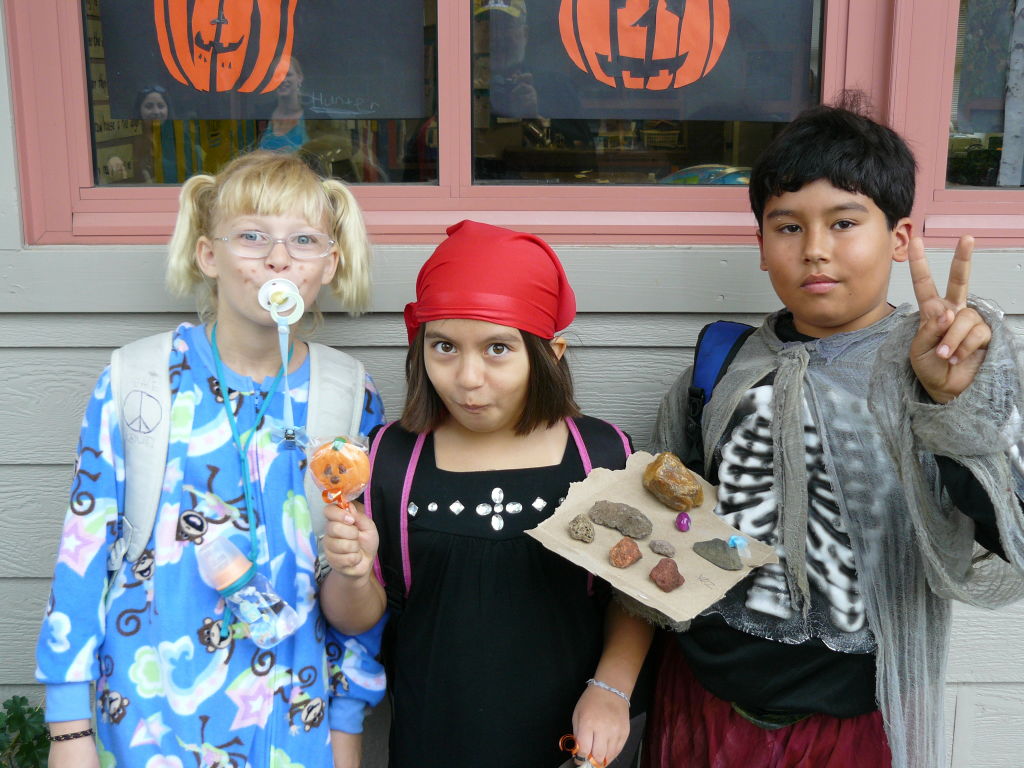 Here are Nicole (Sofi's friend), Sofi, and Zak, at their school's Halloween Parade.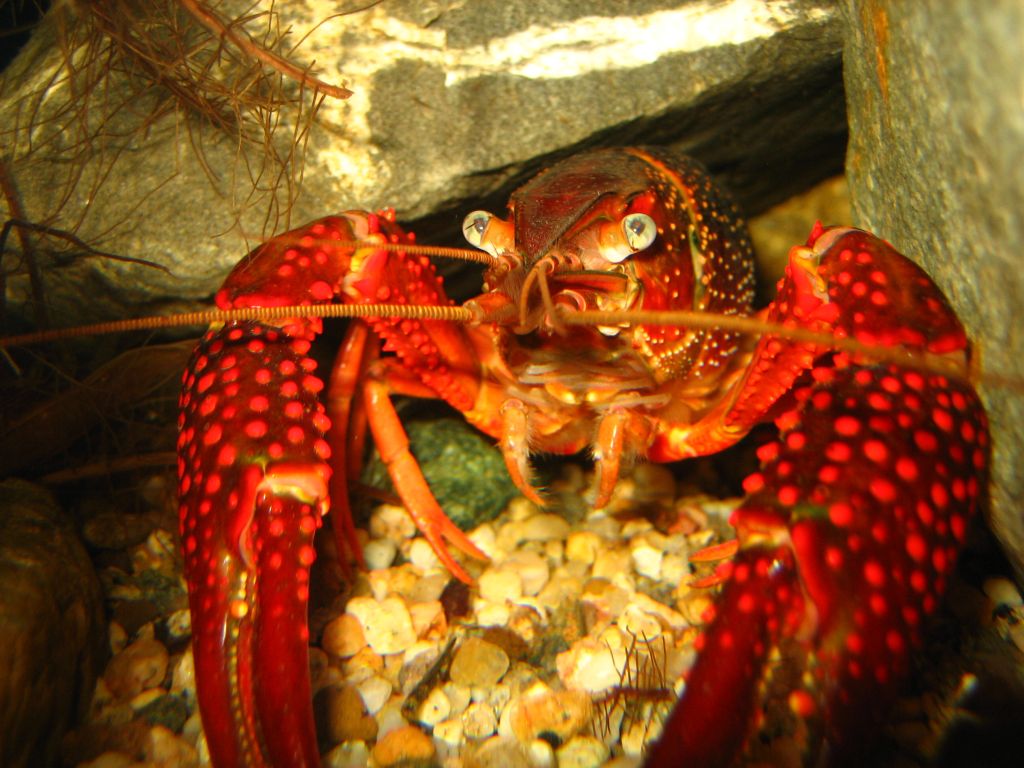 Sofi took this picture of a fresh-water crayfish on a class trip to the Sonoma County Water Agency.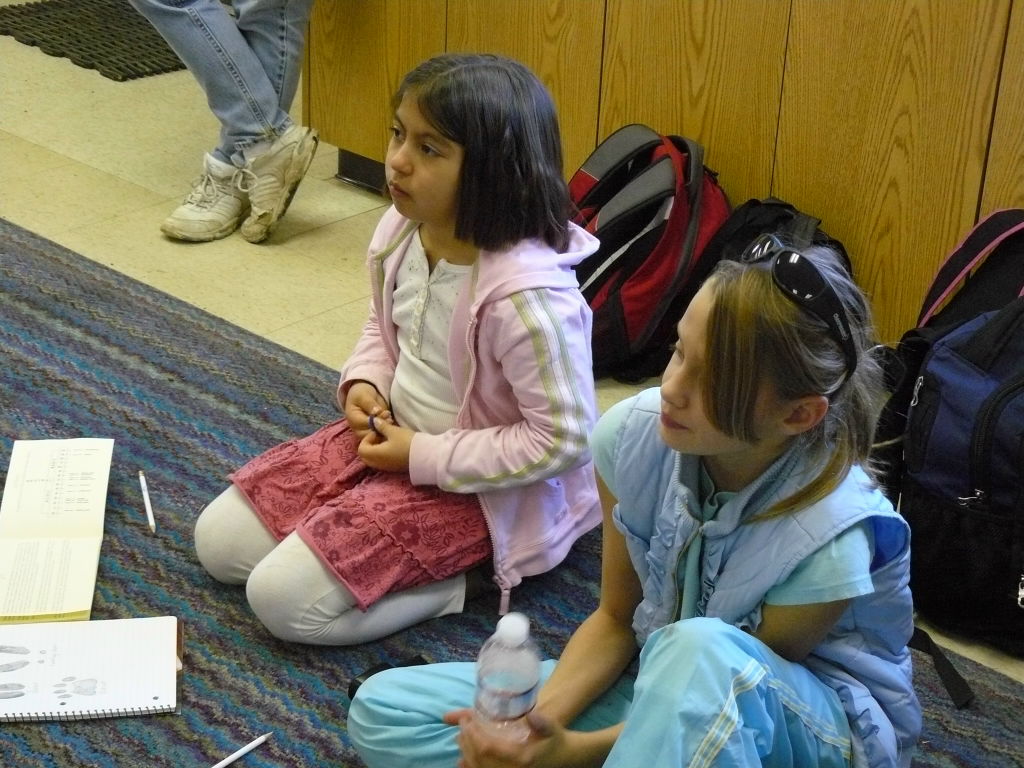 Here she is with her friend, Amber, listening to instructions on how to use a microscope to study water striders and other small water insects.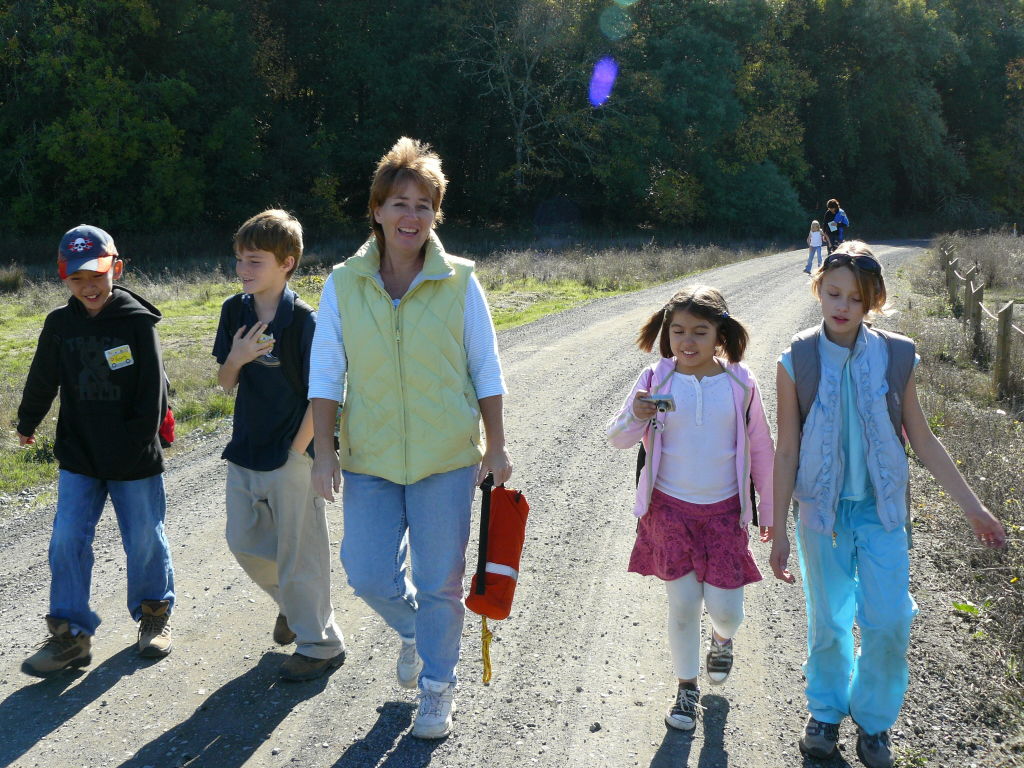 Sofi and Amber with their docent and a couple of classmates. The Water Agency is in the middle of a magnificent redwood forest.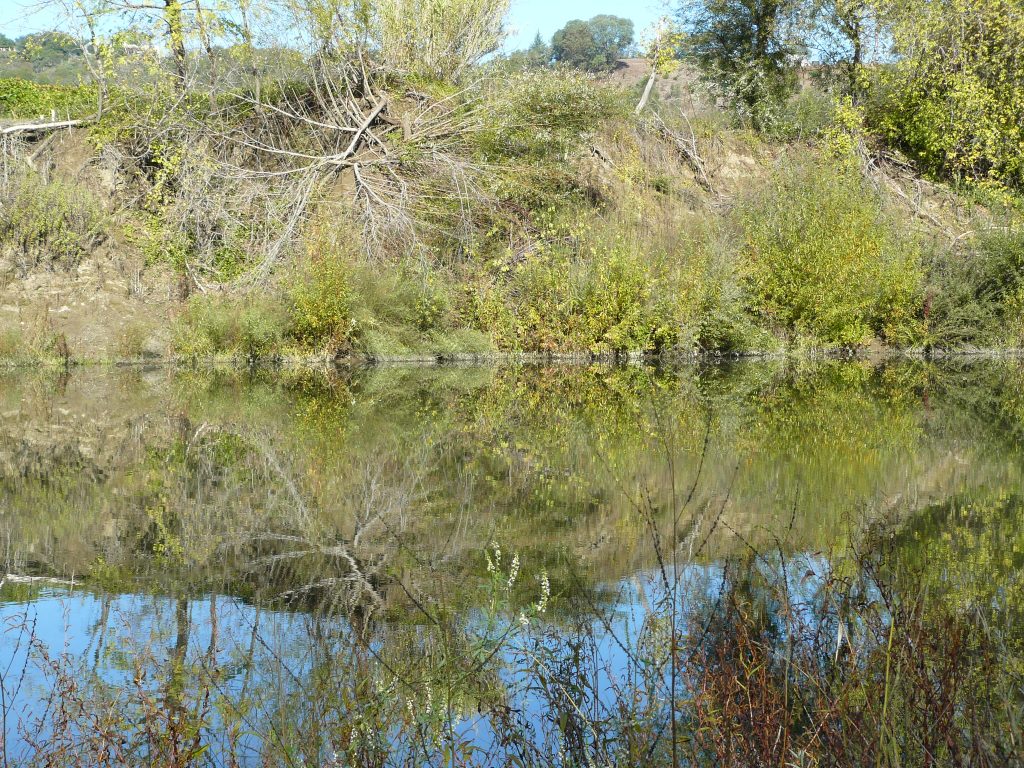 One of the ponds at the Agency.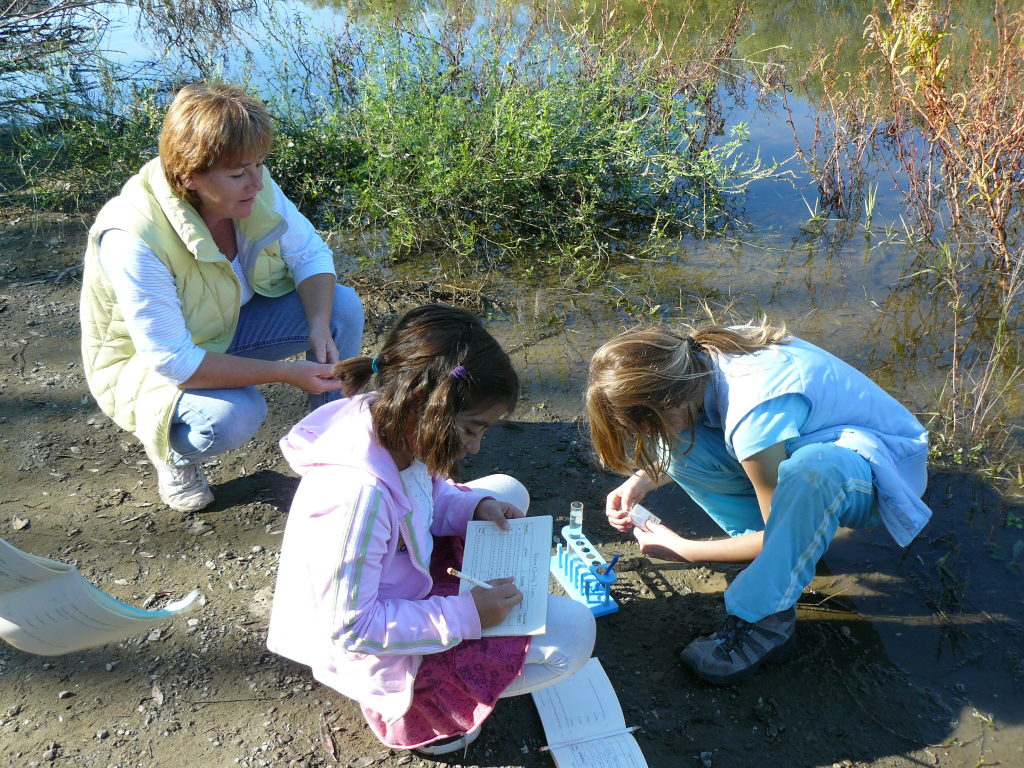 The kids analyze water samples.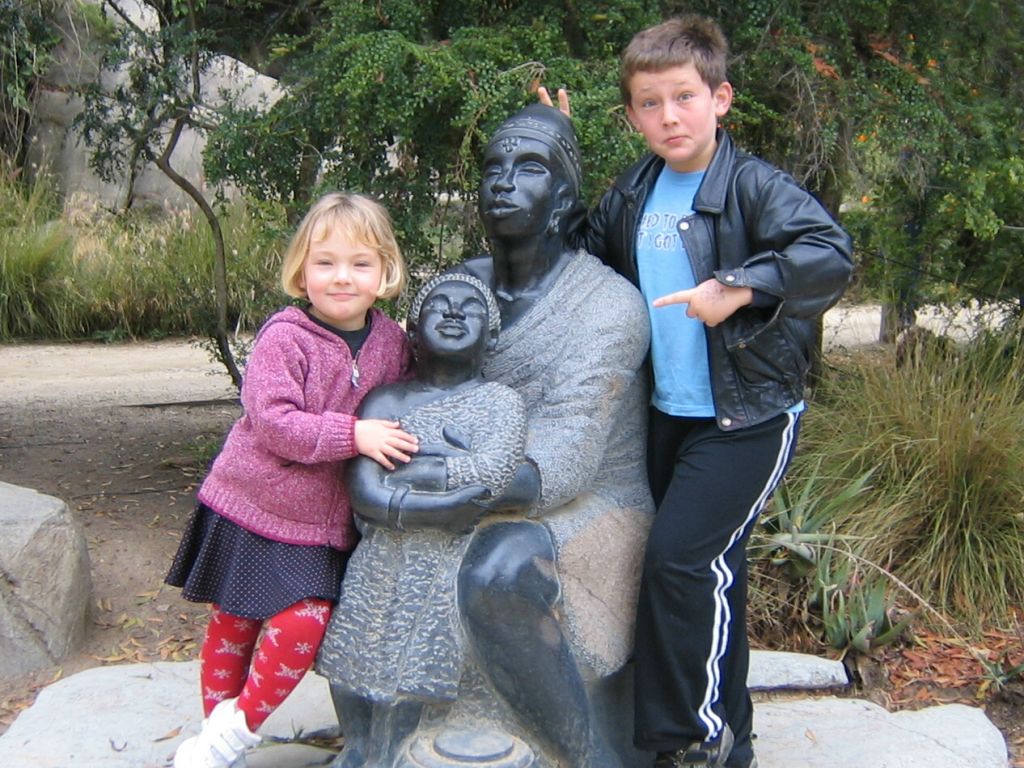 Grammy took Isabelle and Francisco to the Oakland Zoo.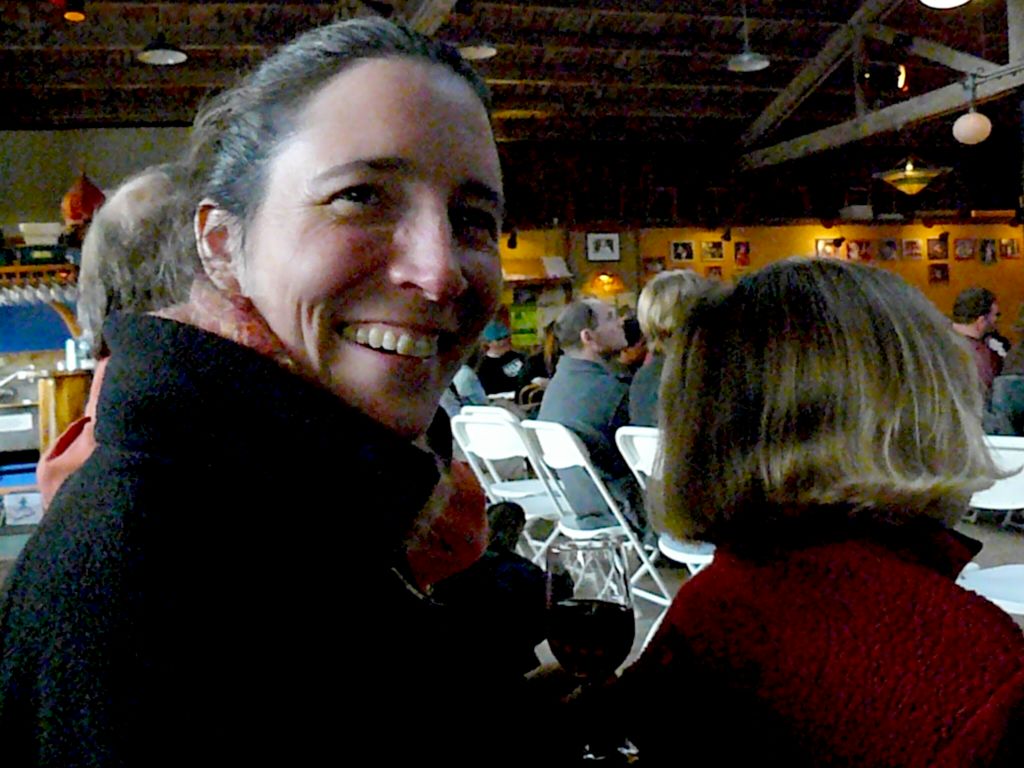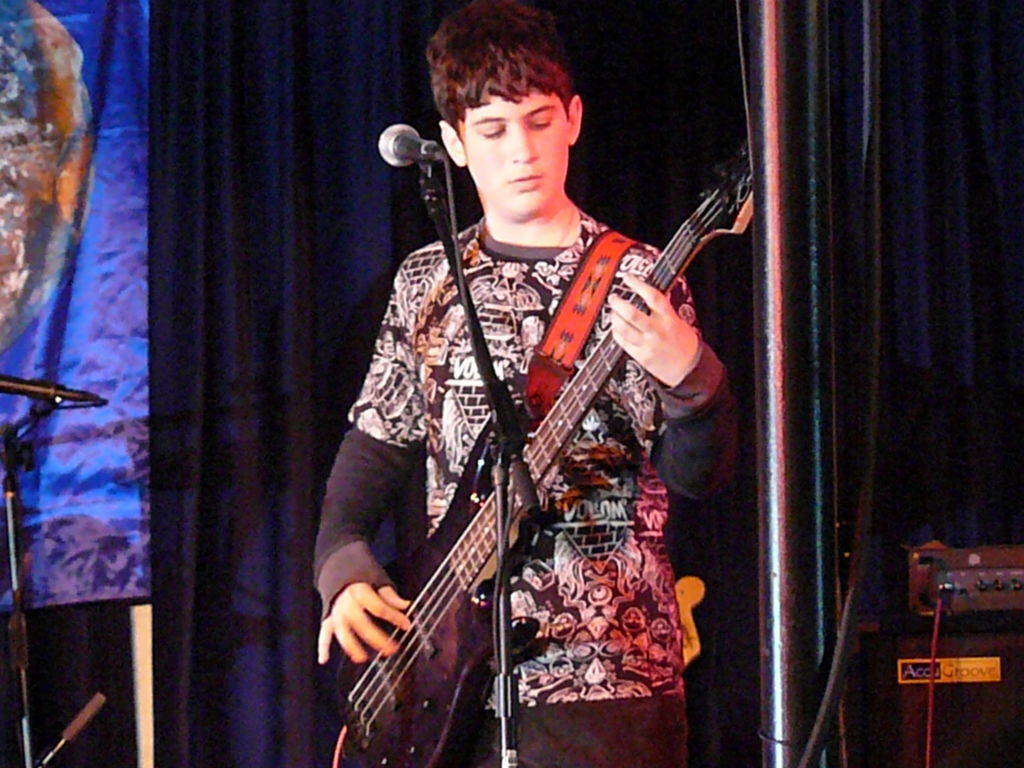 We went to a band concert that featured Cassidy's band. Here he is on the bass guitar.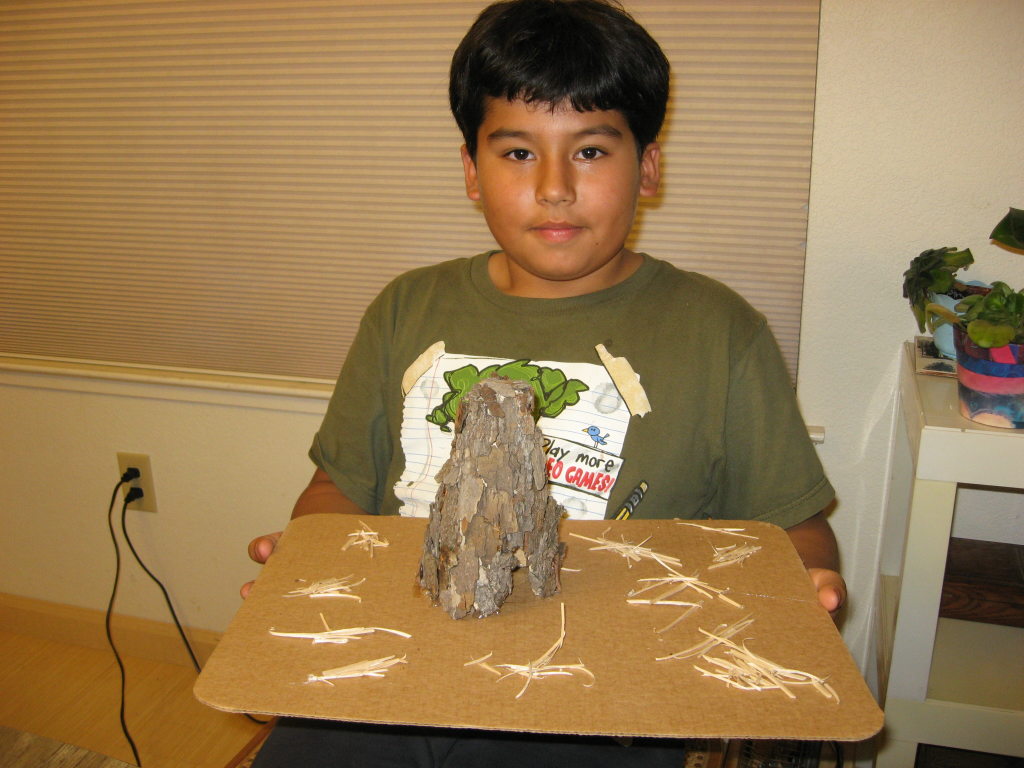 Zak made a model of a kotchka, a bark-covered dwelling used by the Native Americans of this region for hundreds of years.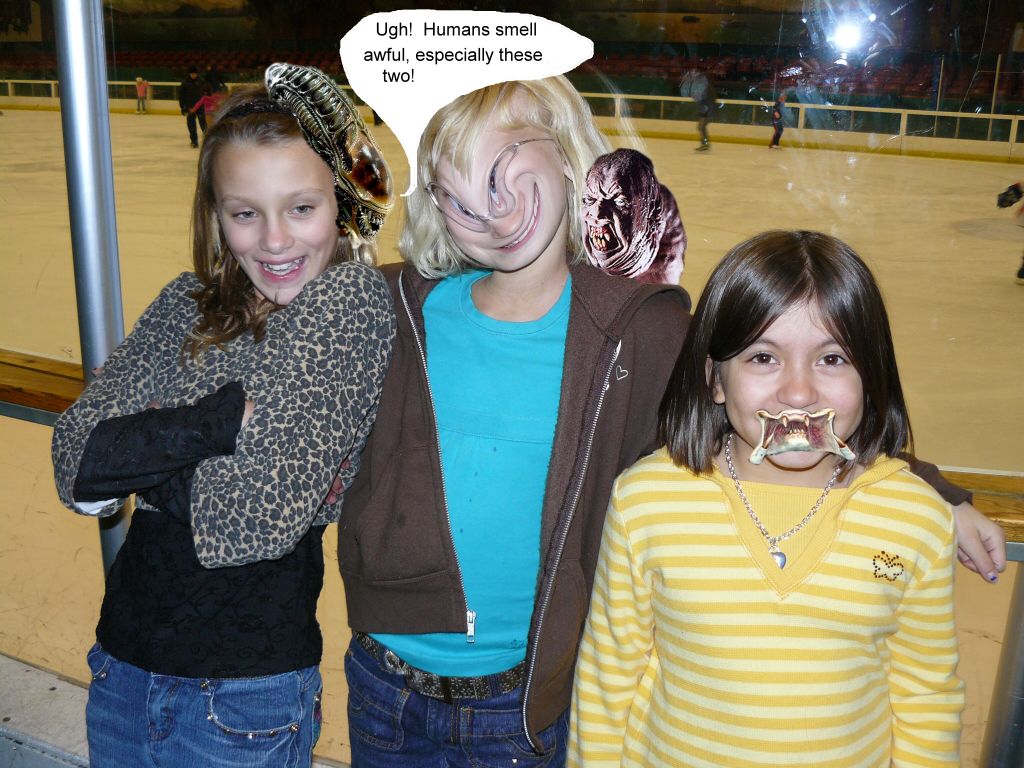 Grandpa taught the kids how to edit photos on the computer. They LOVE it! Zak made this one. Originally, Amber, Nicole, and Sofi skating.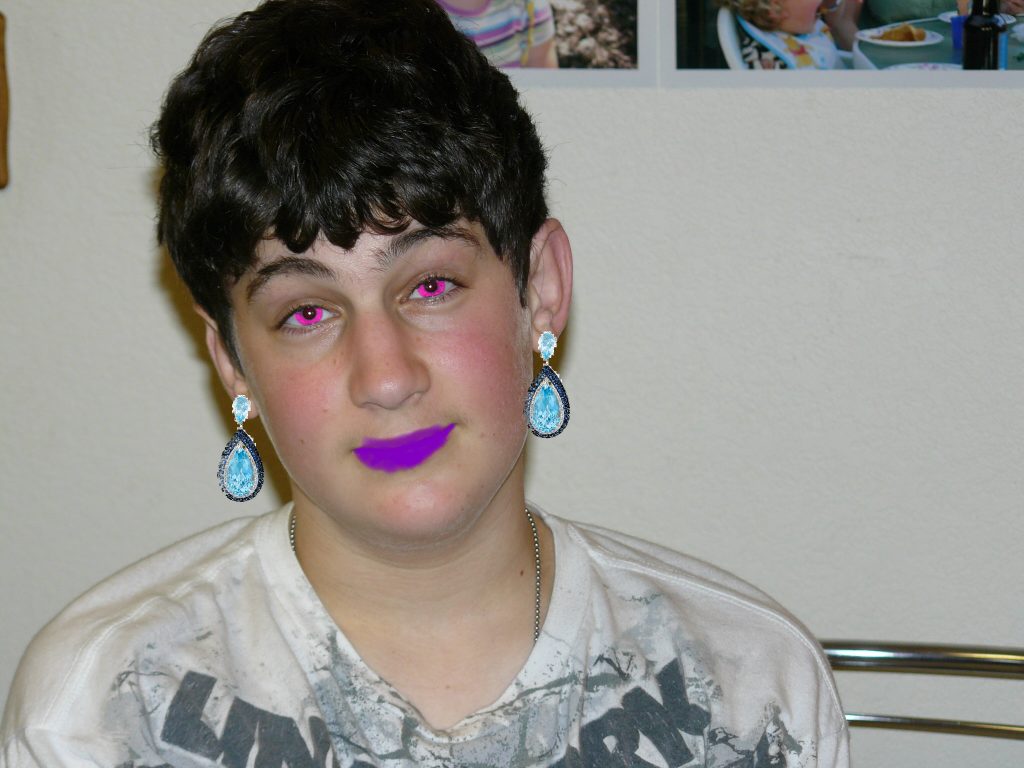 Francisco made this one.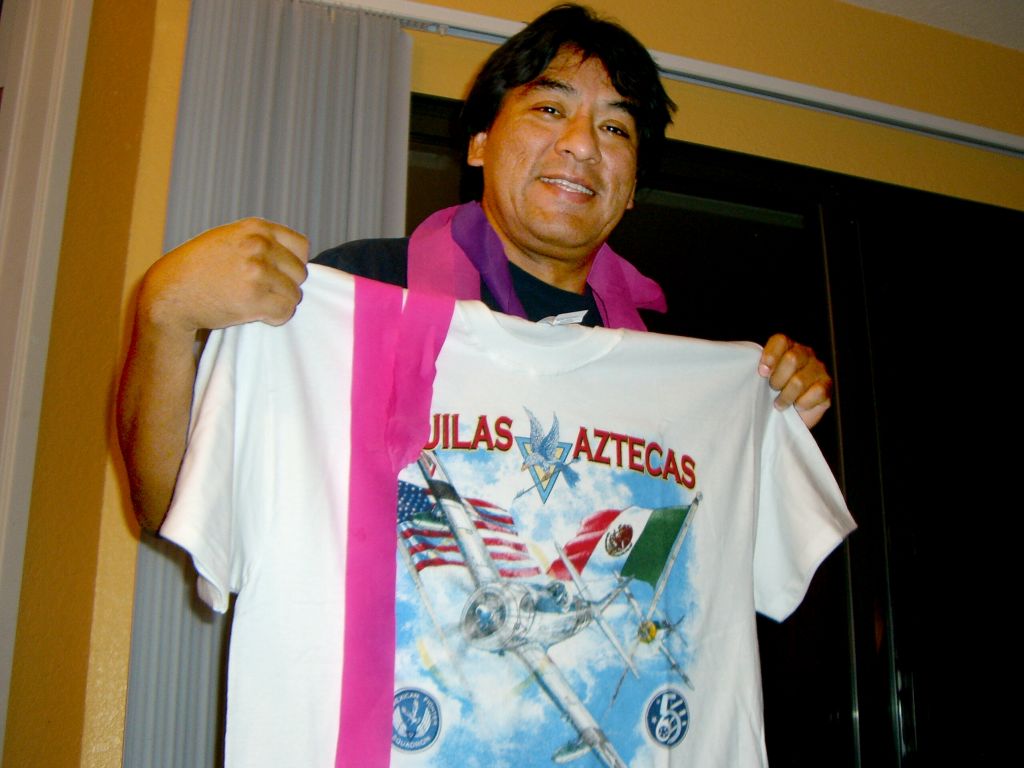 We celebrated Mundo's birthday.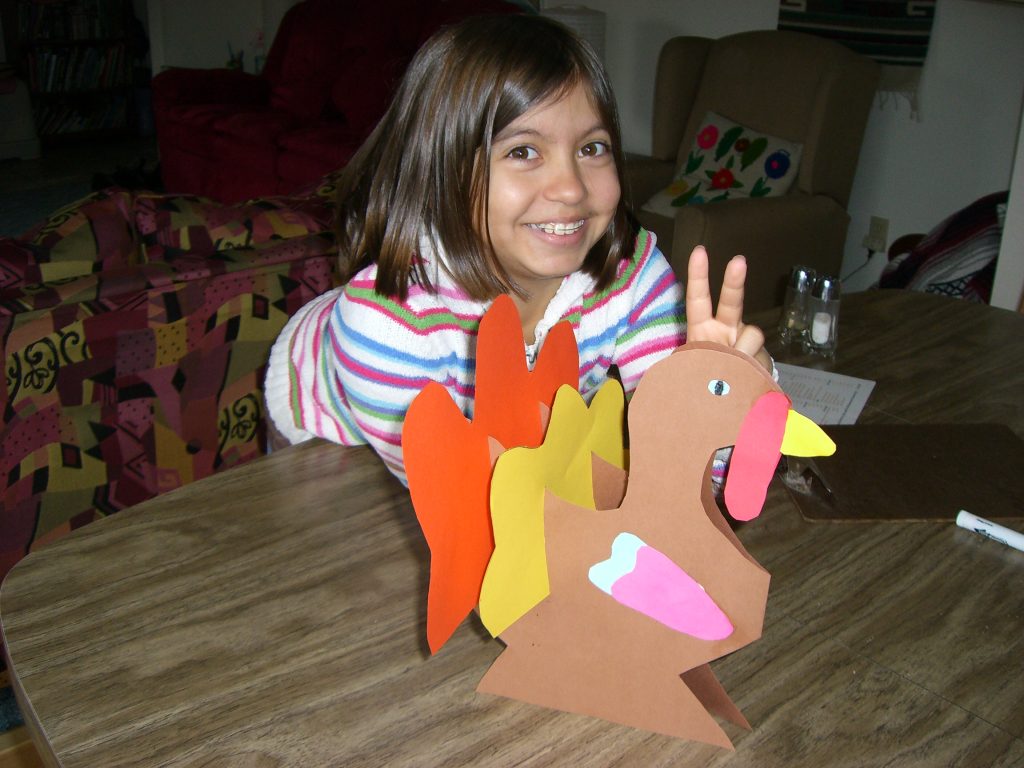 Thanksgiving 2008. Sofi made a table decoration.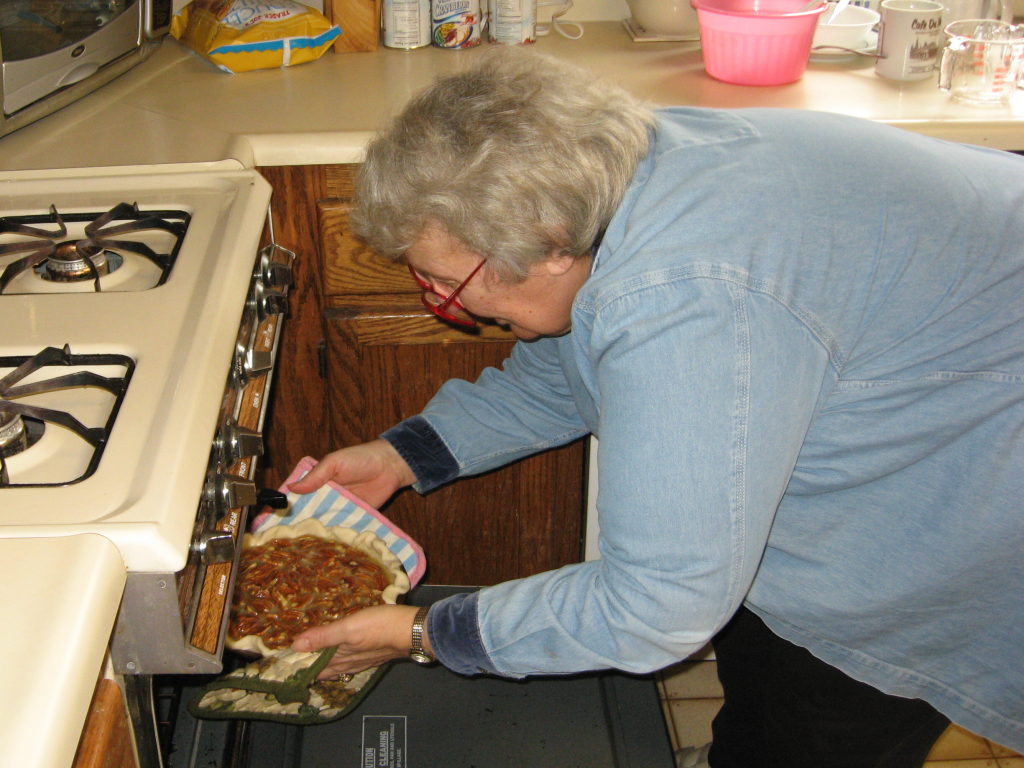 Grammy baked pies.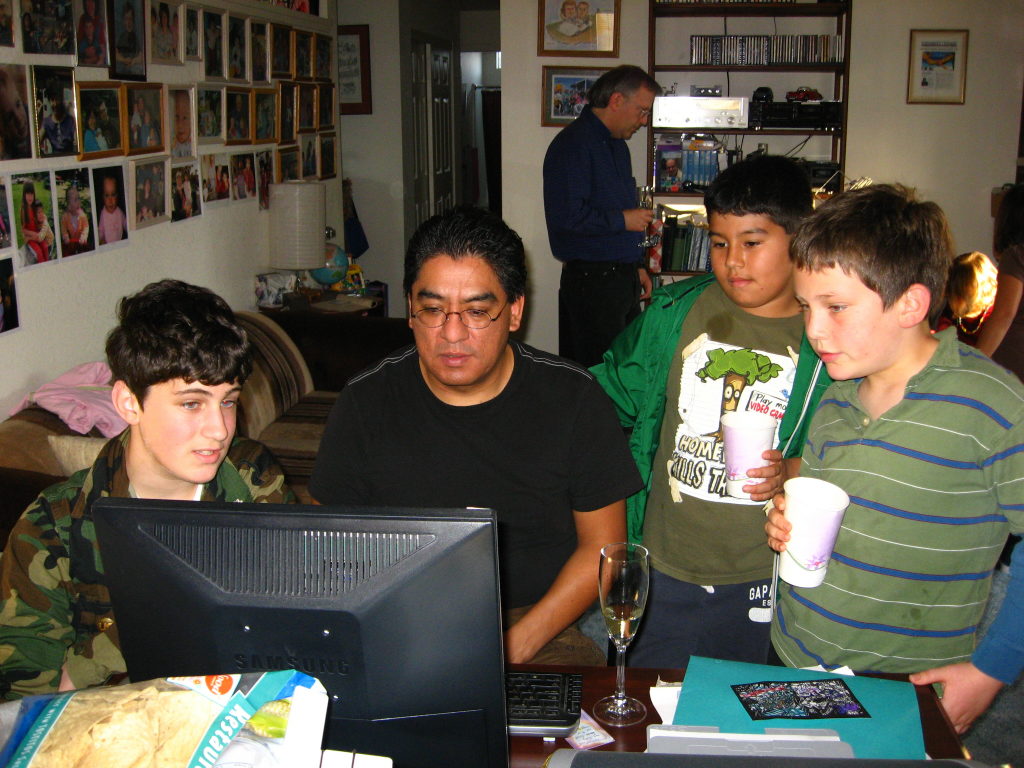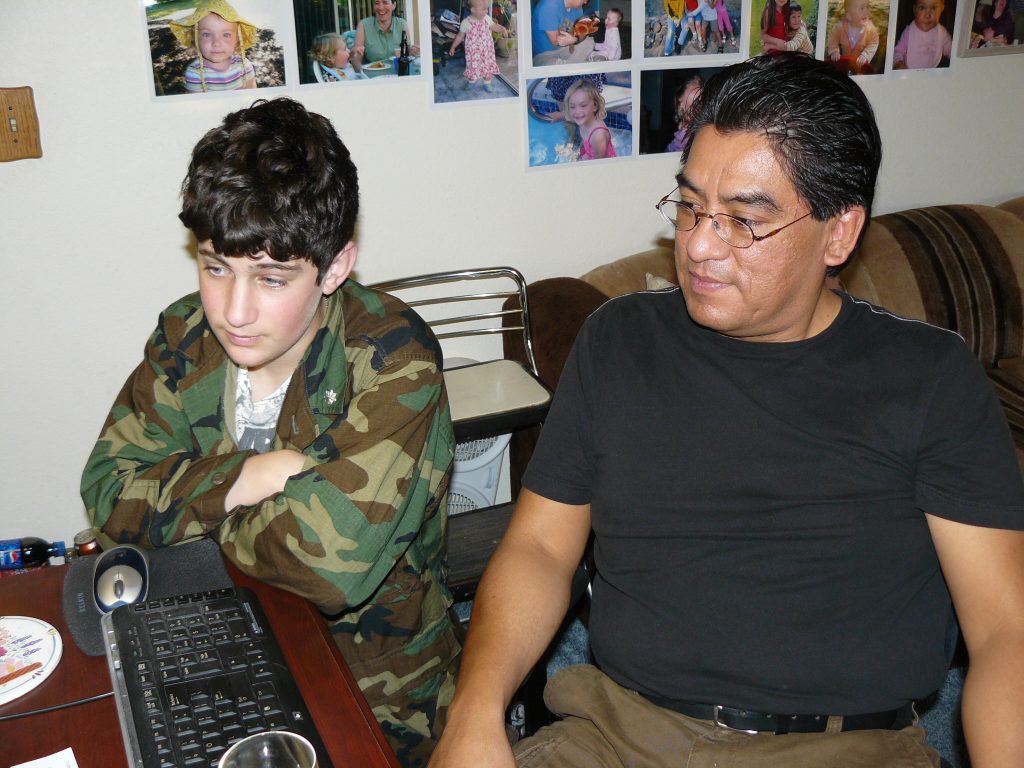 Mundo and the boys played computer games.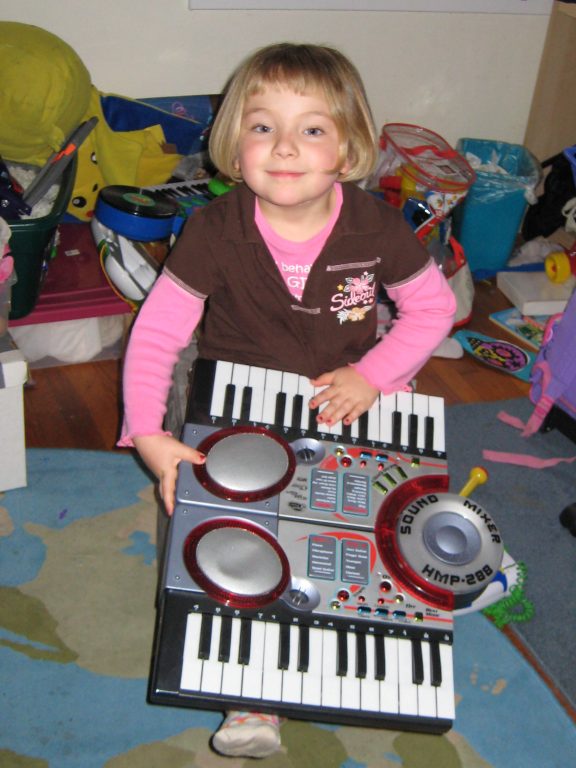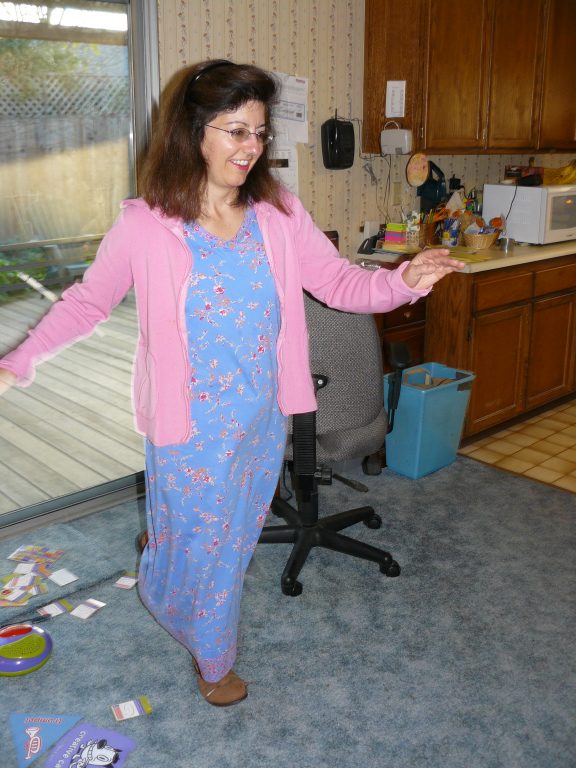 Isabelle played music and Suzy danced.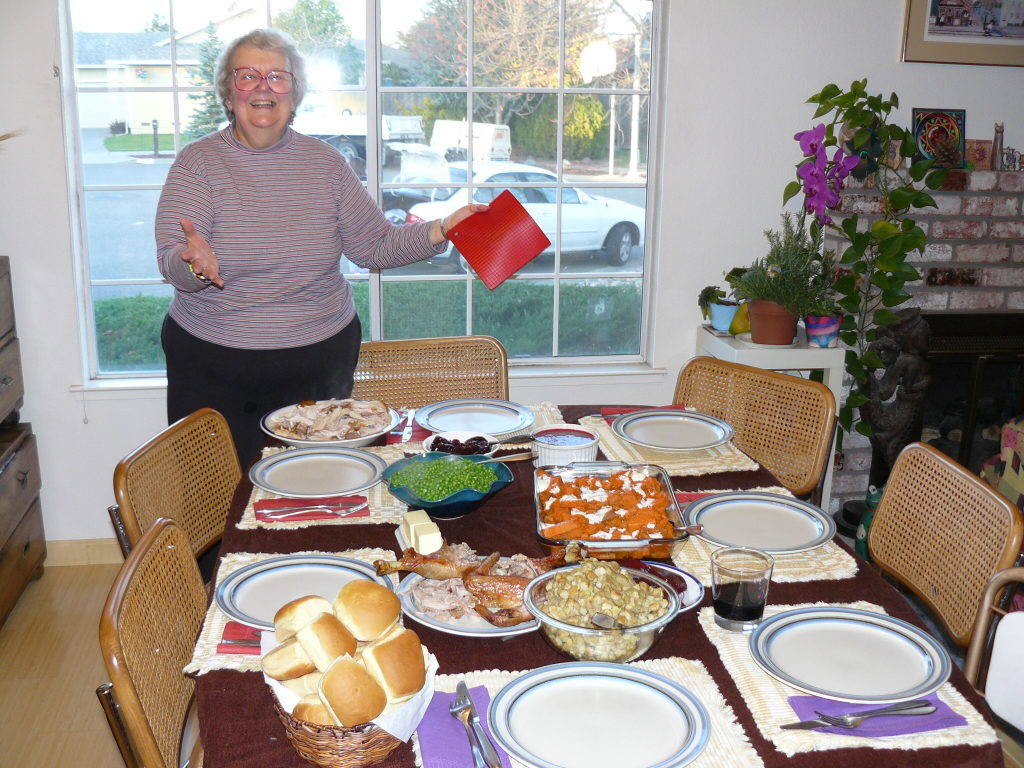 Grammy displays the feast. The sweet potatoes with marshmallows dish was very popular with the kids.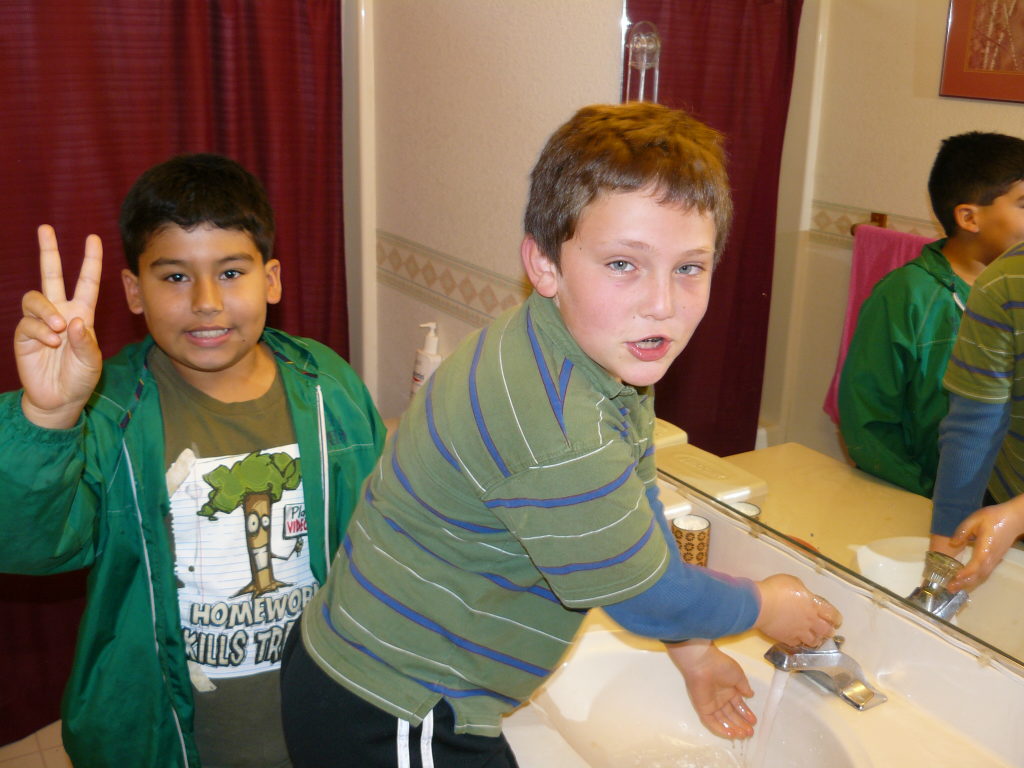 Washing up for dinner.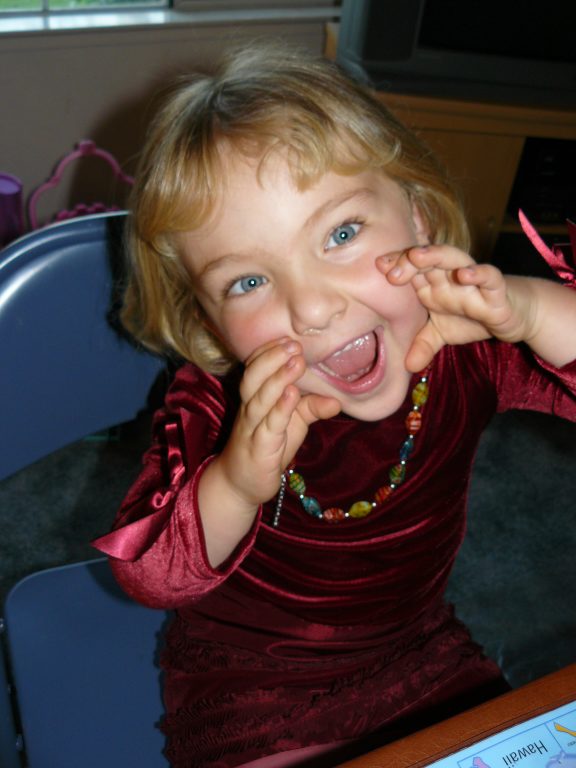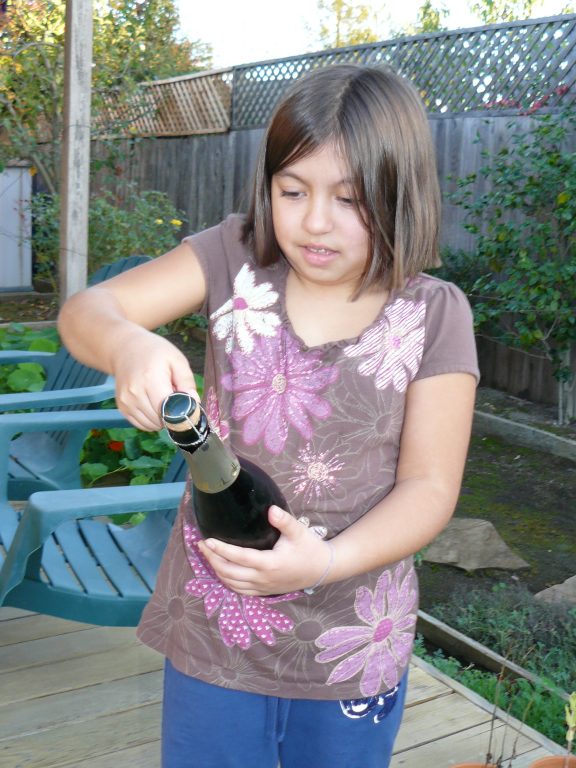 Isabelle cheers. Sofi joins the family tradition of champagne-cork popping to see how far the cork will go. Following Grandpa's advice she made it to the back-yard fence. Bob, take note.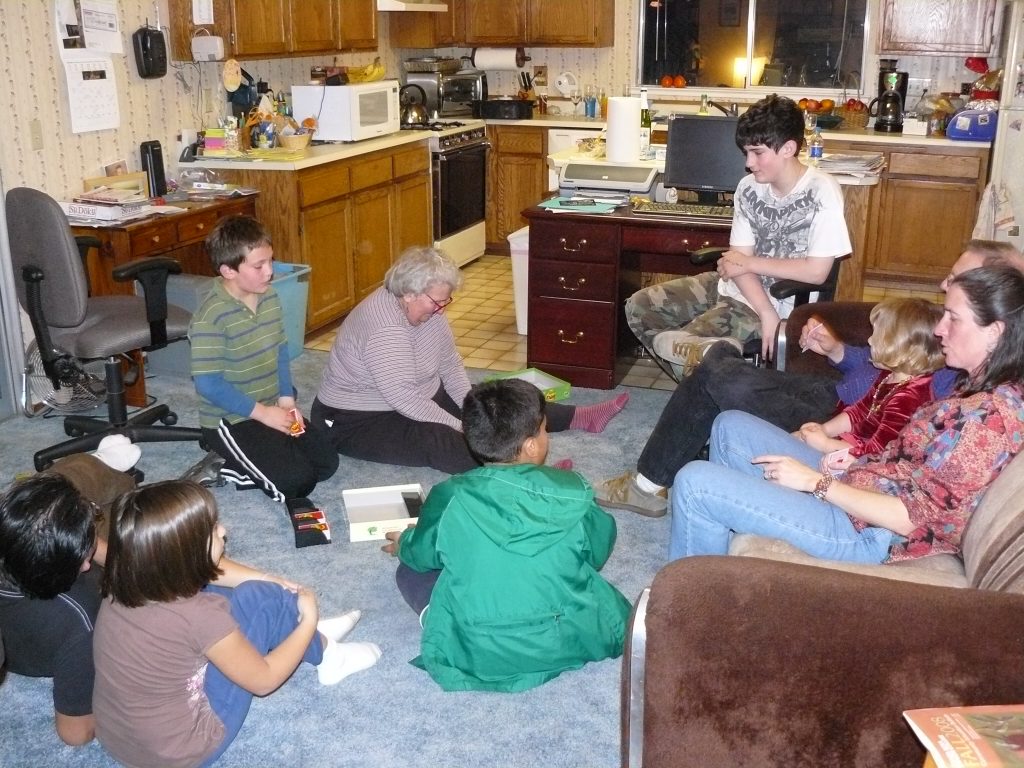 Then it was time for board games on the family-room floor.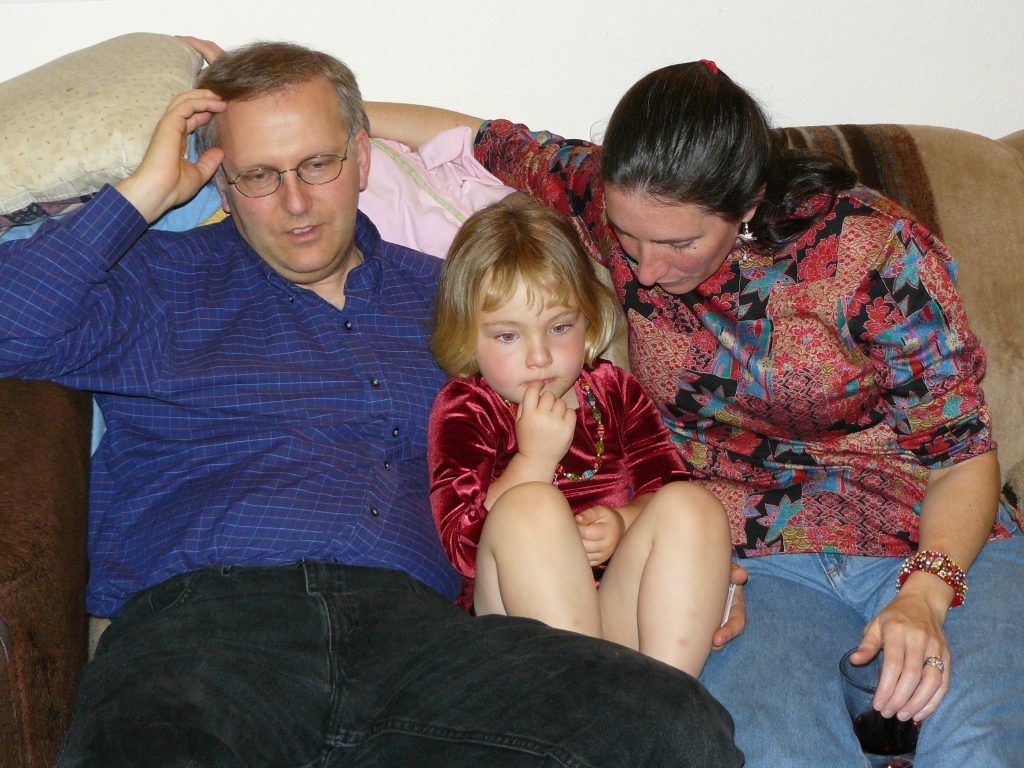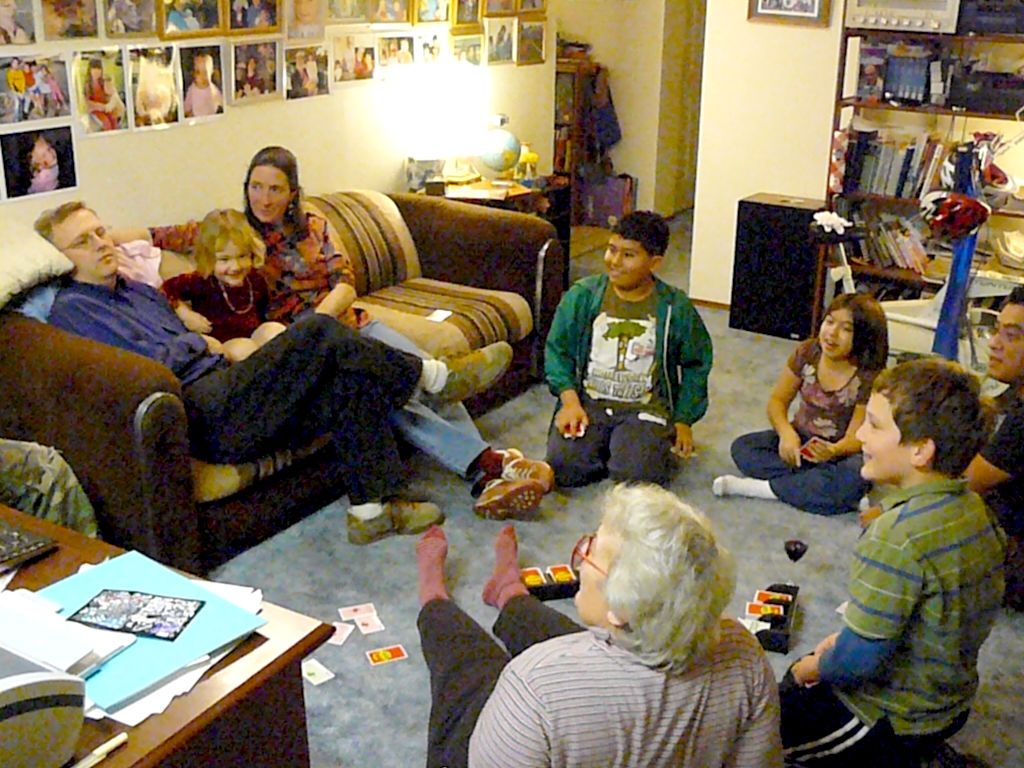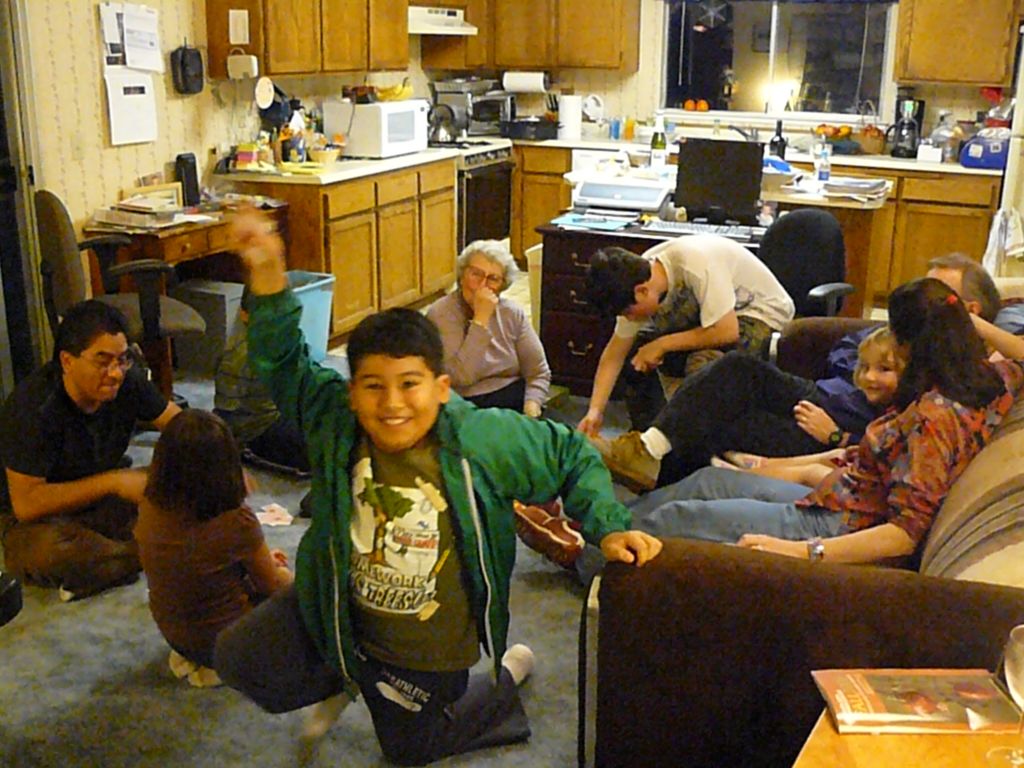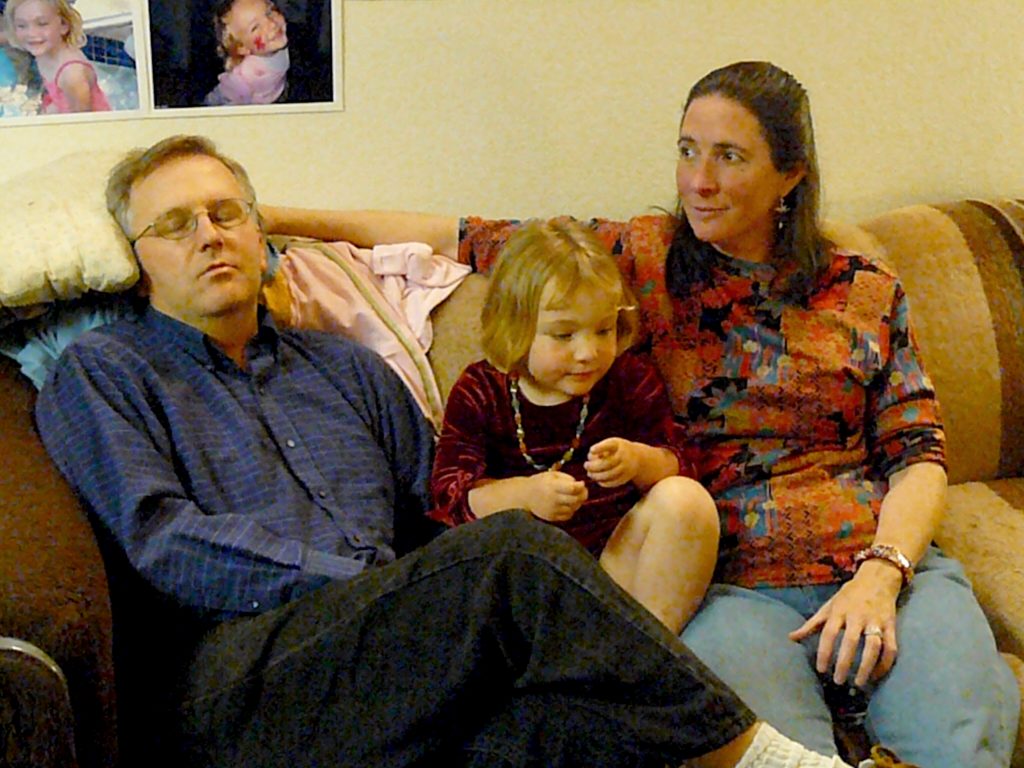 A big turkey dinner is a soporific.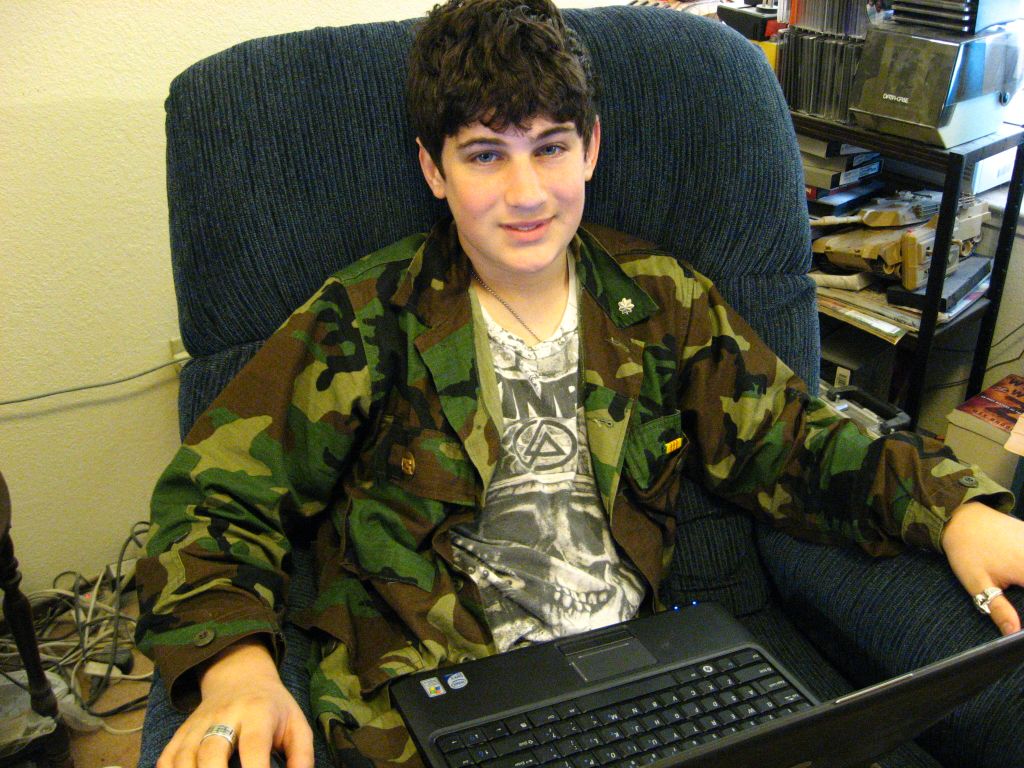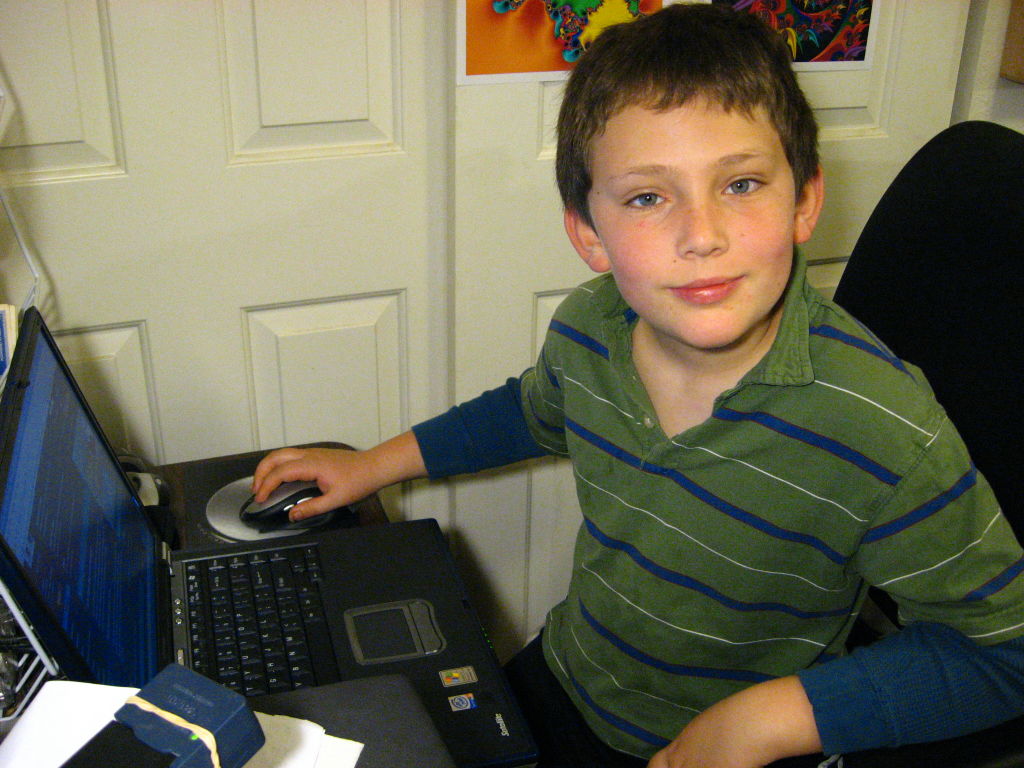 Cassidy and Francisco like playing on-line games on laptops.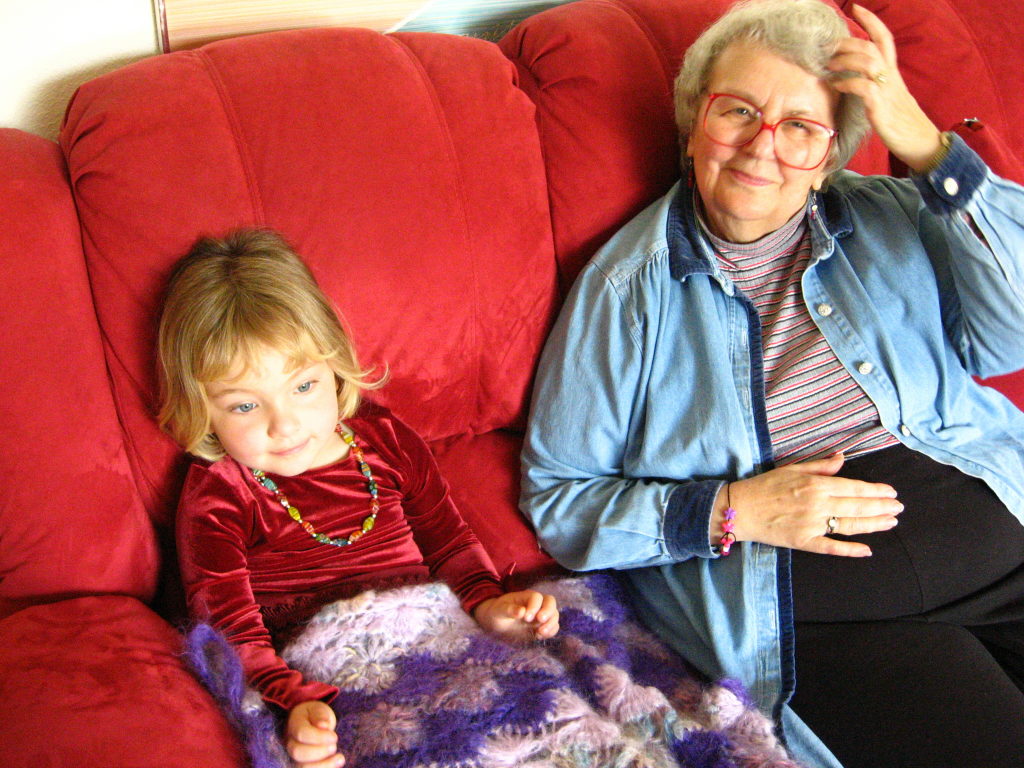 Isabelle likes watching Rolie Polie Olie with Grammy.

Mundo, Sofi, and Isabelle share a funny story.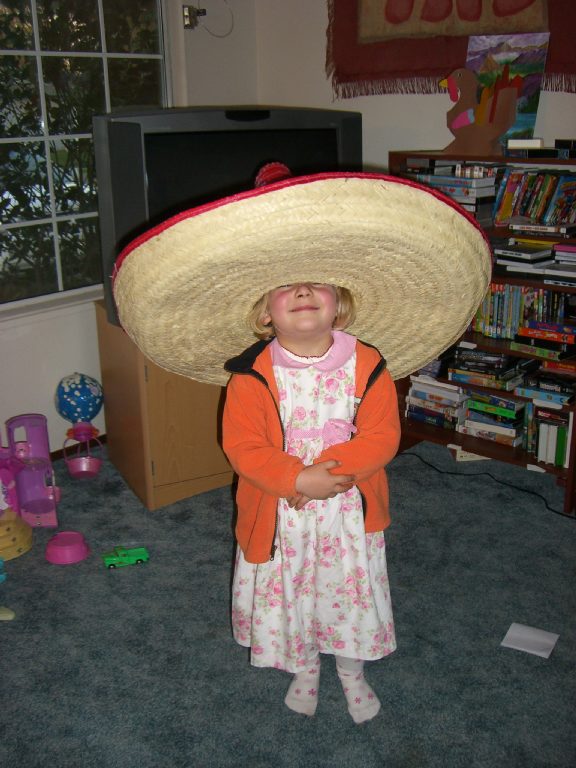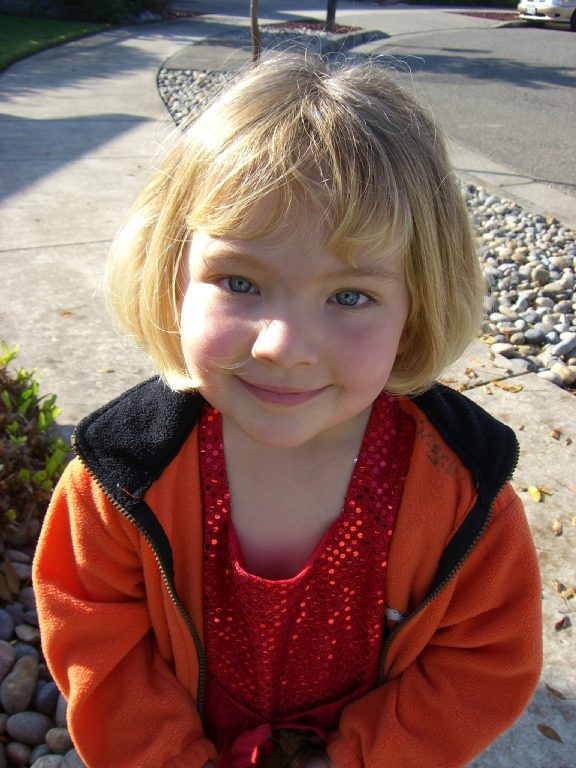 Whatever she does, Isabelle is always photogenic.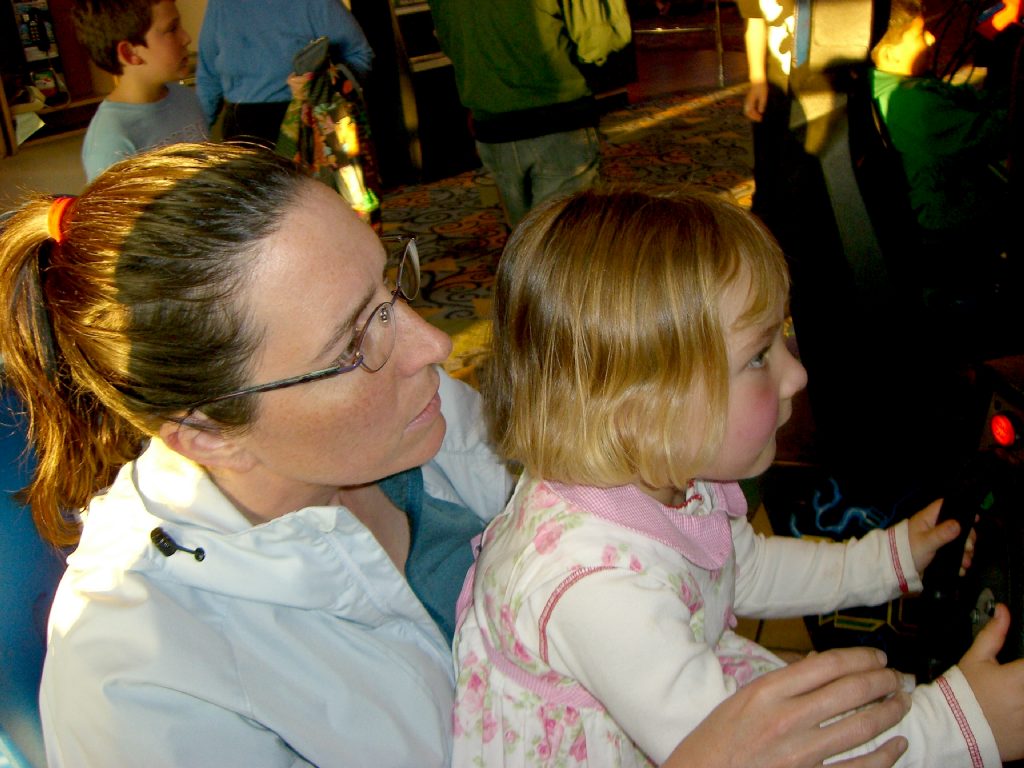 Another family tradition -- after a movie we play arcade games. Here Sandra helps Isabelle drive a difficult course.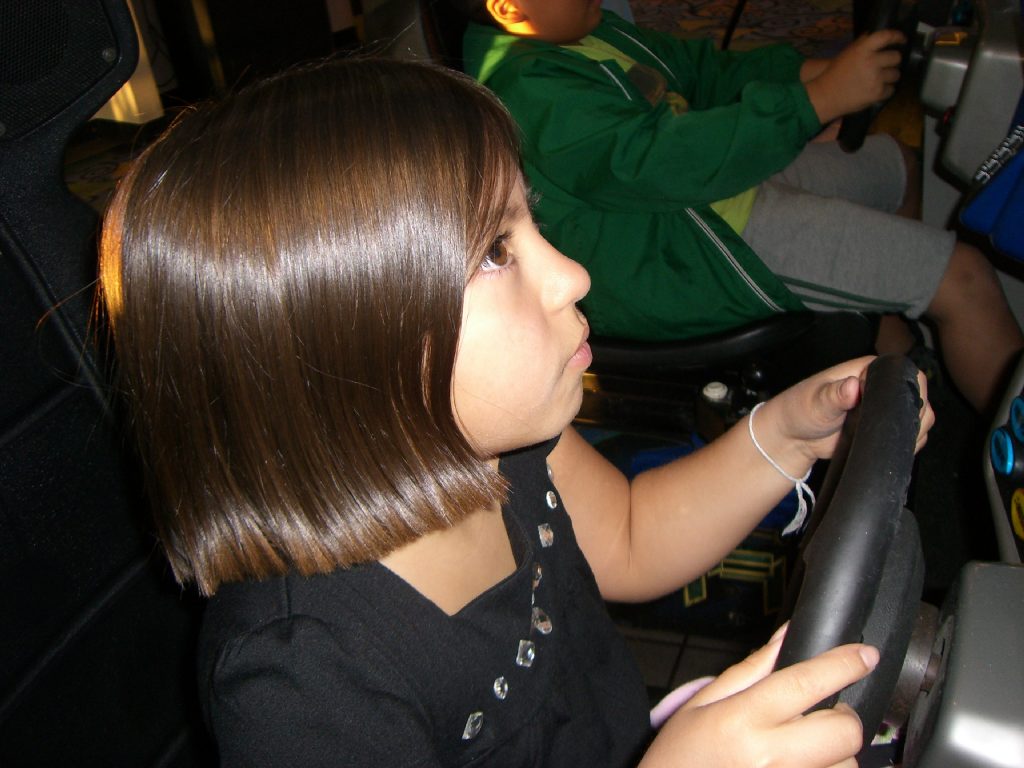 Sofi is an expert driver.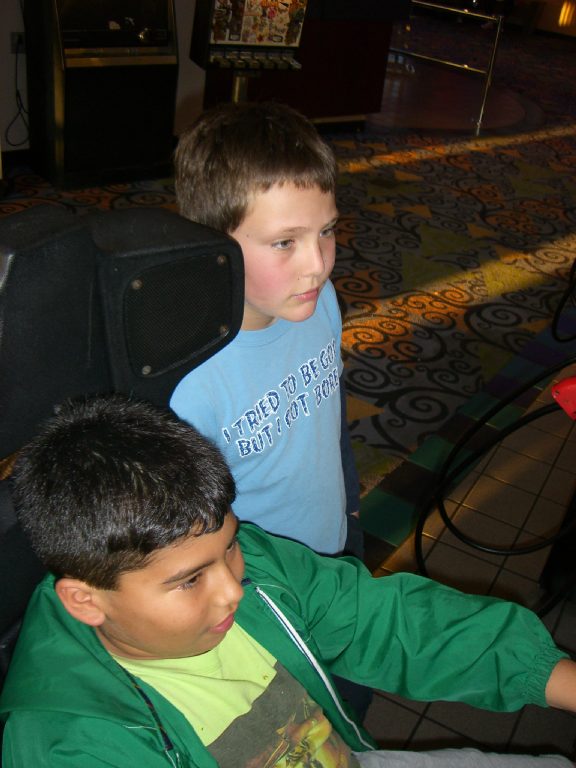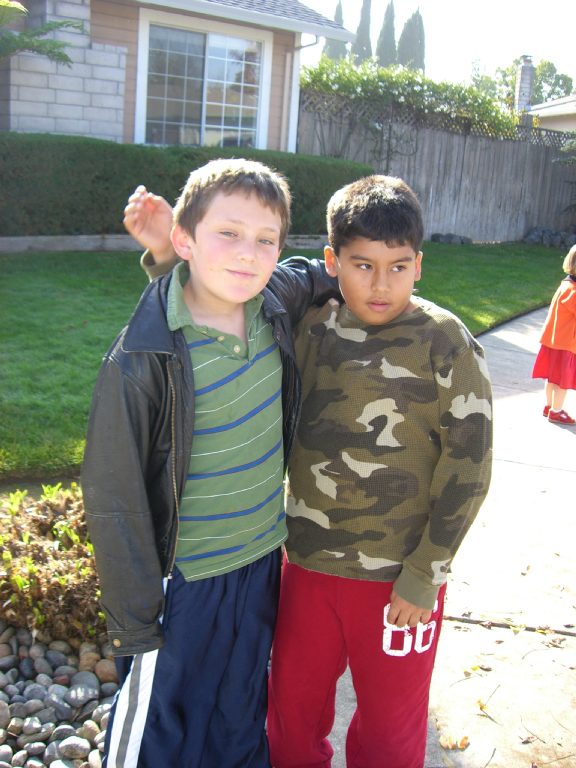 Francisco watches Zak after driving his own course. Cousins Francisco and Zak say goodbye after the Thanksgiving weekend.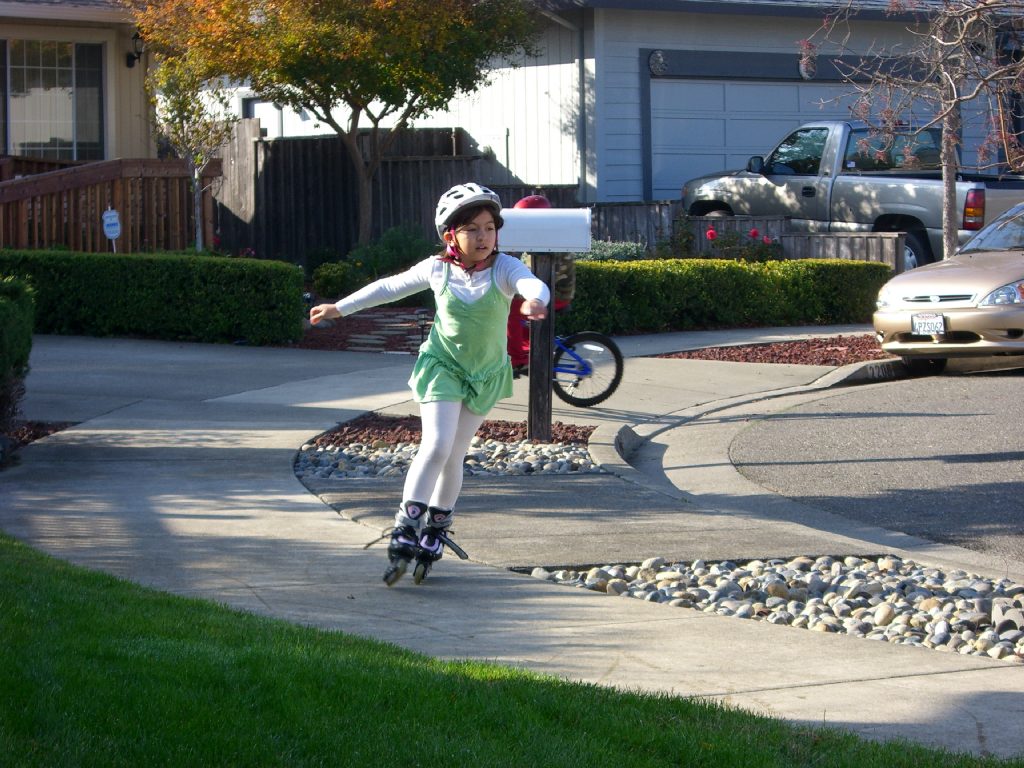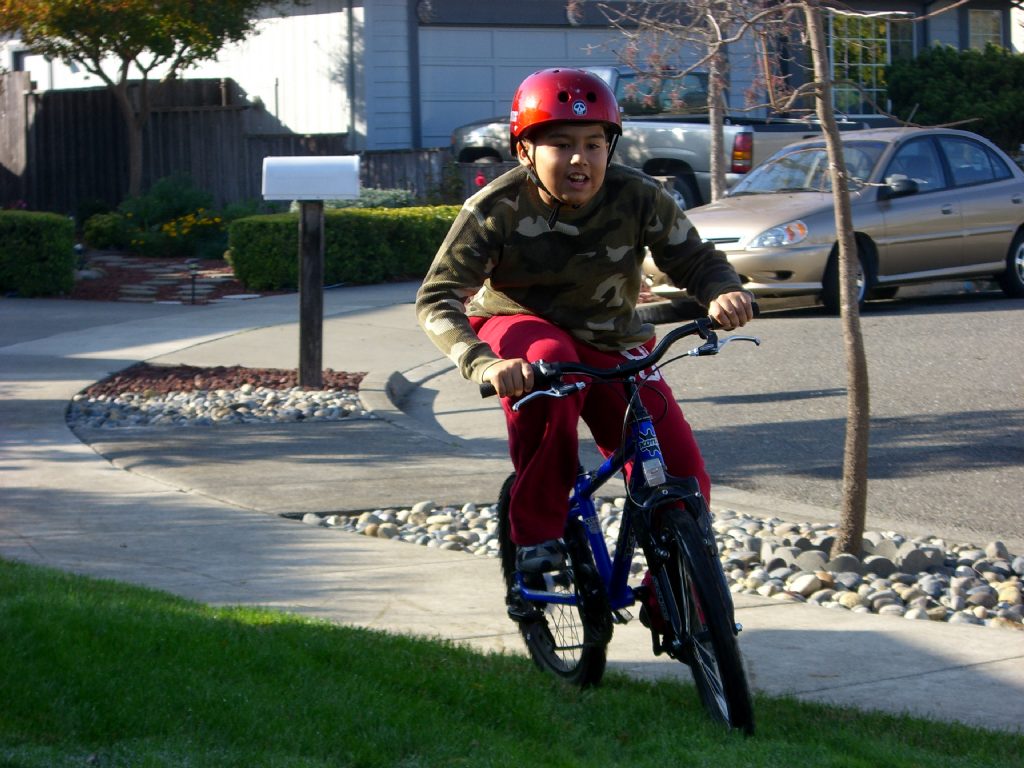 Sofi on roller blades, Zak on his bicycle.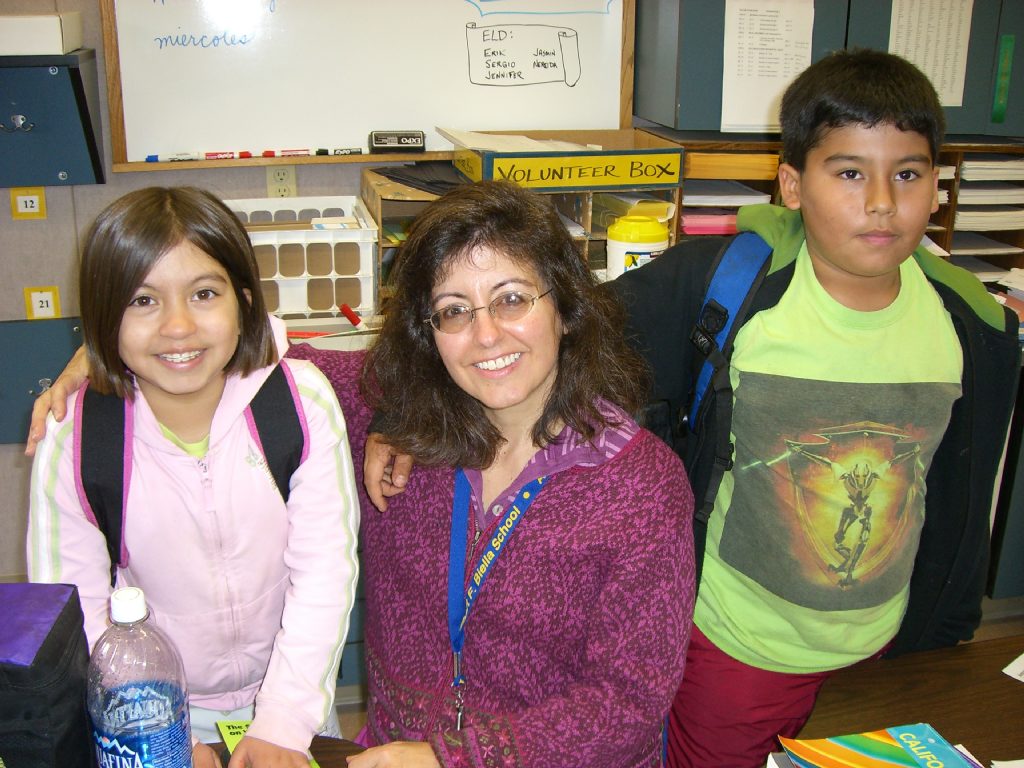 Sofi and Zak joined Suzy briefly when she taught at their school as a sub. She now teaches full time in Sonoma and does a long daily commute.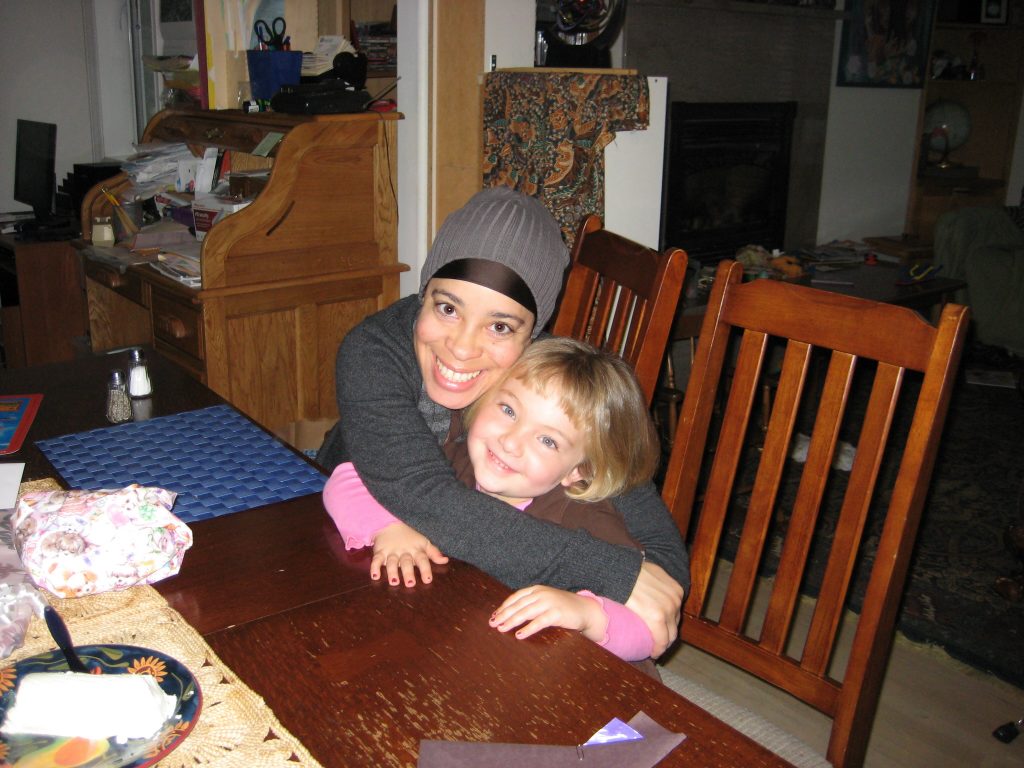 Tosha and Isabelle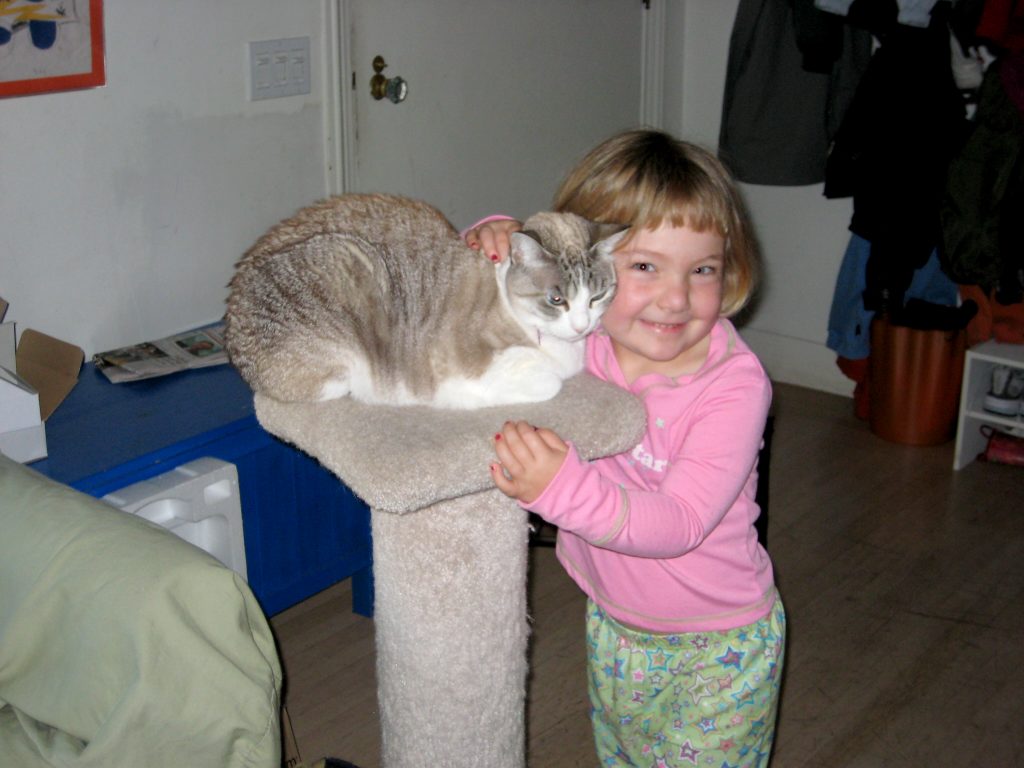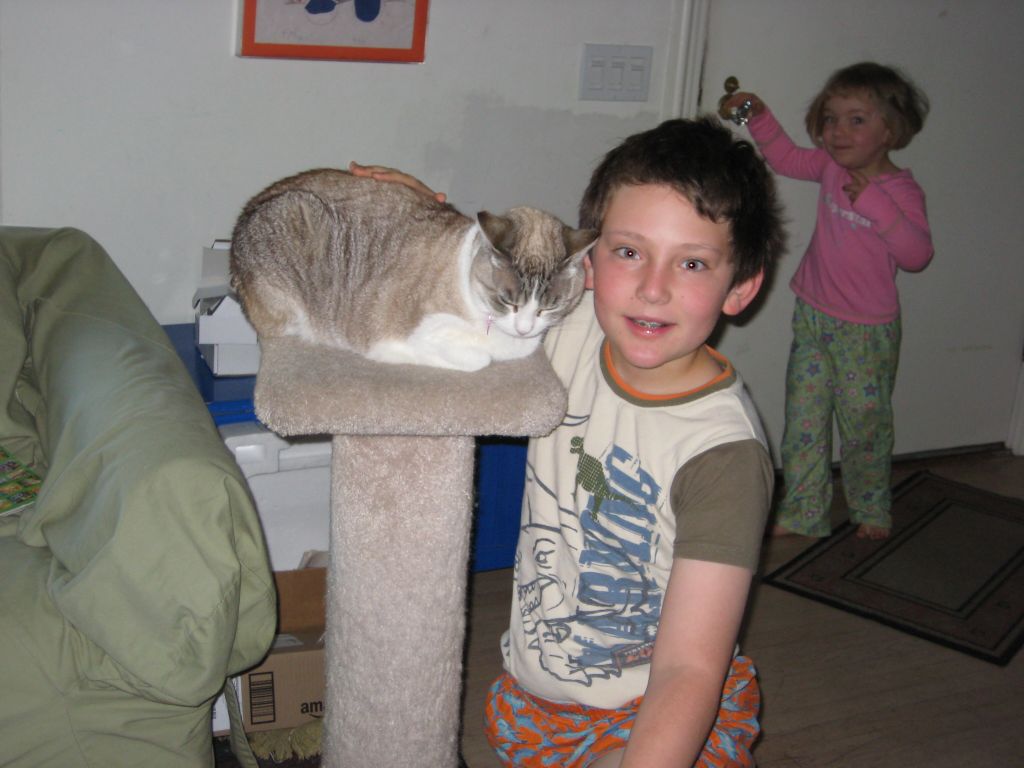 Isabelle and Francisco like Chai.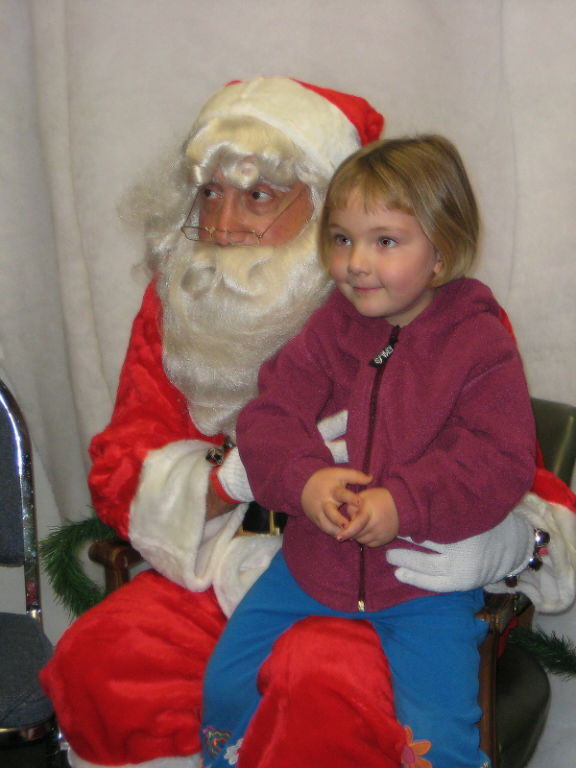 Christmas 2008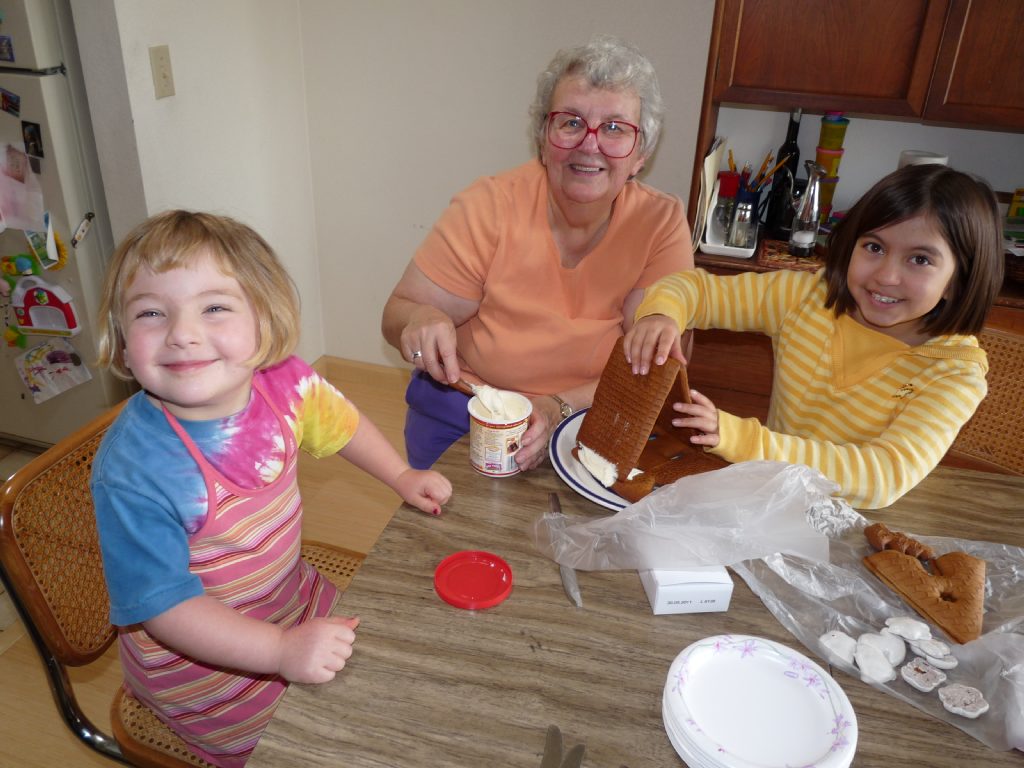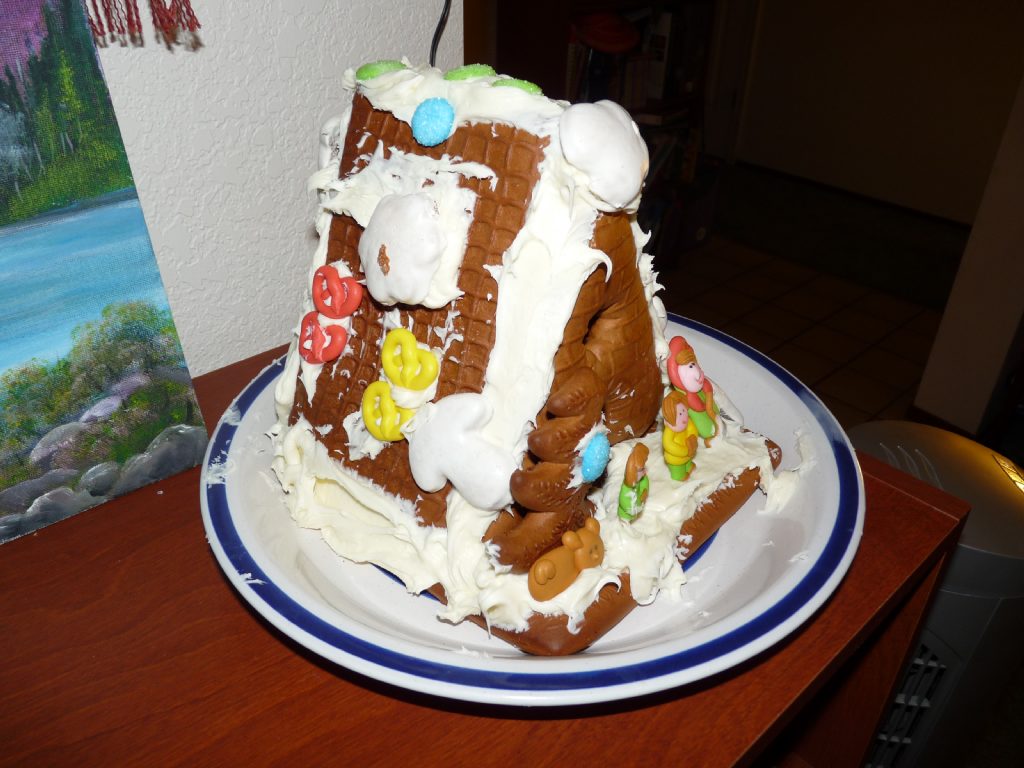 Isabelle, Grammy, and Sofi made a gingerbread house.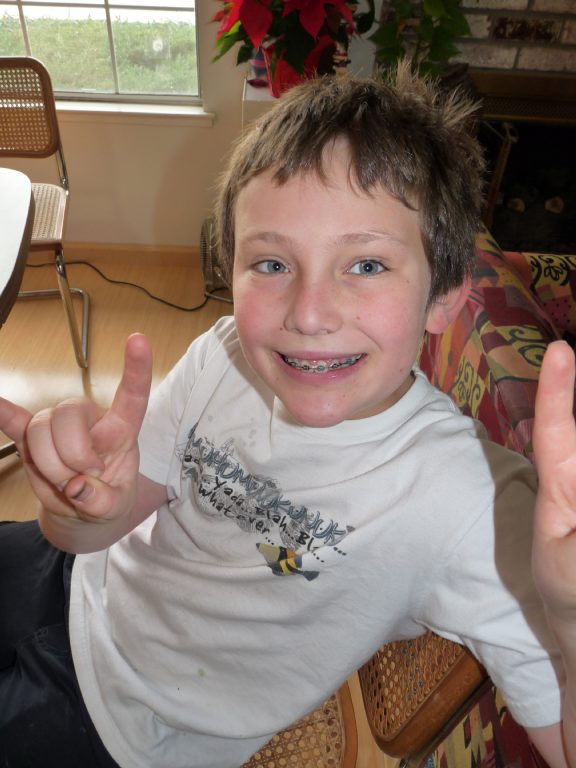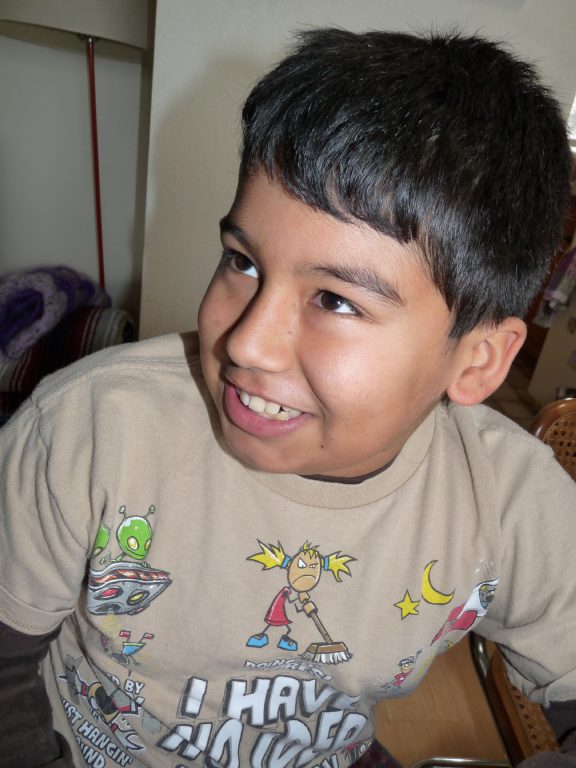 Francisco and Zak contemplated eating it.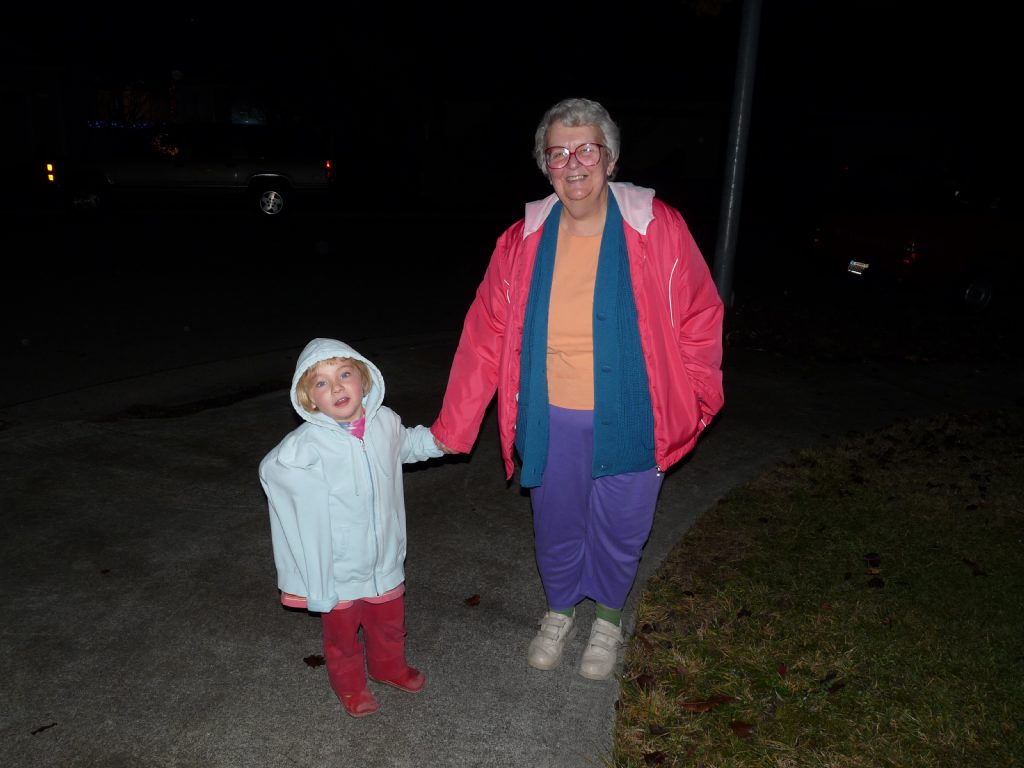 Grammy and Grandpa took Isabelle out to see the Christmas lights in our neighborhood.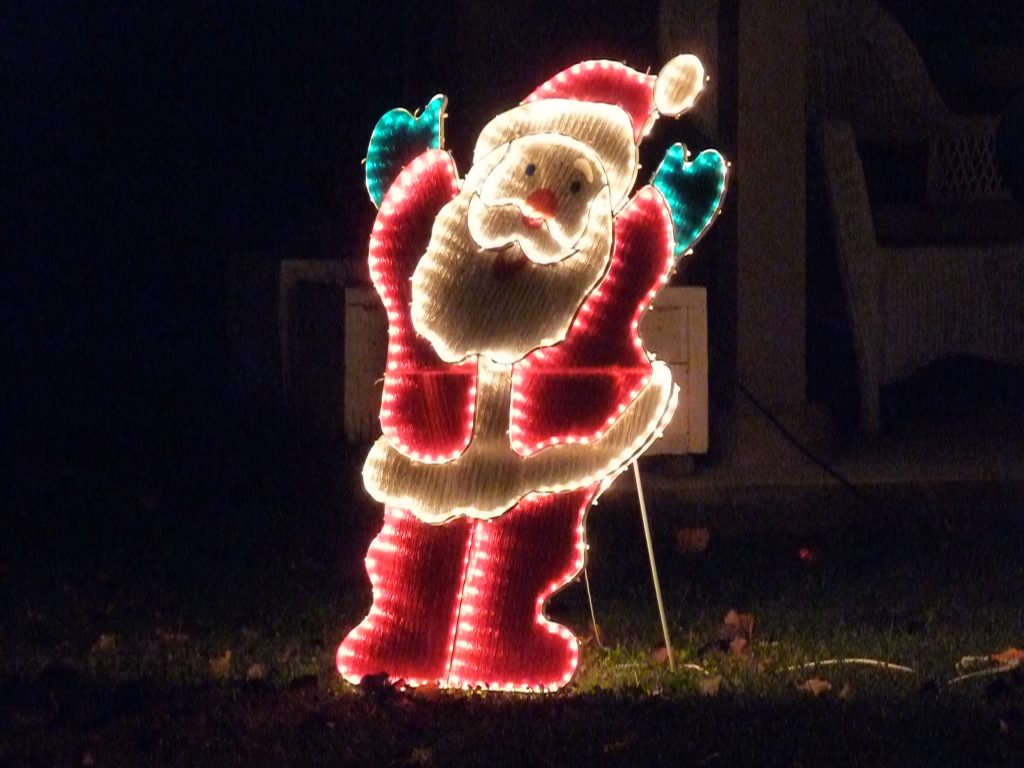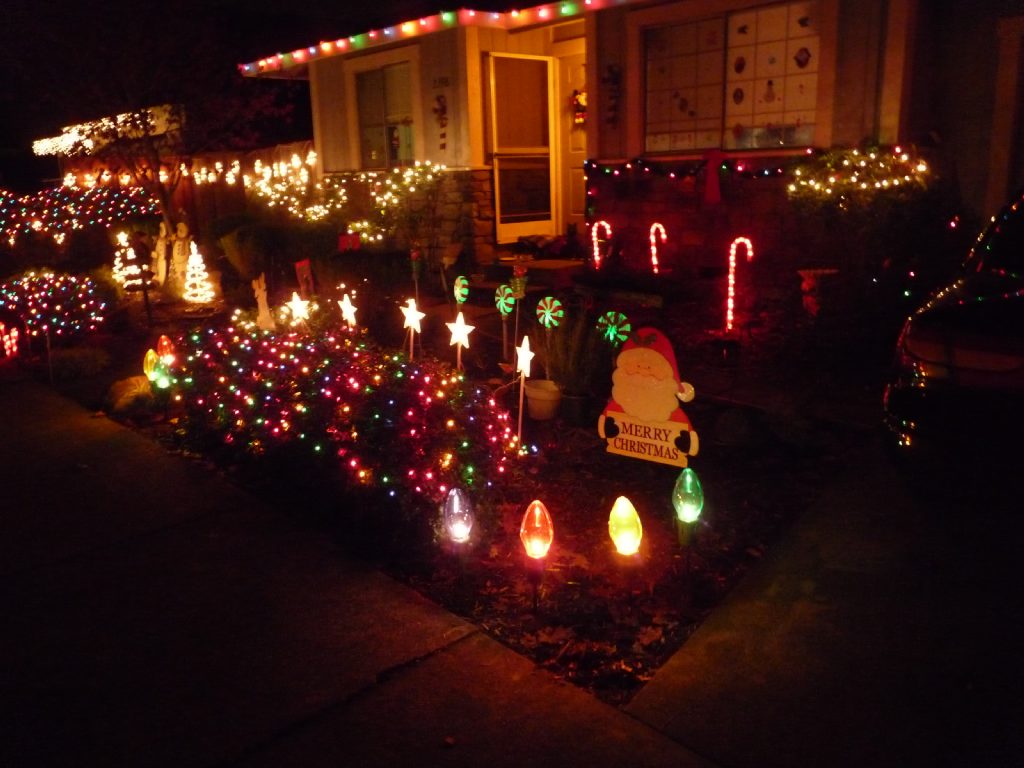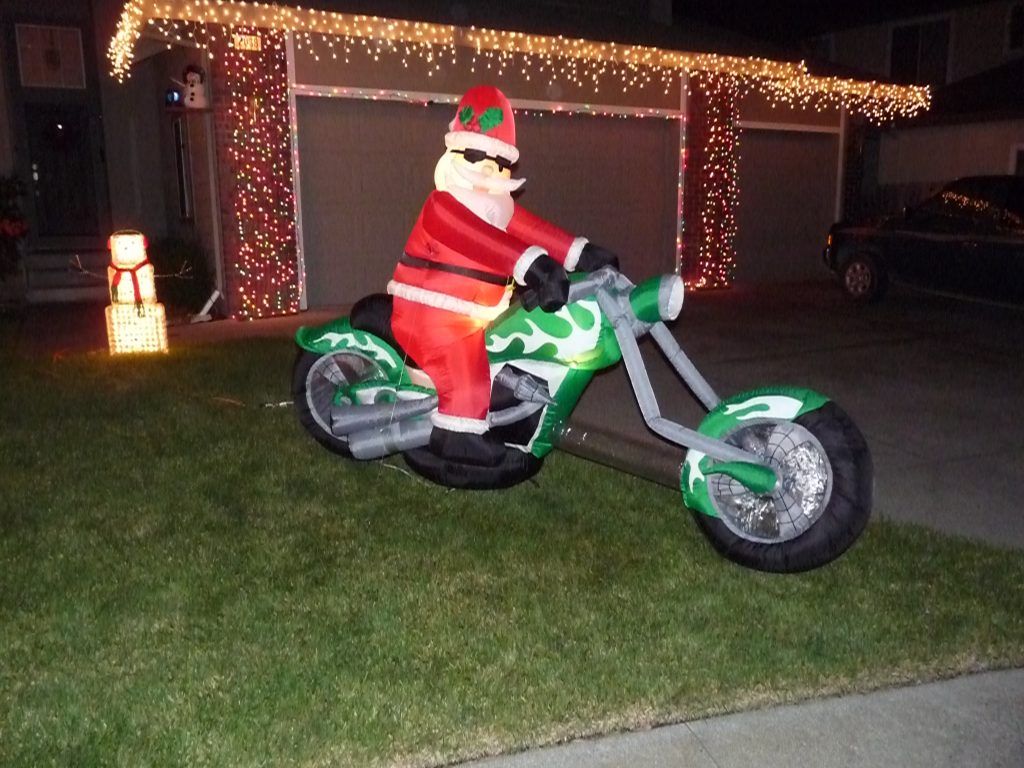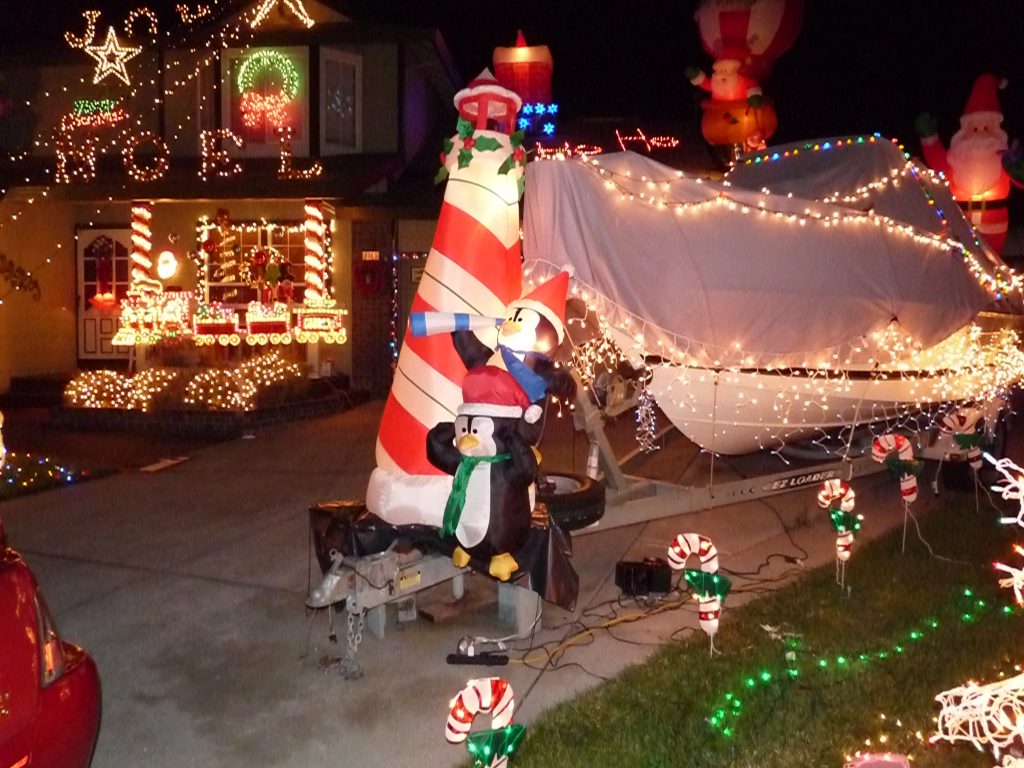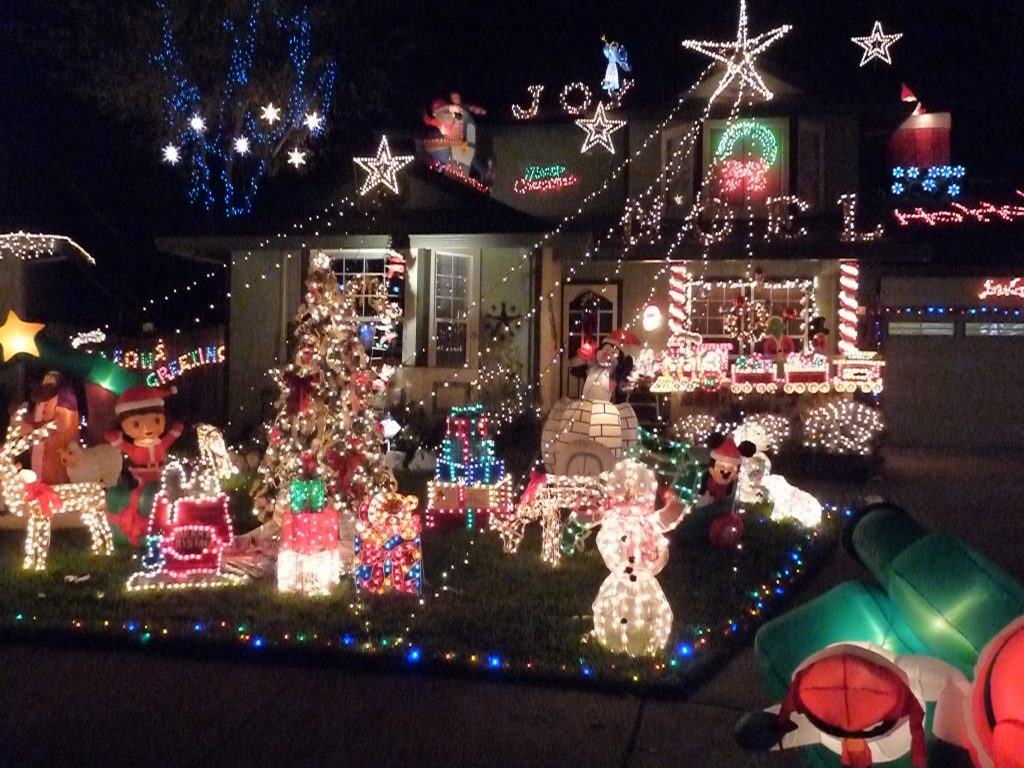 They really are amazing.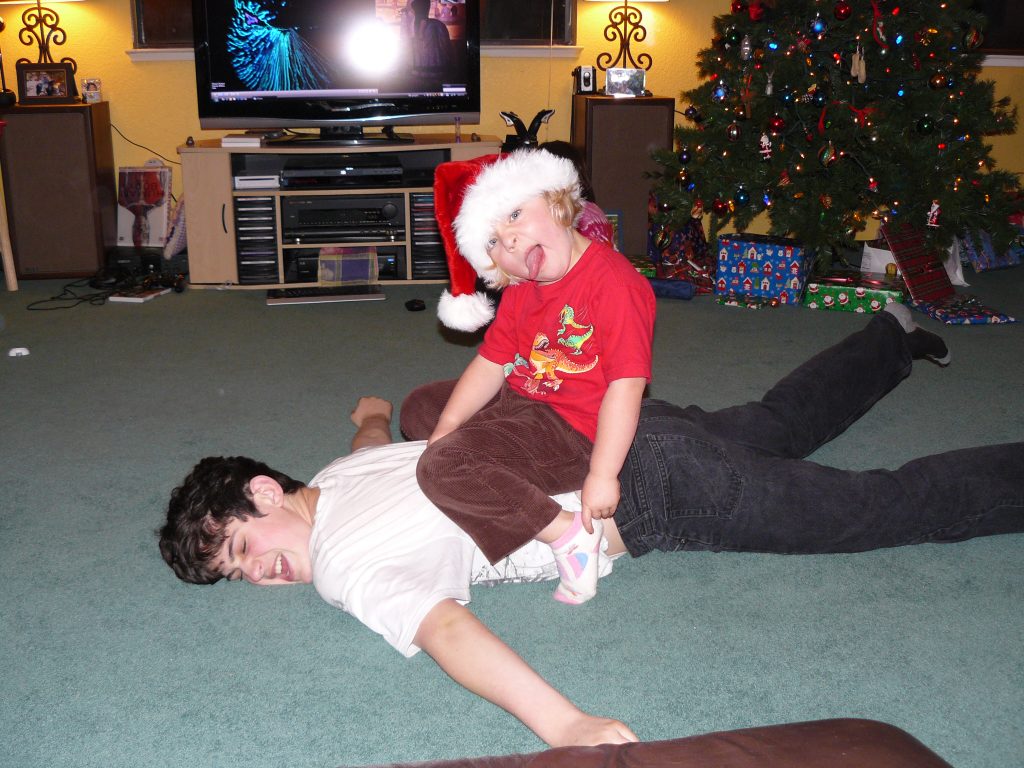 Christmas Eve at the Suzy's. Cassidy is Isabelle's wrestling partner.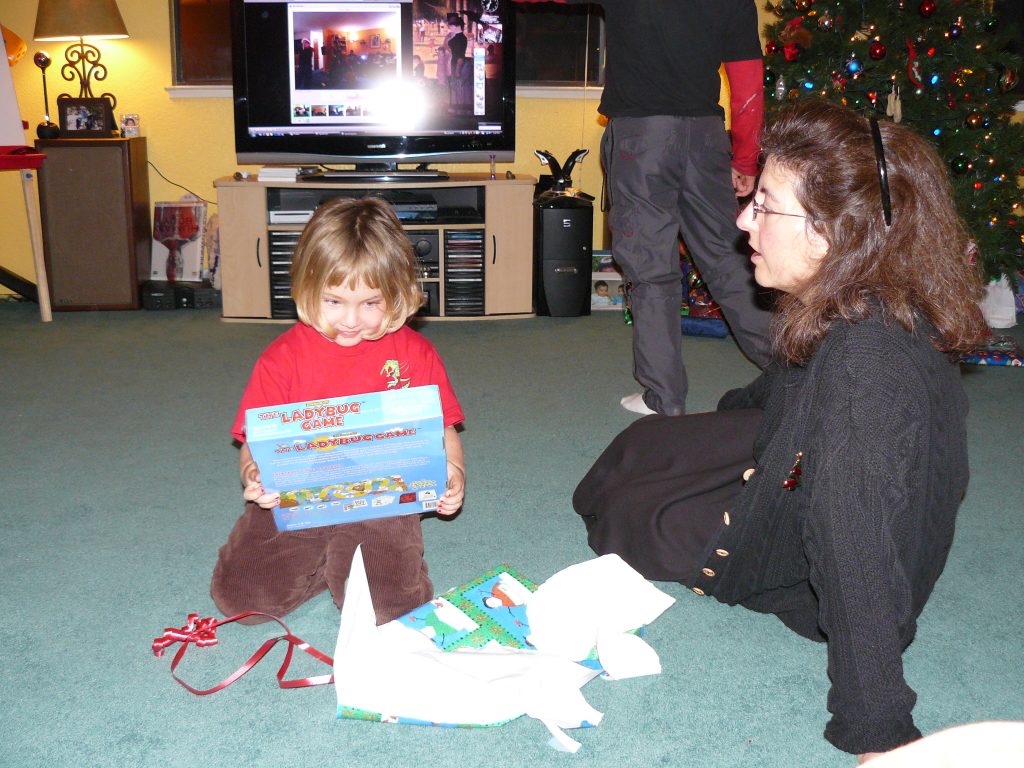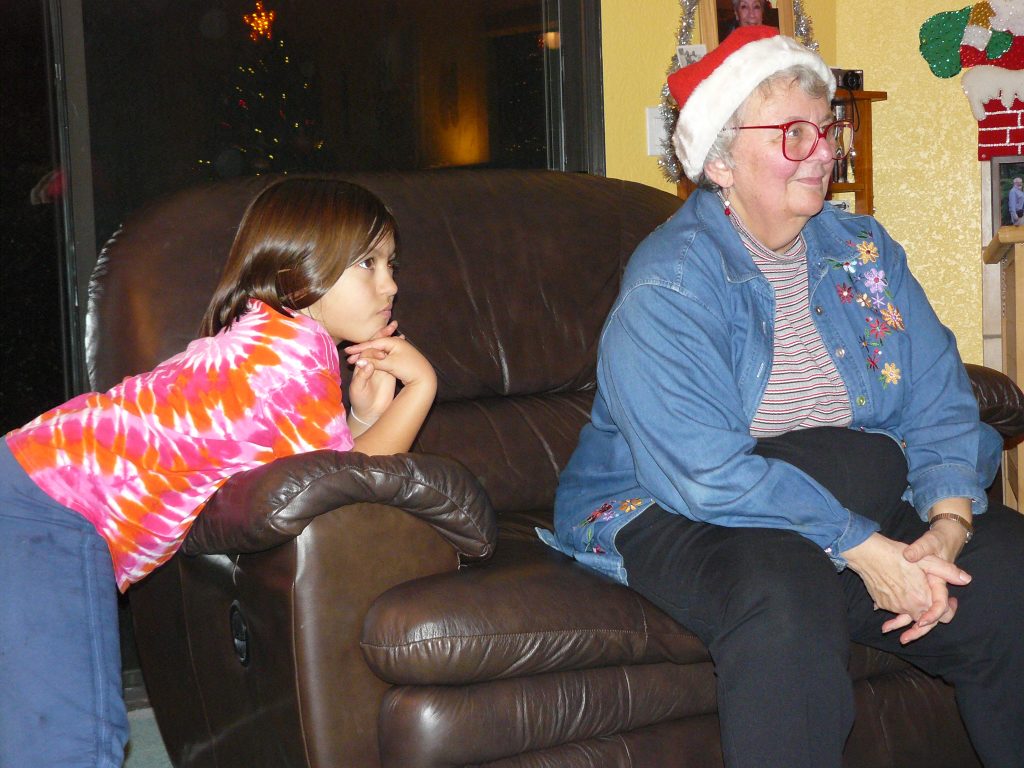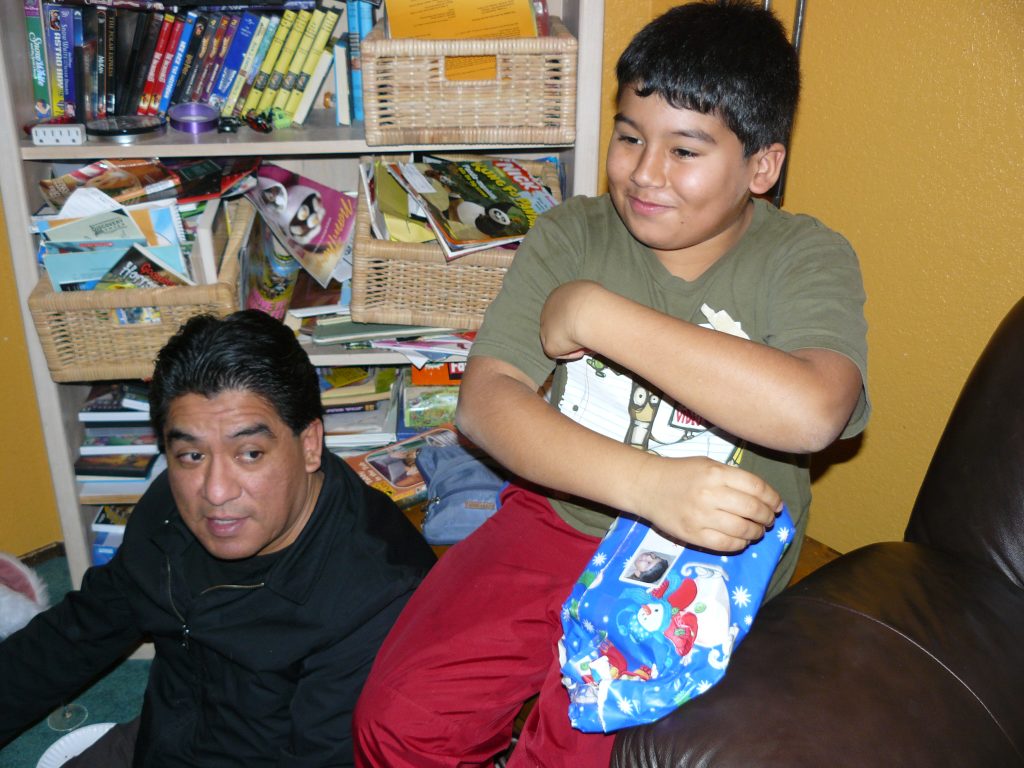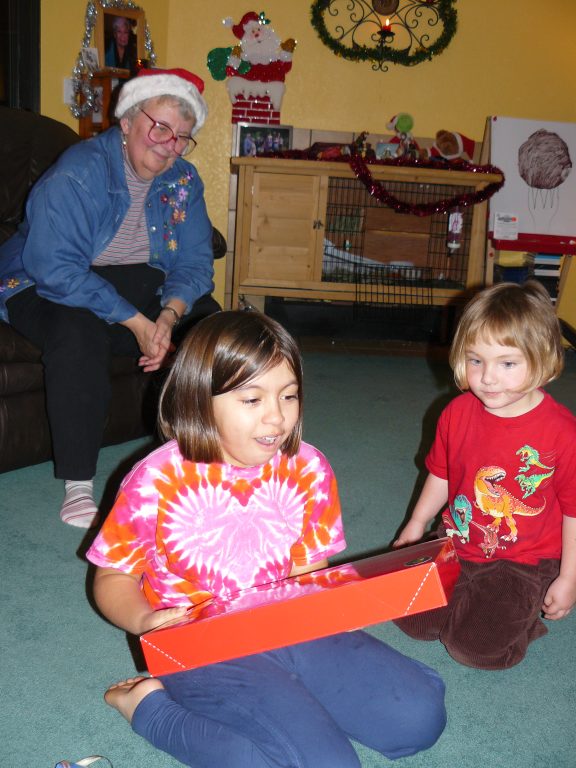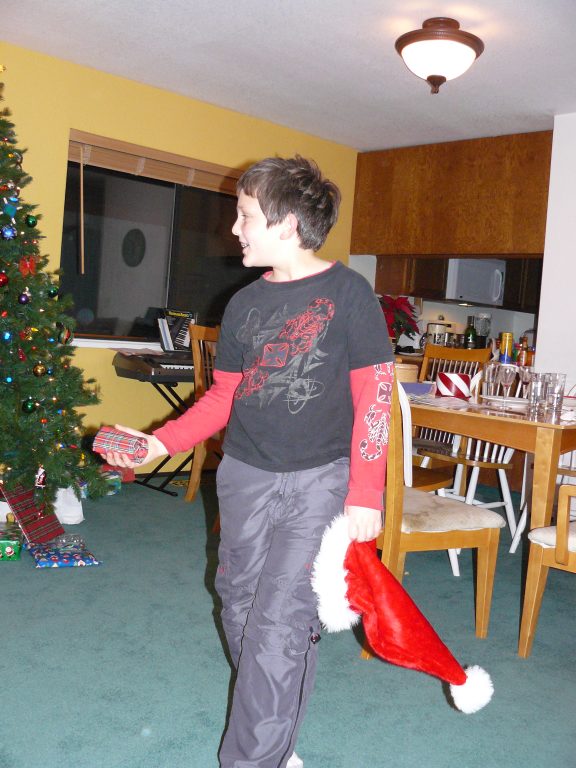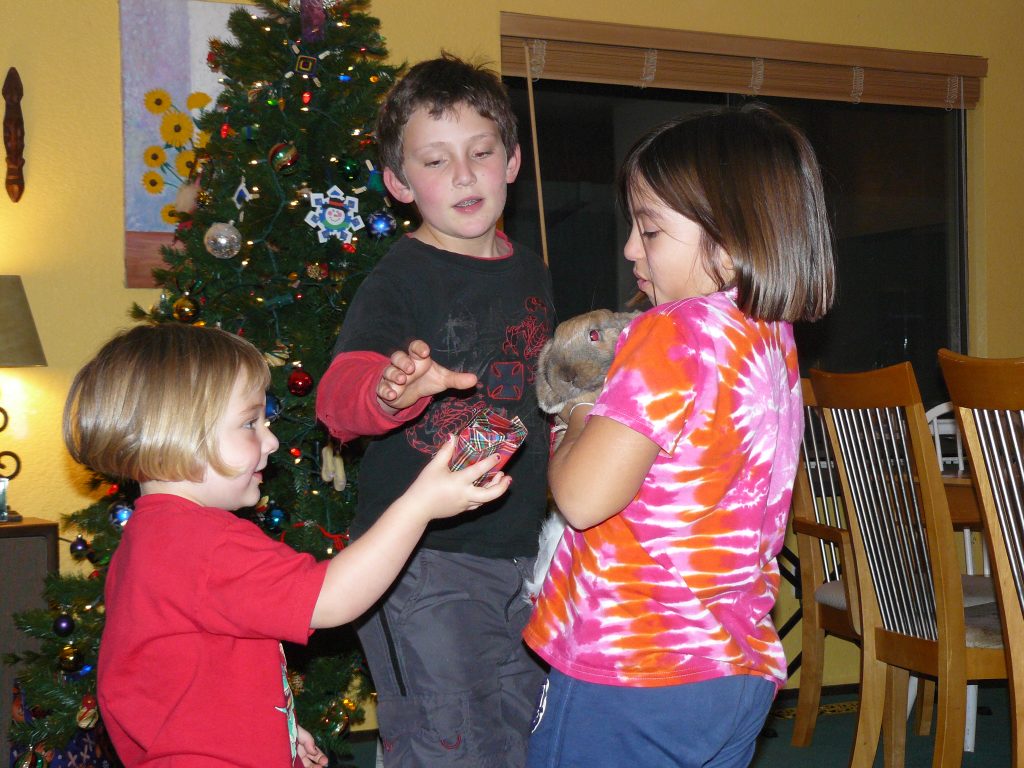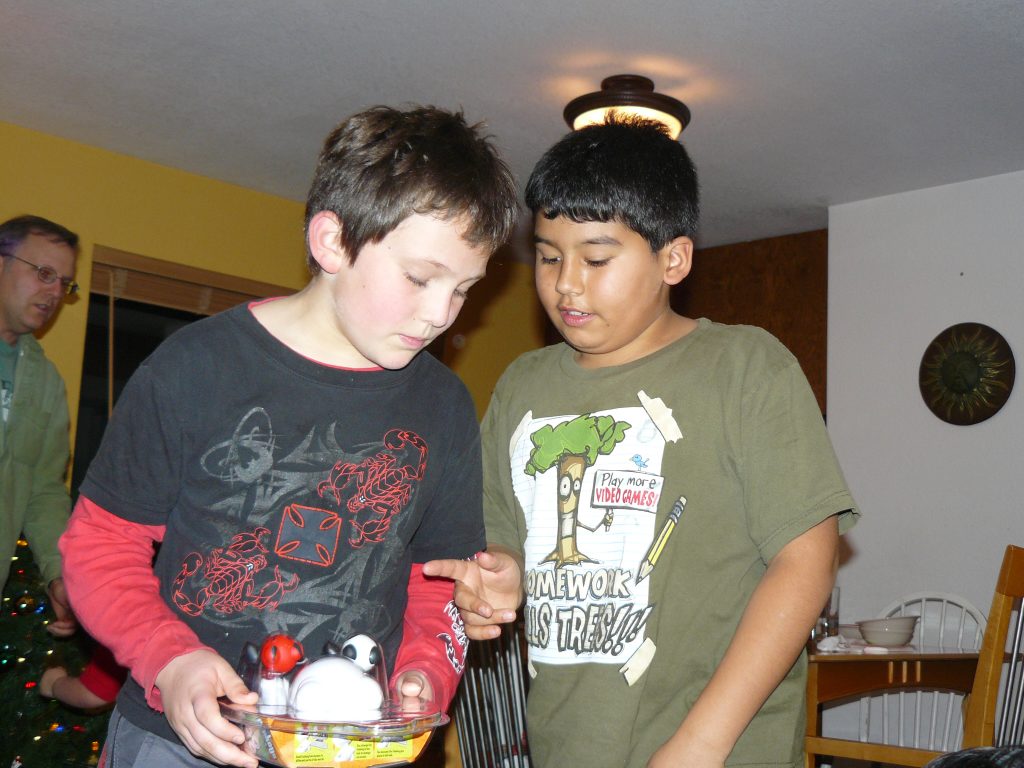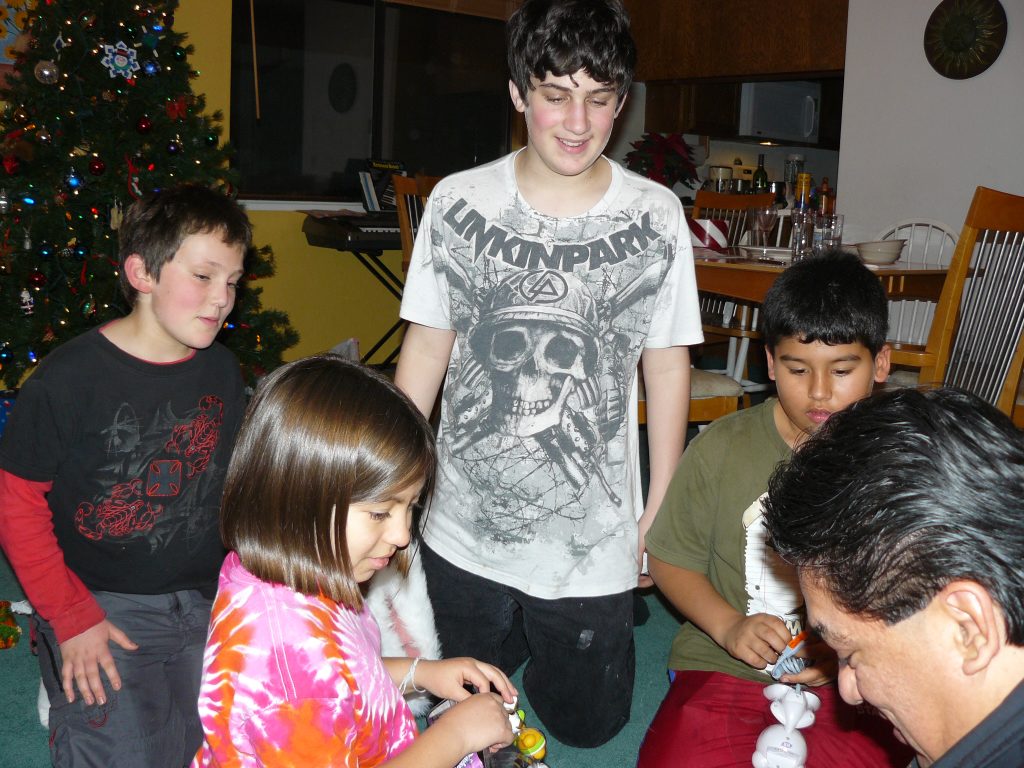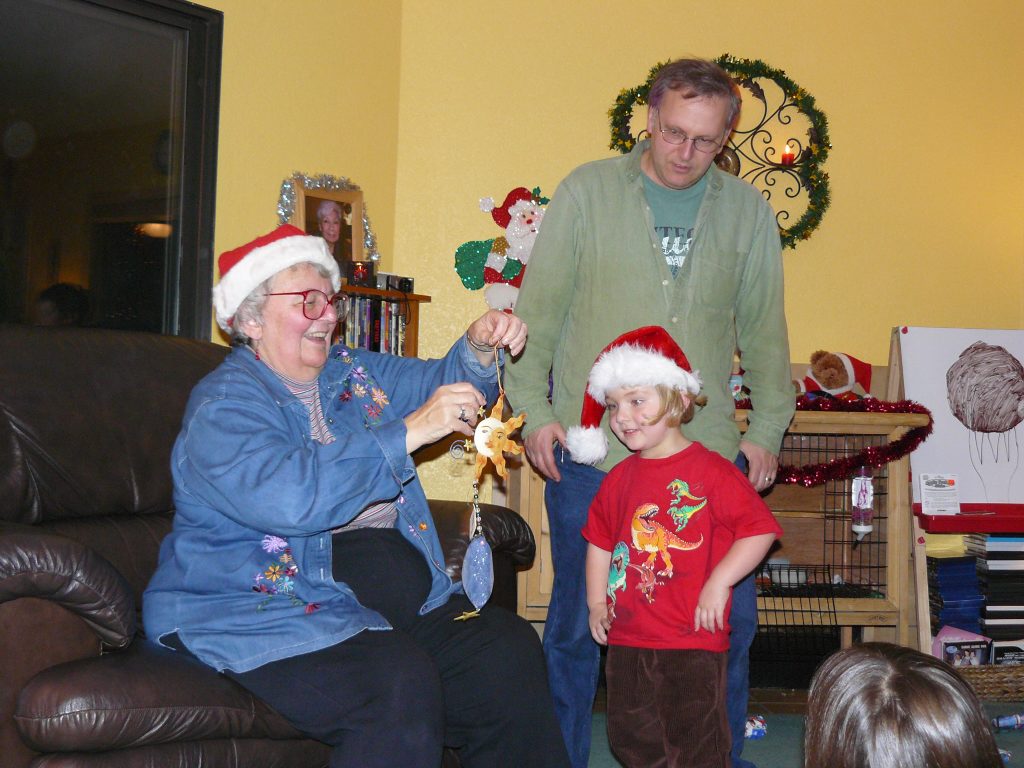 We opened some of the presents but saved the rest for Christmas Day.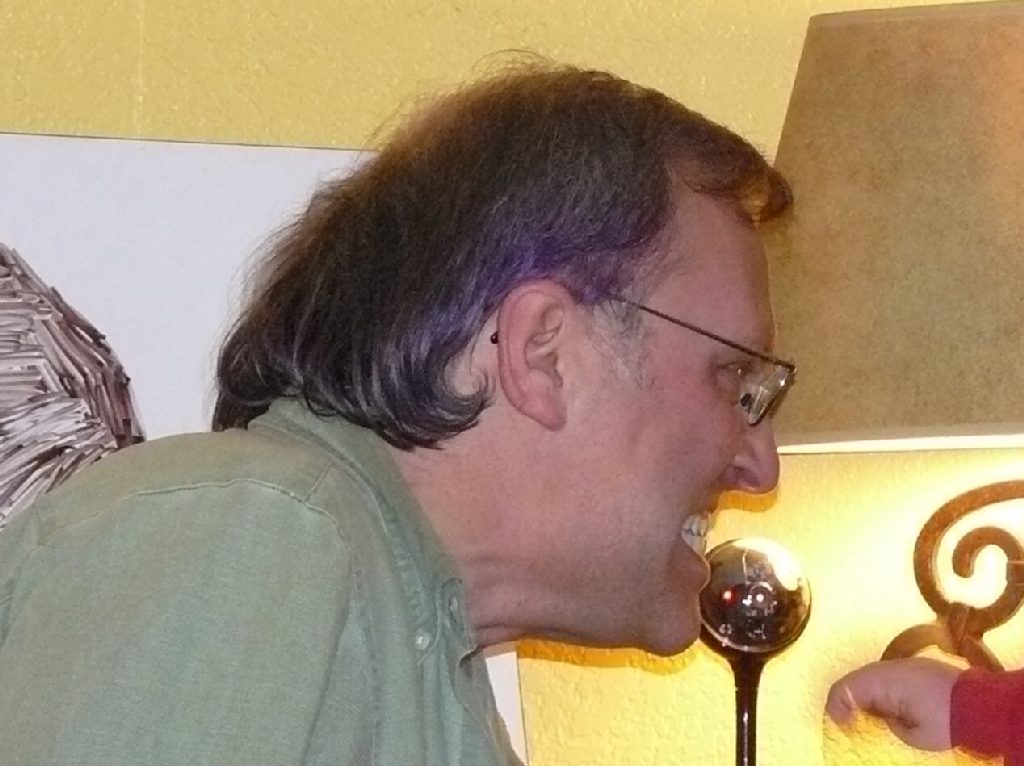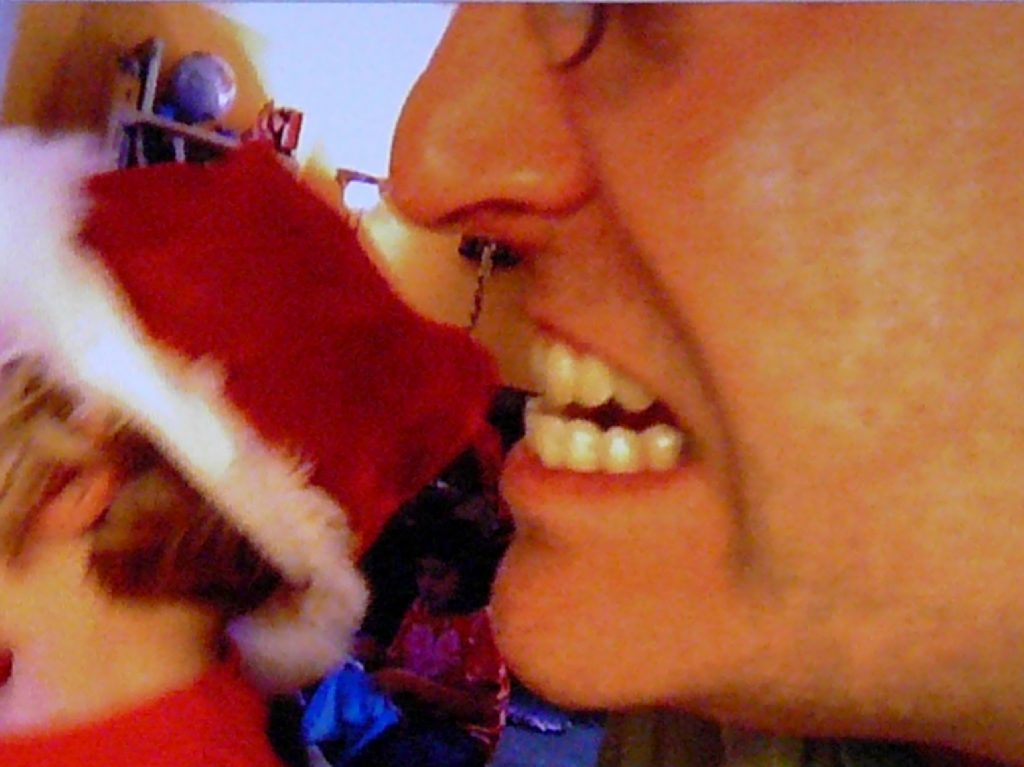 Mundo set up a live webcam so that distant relatives could watch if they wished. The result was displayed on the TV in the living room. Eric couldn't resist the impulse.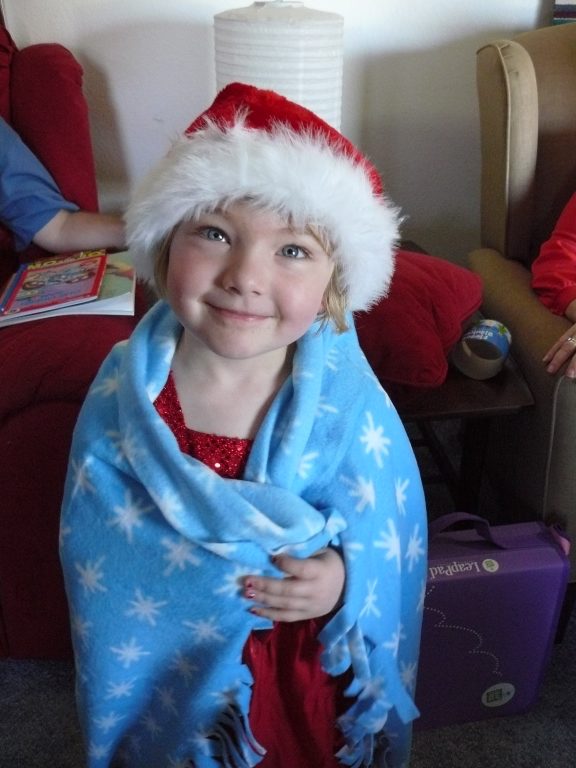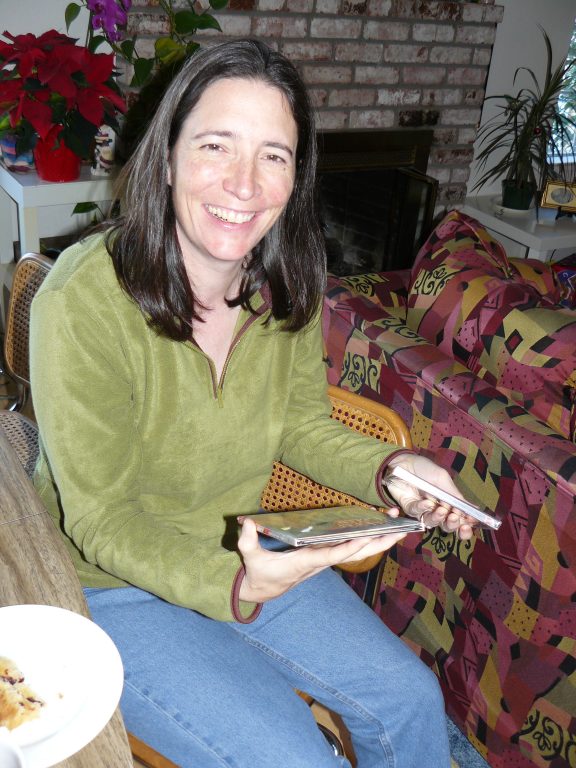 The next day we got together again at Grammy and Grandpa's house.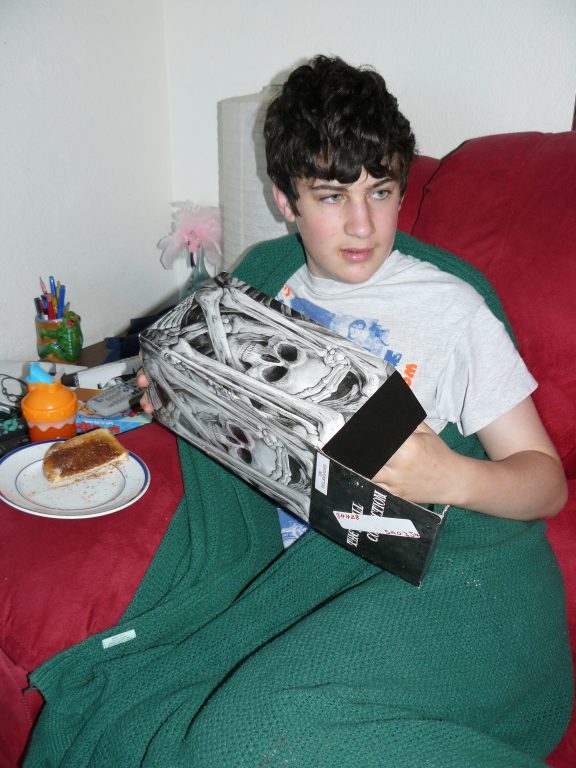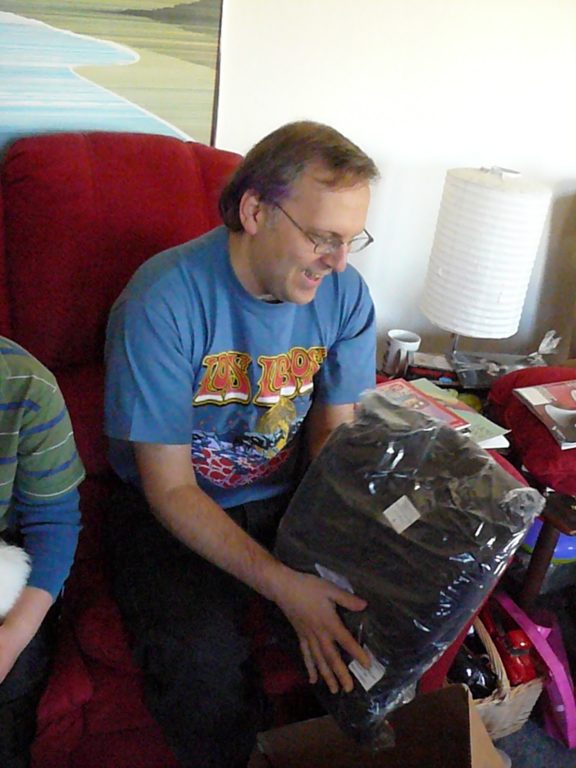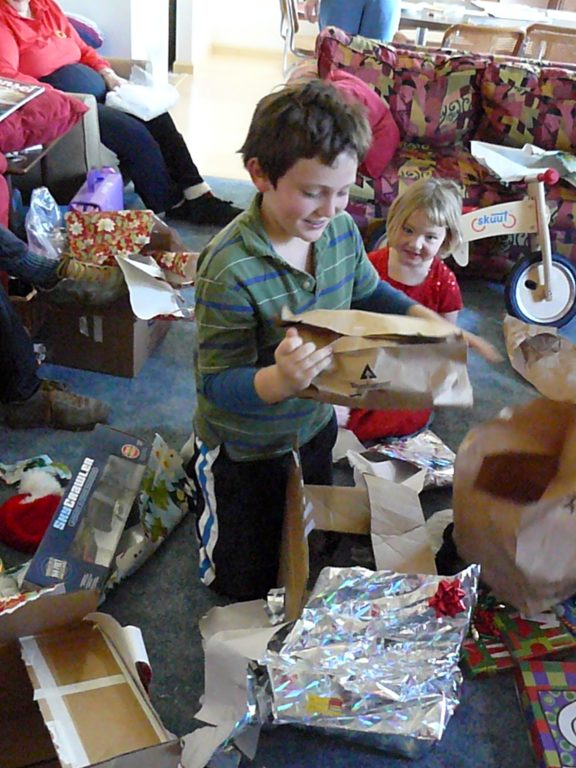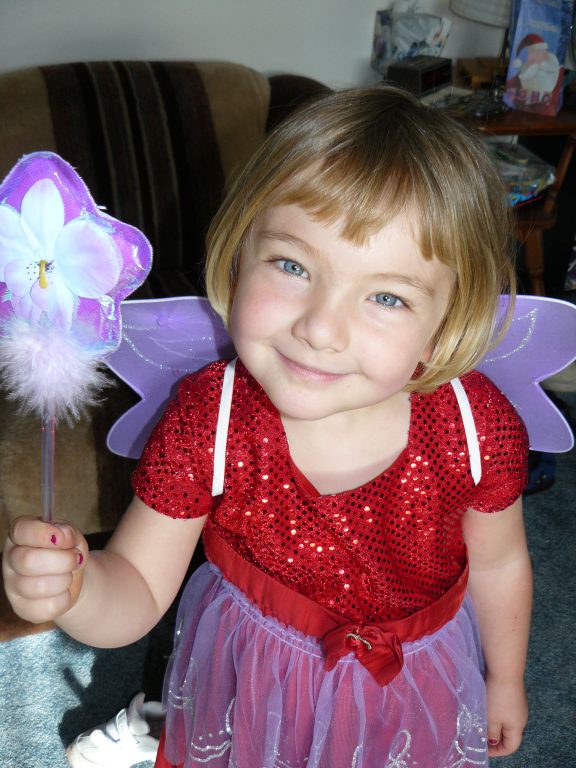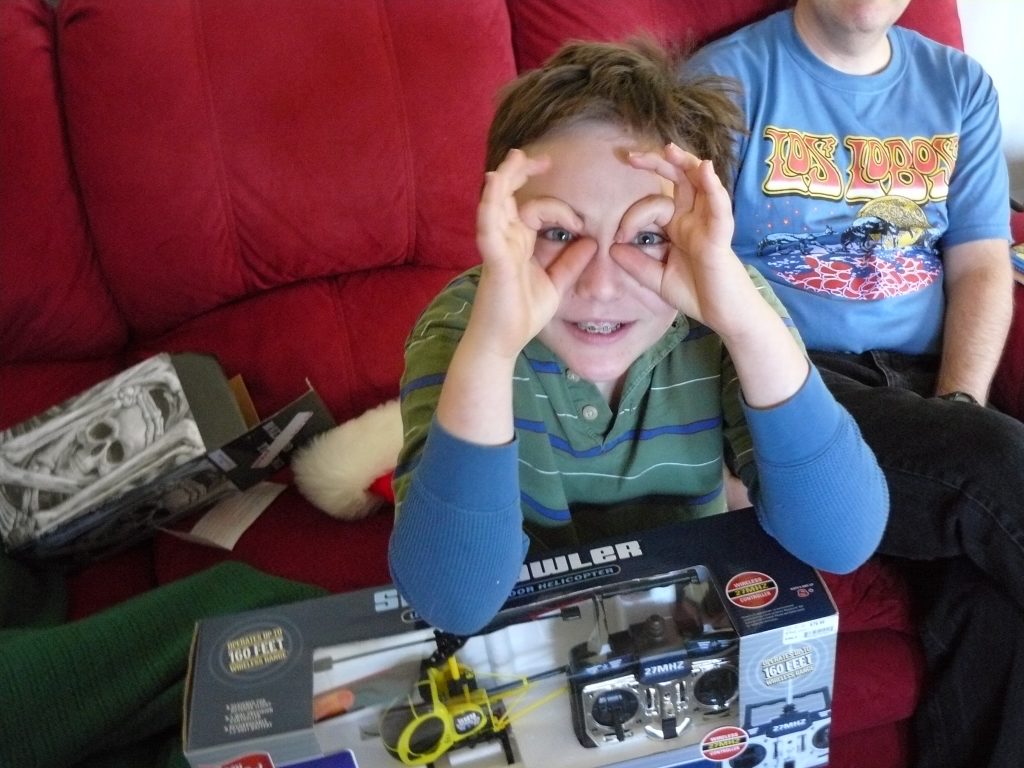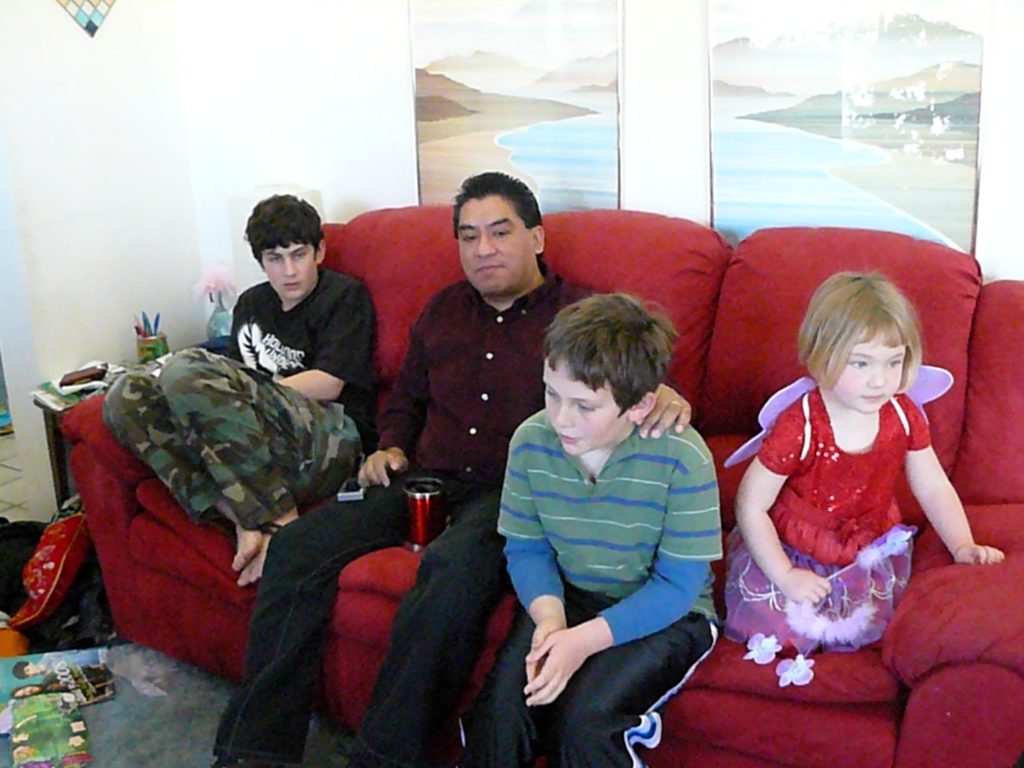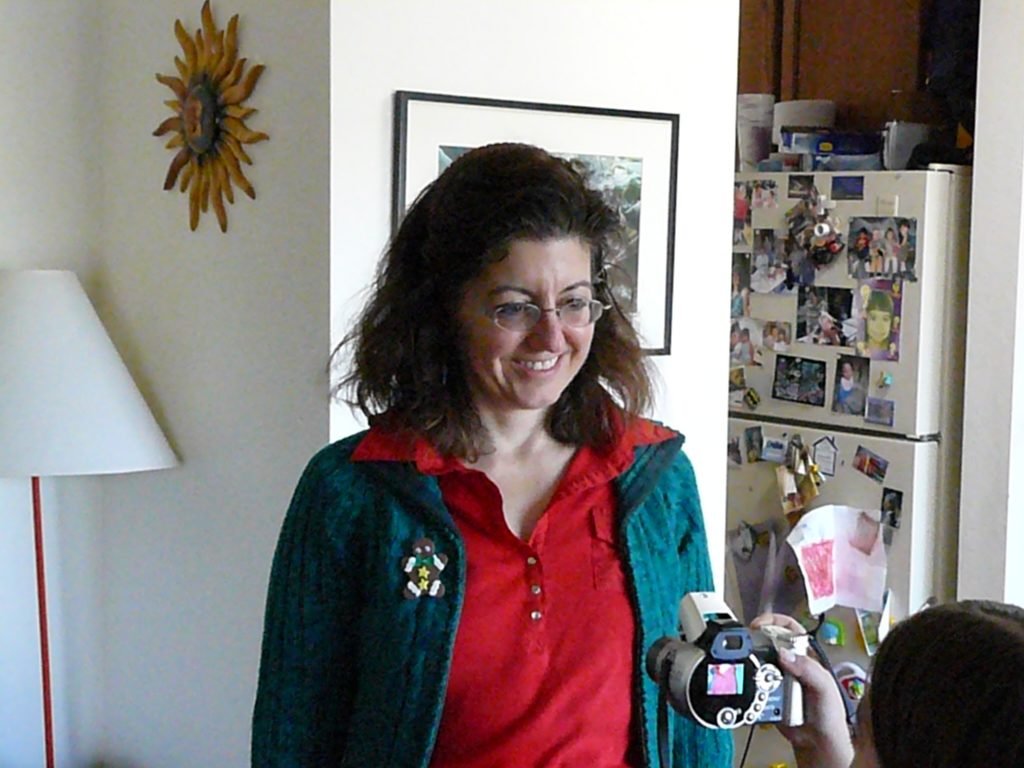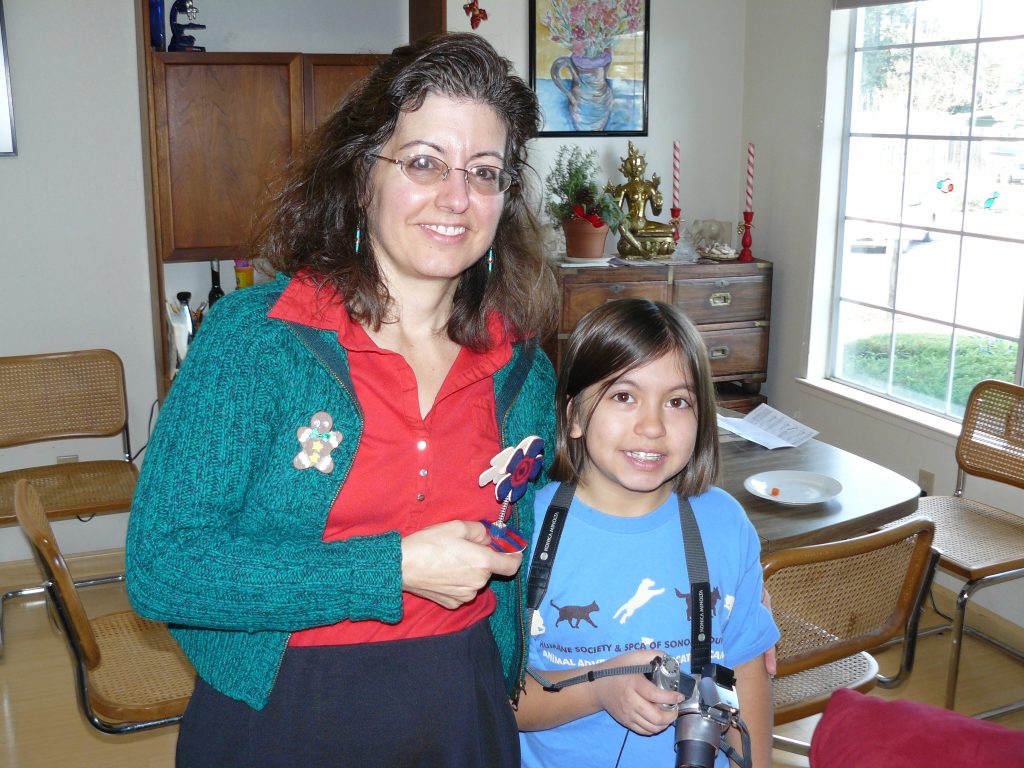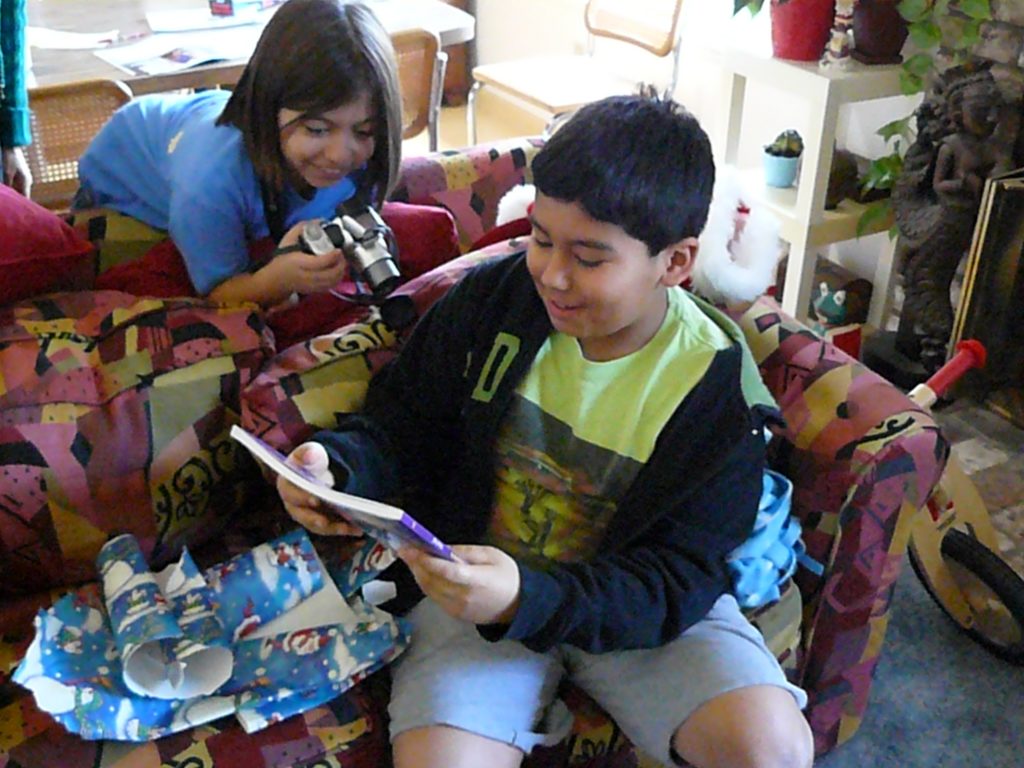 Sofi took lots of good pictures.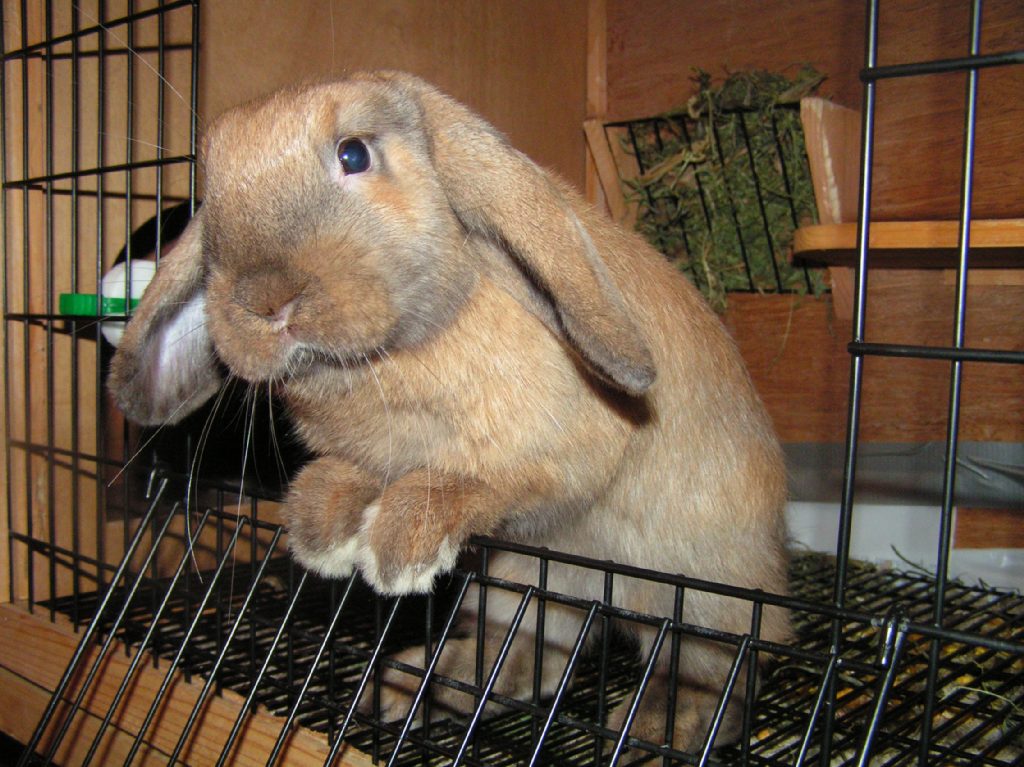 This is one of Sofi's photos. It is of Ginger, her rabbit.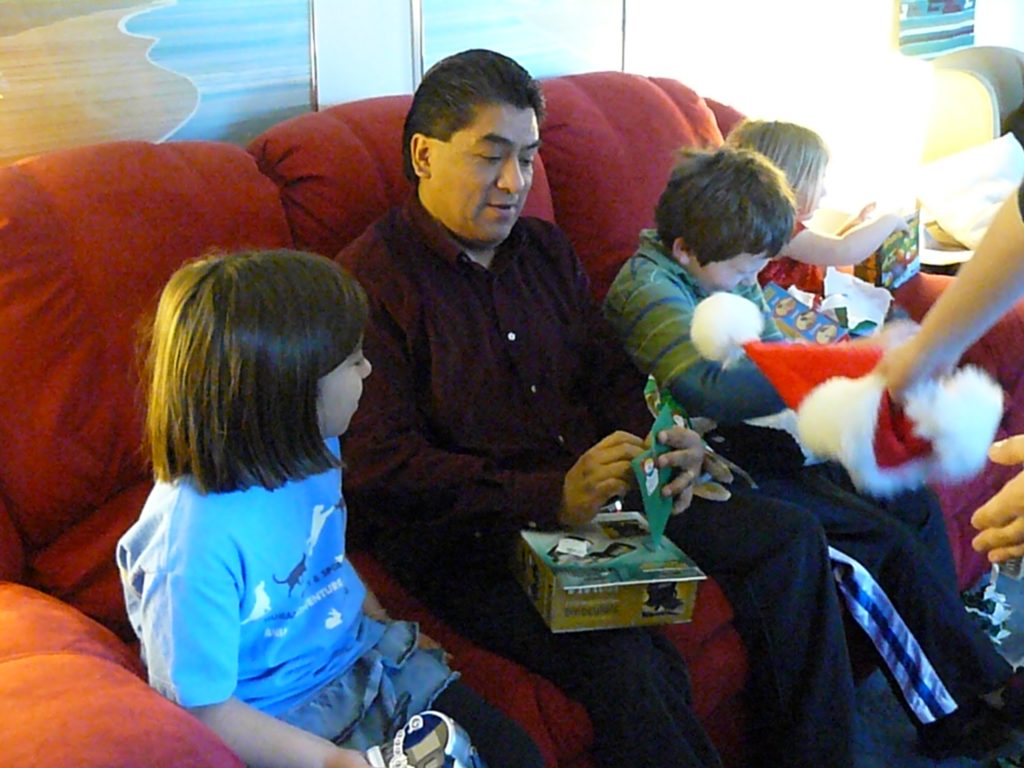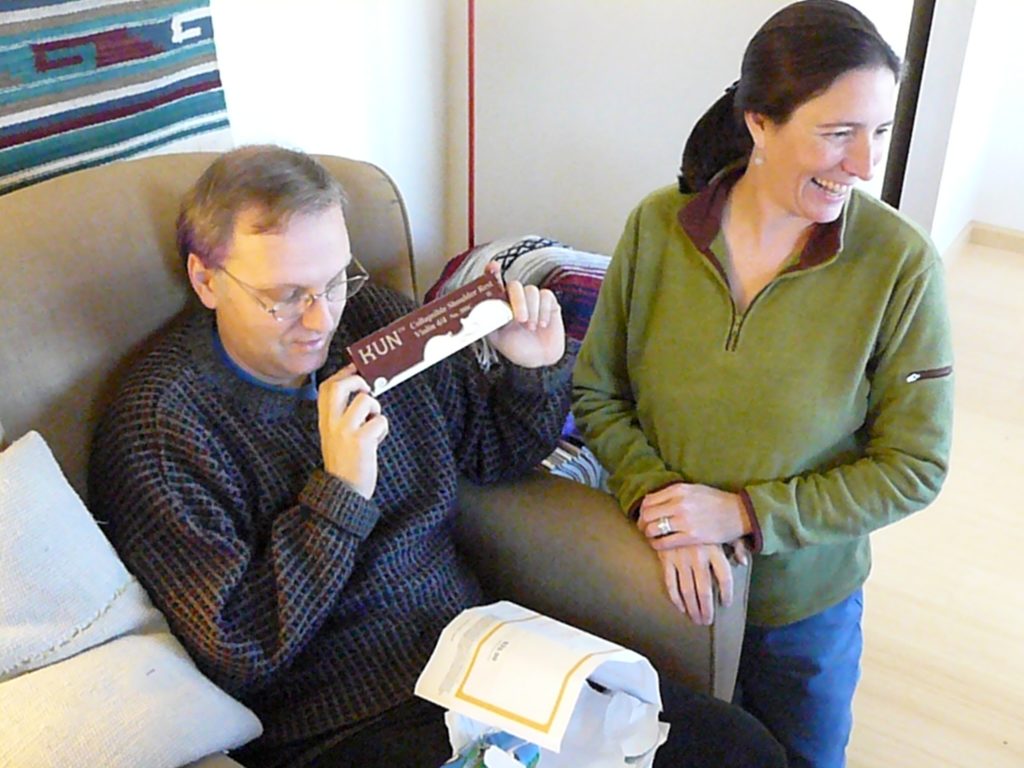 Eric got a chin rest for his violin, on which he practices regularly. He plays bluegrass with a group of friends.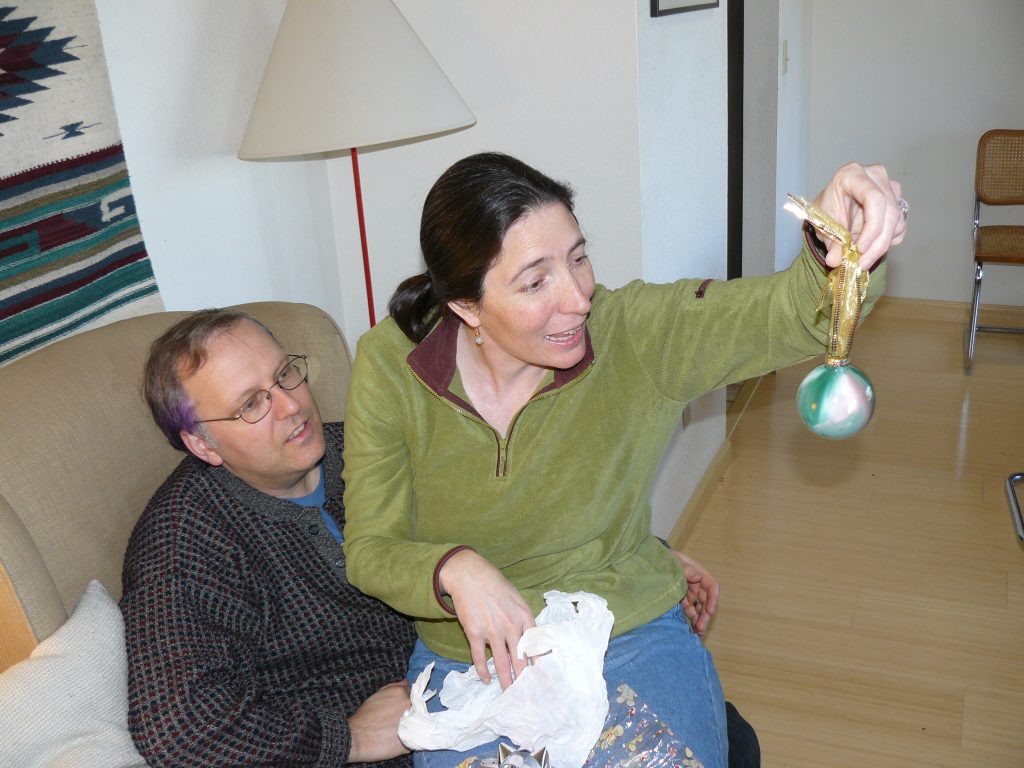 A Christmas Tree decoration made by Isabelle.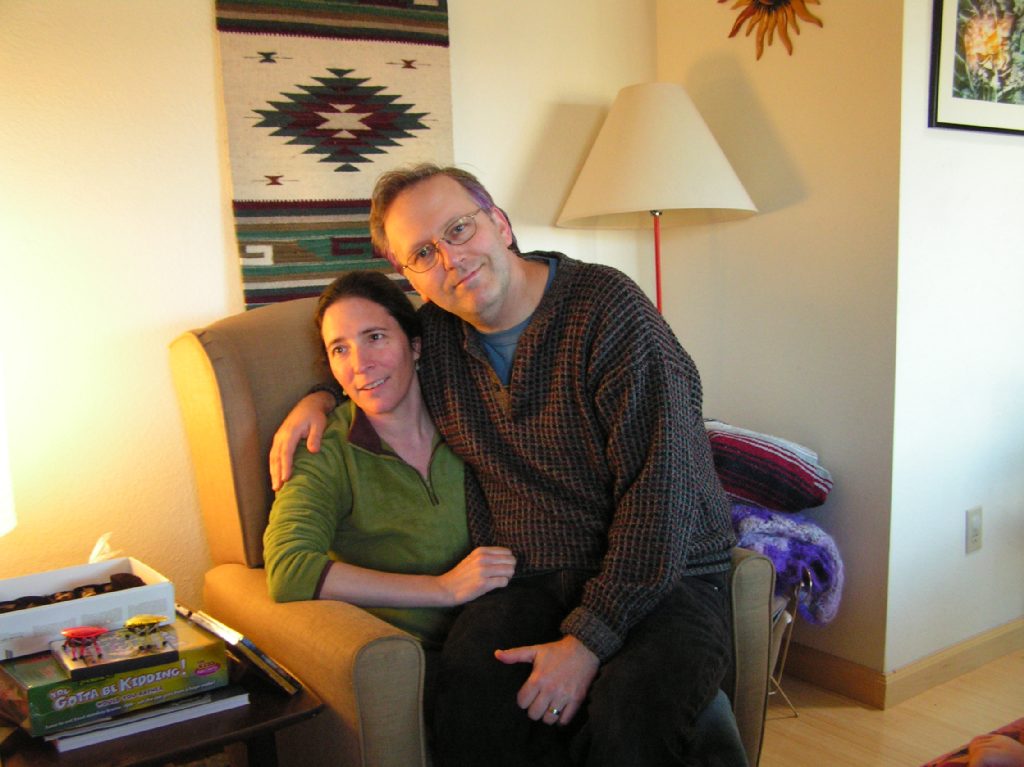 This photo is one of Sofi's.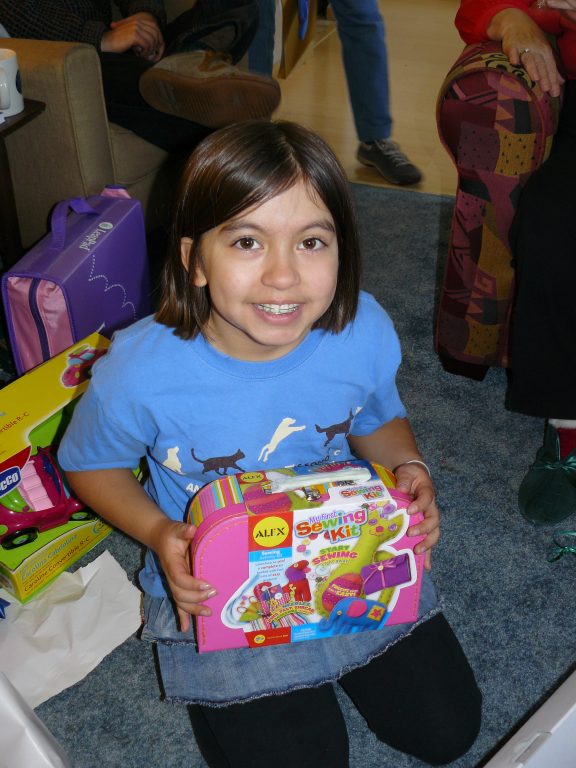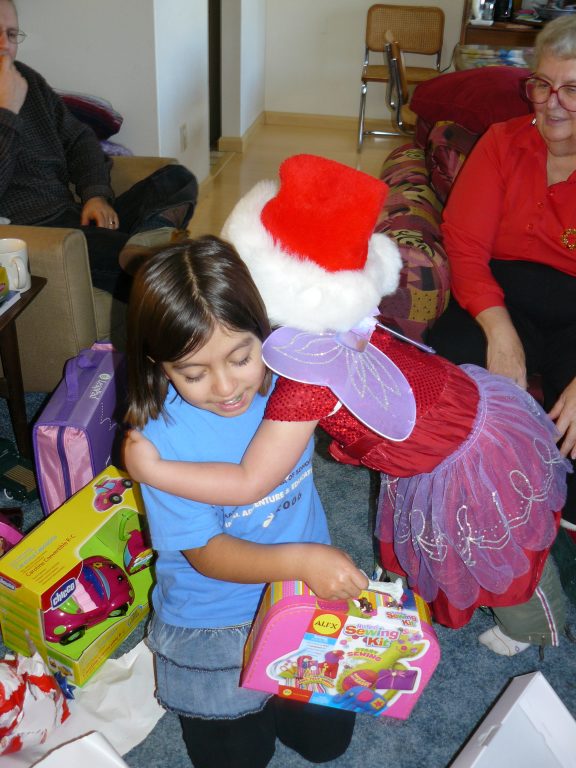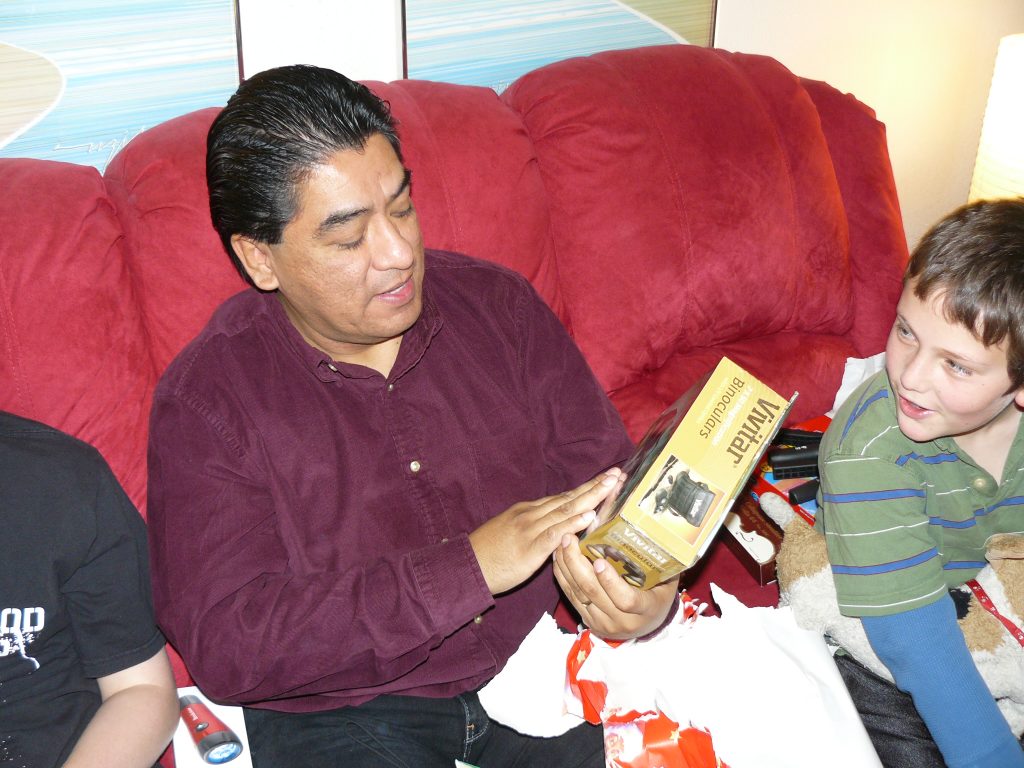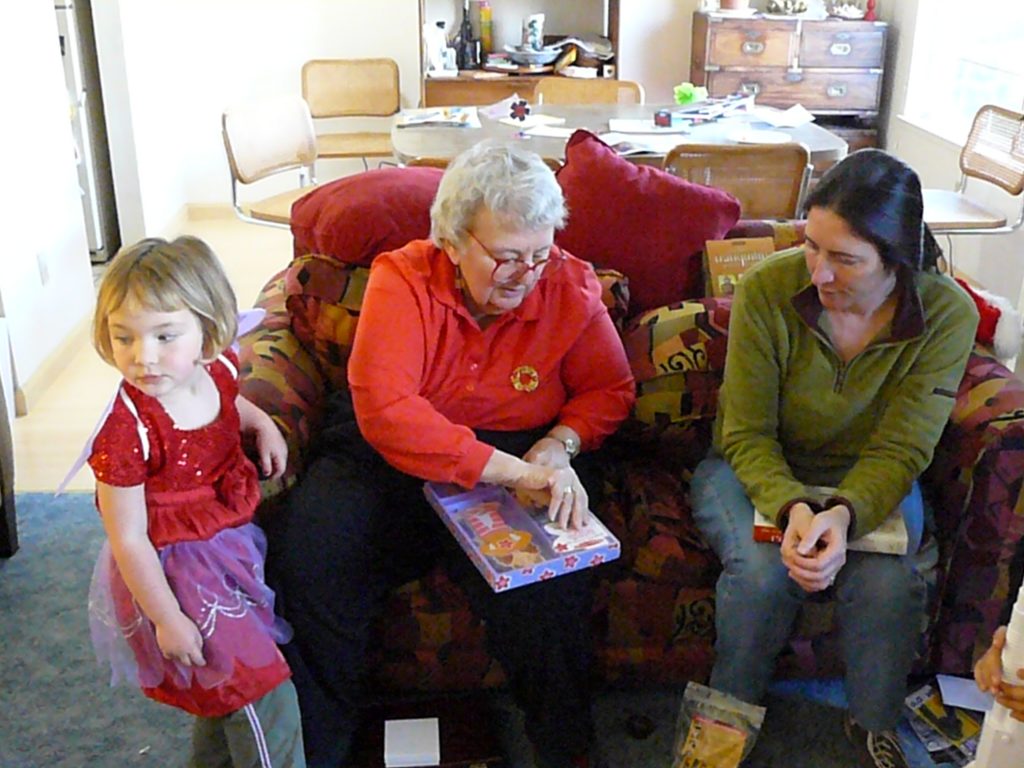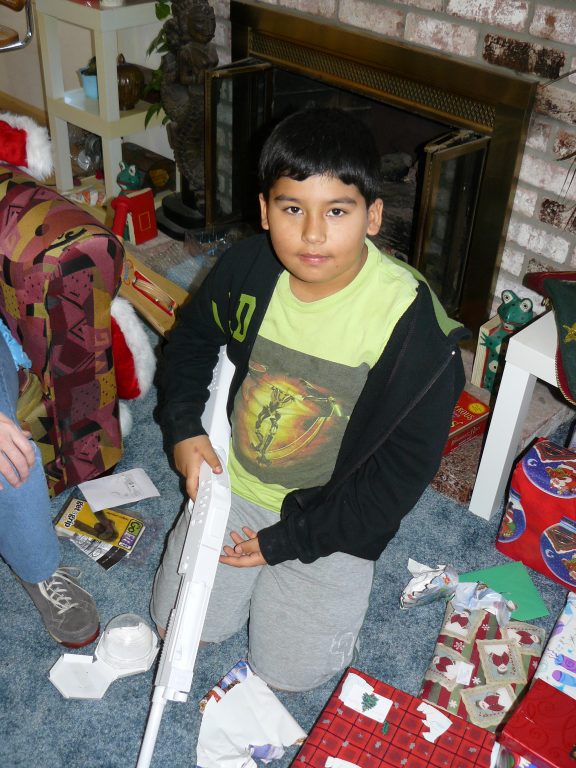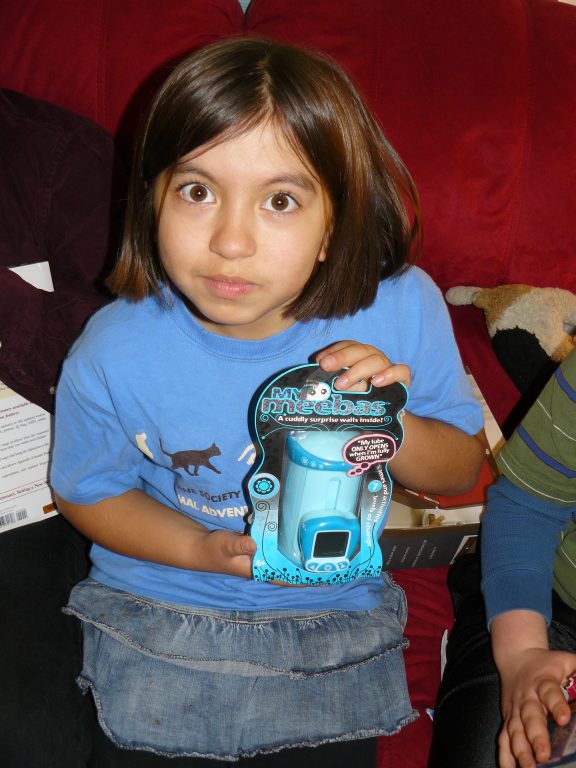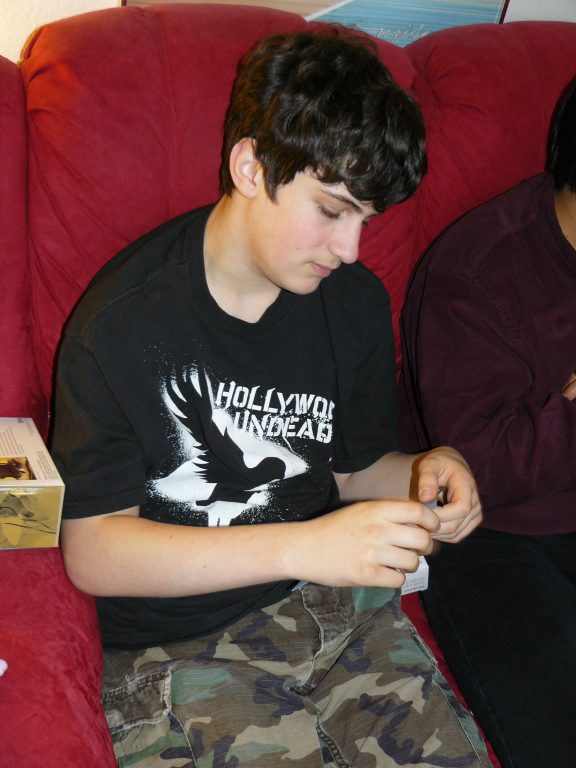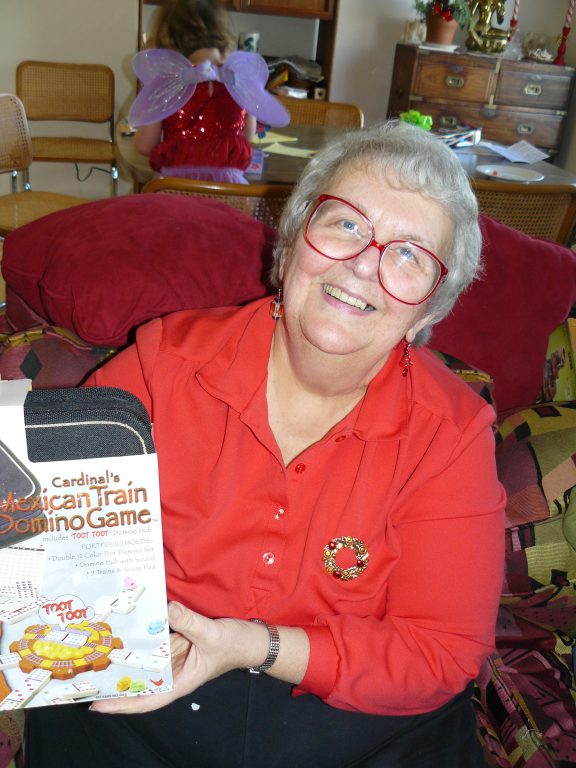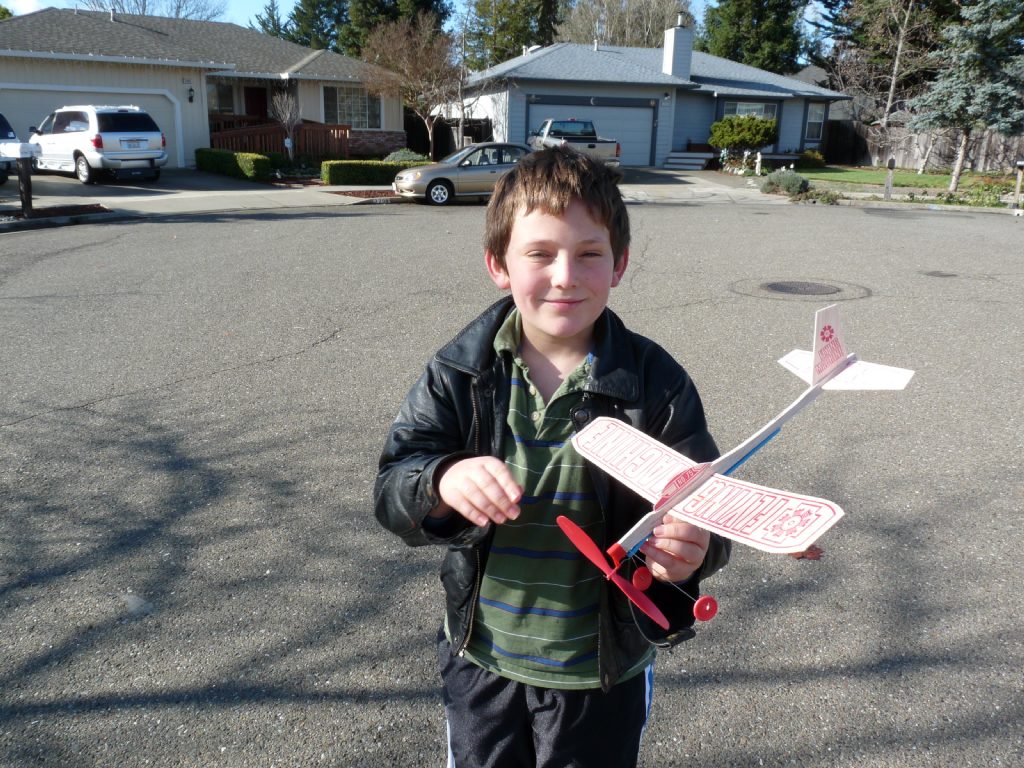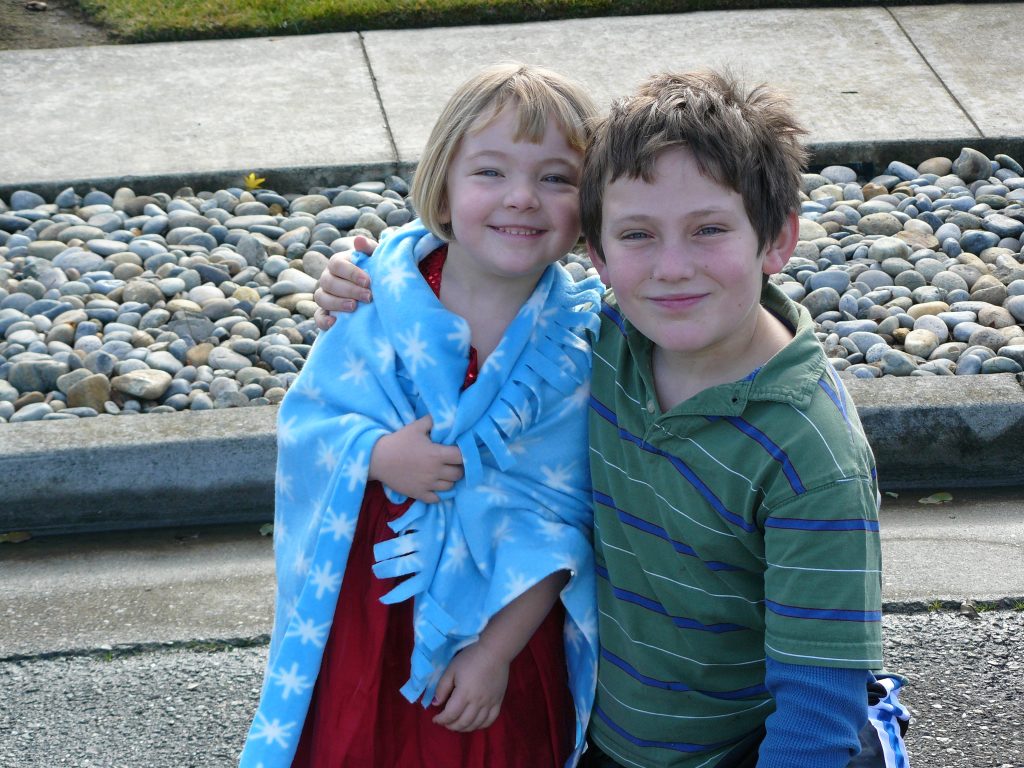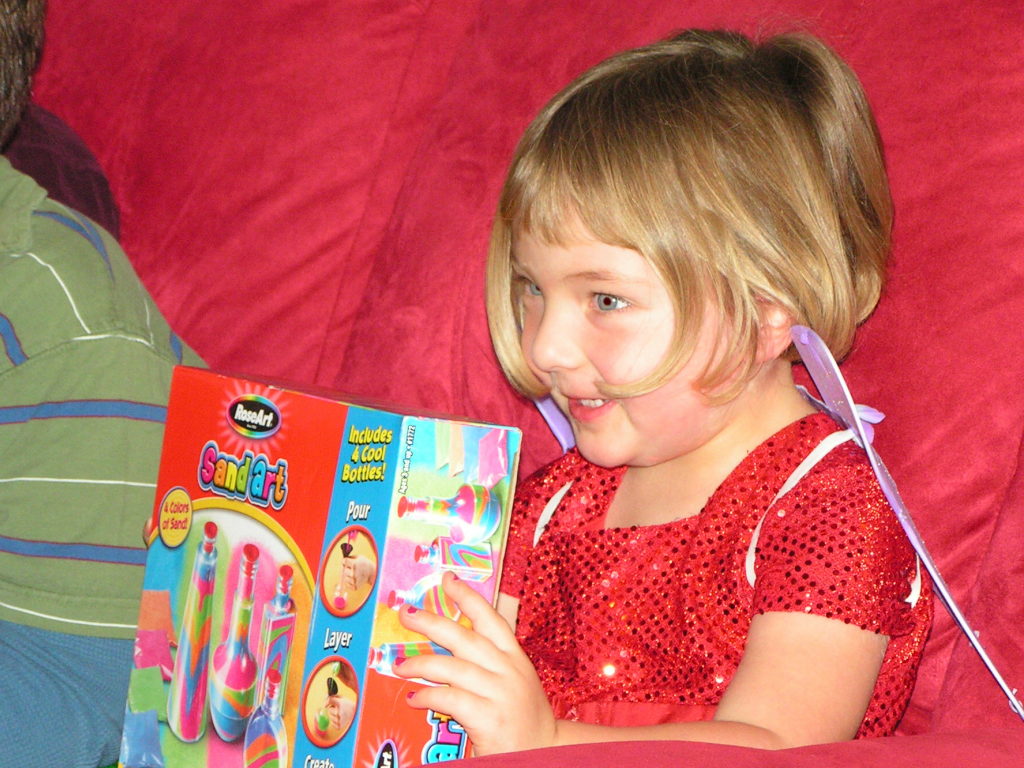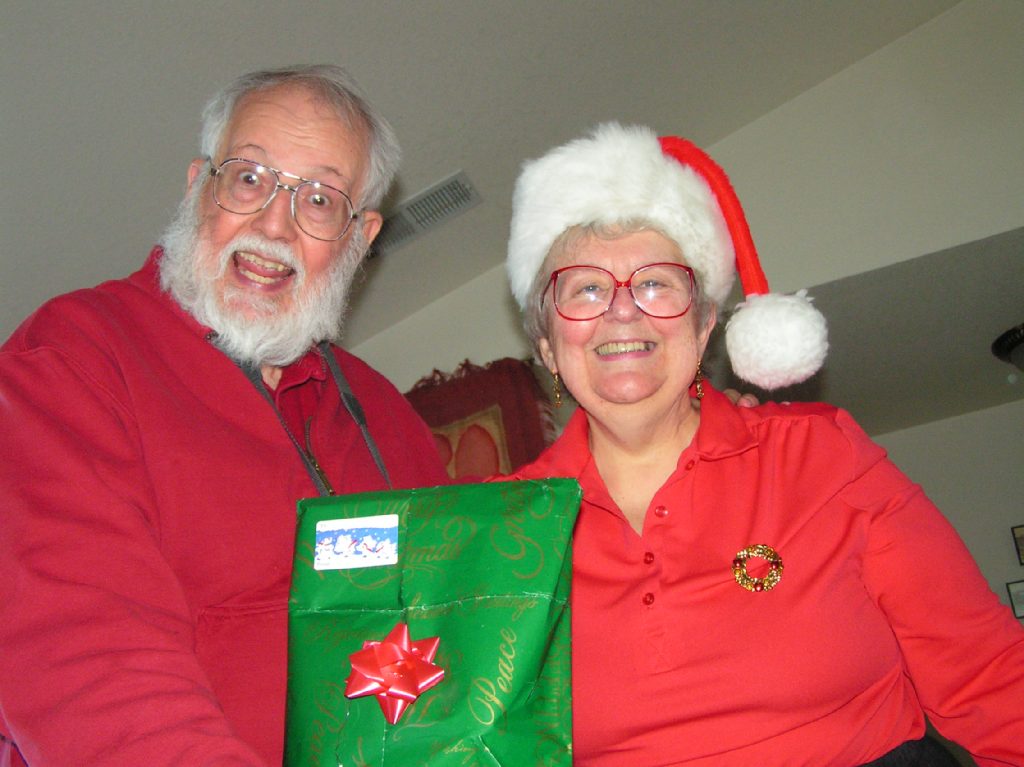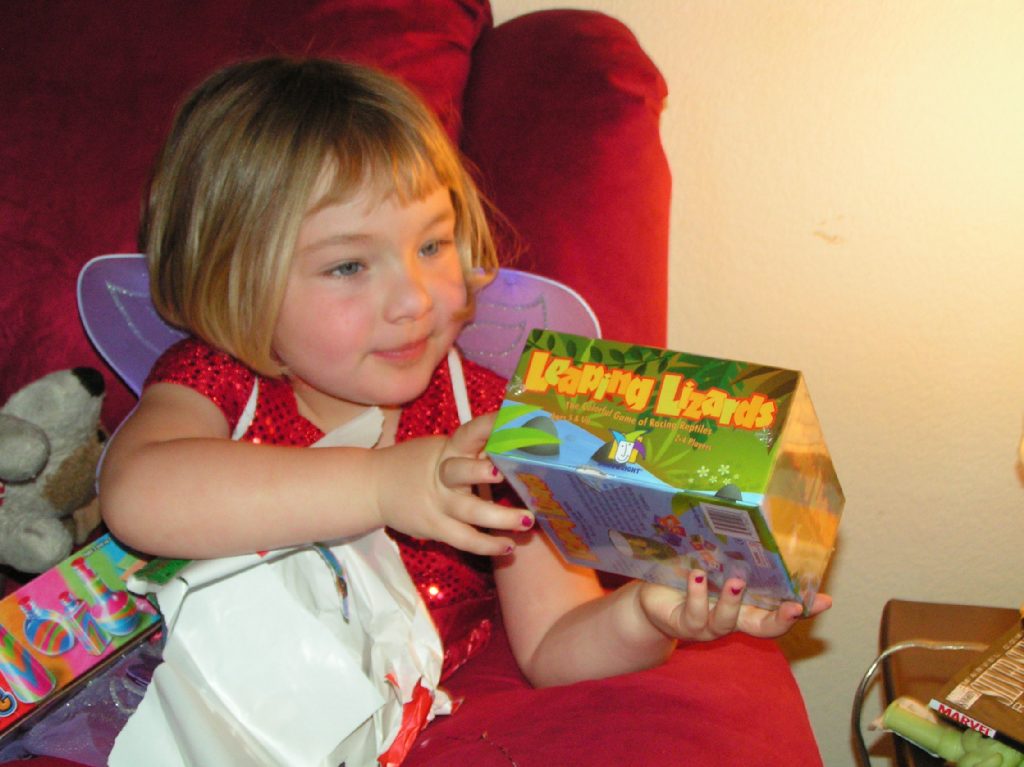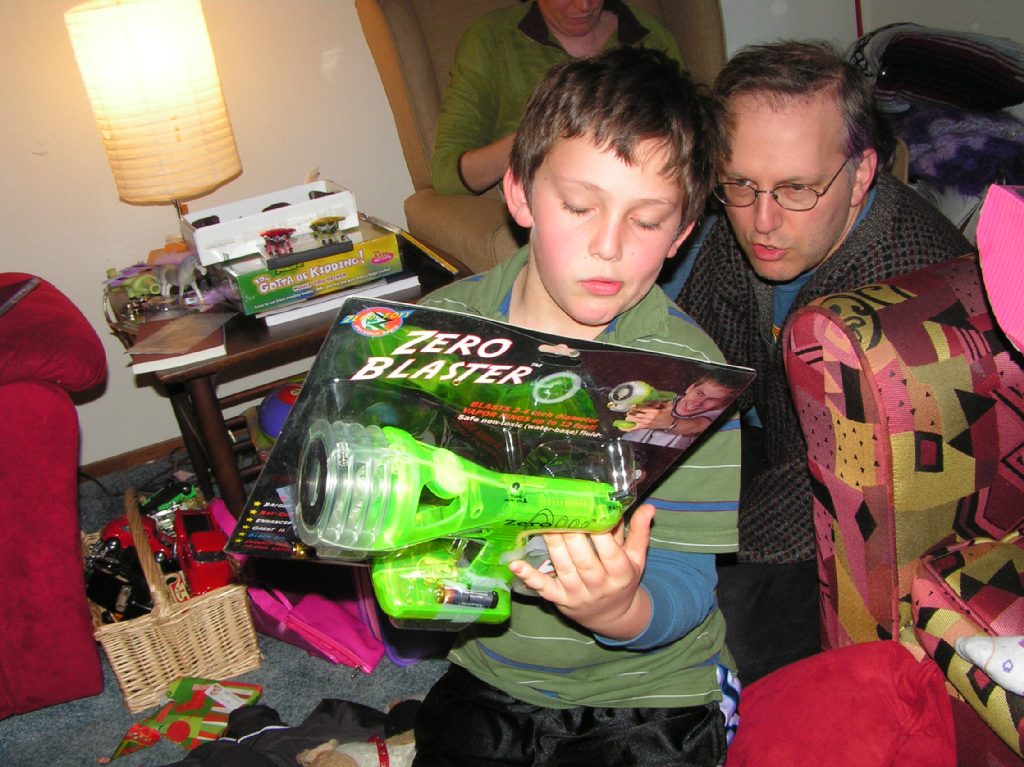 Lots of excitement. The Zero Blaster (above) turned out to be an interesting toy -- it blows smoke rings (though the smoke isn't real -- it is a vegetable oil mist).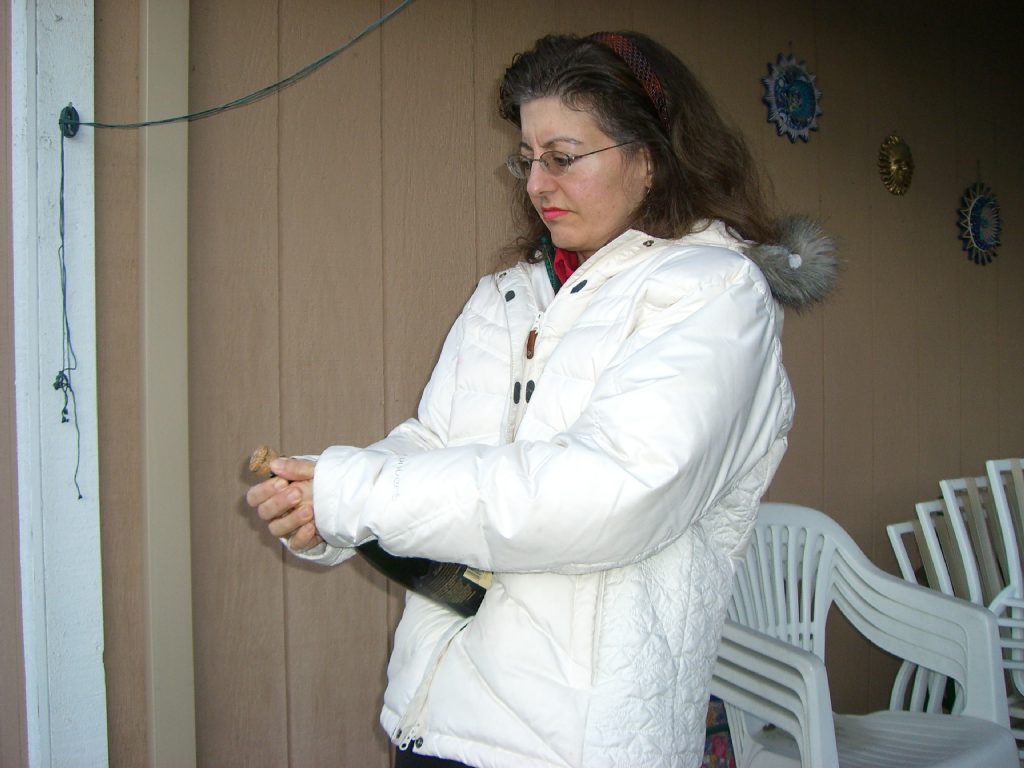 Suzy did the honors with Champagne.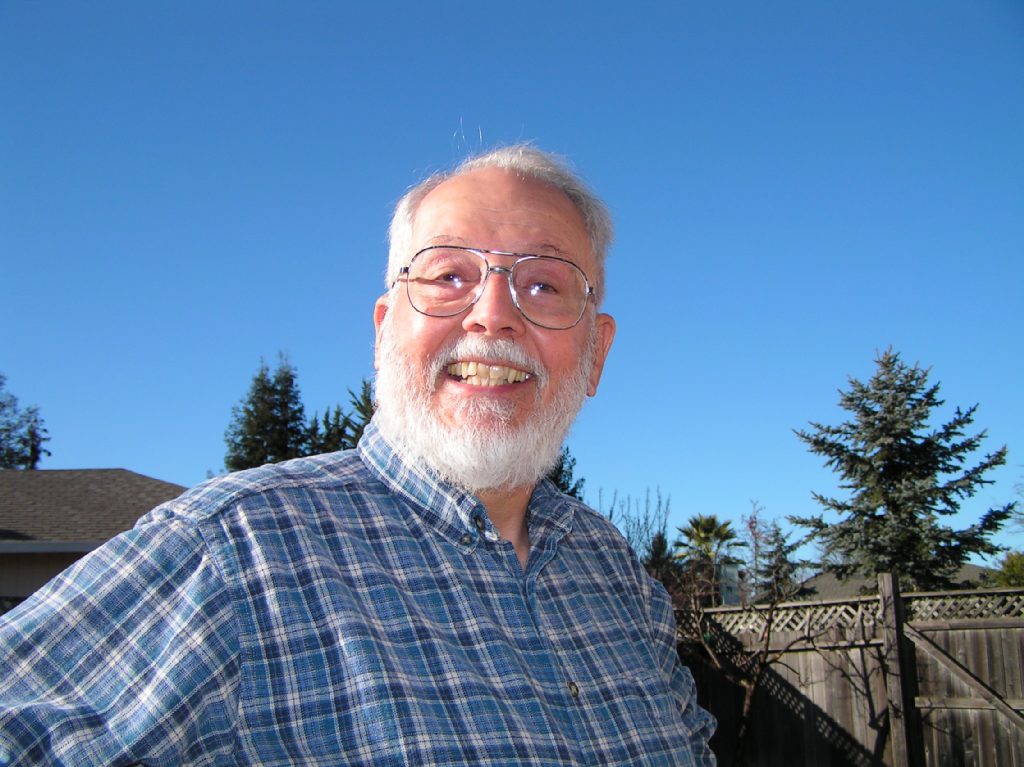 Sofi took this picture of Grandpa.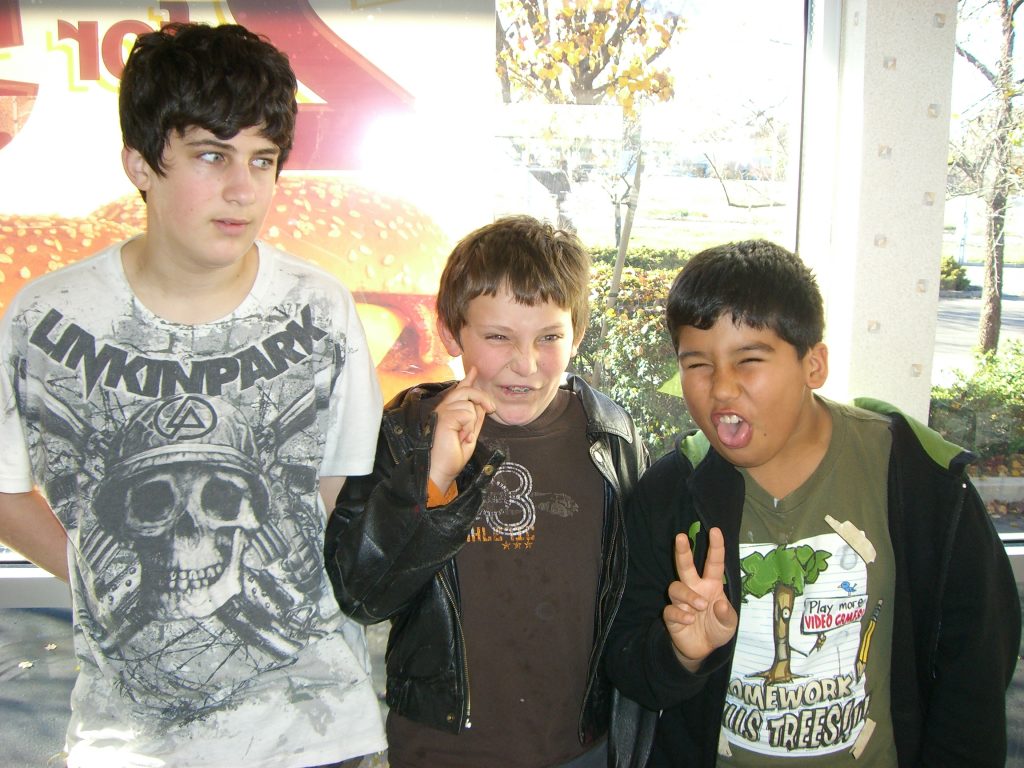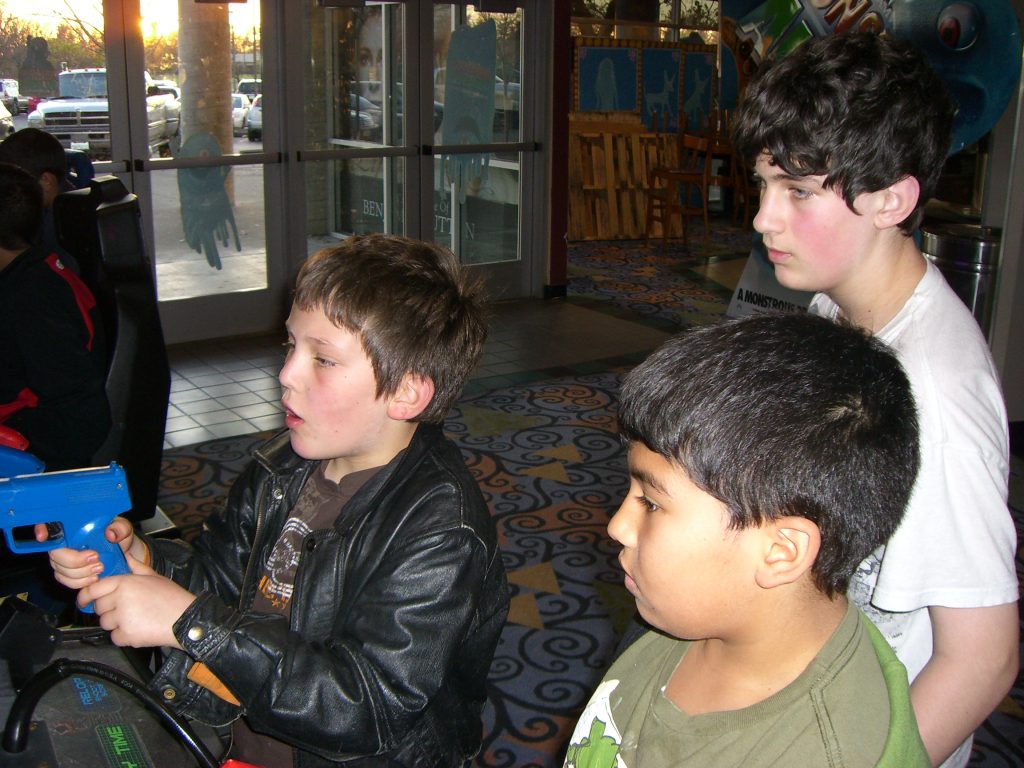 We got together again for New Year's. Grandpa took the boys to the movies. Before the movie, burgers at Carls Junior. After the movie, arcade games.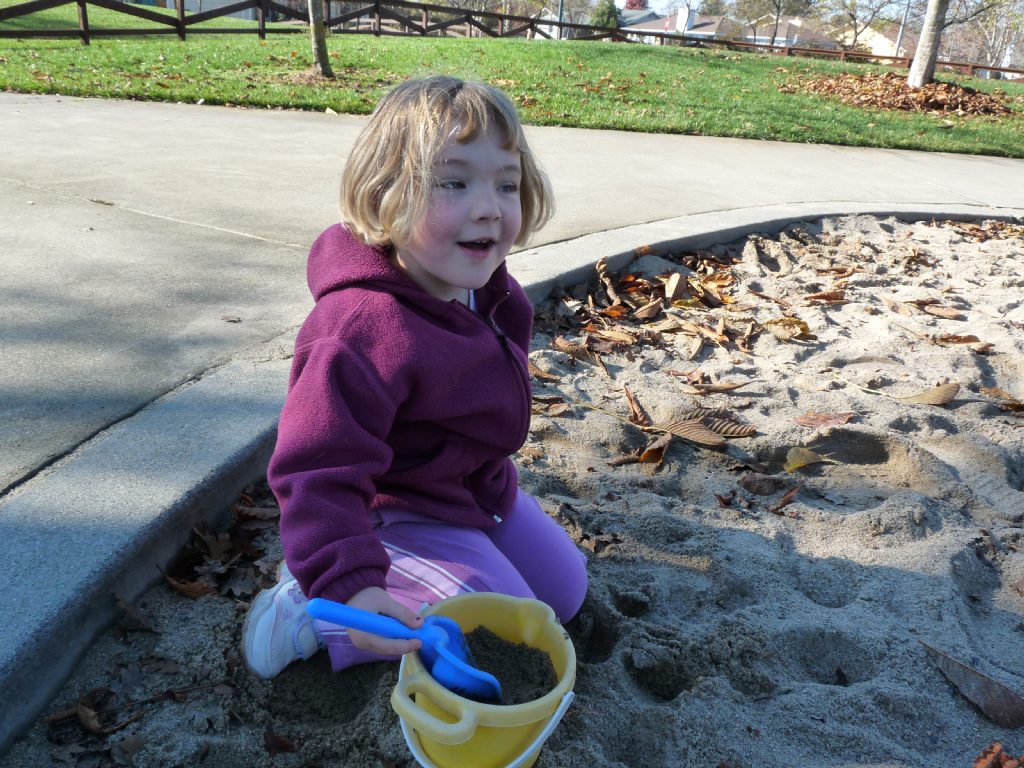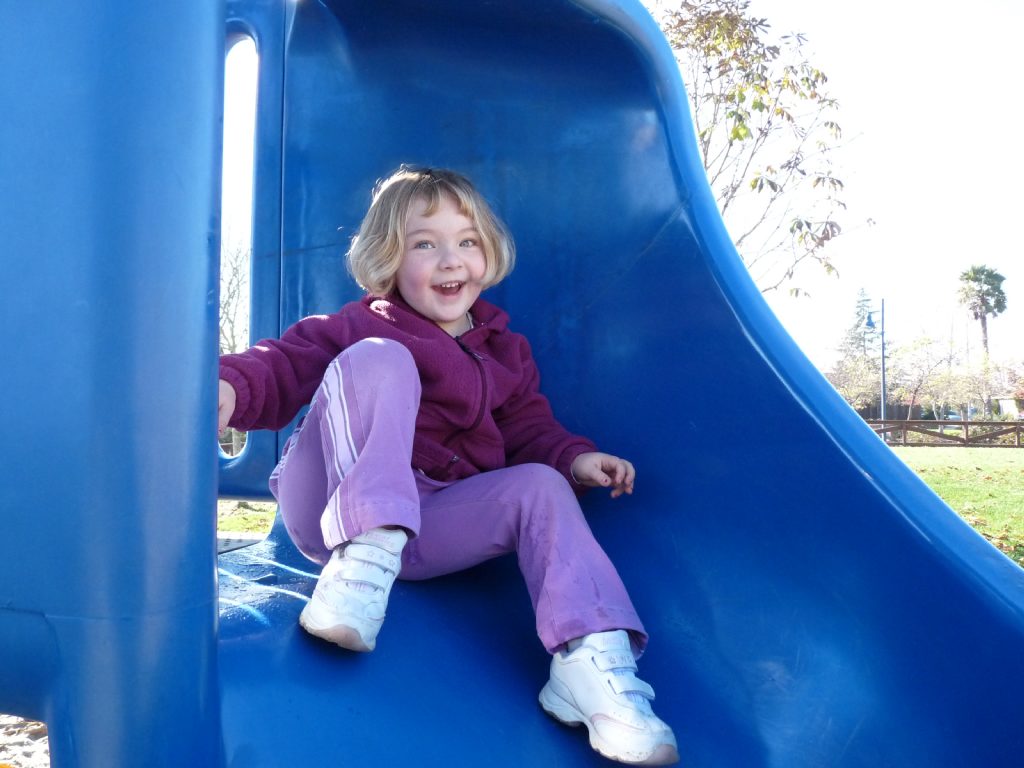 Grandpa and Isabelle went to the park.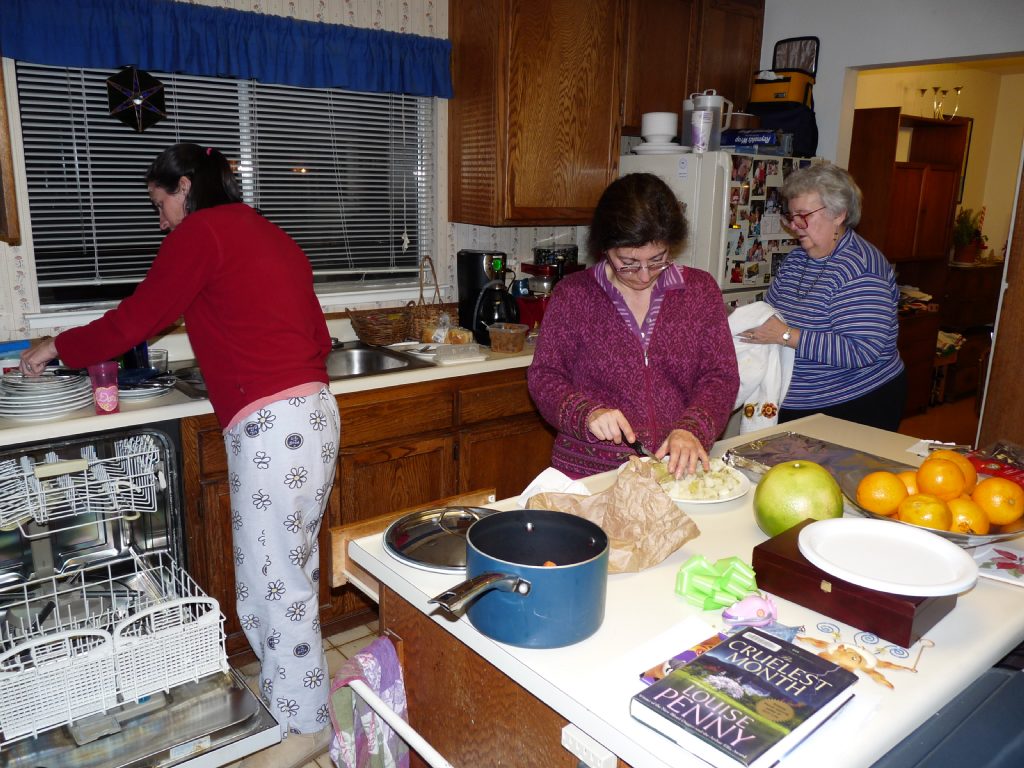 Sandra, Suzy, and Grammy prepared the New Year's Day meal.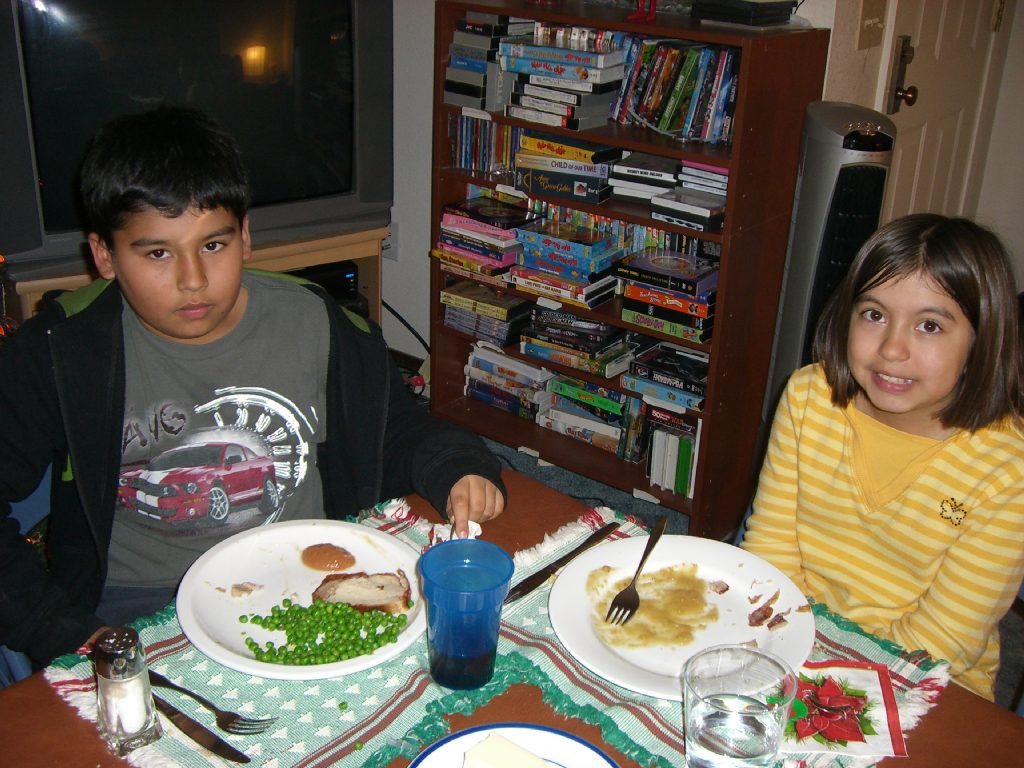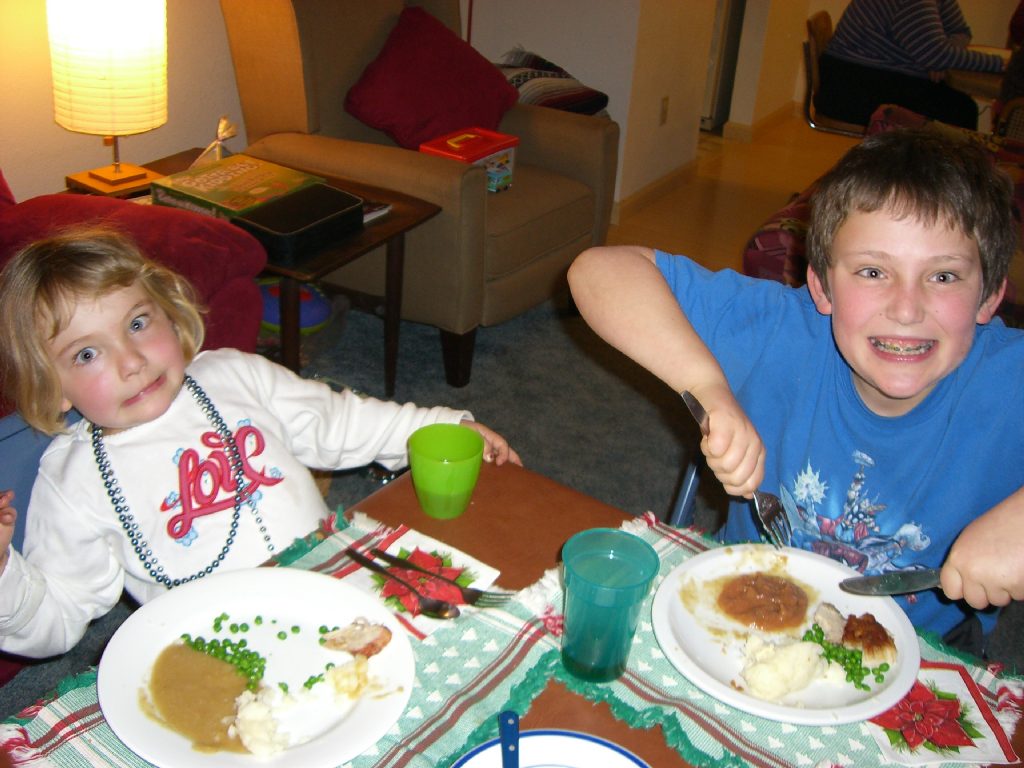 The kids at the little table.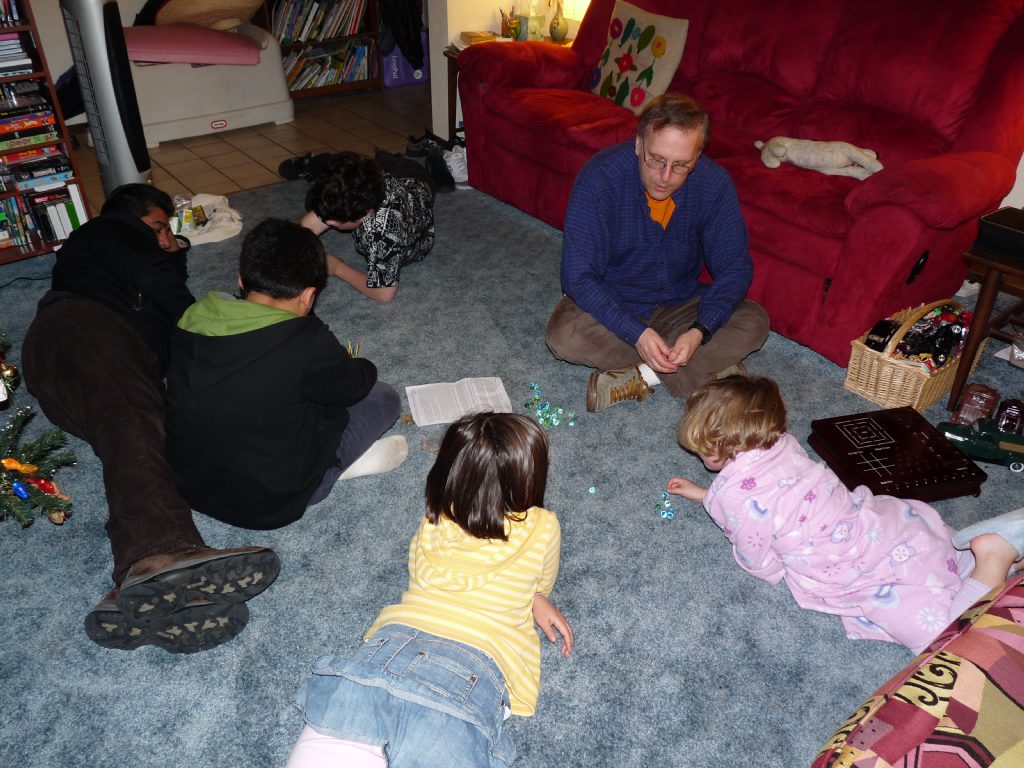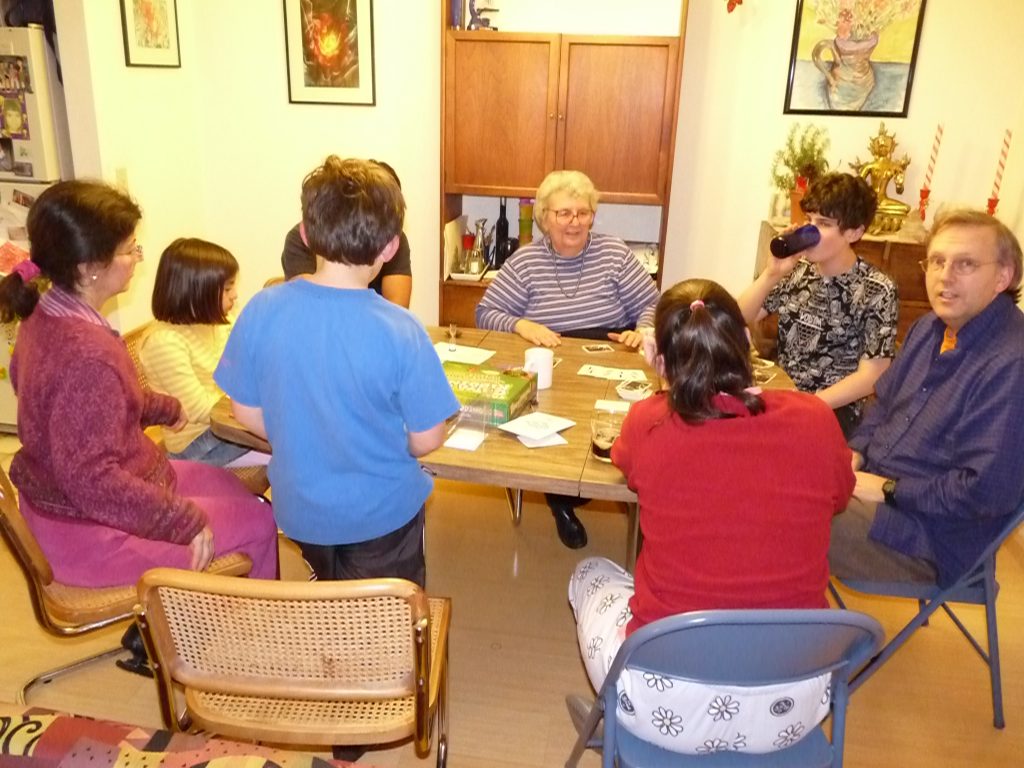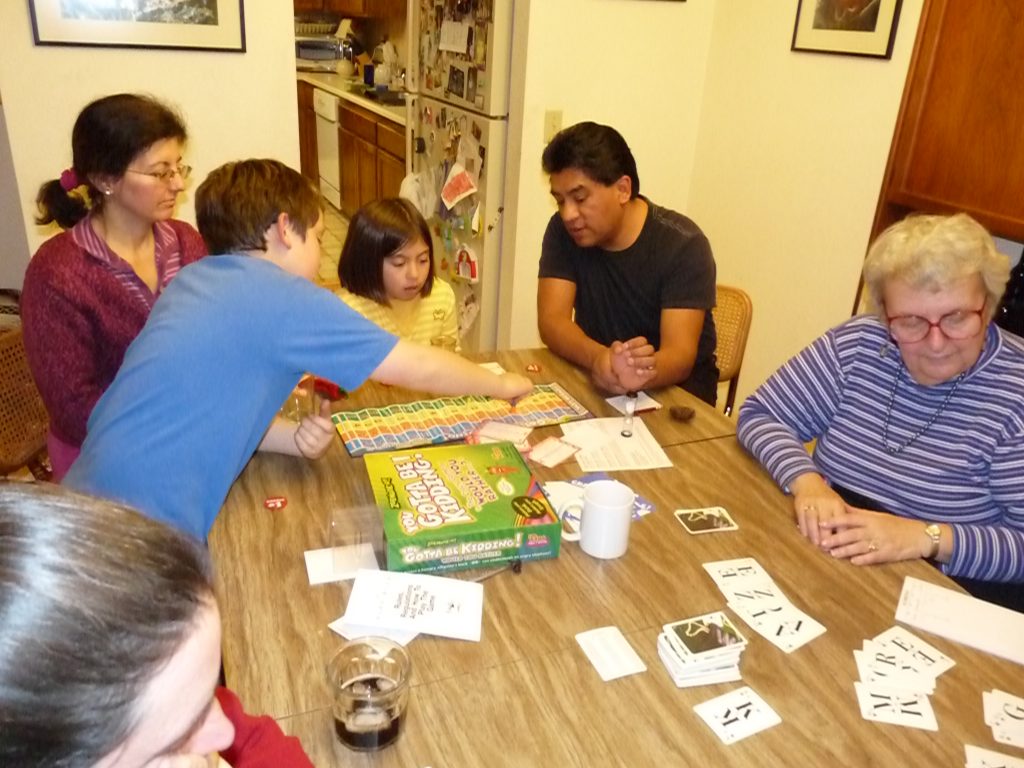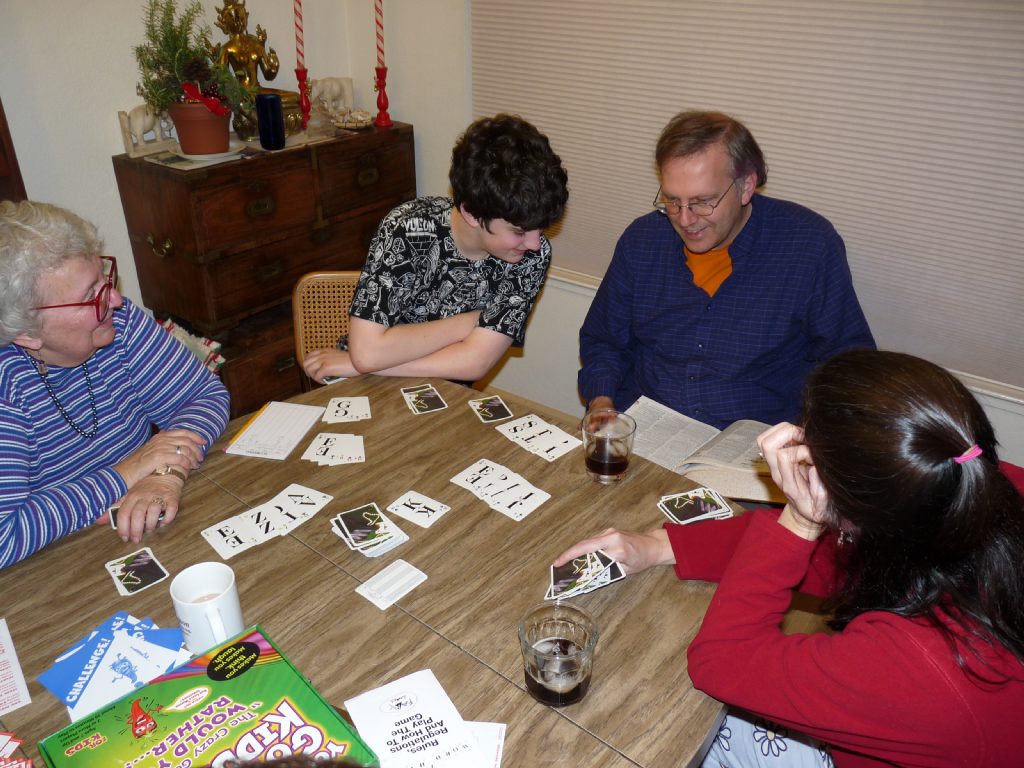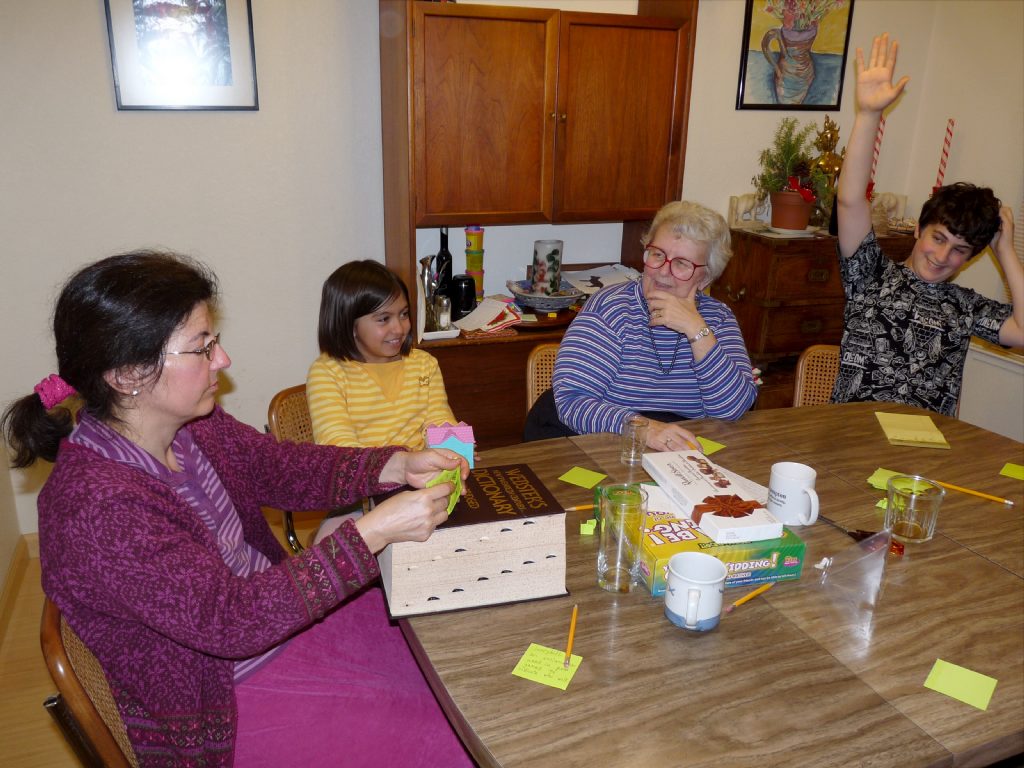 After dinner, let the games begin!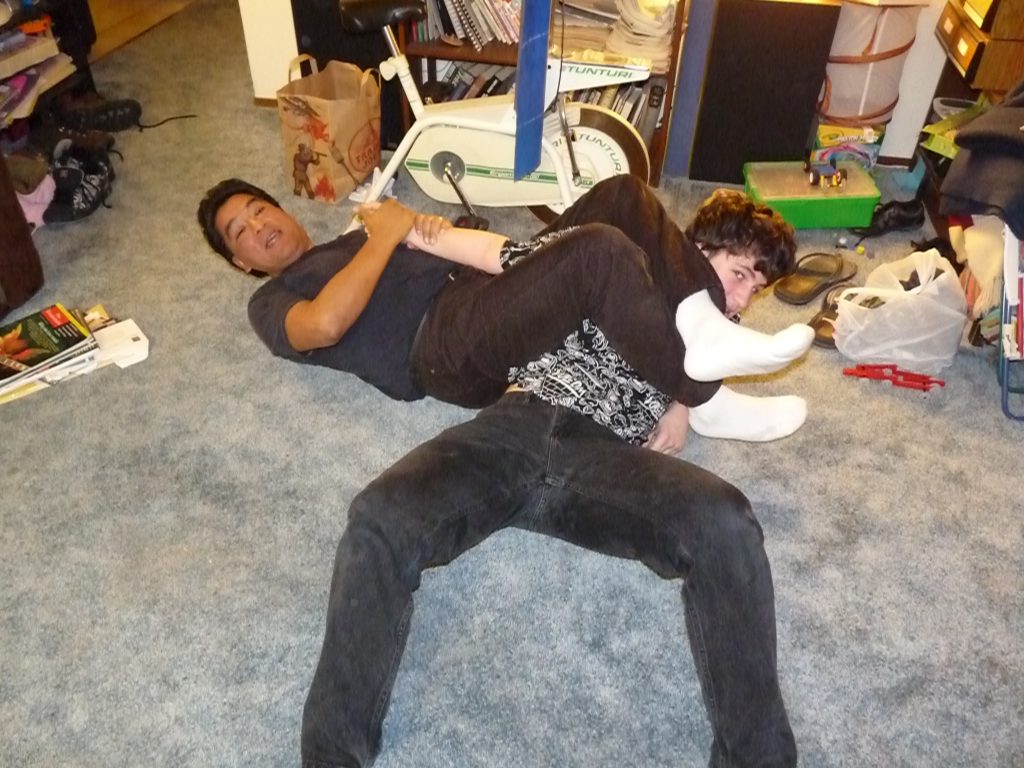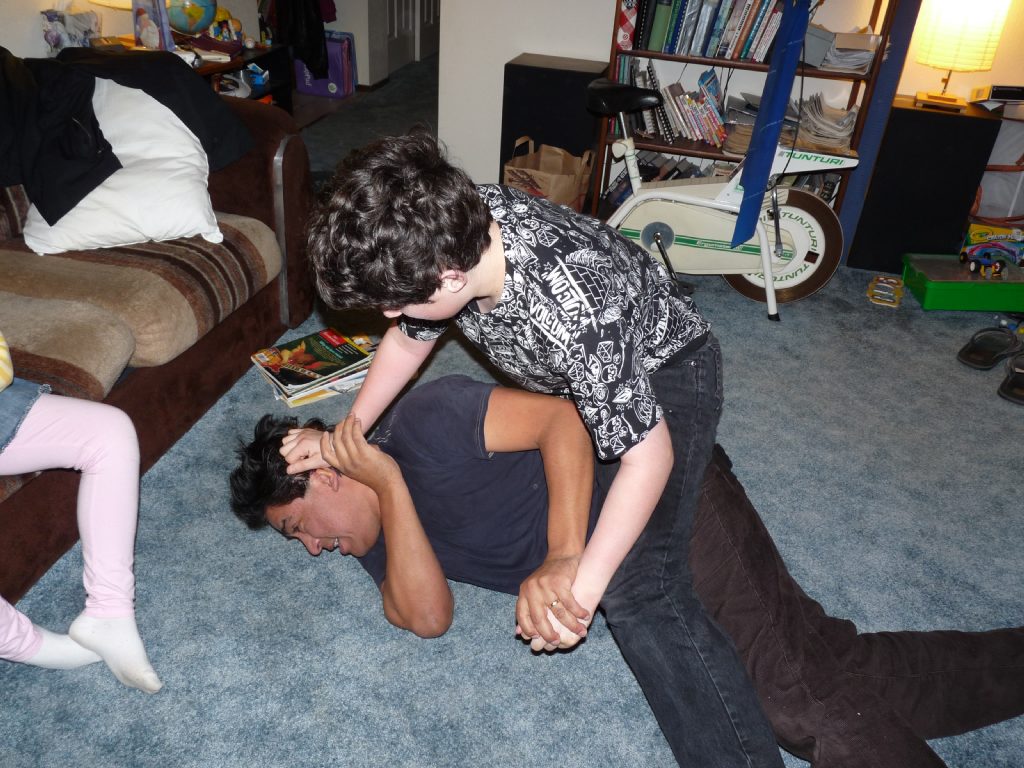 Mundo and Cassidy like to wrestle. Cassidy is almost 15, and he is big.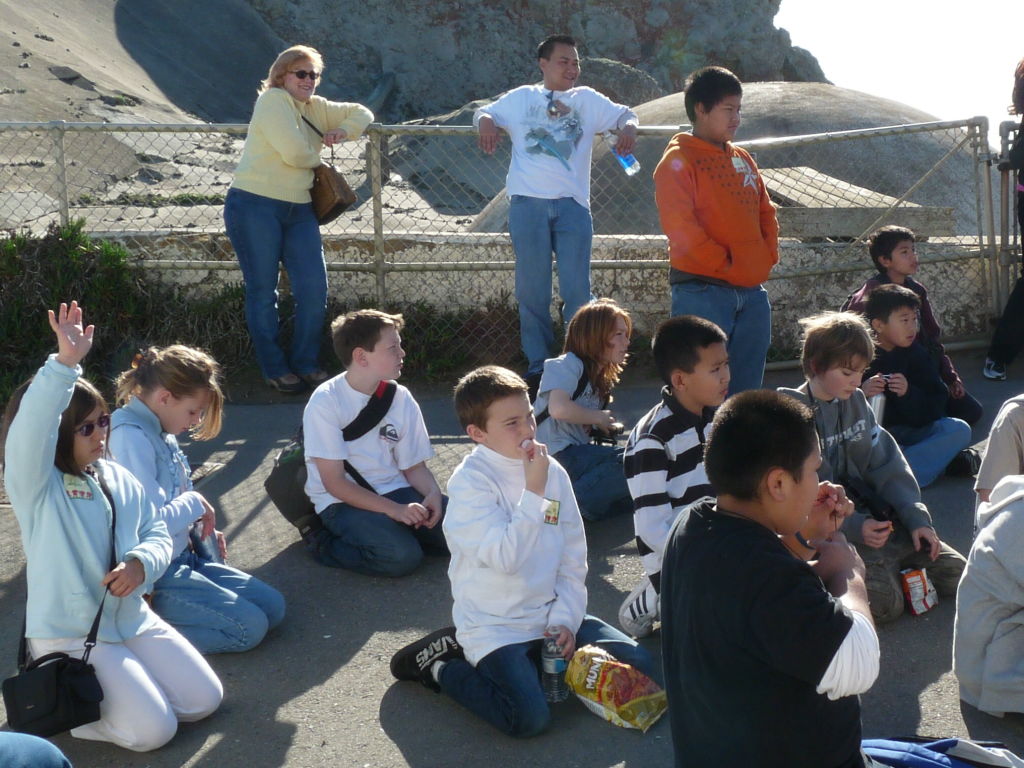 Sofi's class went on a trip to the Point Reyes Lighthouse.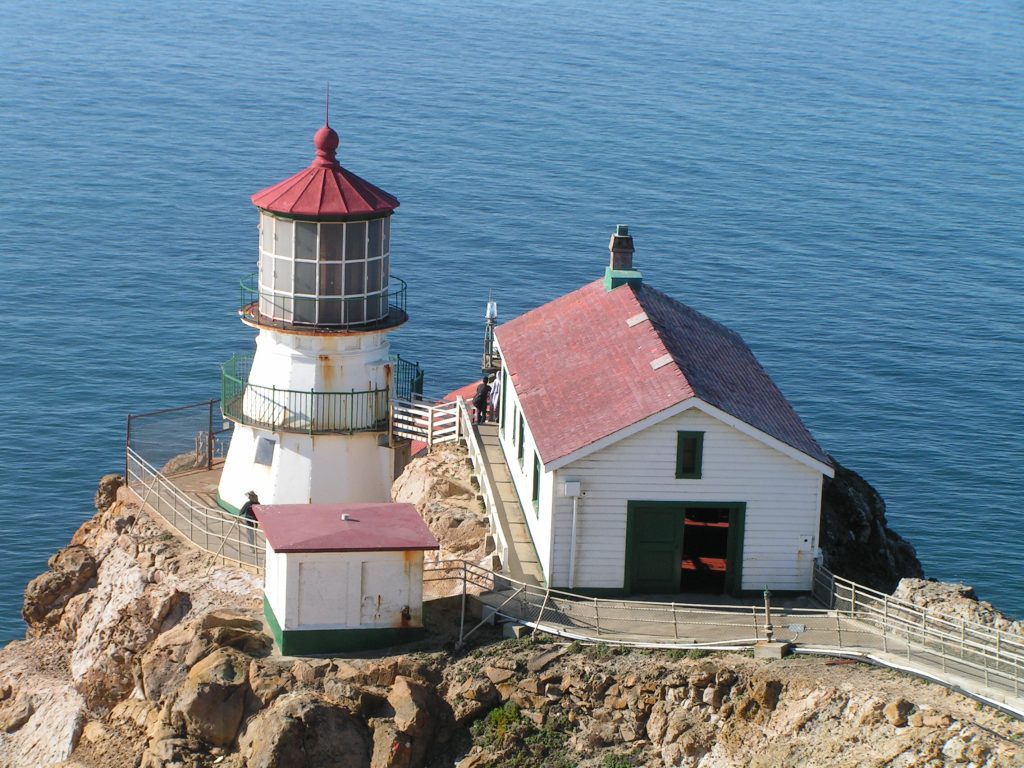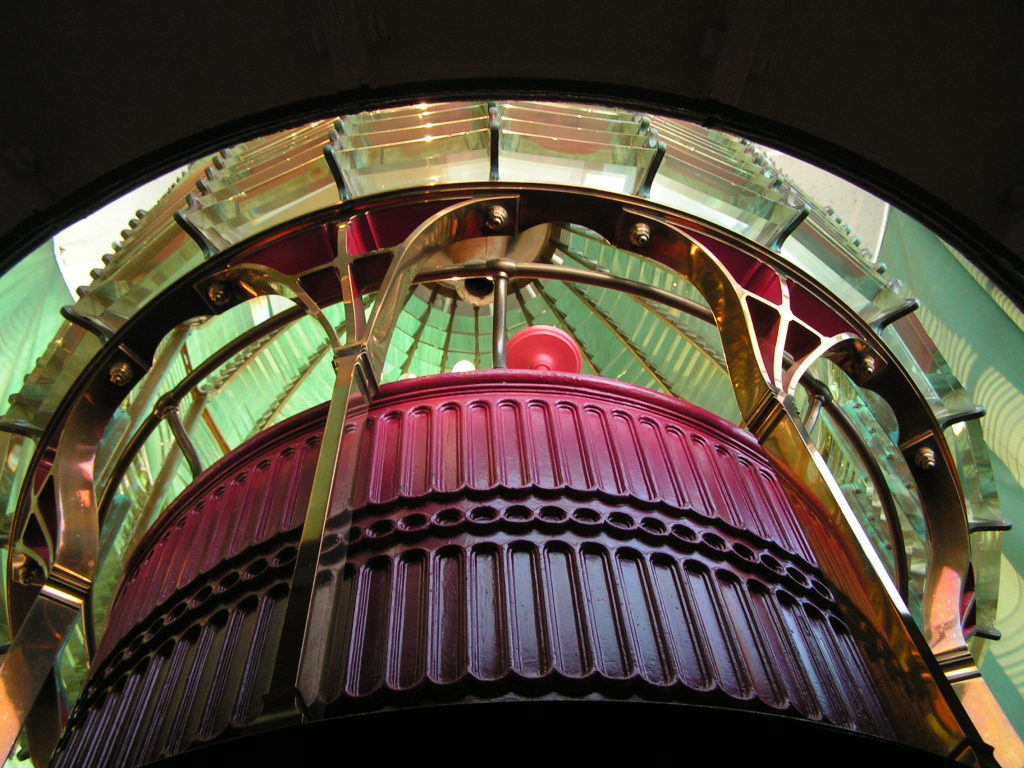 Sofi took the two pictures above.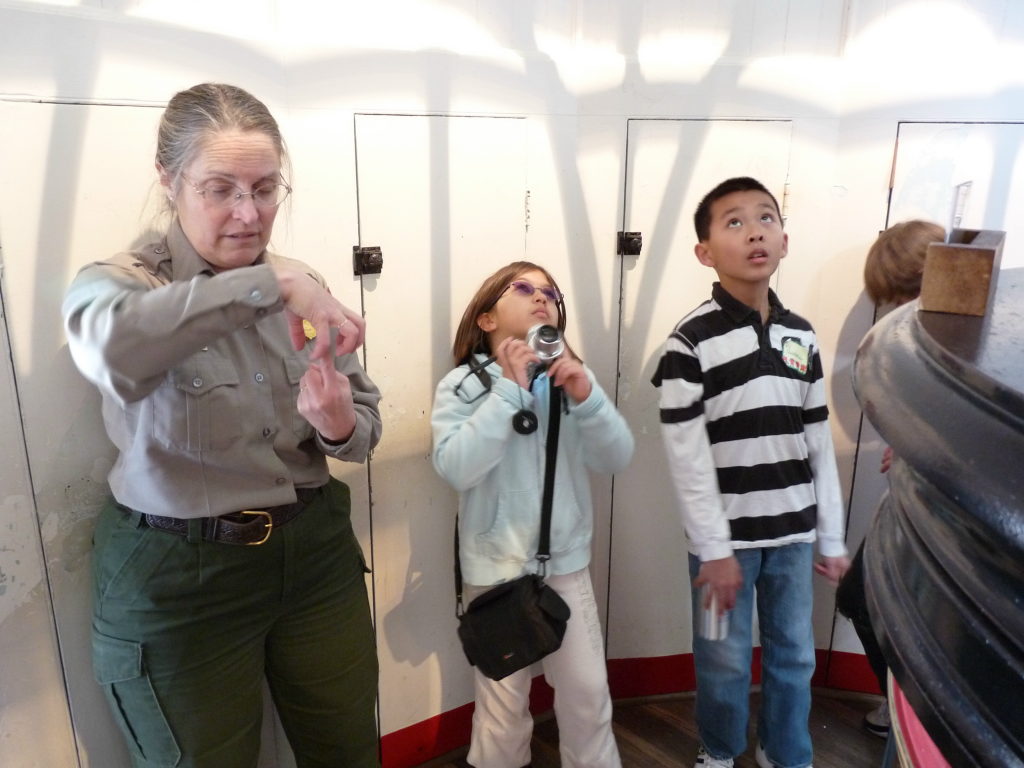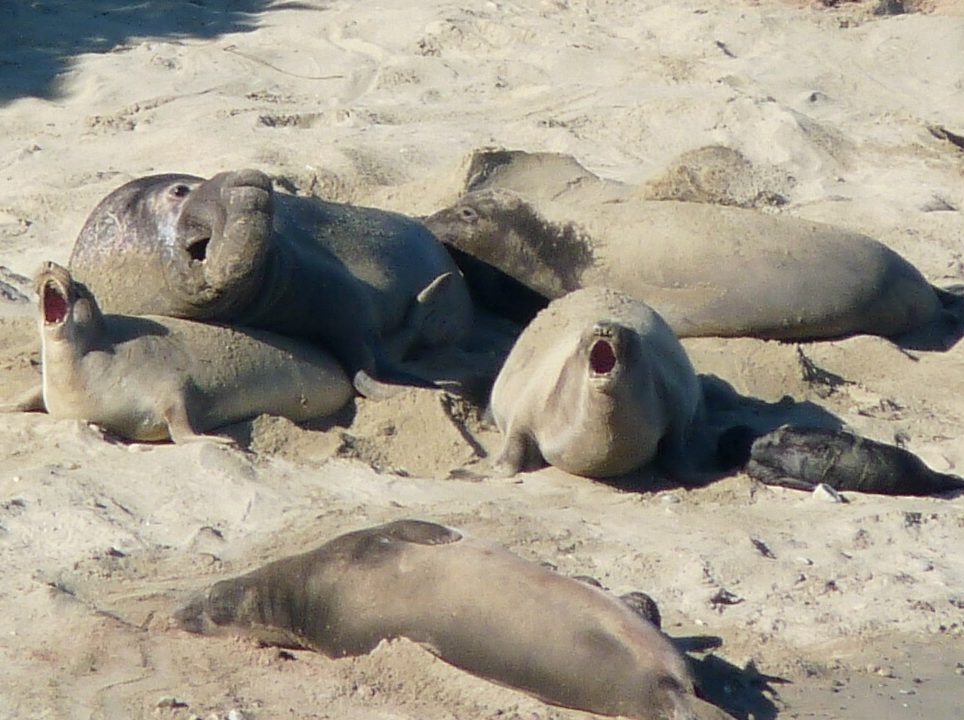 We also visited an elephant seal nursery.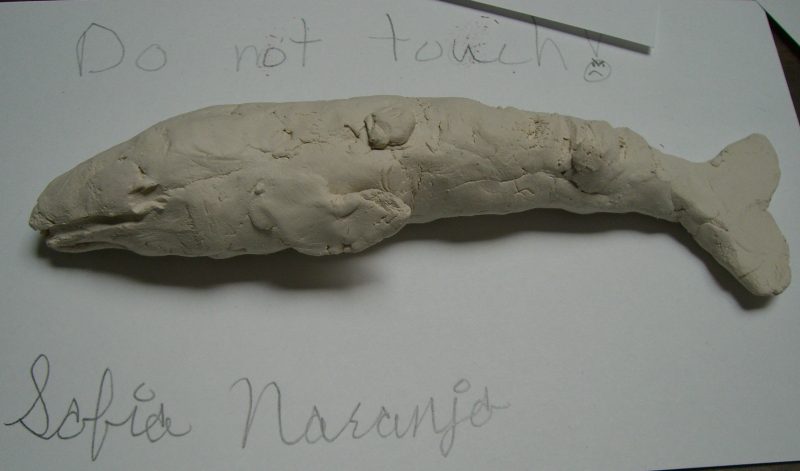 The next day the class made models of grey whales. This was Sofi's. There was wide agreement that it was the best.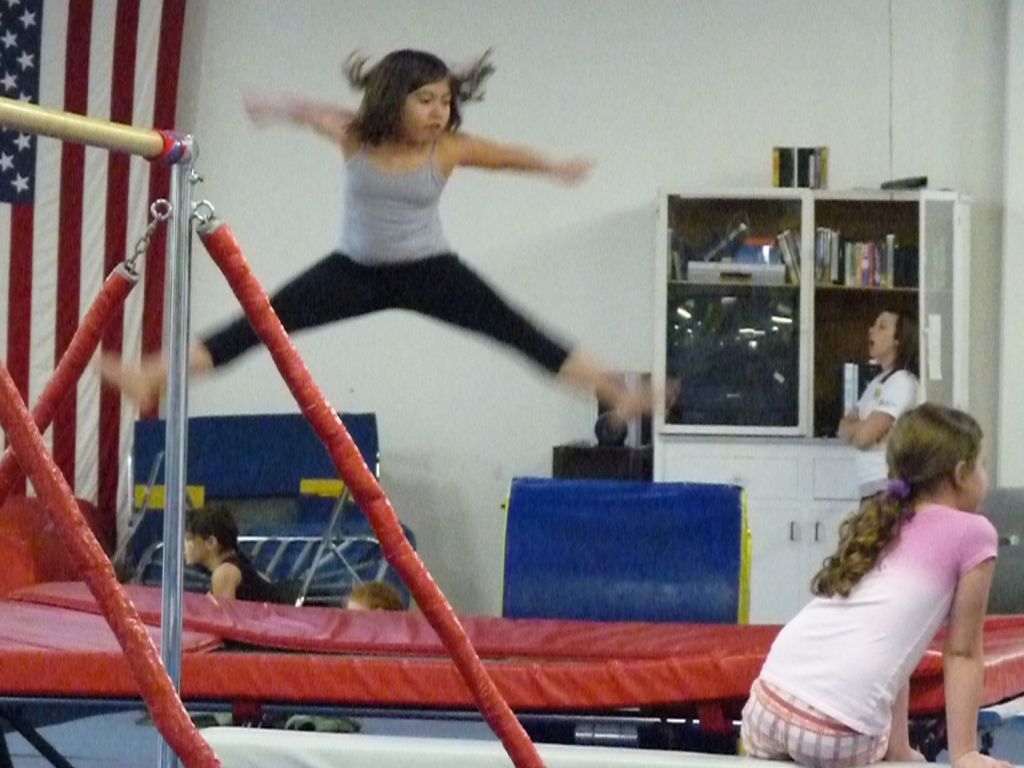 Sofi goes to a superhero class that teaches flying.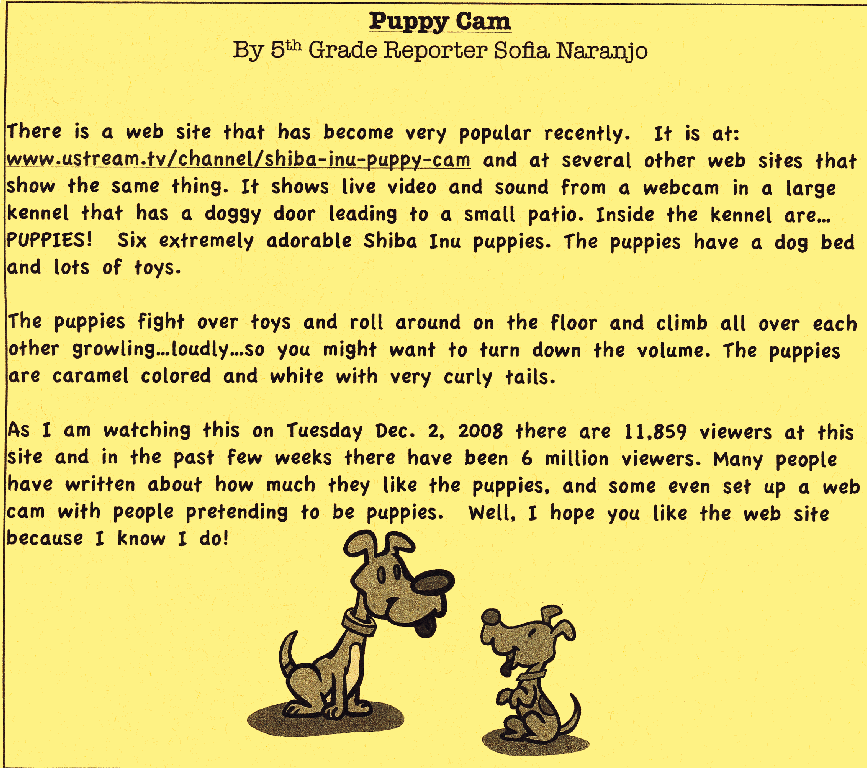 Sofi wrote this review for her school newspaper, Biella Bits, which was published in January 2009.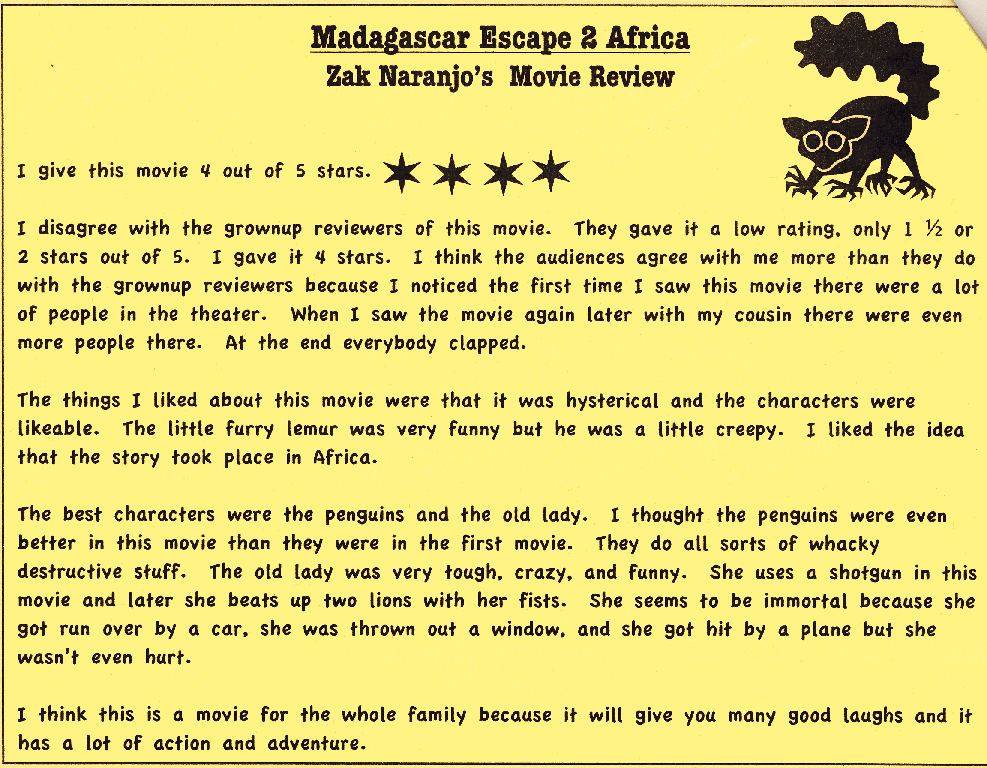 The same edition featured a movie review by Zak.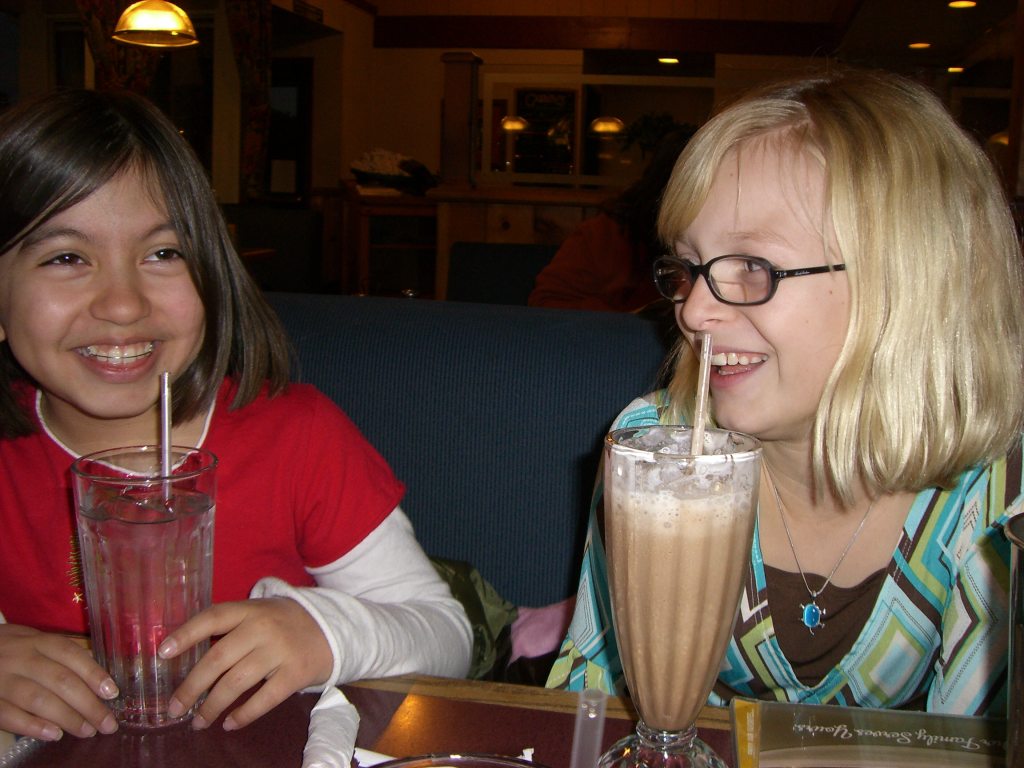 Sofi and Nicole enjoy dinner at Carrow's.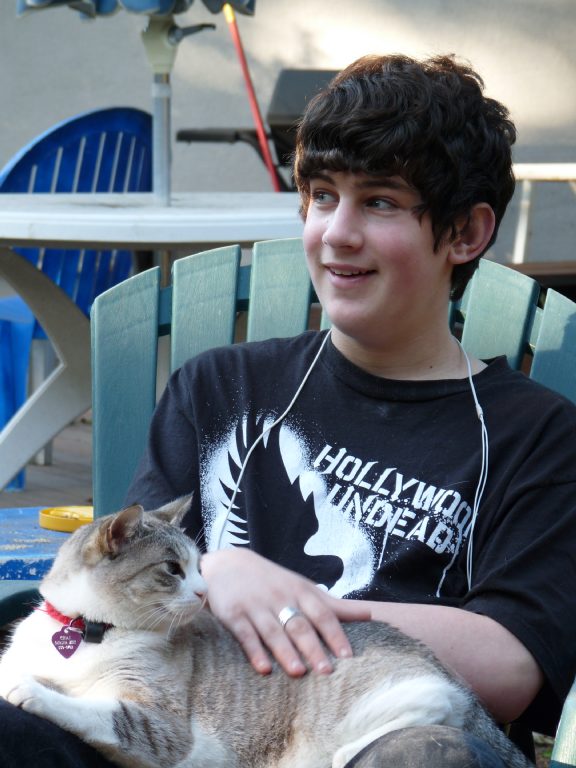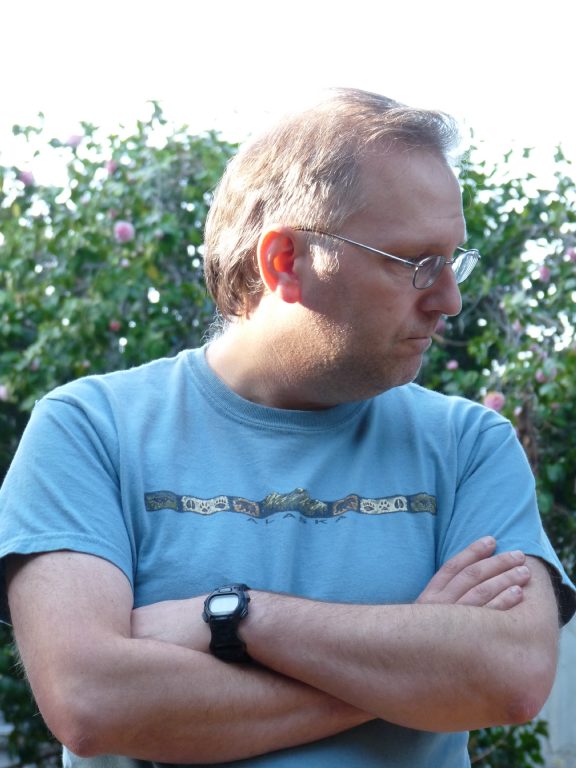 Isabelle's birthday. She is four years old.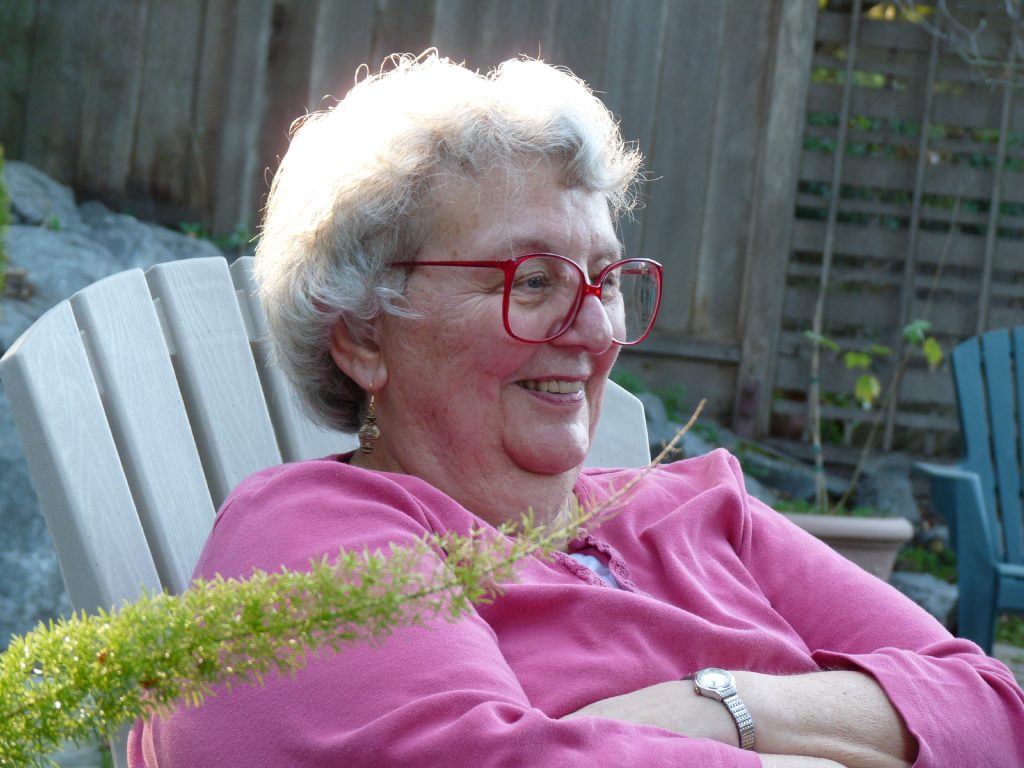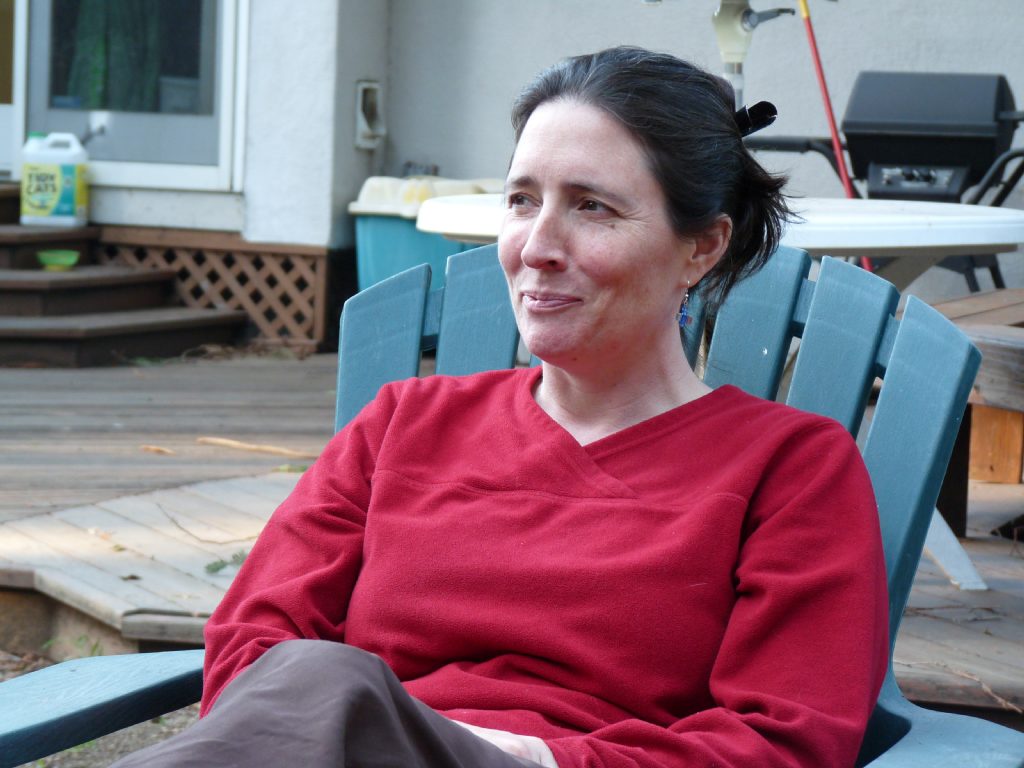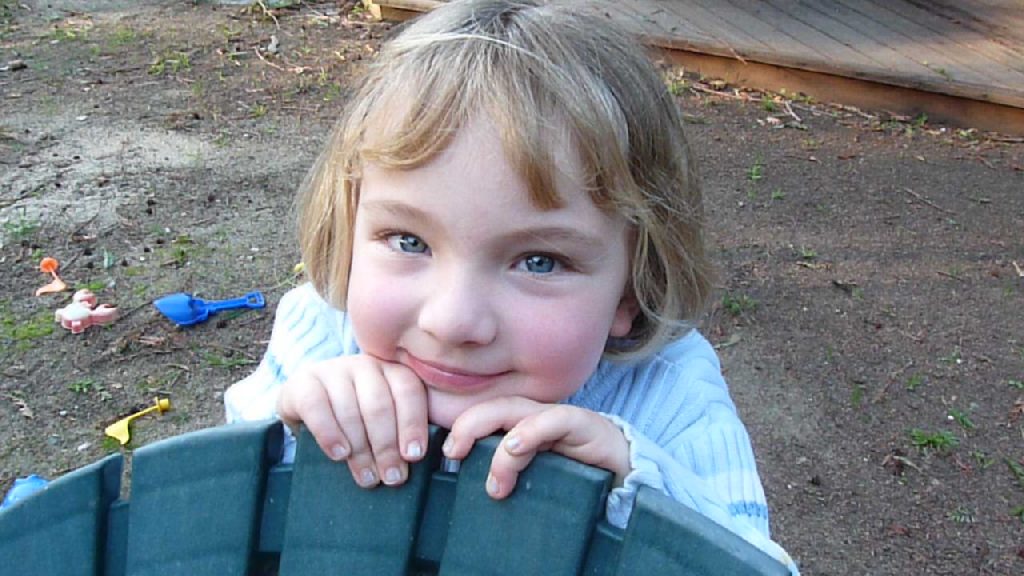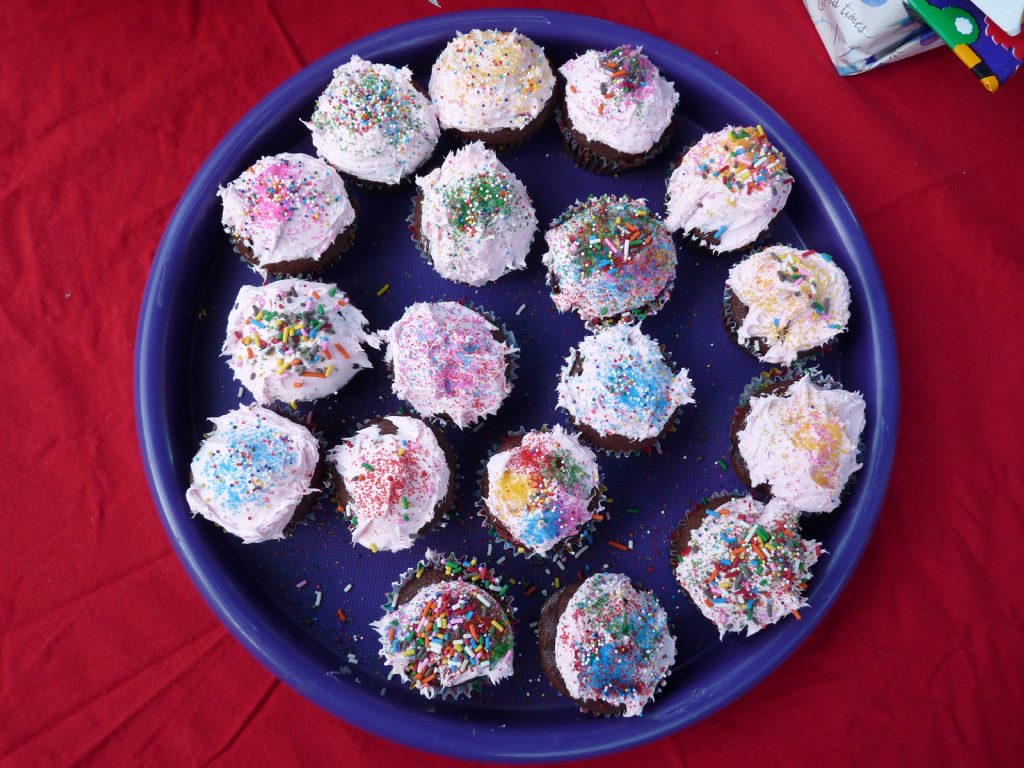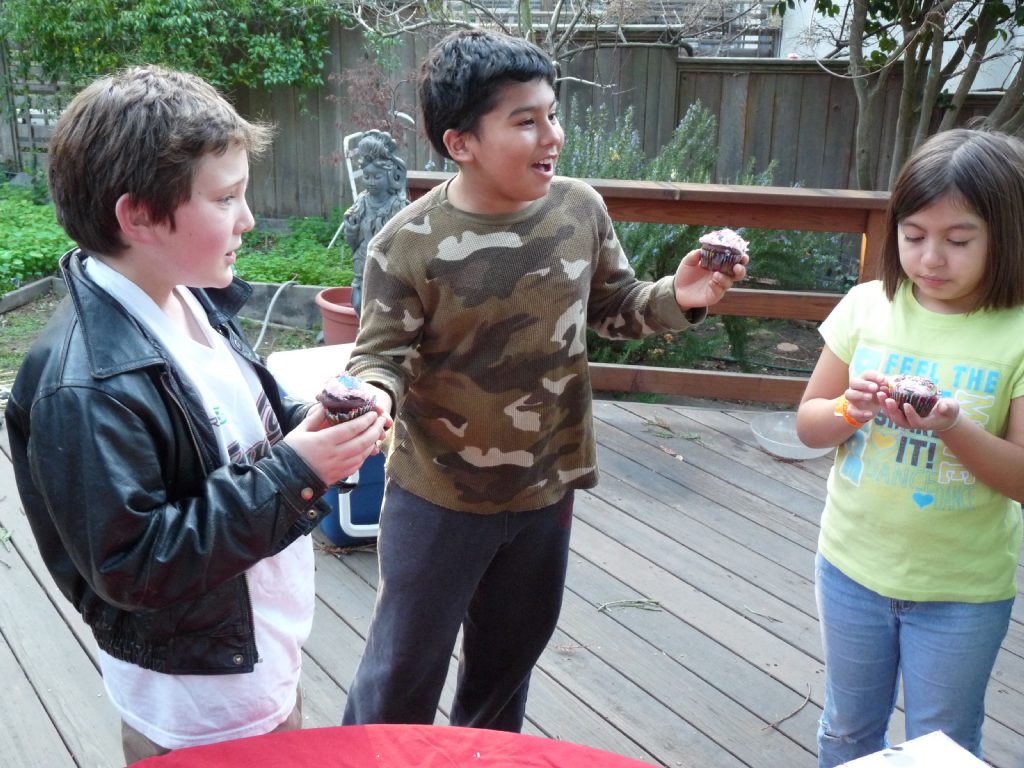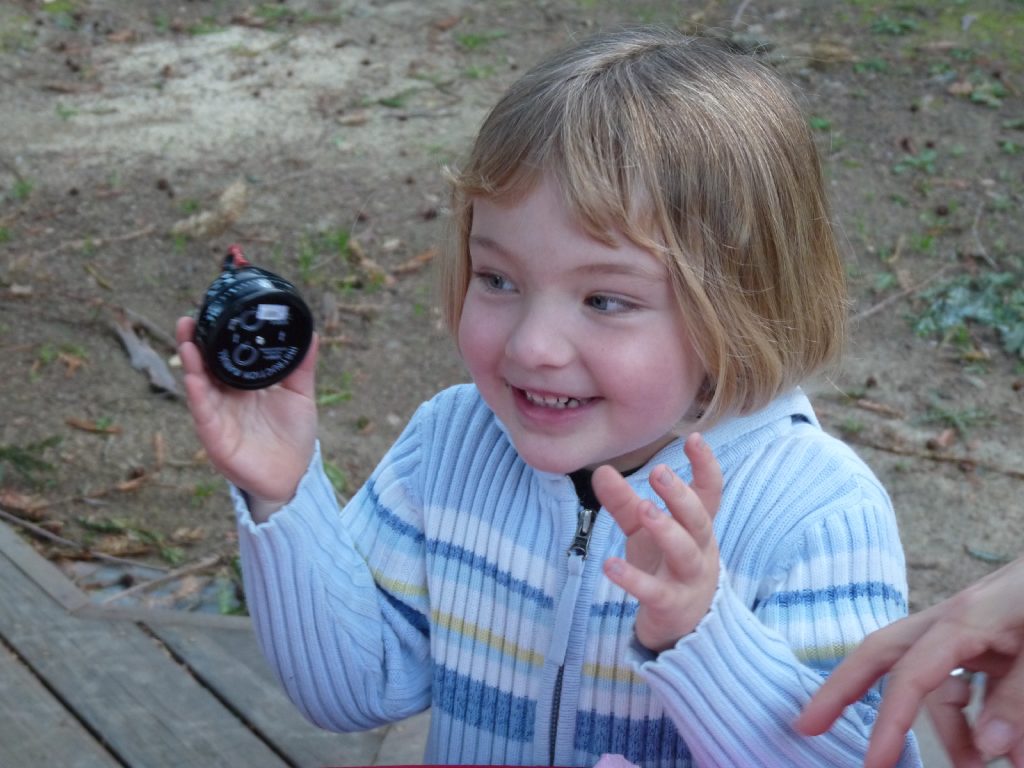 Isabelle wanted and got a kitchen timer. She loves to cook. The timer looks like a chicken.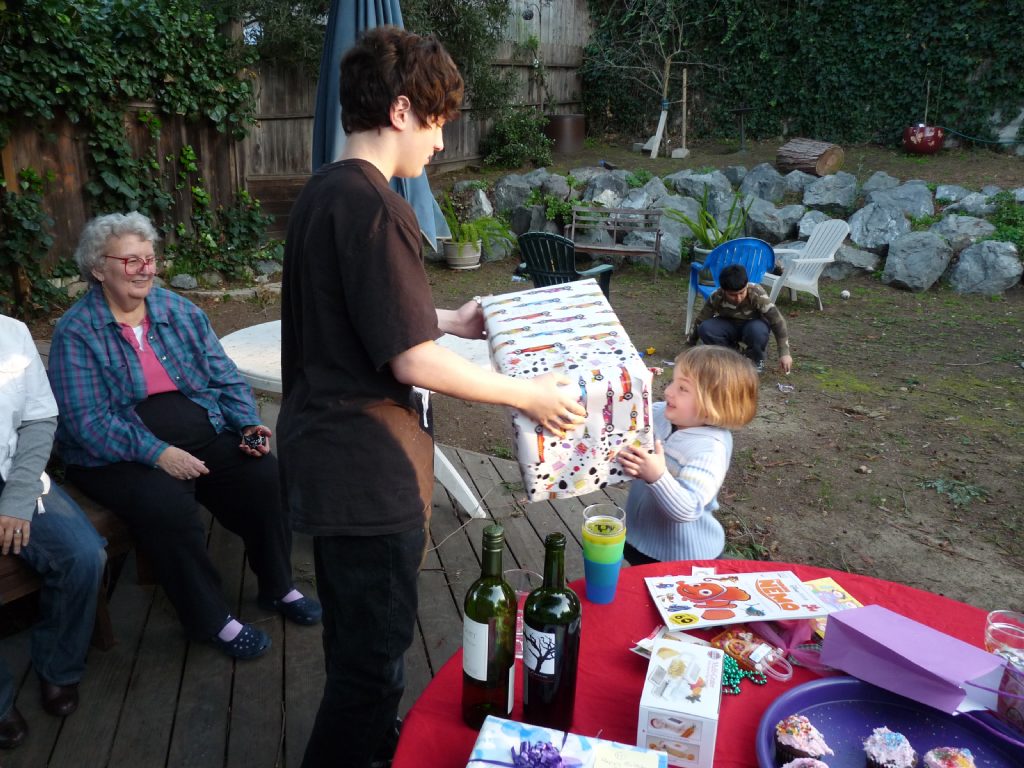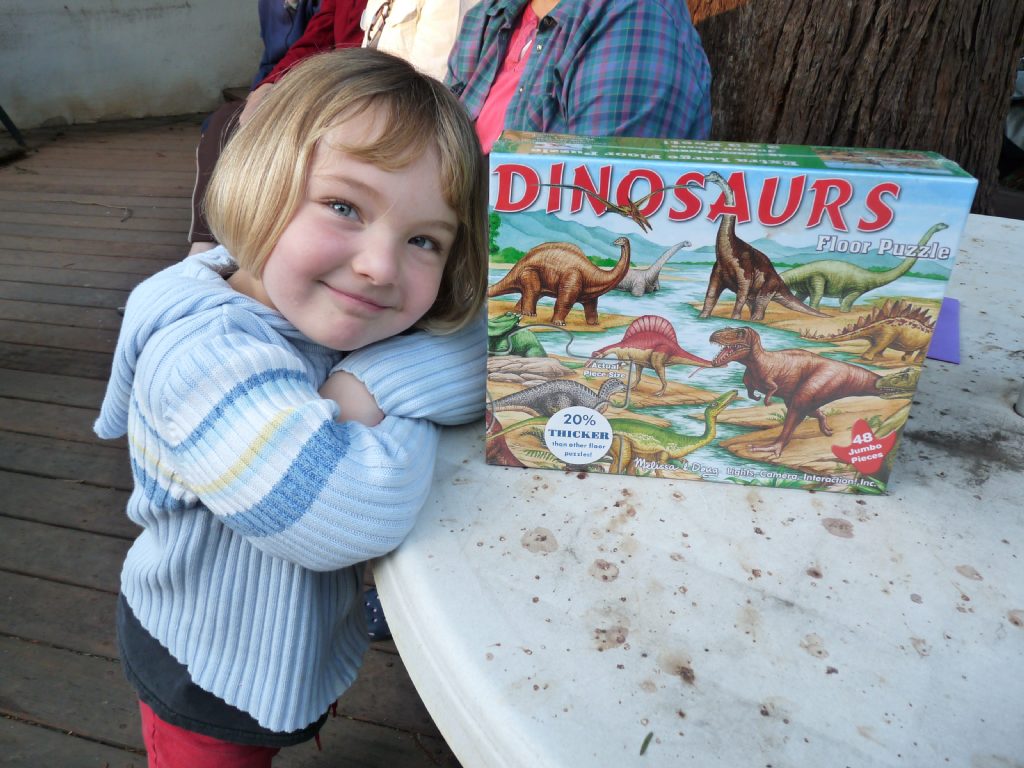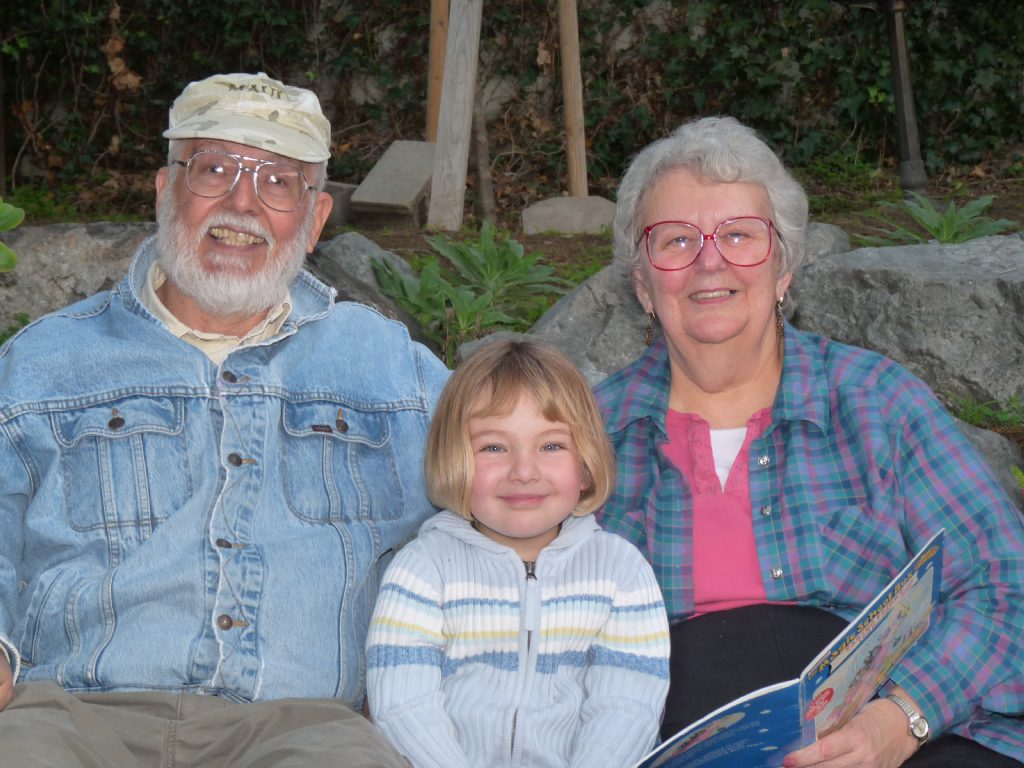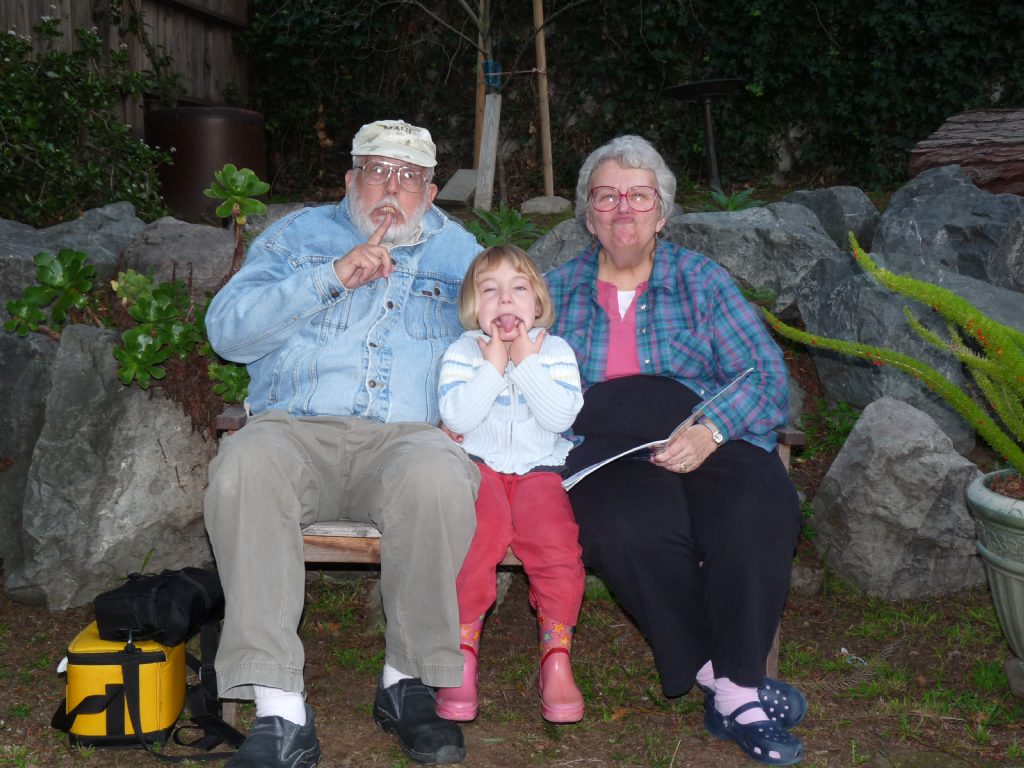 The two photos above were taken by Sandra.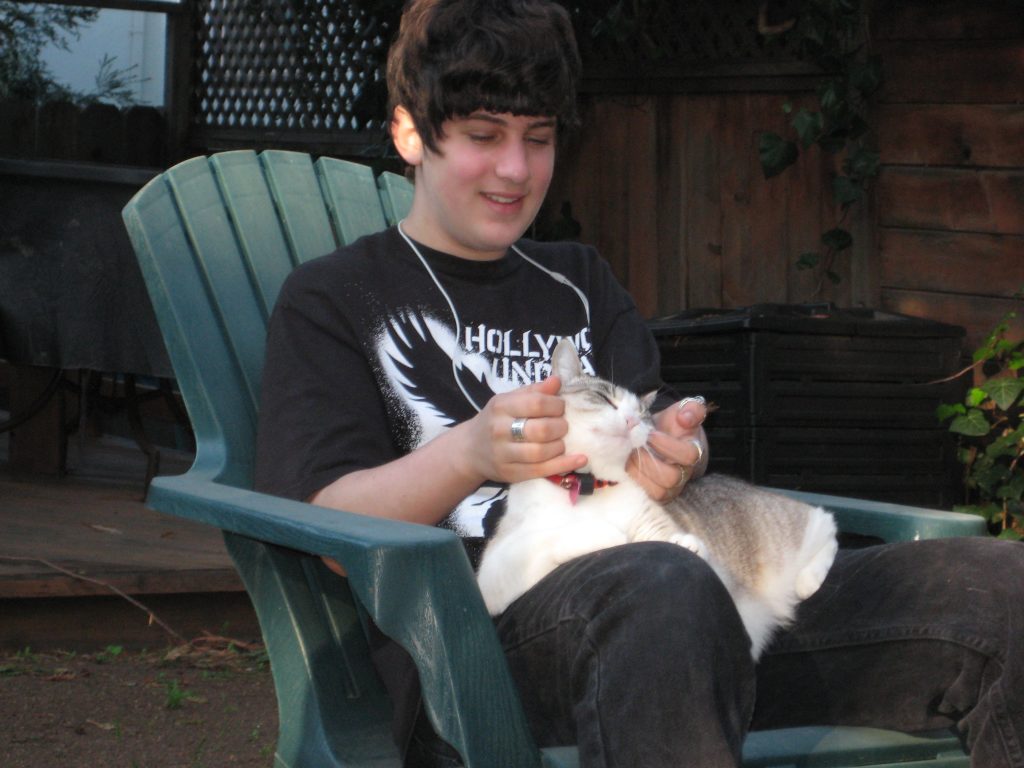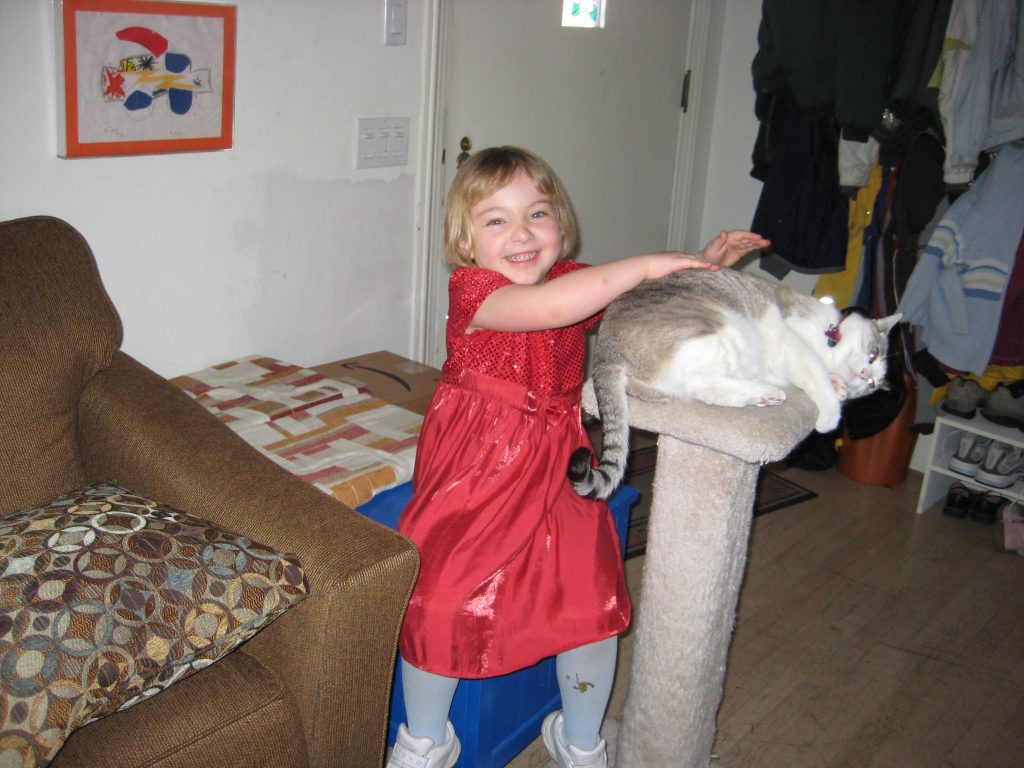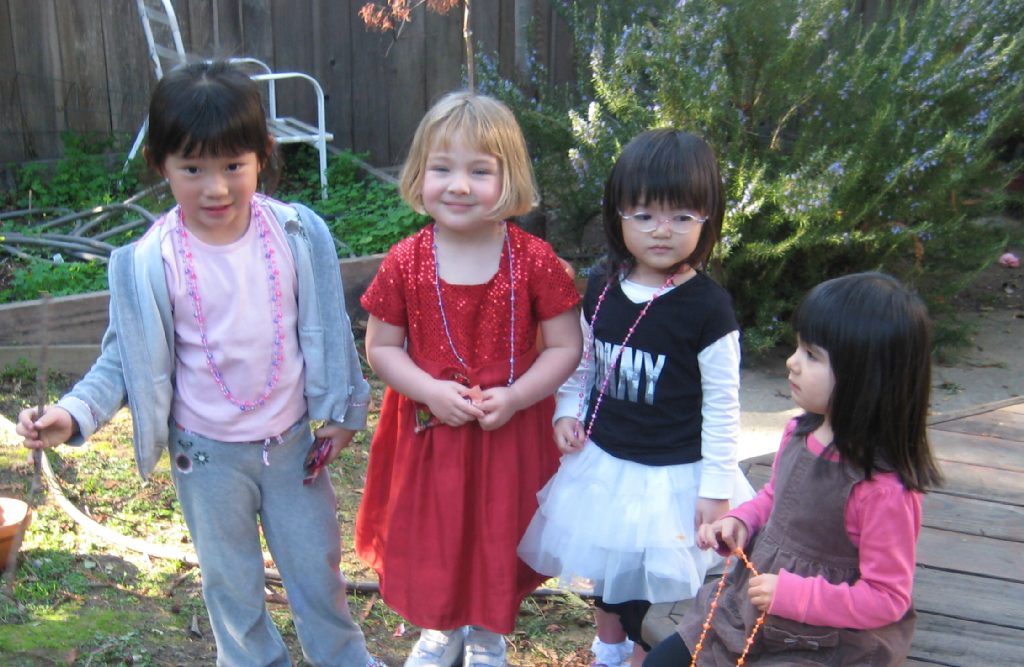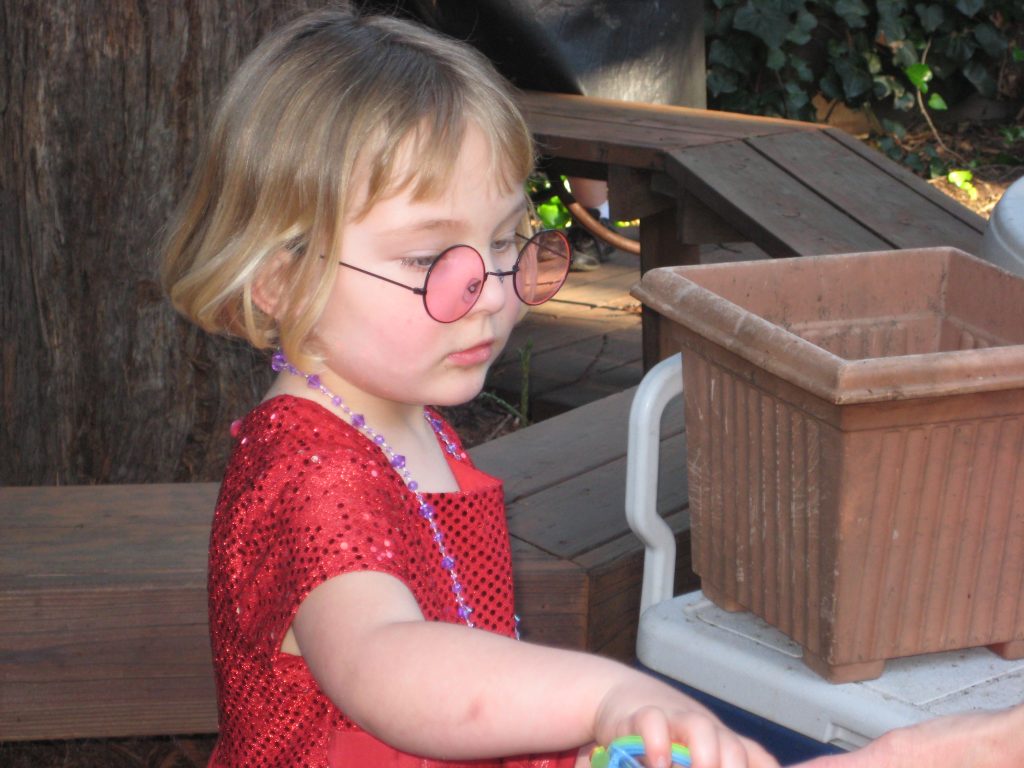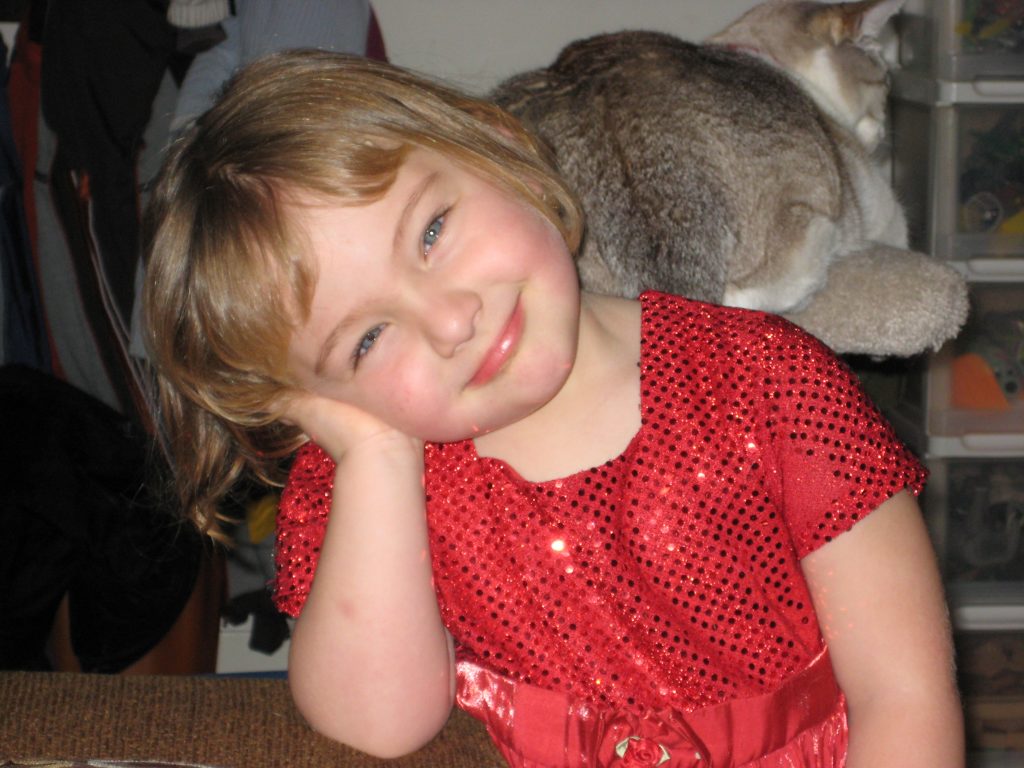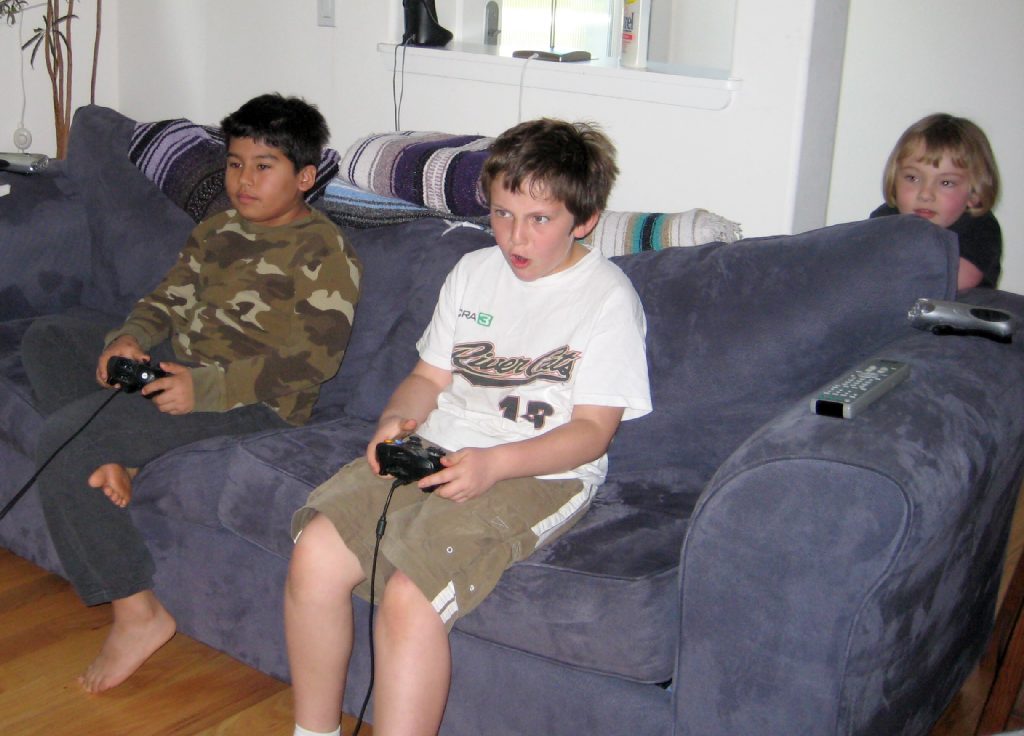 The six photos above were taken by Grammy.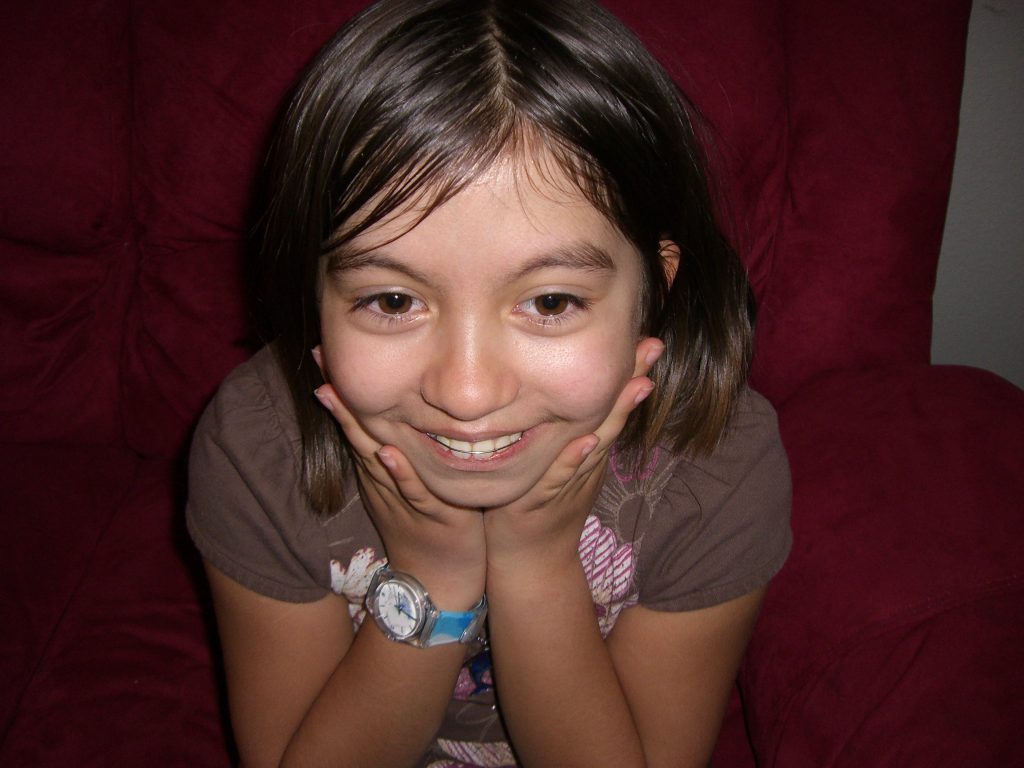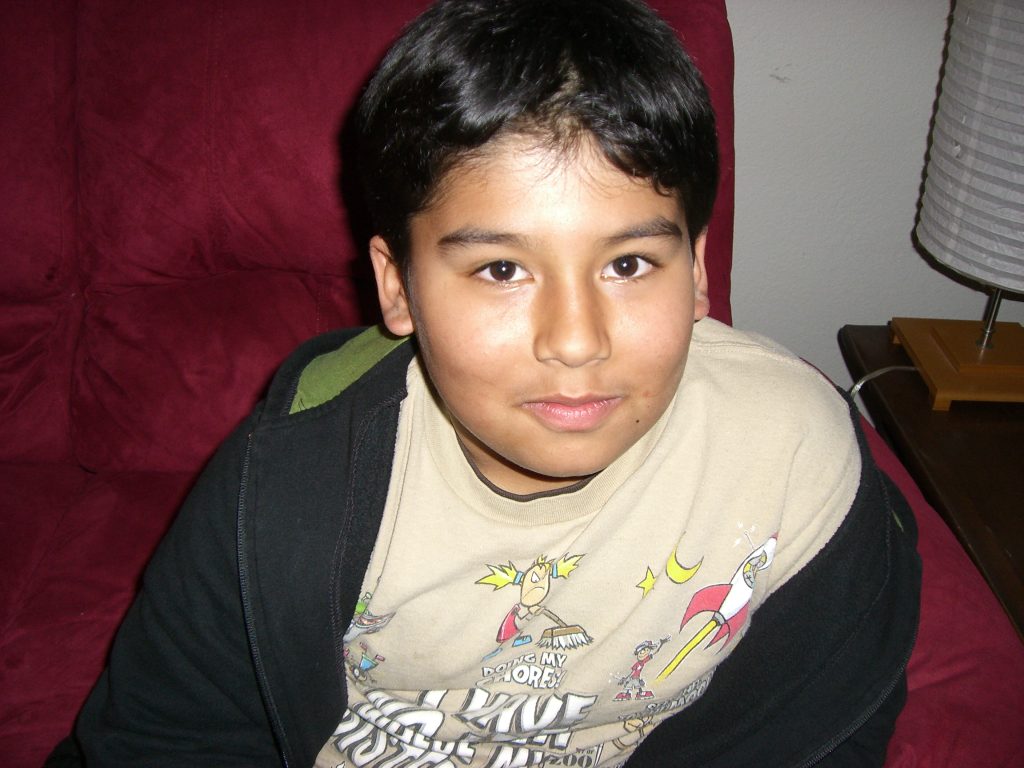 Grandpa bet that he could make the kids smile. He told Sofi a cute story about a rabbit. He told Zak a story about a rabbit being blown up.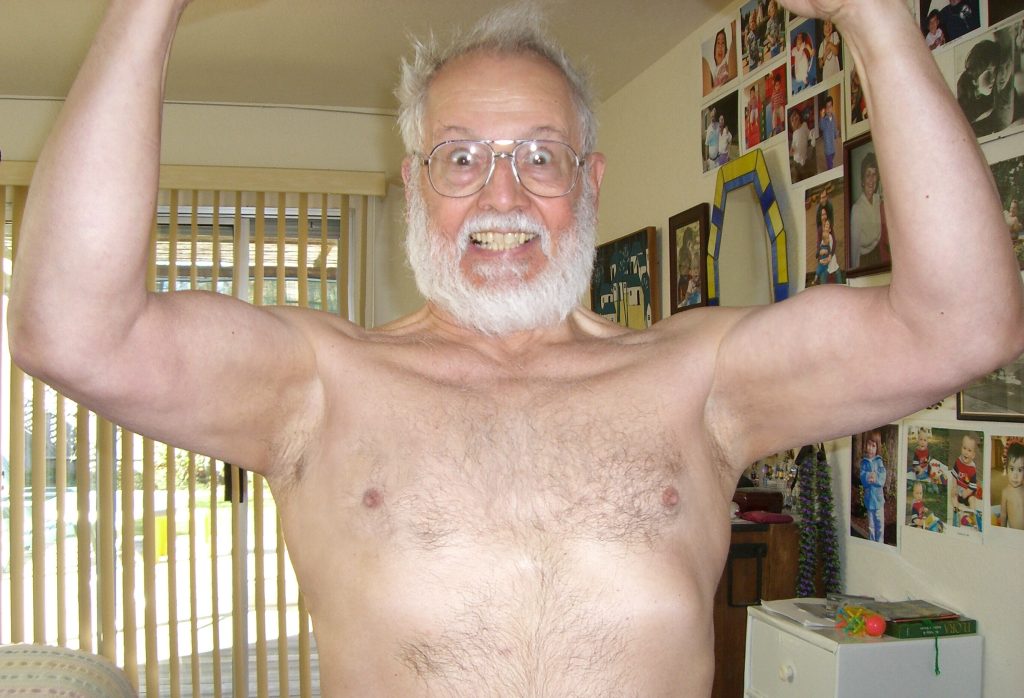 Grandpa has lost a lot of weight and has started working out again -- thanks to those injections into his lower spine last year. Can you believe he is 71 years old?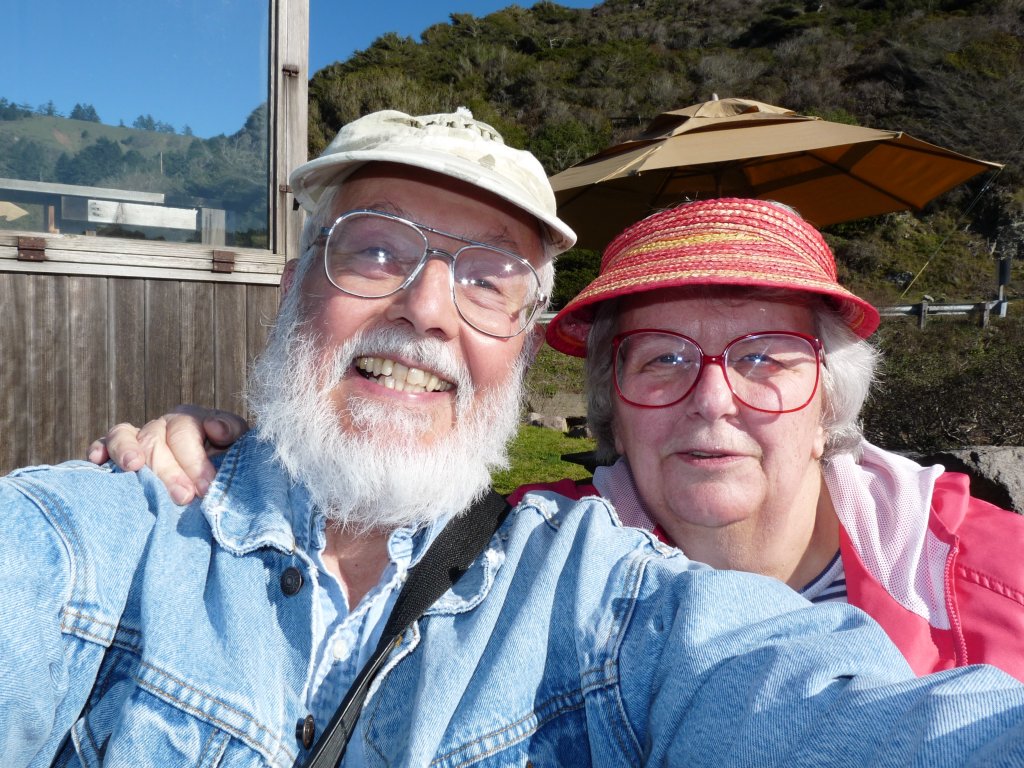 Grammy and Grandpa went on a drive along the coast on a sunny day.
---

You have just seen photos of 02-07-09

Photos from the past year or so.