These photos were taken between 09-02-11 and 03-08-12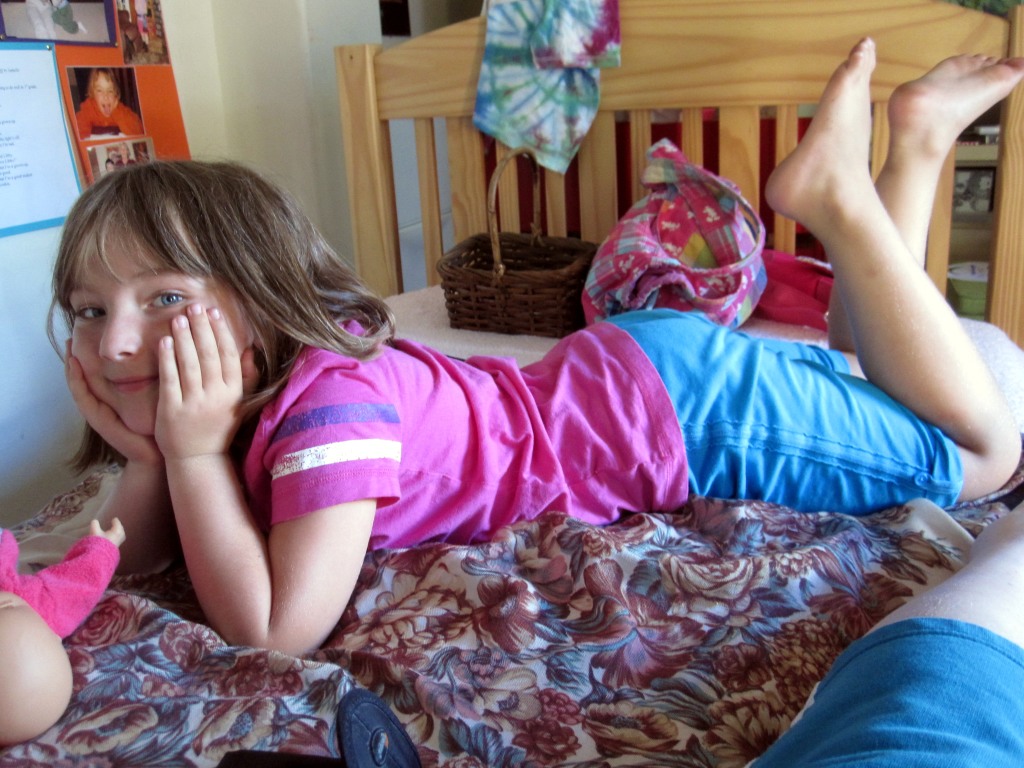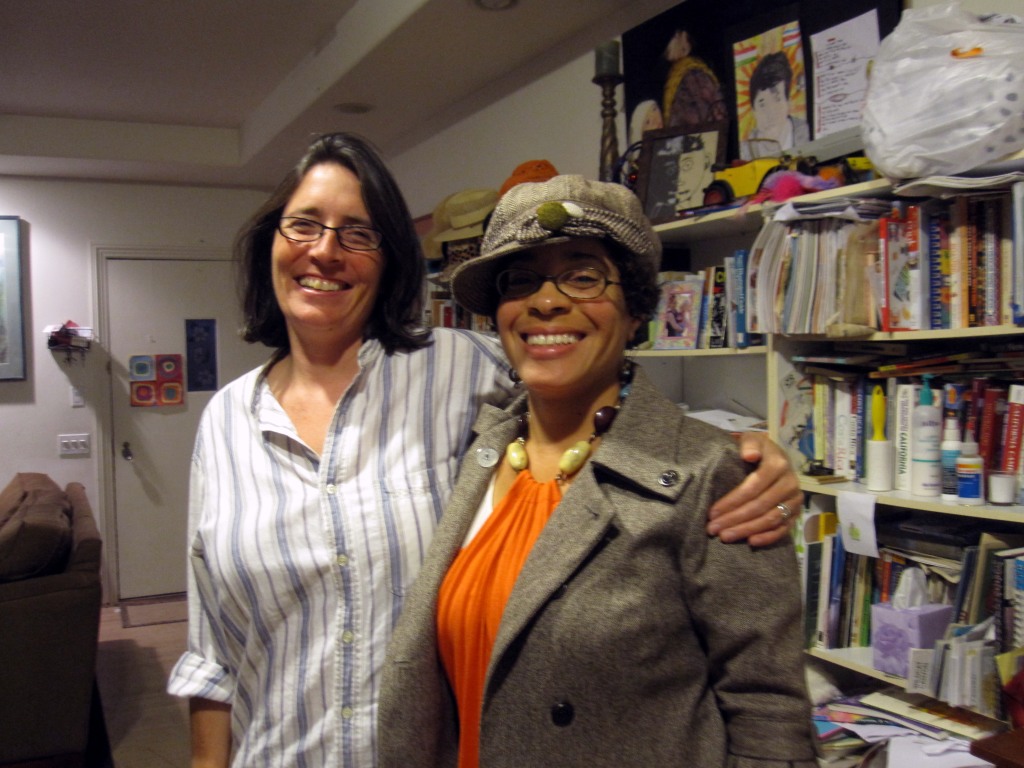 Judy visited Berkeley in September 2011 and took these pictures of Isabelle, Sandra, and Tosh.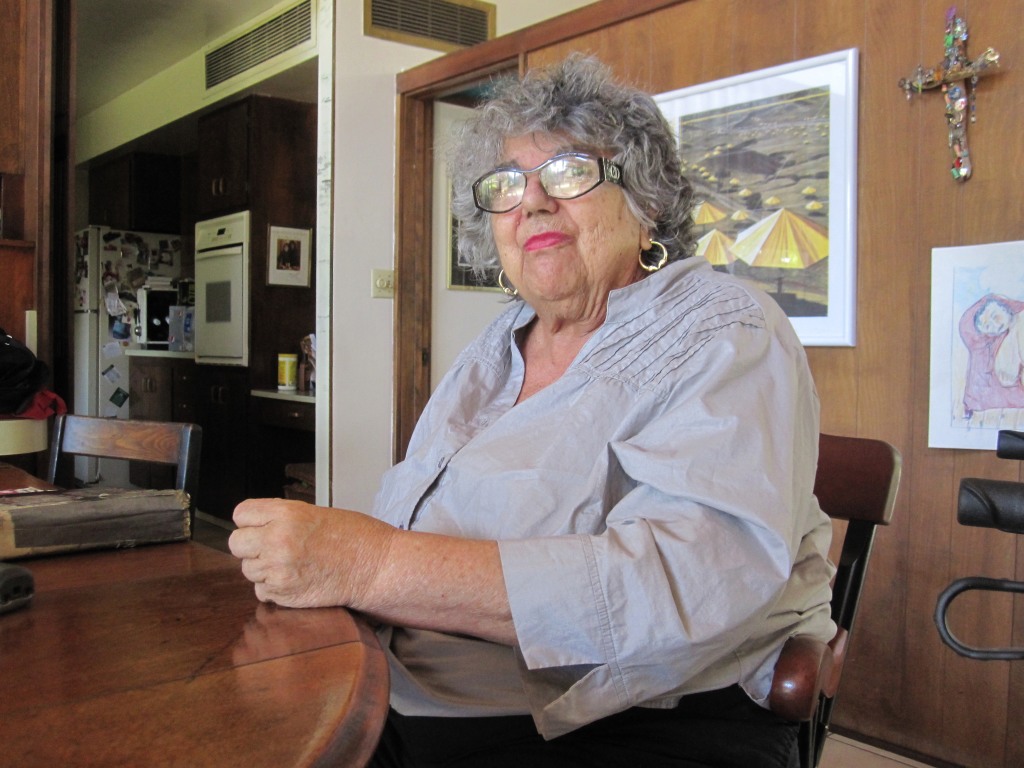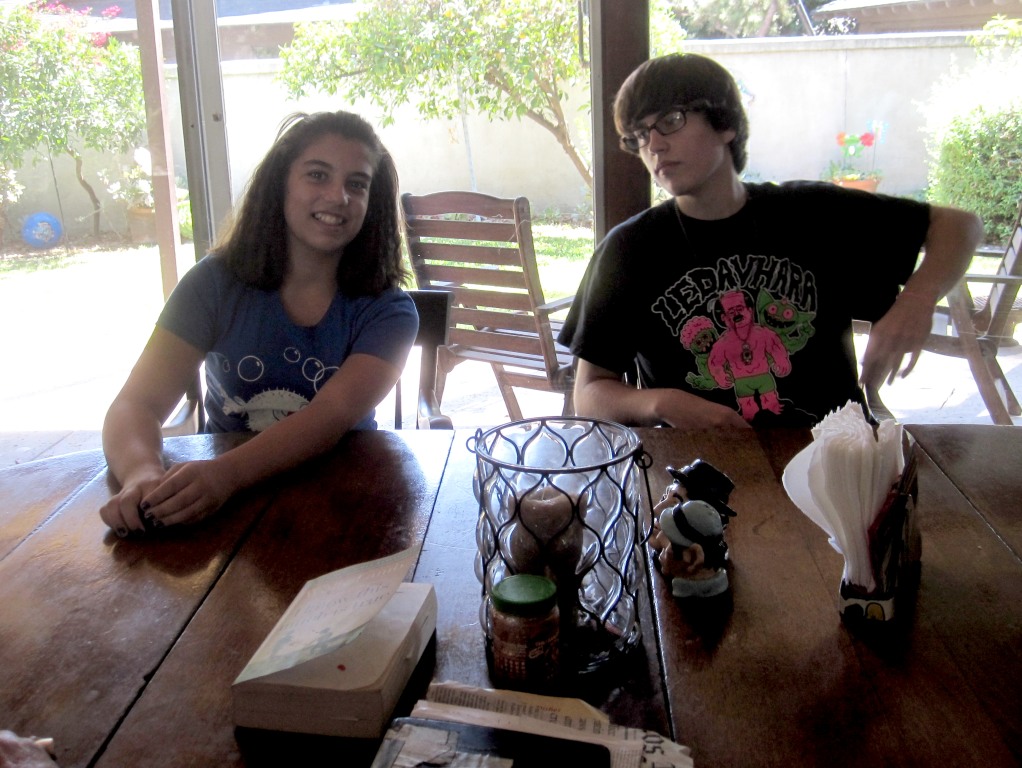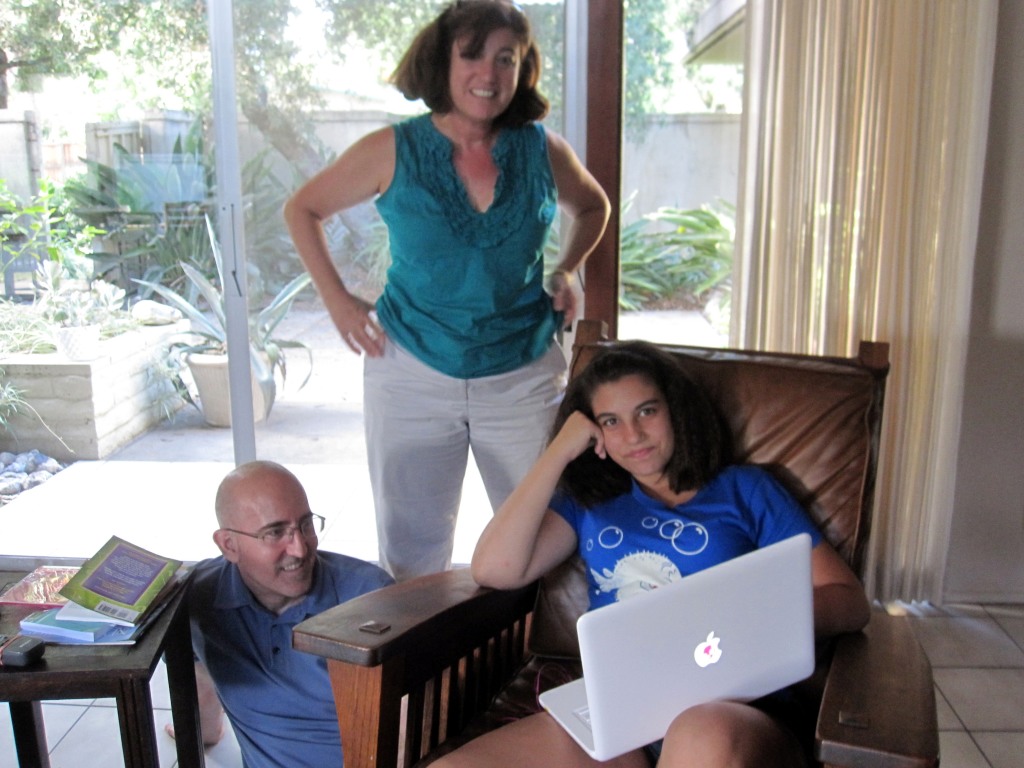 Grammy visited Claremont in September 2011 and took these pictures of Rosemary, Amy & Evan, and Mark, Cindy, and Amy.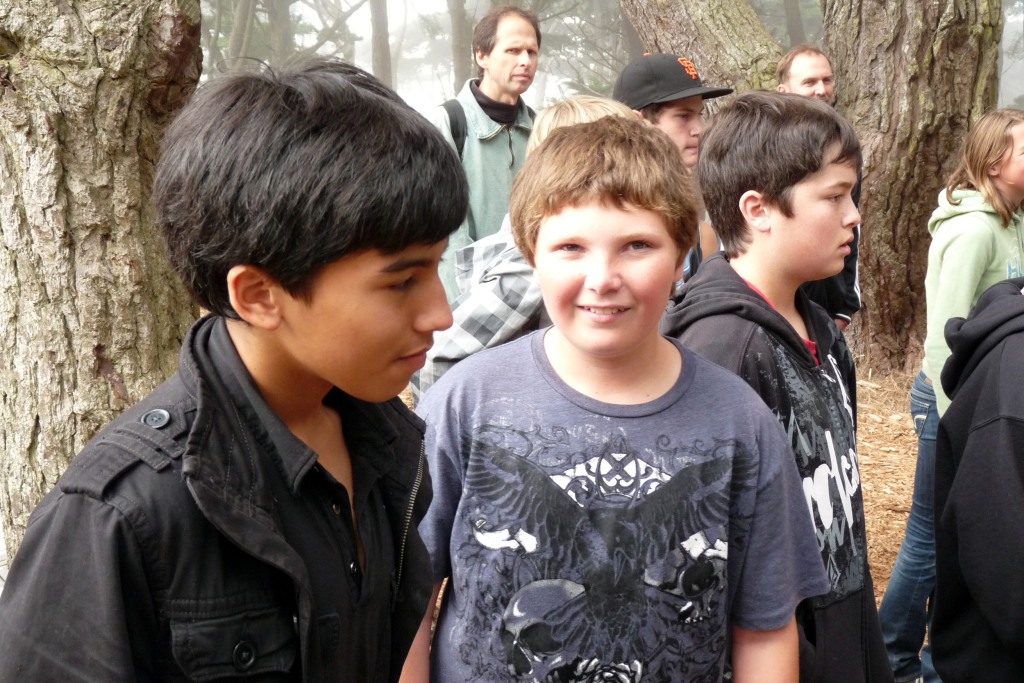 Zak's class visited the Fort Miley Ropes Course in September 2011. Here is Zak with his friend, Max.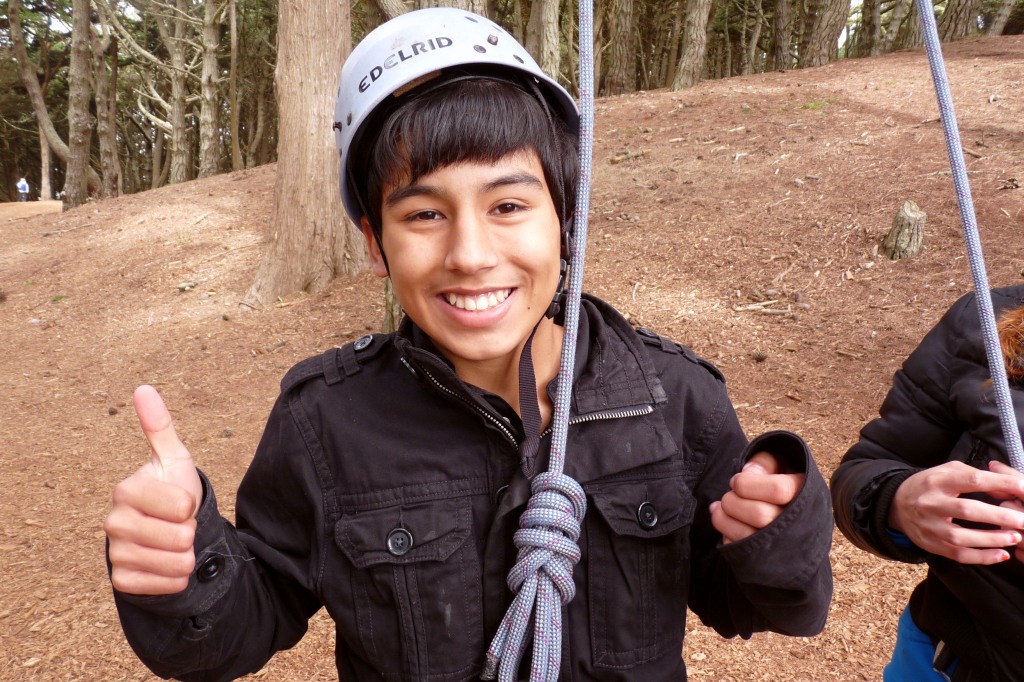 Here's Zak getting hoisted.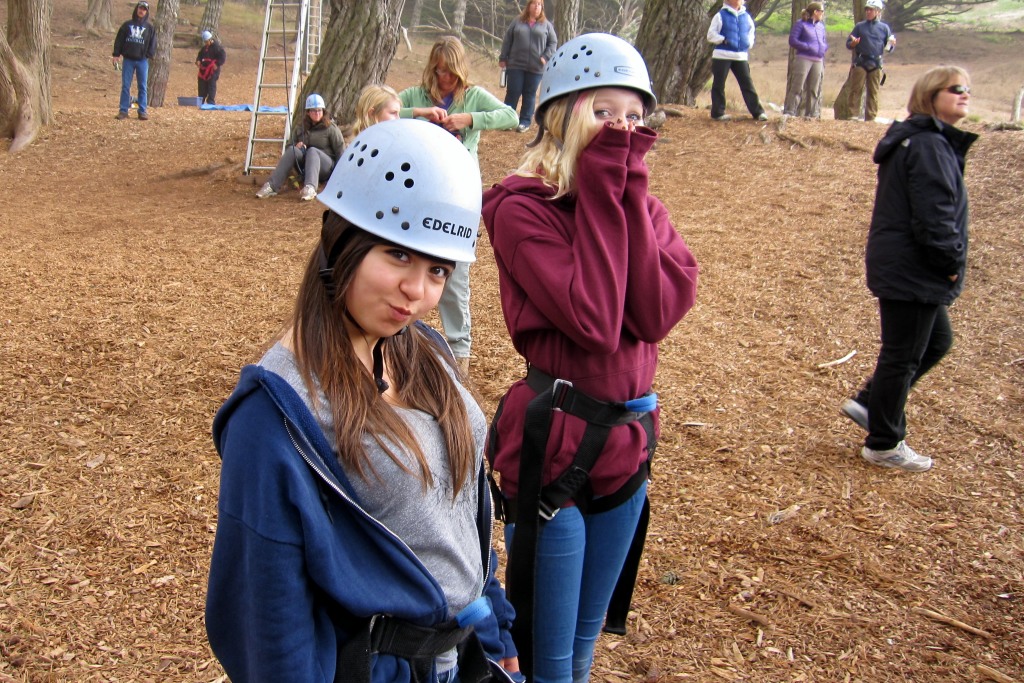 Sofi and Nicole at Fort Miley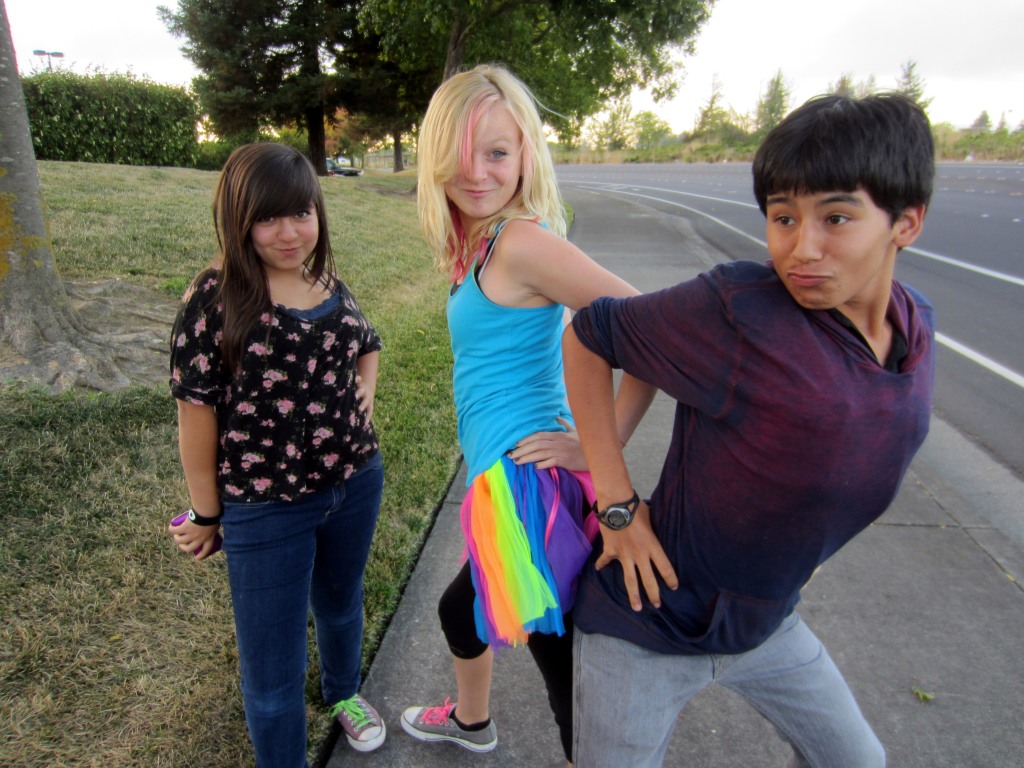 Sofi and Nicole watch as Zak channels Mick Jagger.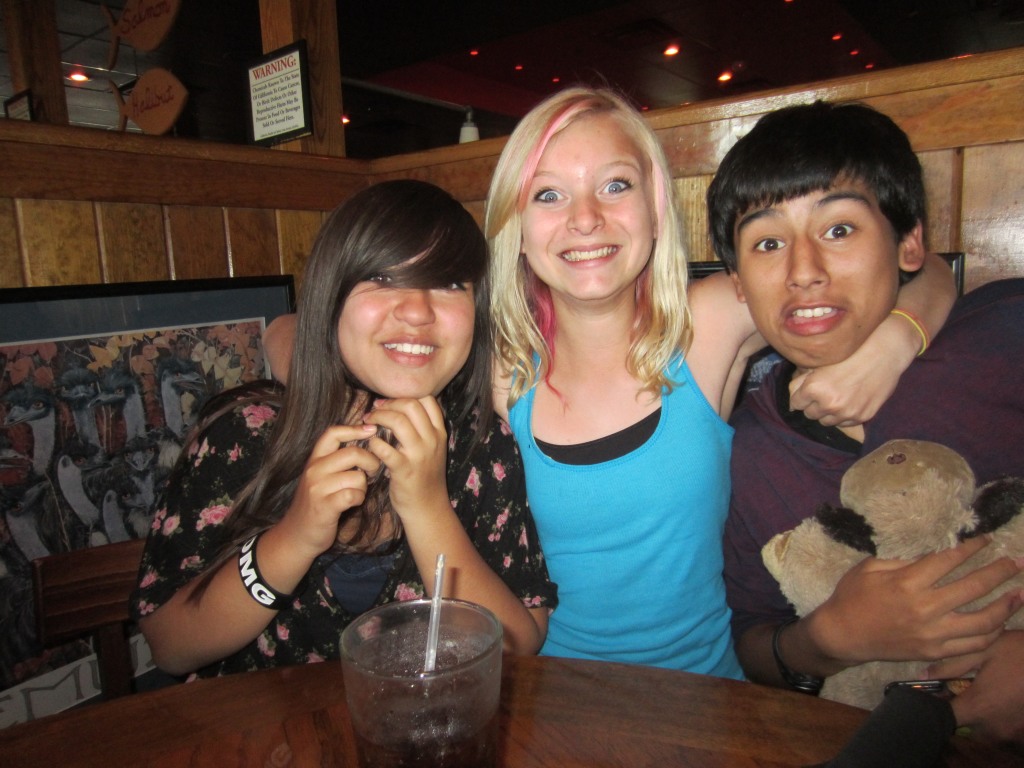 Sofi, Nicole, and Zak at Outback.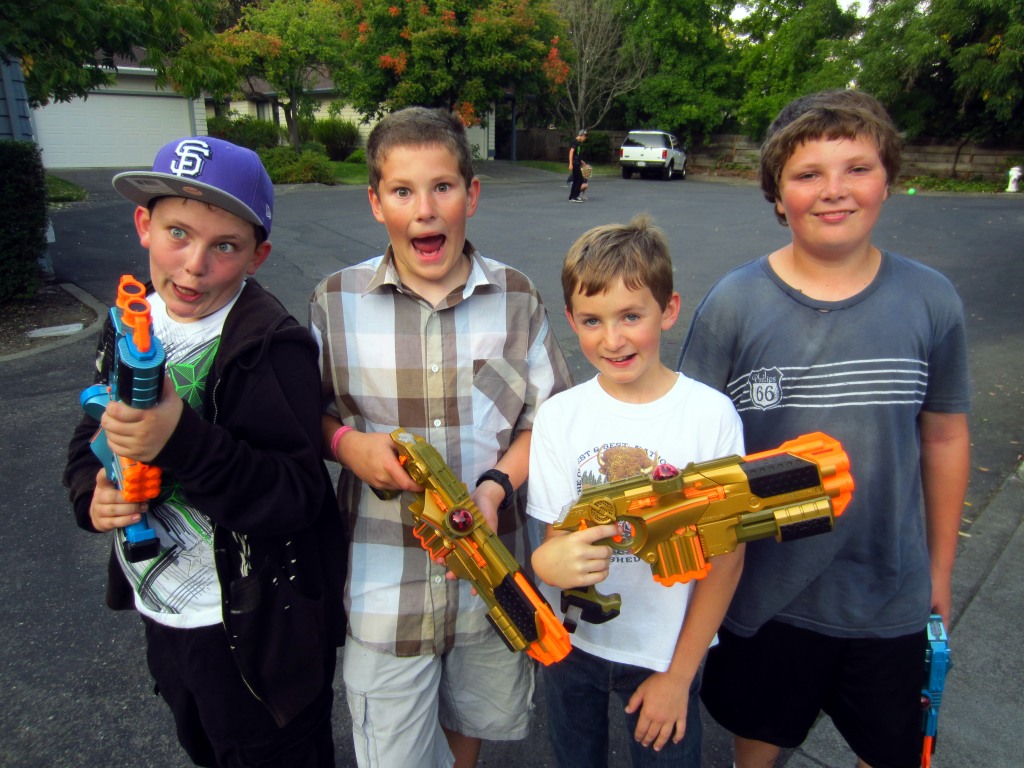 Francisco, Aaron, Justin, and Max with birthday-party equipment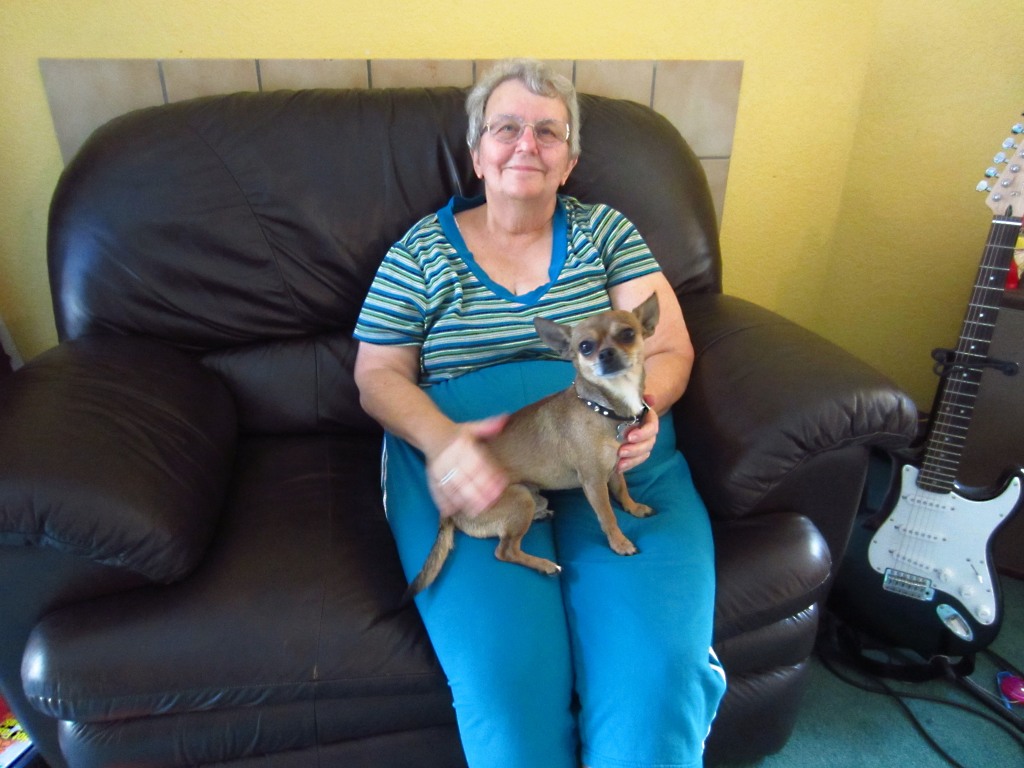 Grammy and Chato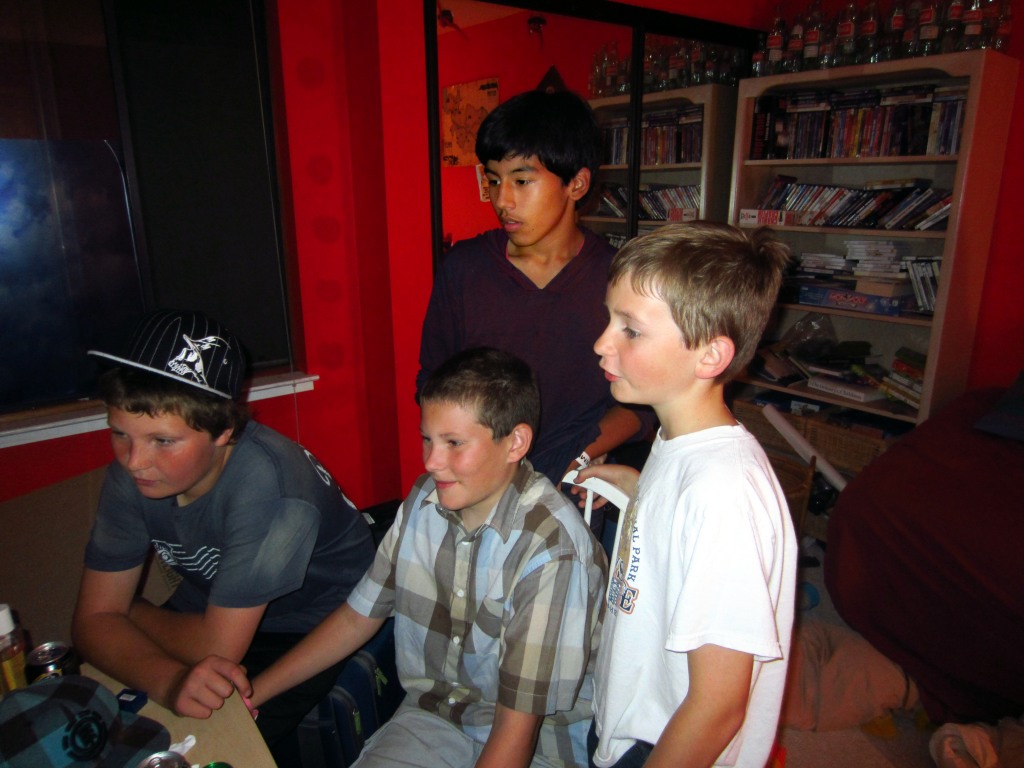 Max,Aaron, Zak, and Justin at Zak's computer during his 13th birthday party. They were enjoying Chuck Norris jokes.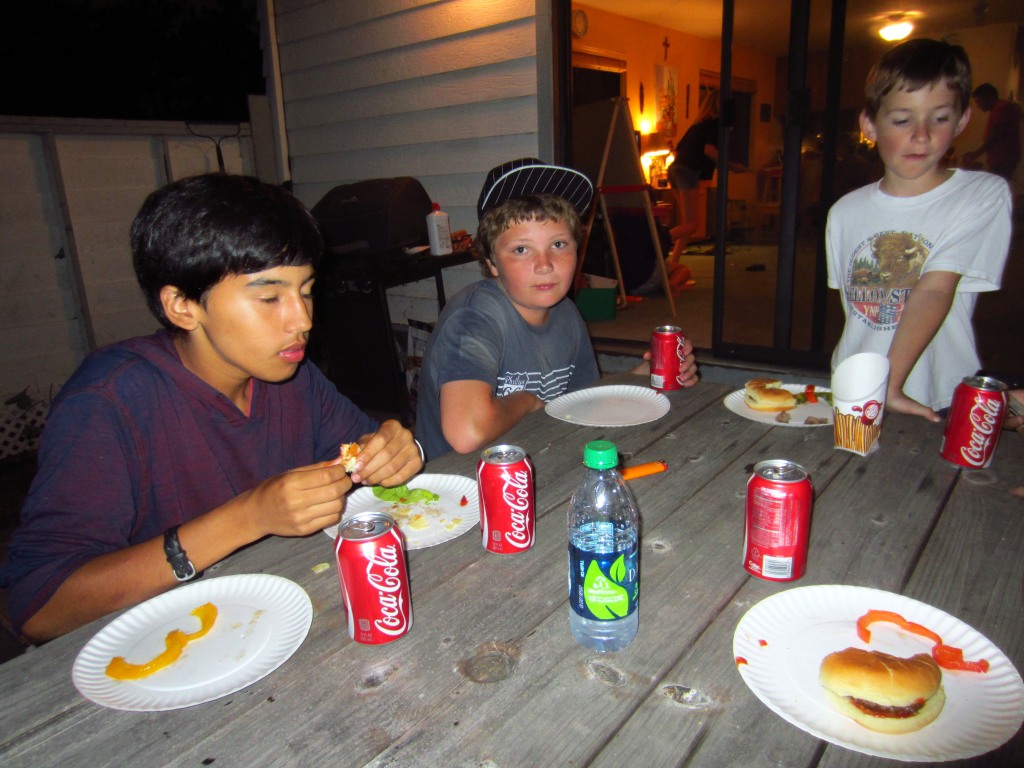 At the picnic table in the back yard.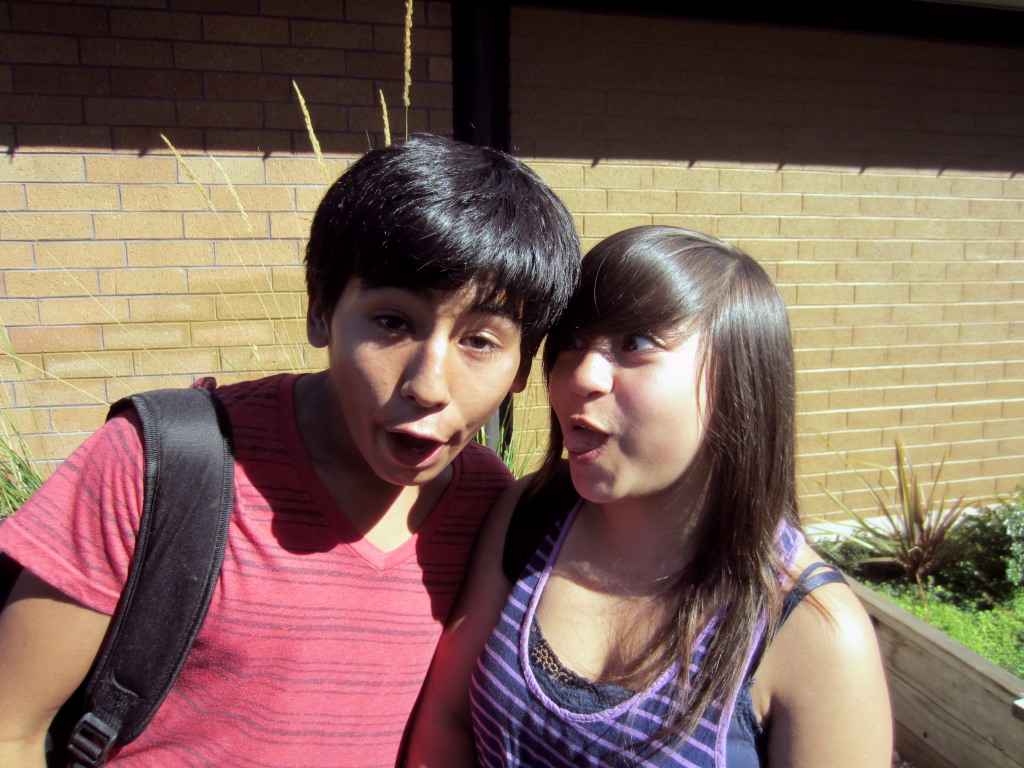 Sofi and Zak at their Charter School.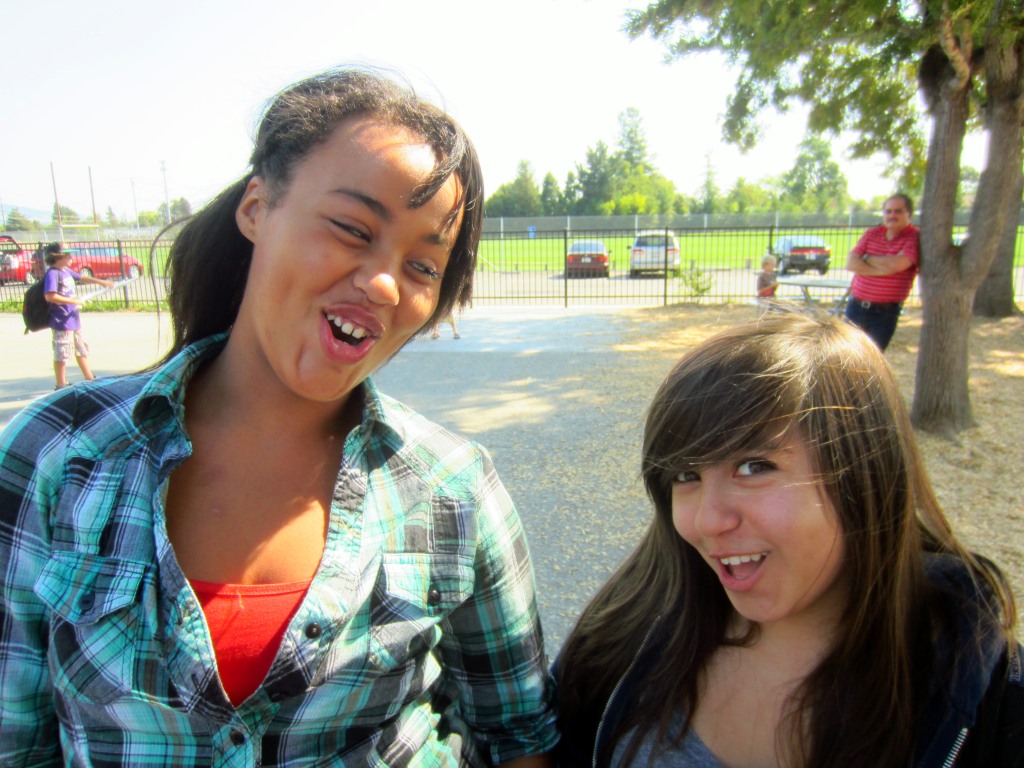 Chelsea and Sofi at the Charter School. Do you think expressions are contagious?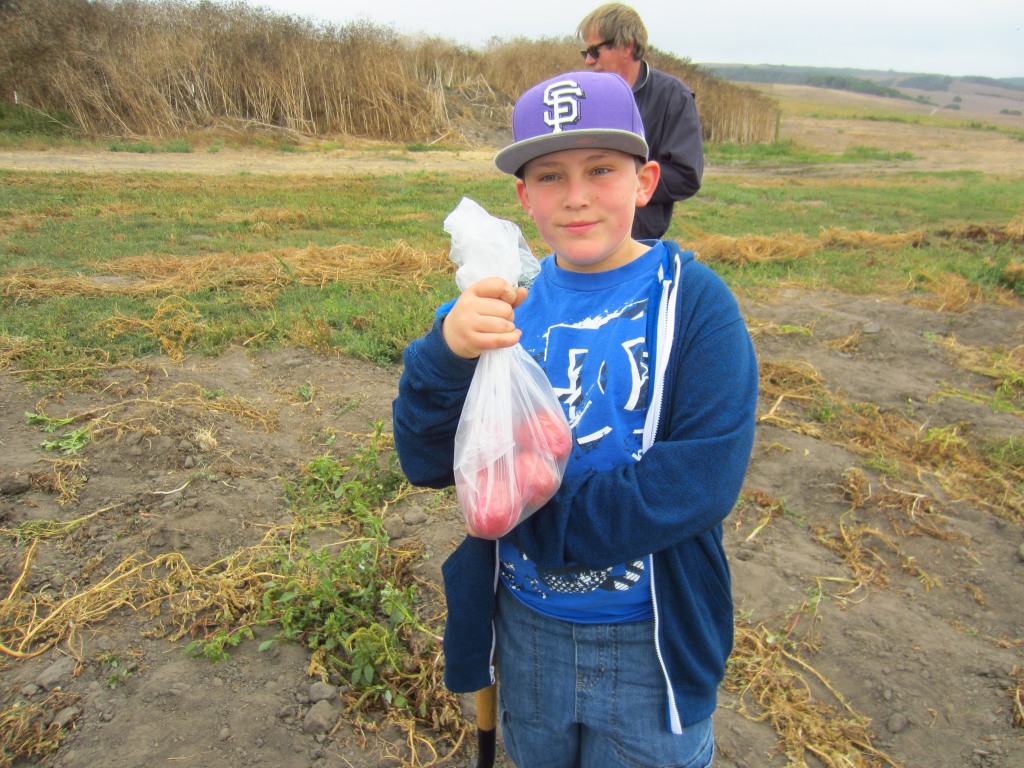 We visited a farm that had potatoes, pumpkins, and cows. Here is Francisco with the potatoes he dug up.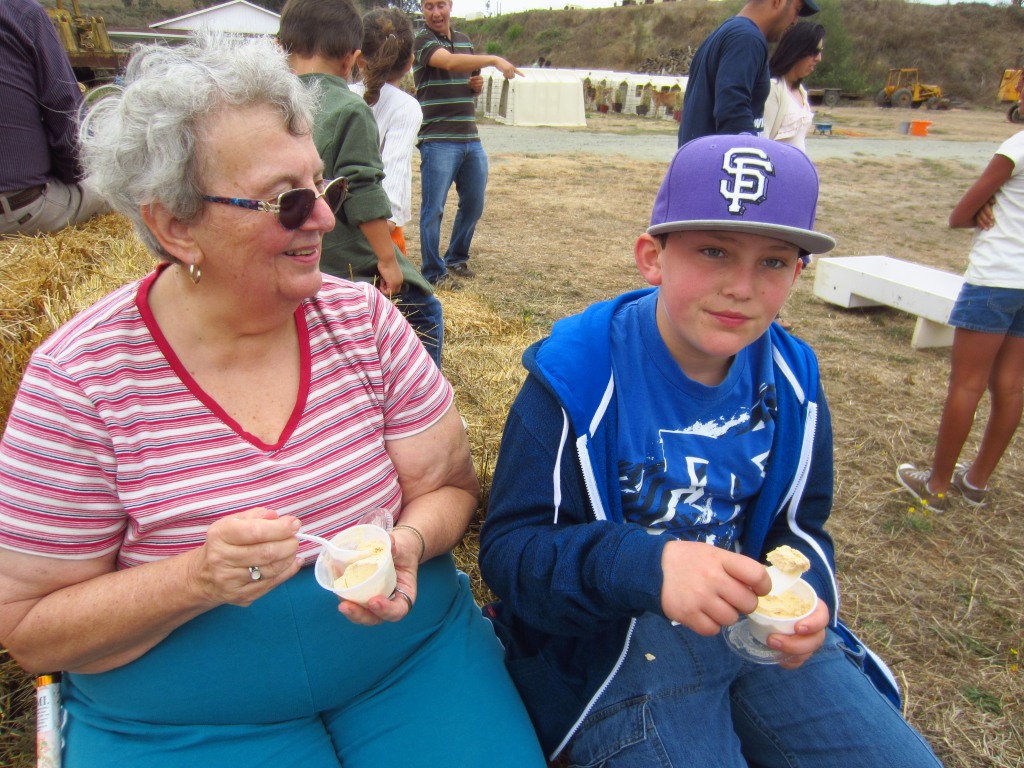 Grammy and Francisco enjoy pumpkin ice cream.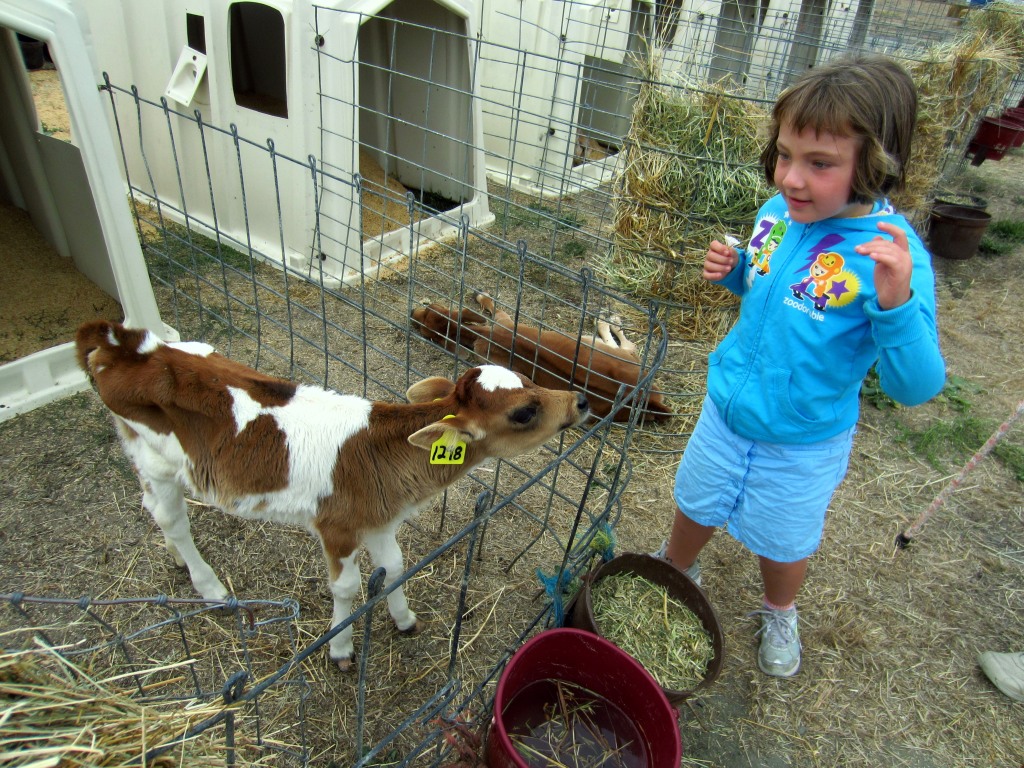 Isabelle and very young calf.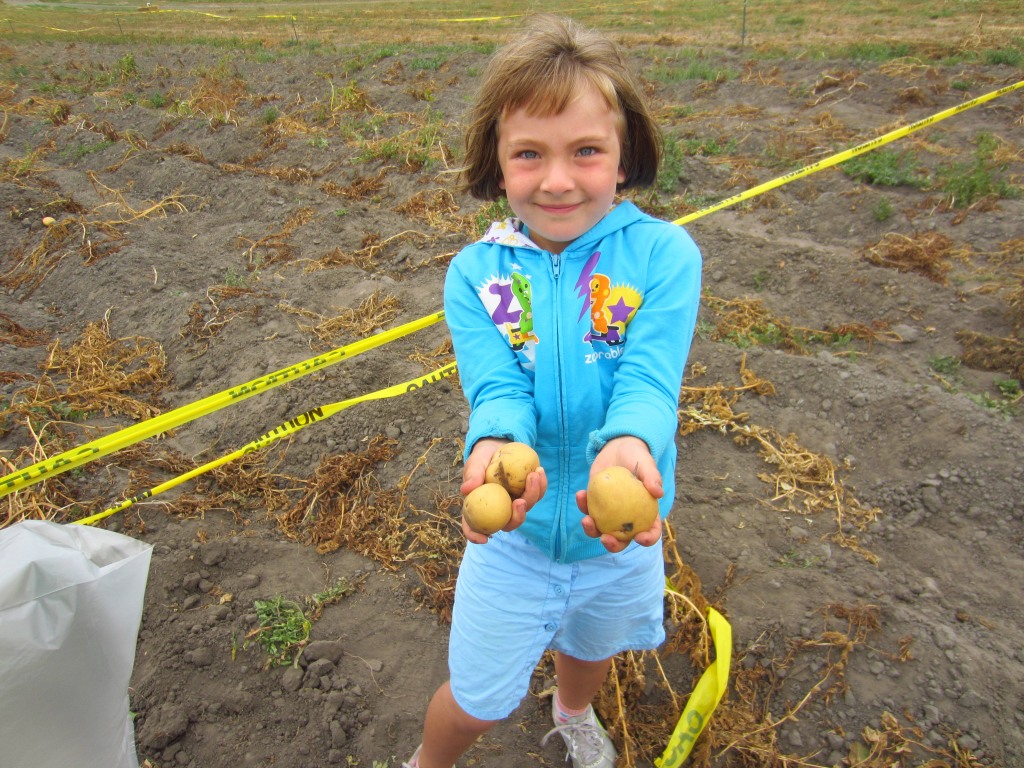 Isabelle with potatoes she dug up.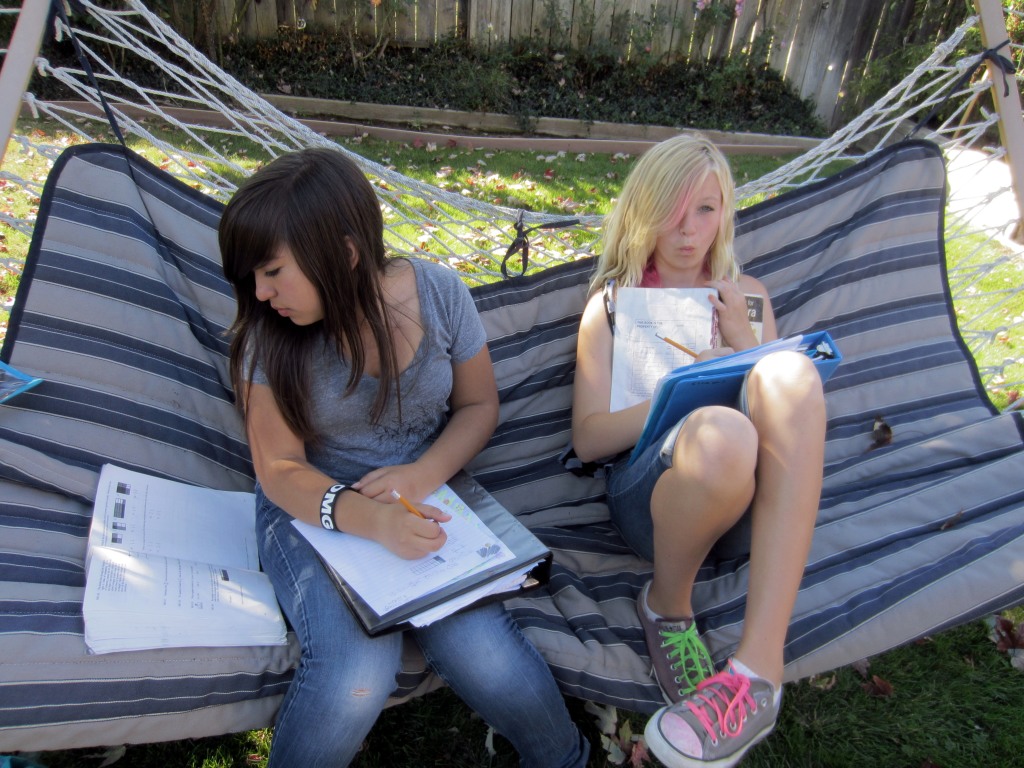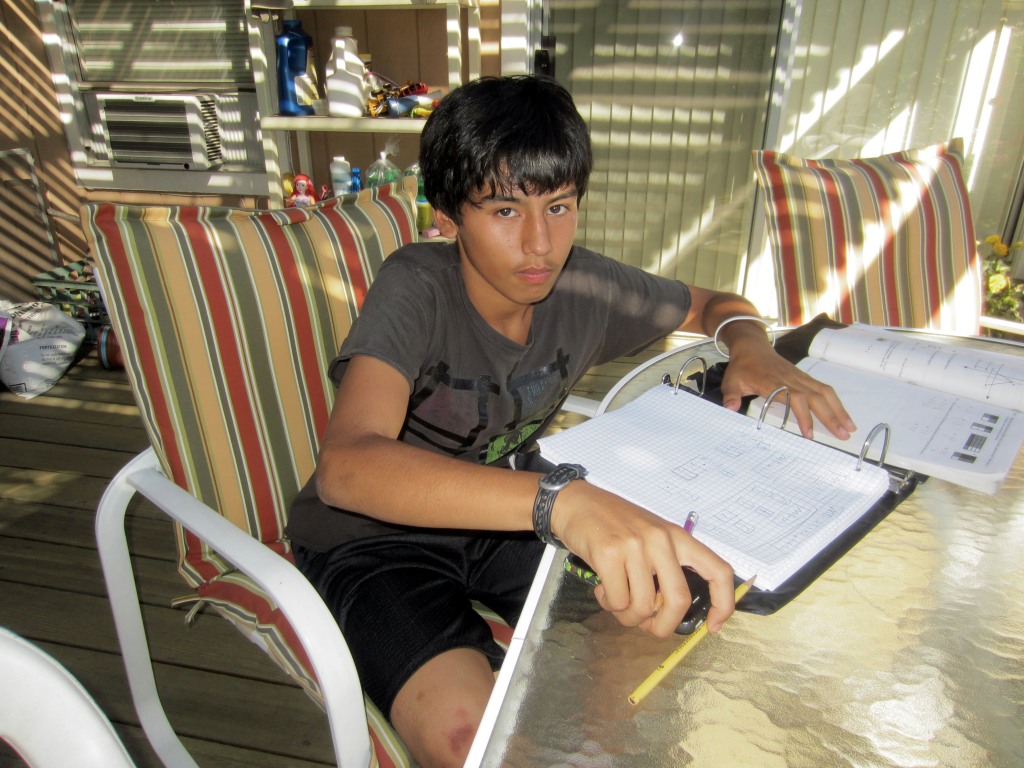 Sofi, Nicole, and Zak doing homework in the back yard.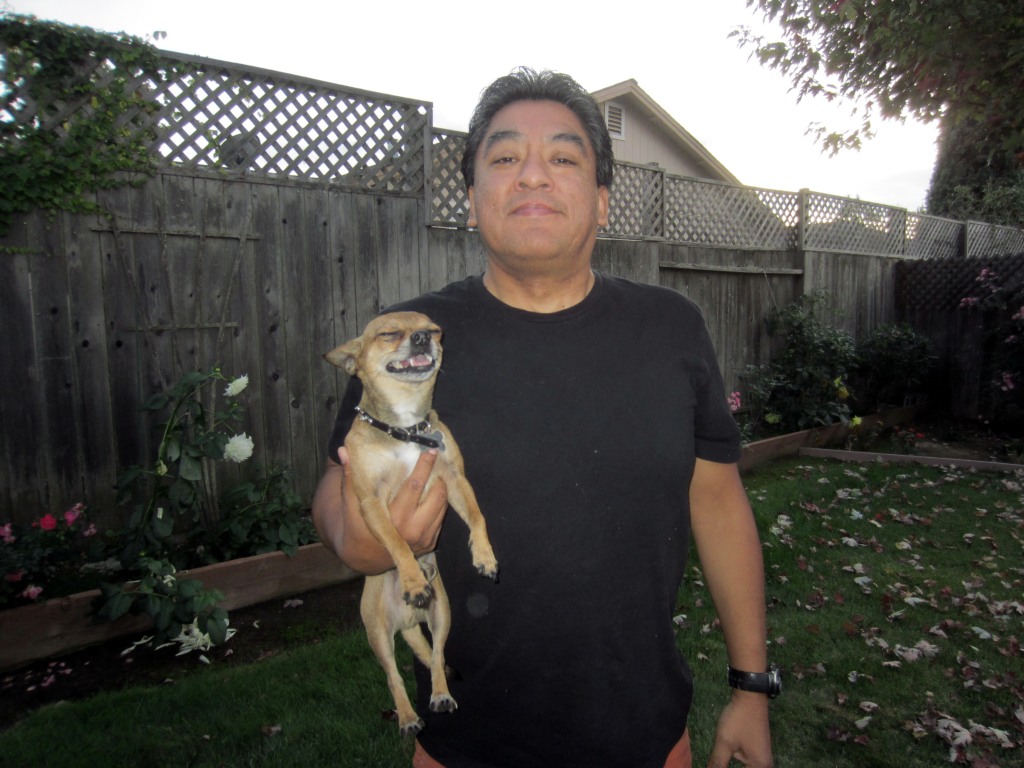 Yes, expressions are definitely contagious.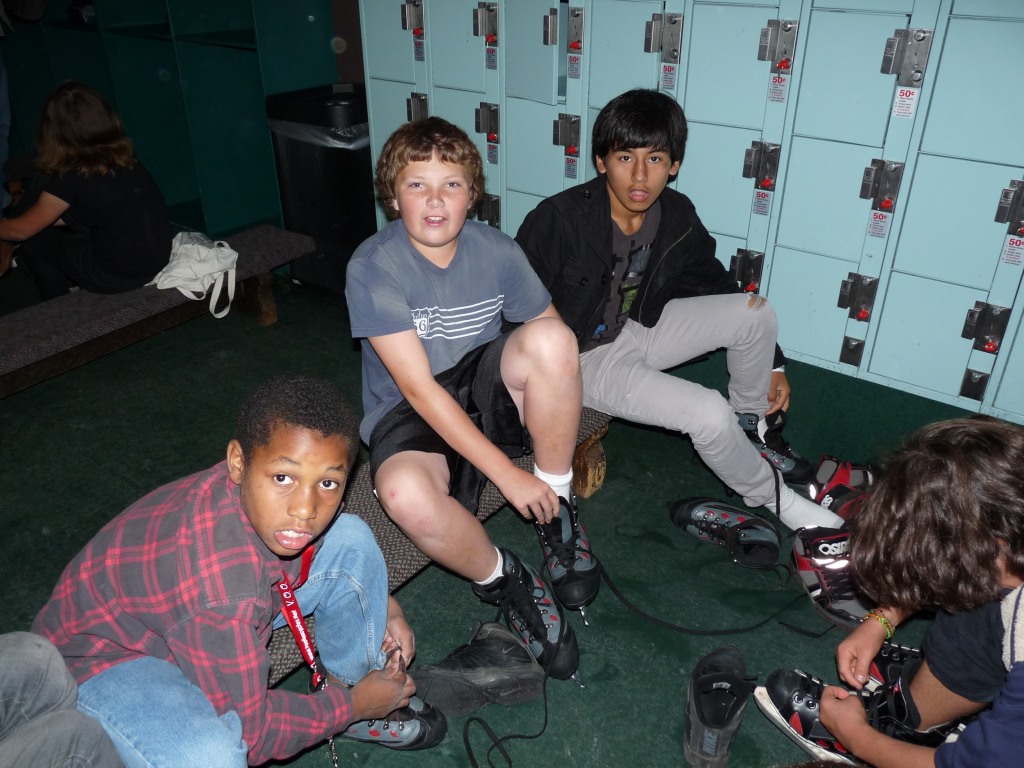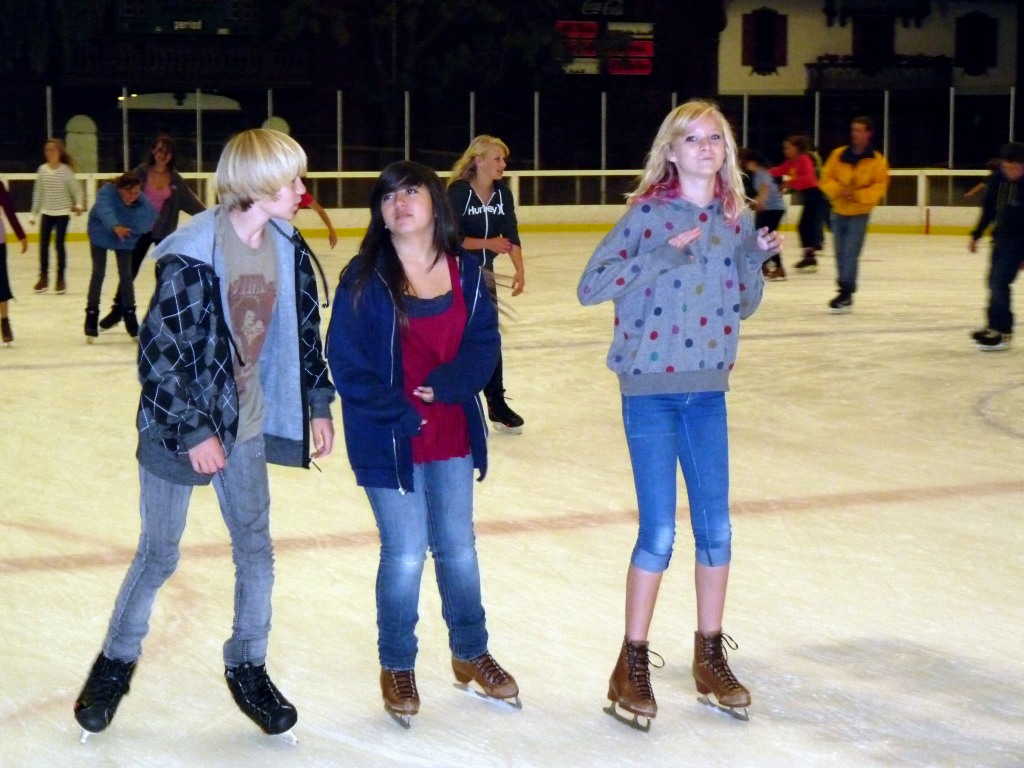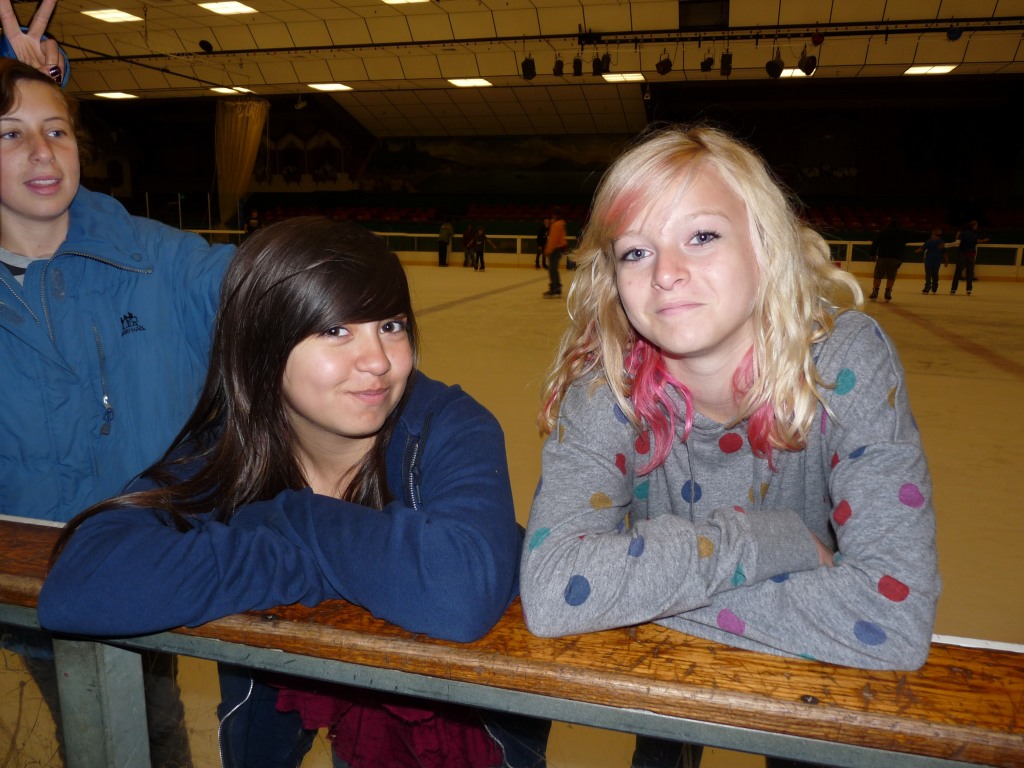 Zak and Sofi's classes went ice skating.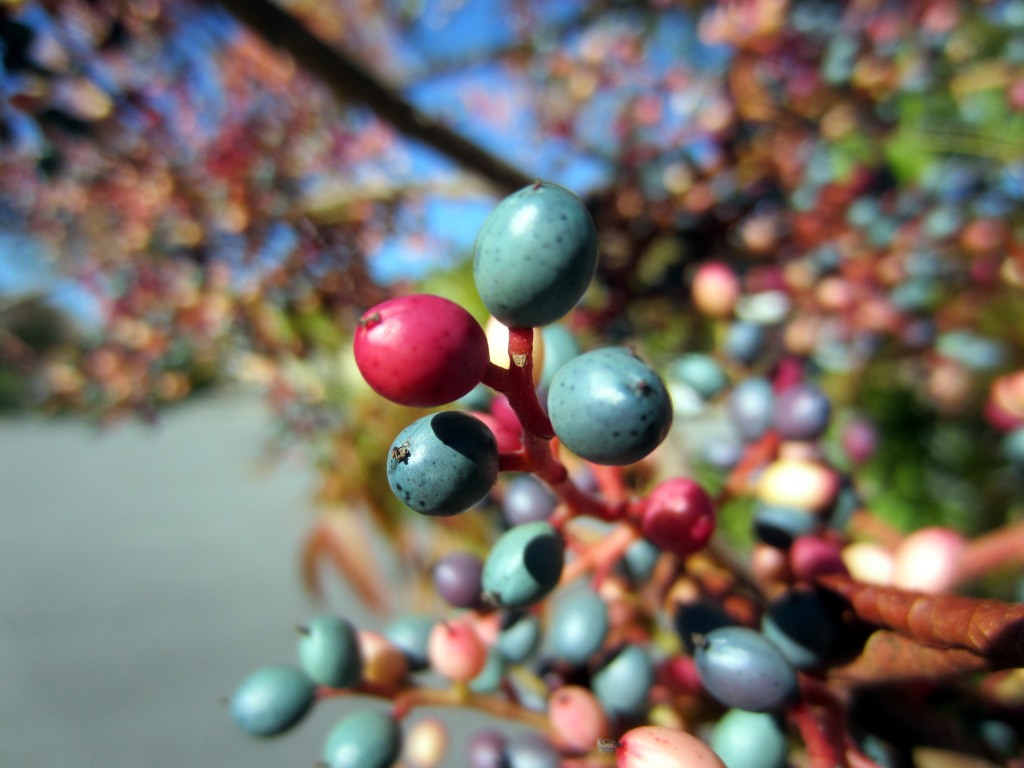 Berries on our Chinese Pistachio tree out front.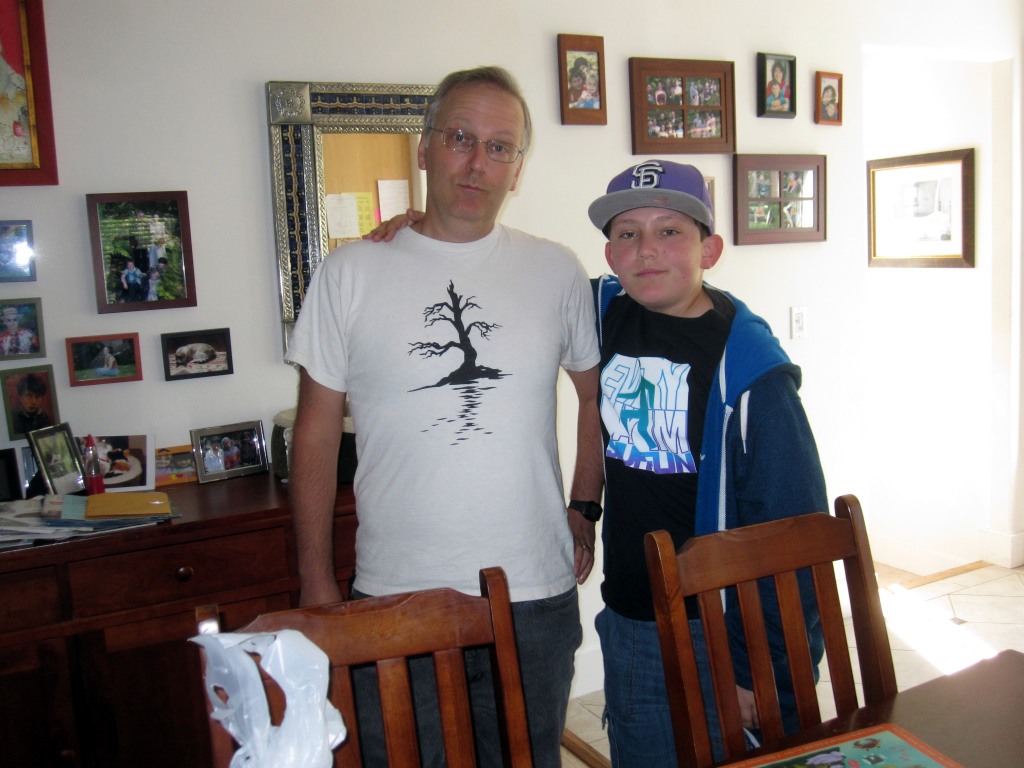 Grammy bisited Berkeley in October 2011. Eric and Francisco.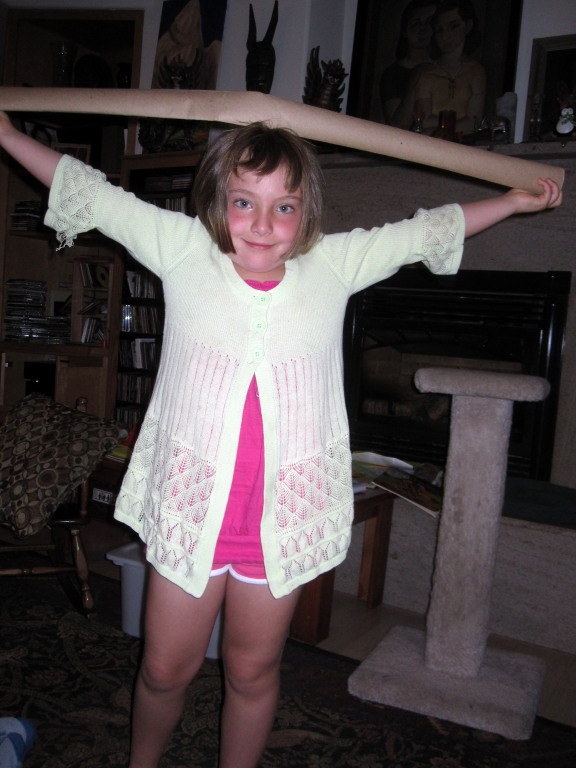 We have no idea what Isabelle was doing with that cardboard tube.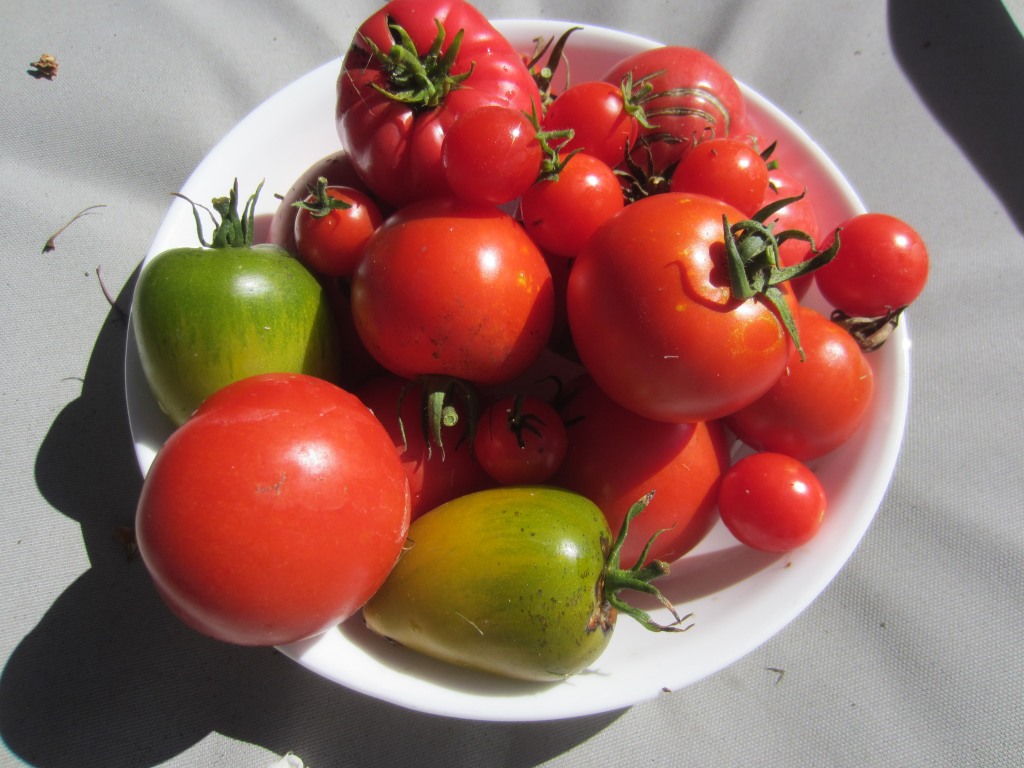 Tomatoes from our garden.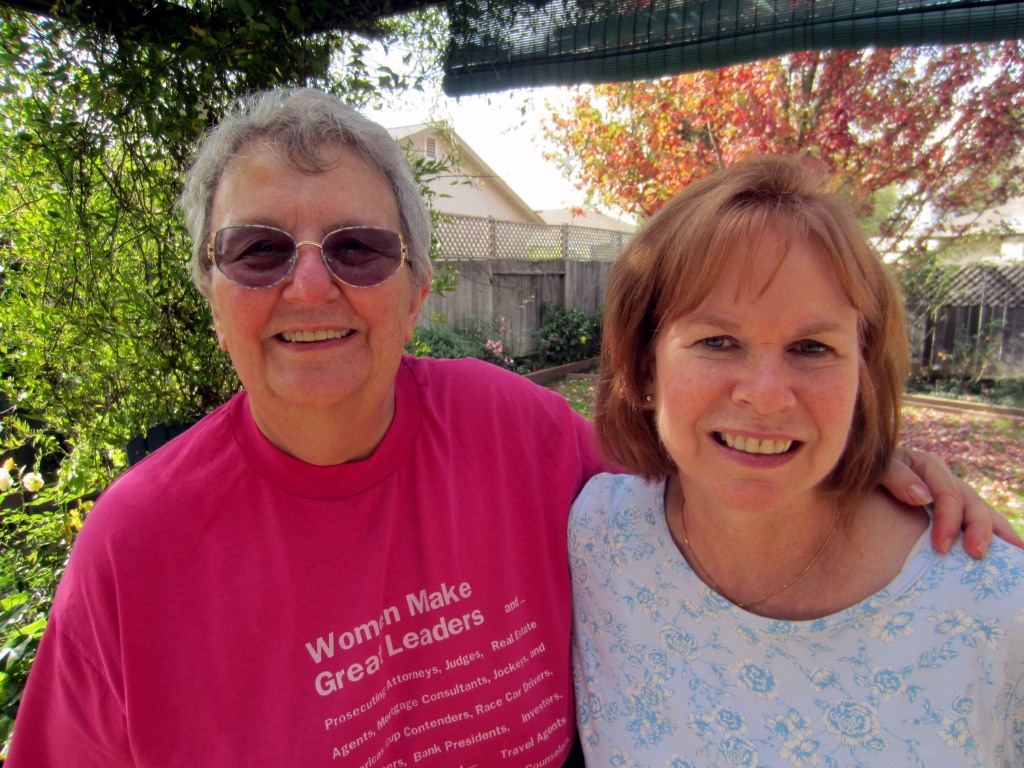 Grammy with our neighbor, Jana.

Max, Zak, and another Aaron at Lita's.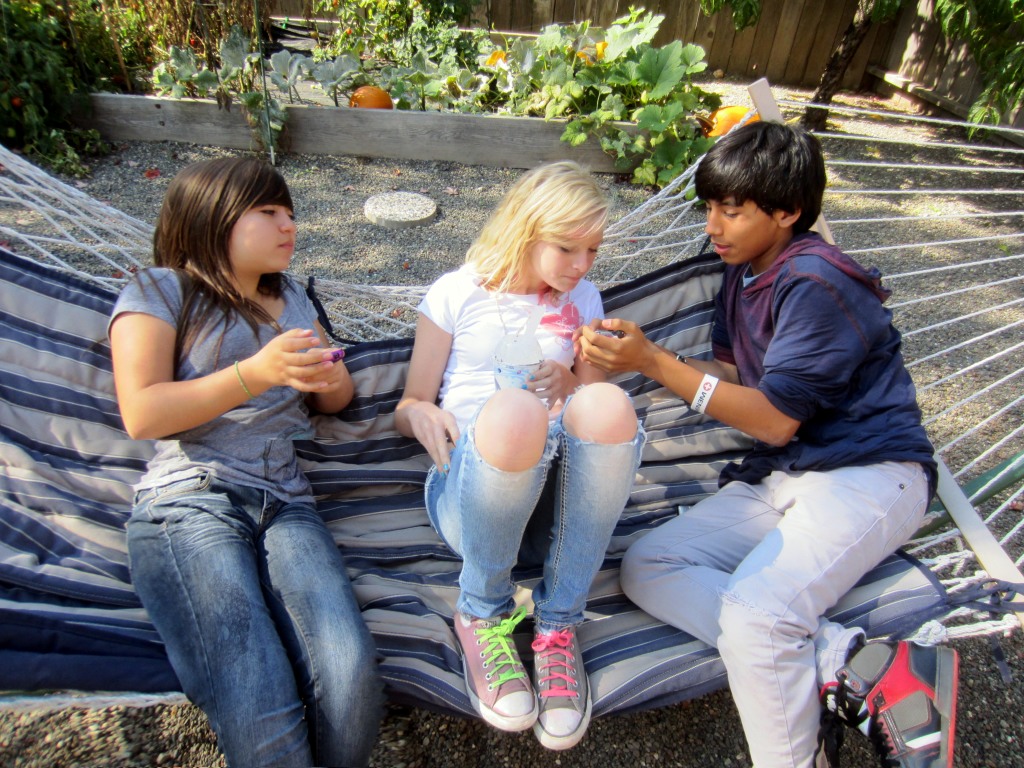 Sofi, Nicole, and Zak in the back yard. Zak is explaining to Nicole how she can repair the holes in the knees of her jeans using an iPhone.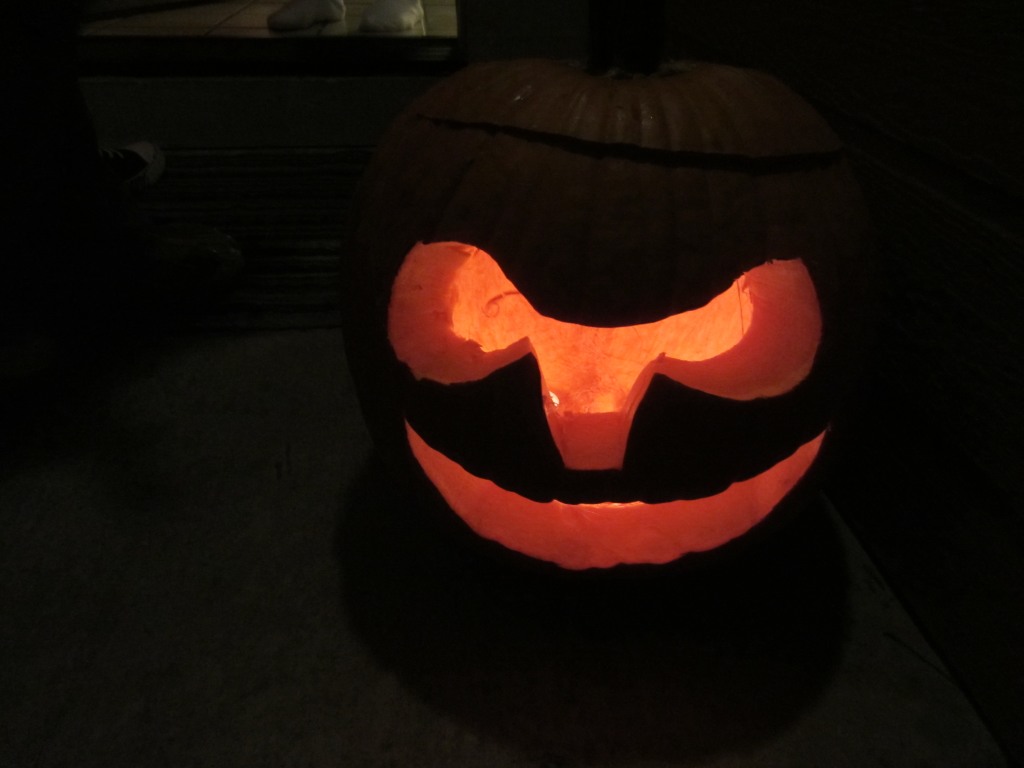 Grandpa's pumpkin.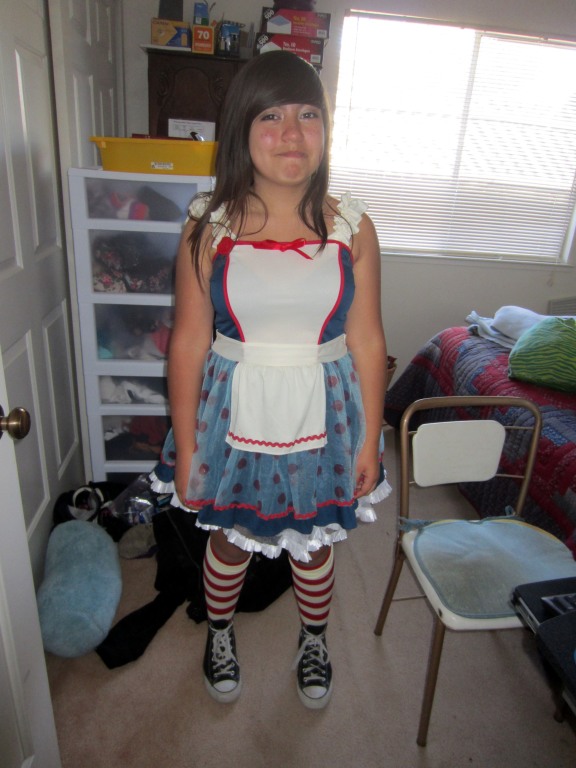 Sofi's Halloween costume.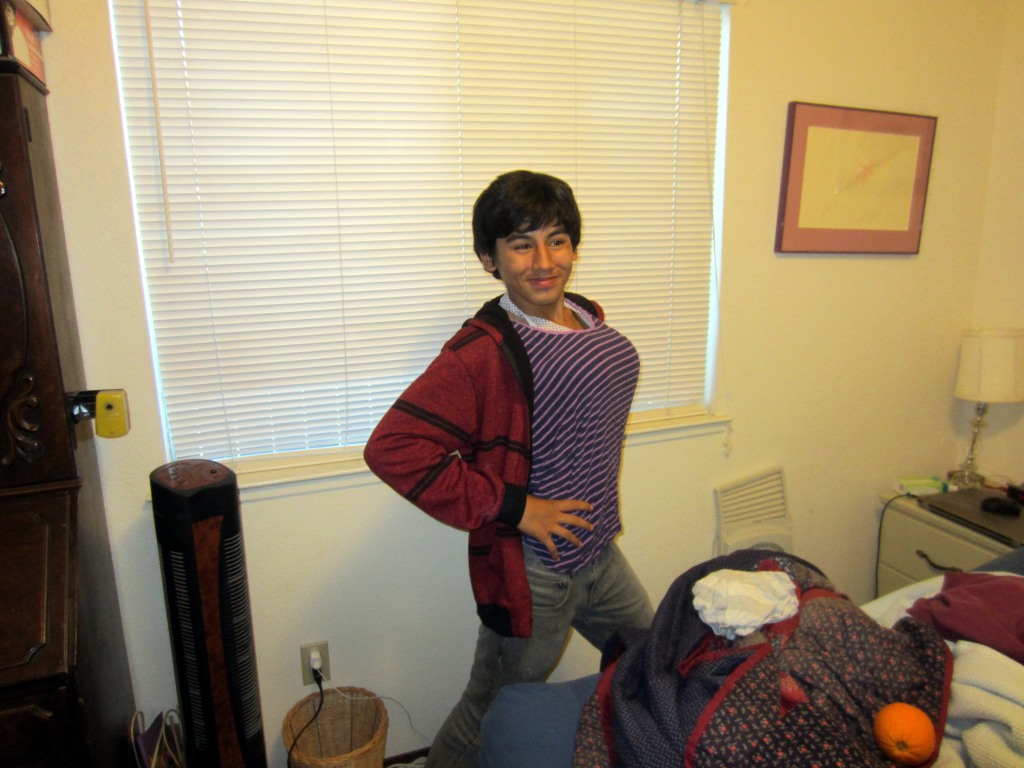 Zak and two oranges -- well, if you look closely there are actually three in the photo.
.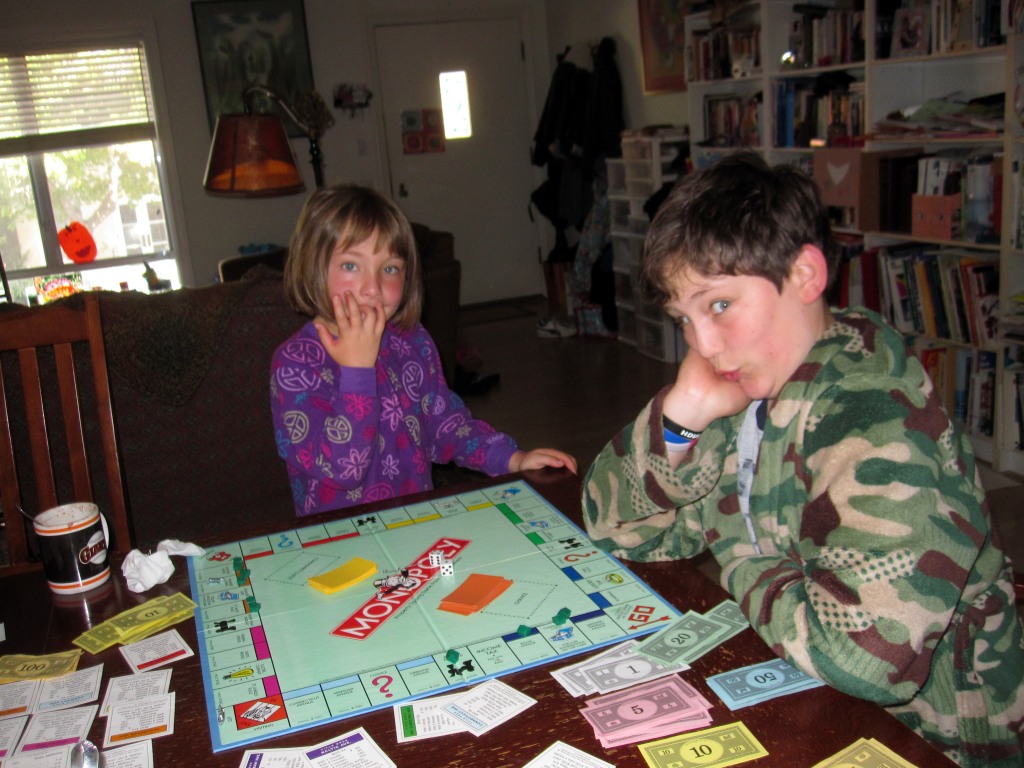 Grammy's photo of Isabelle and Francisco playing Monopoly.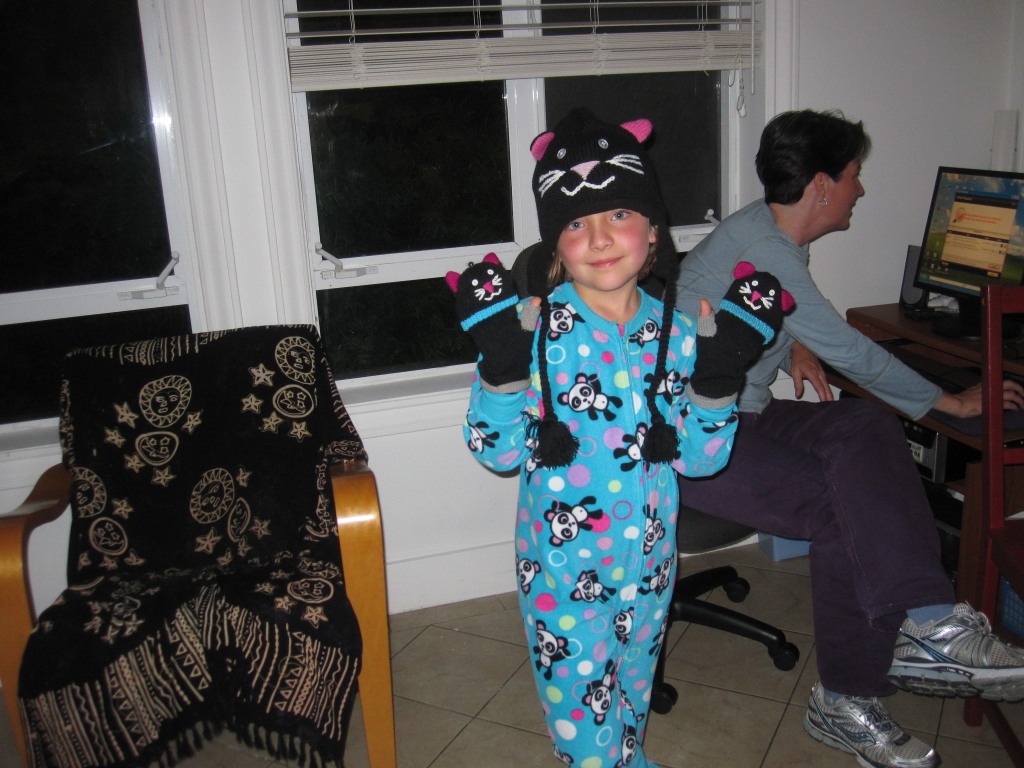 Isabelle in her blue panda pajamas and kitty hat and mittens.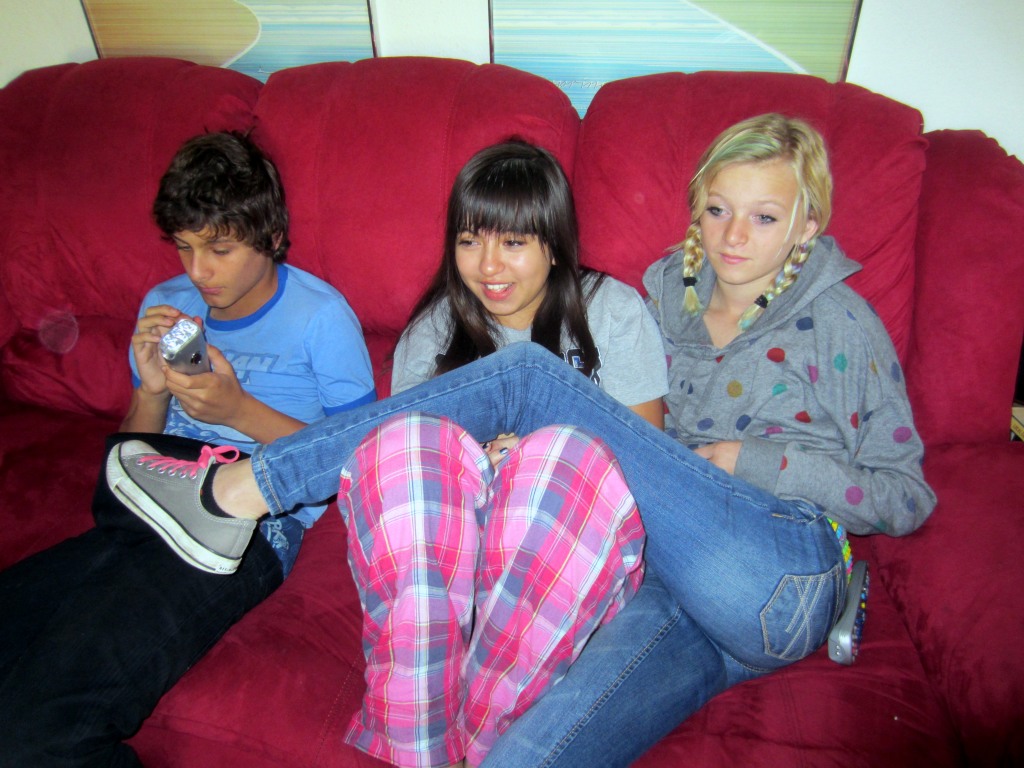 Aaron, Sofi, and Nicole demonstrate how to save space on a couch while pondering the mystery of LED lights.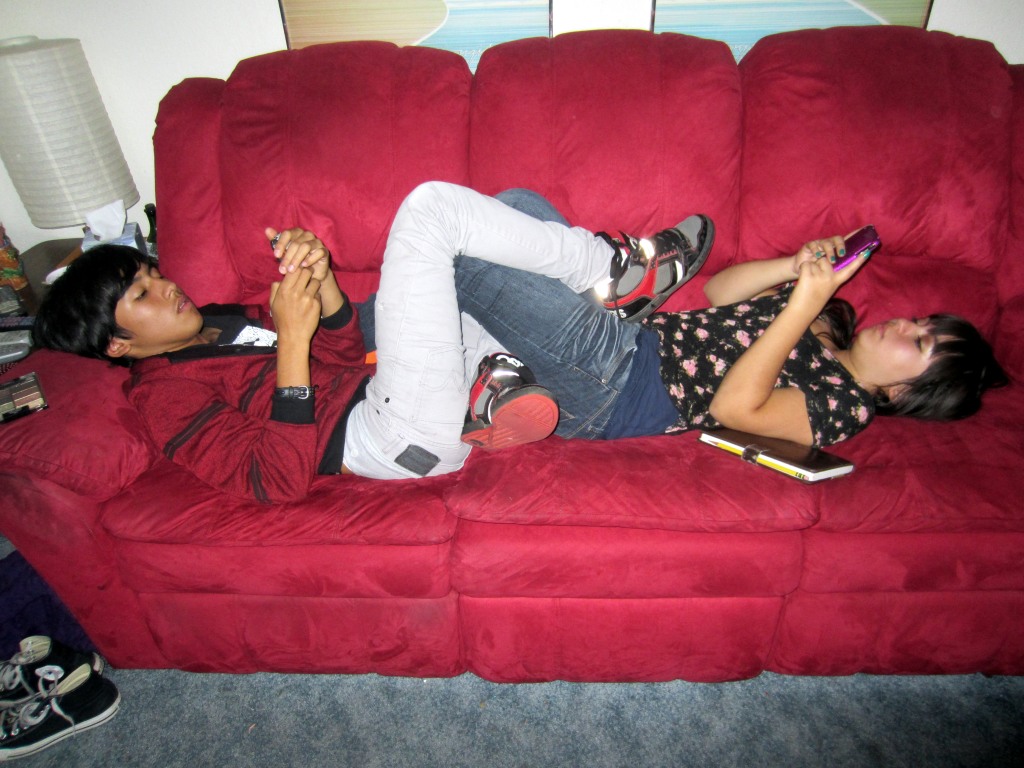 Zak and Sofi demonstrate an alternative space-saving technique on a couch. Note how they closely follow the instructions as they appear on their iPhones.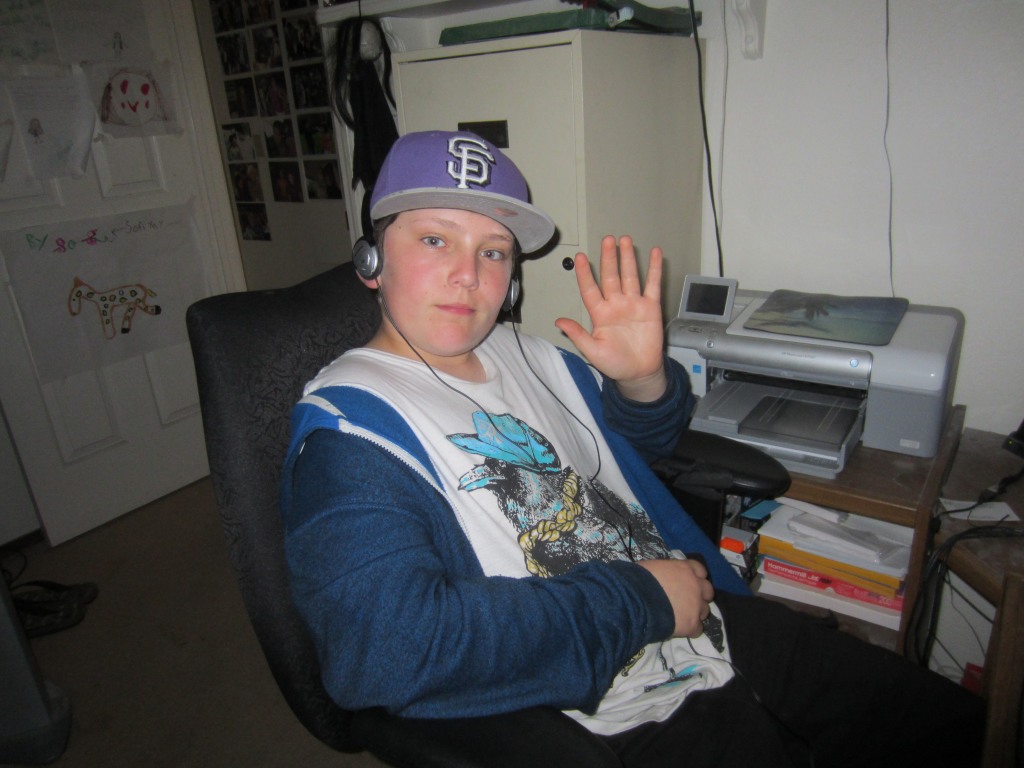 Francisco listens to the audio portion of a video on Grandpa's computer.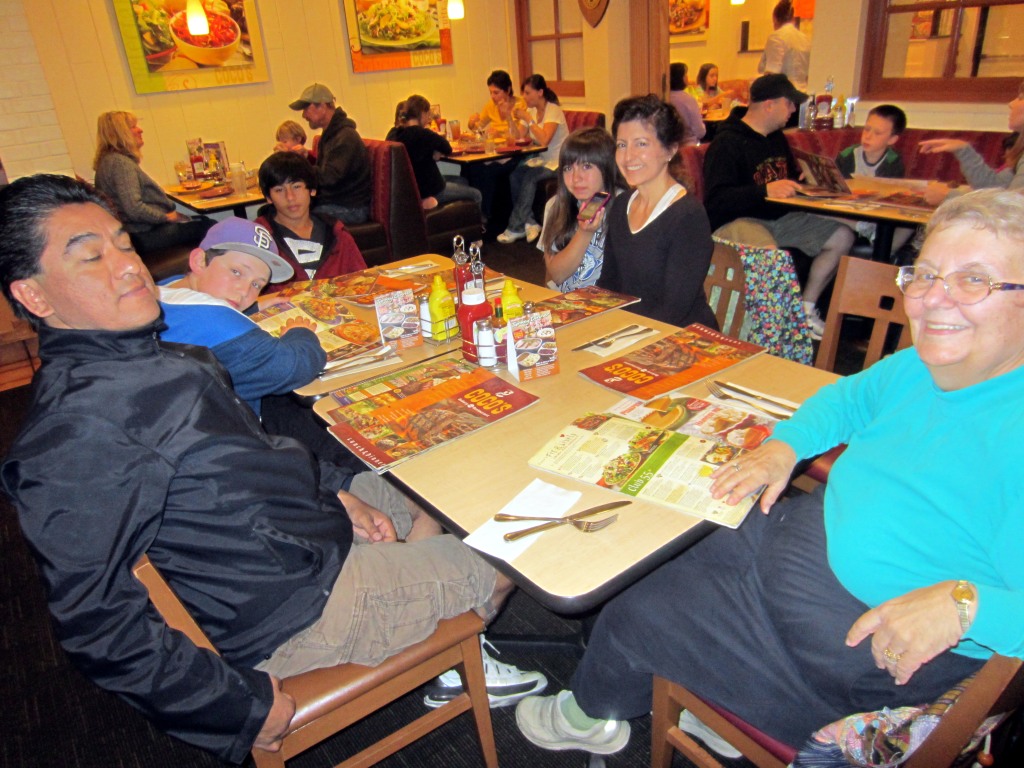 Mundo, Francisco, Zak, Sofi, Suzy, and Grammy at Coco's.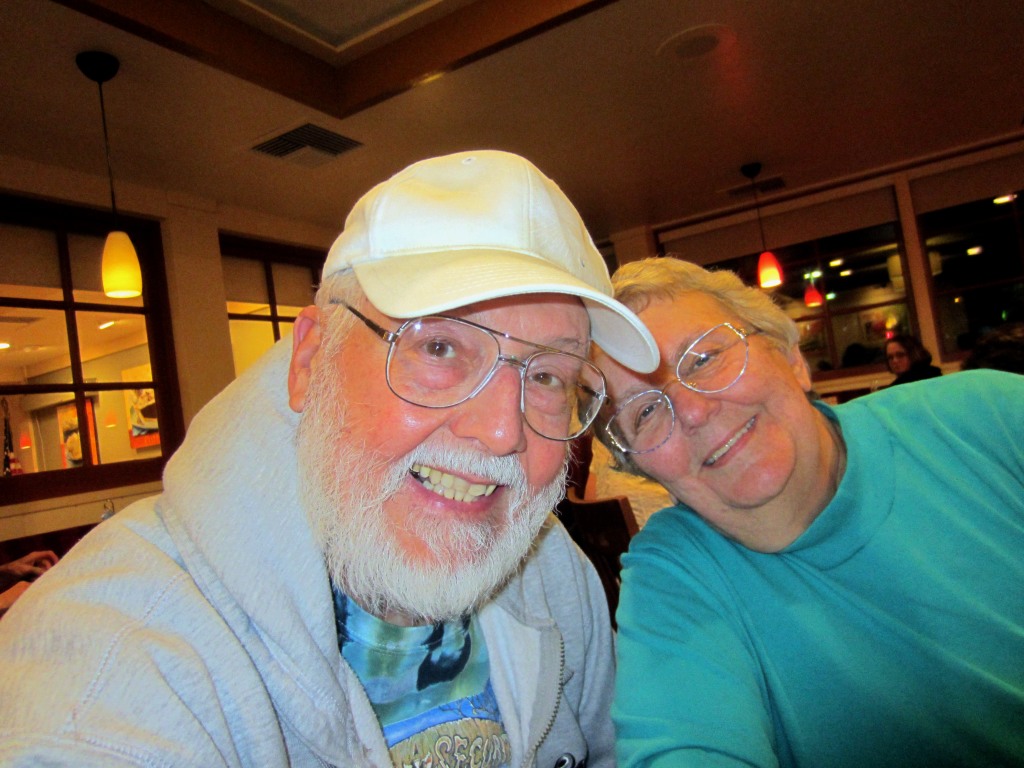 Grandpa and Grammy at Coco's.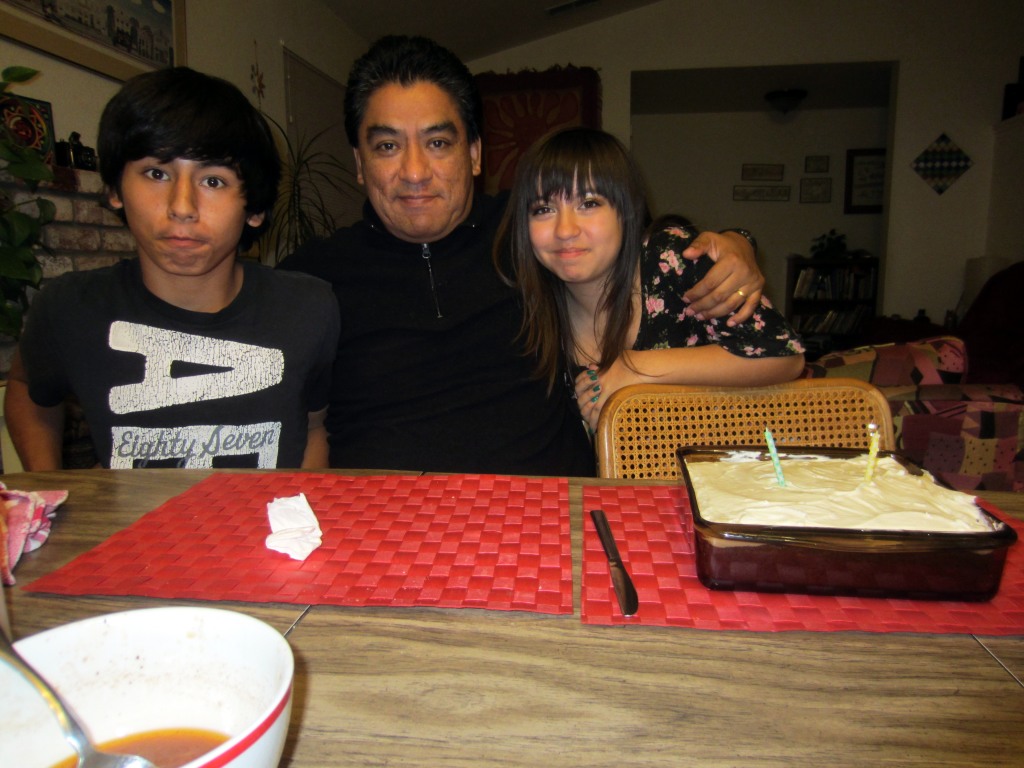 Zak, Mundo, and Sofi having dinner at Grammy and Grandpa's house.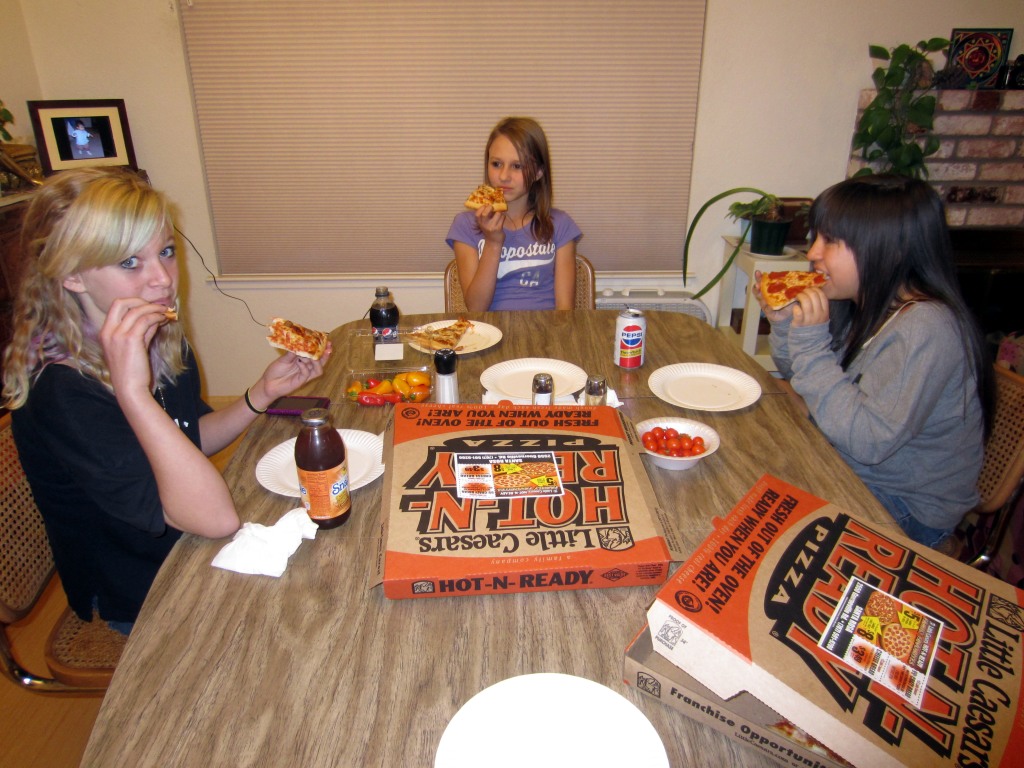 Nicole, Brittany, and Sofi with Little Caesars pizza as the beginning of an overnight visit.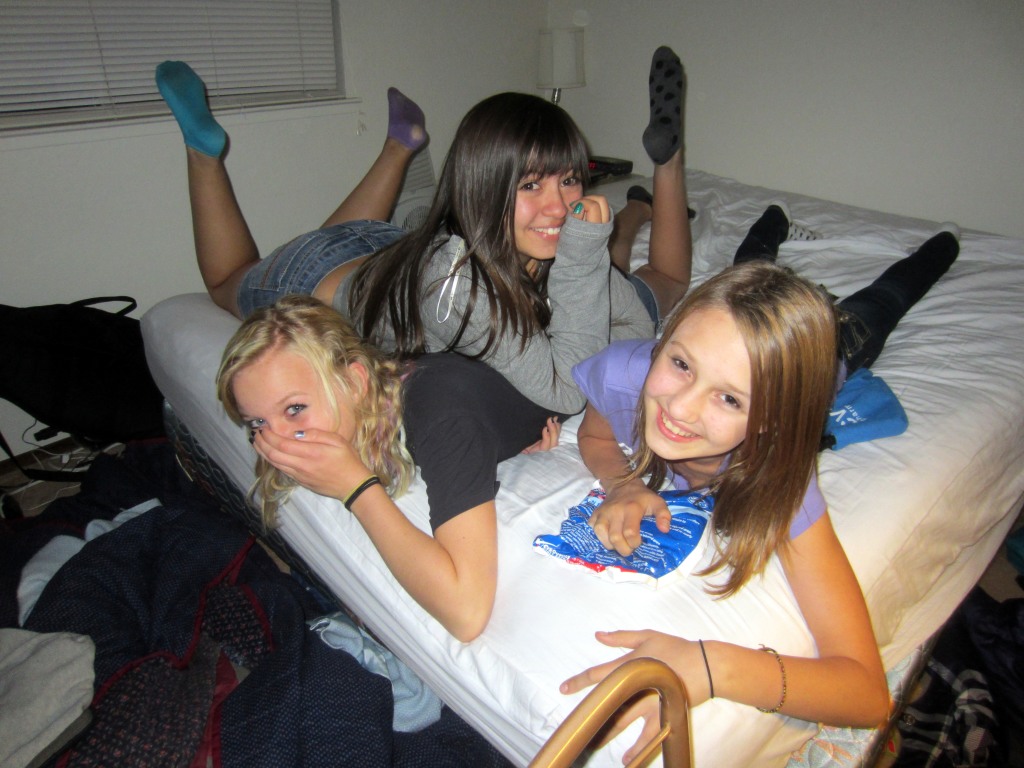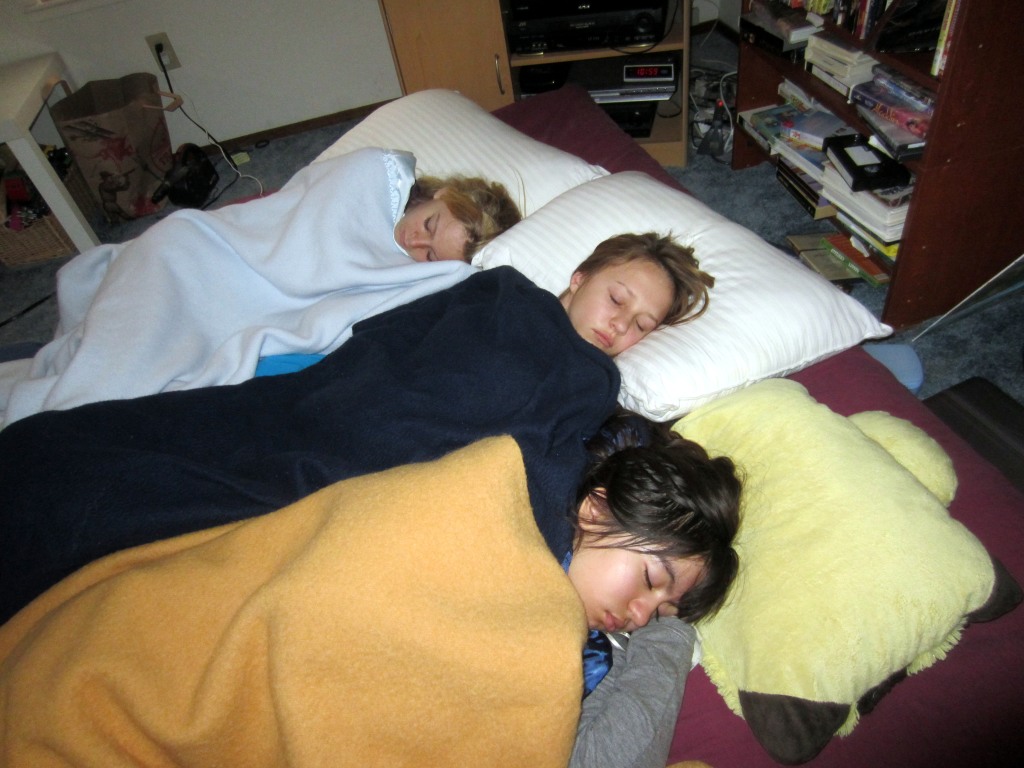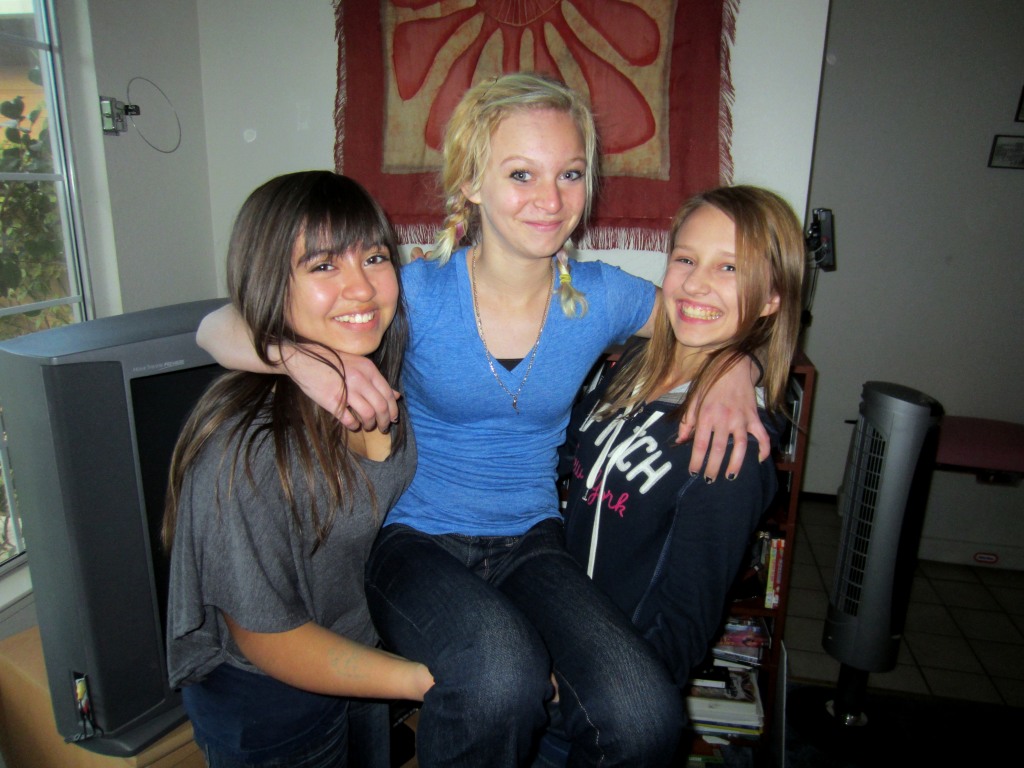 They had a good time.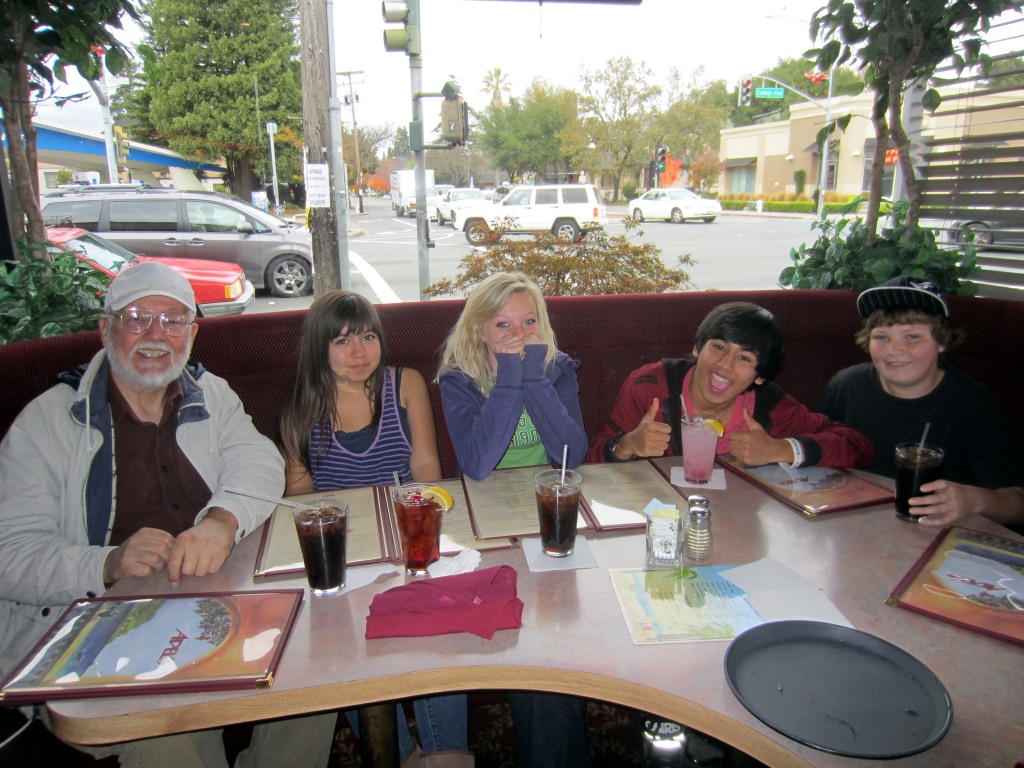 Grandpa, Sofi, Nicole, Zak, and Max at Adele's.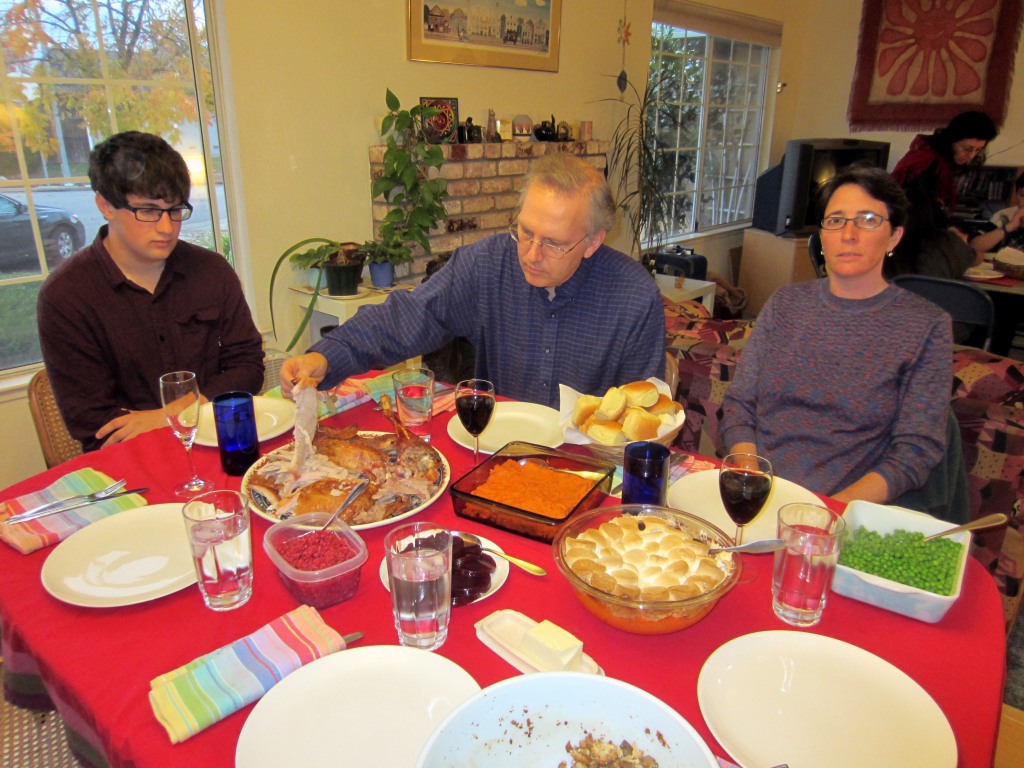 Cassidy, Eric, and Sandra - Thanksgiving at Grammy and Grandpa's house.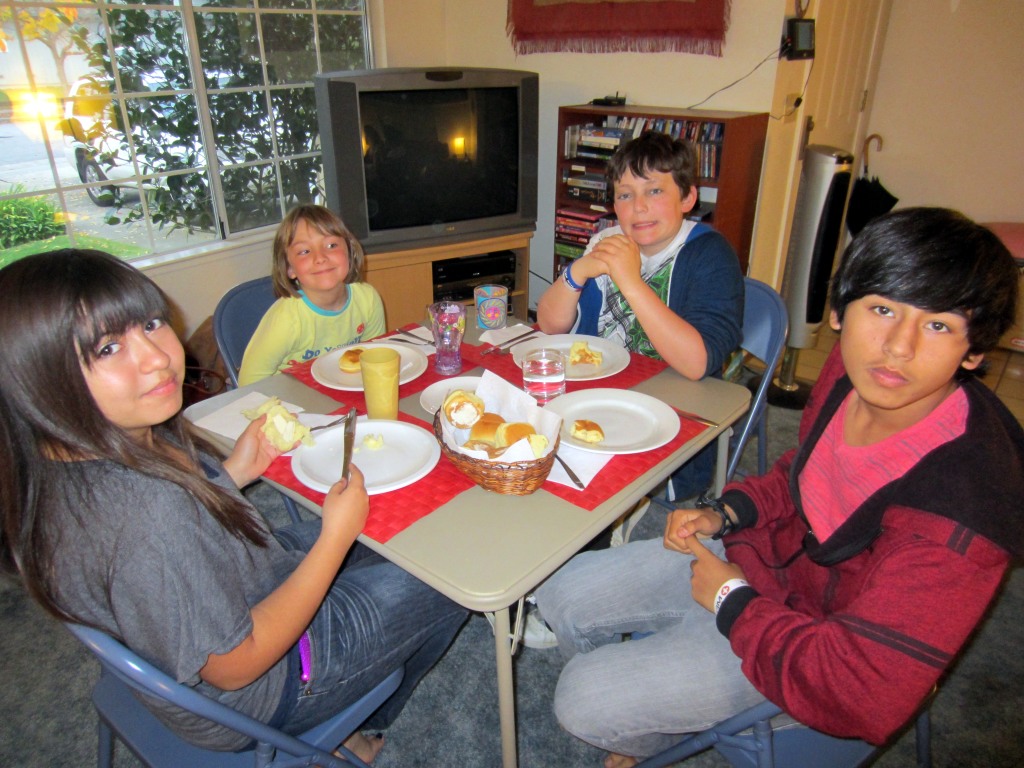 Sofi, Isabelle, Francisco, and Zak share the "little table." Clearly we will need a bigger one soon.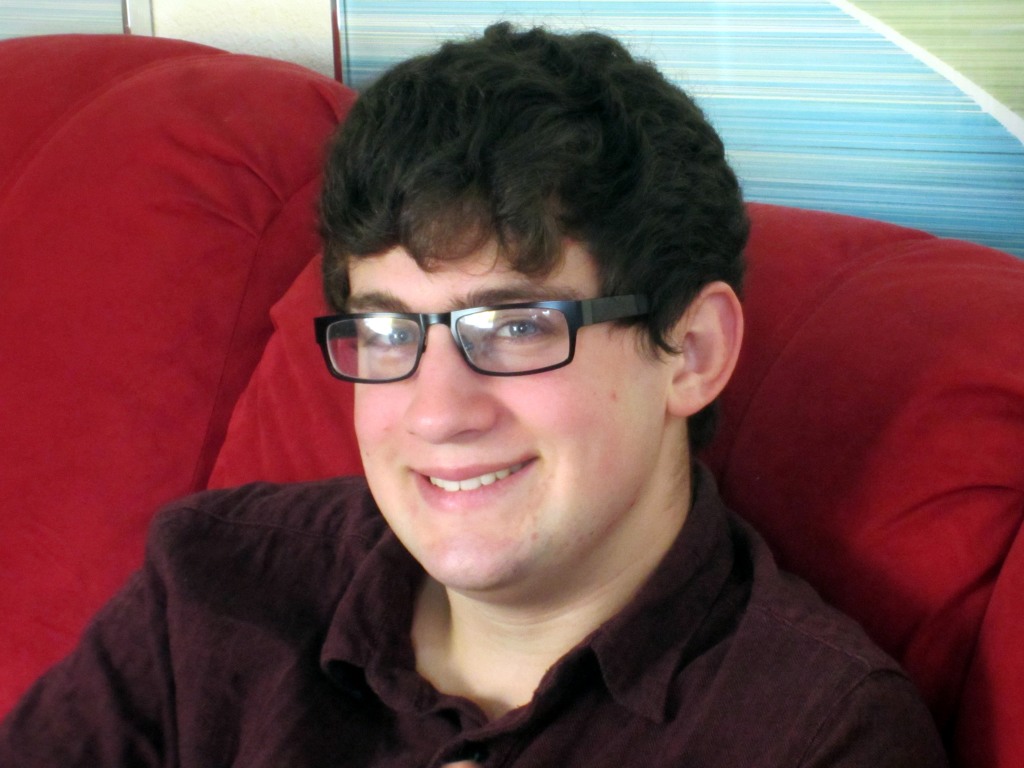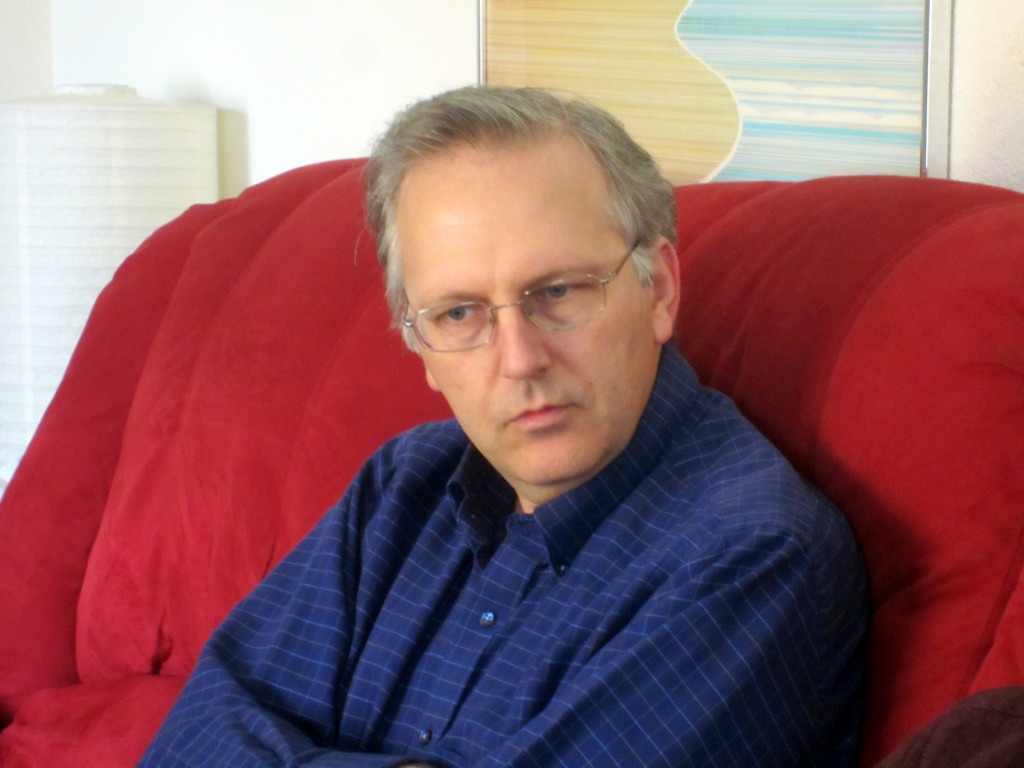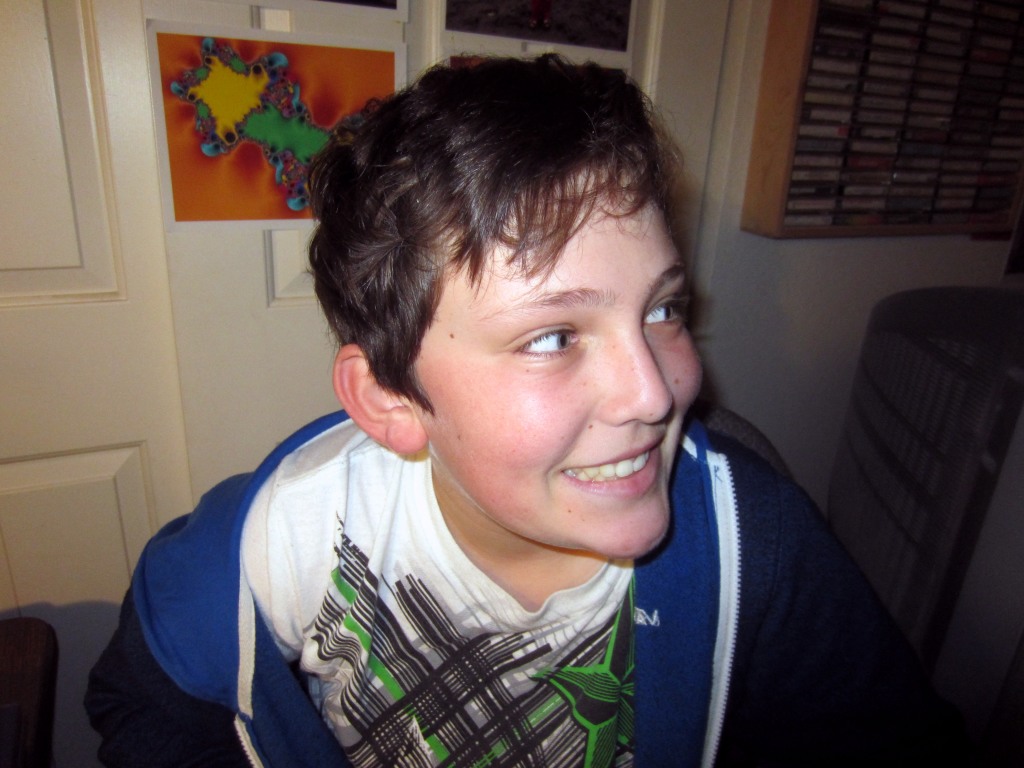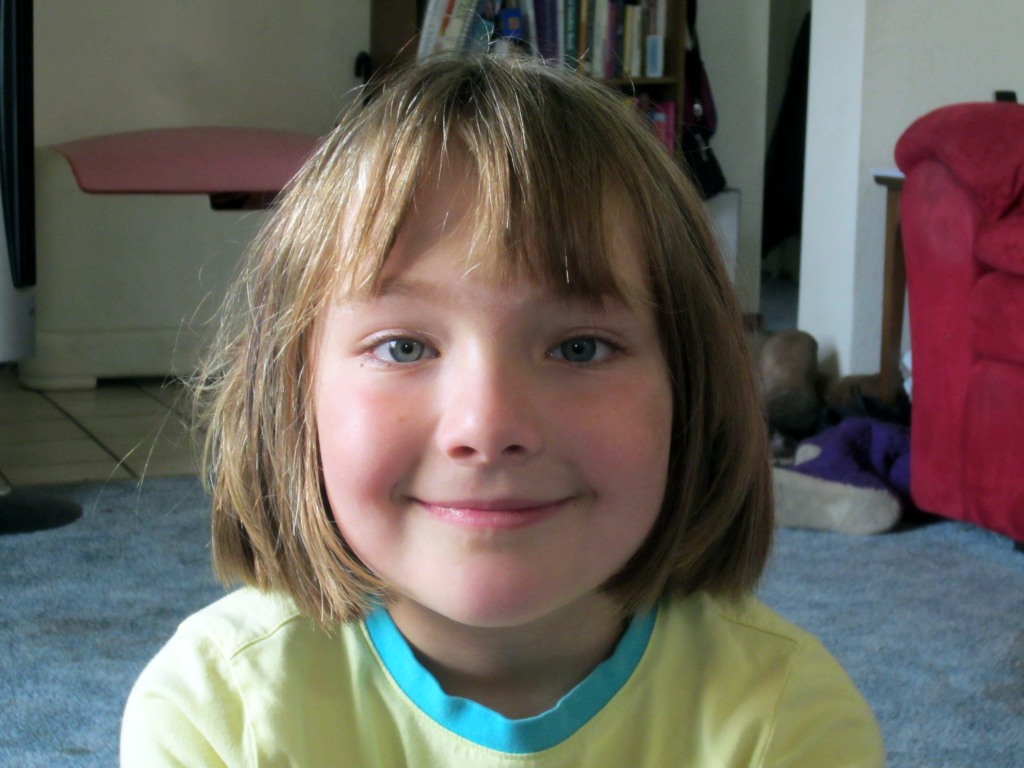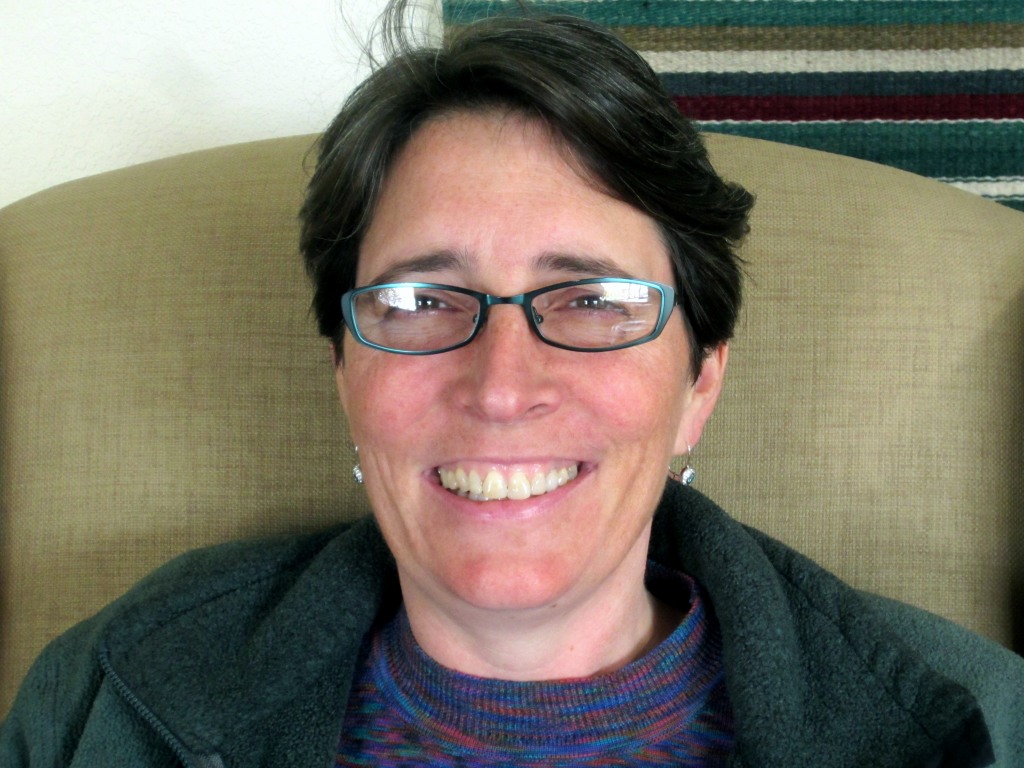 Portraits -- Cassidy, Eric, Francisco, Isabelle, Sandra.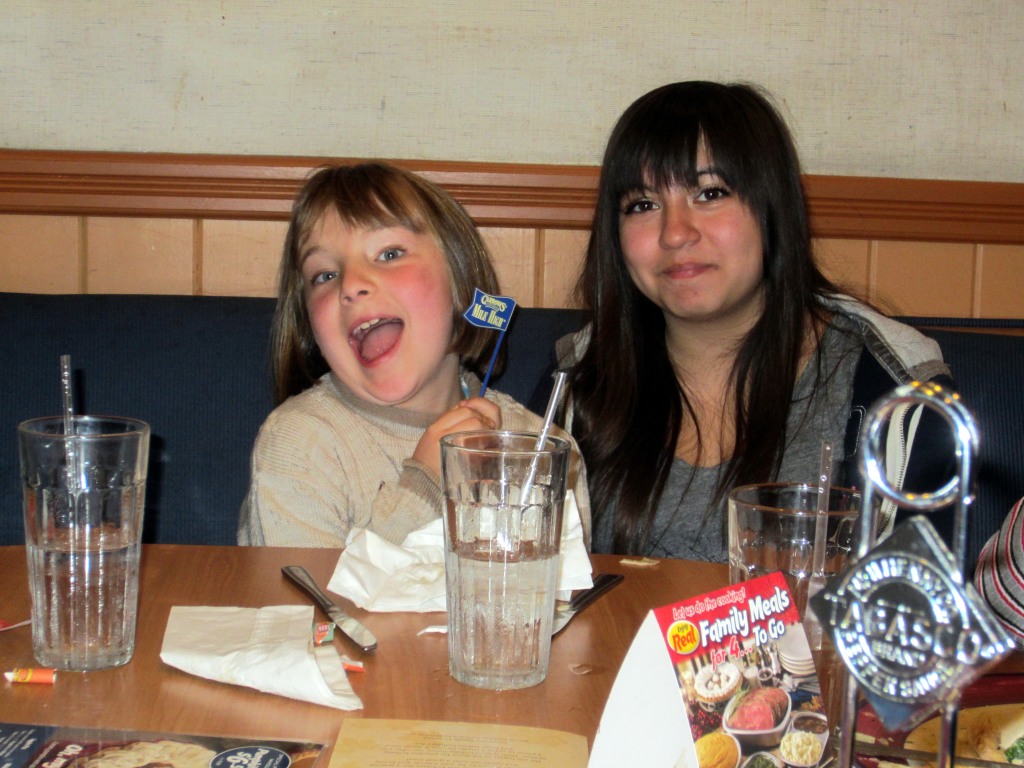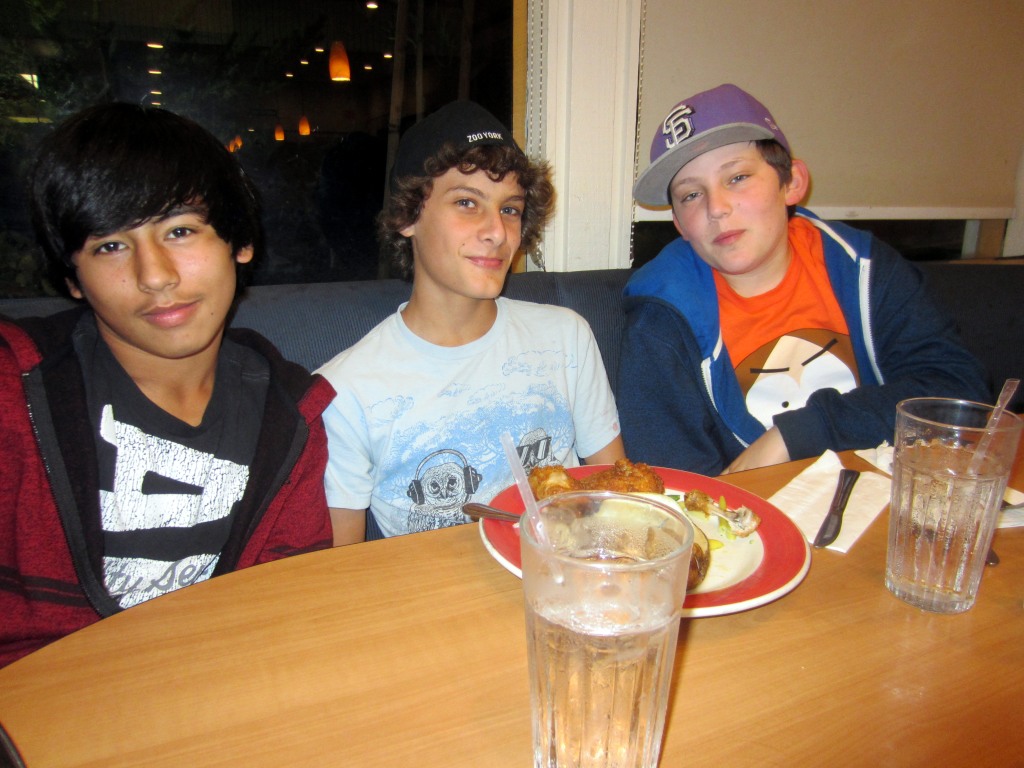 Isabelle & Sofi, Zak, Aaron, and Francisco at Carrows.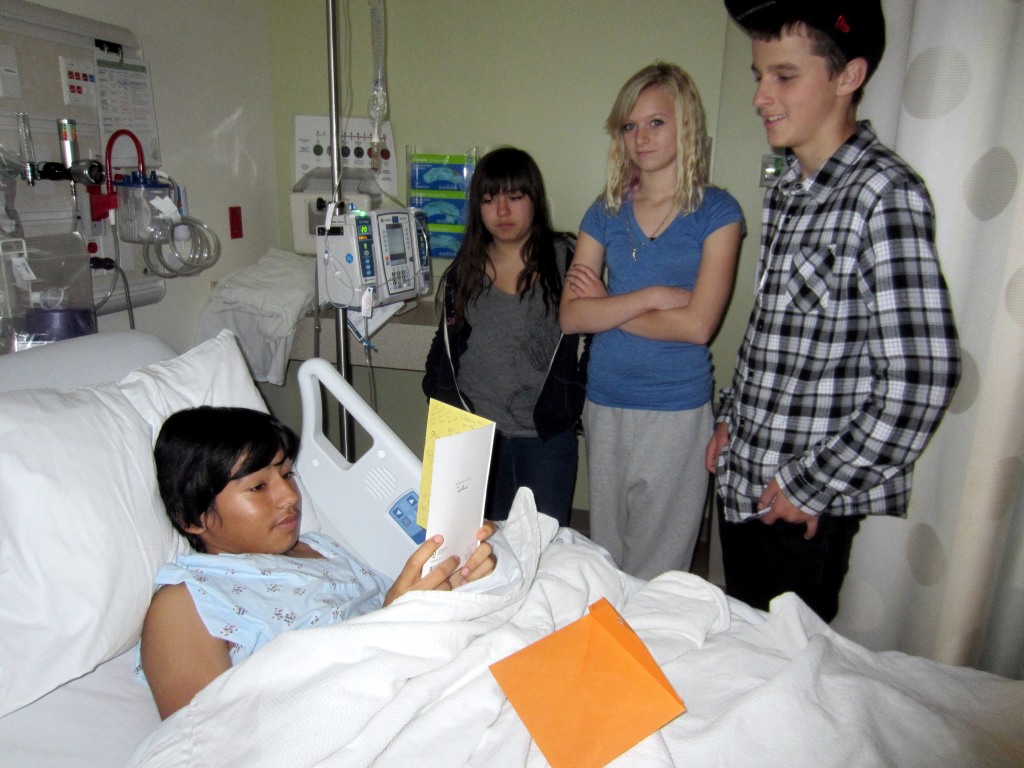 We had some excitement on November 30 . Zak developed appendicitis and had to have emergency surgery. Sofi, Nicole, and Tomas visited him.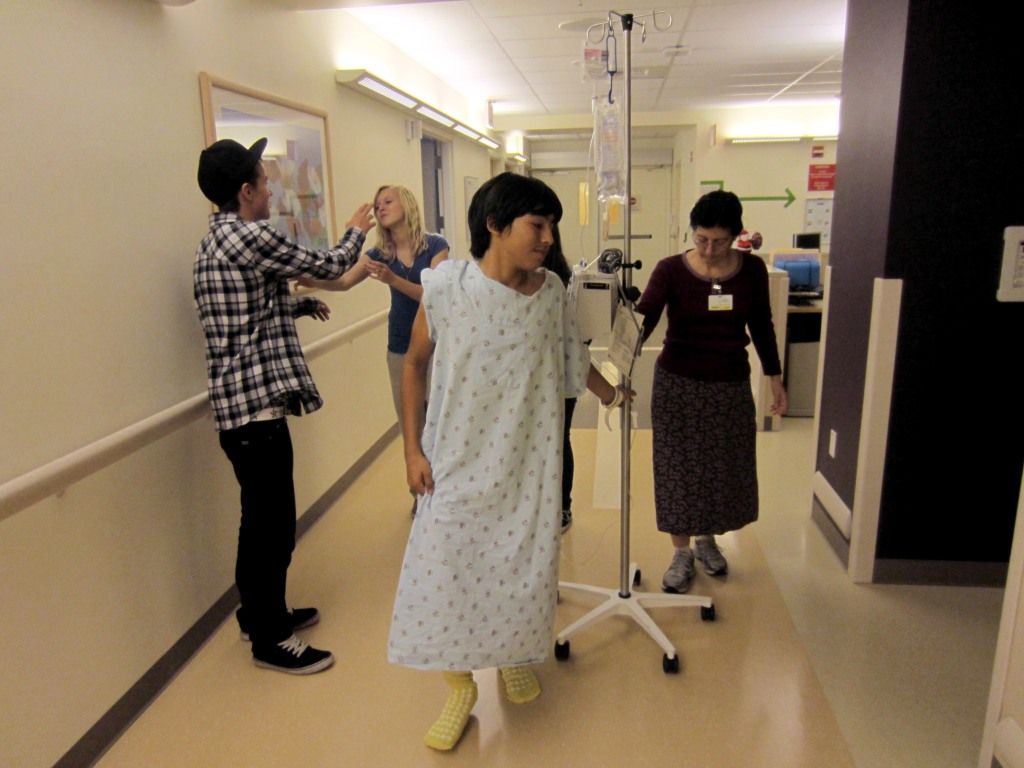 He was up and around the same day.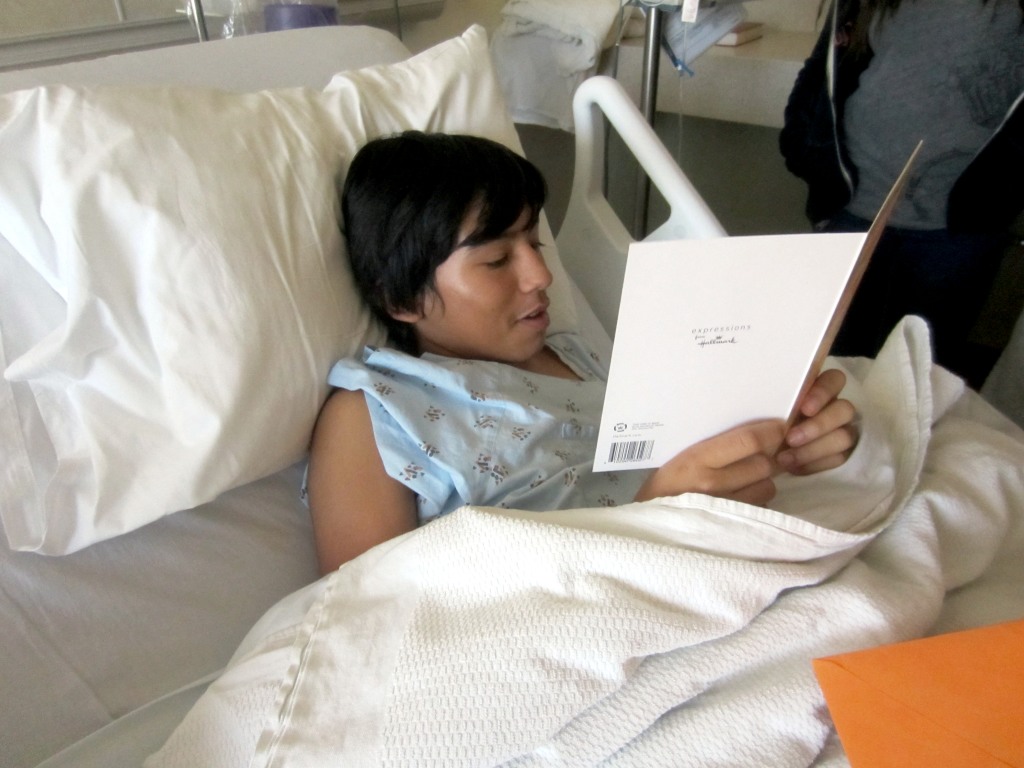 His class sent him a get-well card.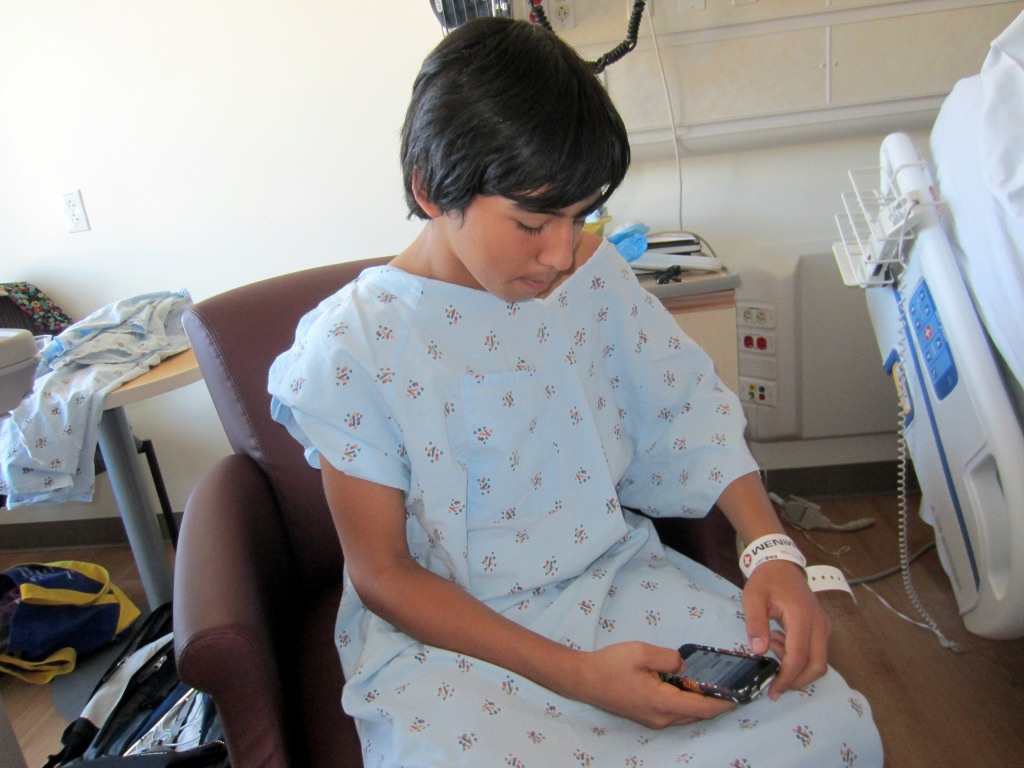 Pretty soon he was texting again.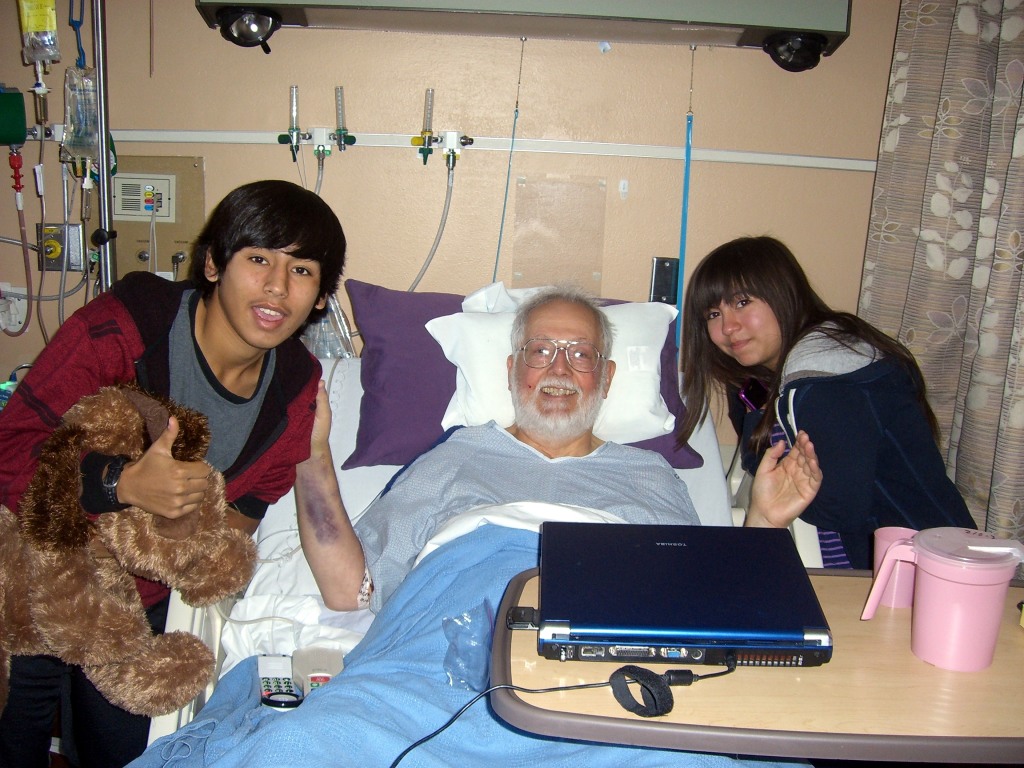 Then it was Grandpa's turn -- but this time it was a planned surgery. On December 1 he had his lower back repaired. Zak came to visit as soon
as he was out of the hospital and he brought his "doggie," the gift he received from Nicole when he was in the hospital Sofi joined him. Grandpa
was very happy to see them. The bruise on Grandpa's arm was from plastic IV insertions. It went away quickly.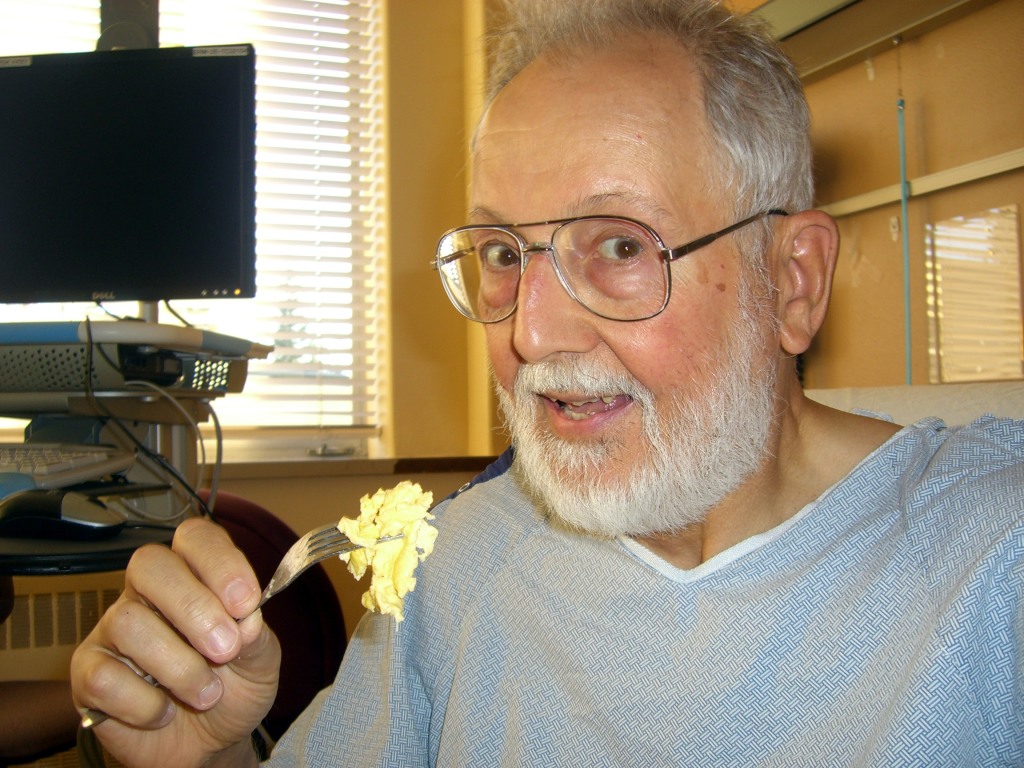 After two days in the ICU with nothing but clear liquids, Grandpa was pleased to get some scrambled eggs for breakfast. The clear liquids
were necessary because the surgery was from the front as well as from the rear, and all digestive function stopped for a couple of days.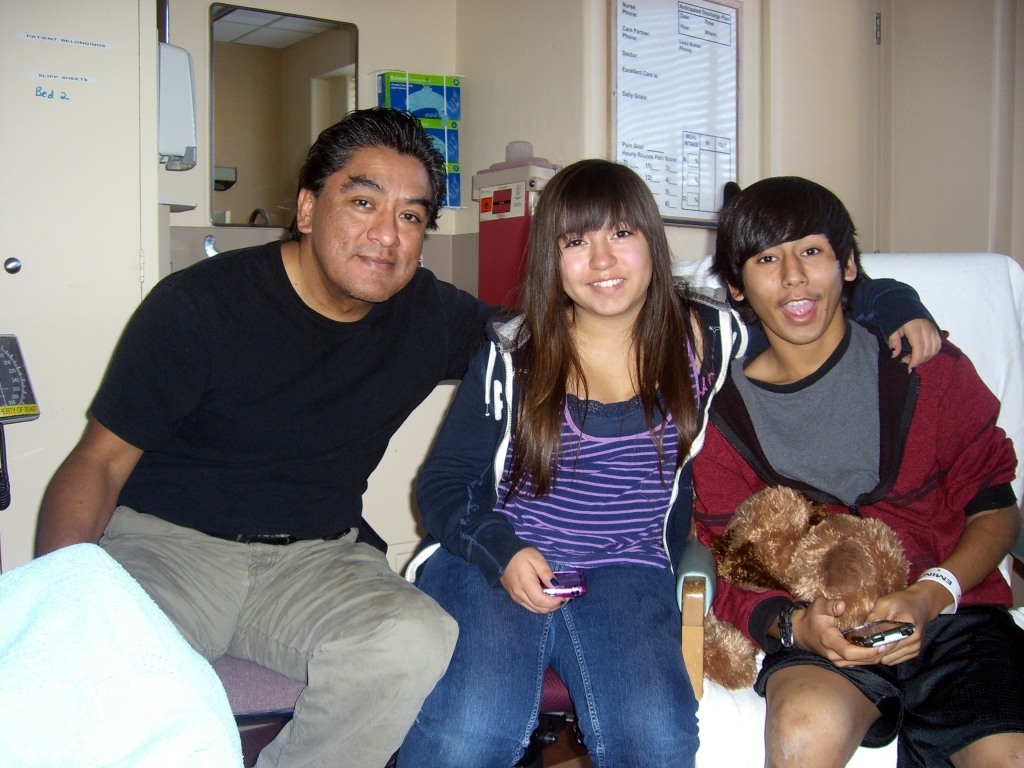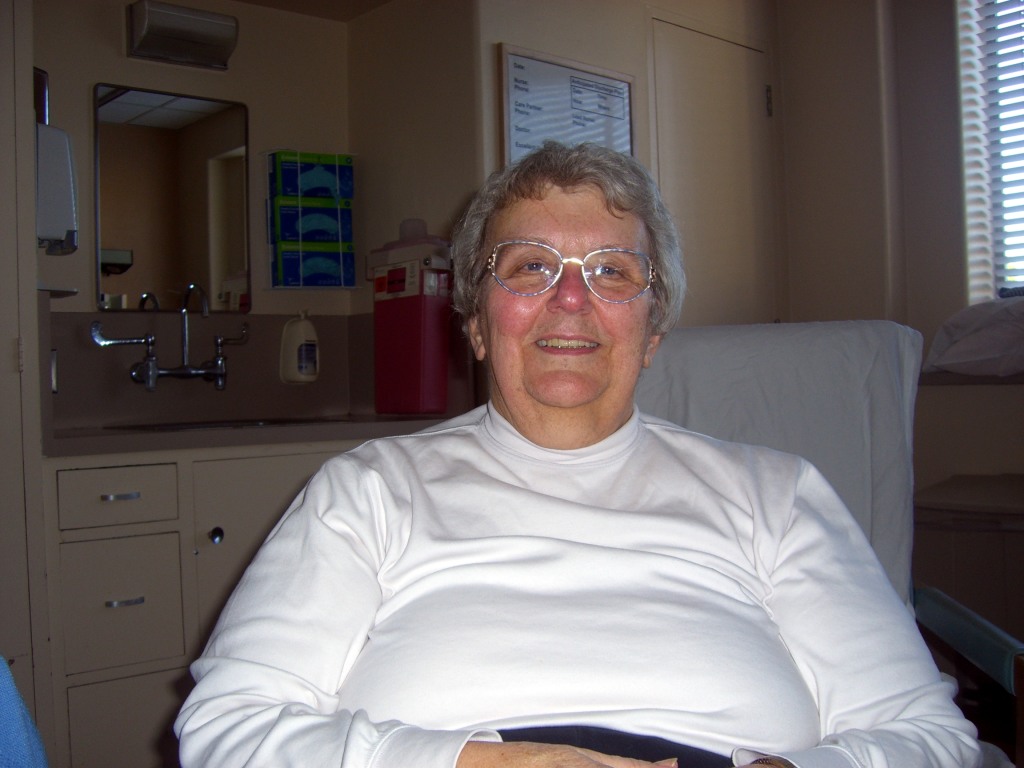 Grandpa had other visitors too -- Mundo, Suzy (not shown), and Grammy.

Grandpa returned home after 5 days in the hospital. This photo was taken on Day 6 when he went out for a walk.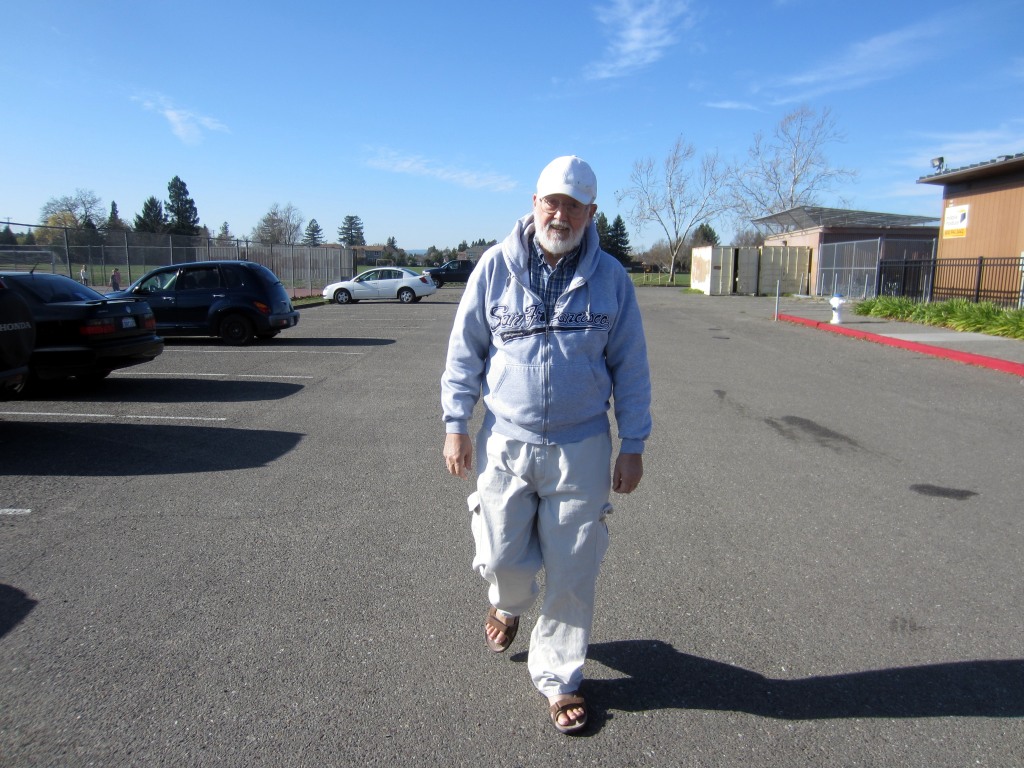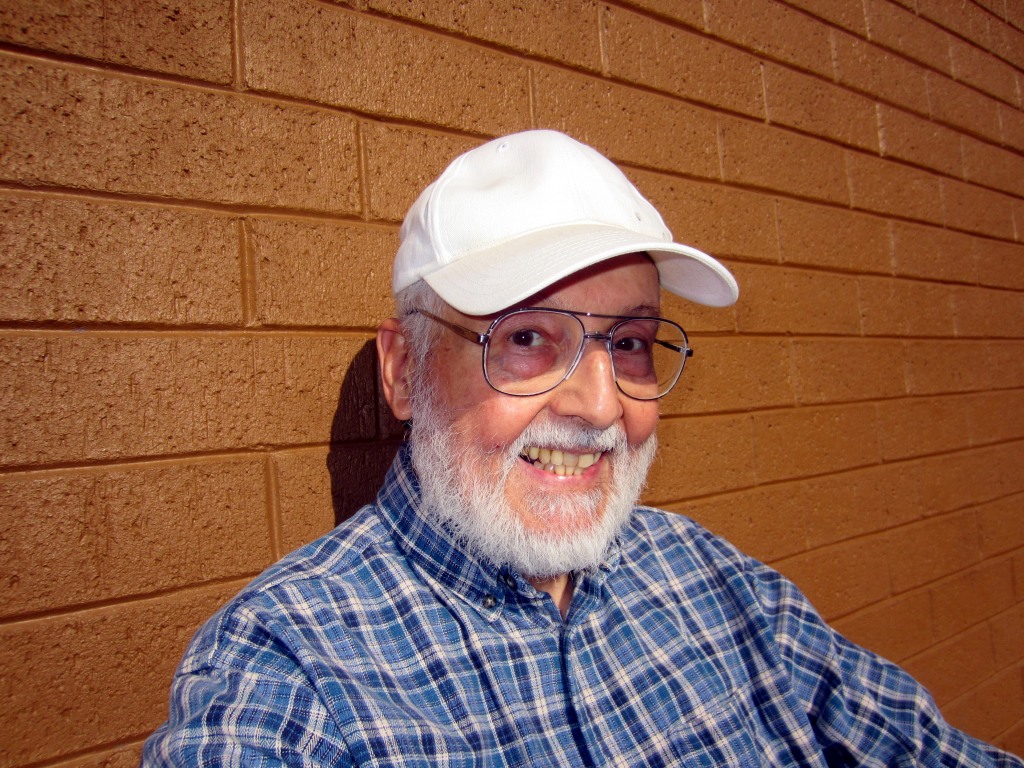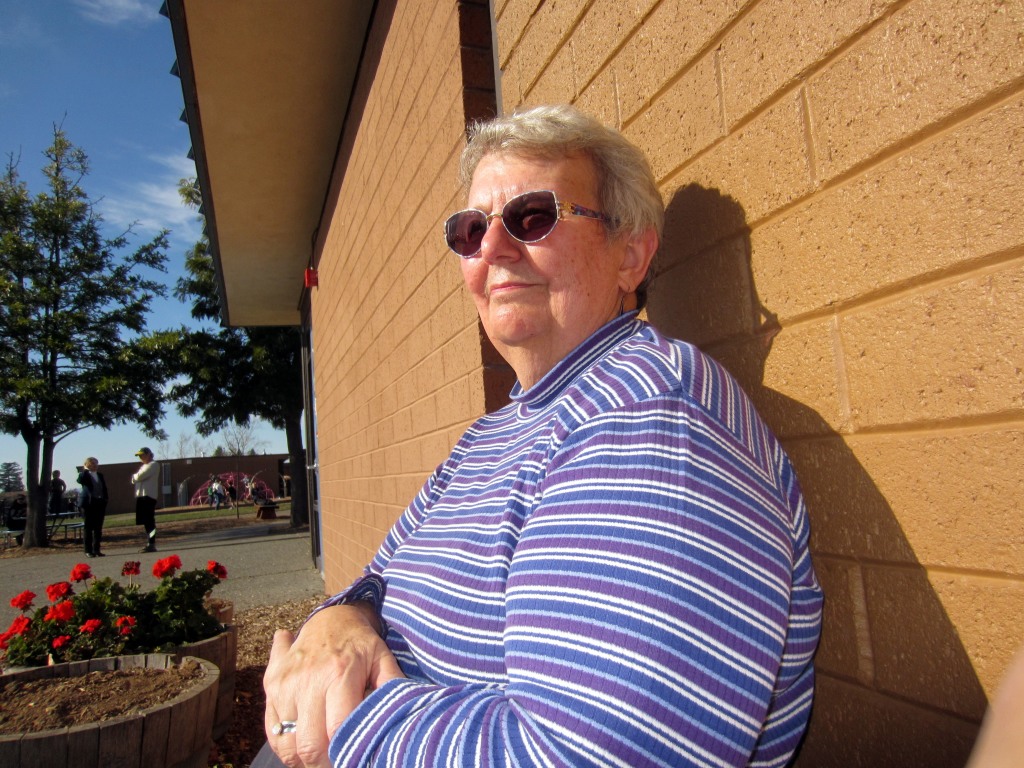 On Day 7 Granpda and Grammy went to the Charter school to pick up the kids. Grandpa recovered quickly from the surgery and is now walking
extended distances completely pain-free. Grammy is planning to have similar surgery April 5.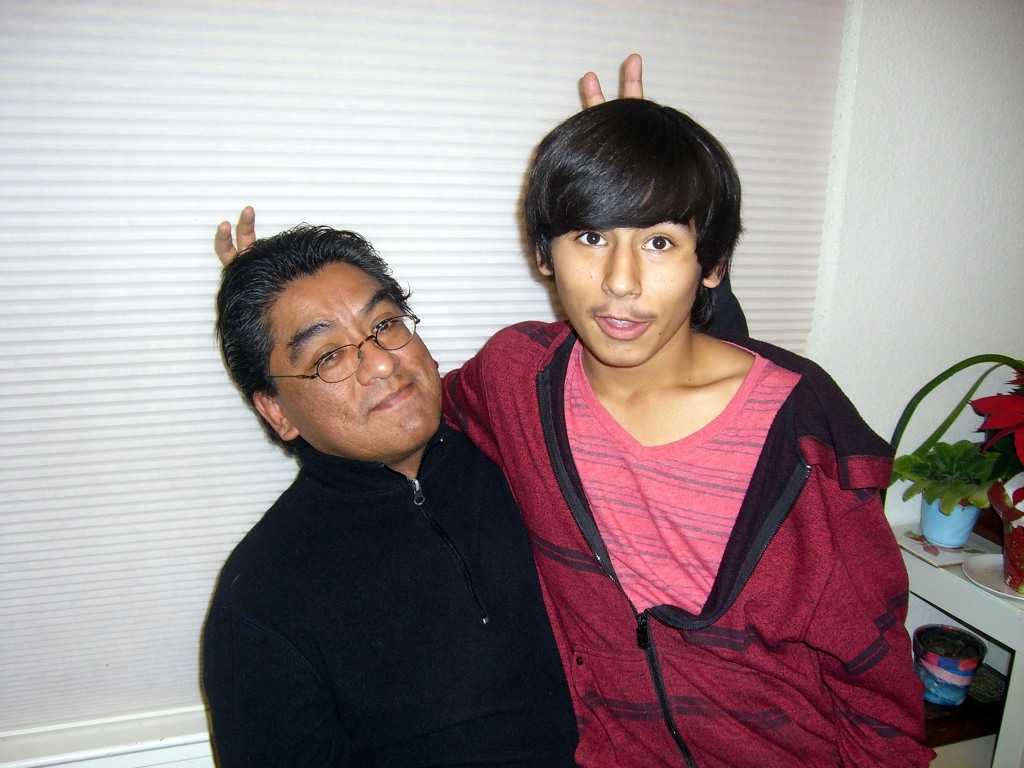 Mundo and Zak "bunny-ear" each other.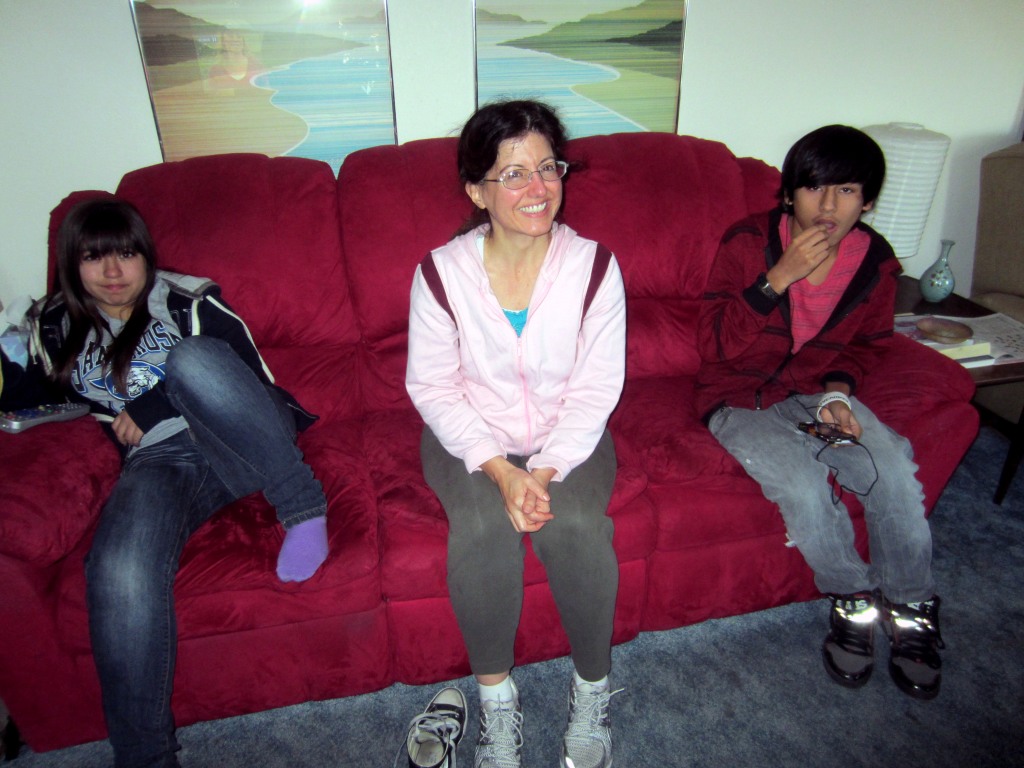 Sofi, Suzy, and Zak.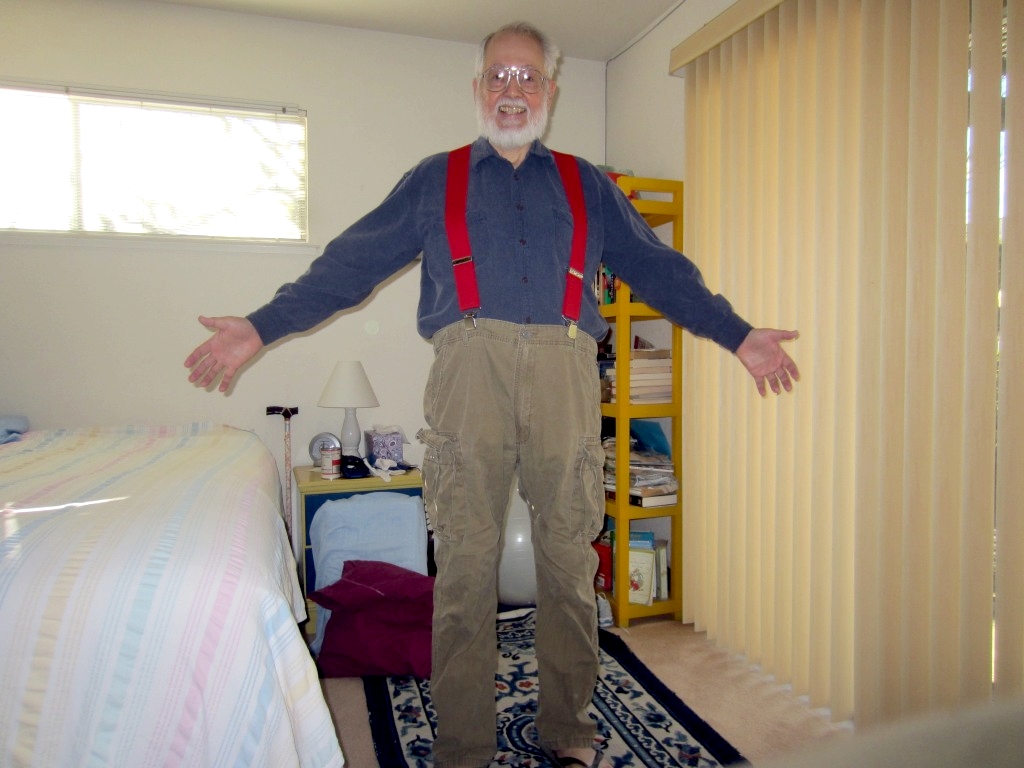 Why is Grandpa wearing red suspenders? To keep his pants up! Grandpa switched from belt to suspenders after his surgery.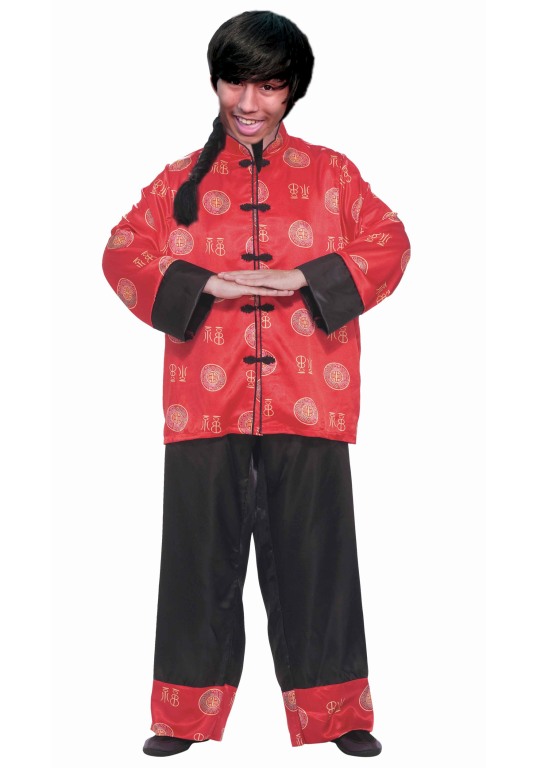 Zak did a school project and presentation on ancient Chinese attire. Really.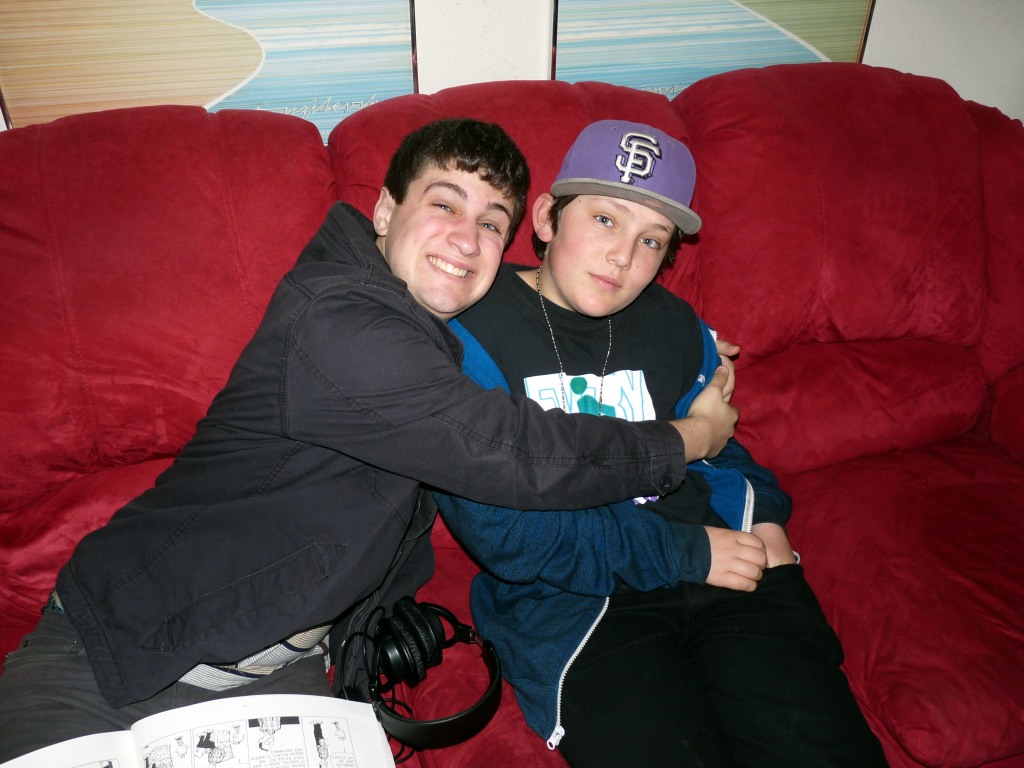 Then it was Christmas! Cassidy shows Francisco how much he is in the spirit of the season.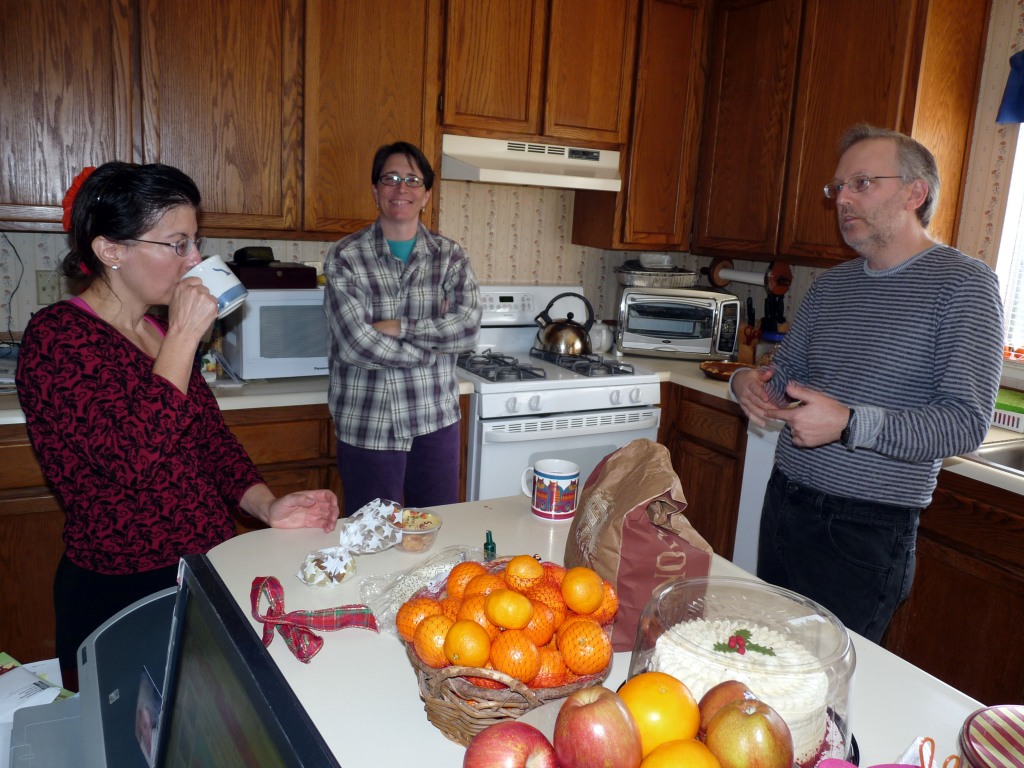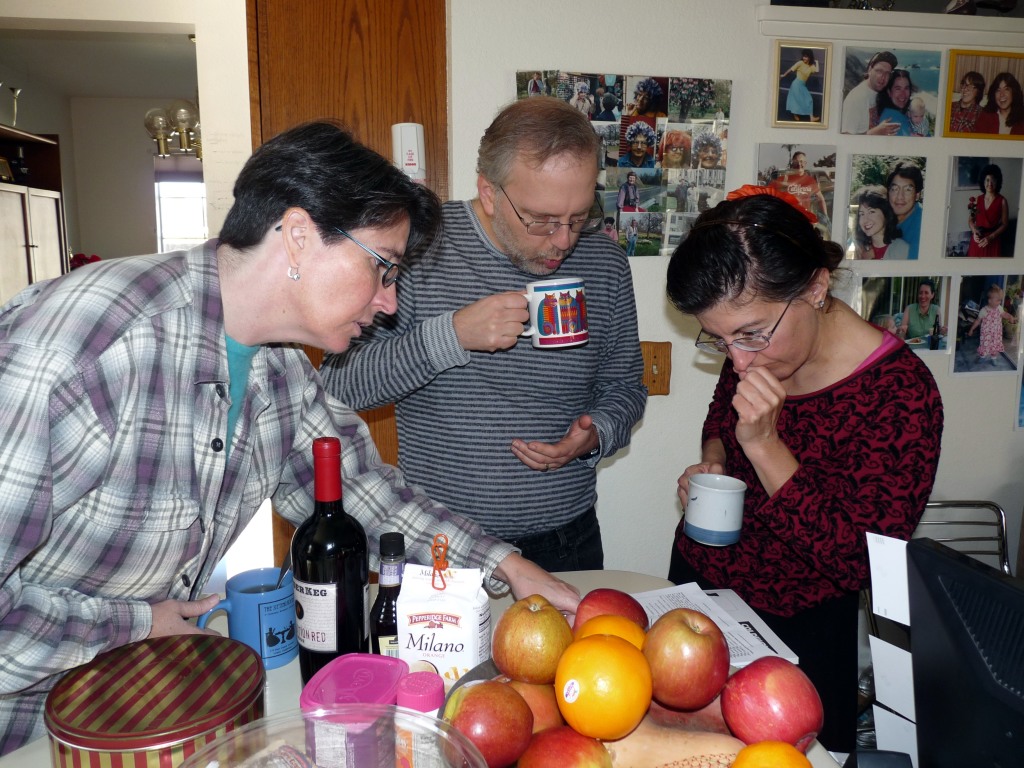 Suzy, Sandra, and Eric (note the light beard) discuss a recipe for home-made Australian potato chips.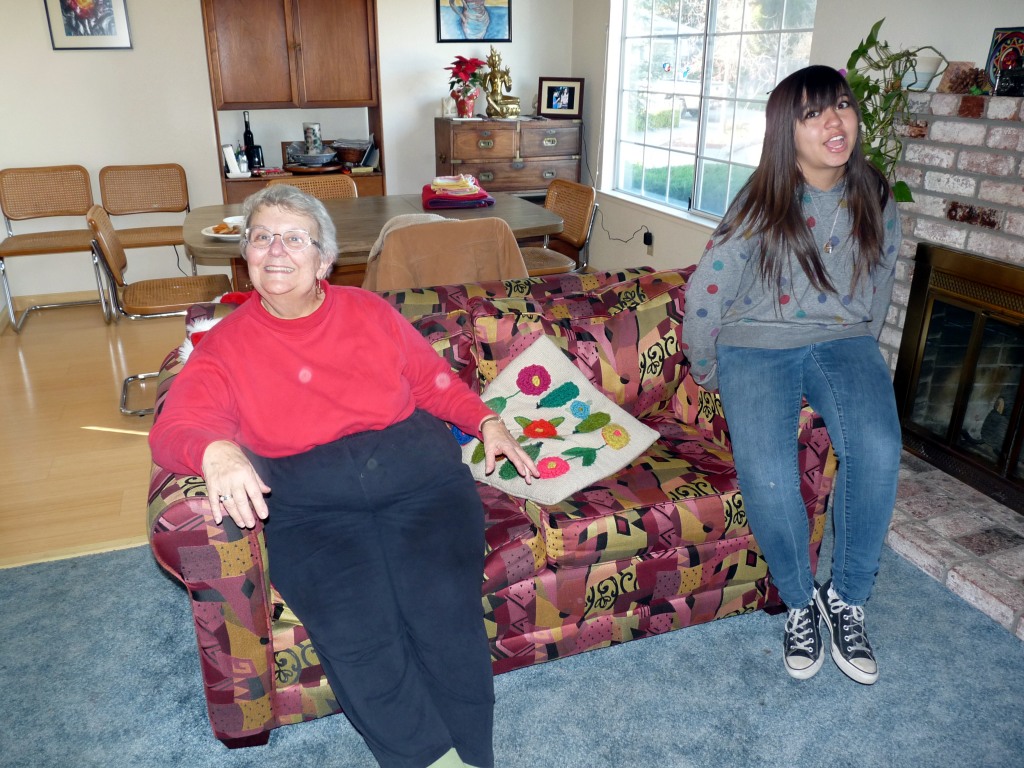 Grammy and Sofi await Santa's visit.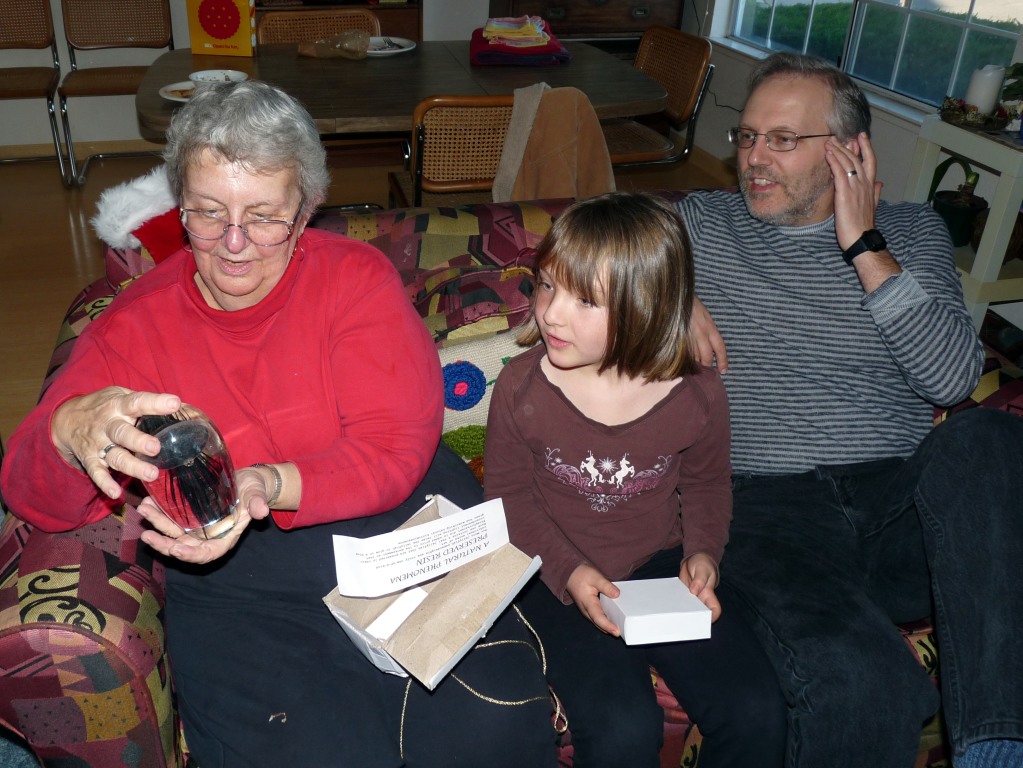 The gifting begins.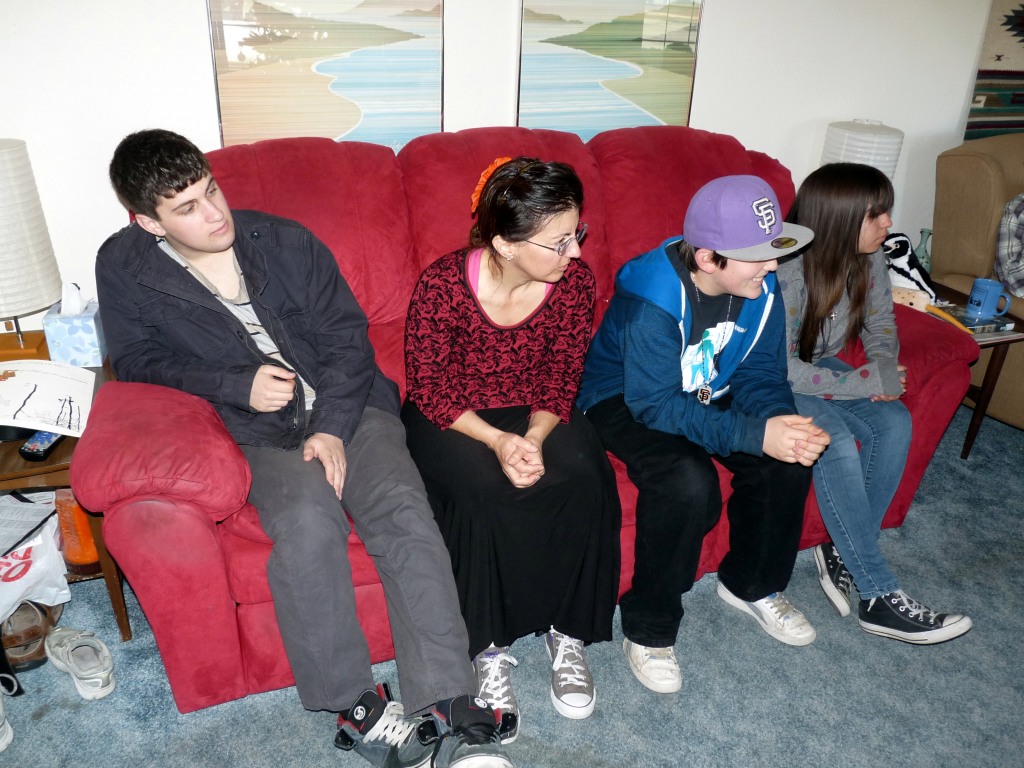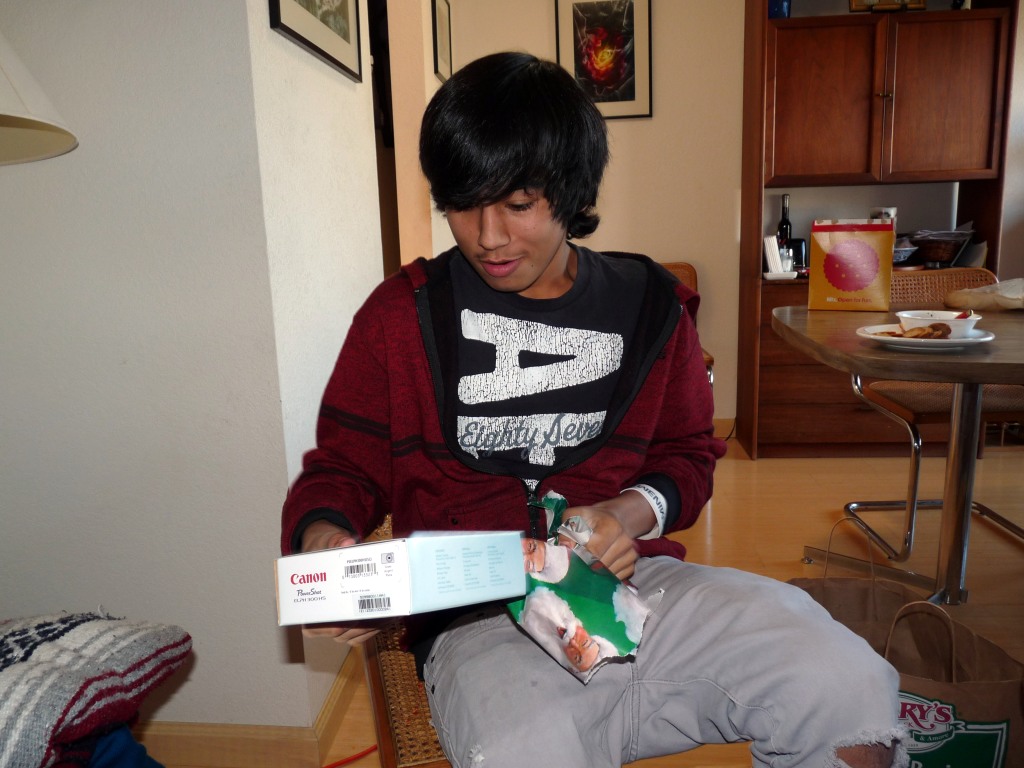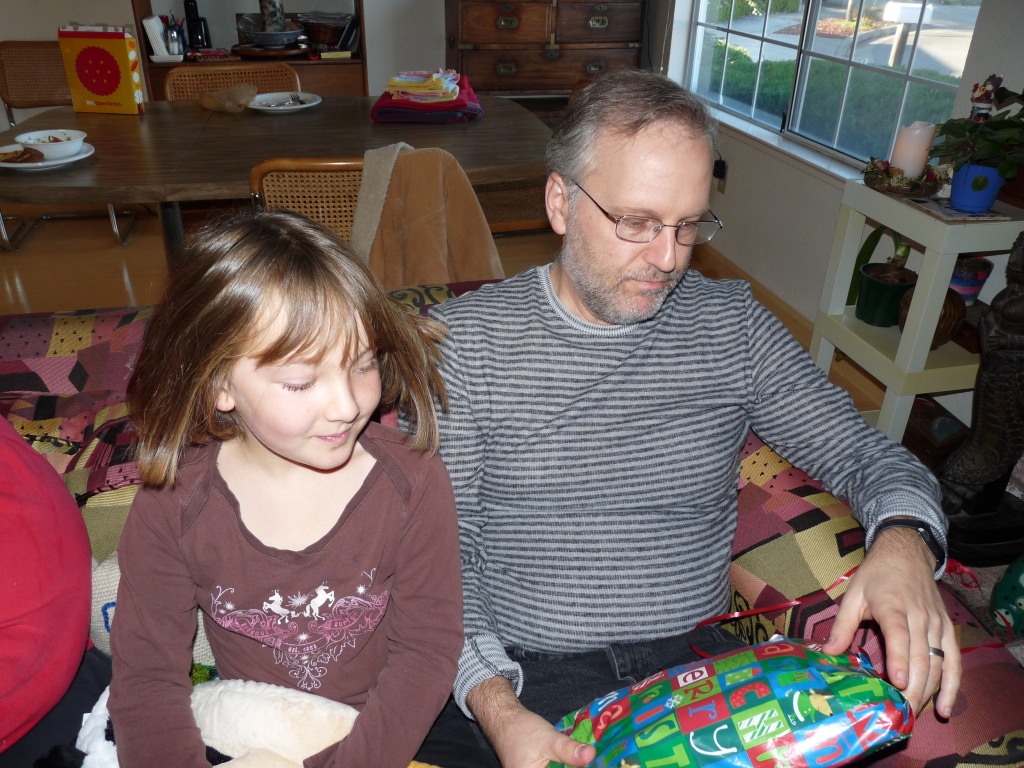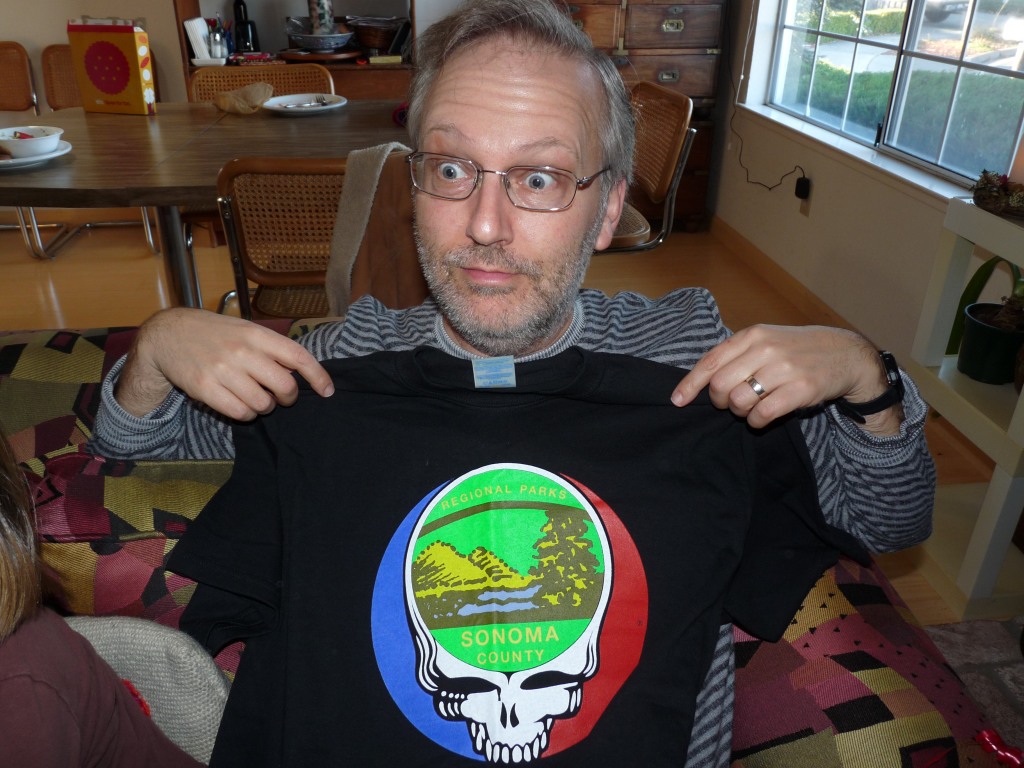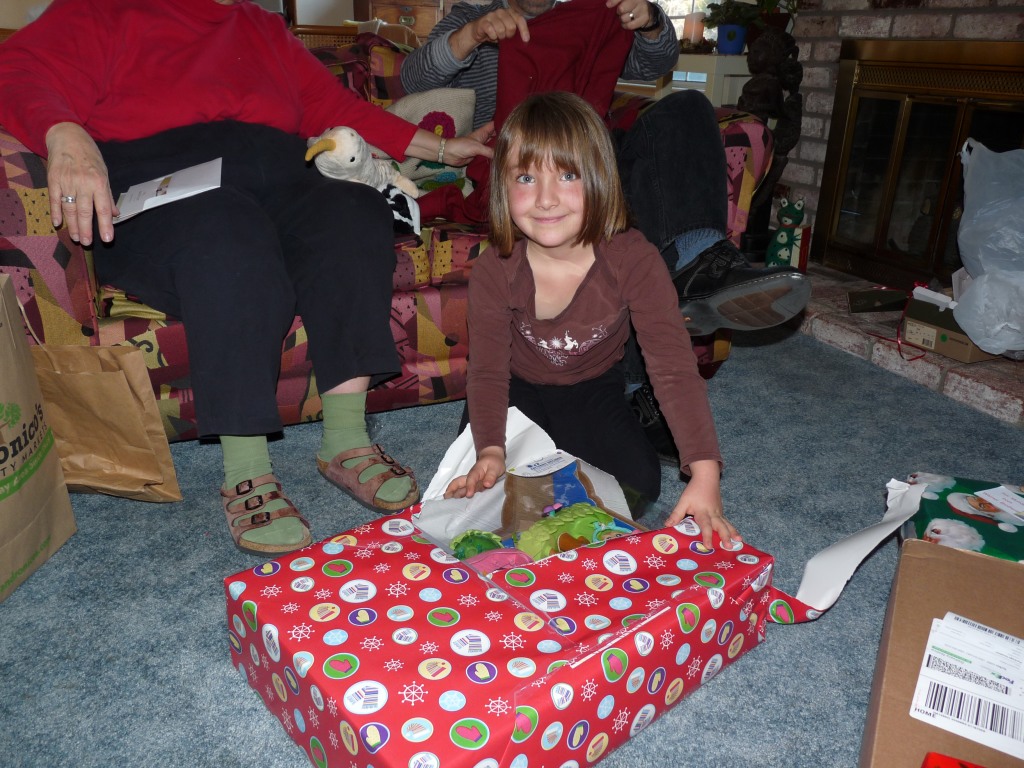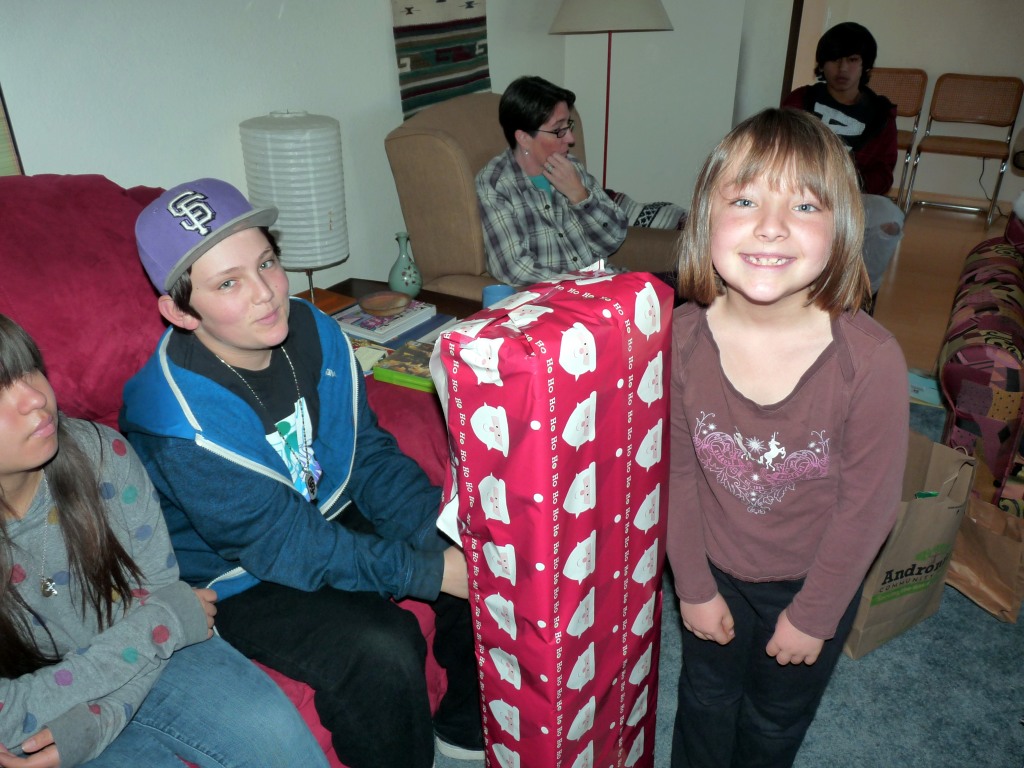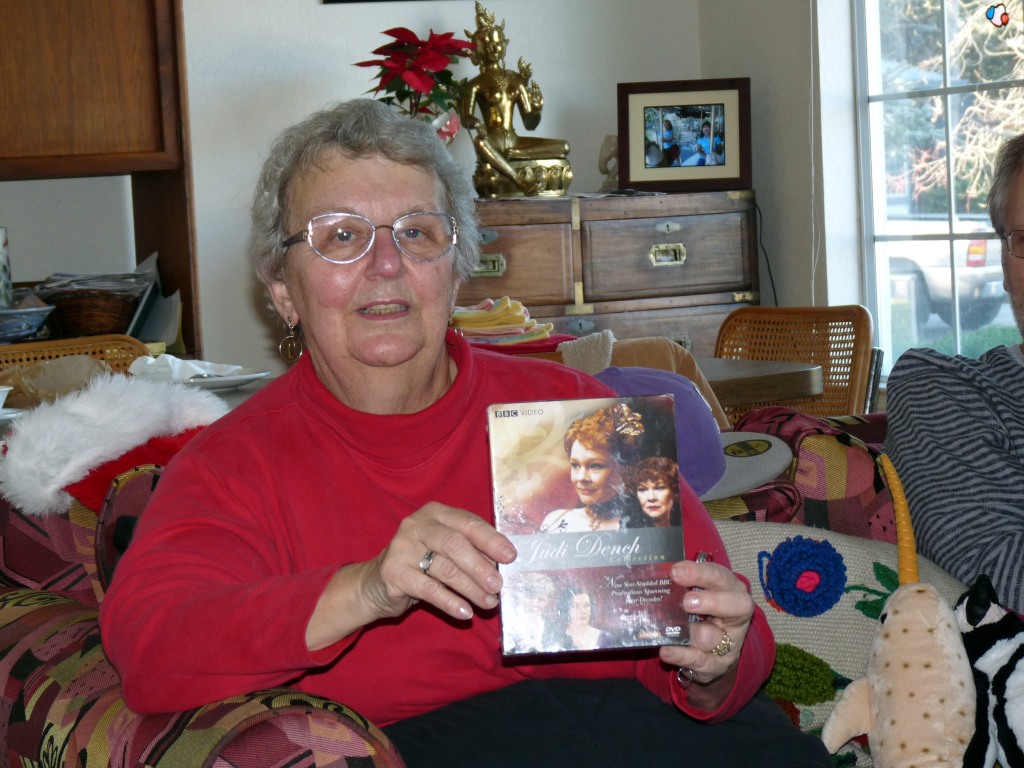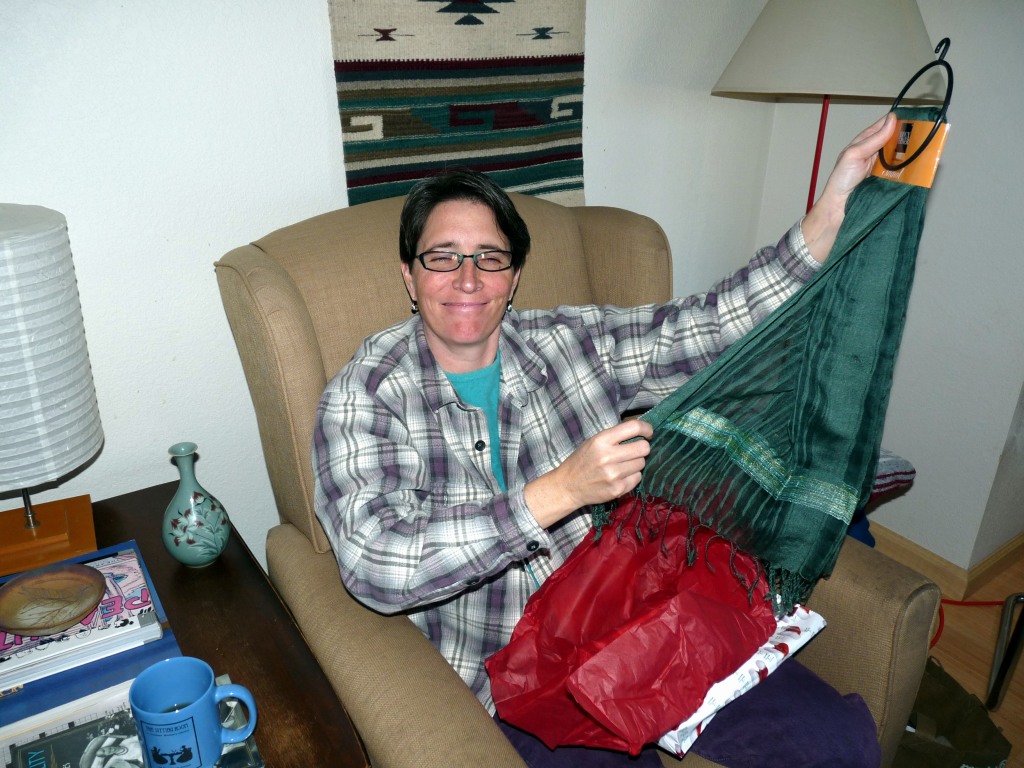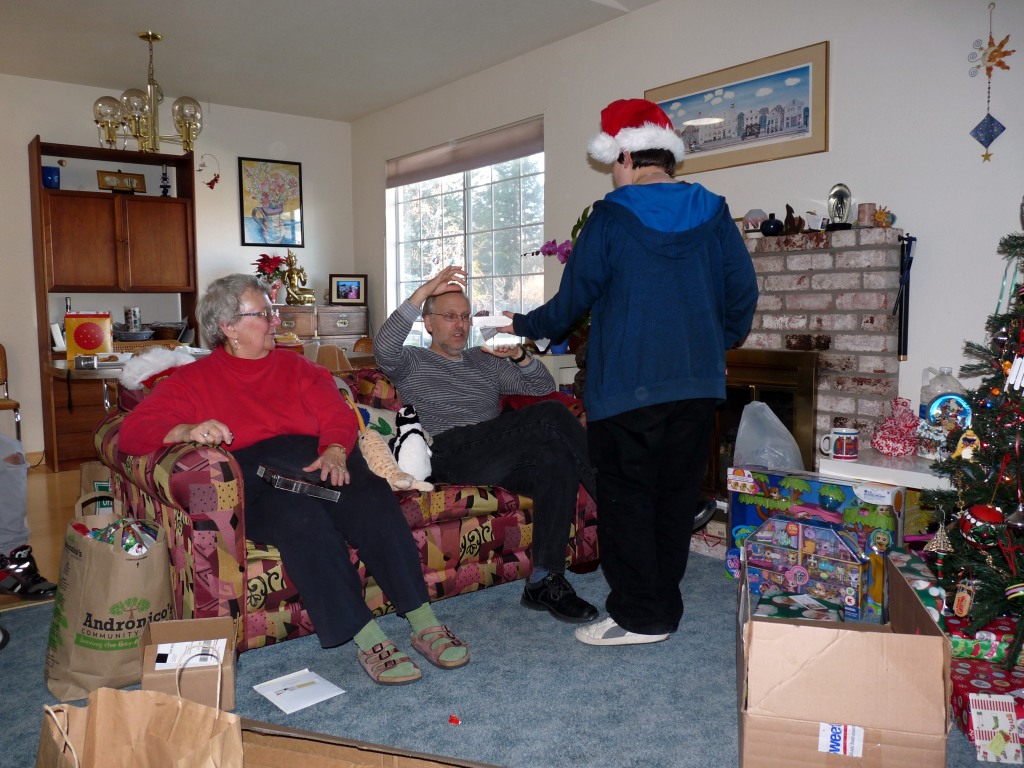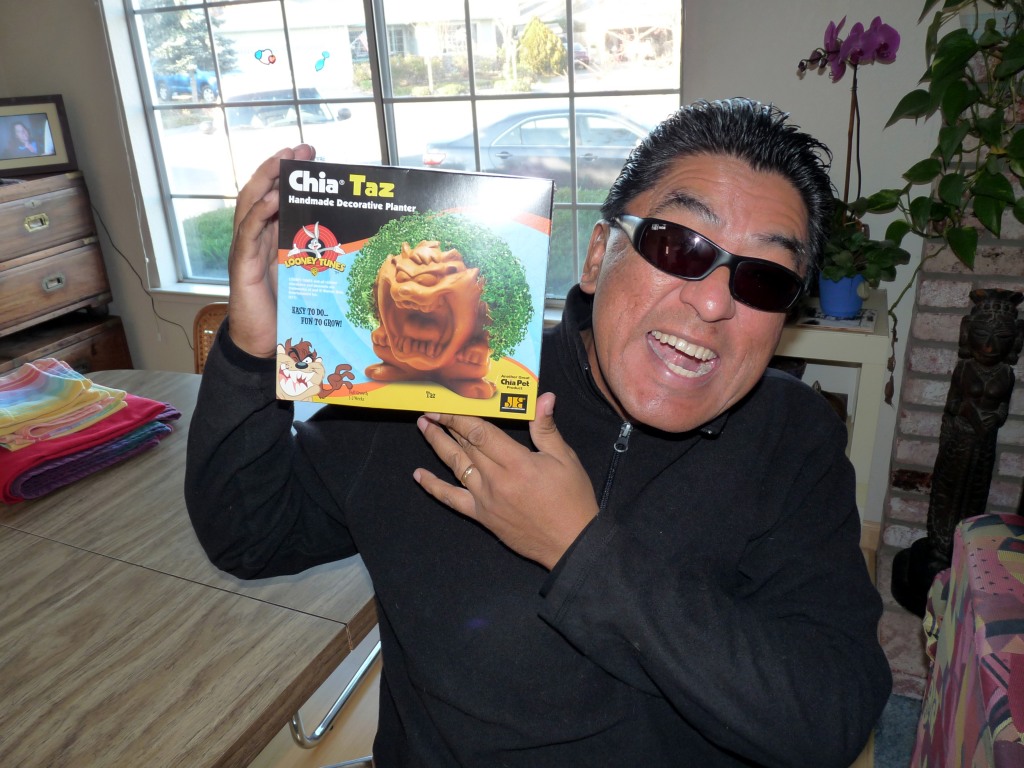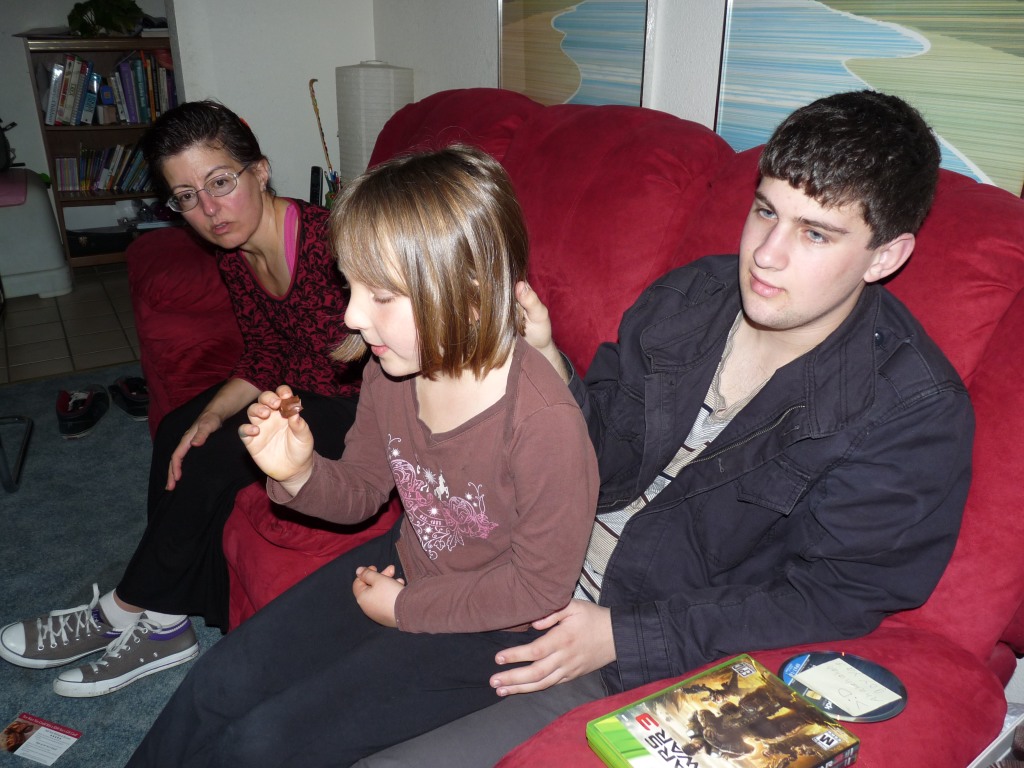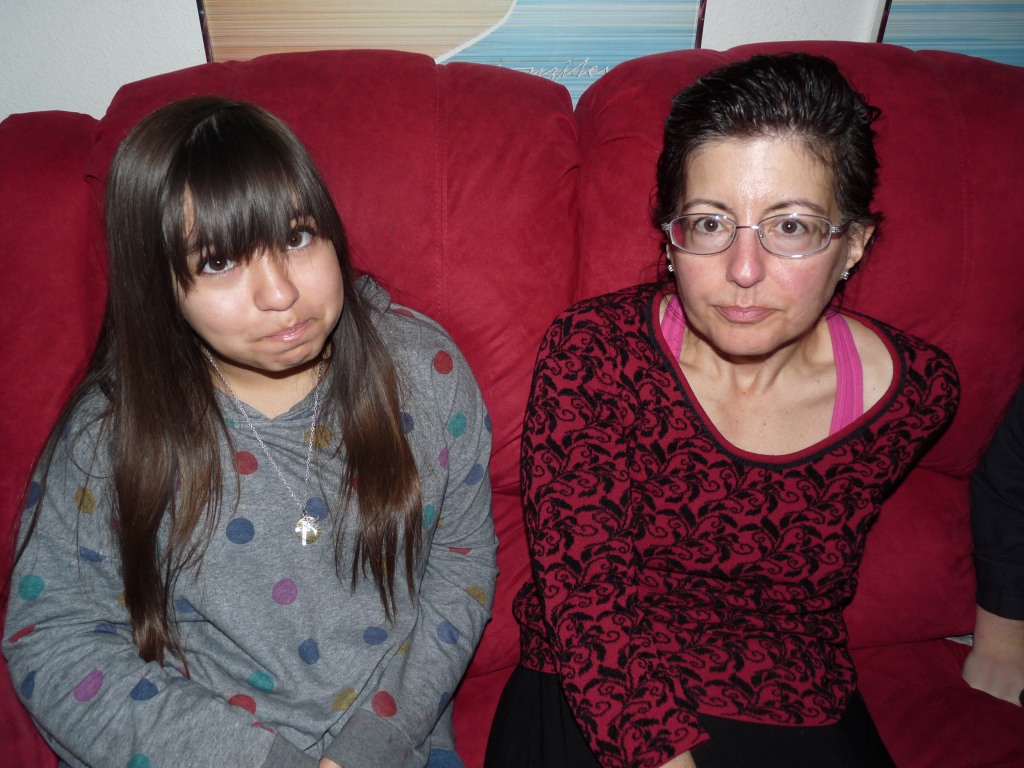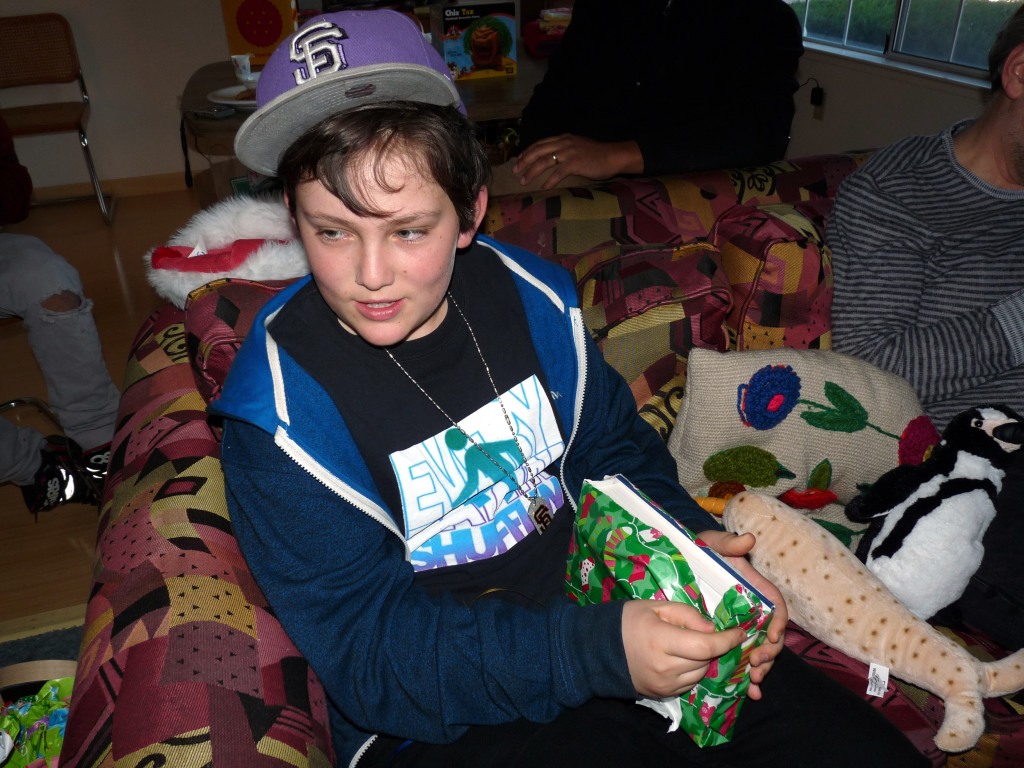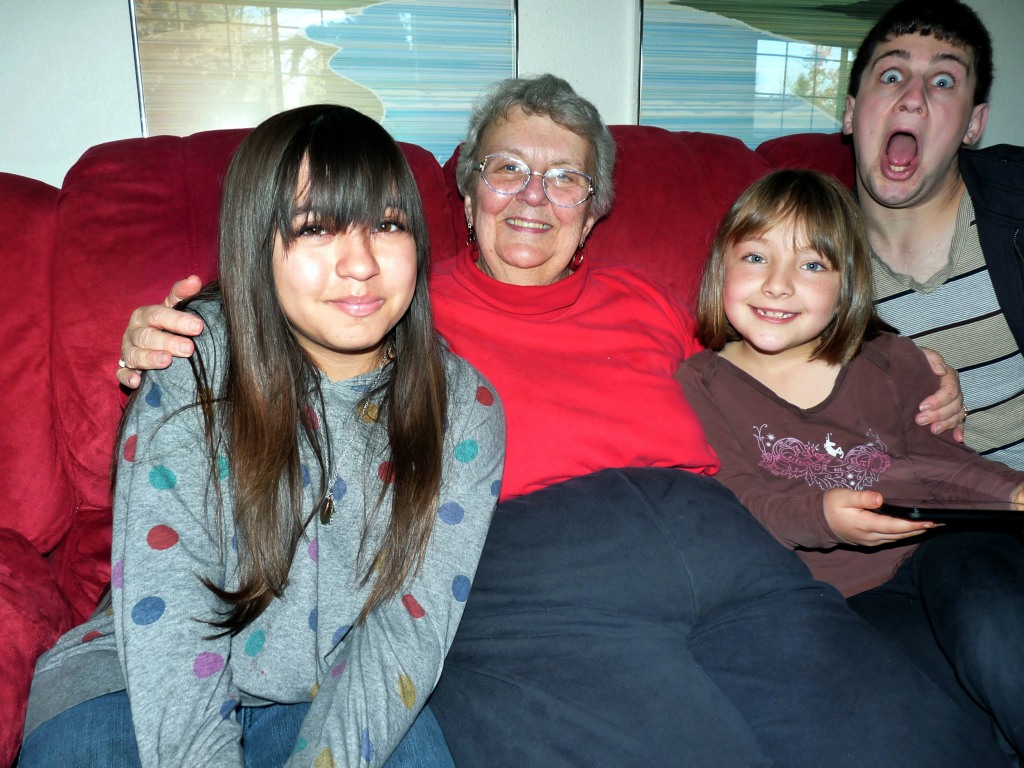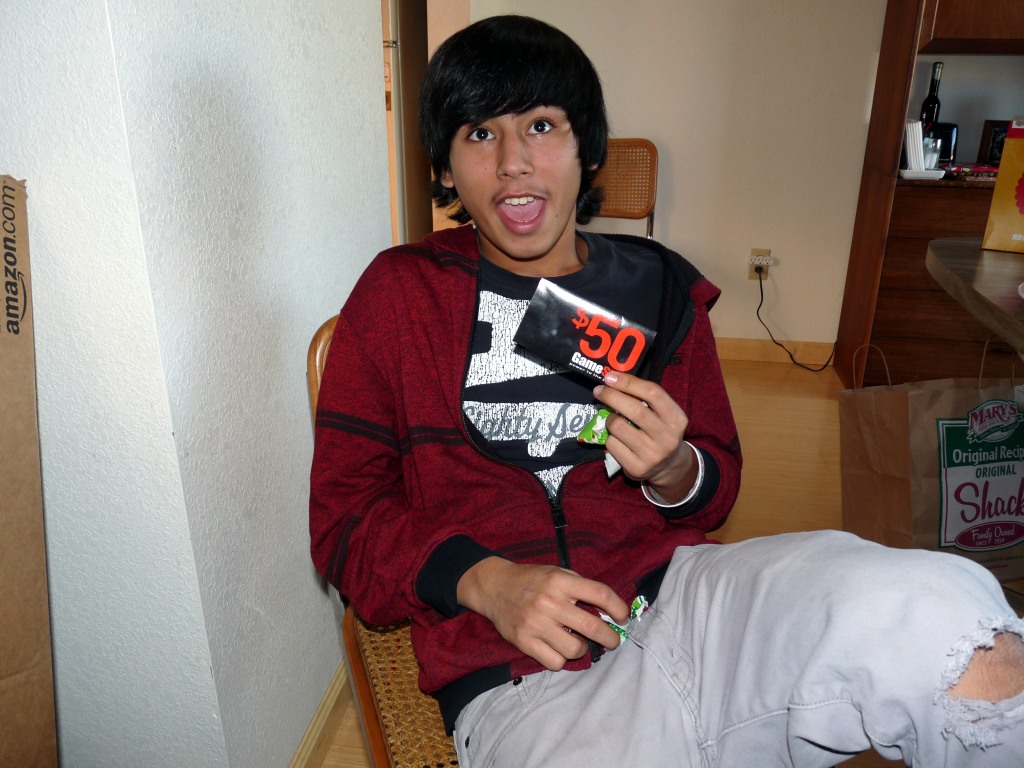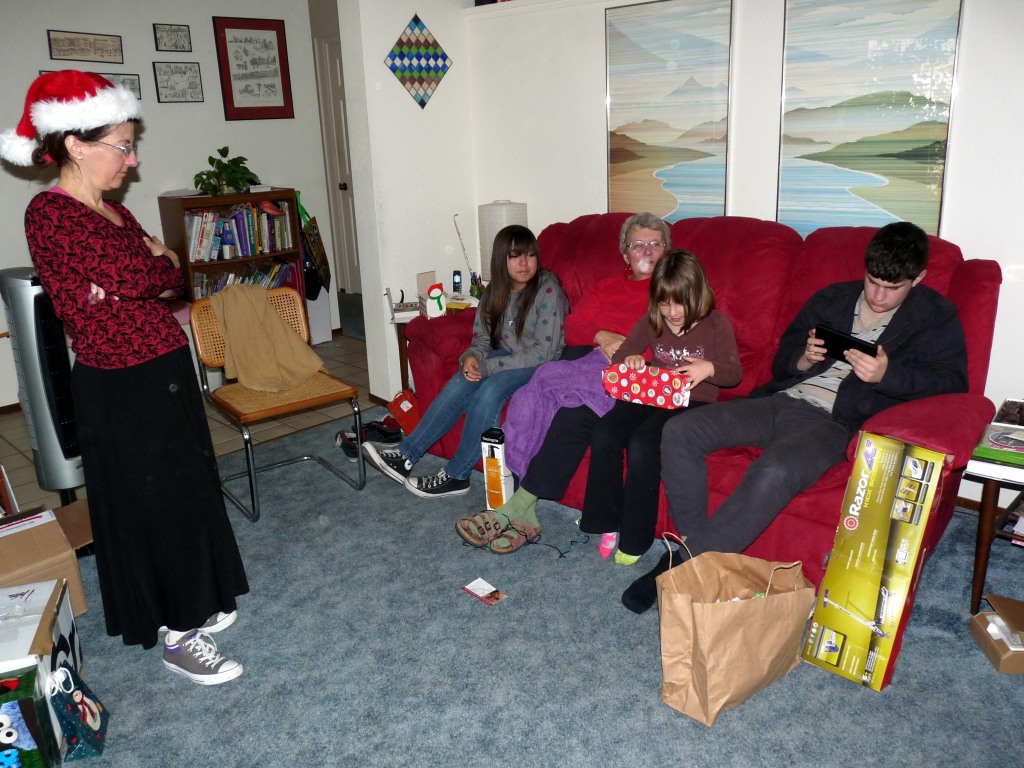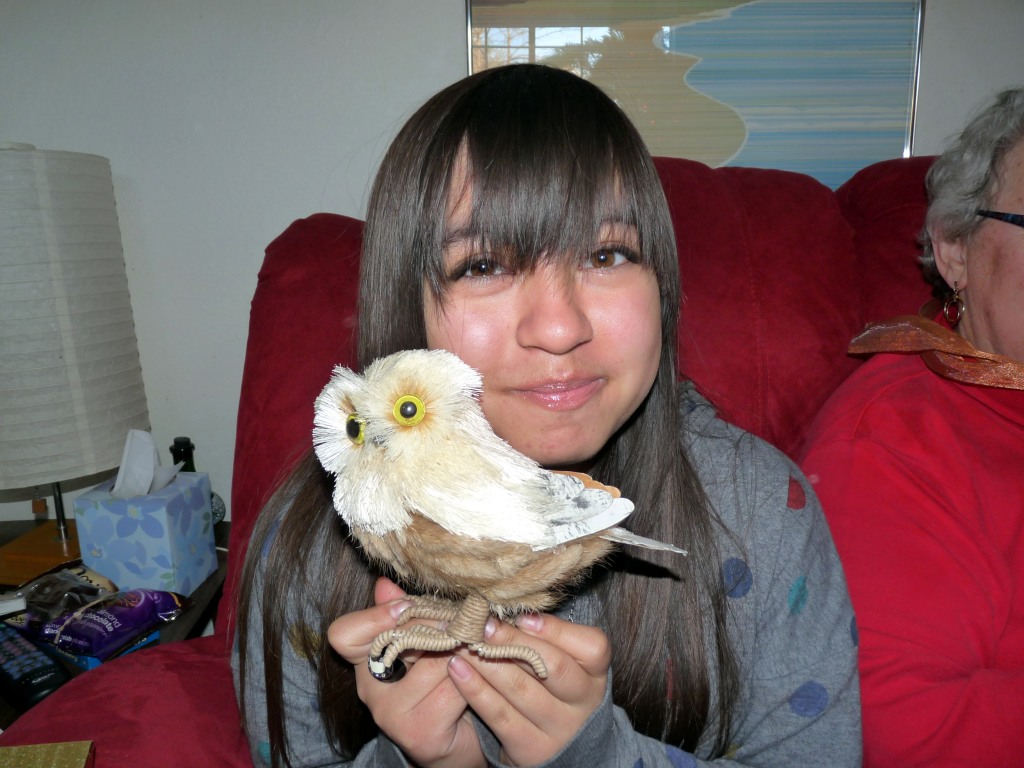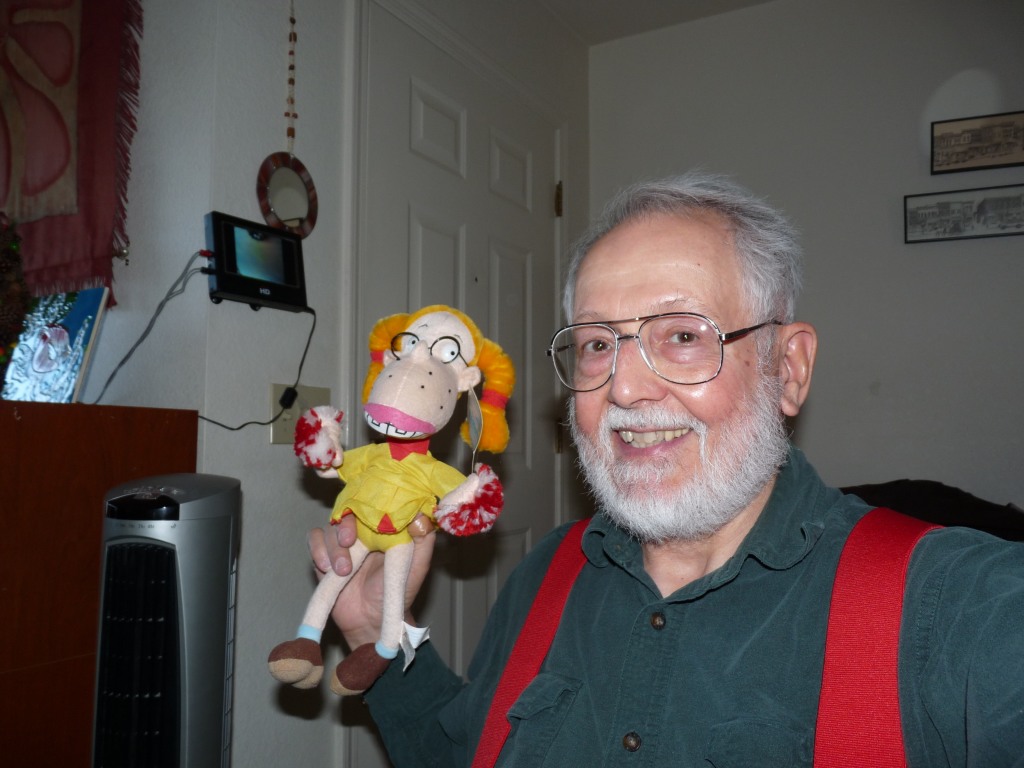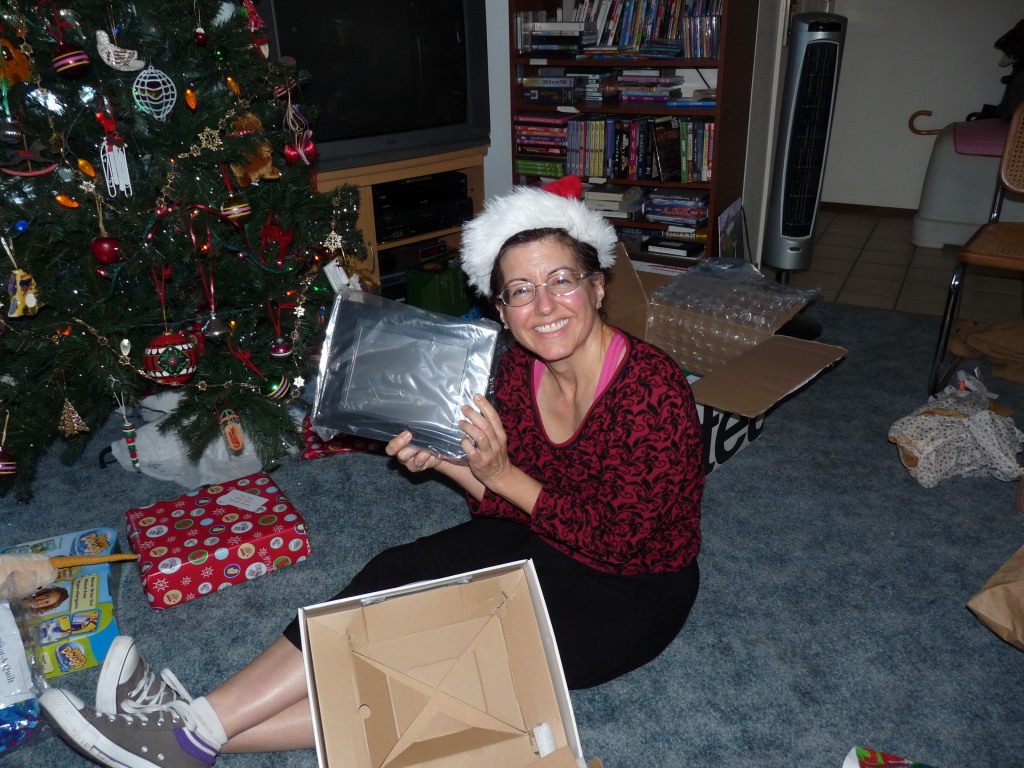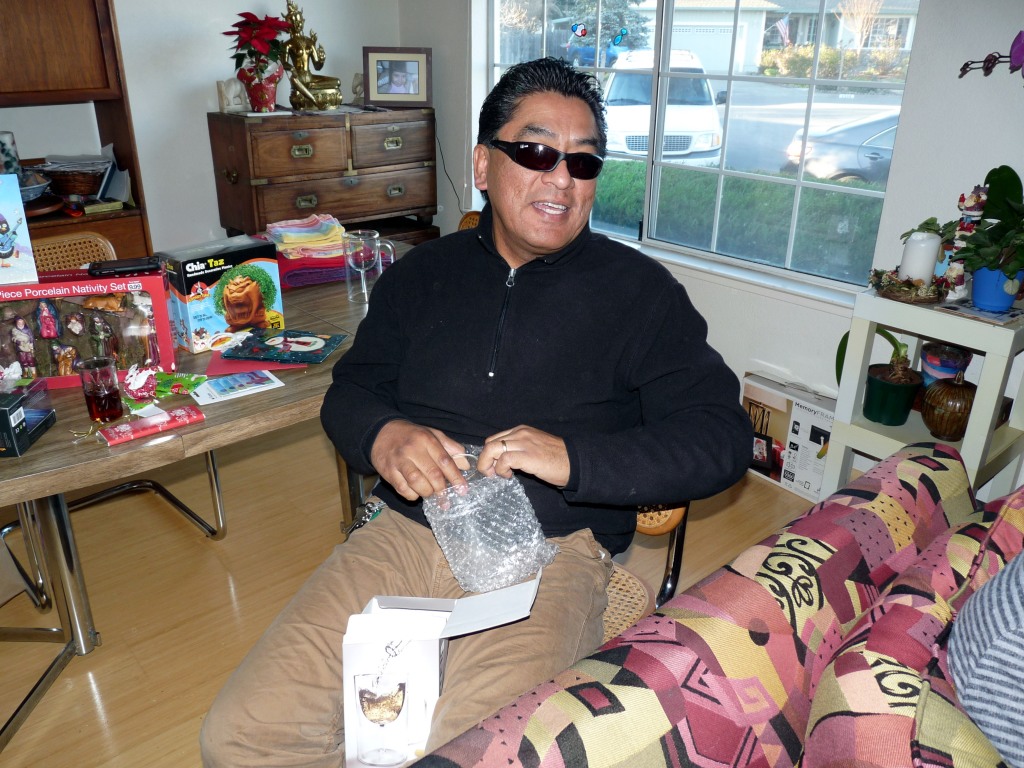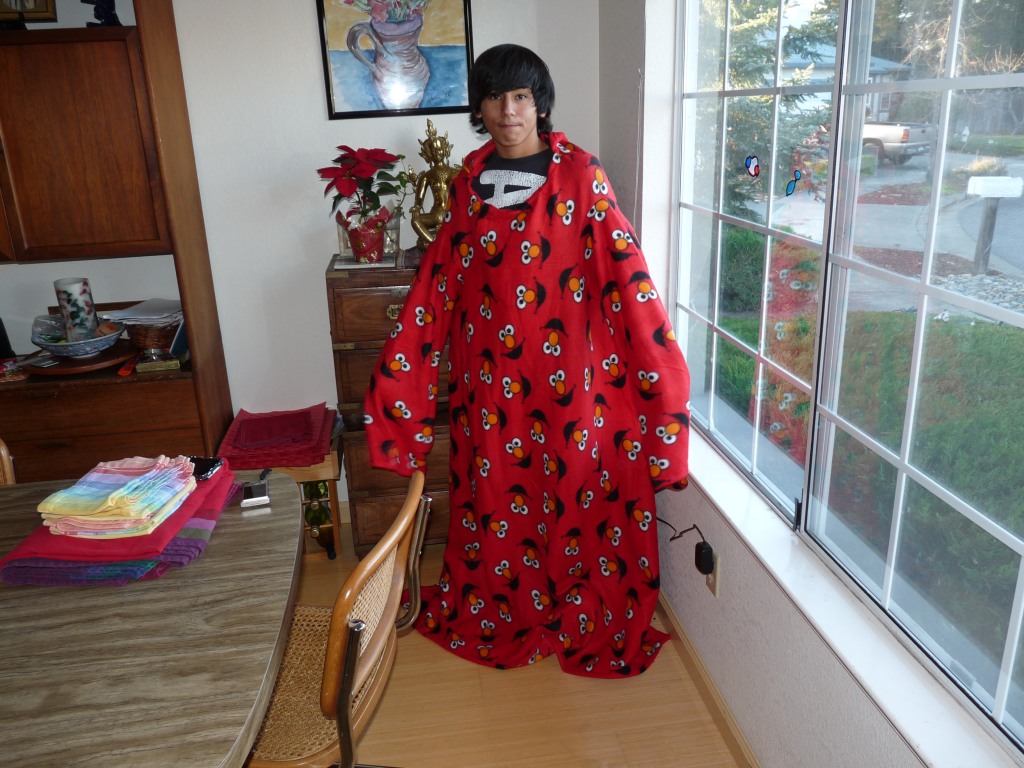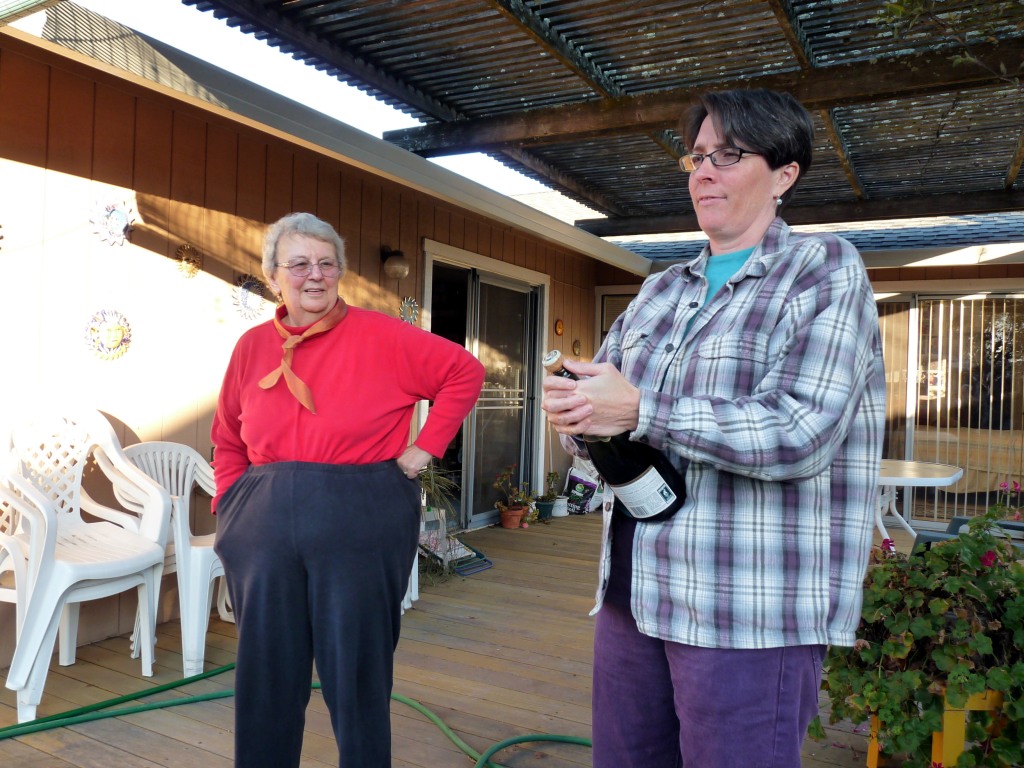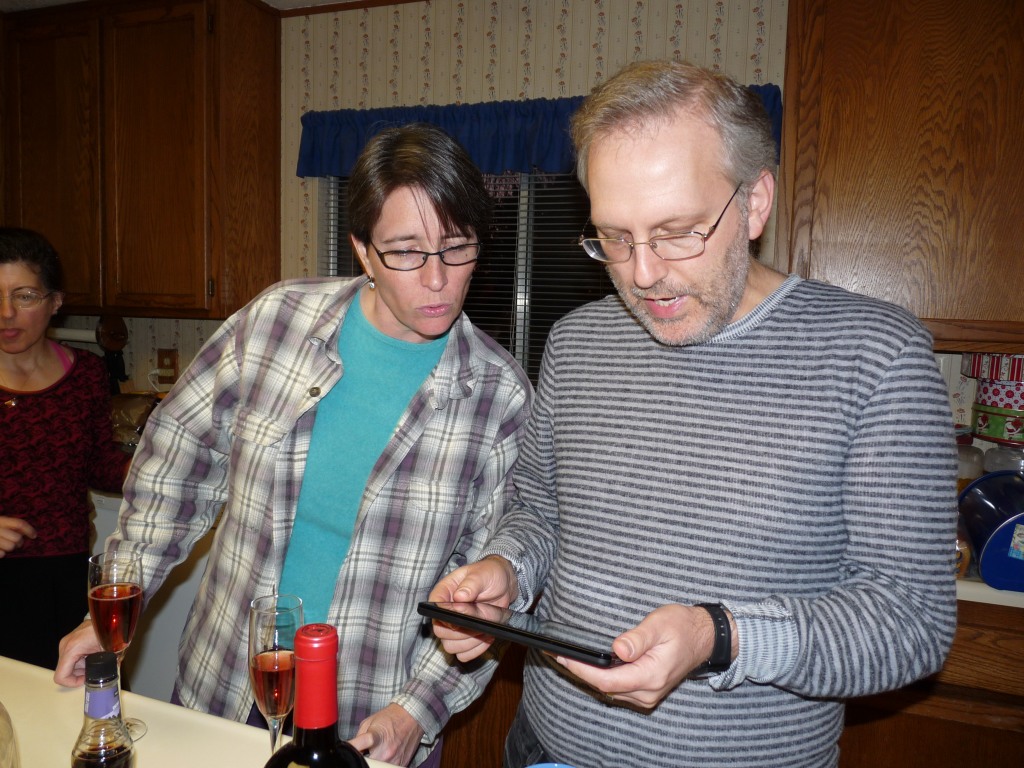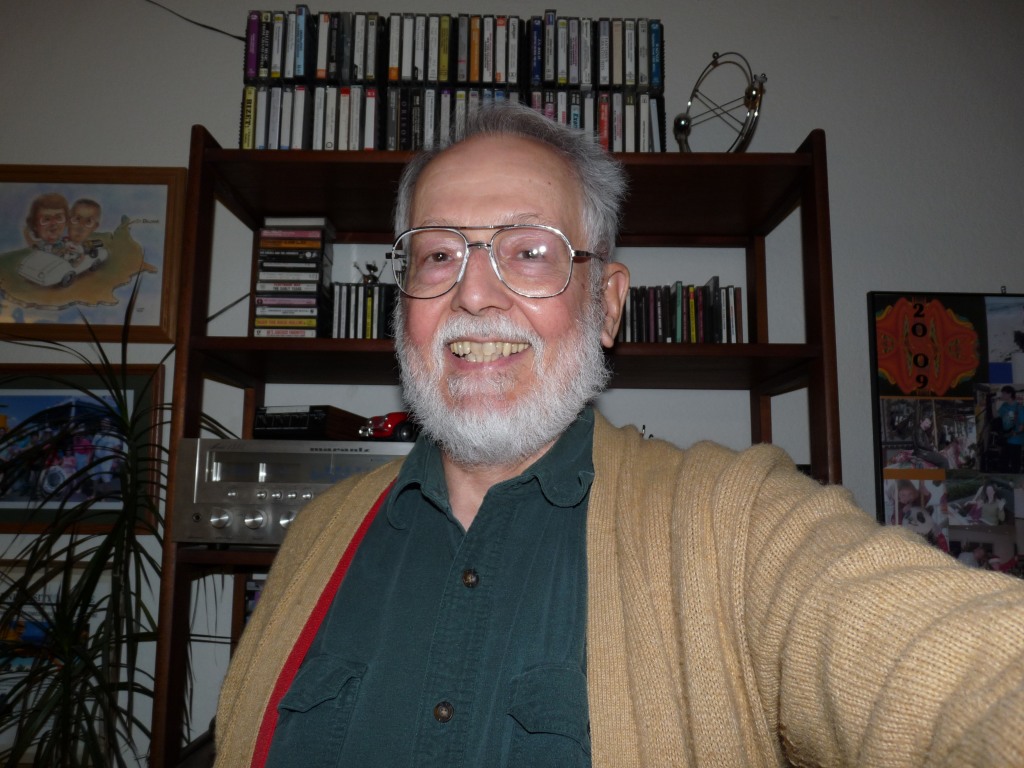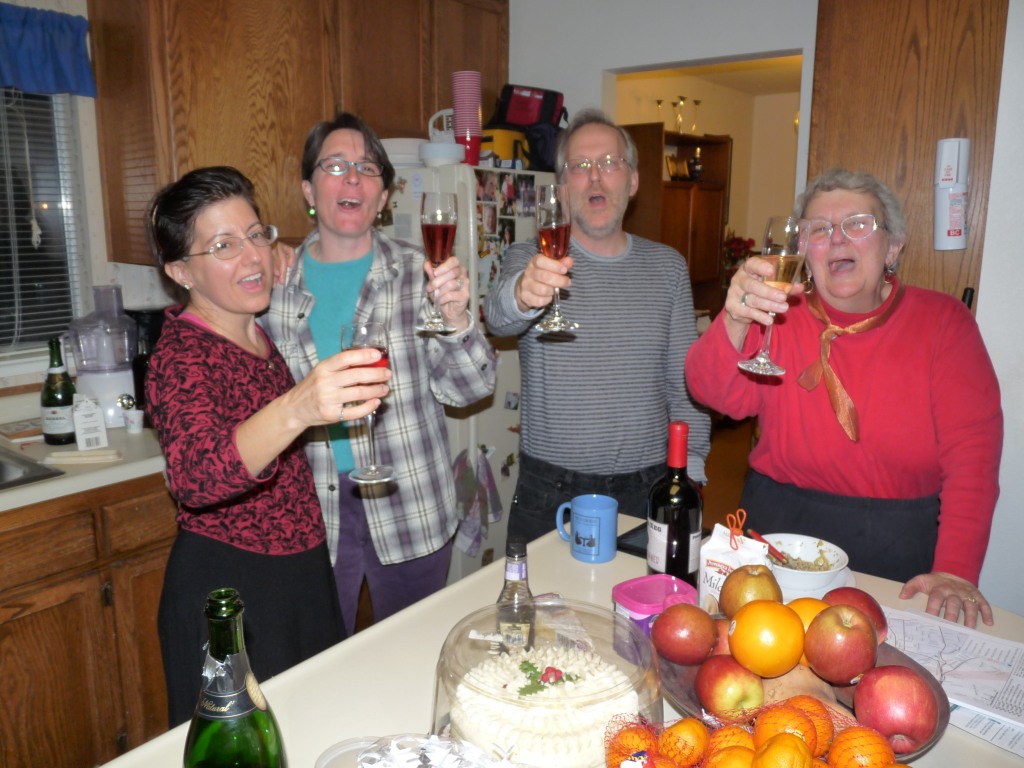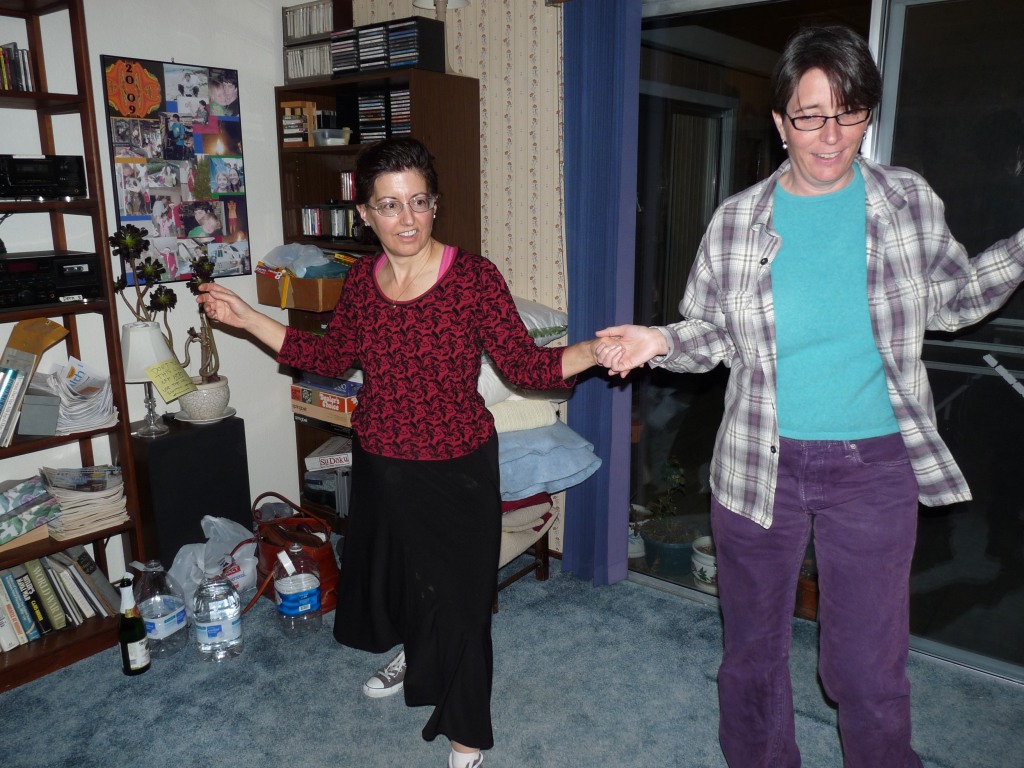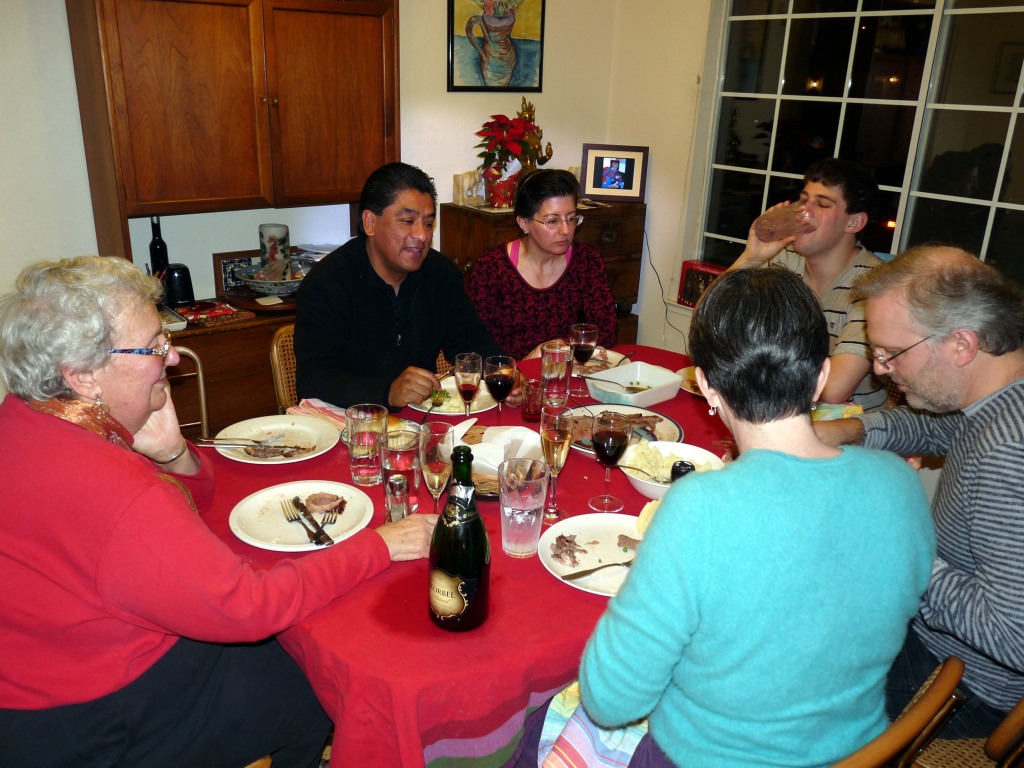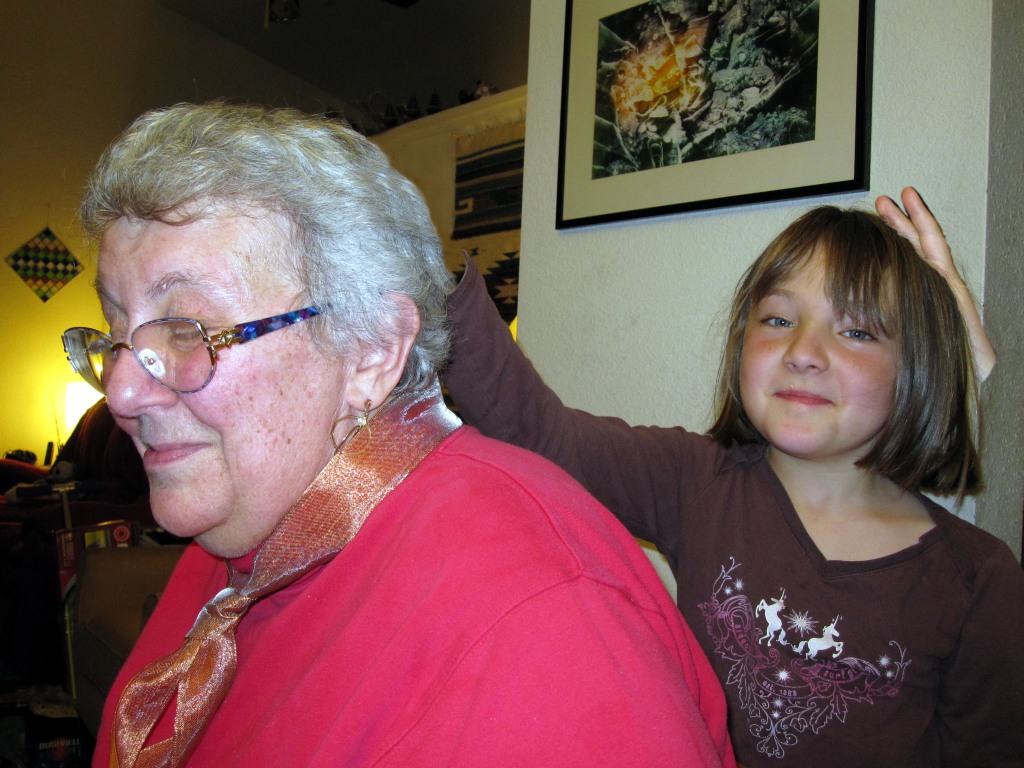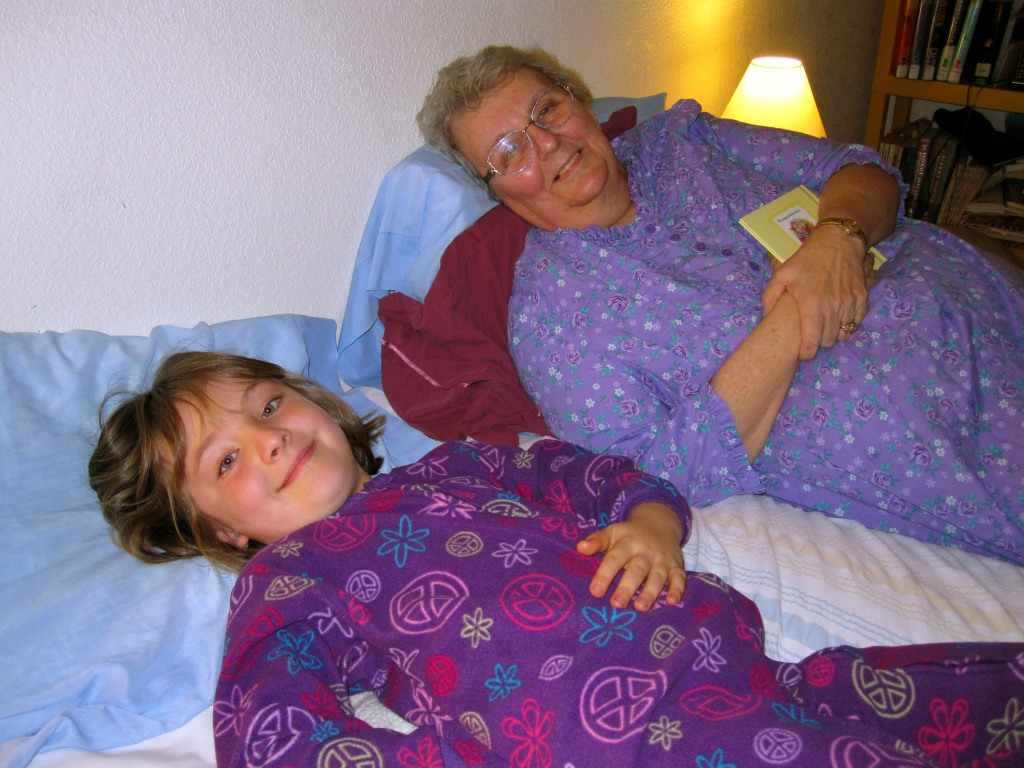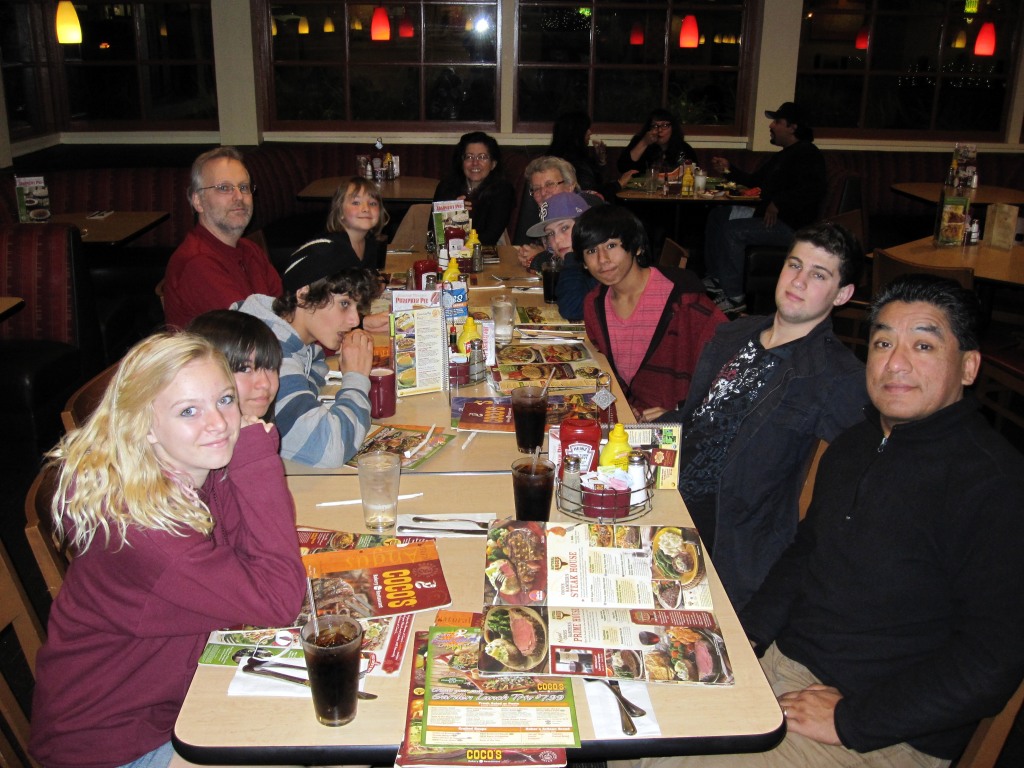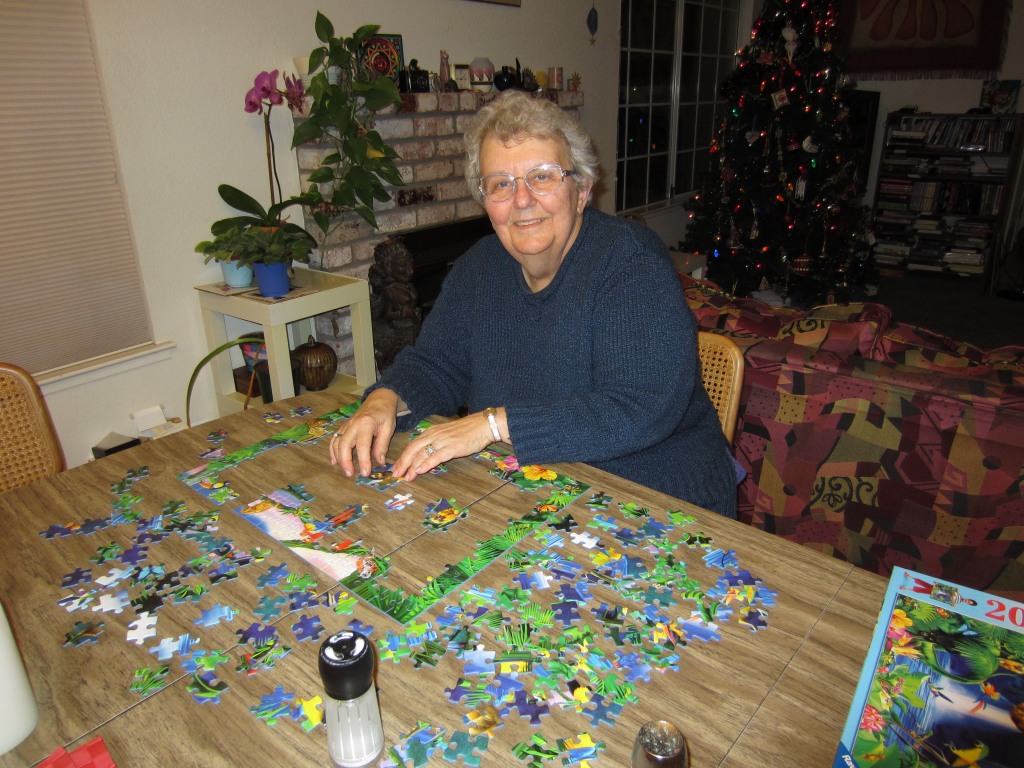 It was a very nice Christmas.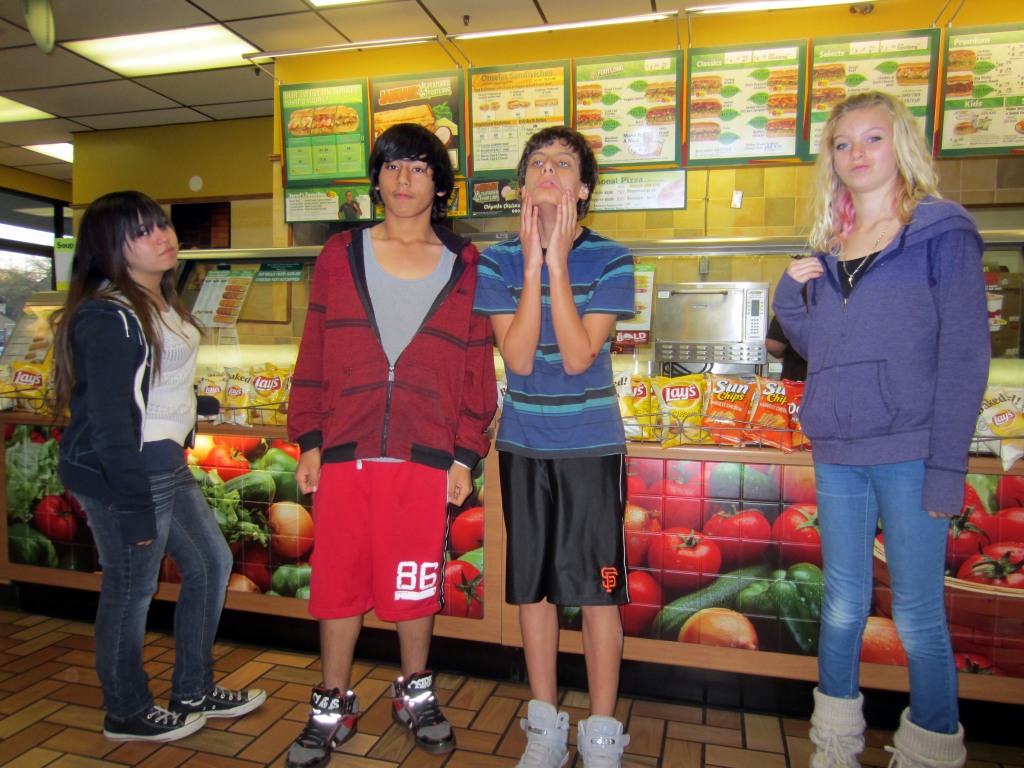 Sofi, Zak, Aaron, and Nicole at Subway.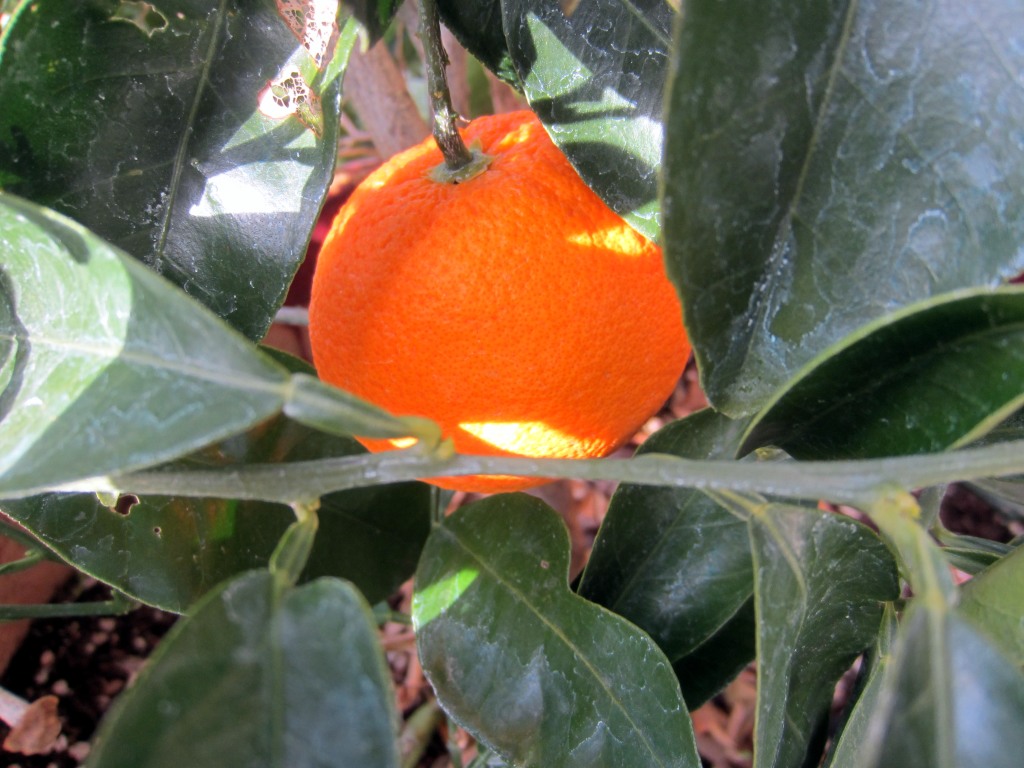 An orange from our tree.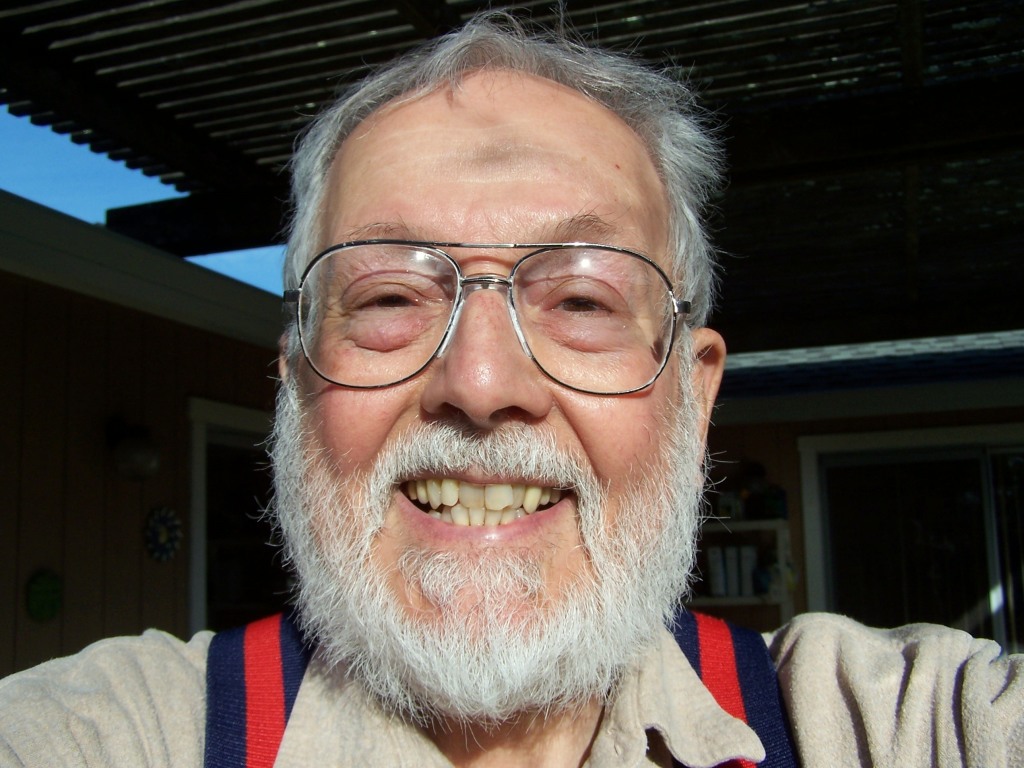 Grandpa, the citrus farmer.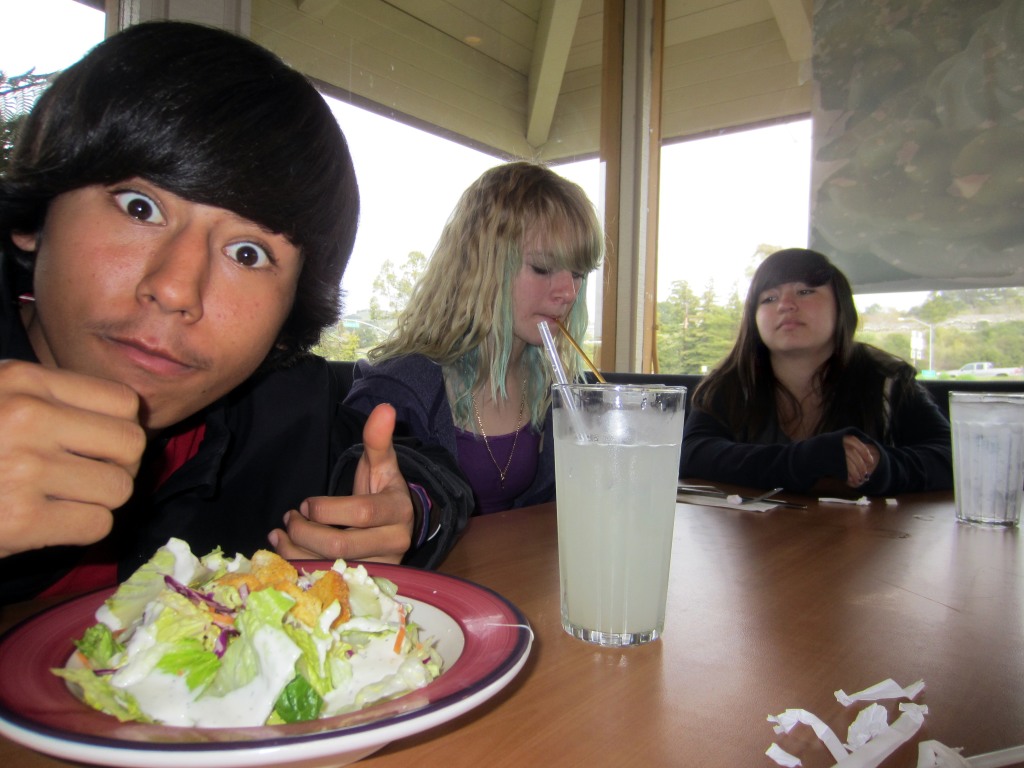 Zak, Nicole, and Sofi at Carrow's.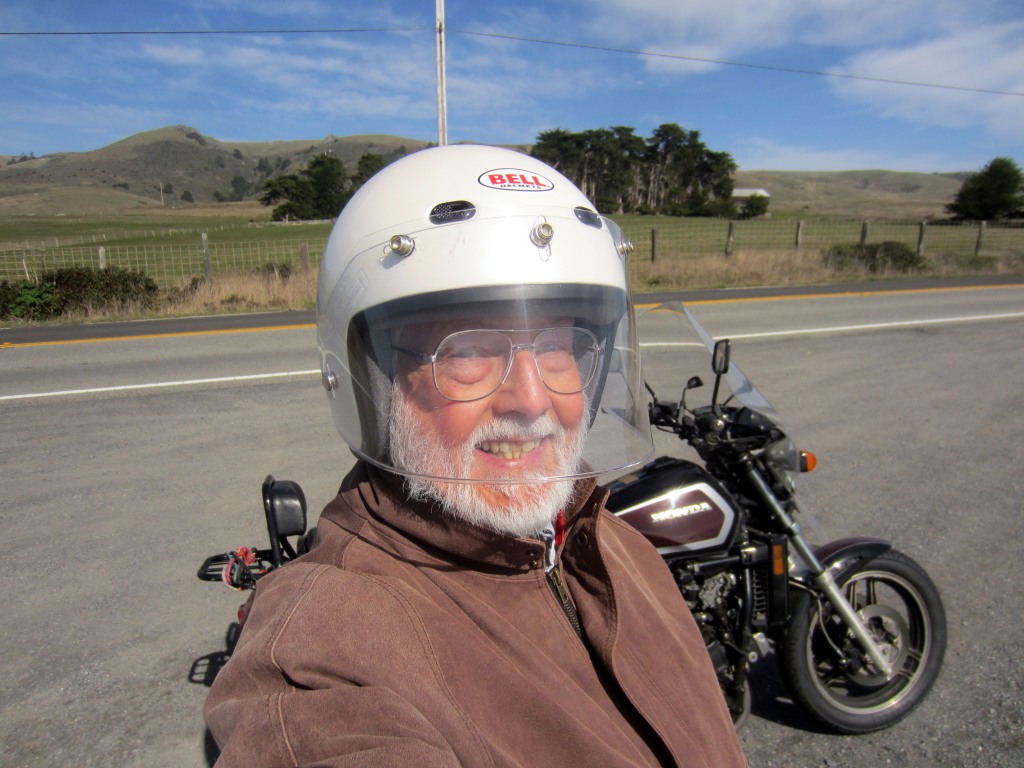 Grandpa went for a motorcycle ride to the ocean.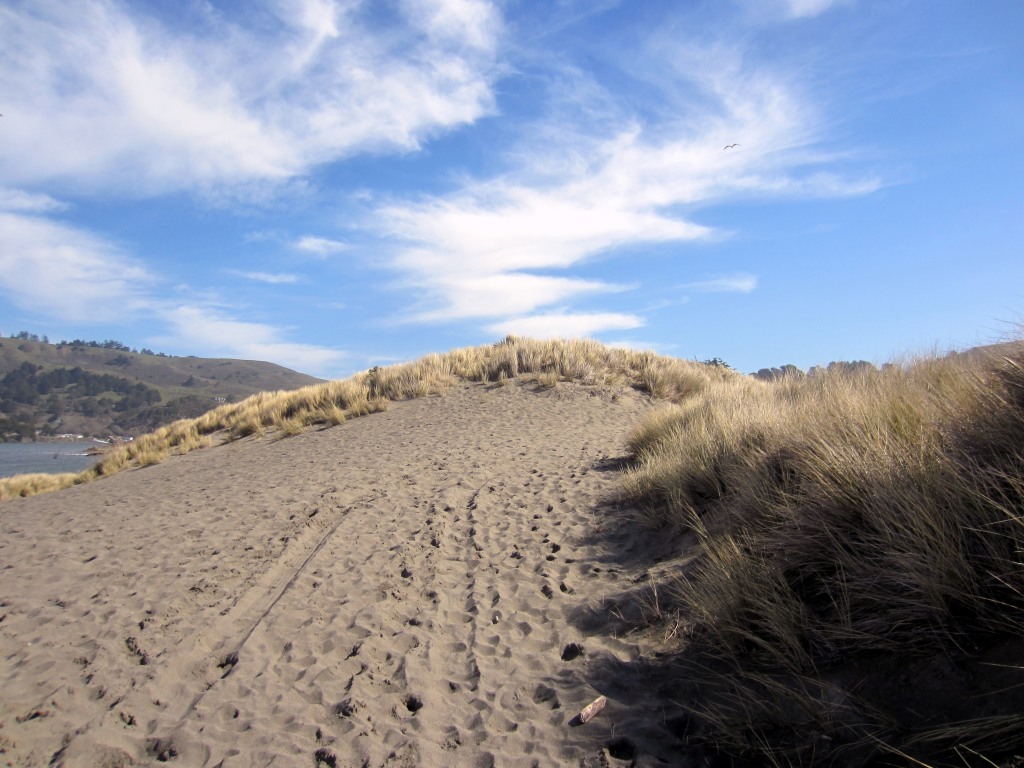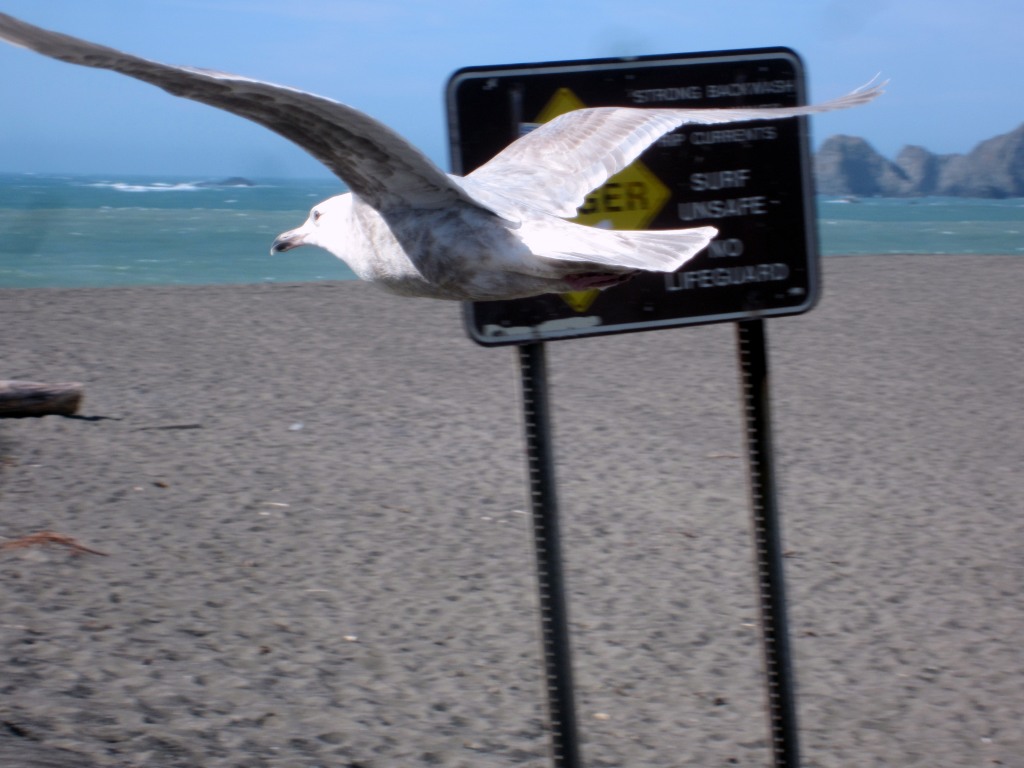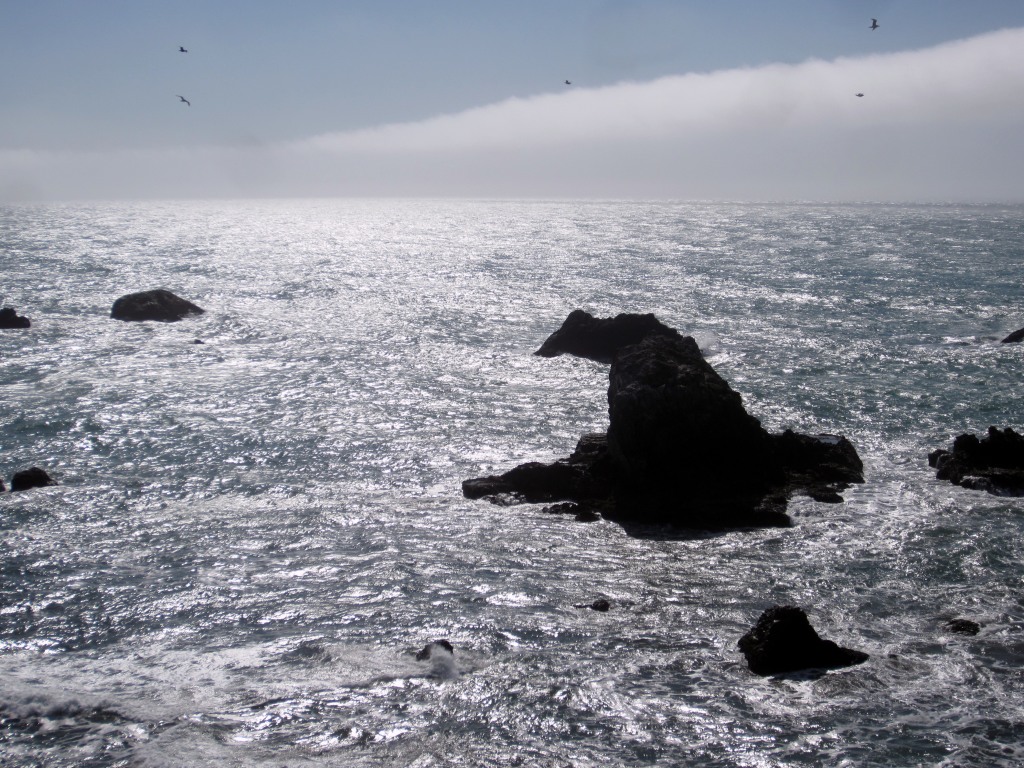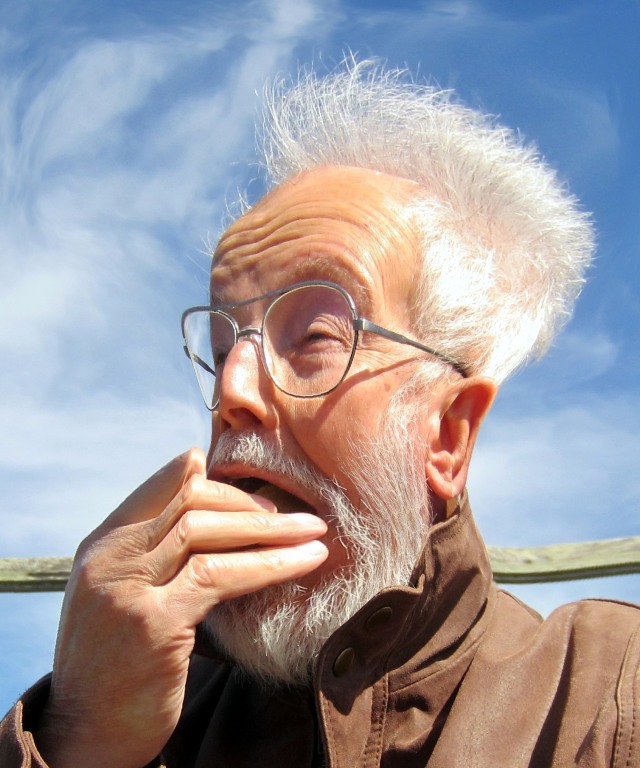 Ocean scenes. The breeze was strong.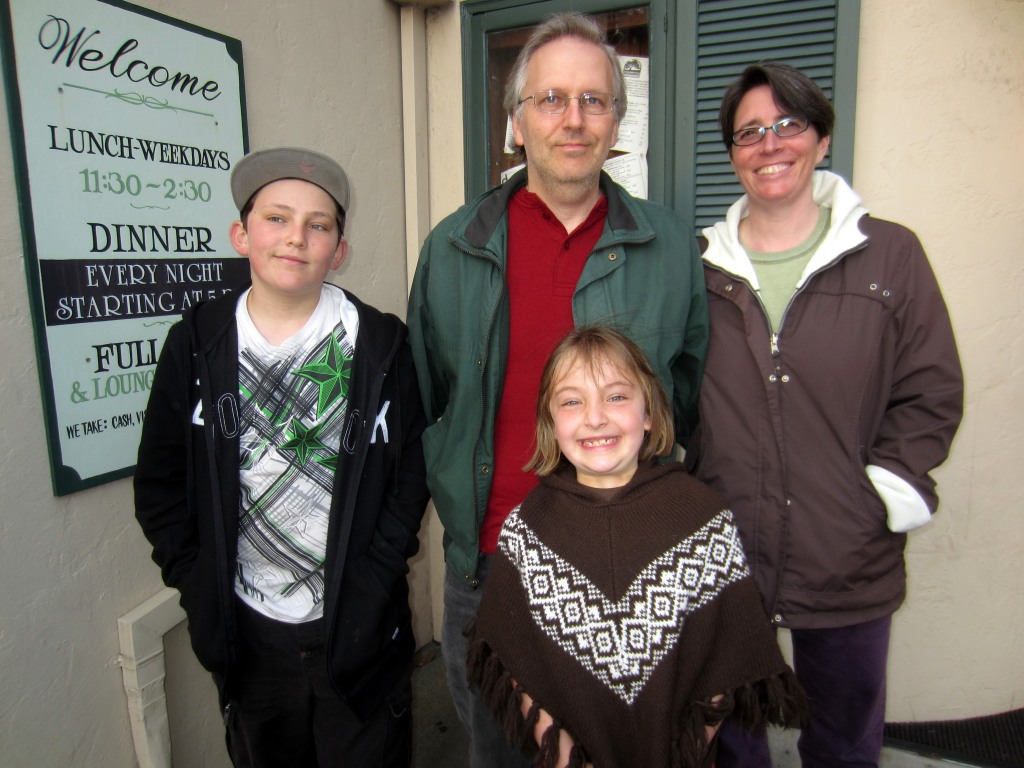 Francisco, Eric, Isabelle, and Sandra outside Cricklewood.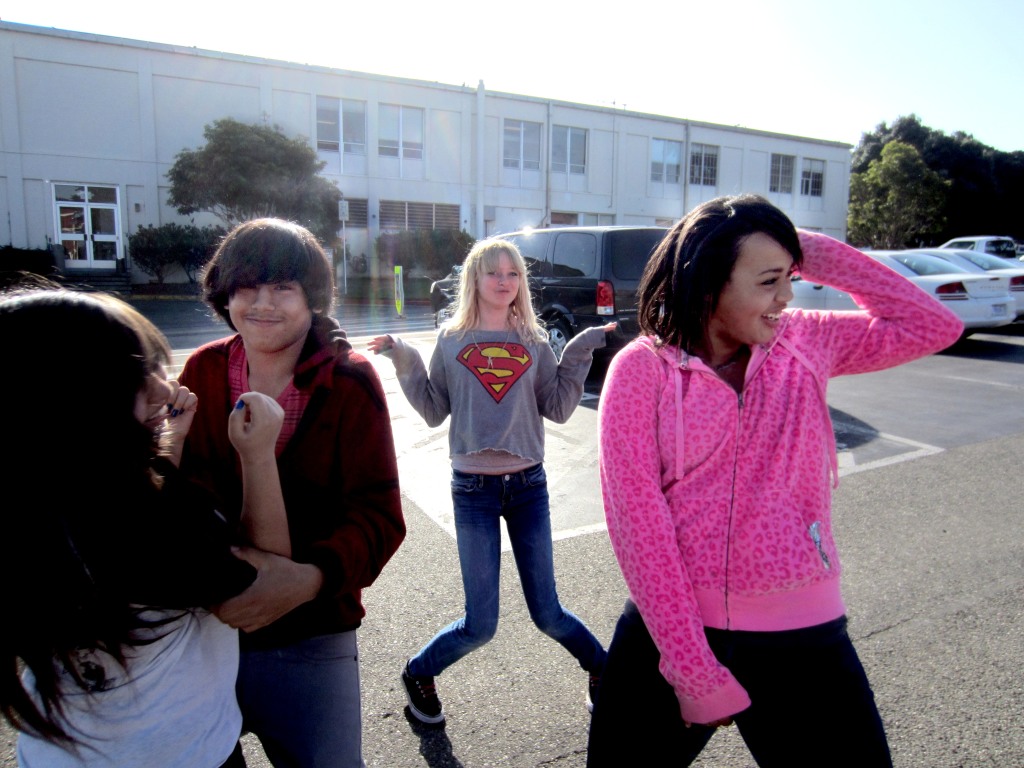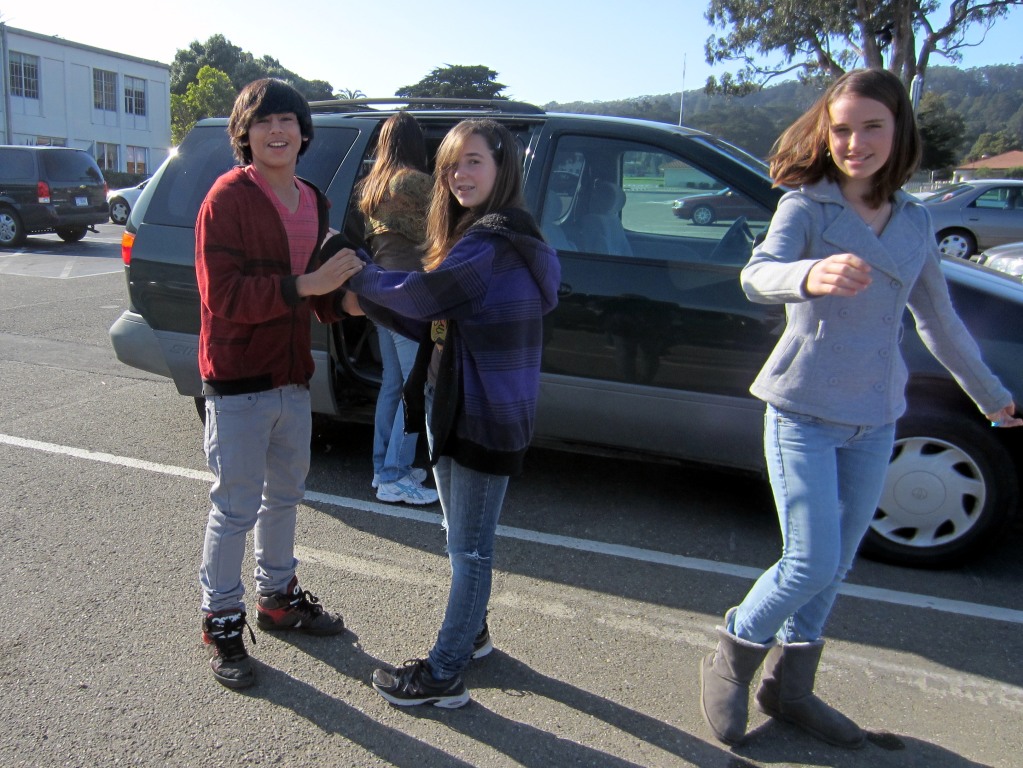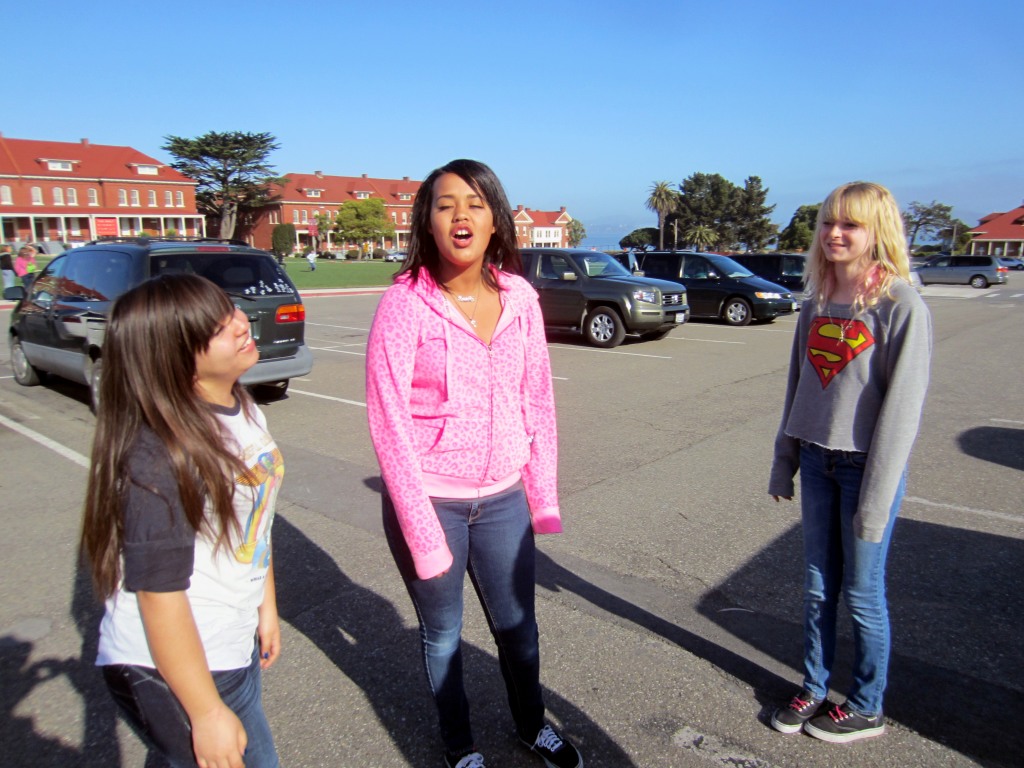 Sofi, Zak, Nicole, and Chelsea at the Disney Studio in San Francisco; Zak and KC; Sofi, Chelsea, and Nicole.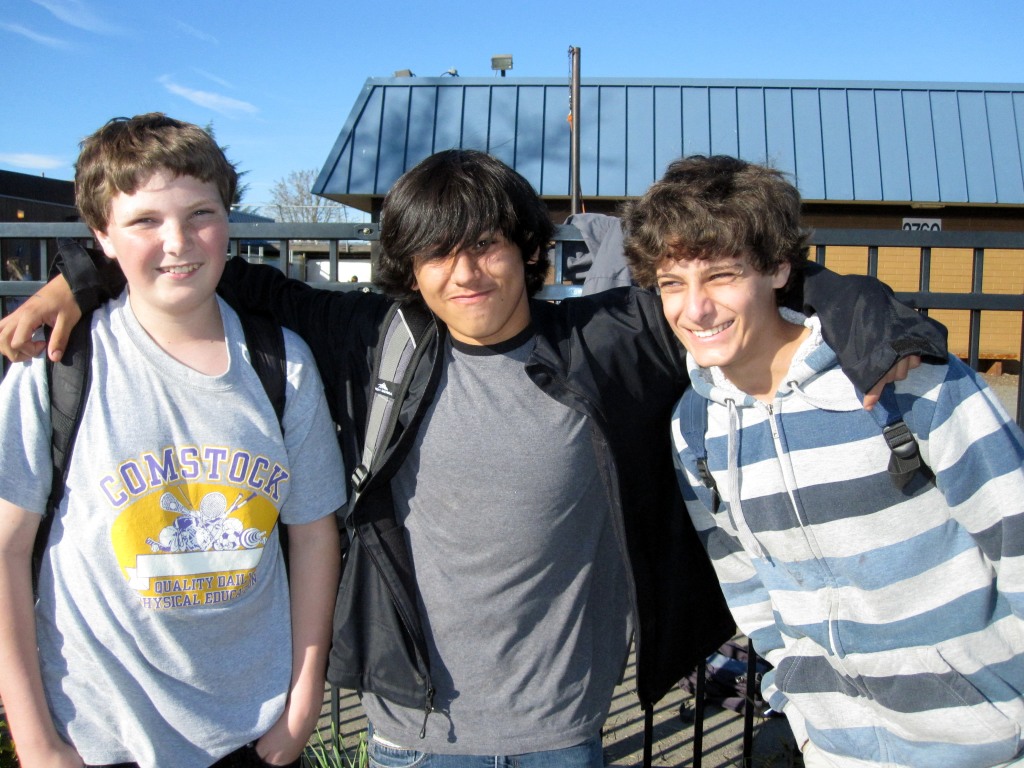 Max, Zak, and Aaron outside the Charter School.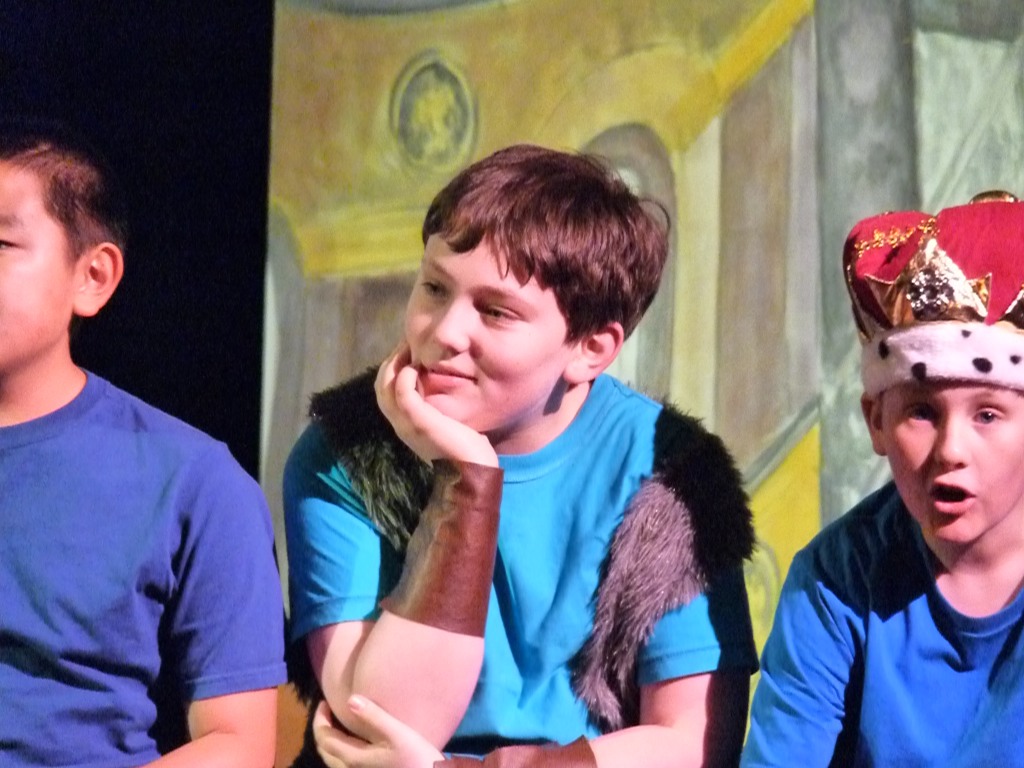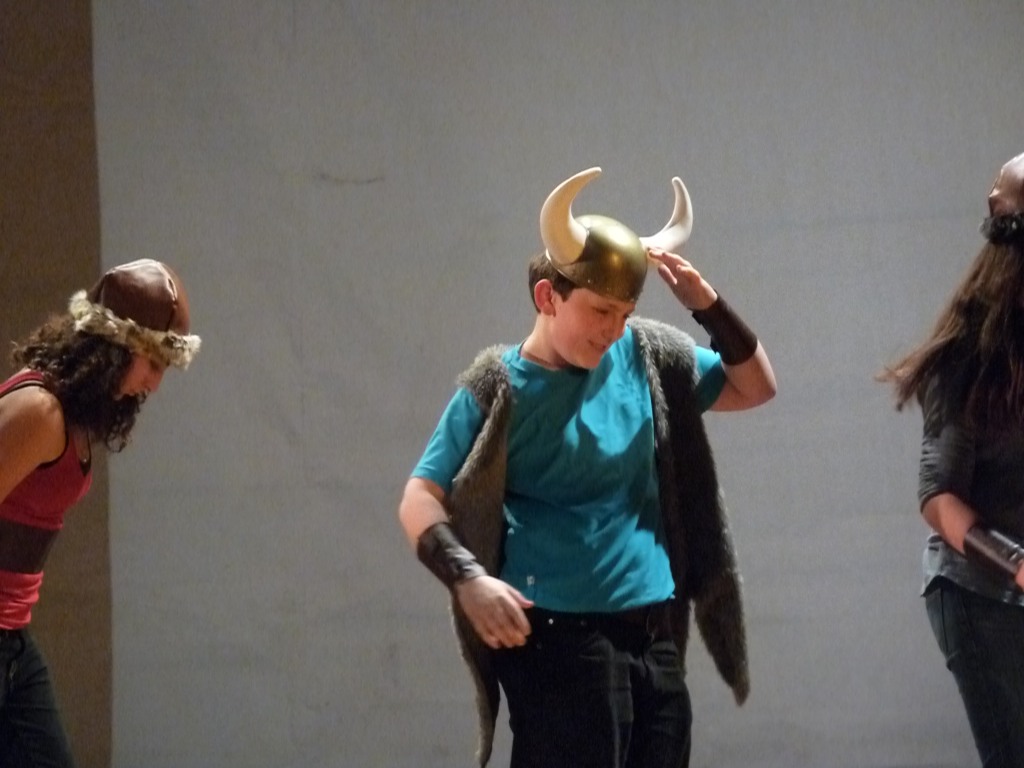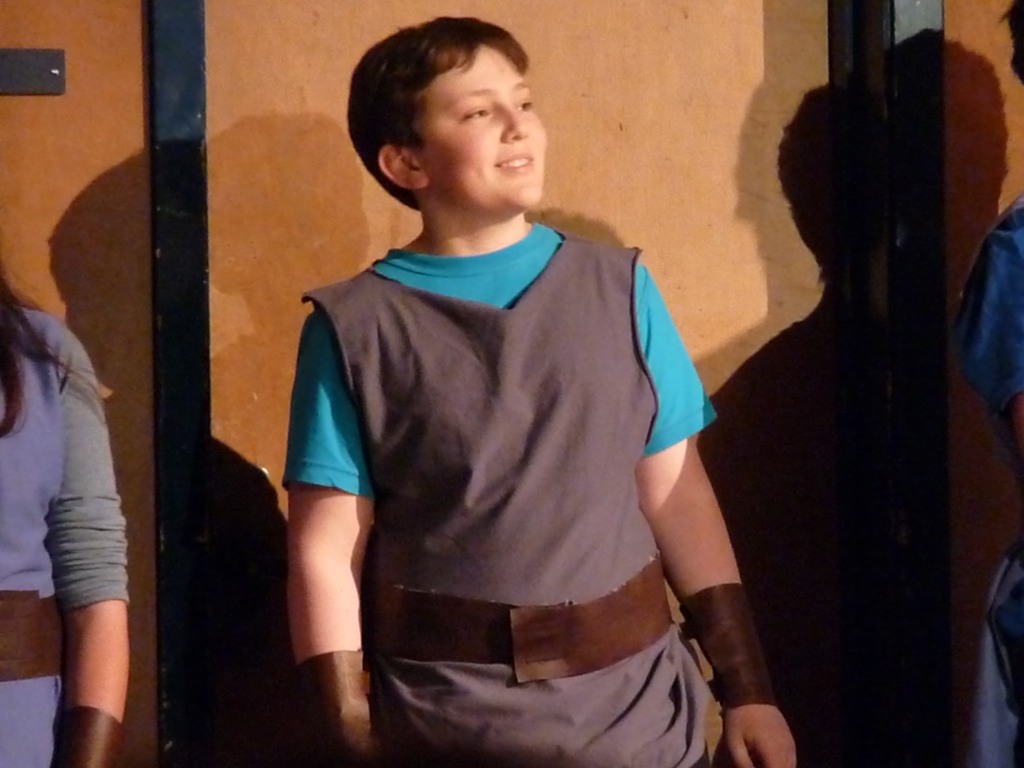 Francisco was in a play.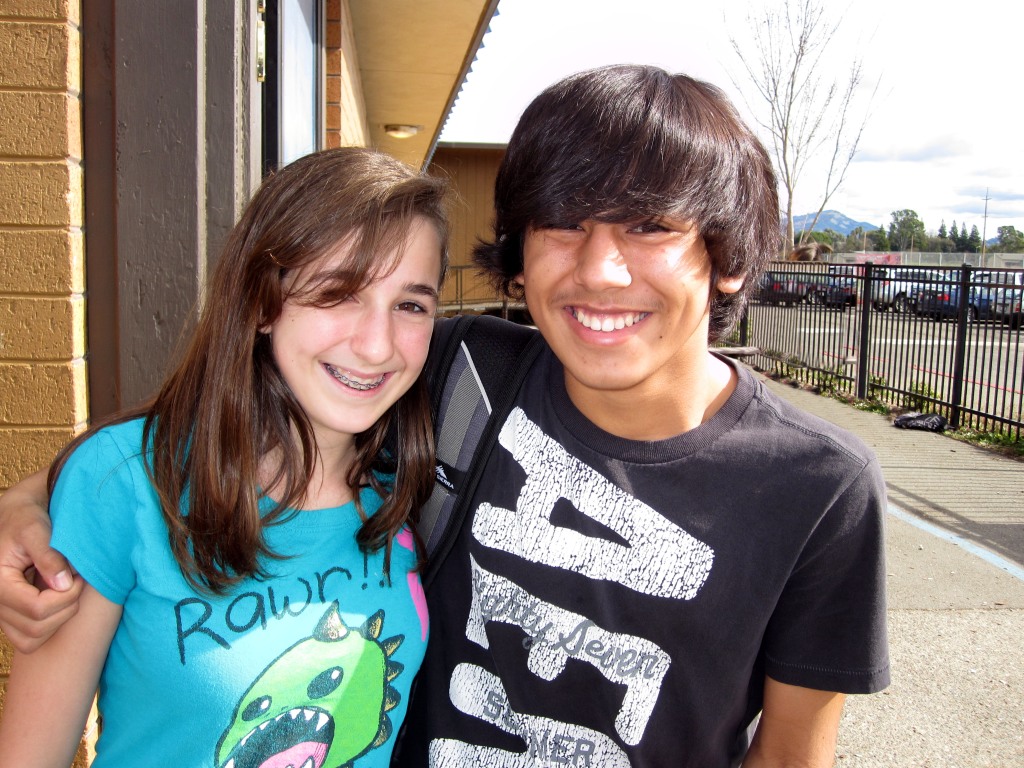 KC and Zak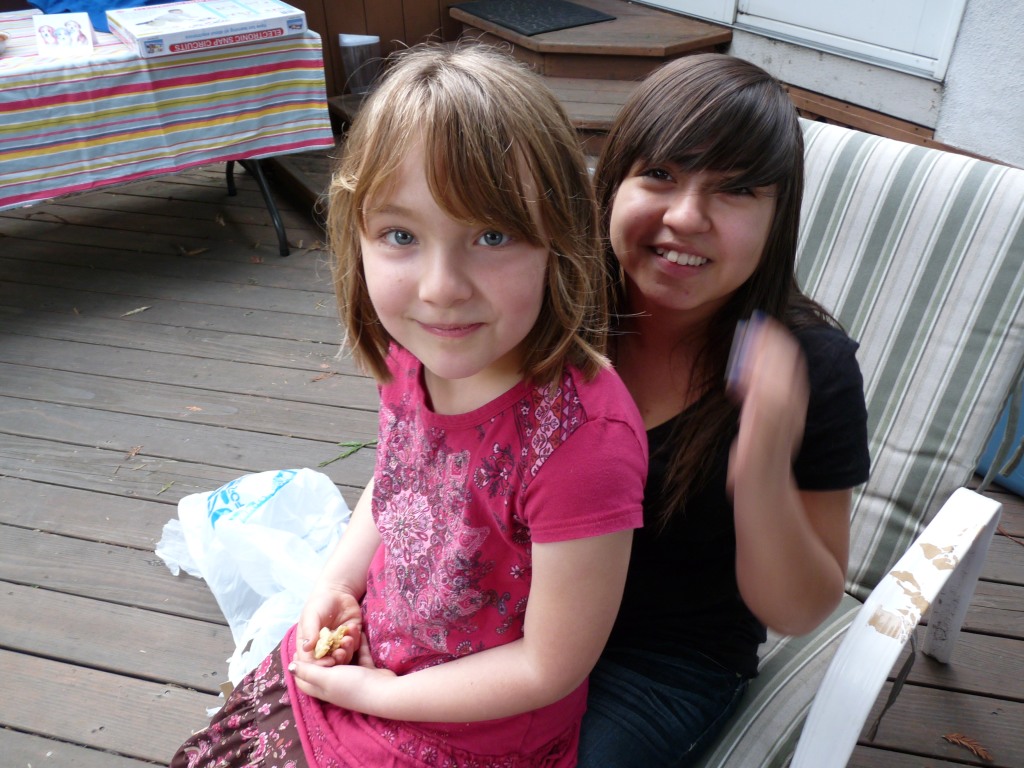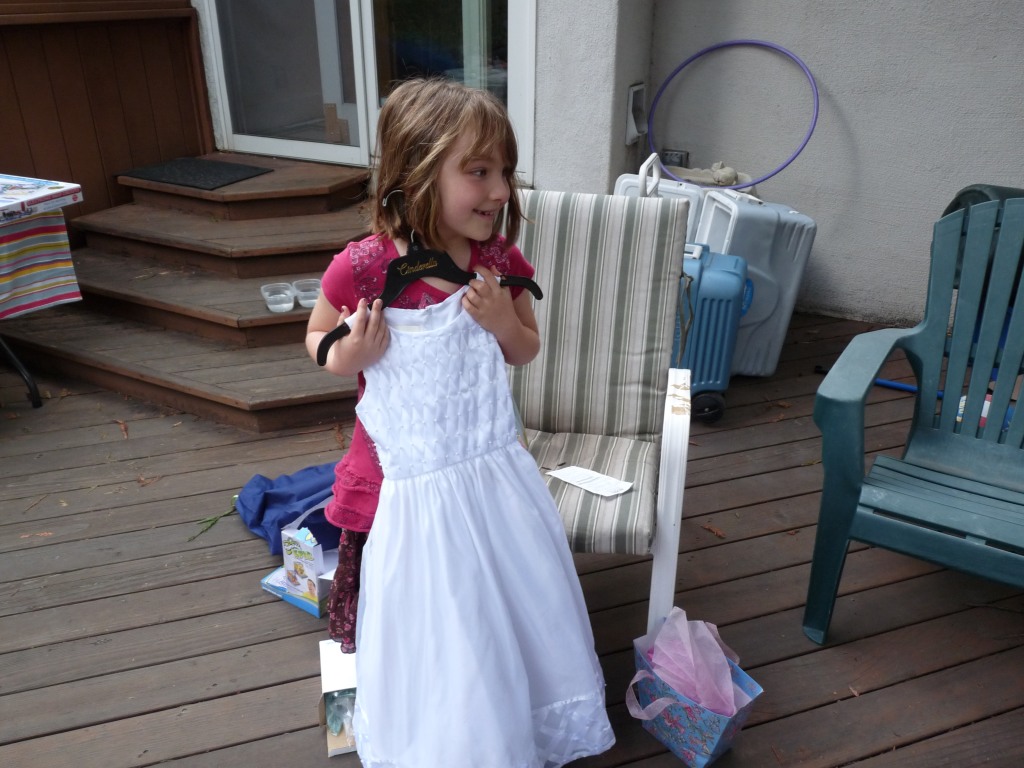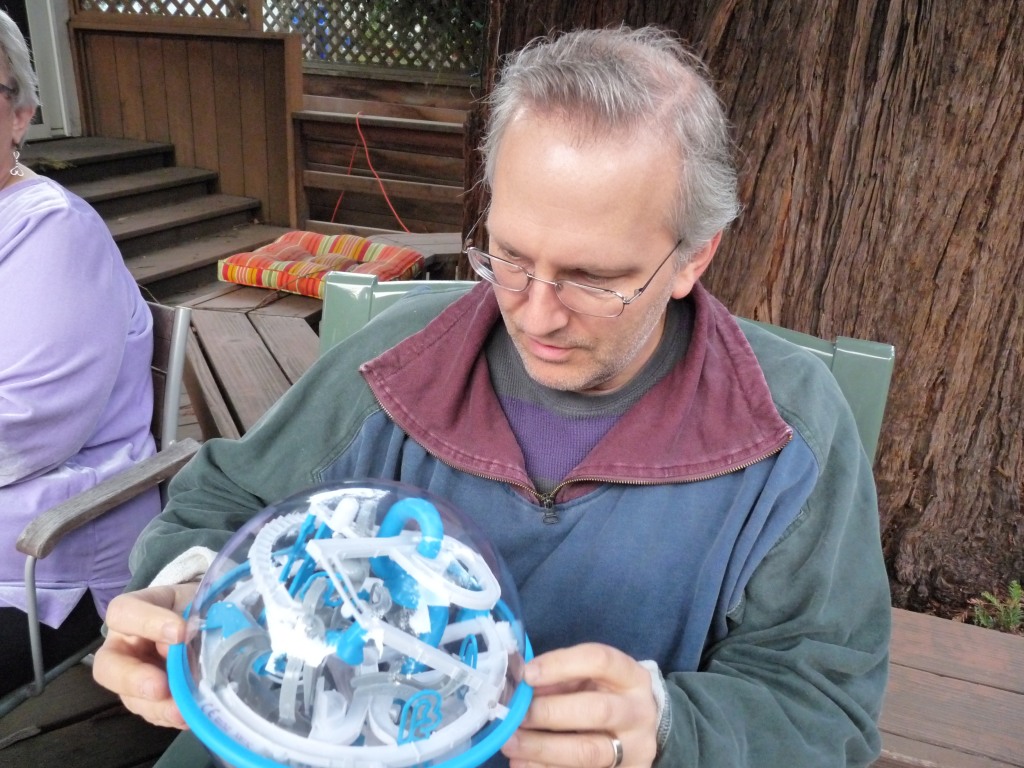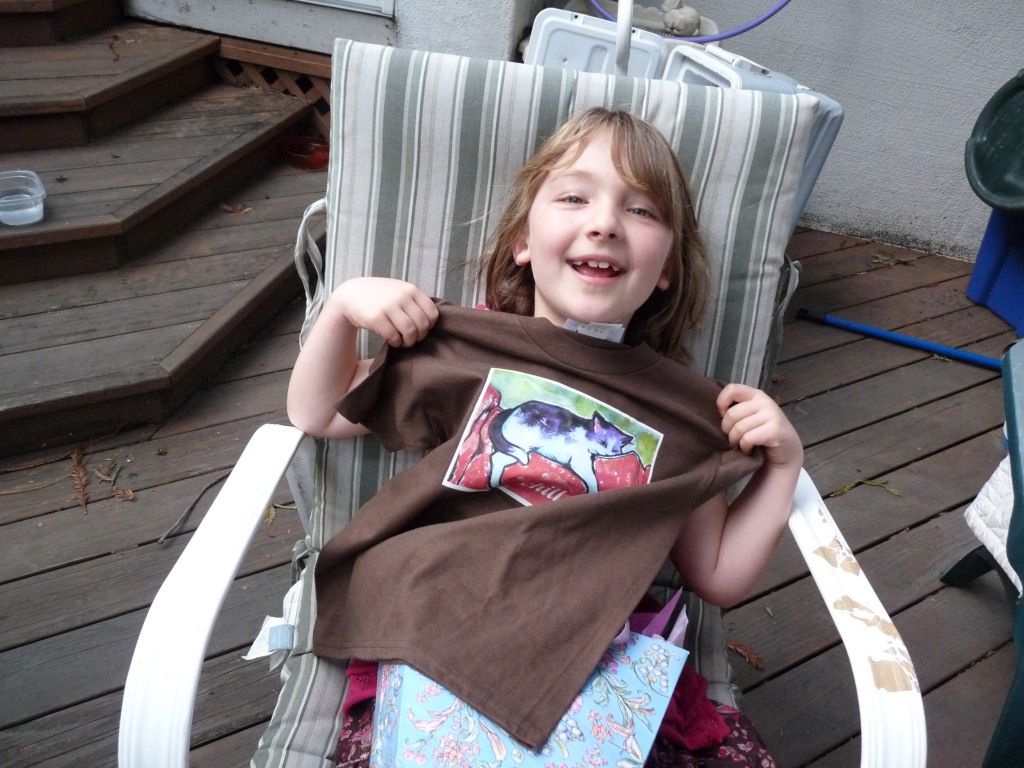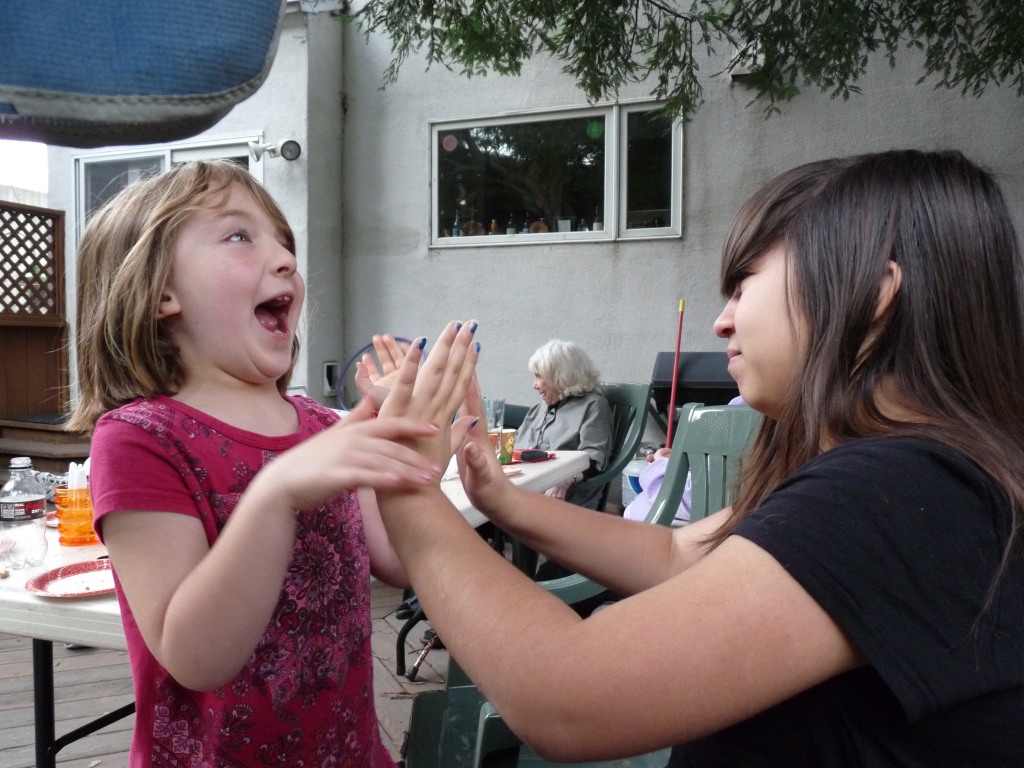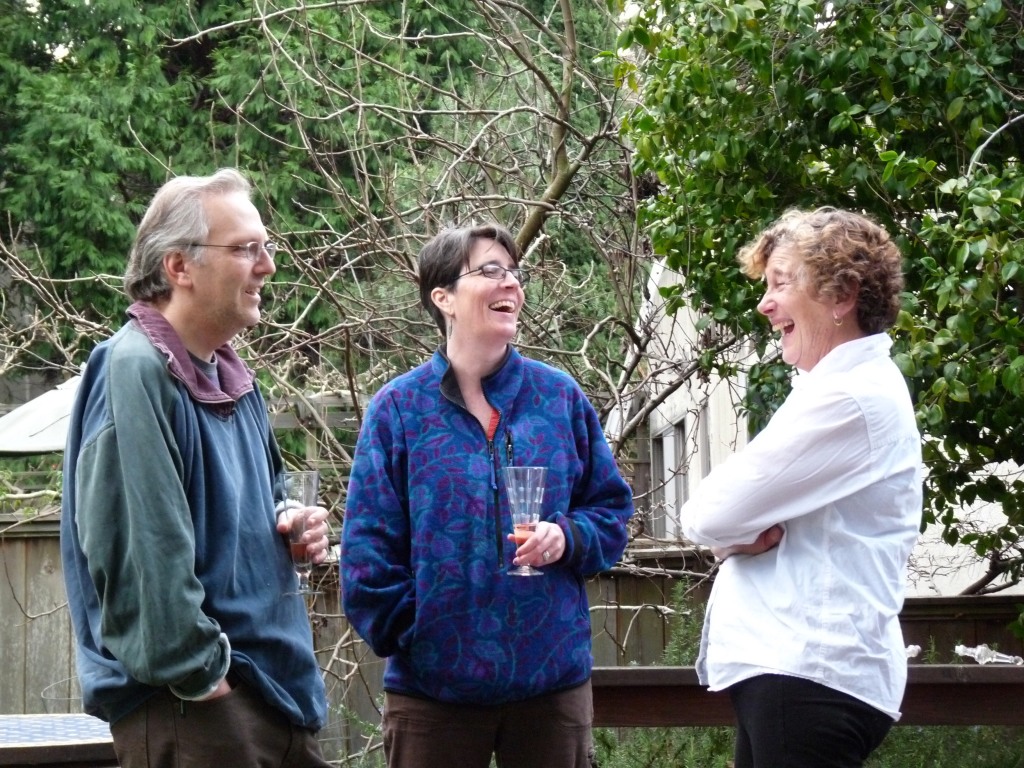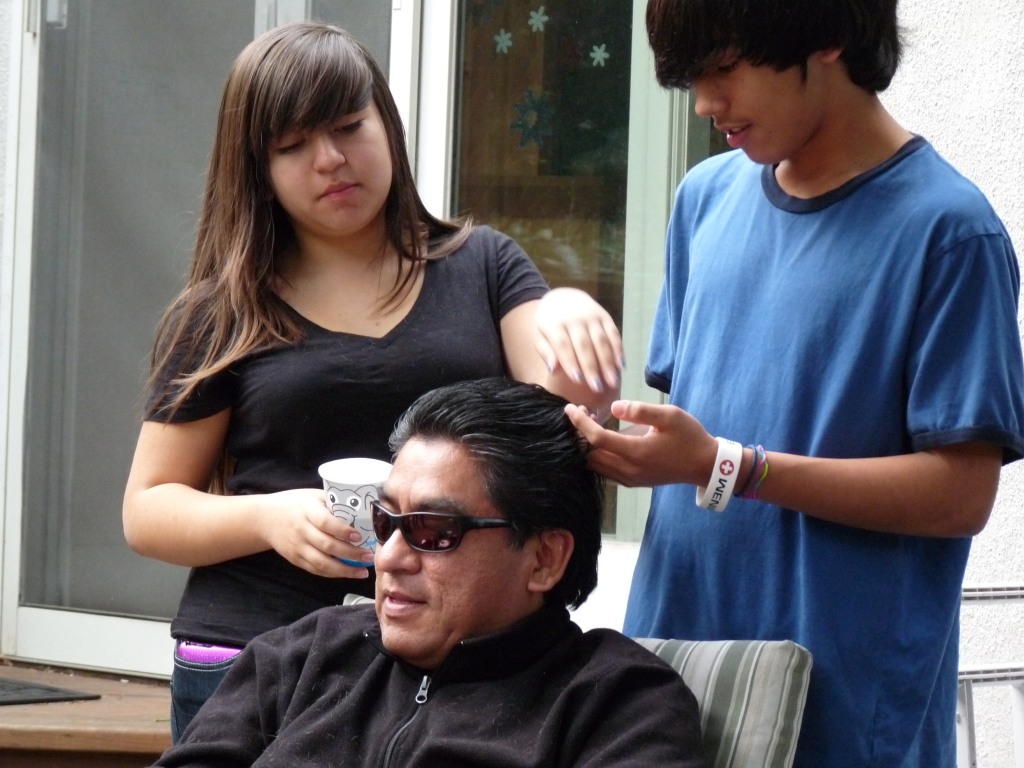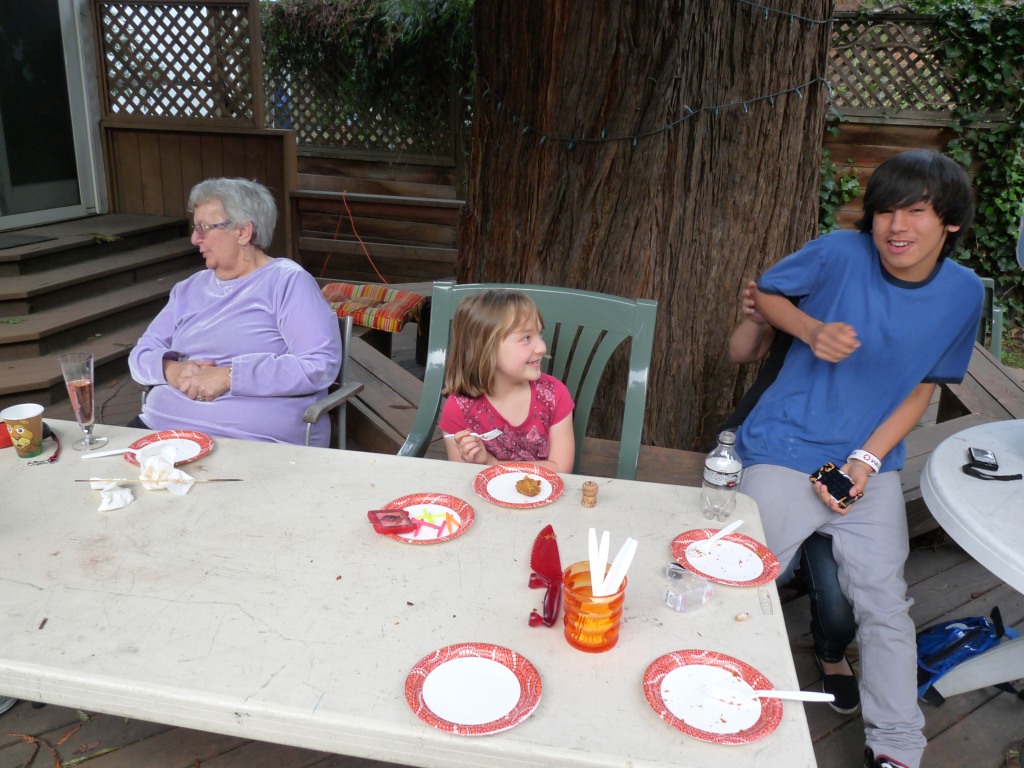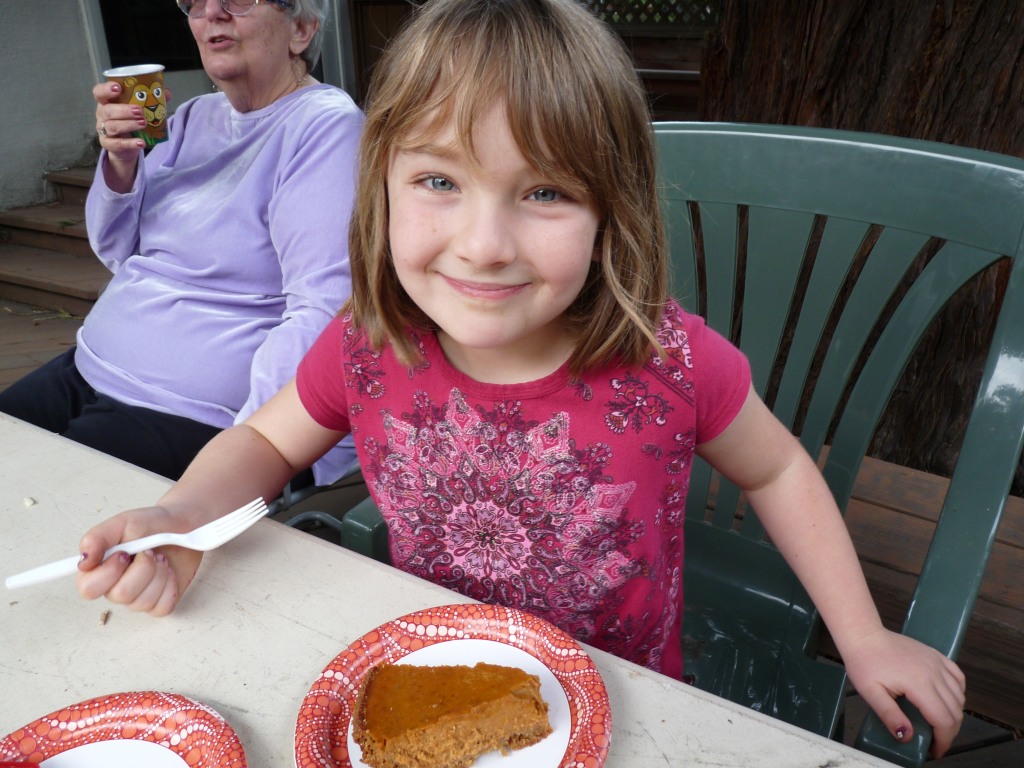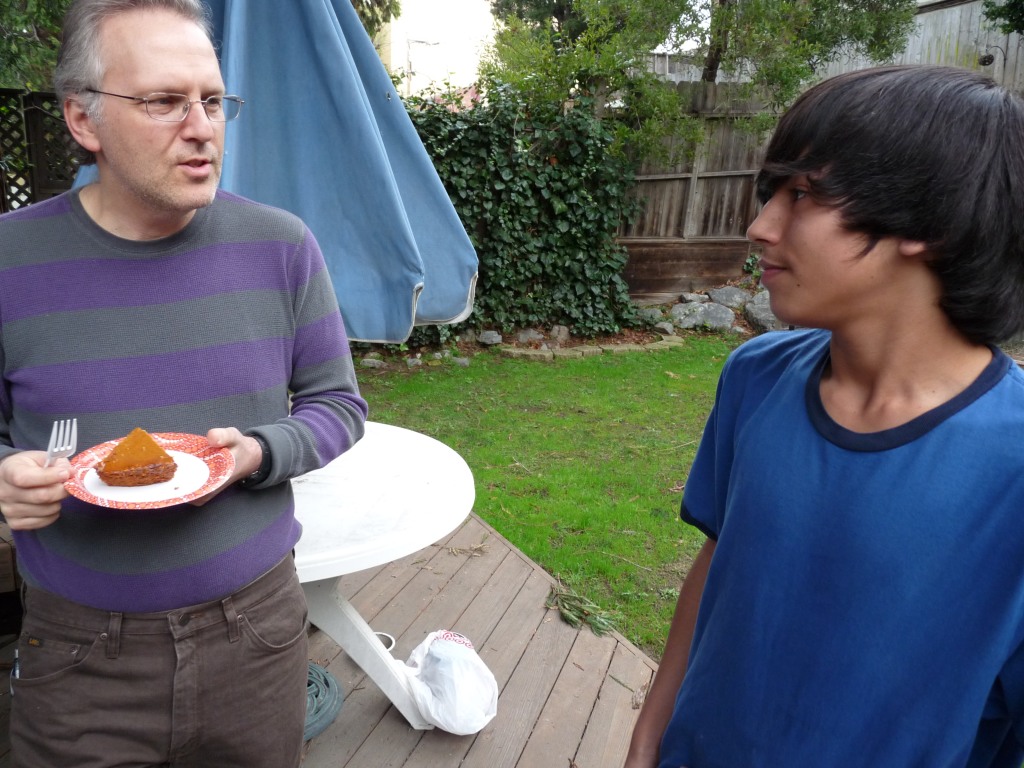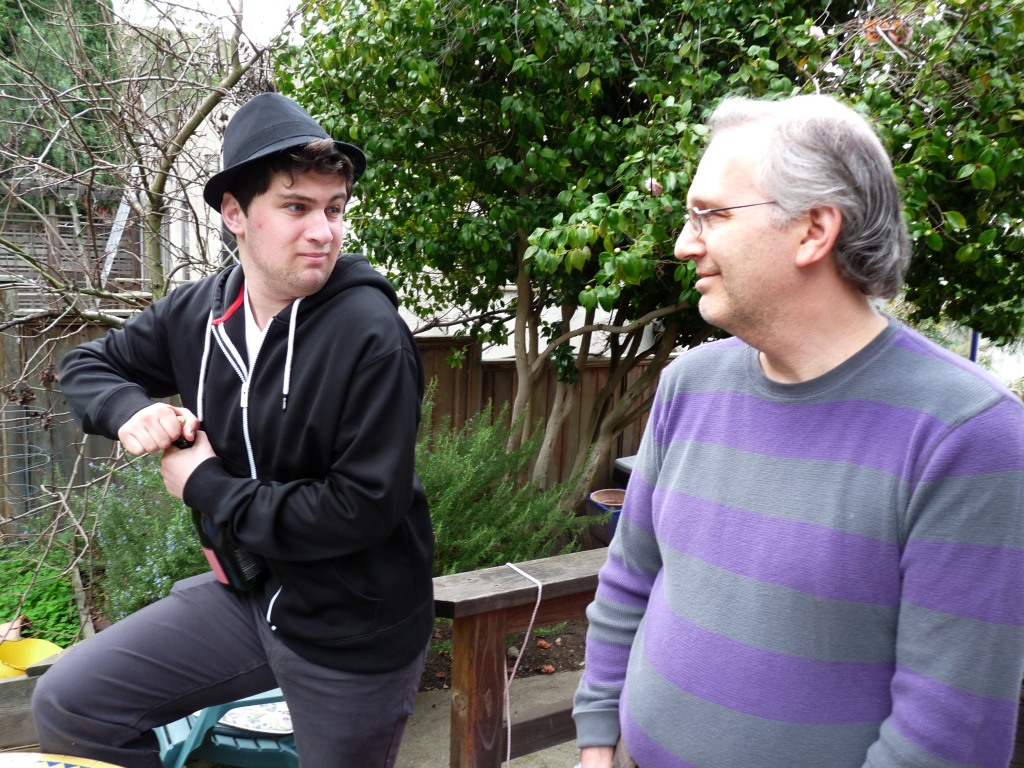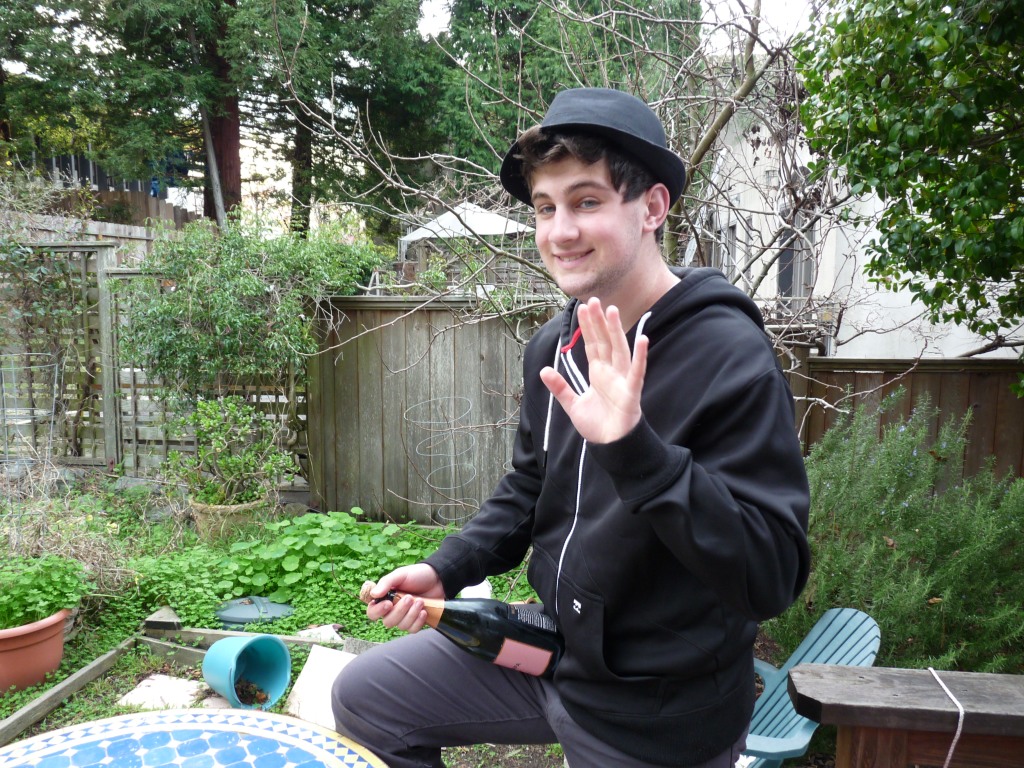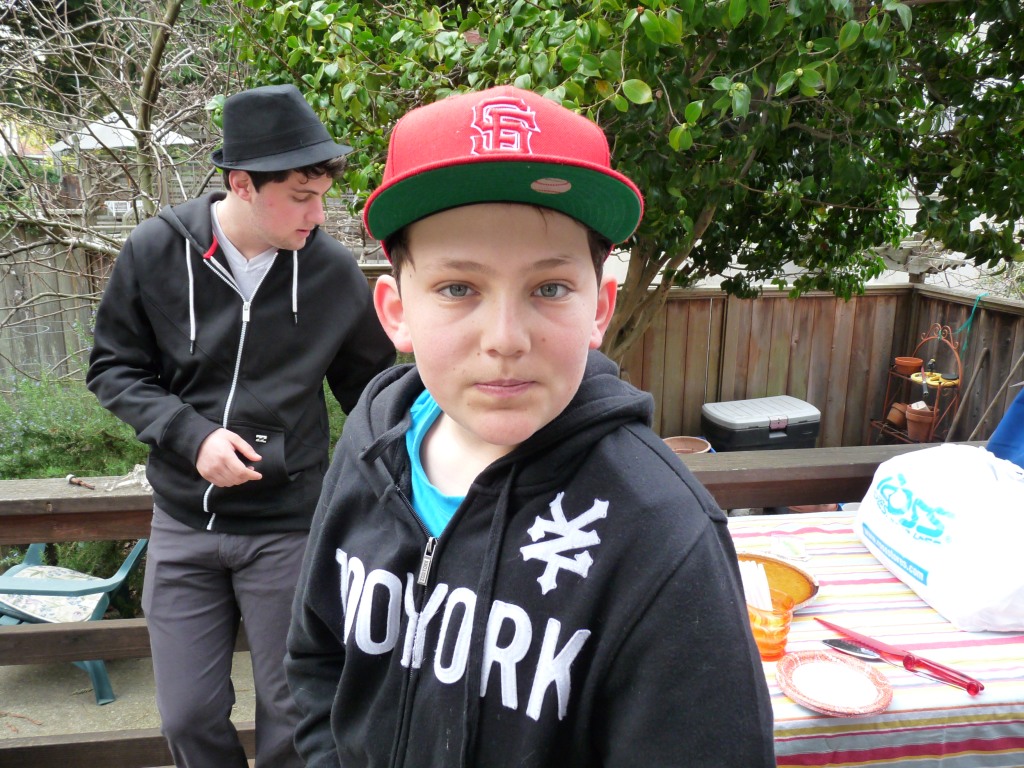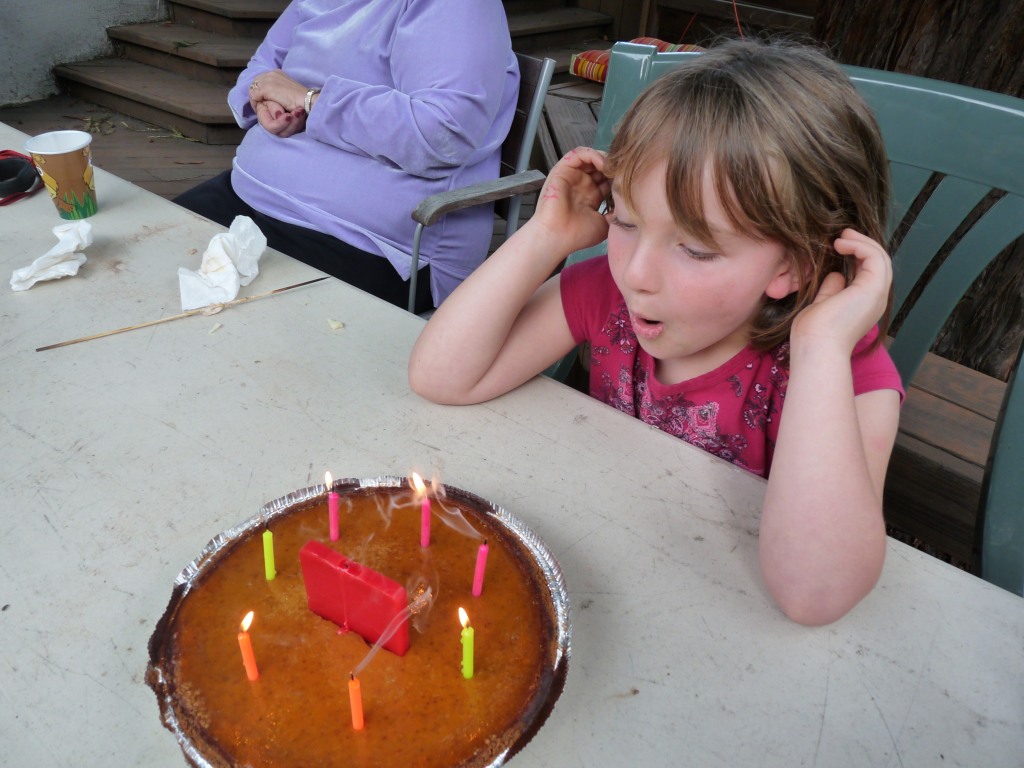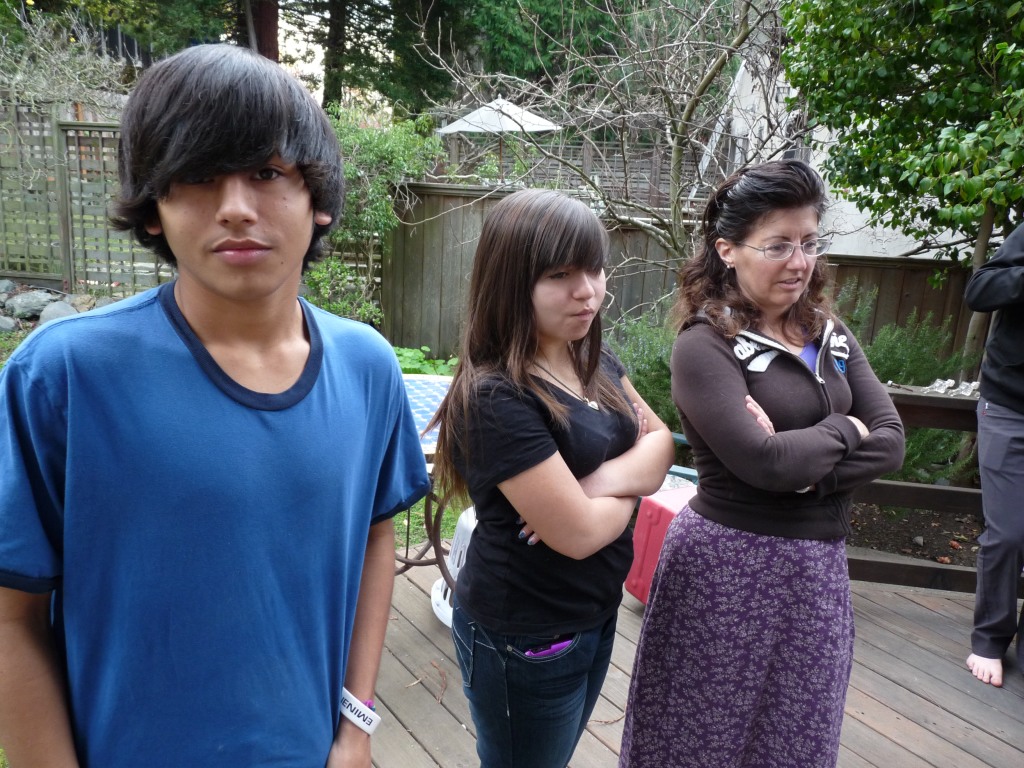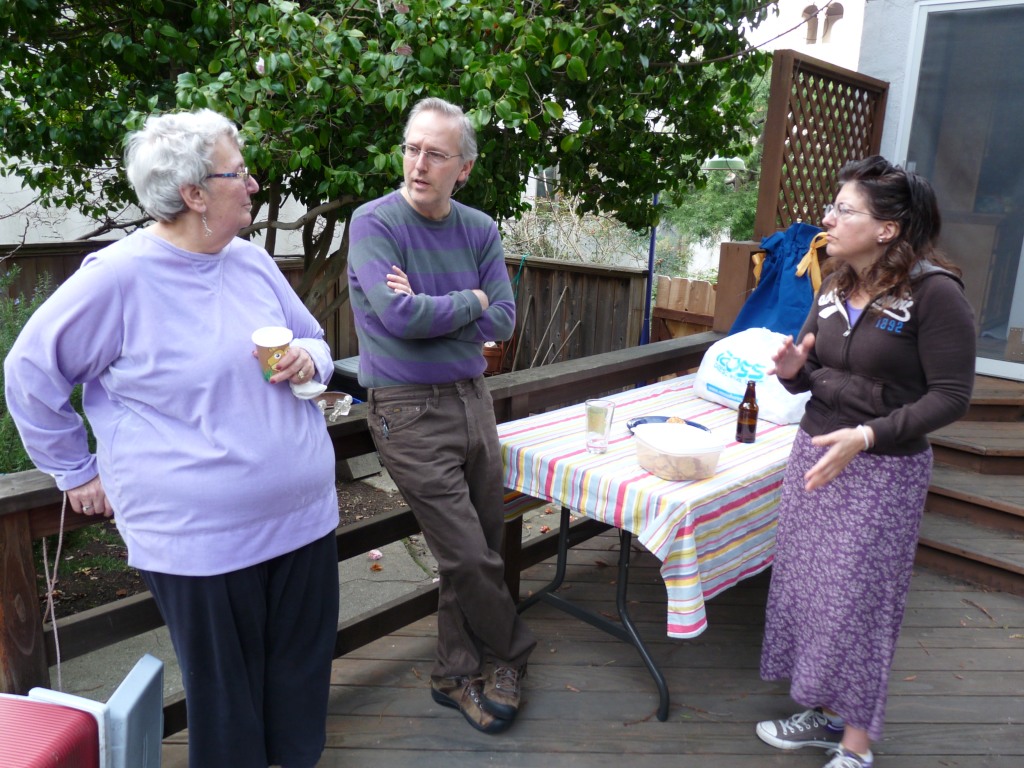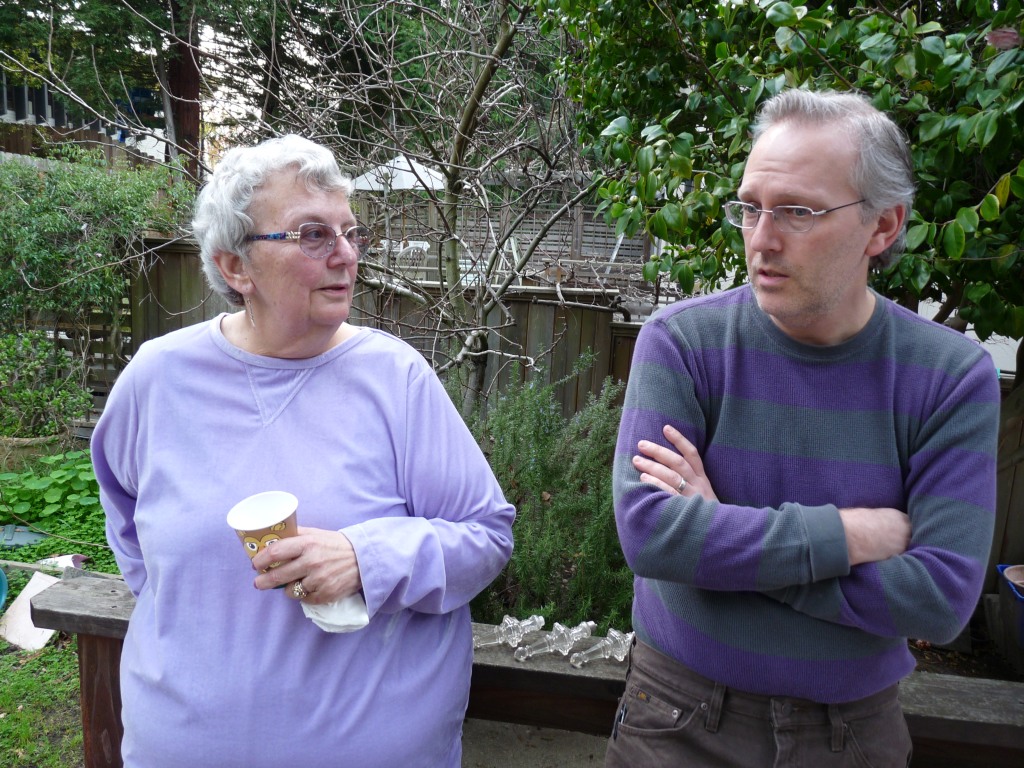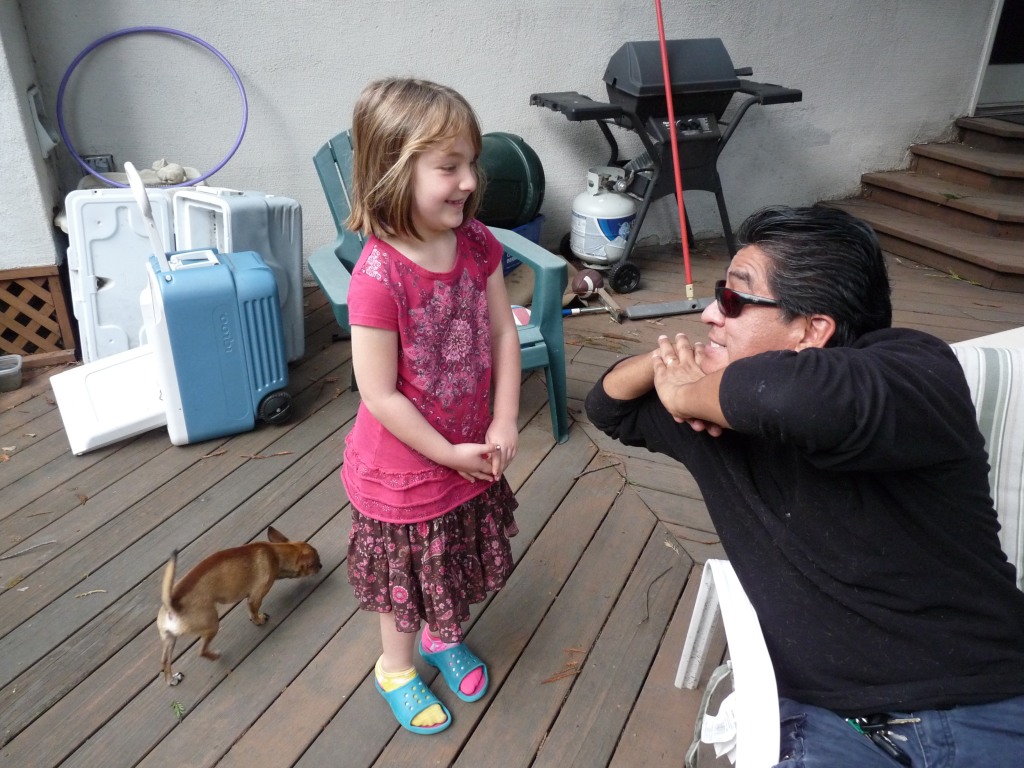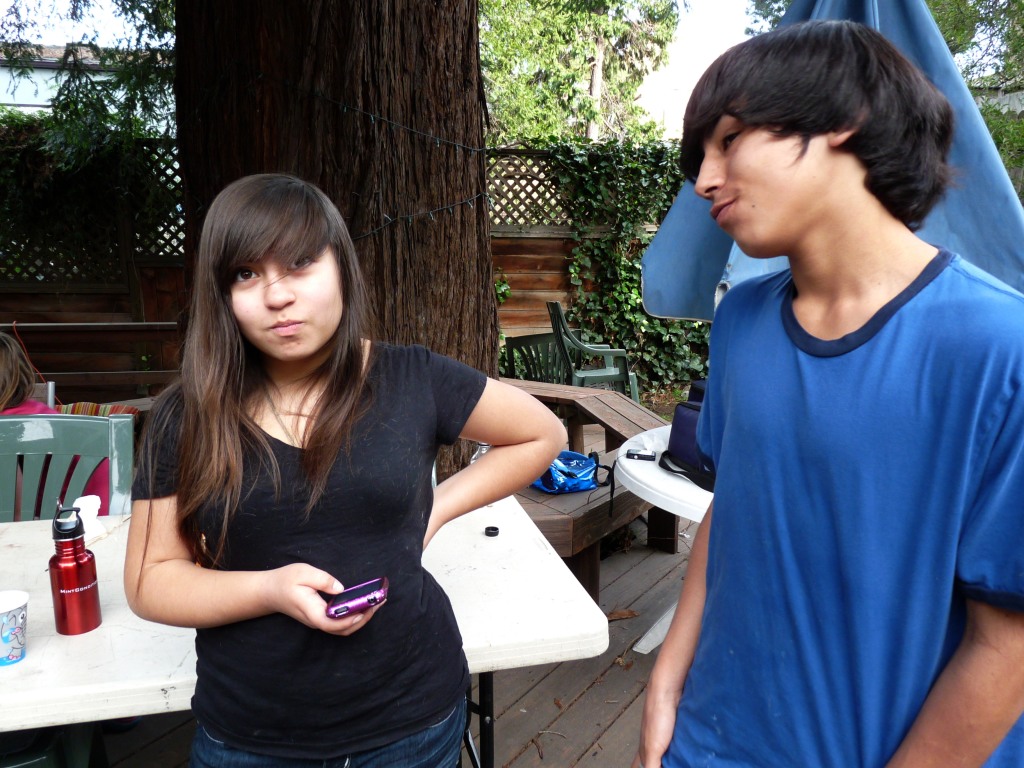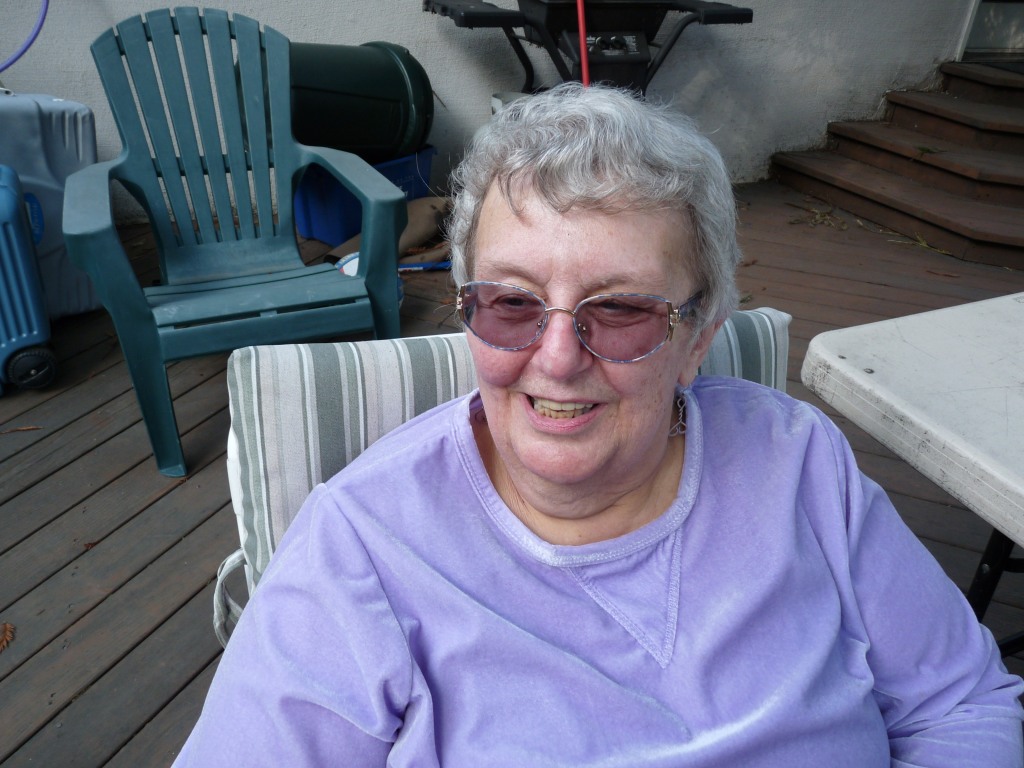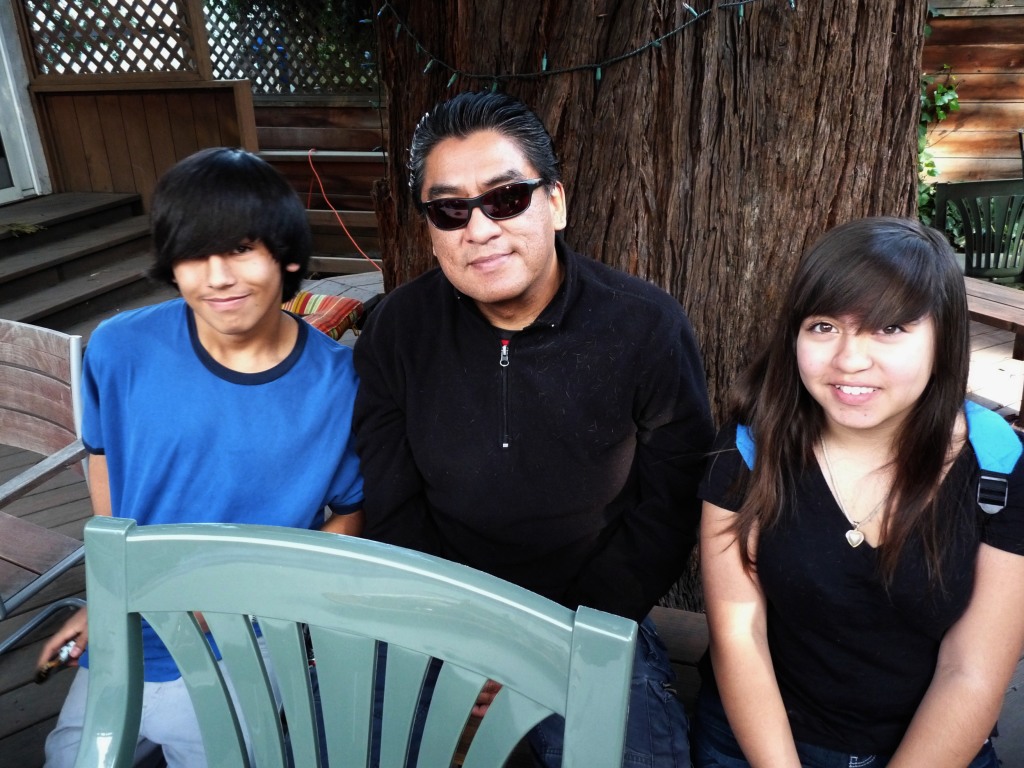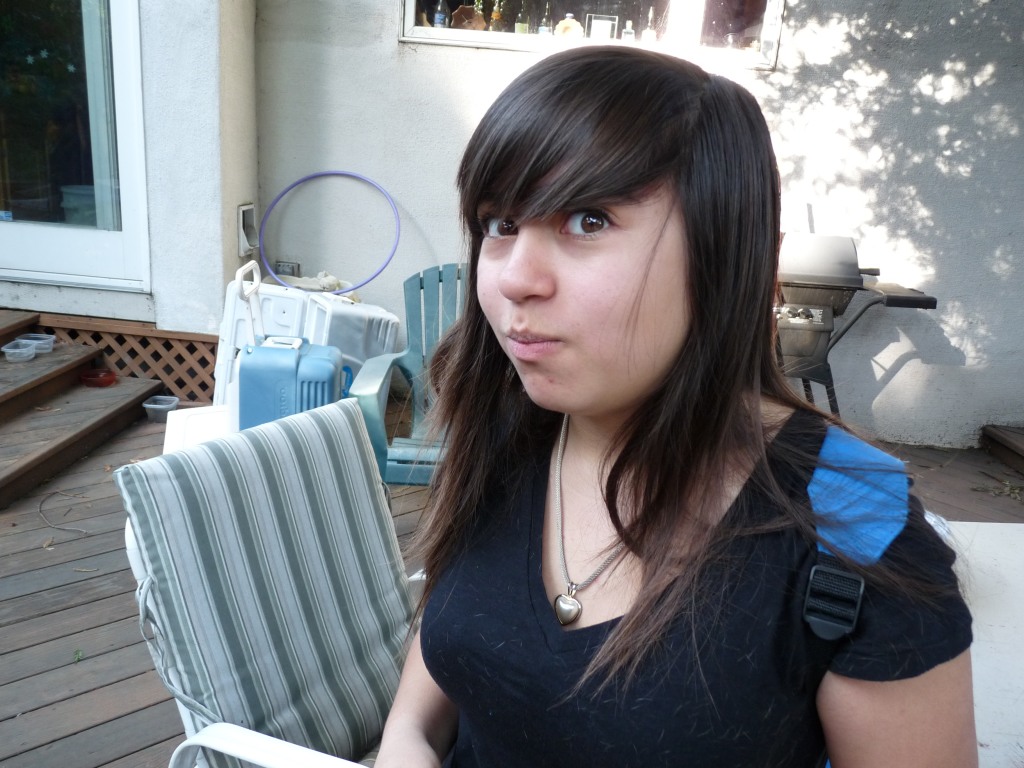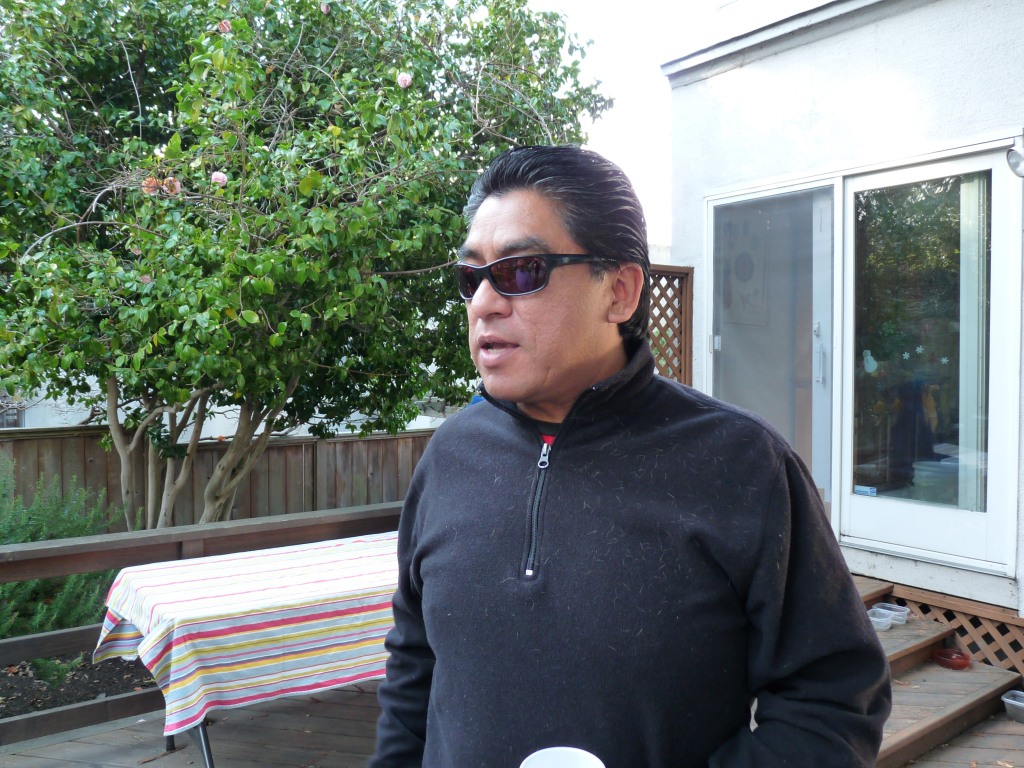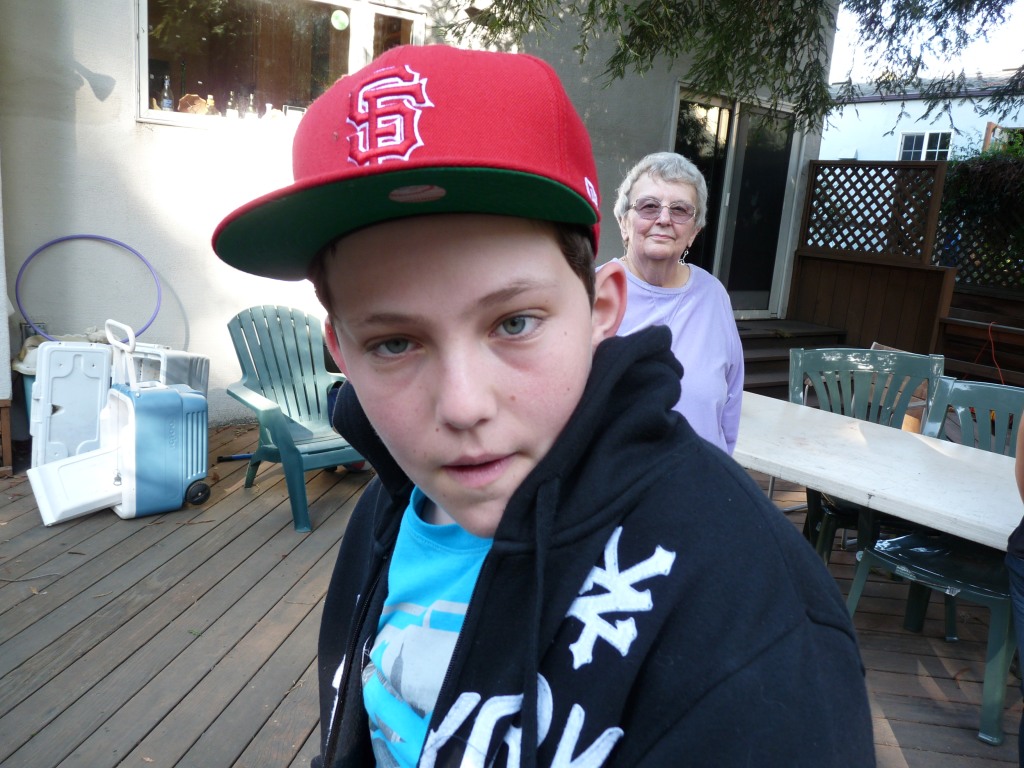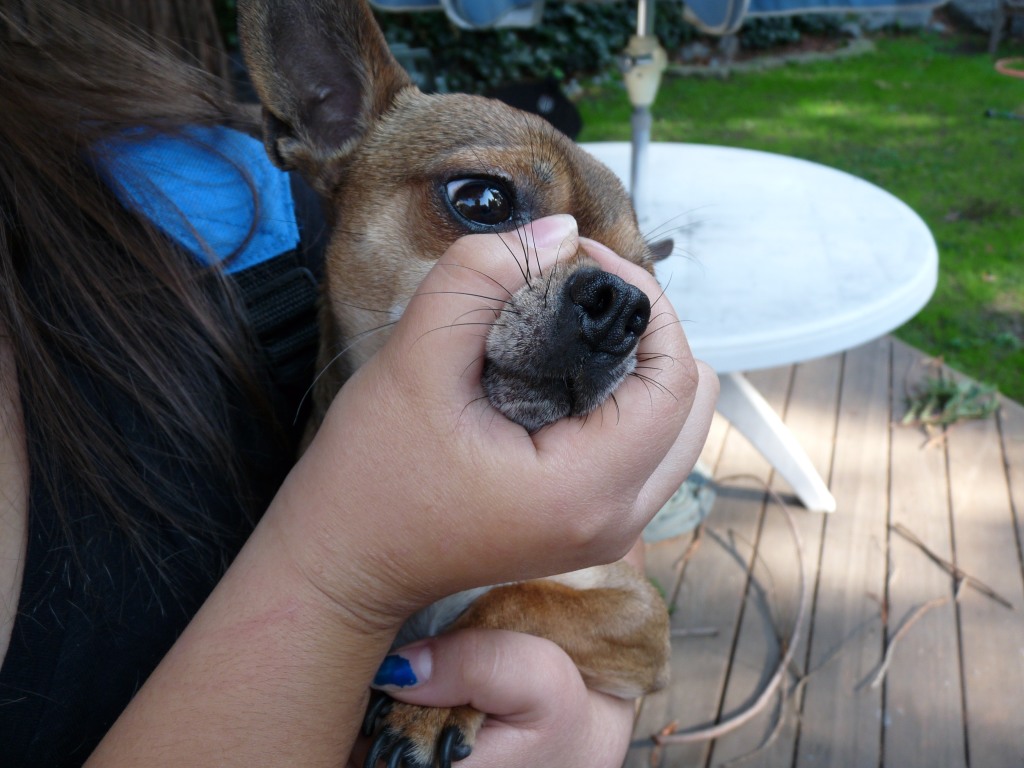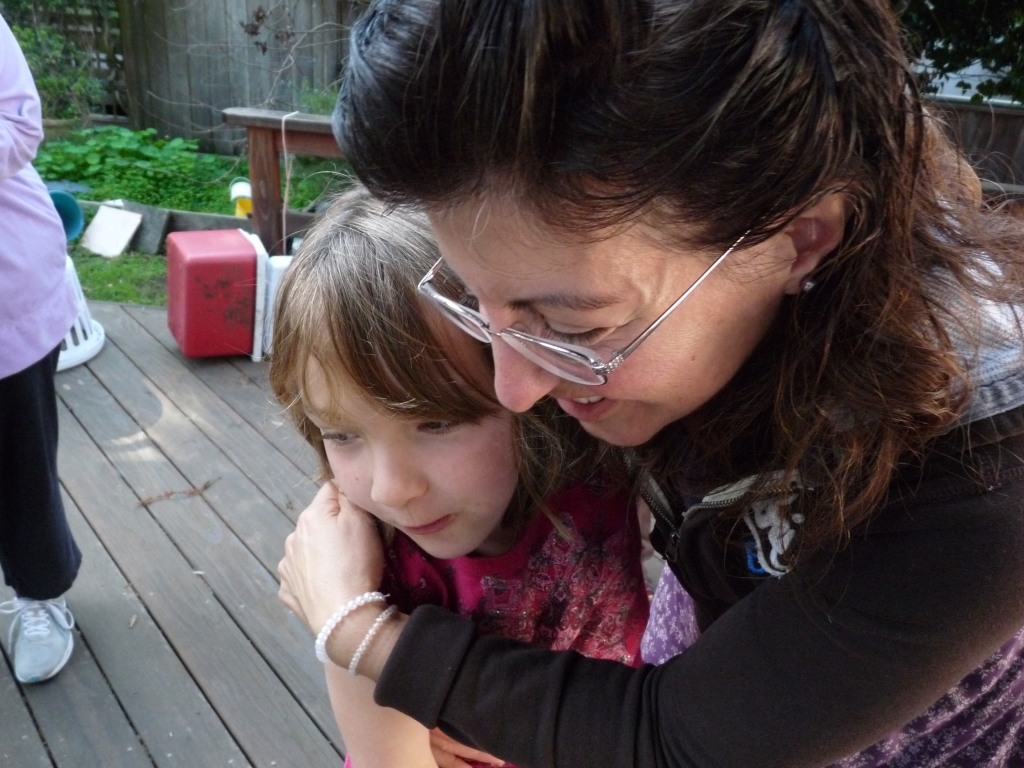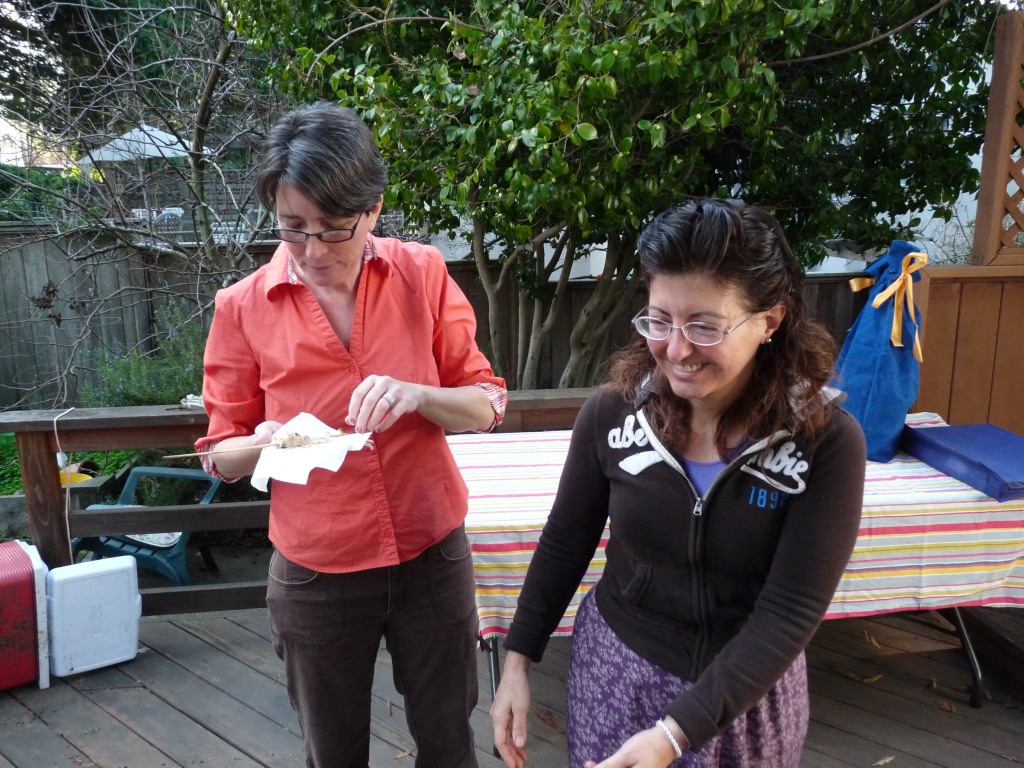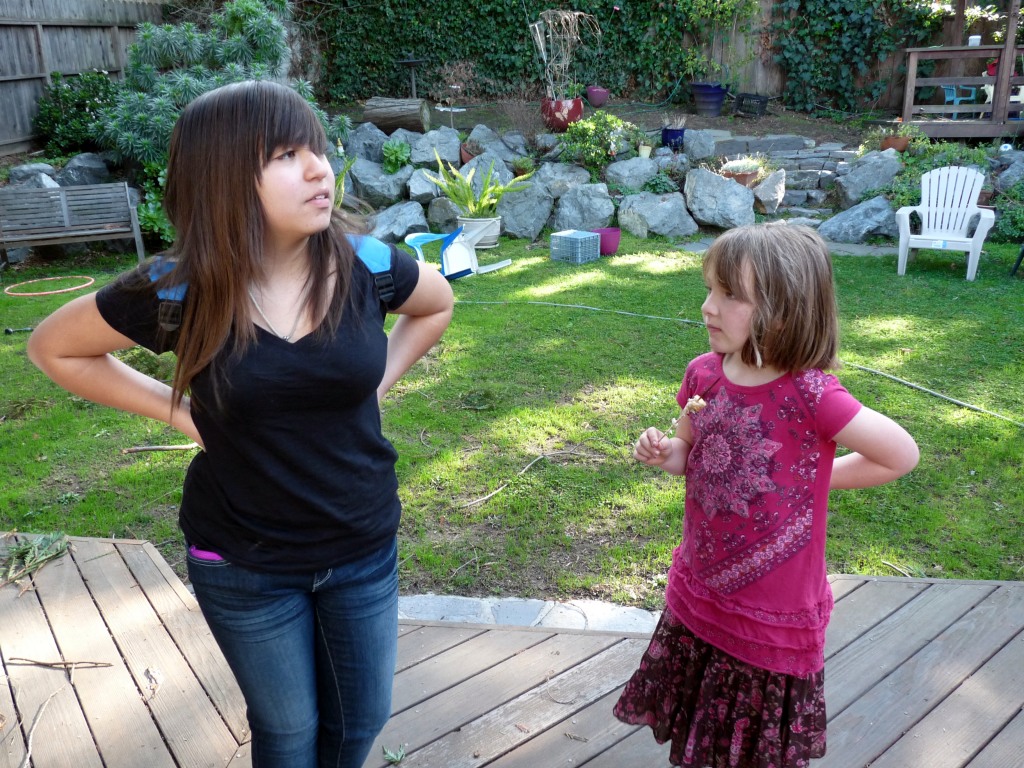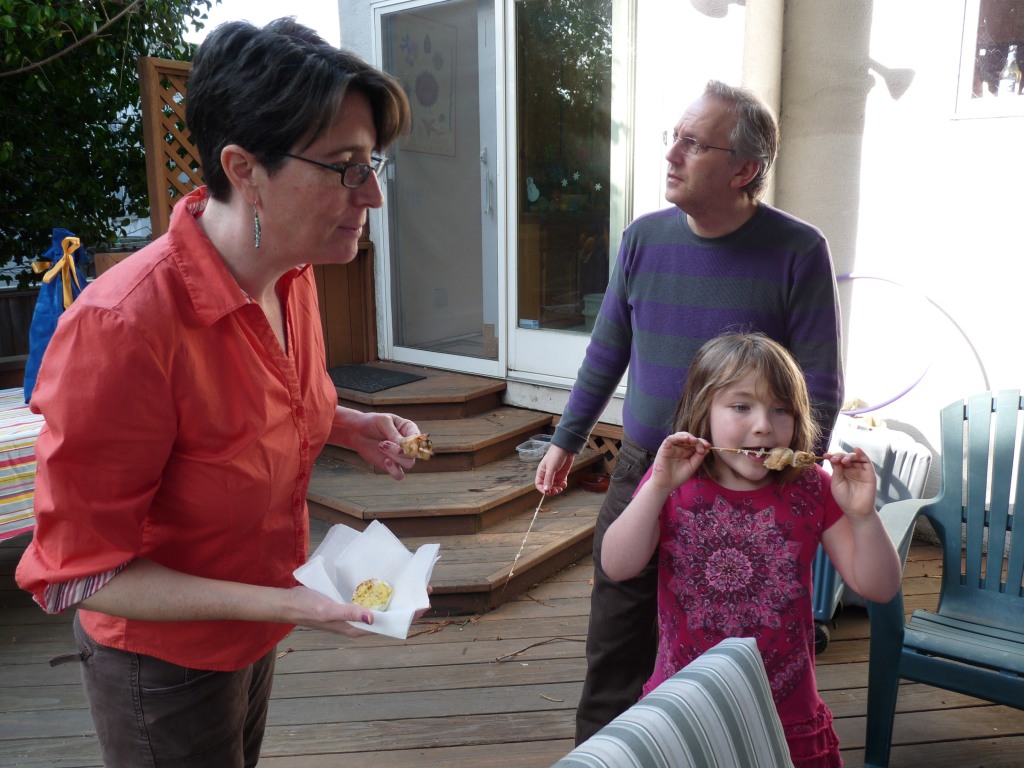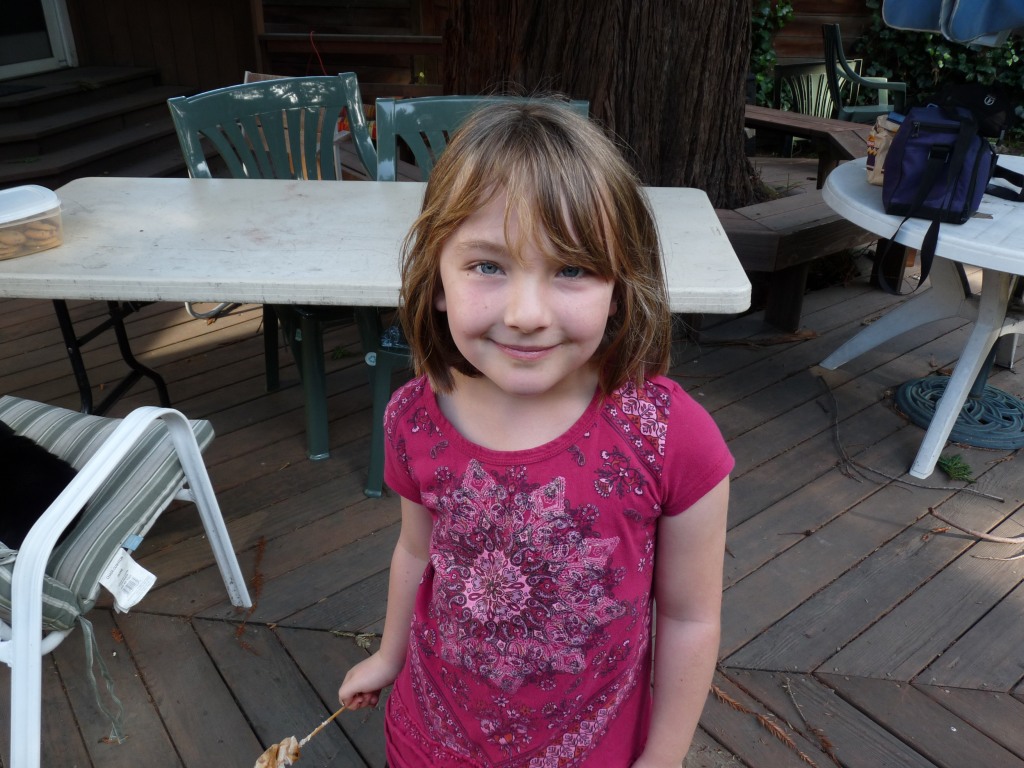 Isabelle's seventh birthday party.

Suzy's birthday party.

AJ, Zak, Nicole, Sofi, and Aaron at Subway.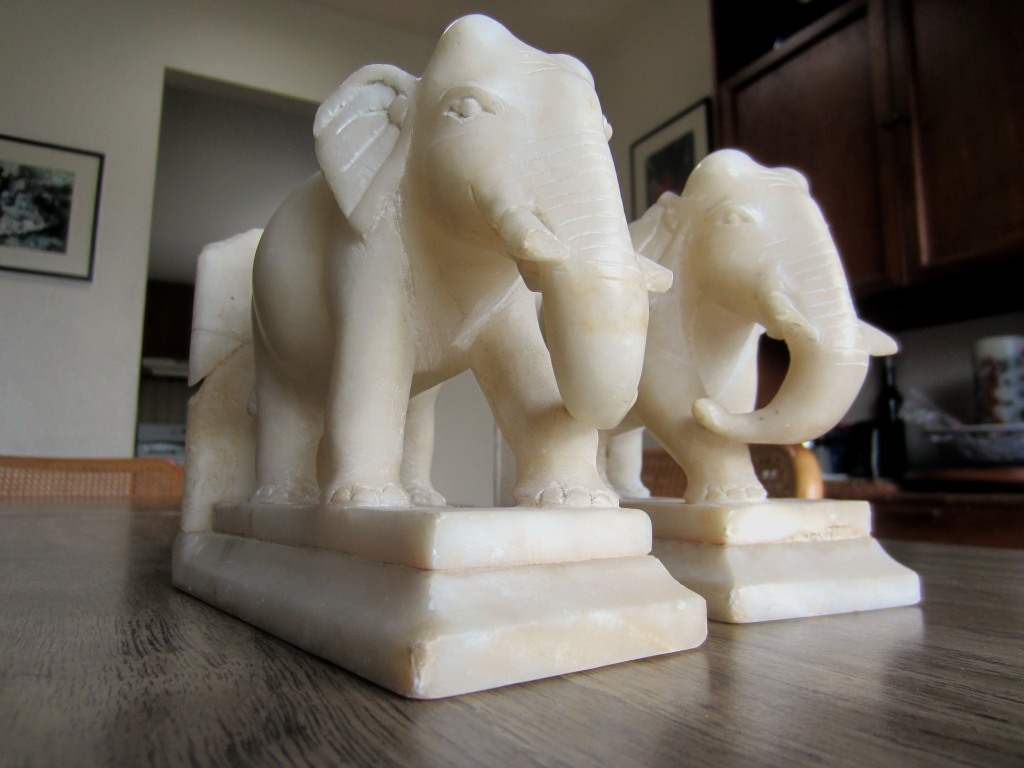 Tantor and Tarantarosh, characters in one of Granpda's "Farfegnugen" stories.
---
You have just seen photos of 03-08-12

Photos from the past year or so.