These photos were taken in the last three months or so, up to about 03-17-08.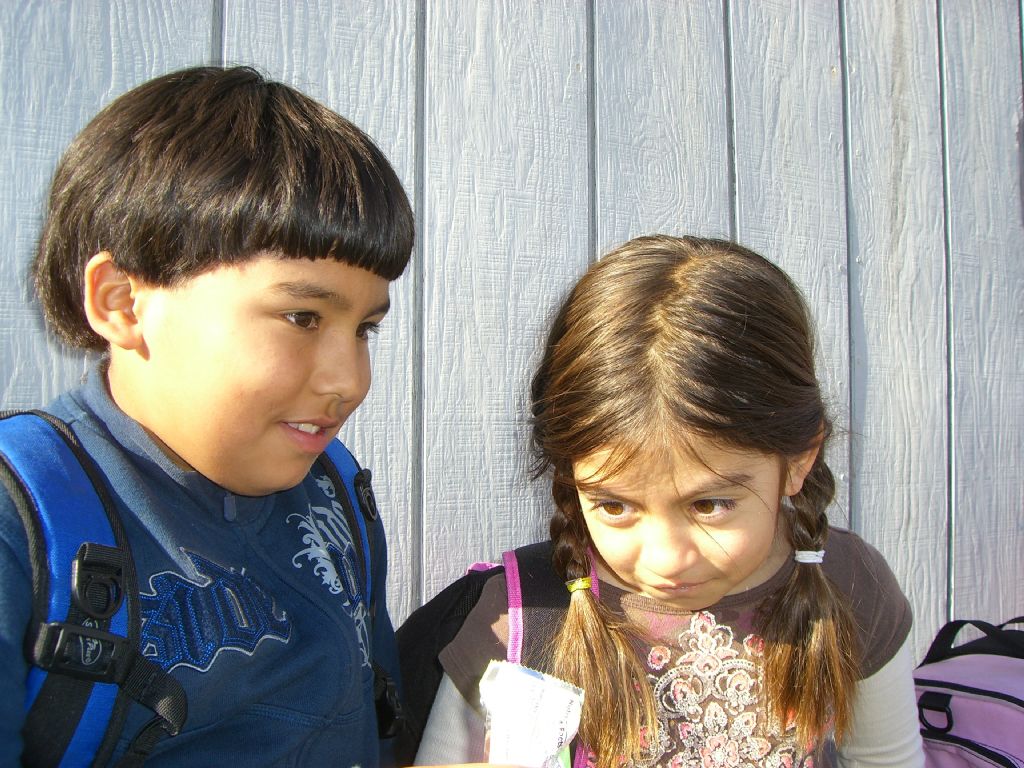 Zak and Sofi after school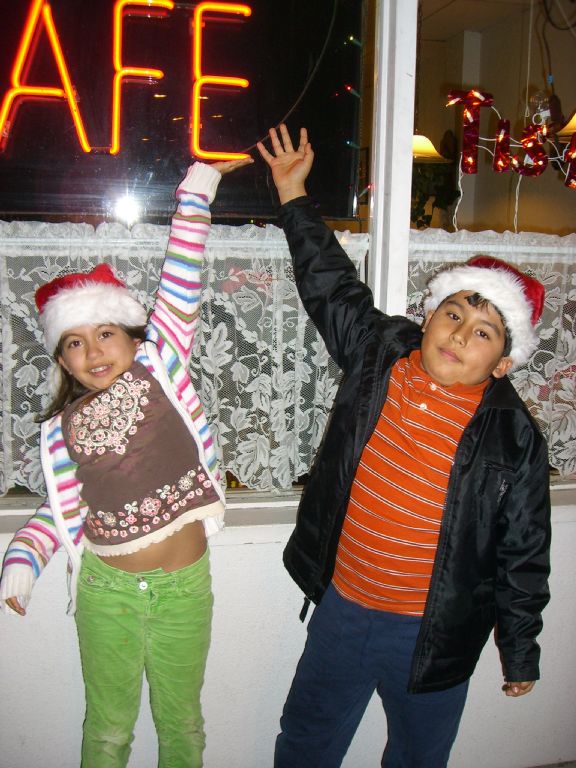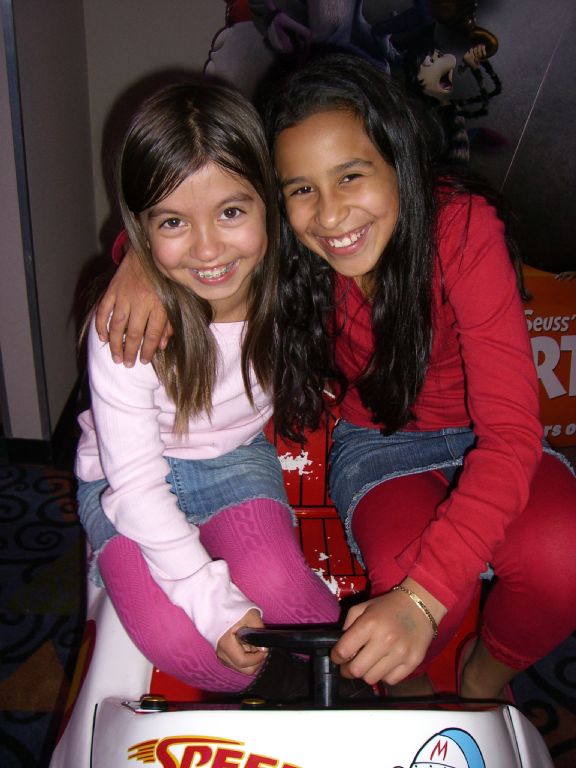 Sofi and Zak outside the Village Cafe Sofi and her friend, Marissa, sharing a ride at the Airport Theater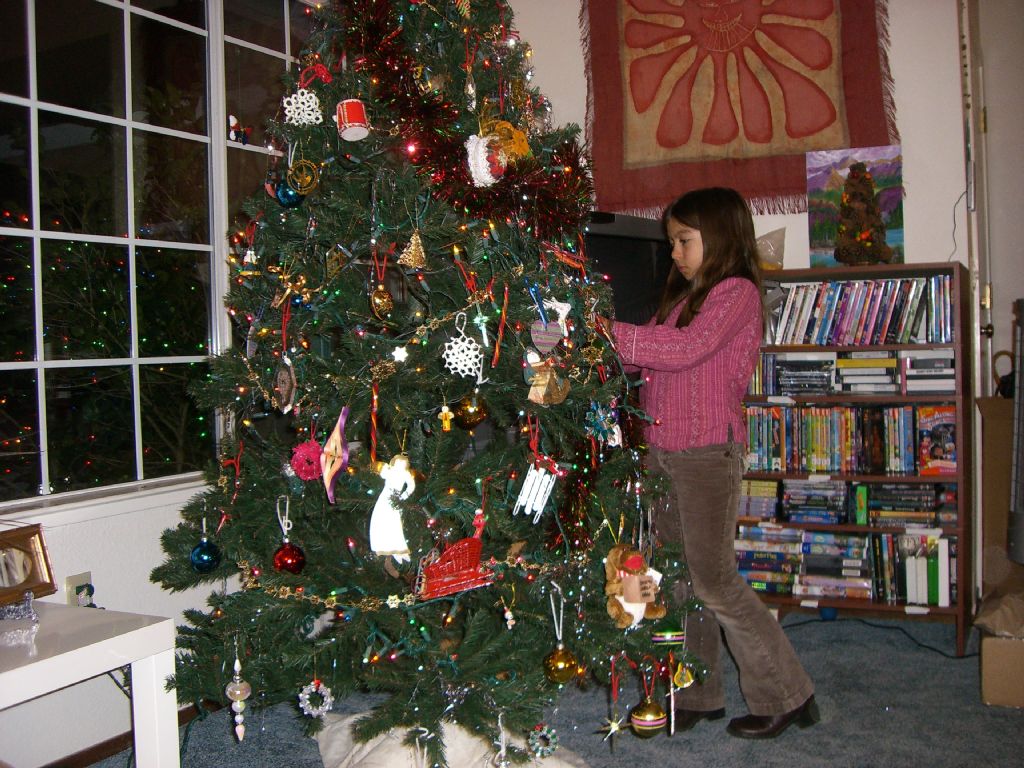 Sofi adjusts decorations on our Christmas tree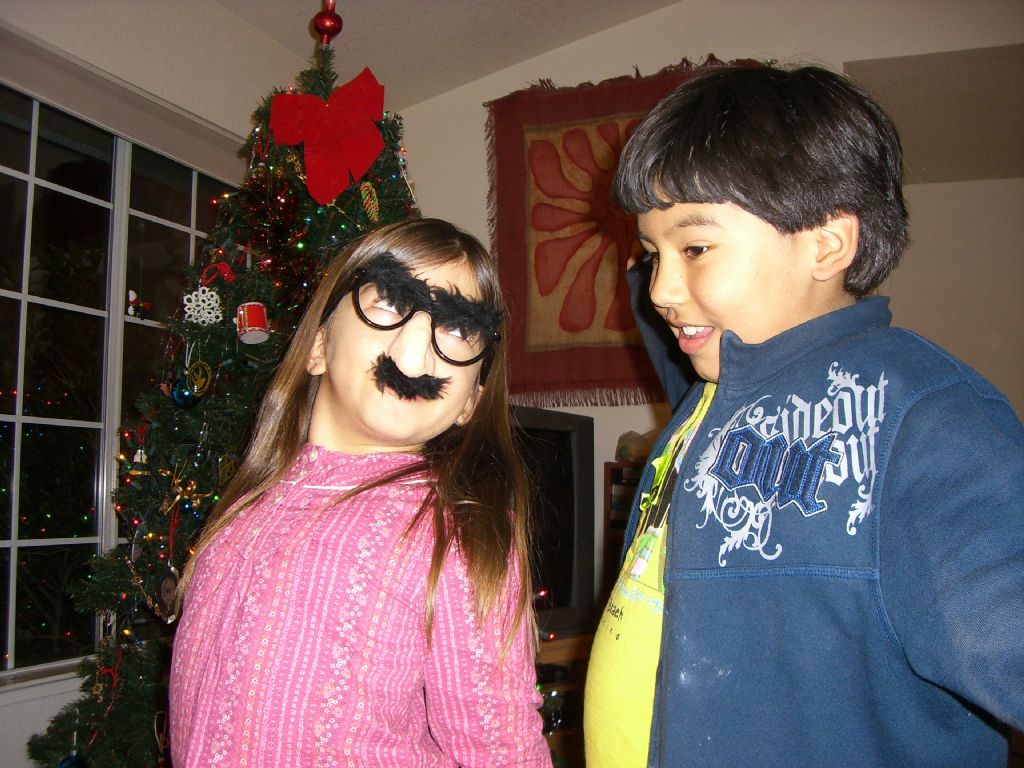 Groucho Sofi and Zak. We don't know why, but the Groucho glasses get stored with the Christmas decorations.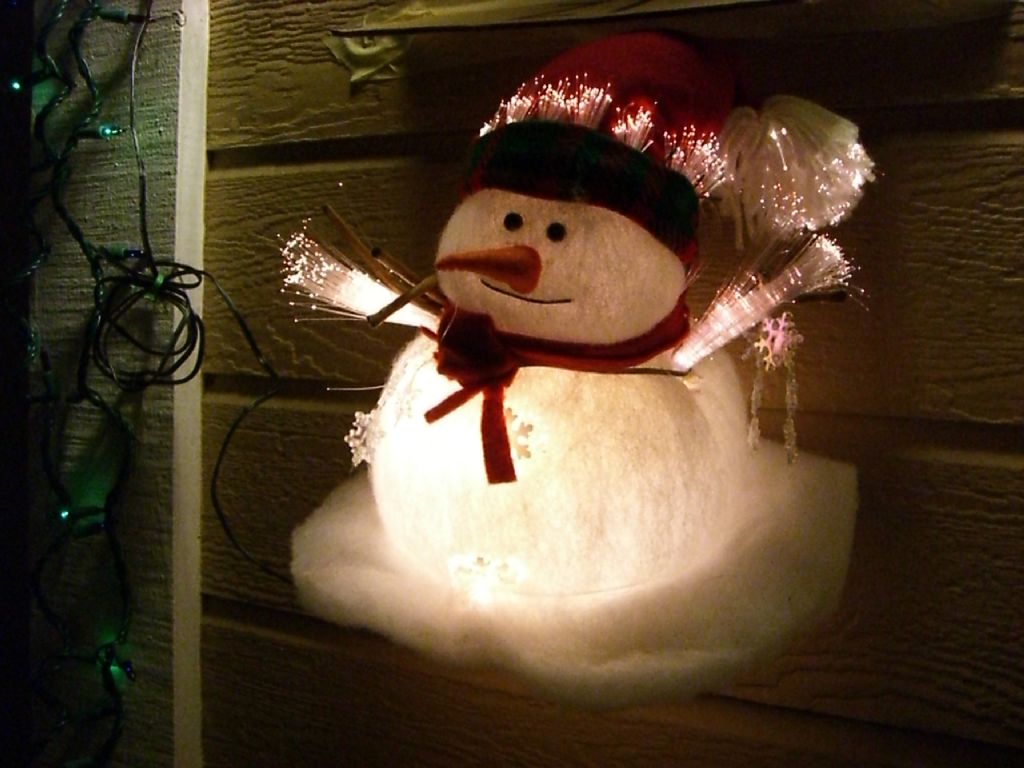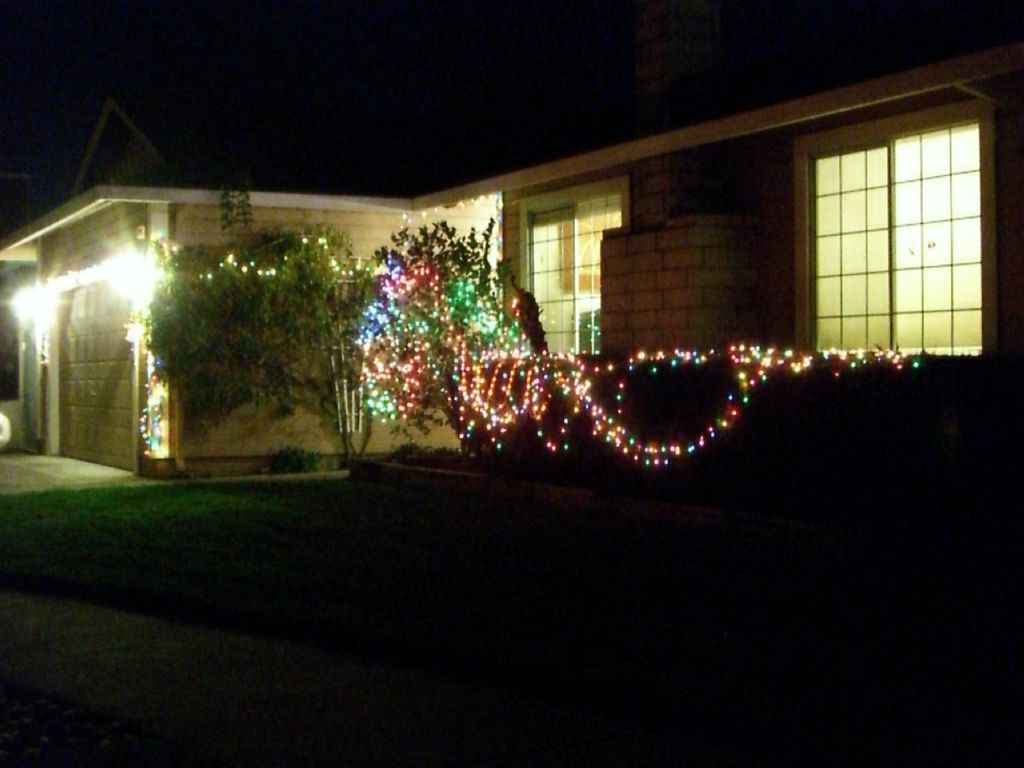 Christmas decorations on our house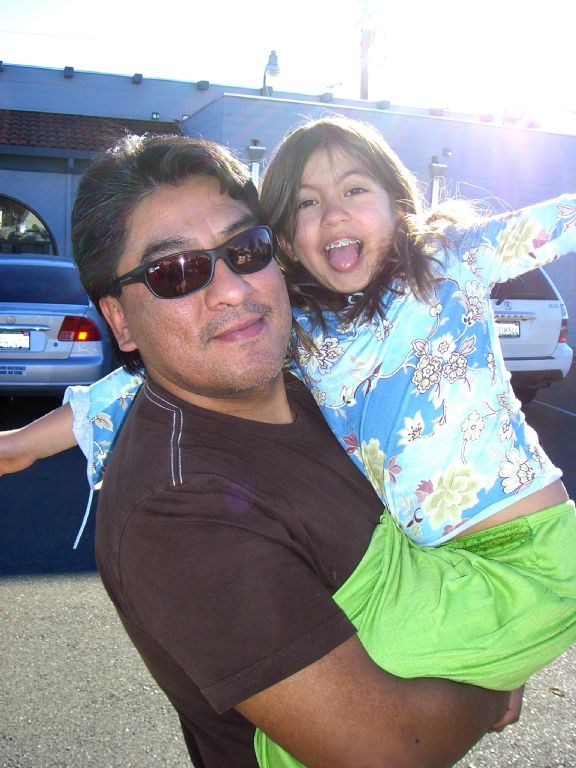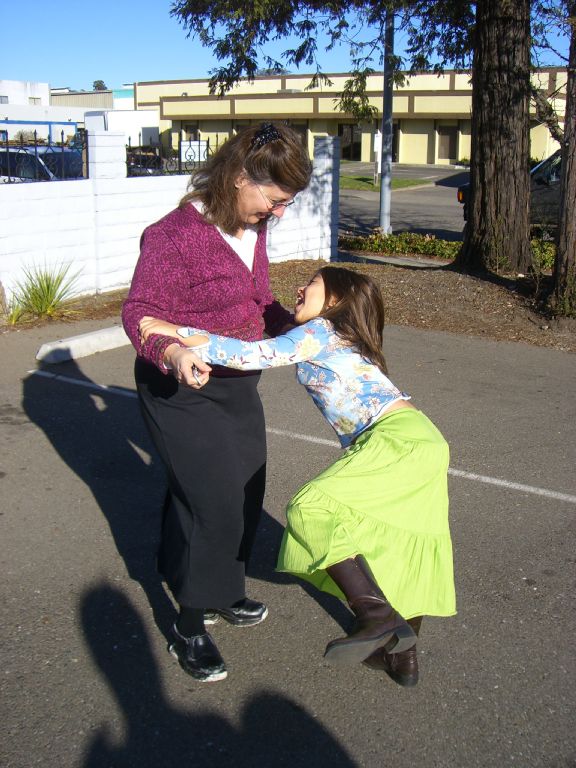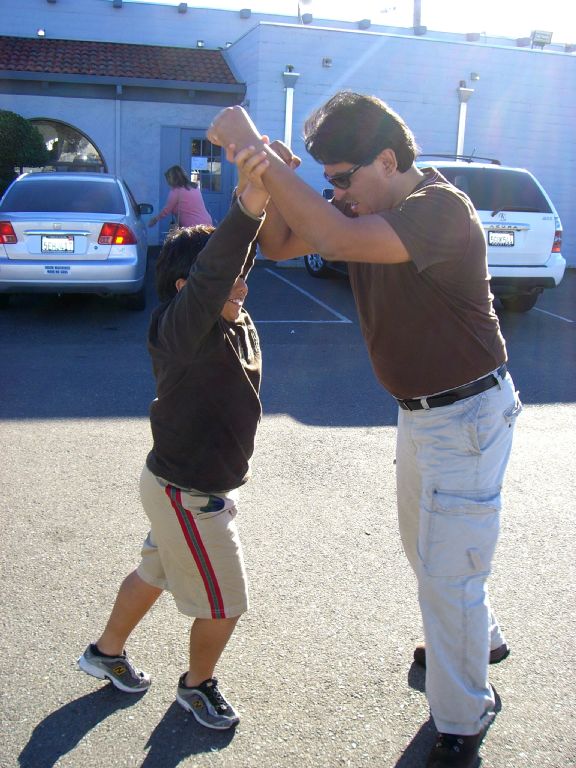 Edmundo, Sofi, Suzy, and Zak, outside the Piner Cafe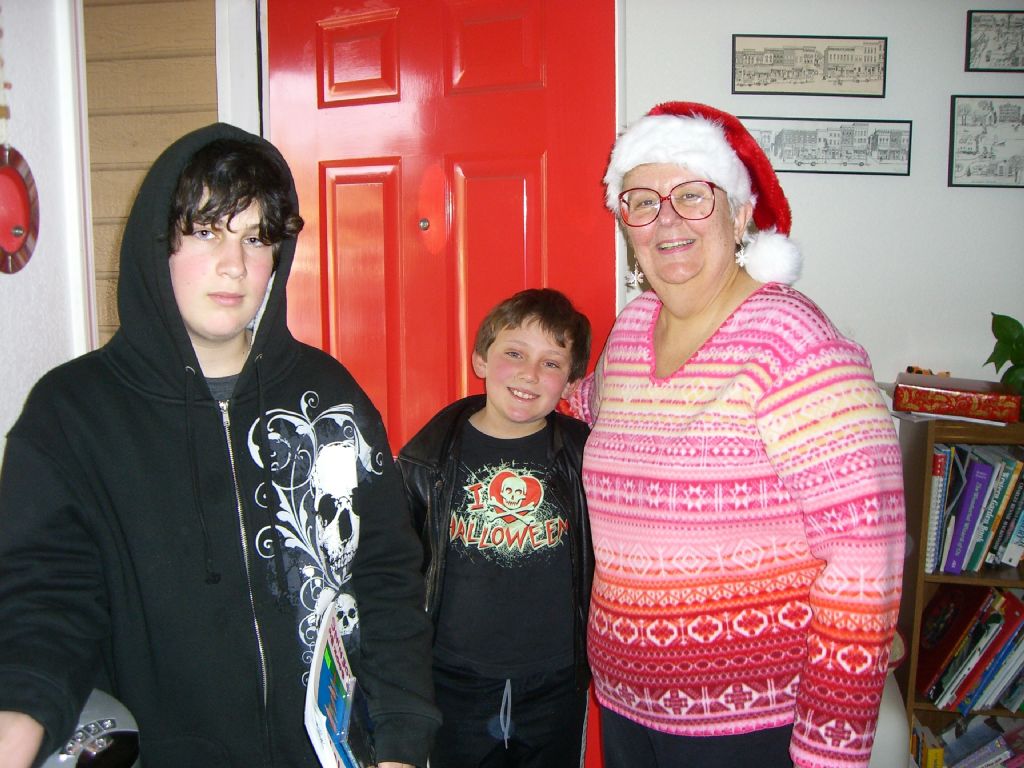 Cassidy and Francisco arrive for Christmas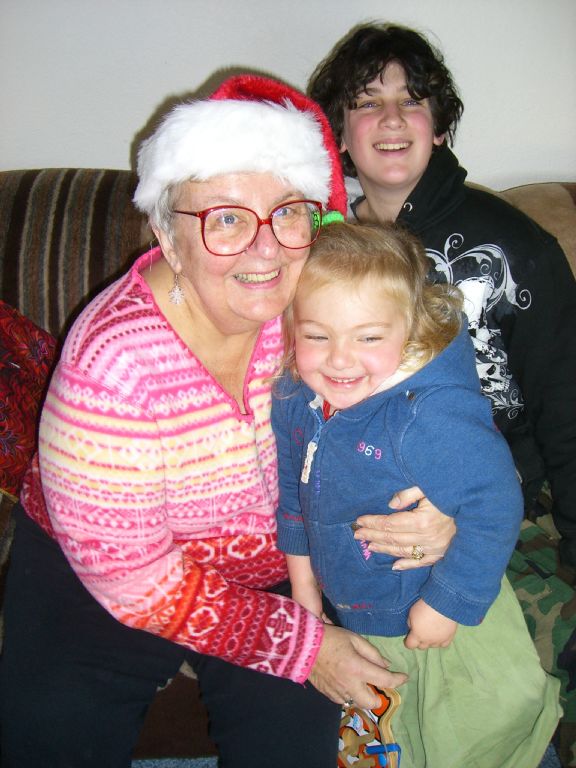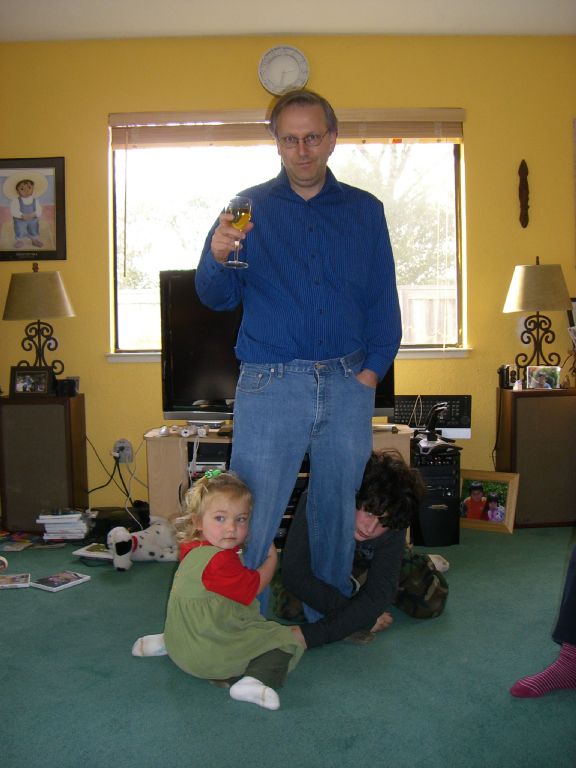 Isabelle greets Grammy Isabelle and Cassidy help Eric remain rooted to Earth,
despite momentary fluctuations the house's Sony Gravity
Generator.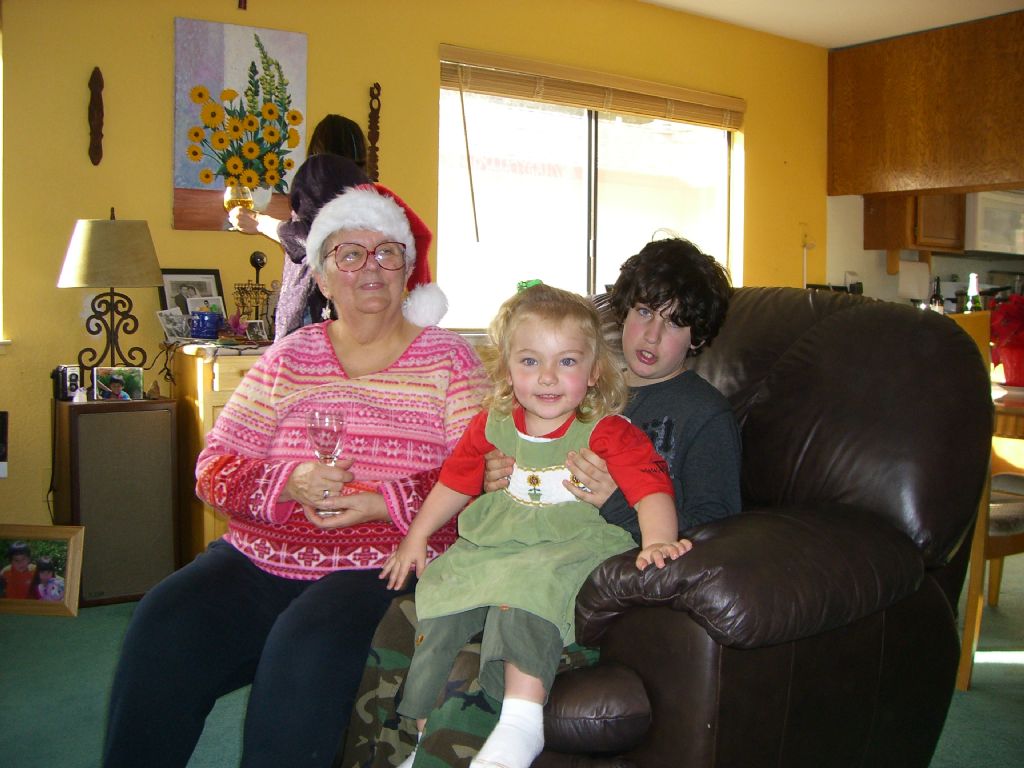 Grammy, Isabelle, and Cassidy await Christmas dinner at the Suzy's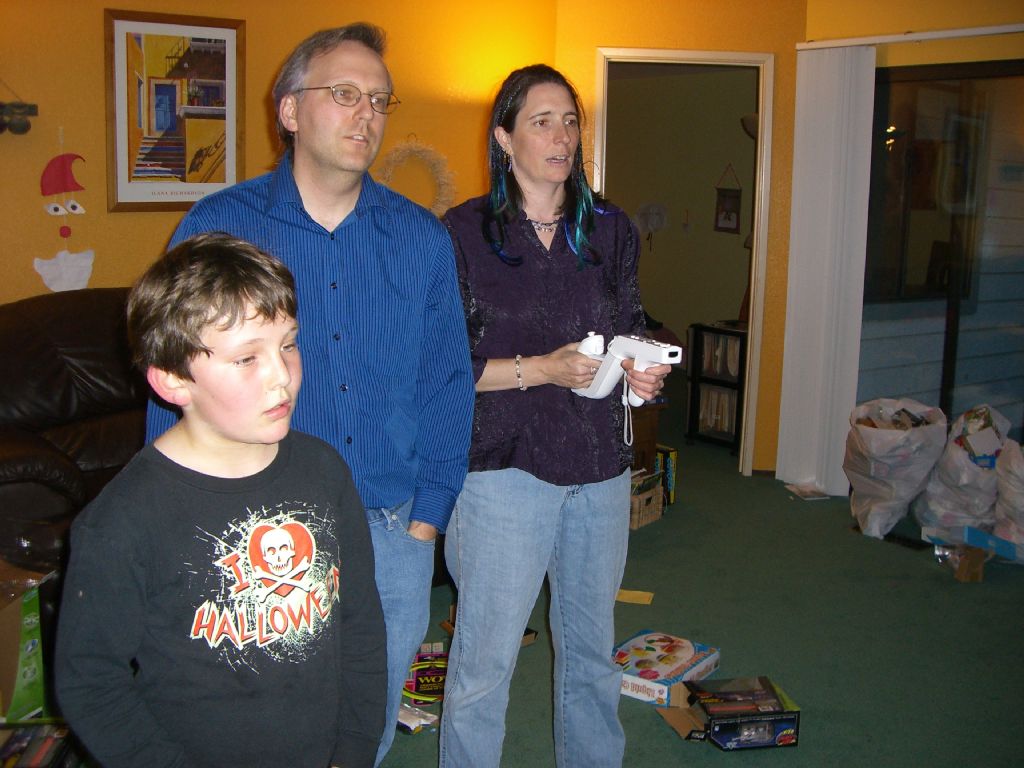 Francisco, Eric, and Sandra play Wii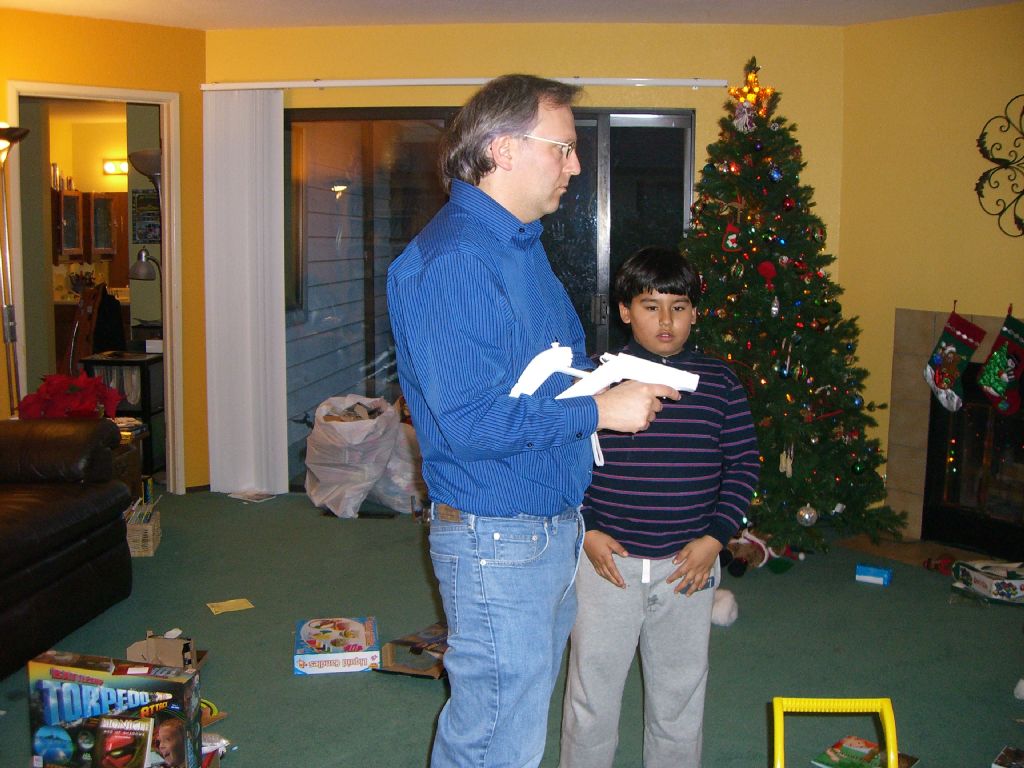 Zak explains the fine points of Wii to Eric

Isabelle and Sofi discuss fine points of grooming and makeup in Sofi's room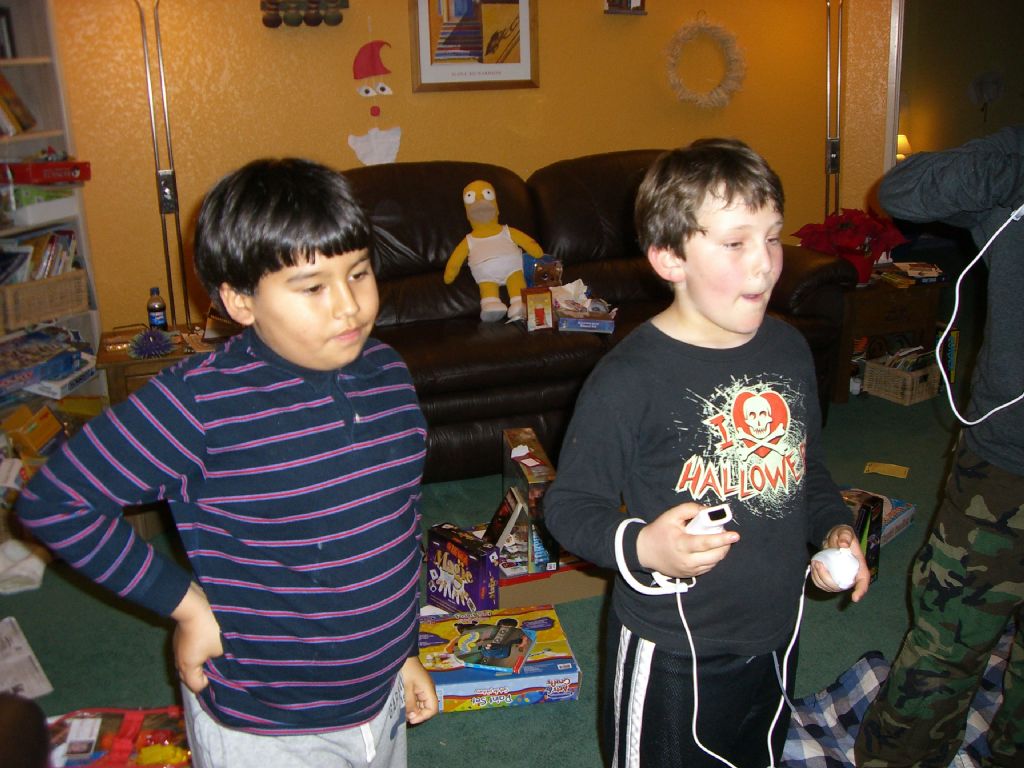 Zak and Francisco play Wii while Homer Simpson watches from the couch (thanks, Bob).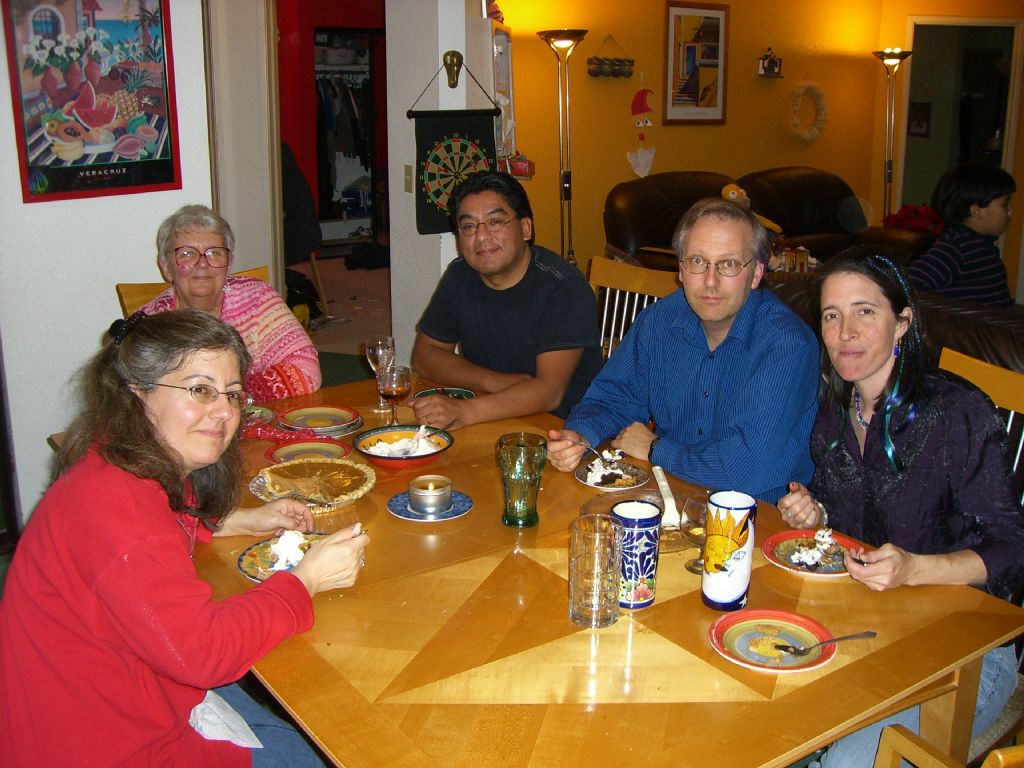 Pie after dinner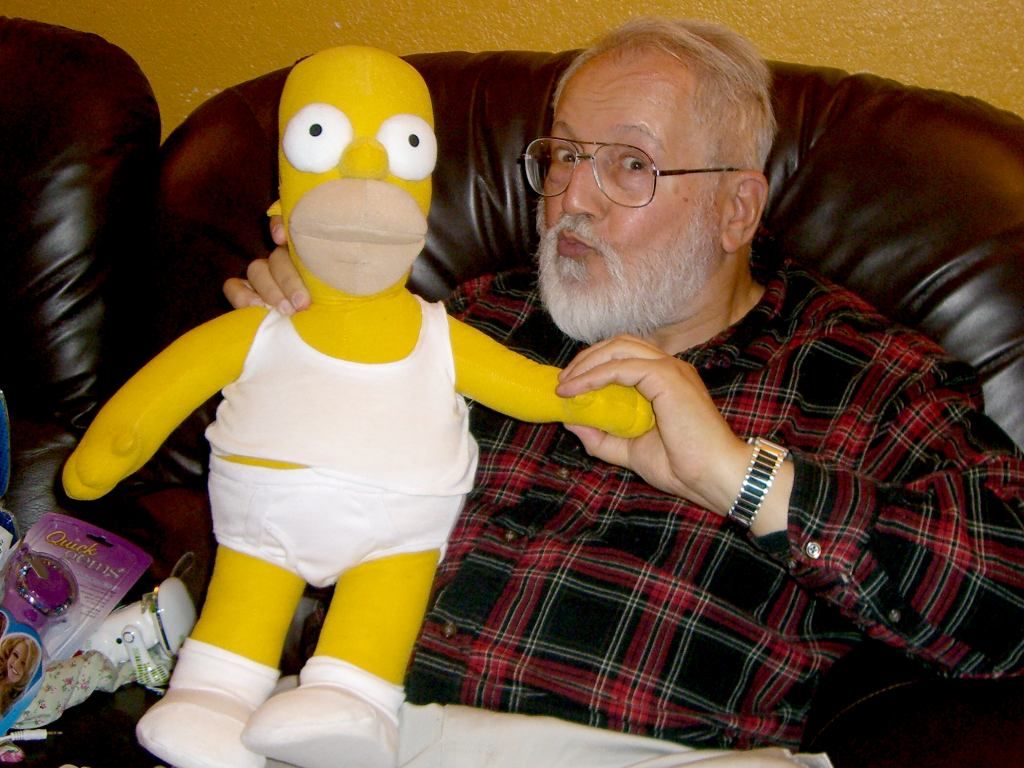 Grandpa really loves his Homer Simpson action figure.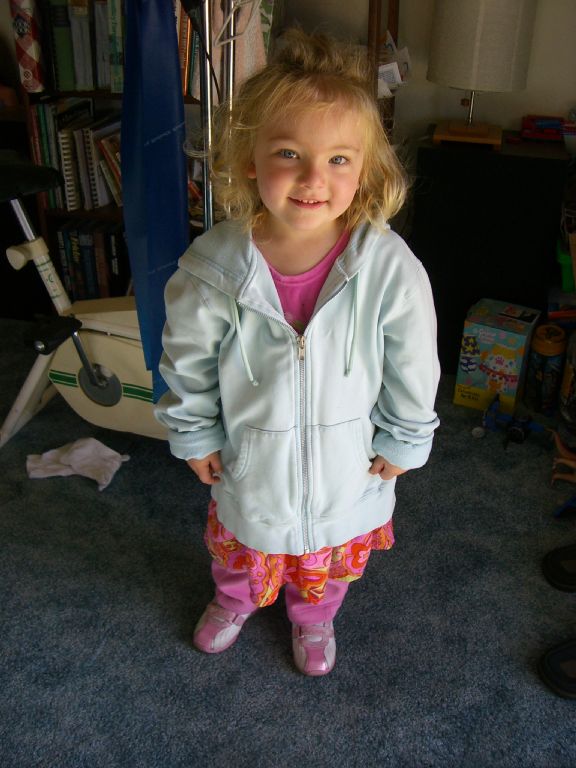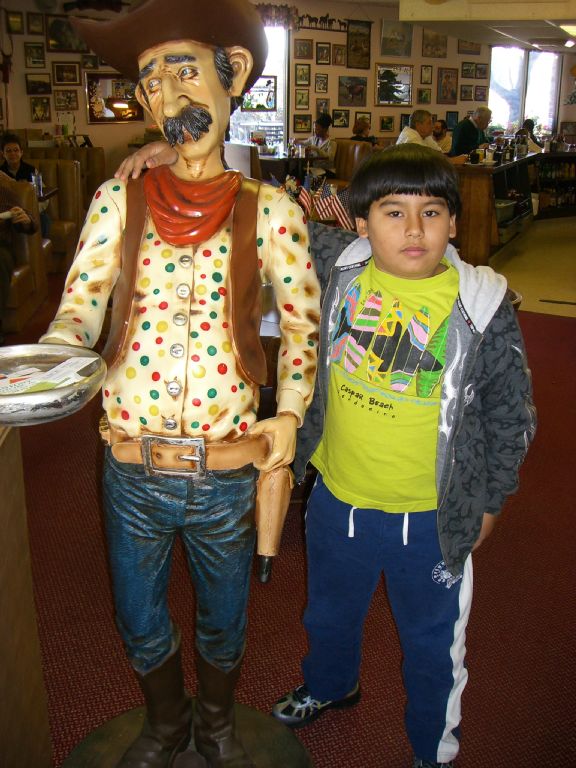 Isabelle in an oversize sweat shirt Zak and a fellow patron at the Farmhouse Restaurant in Sebastapol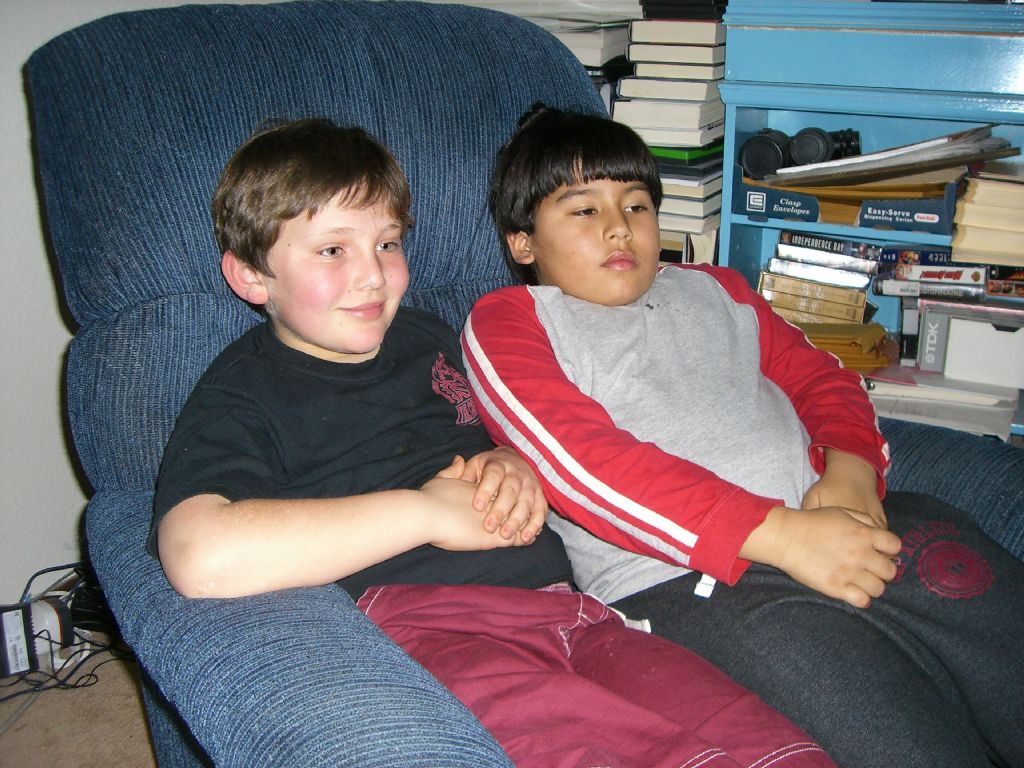 Francisco and Zak share Grandpa's big chair to watch a high-def video in the computer room.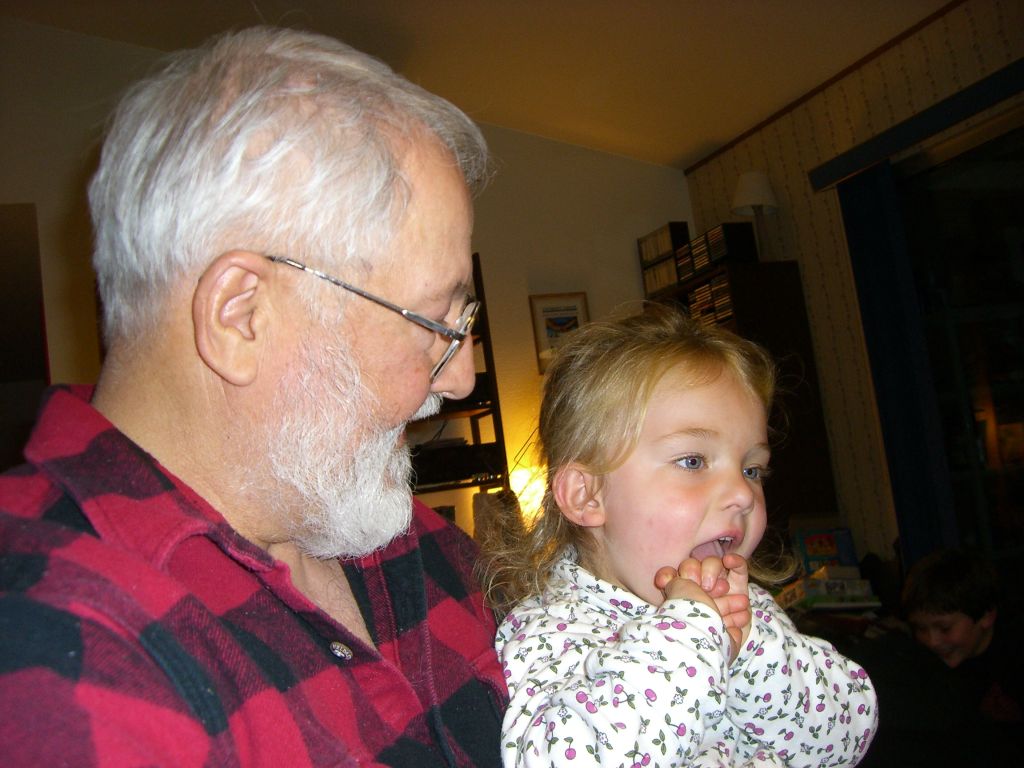 Grandpa and Isabelle watch a video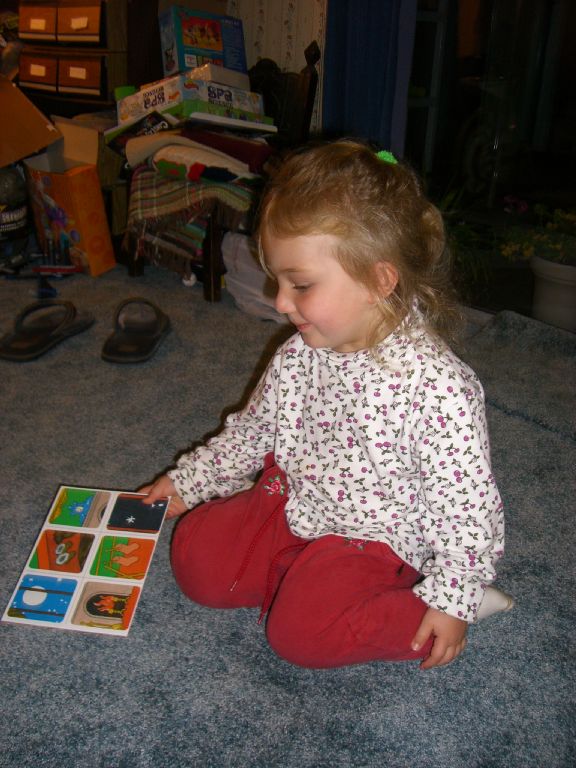 Isabelle plays a matching game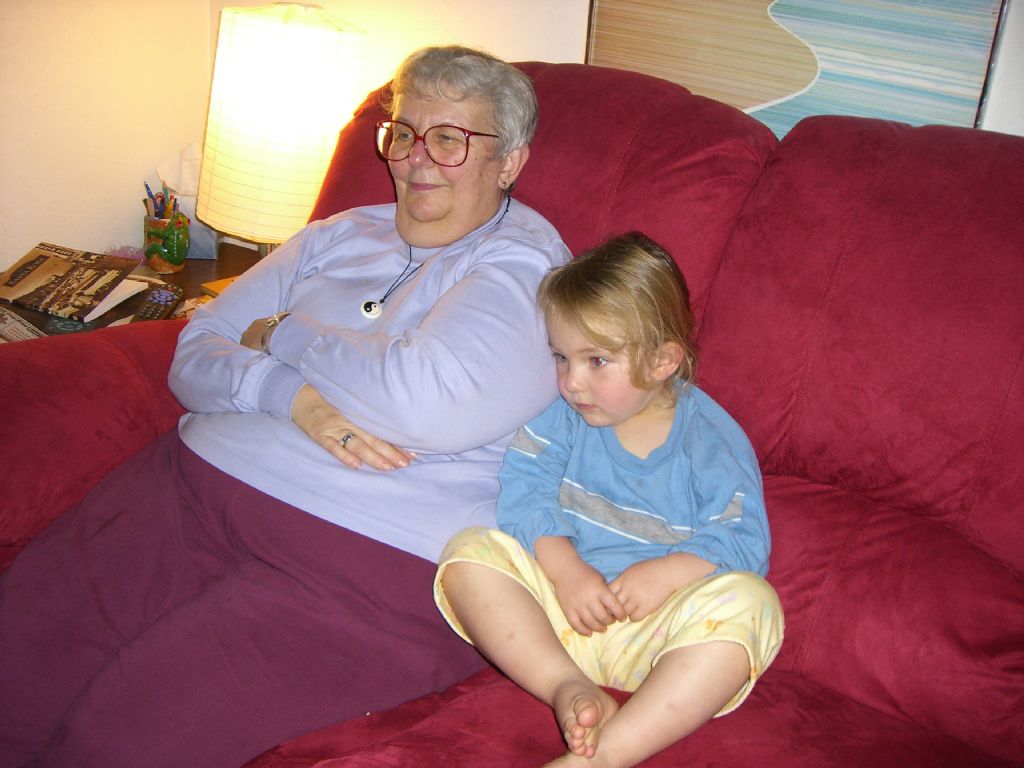 Grammy and Isabelle watch Teletubbies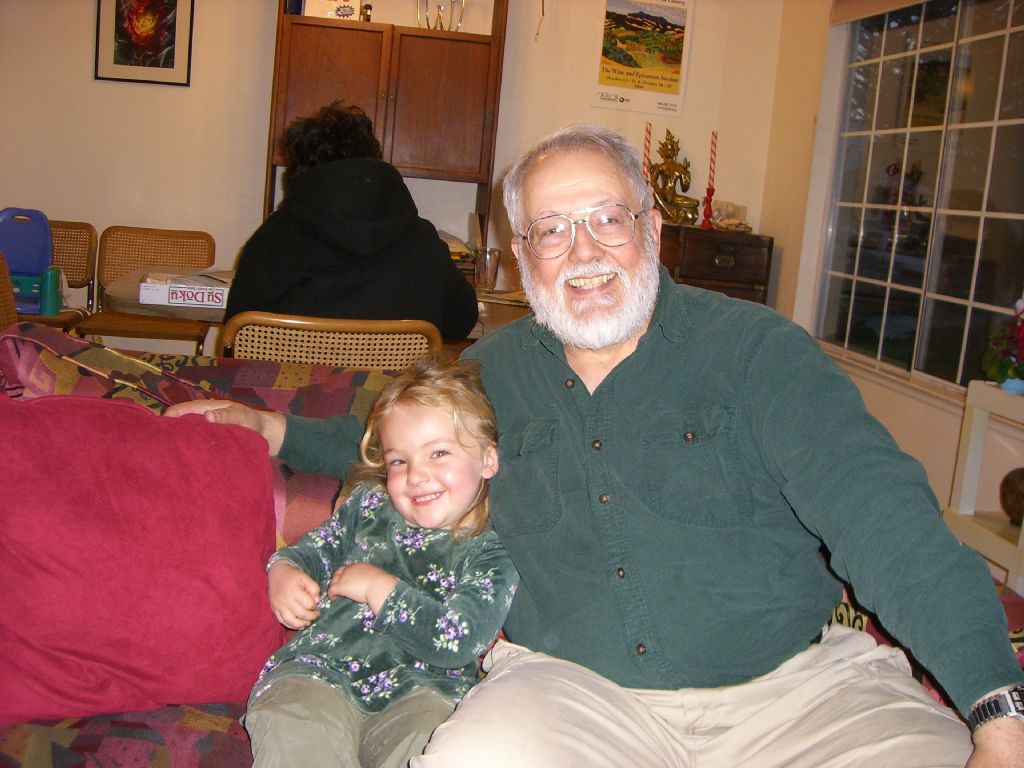 Isabelle sits with Grandpa on New Year's Eve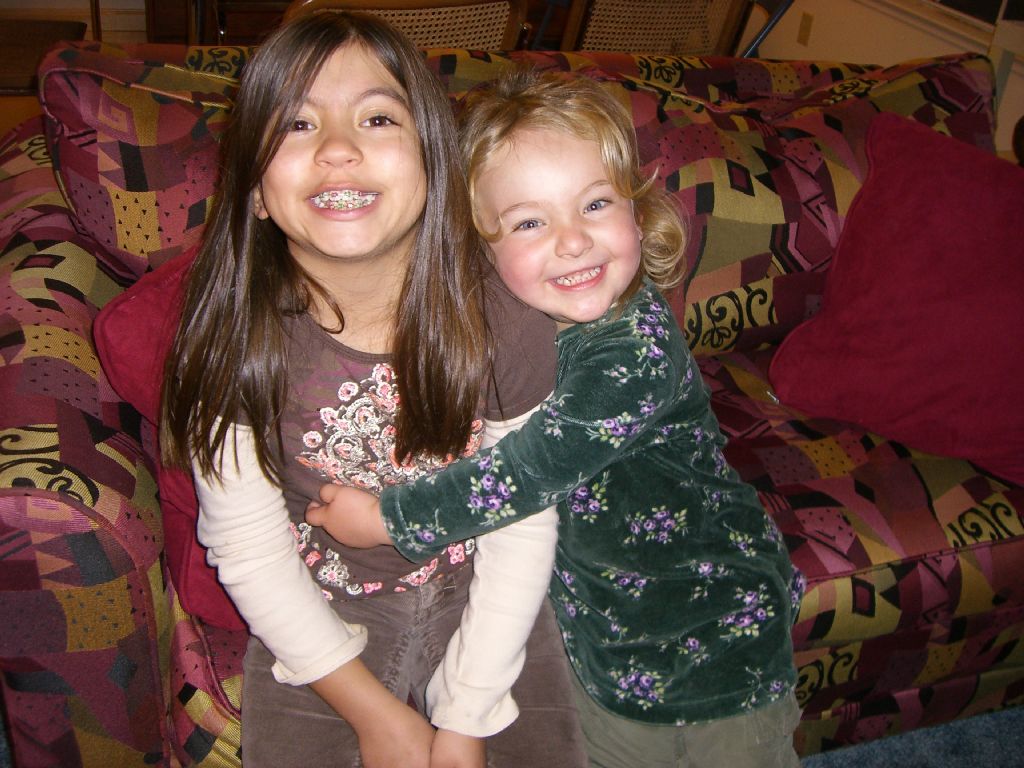 Sofi and Isabelle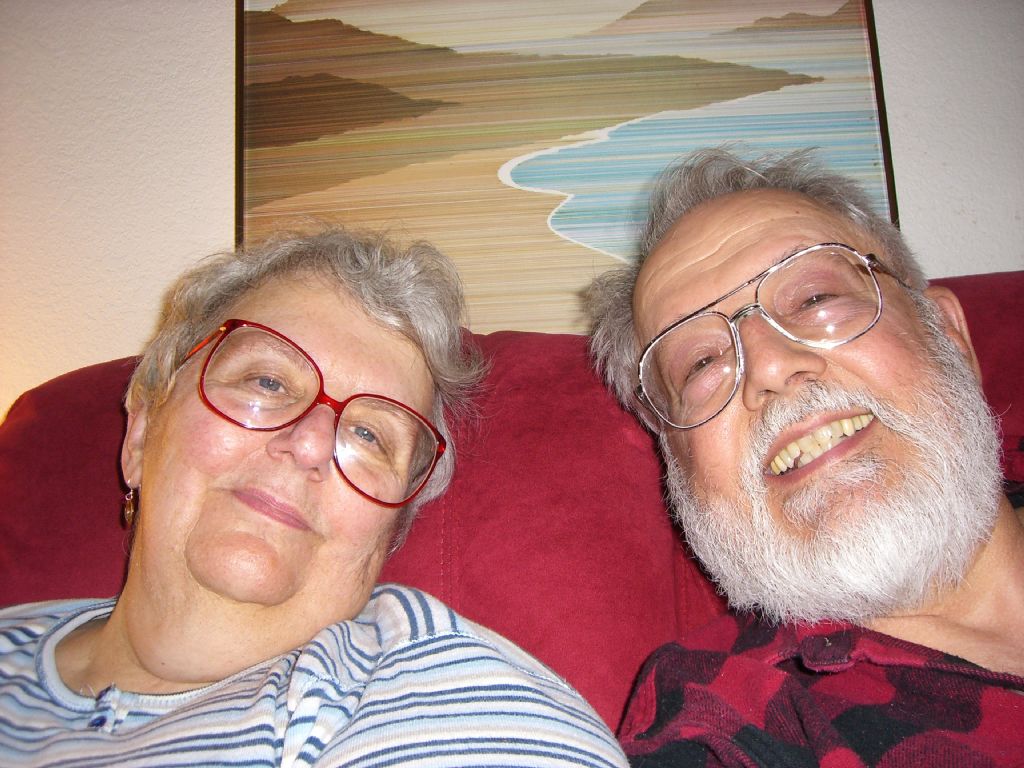 Grammy and Grandpa -- we stayed up past our usual bedtime.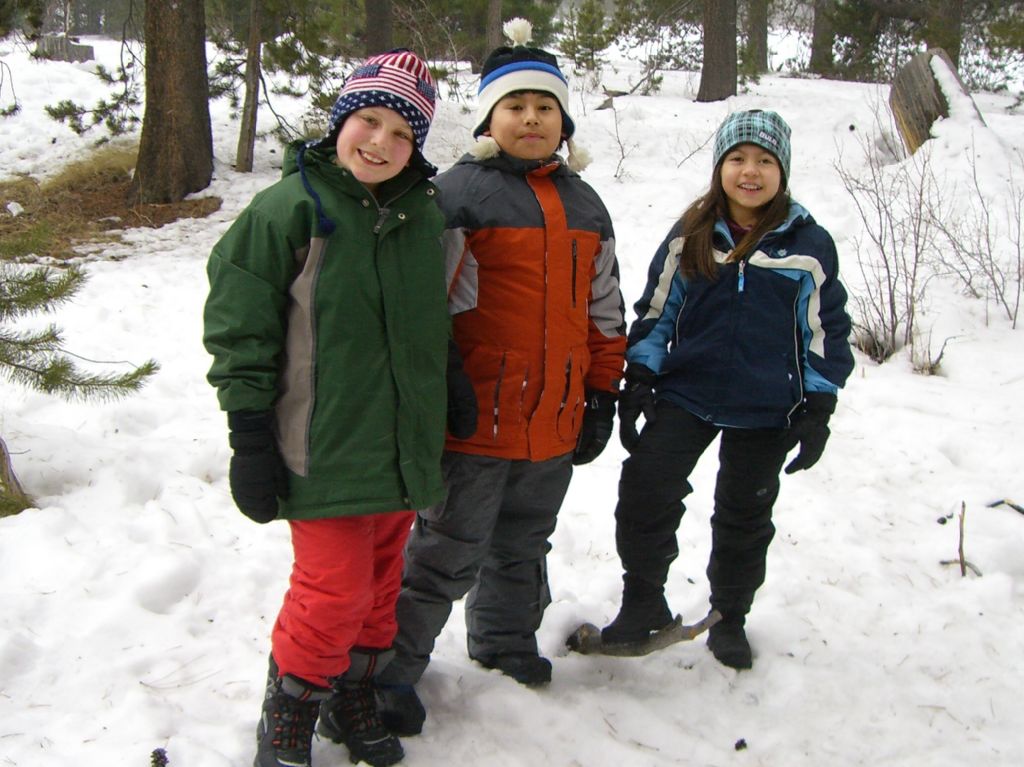 On January 3, 2008, in the face of dire weather forecasts ("five feet of snow expected in the Sierras"),
we went to Truckee, California, to play in the snow. Our motel was 50 feet from where the legendary
Donner Party spent the winter of 1846-1847. At first, the weather was fine.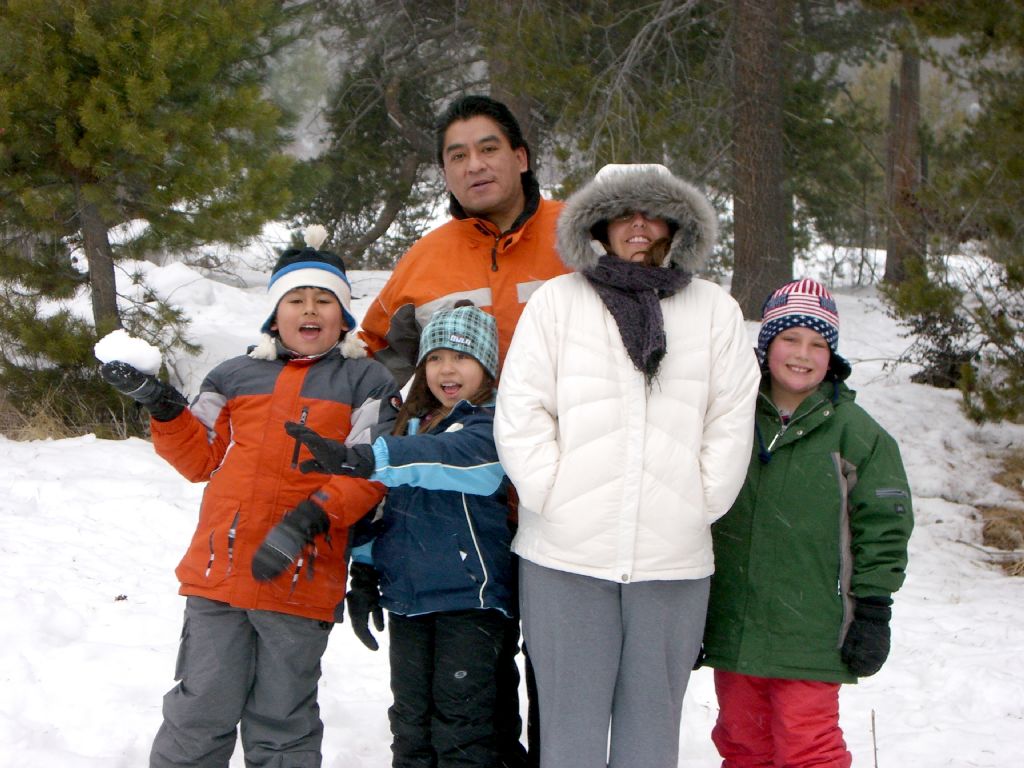 "We" consisted of Zak, Sofi, Edmundo, Suzy, Francisco, and Grandpa (taking the picture).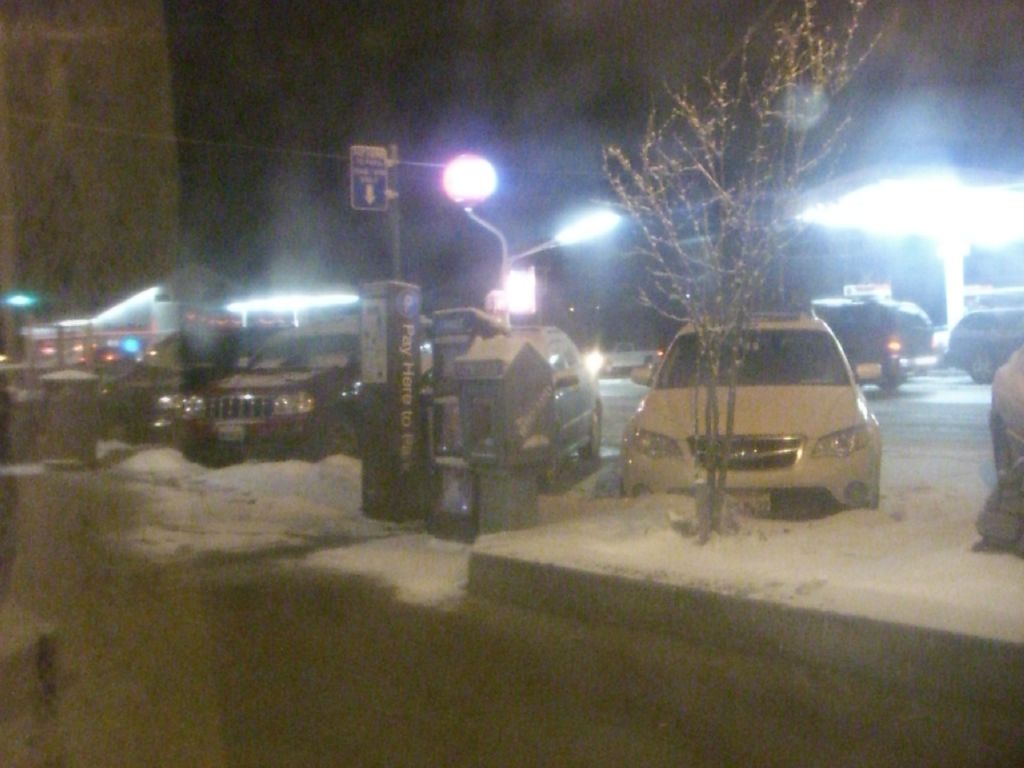 That evening we had dinner in a nice restaurant in Truckee. It was snowing lightly.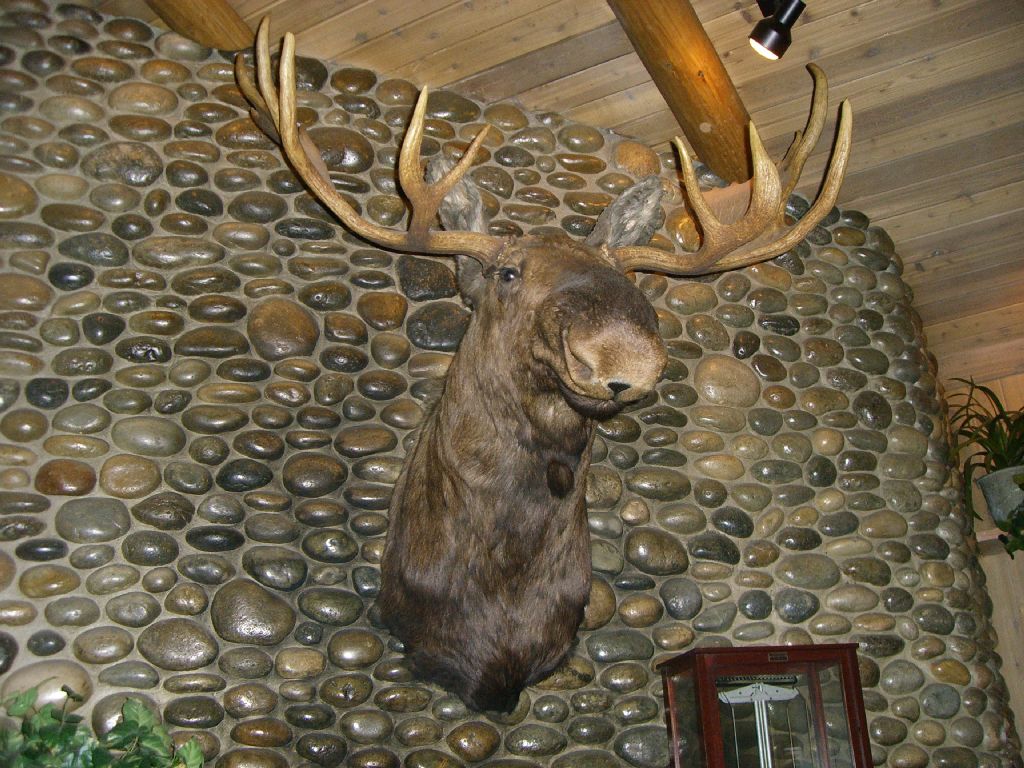 The next day it was raining hard. We couldn't play in the snow, so we decided to go to Reno, just 30 miles east of us. We had lunch at the
Claim Jumper restaurant. The wind was blowing very hard outside, but we and our friend, Bullwinkle, were cozy.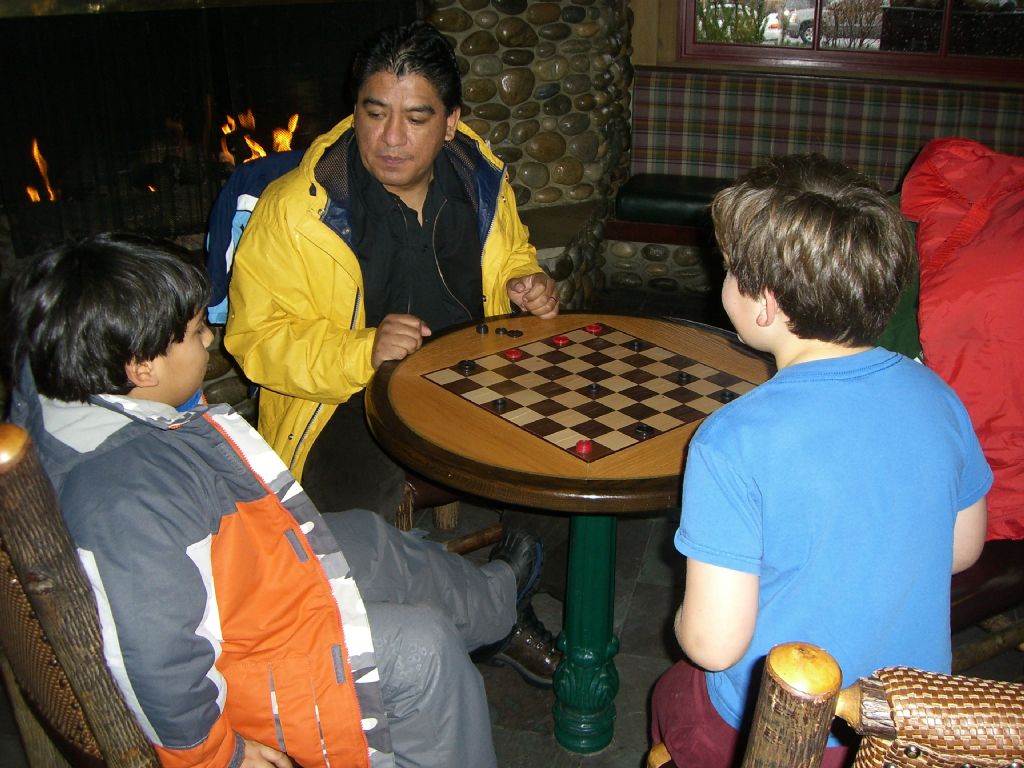 We played checkers while we waited for our table.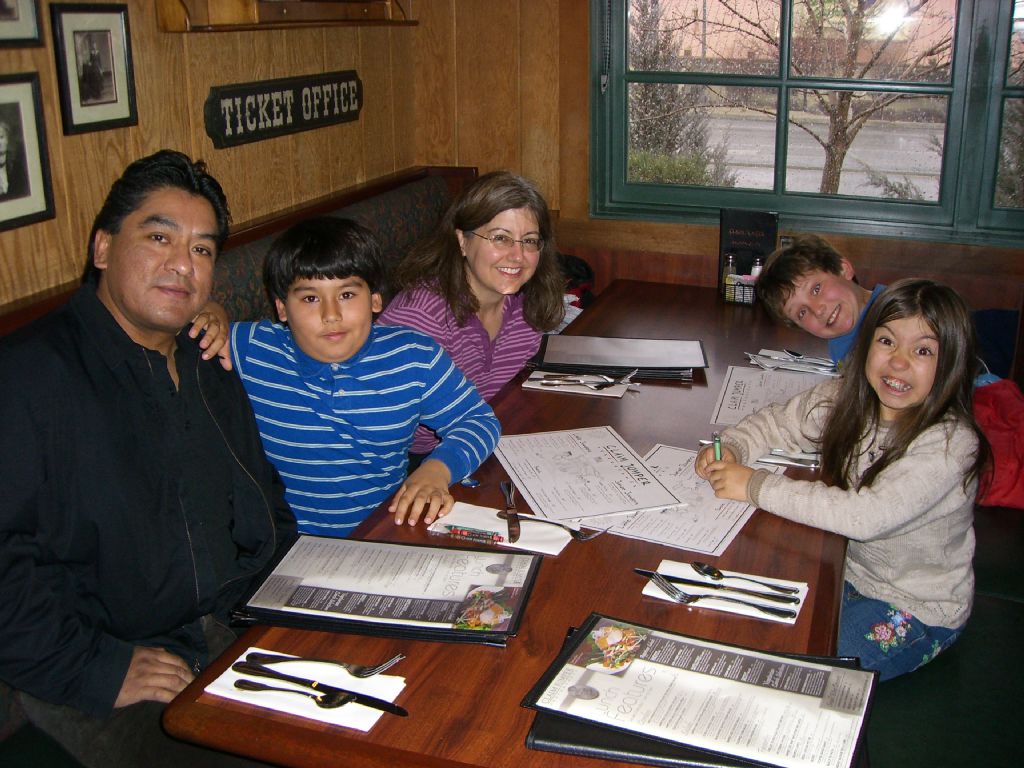 We had a nice lunch. It continued to rain and blow outside.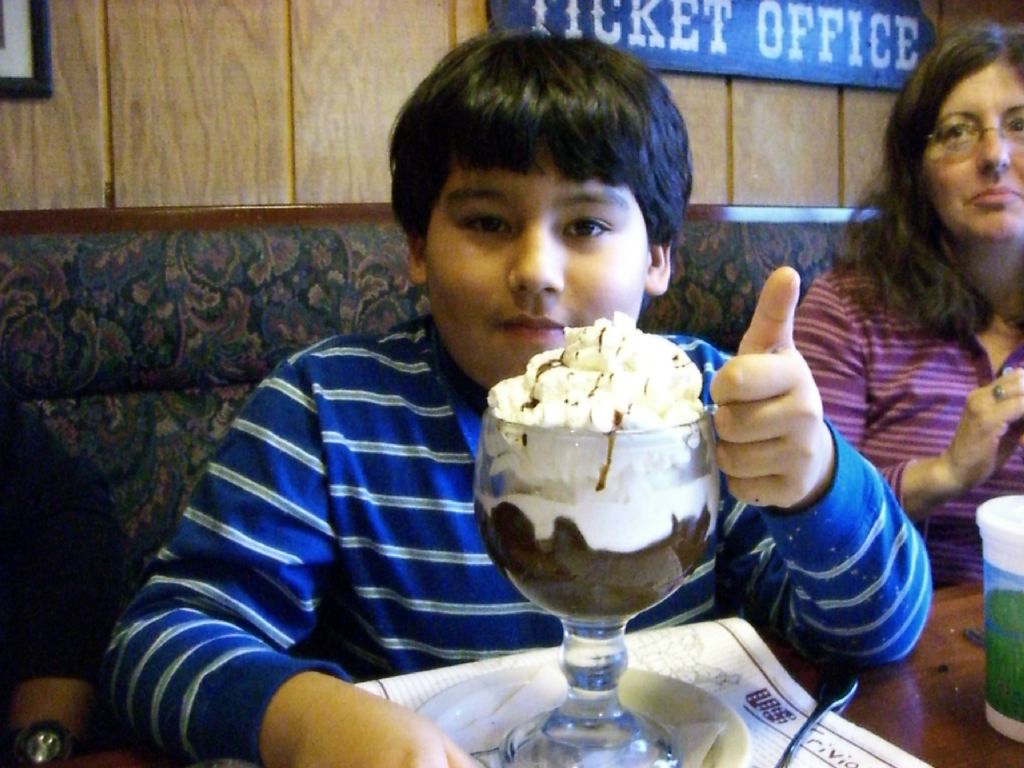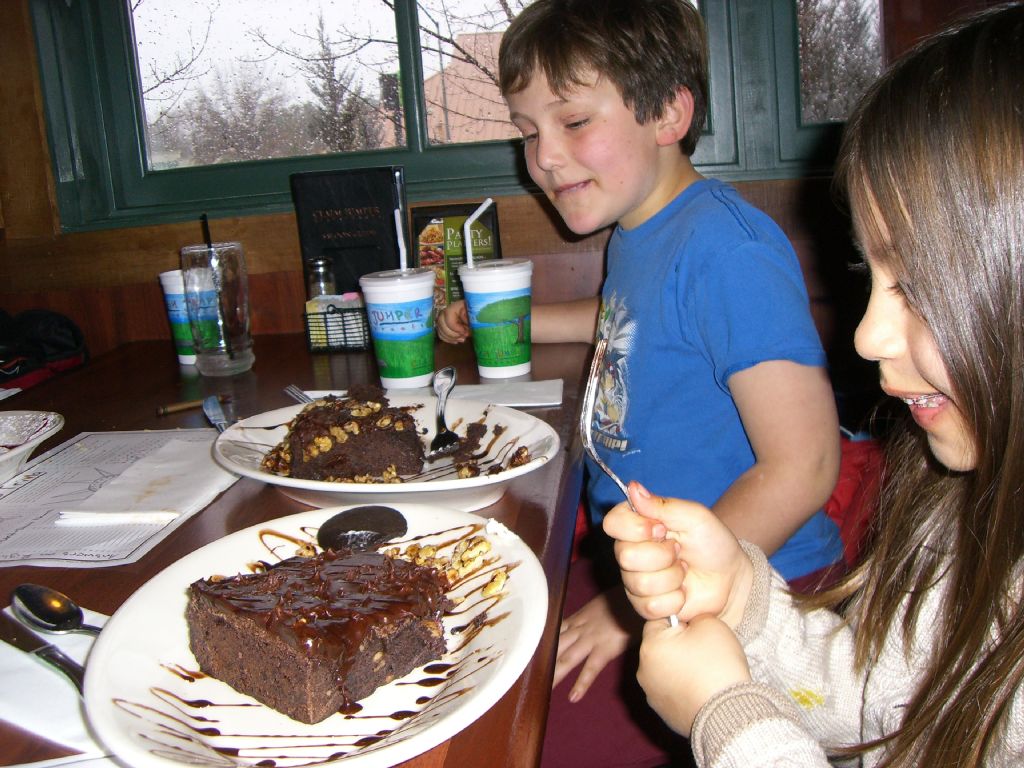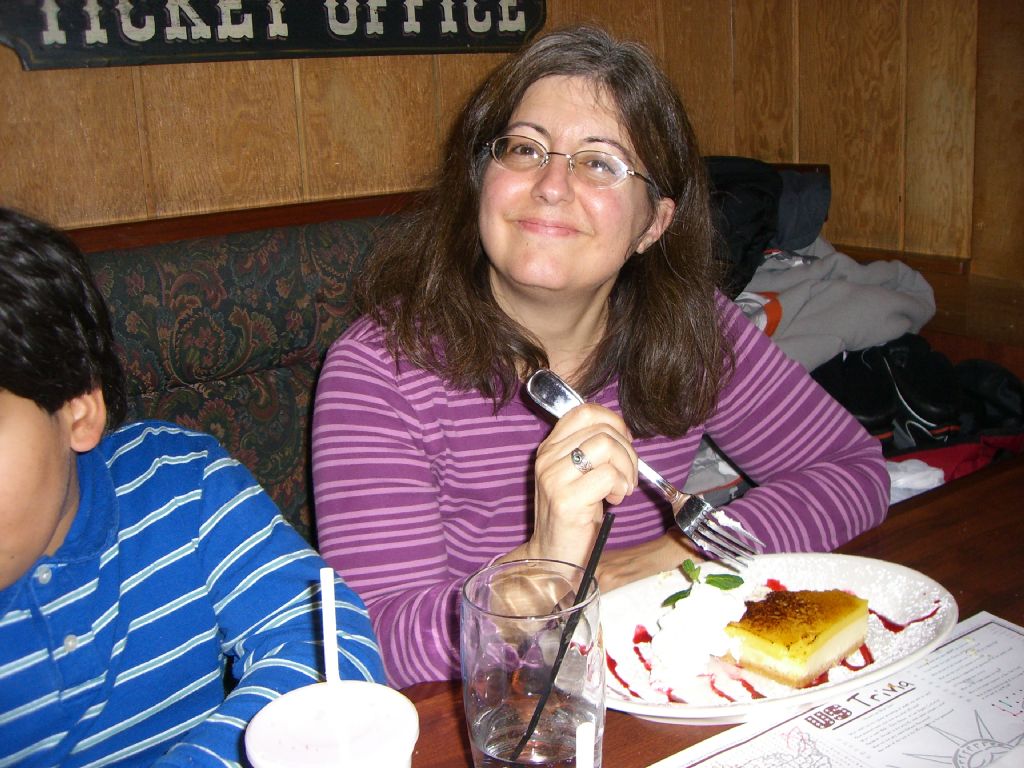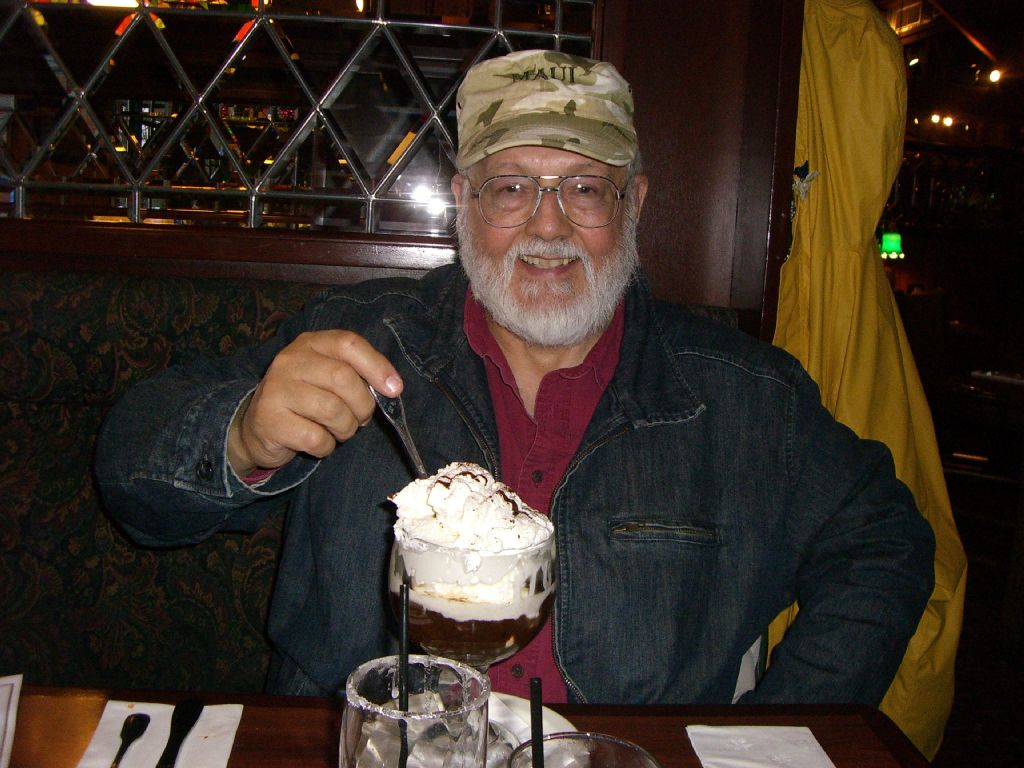 The desserts were a big hit.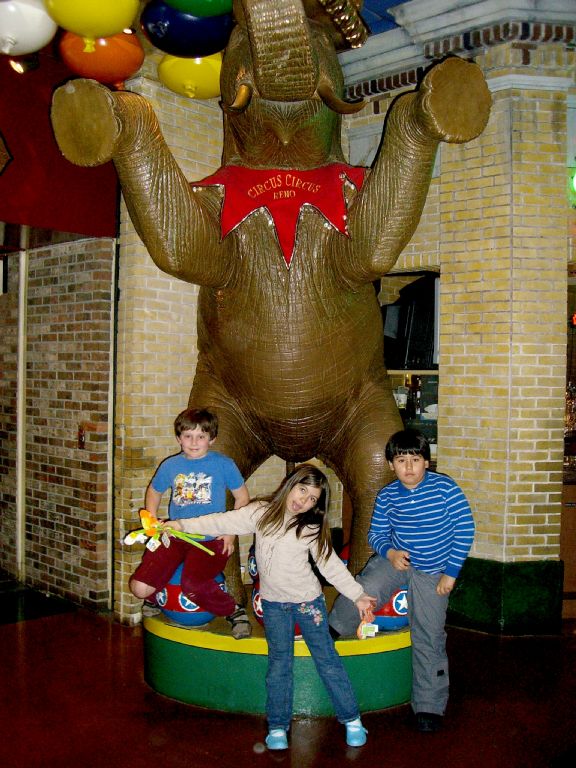 Then we went to Circus Circus. The kids enjoyed the acts.
That evening we tried to leave Reno to go back to Truckee. Some time in the afternoon the rain had changed to snow. We had a rented 4-wheel-drive Lincoln Navigator (a tank), so in combination with Grandpa's legendary snow-driving skills the snow presented no serious problems in terms of mobility. But we only got about 12 miles west on I-80 when the road was closed due to poor visibility from blowing and drifting snow ahead of us in the high mountain passes. We turned around and went back to Circus Circus, where we quickly booked 2 rooms. The kids were delighted -- the rooms had video games. Though we had no luggage (e.g. no toothbrushes) because all our stuff was at the motel in Truckee, we felt fortunate because we were warm and safe. We went to dinner in a buffet restaurant at the hotel...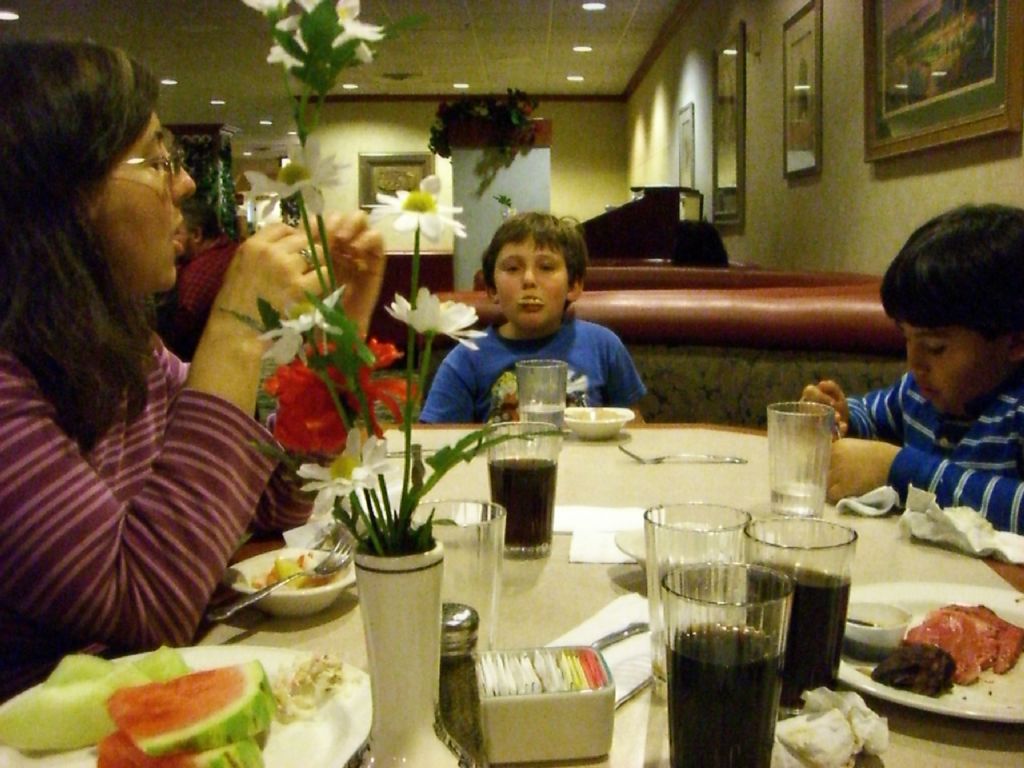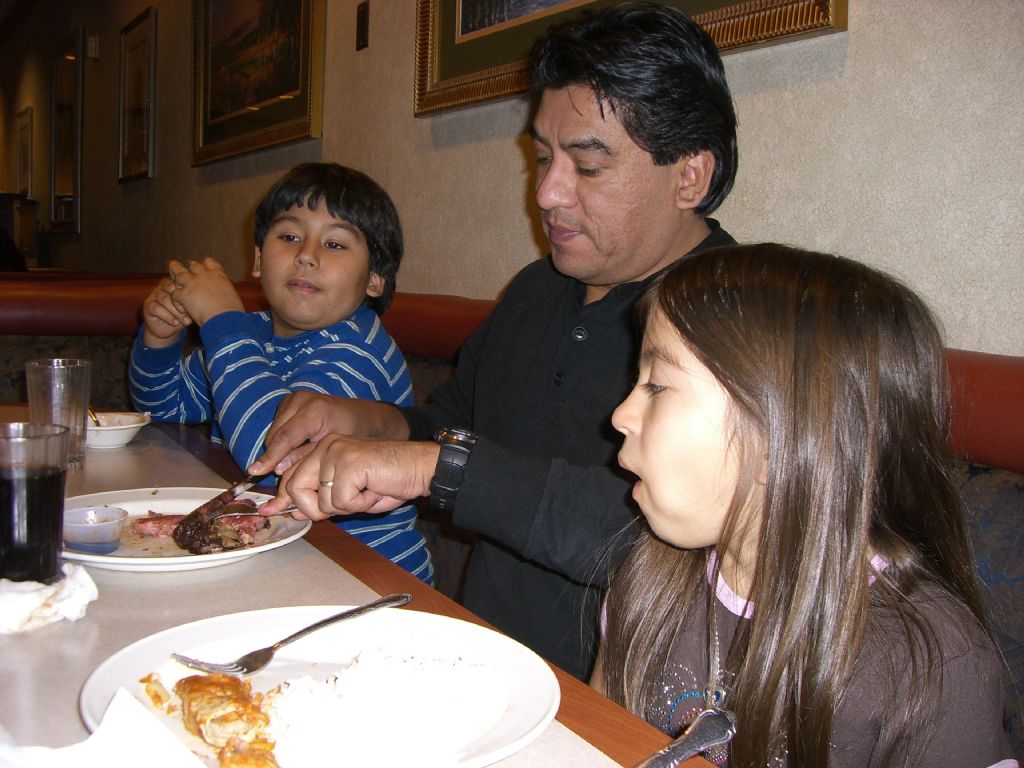 ...and then the electric power went out! Emergency power came on and we made our way out of the restaurant. We passed a convenience store where we bought toothbrushes and toothpaste. Edmundo went to the garage and got the emergency box that Grandpa always carries in his car. It had flashlights, food, and blankets! The elevators were running, so we went up to our rapidly-cooling rooms and prepared to sleep under lots of blankets -- and then the power came back.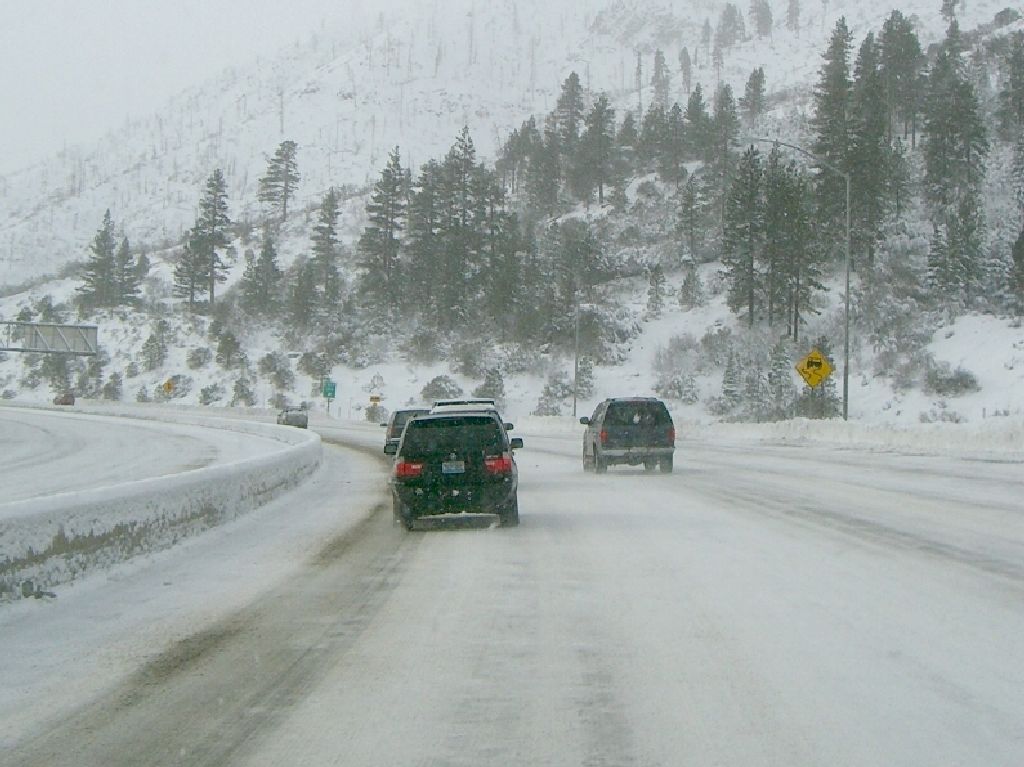 .
The next morning Interstate 80 opened briefly. We grabbed the opportunity and drove back to Truckee. The highway closed soon after we got back.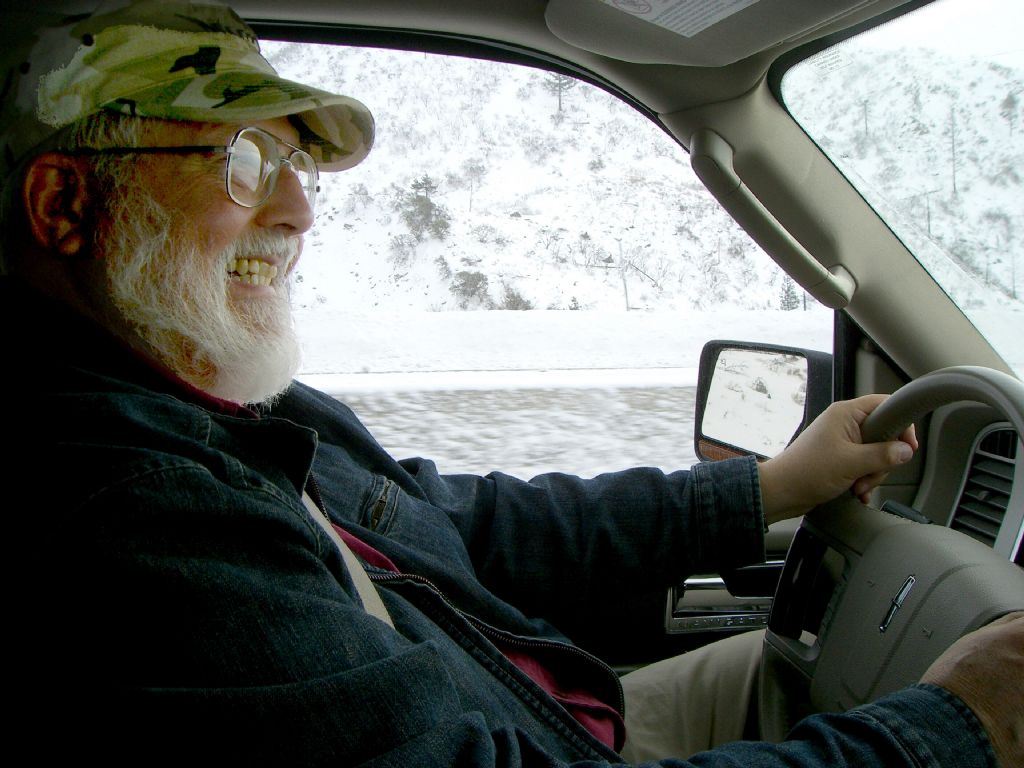 Grandpa enjoyed the opportunity to drive in snow again. We got to Truckee, showered, and found a store that sold sleds.
Then we played in the snow -- which was falling more and more heavily.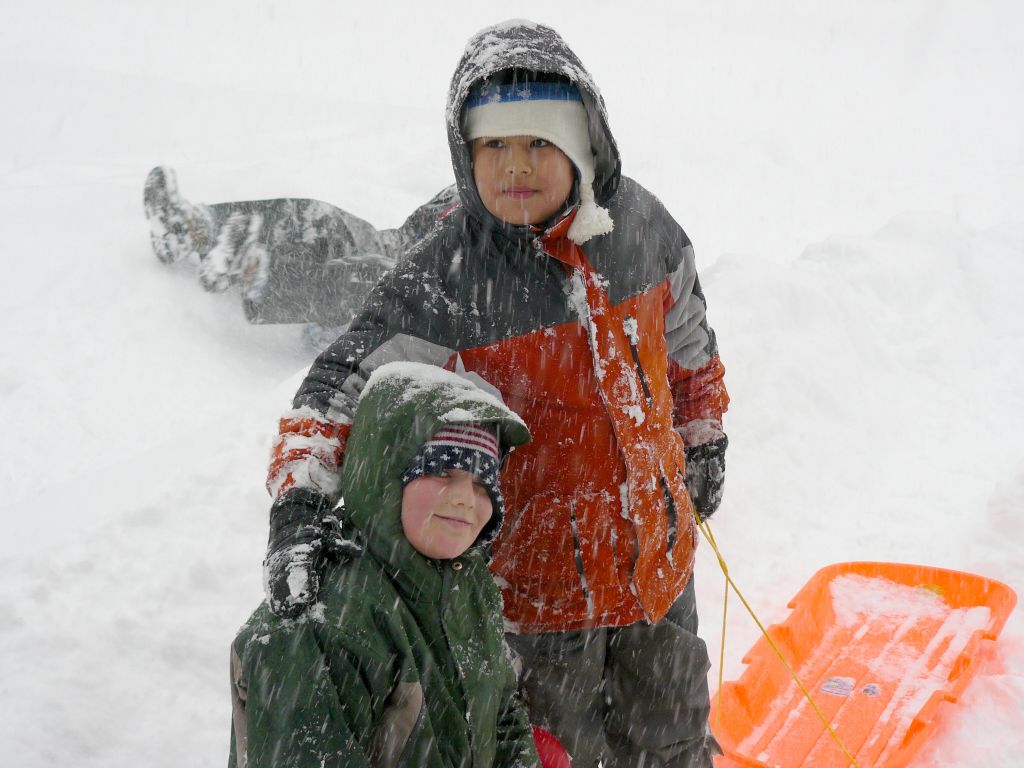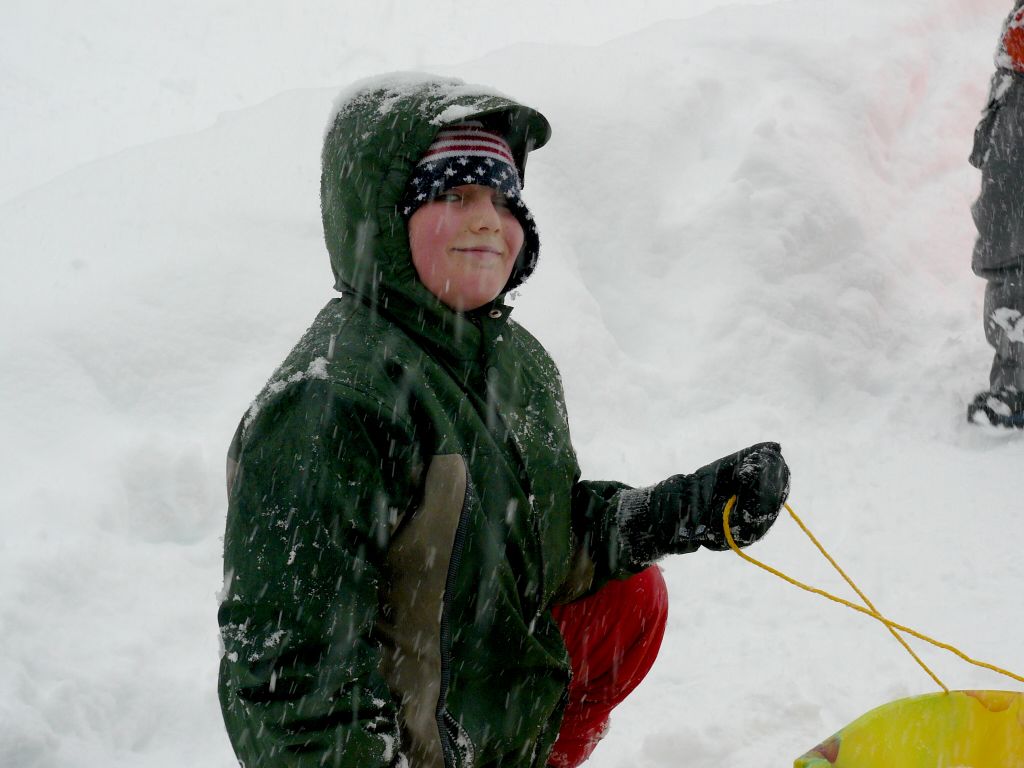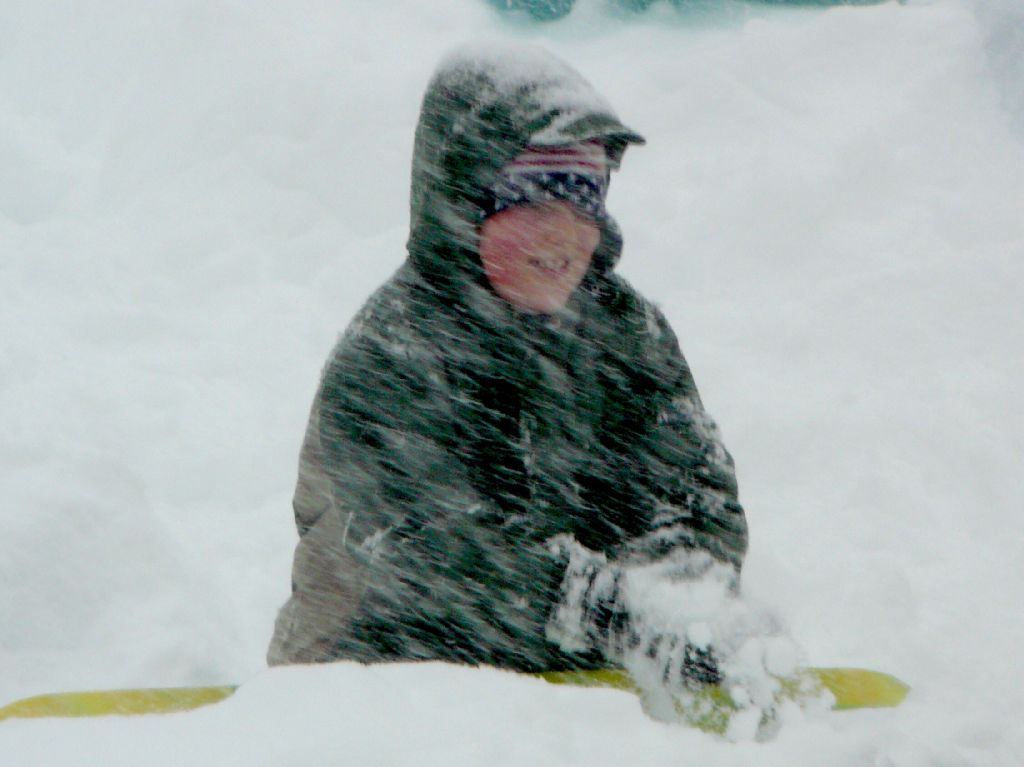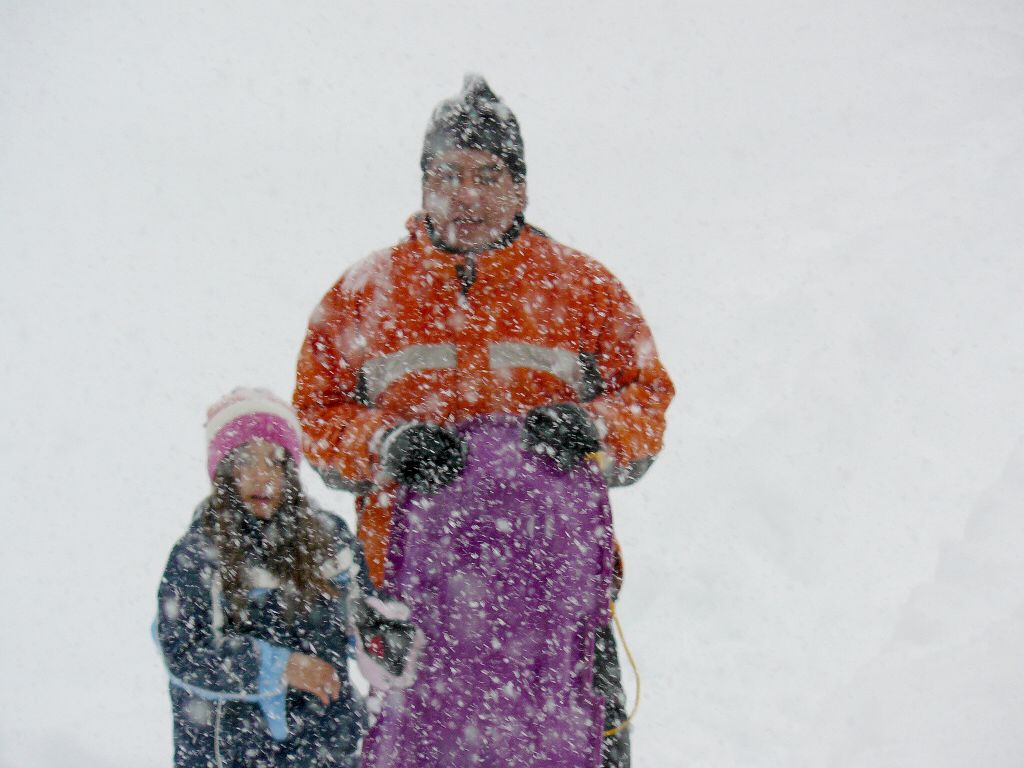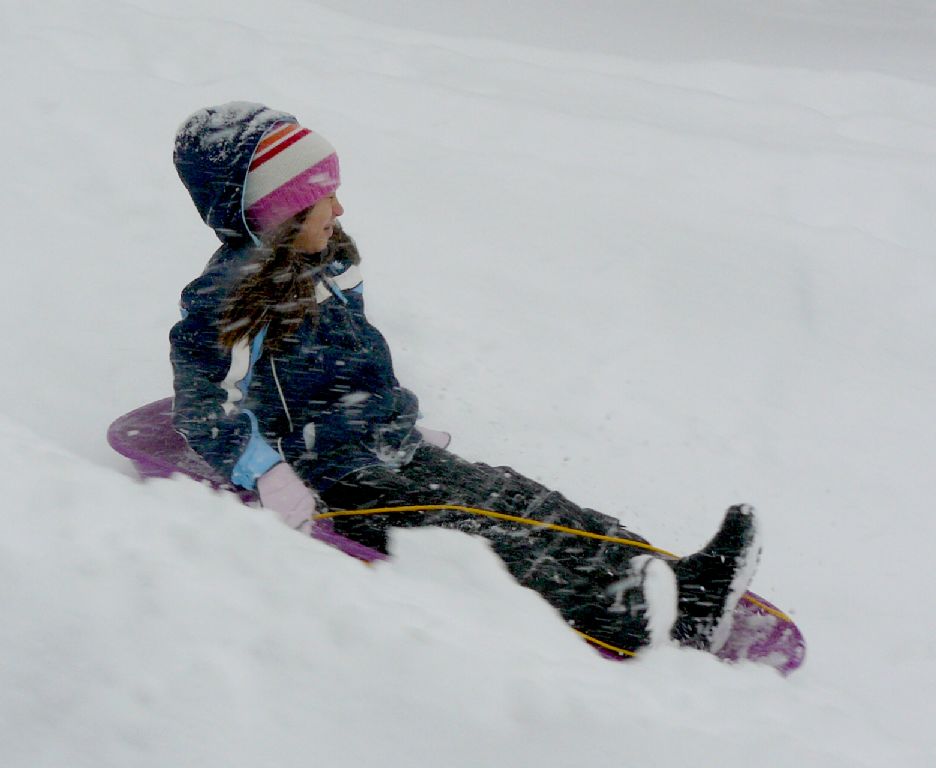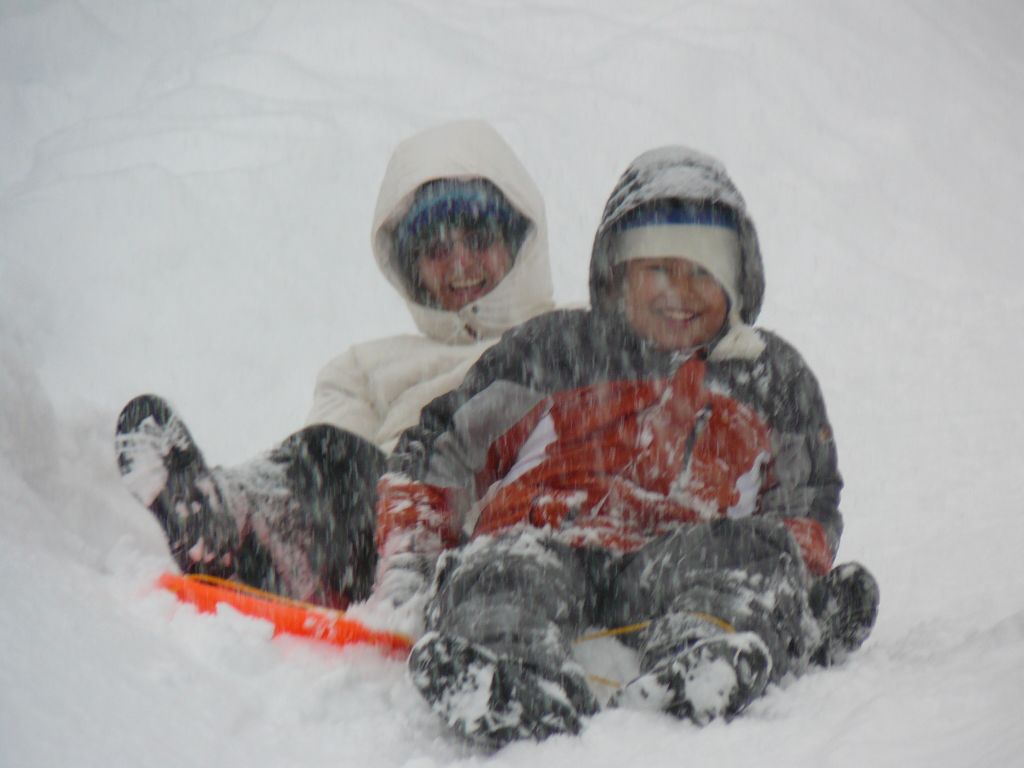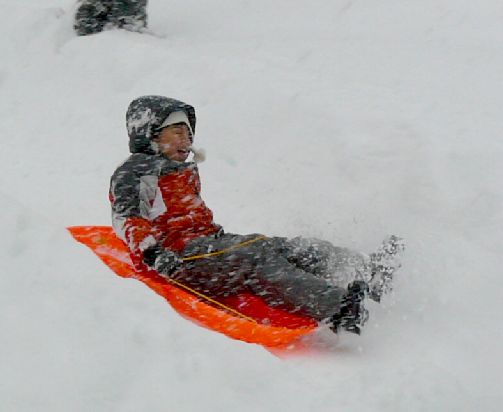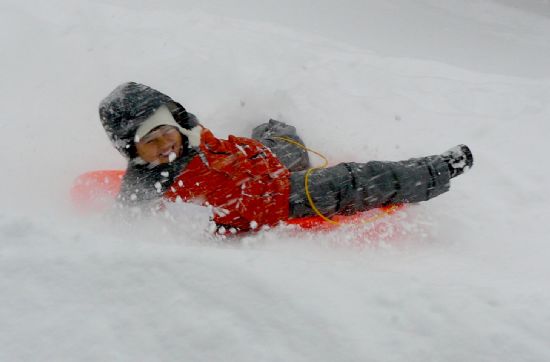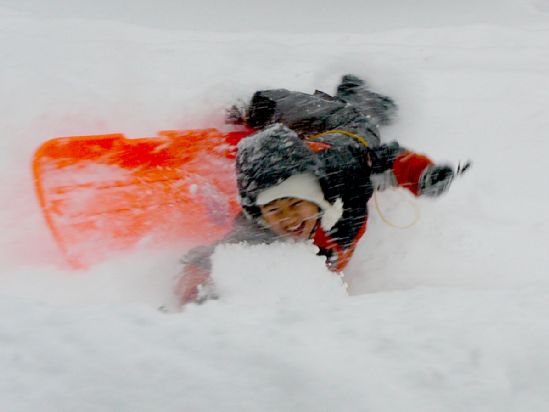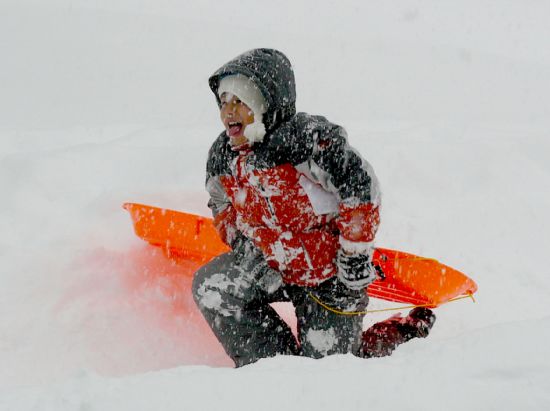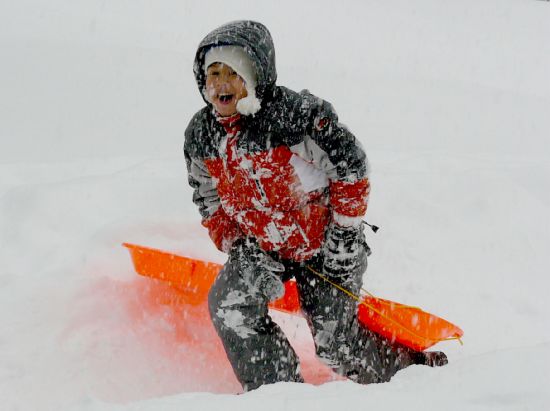 We all had a great time. Would you like to see video of the trip?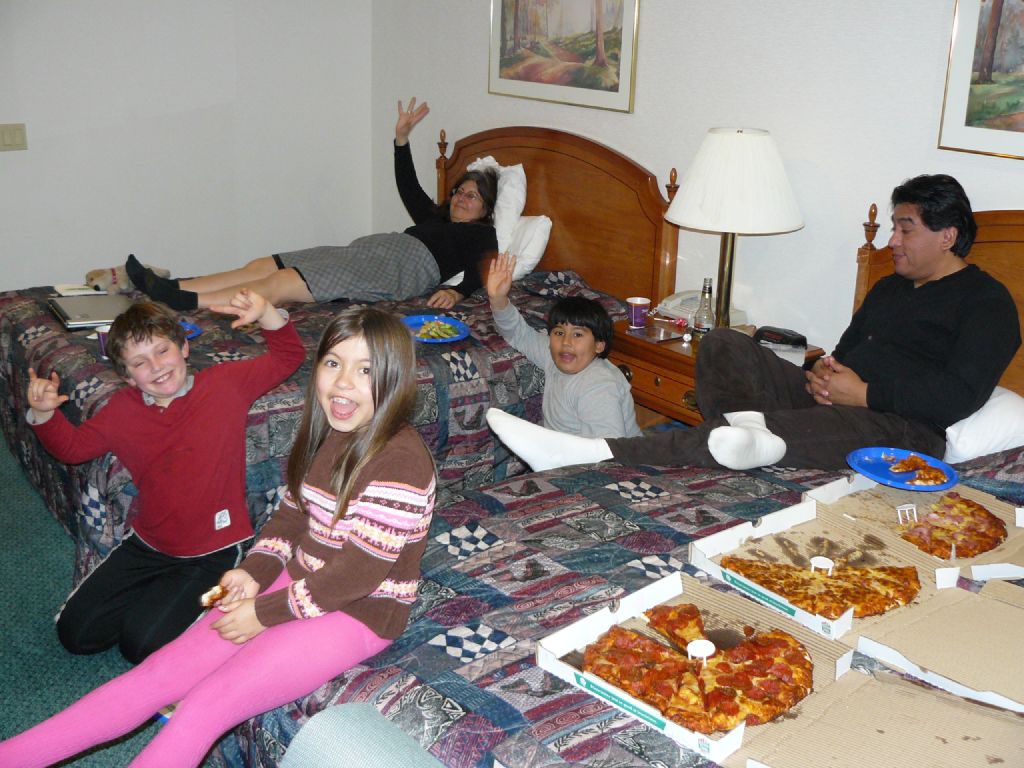 Then we went back to the motel, ordered pizza, and watched movies.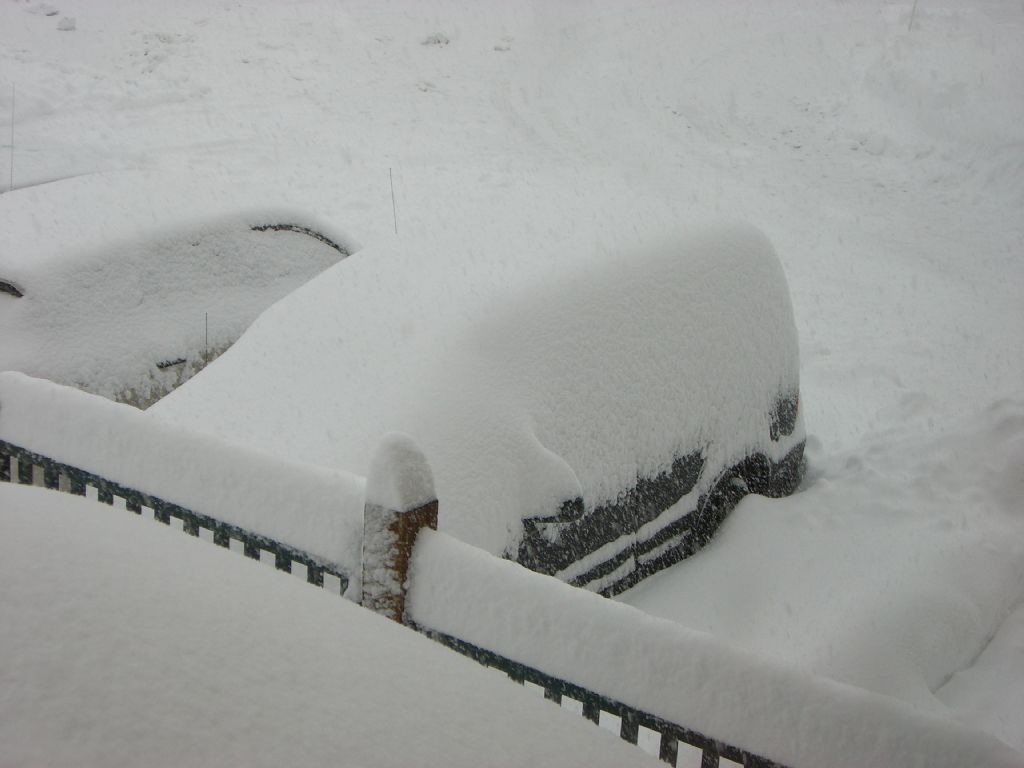 The next morning we dug the car out of the snow and went home.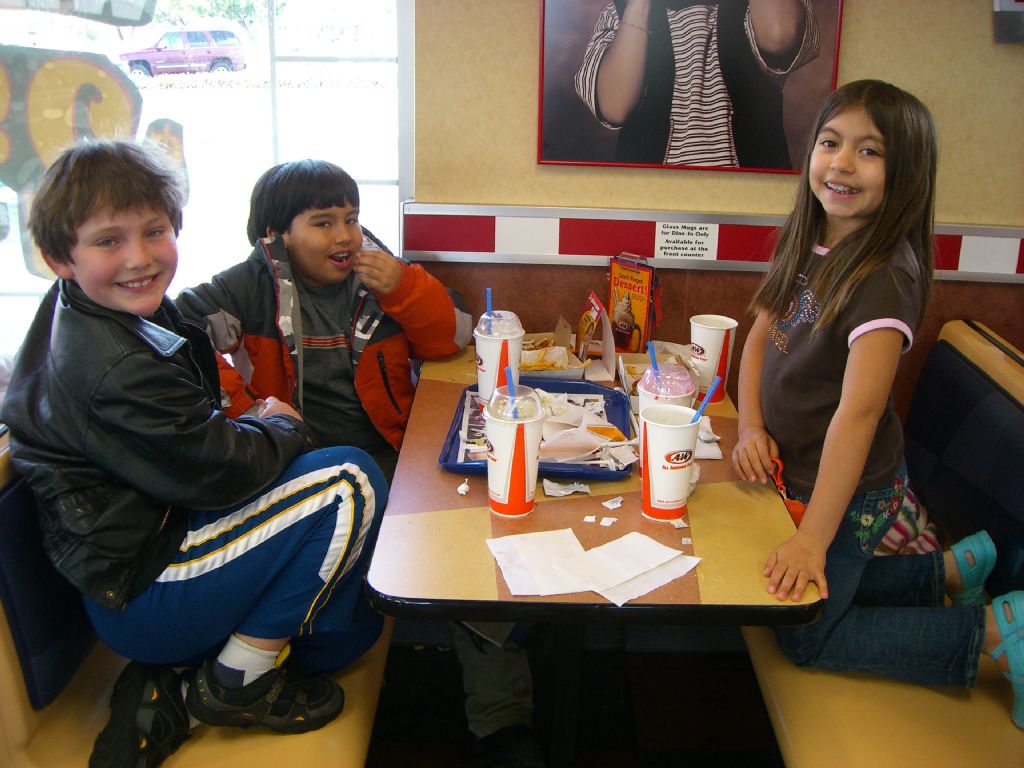 When we reached civilization we stopped for lunch.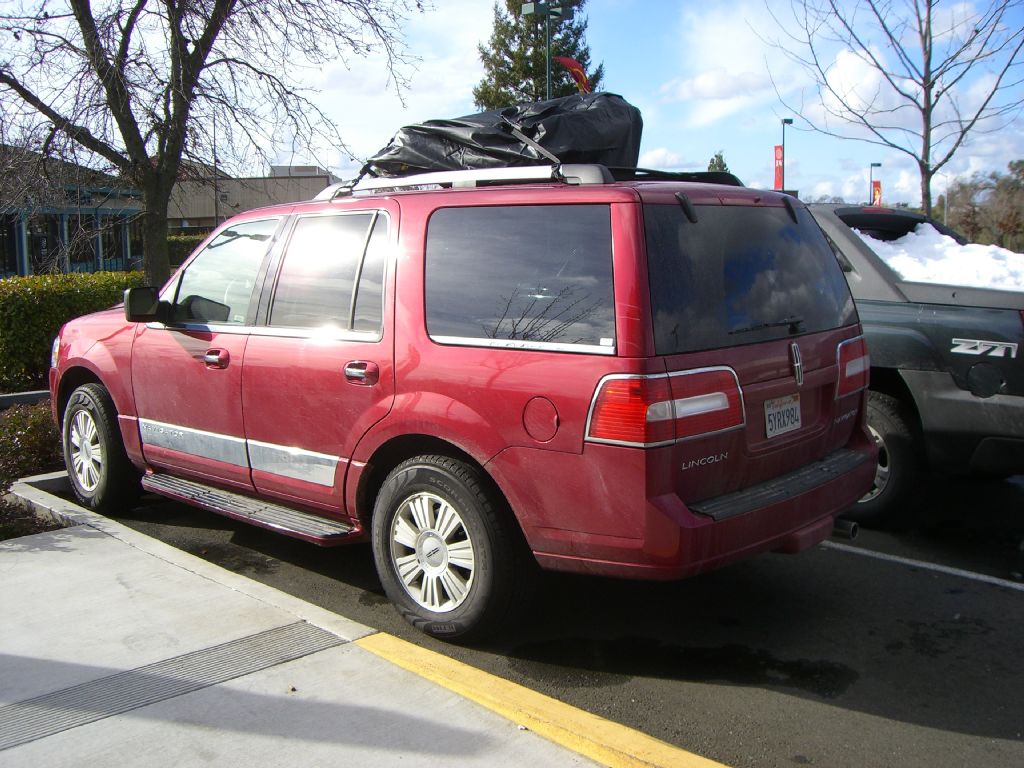 Here is the big Lincoln Navigator that we rented. It had more room than Grandpa's Toyota Highlander, but we still had to put stuff on the roof.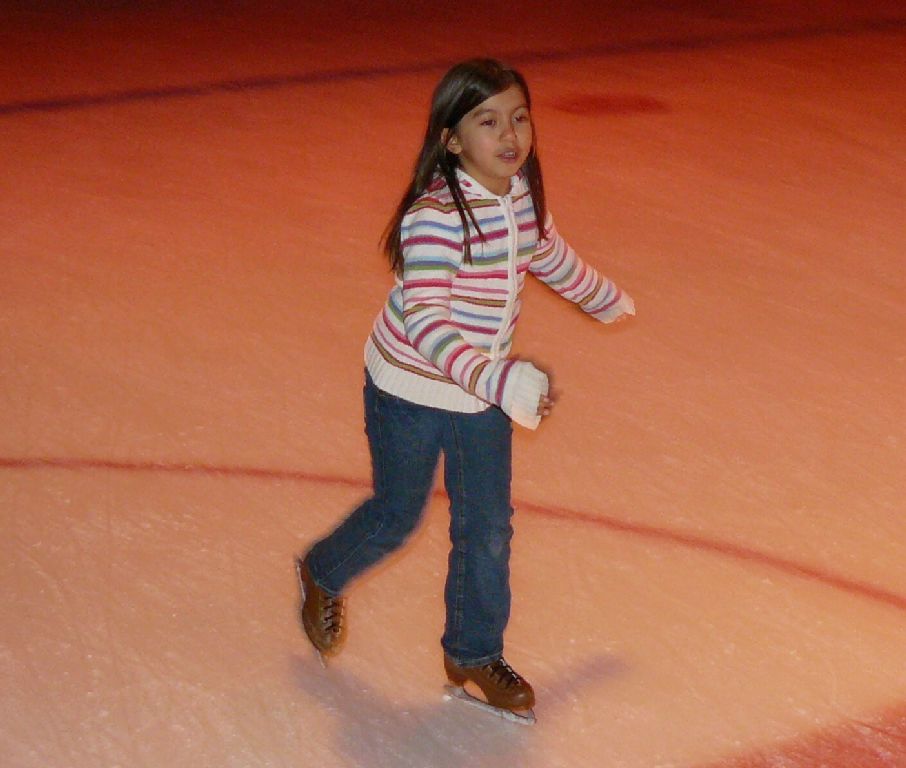 We sometimes go to the ice skating rink on Friday afternoons.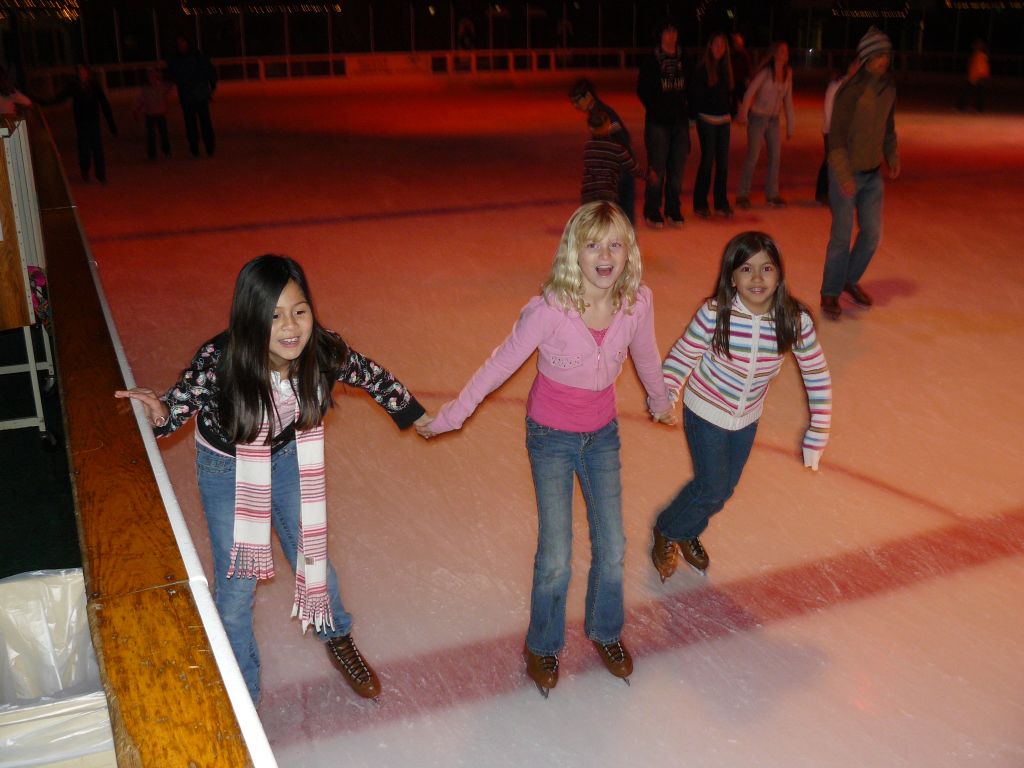 Sofi invites her friends. Here are Maddie, Nicole, and Sofi. They practice figure-skating moves together.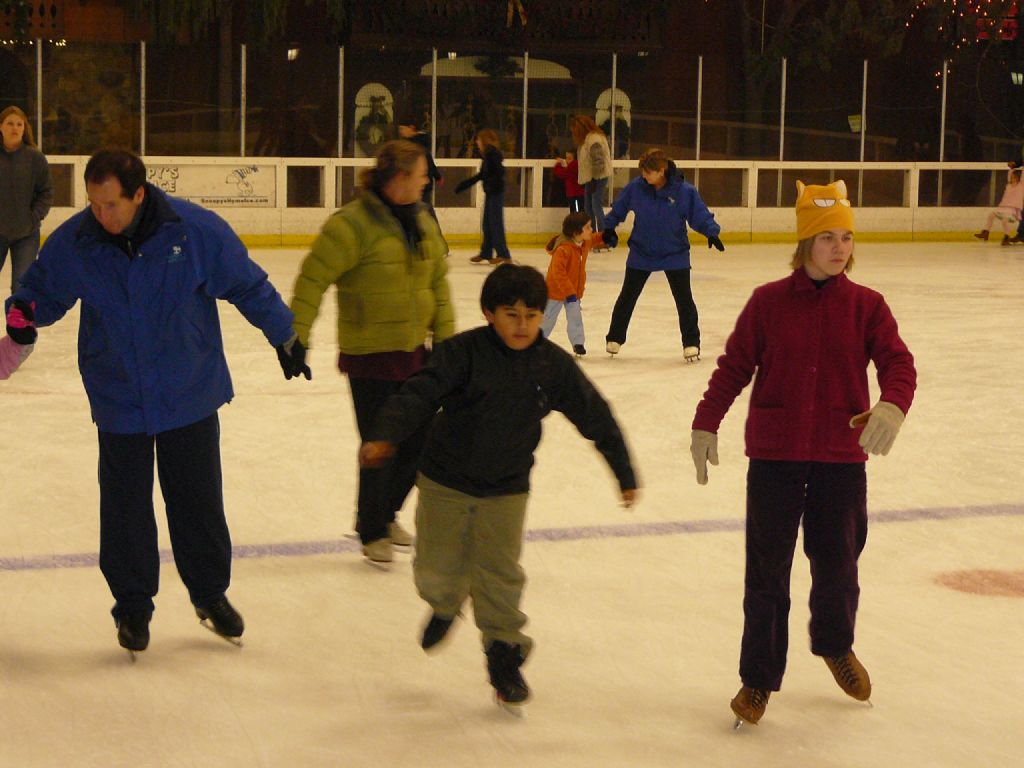 Zak prefers to skate alone. He is fast.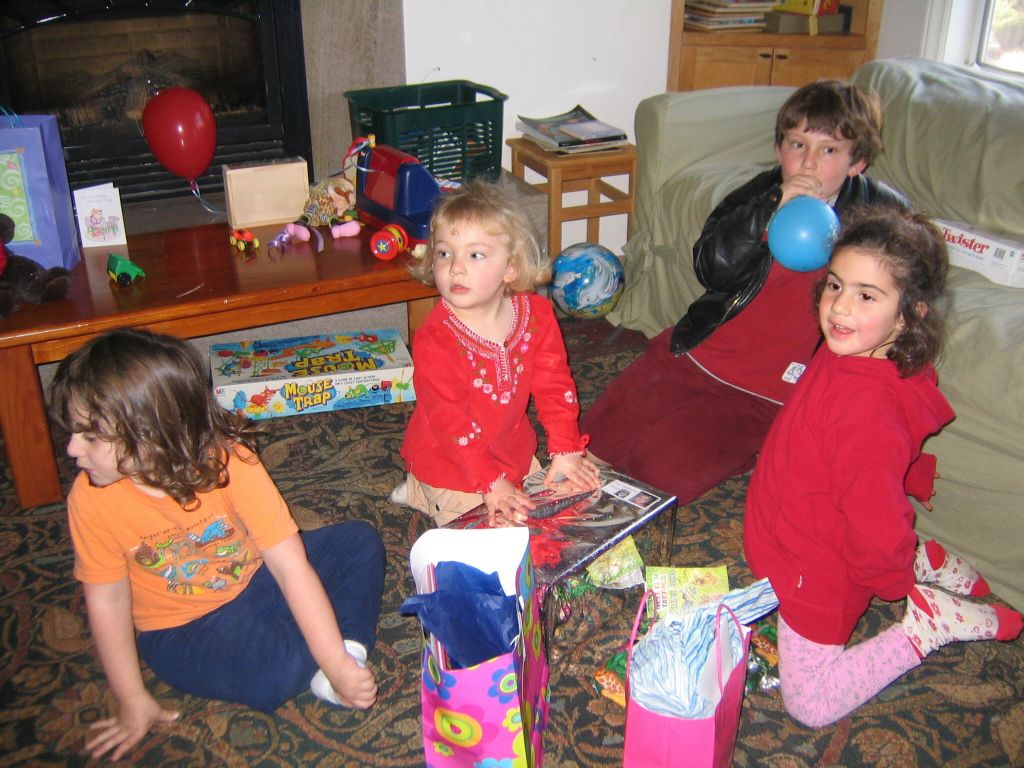 Isabelle had a birthday party. Miss Isabelle is 3 years old. Adam is on her left, Francisco and Lila on her right.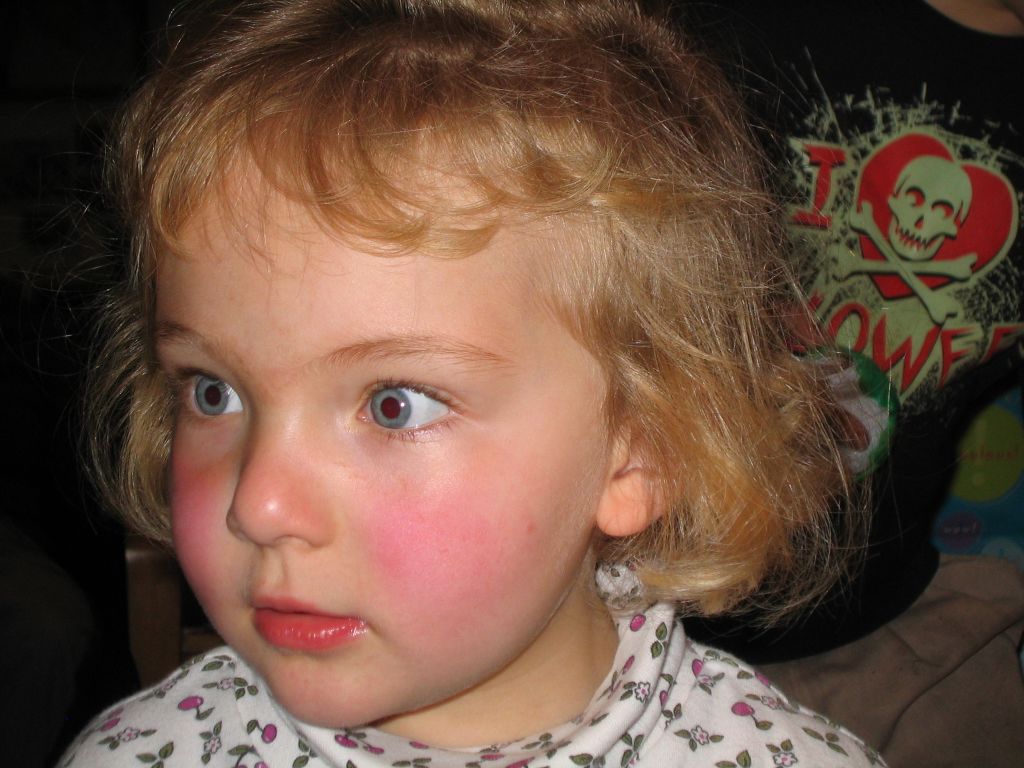 Grammy gave Isabelle a toy cash register. She was suitably impressed. Grandpa gave her a dump truck. Her friend, Adam, was impressed.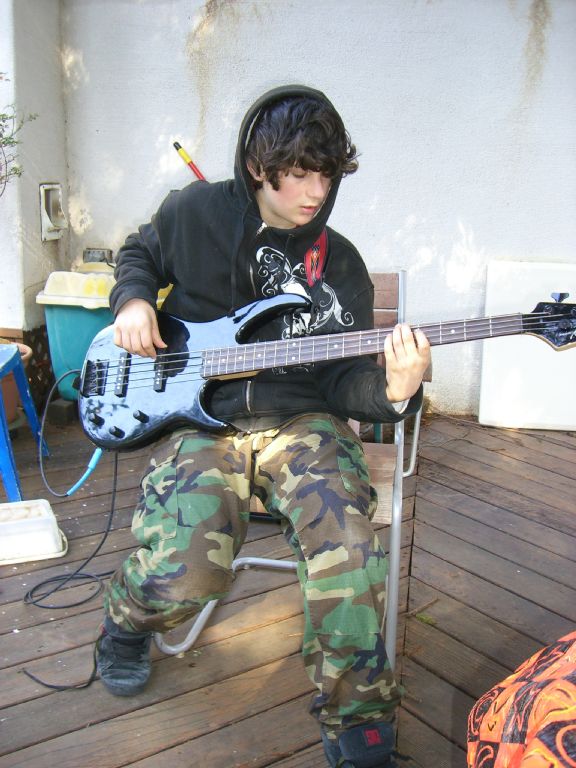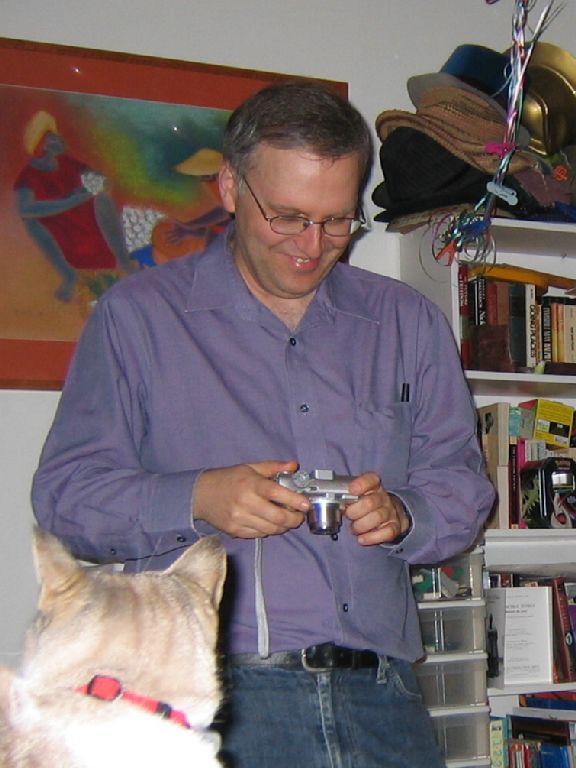 Cassidy entertained us with his bass guitar. Eric took pictures too.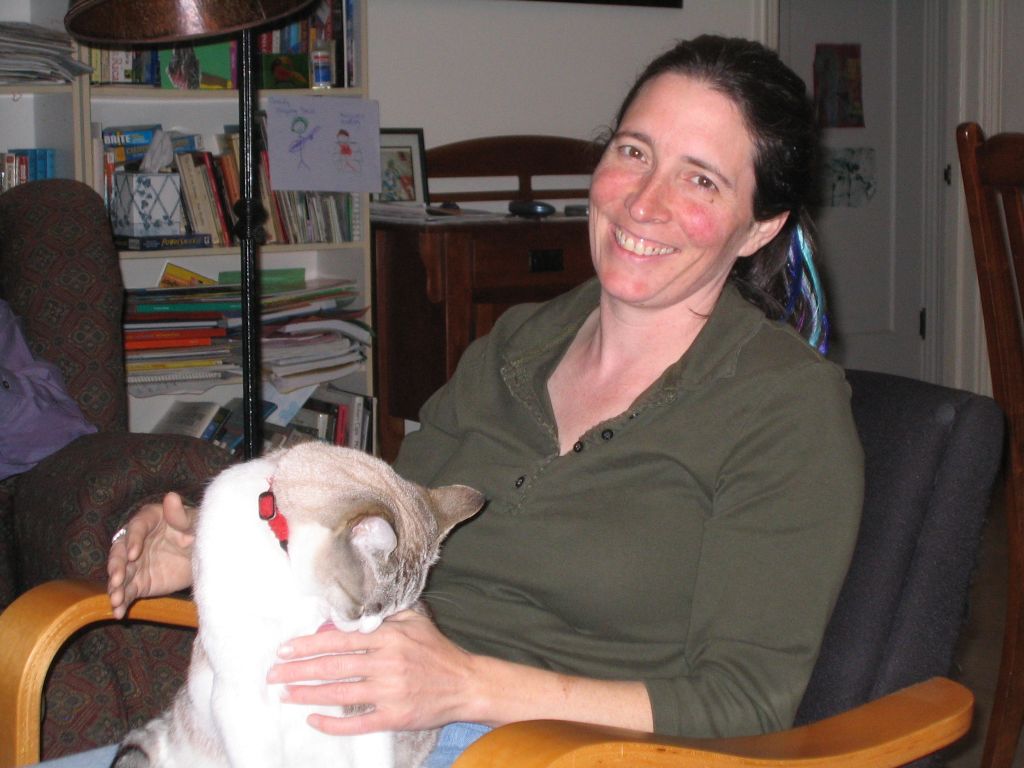 Chai greets Sandra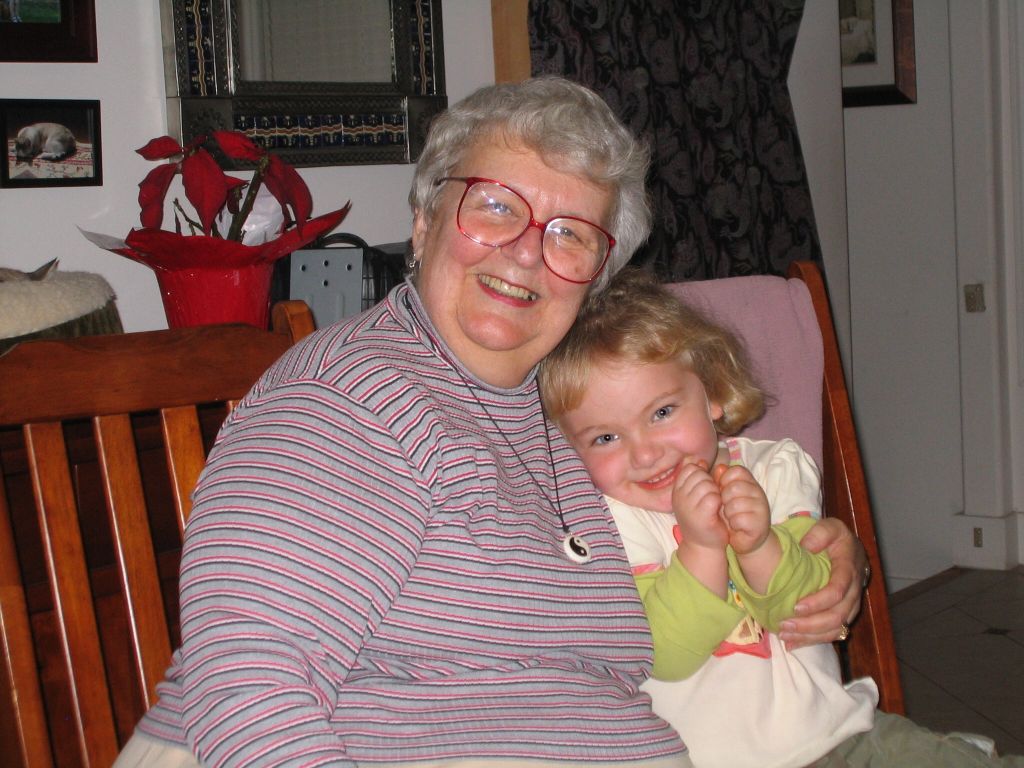 Grammy and Isabelle, both looking cute.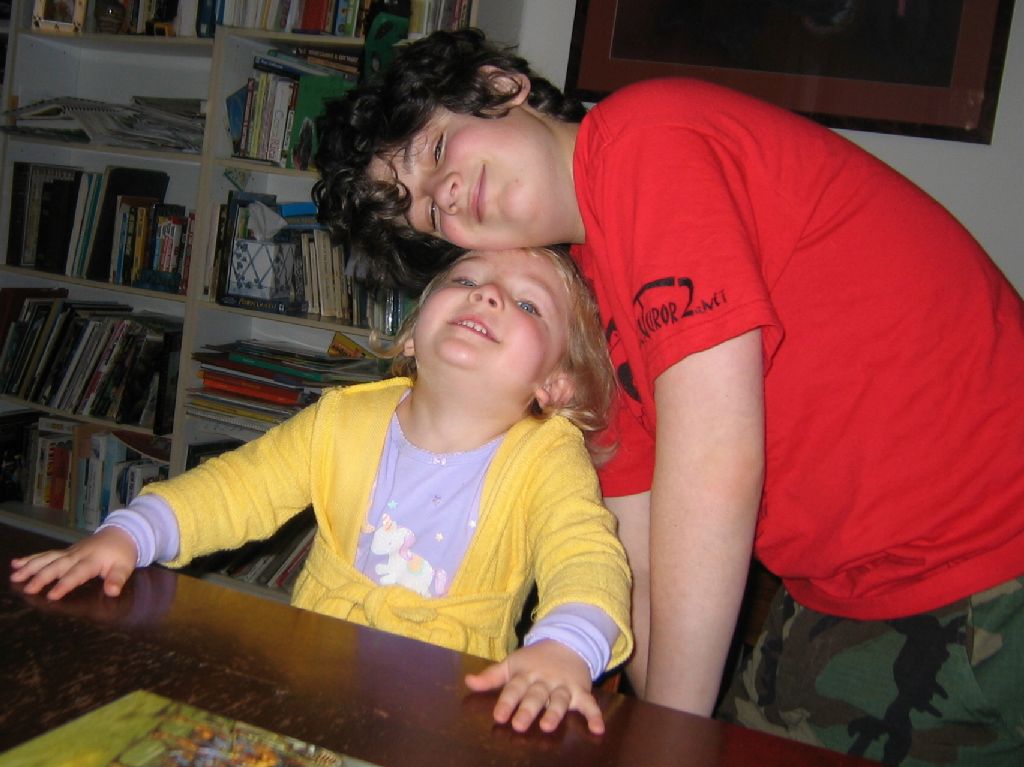 Cassidy with his favorite sister.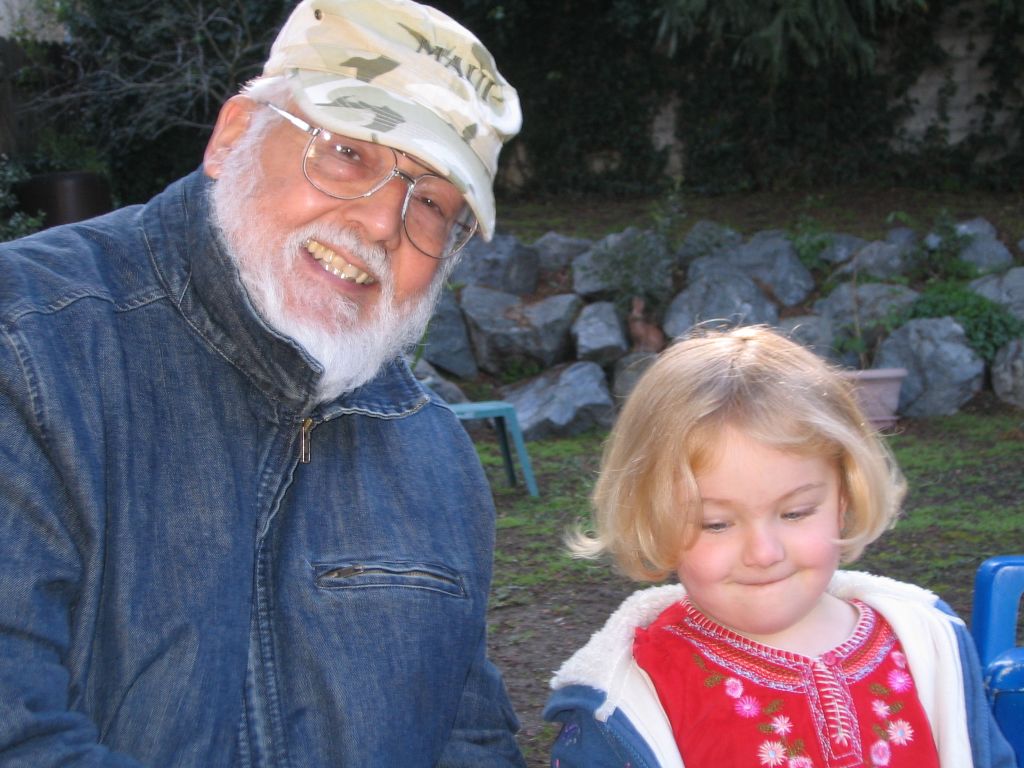 Grandpa showed Isabelle videos of her, taken with his camera. Isabelle always says, "Do it again."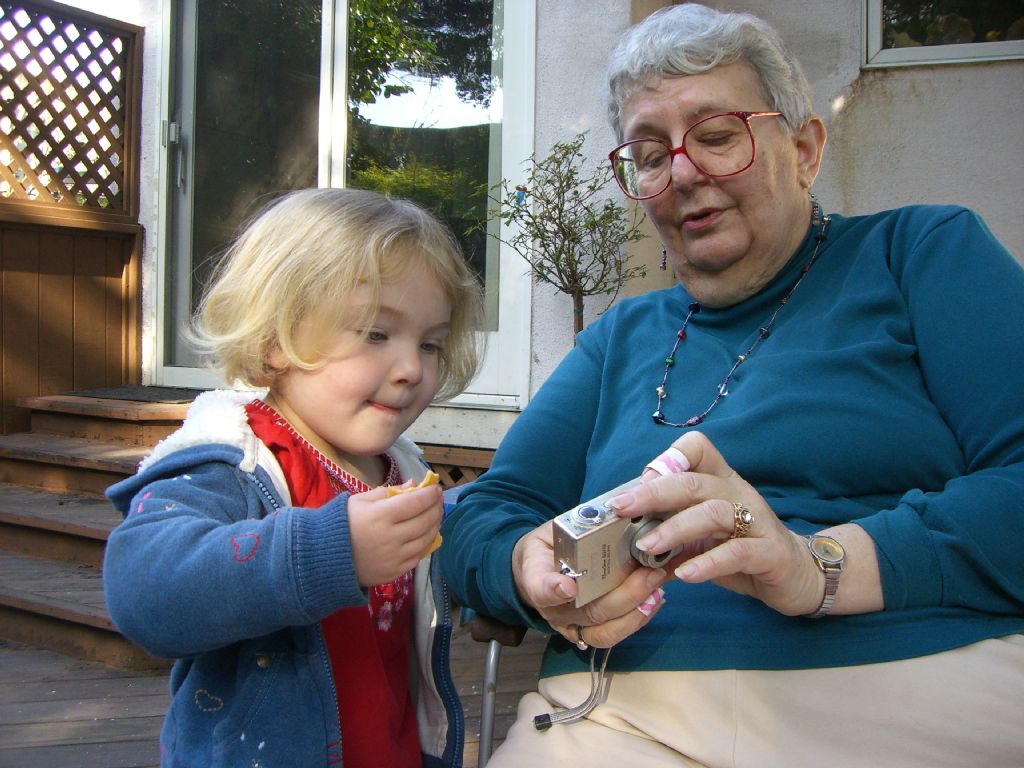 Isabelle looks at pictures that Grammy took.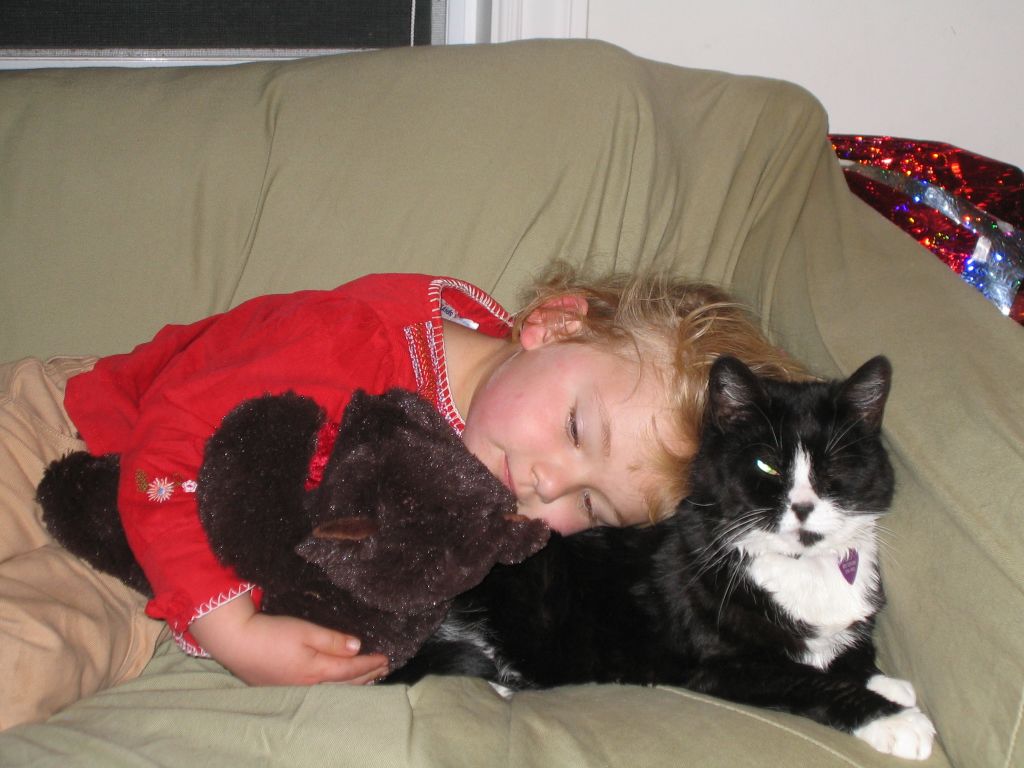 Isabelle snuggles with Lucy.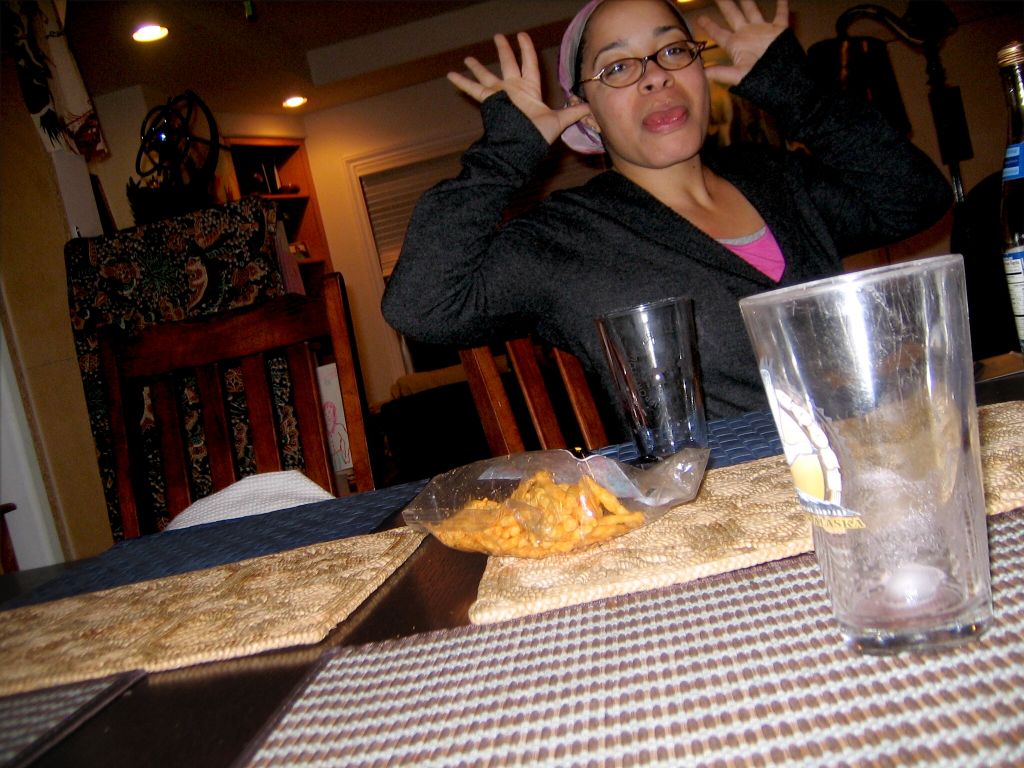 Picture of Tosha, taken by Isabelle.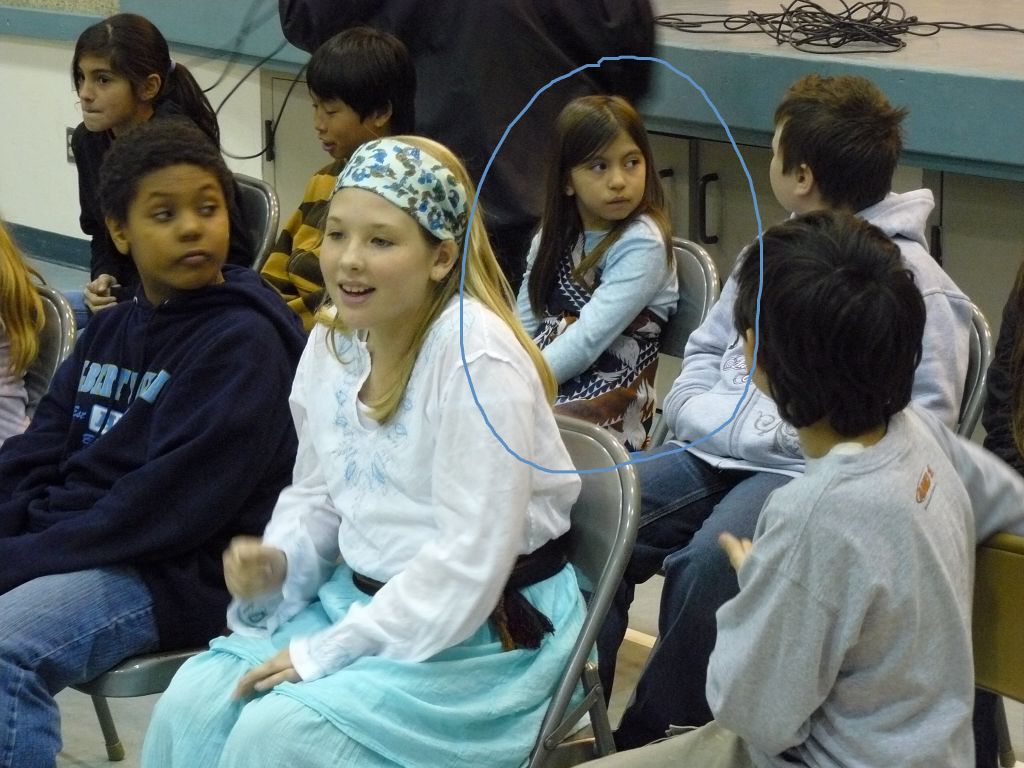 Sofi was chosen to participate in a spelling bee.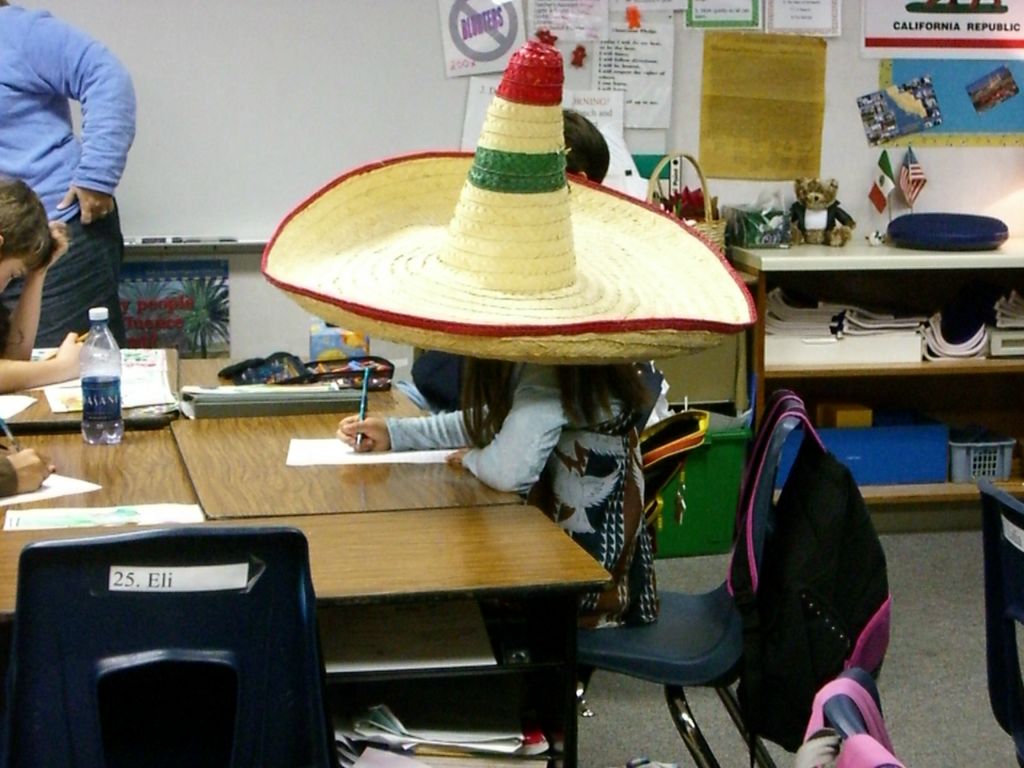 Here is Sofi in class on a "Funny Hat" day.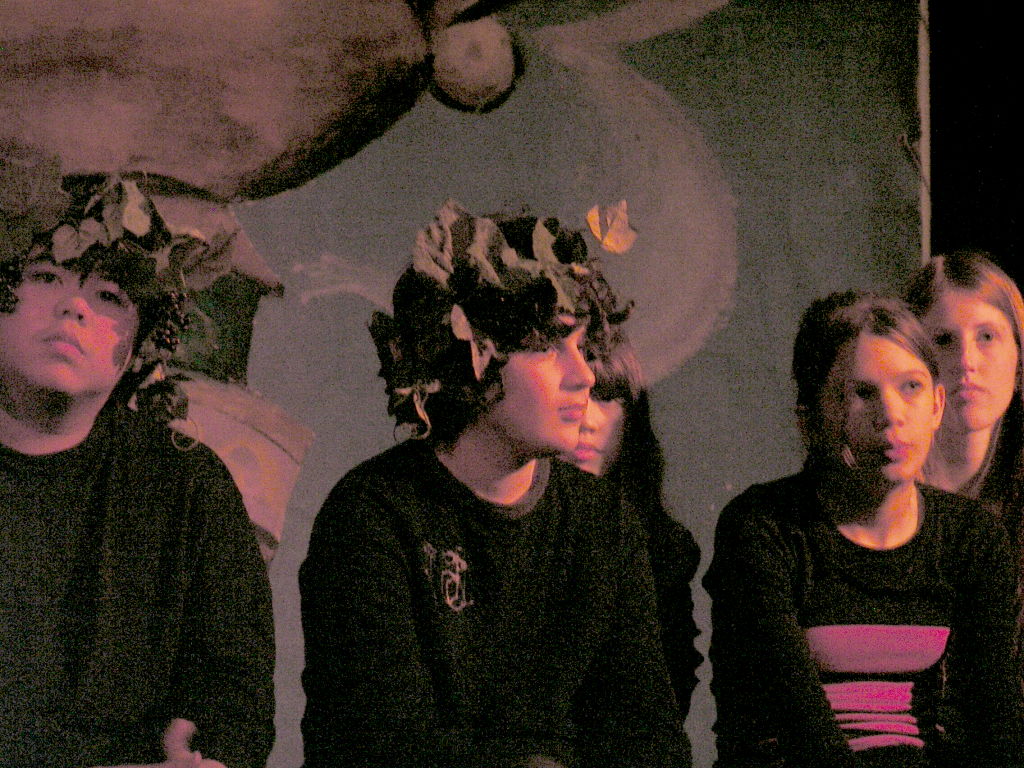 Cassidy was in a play at his school.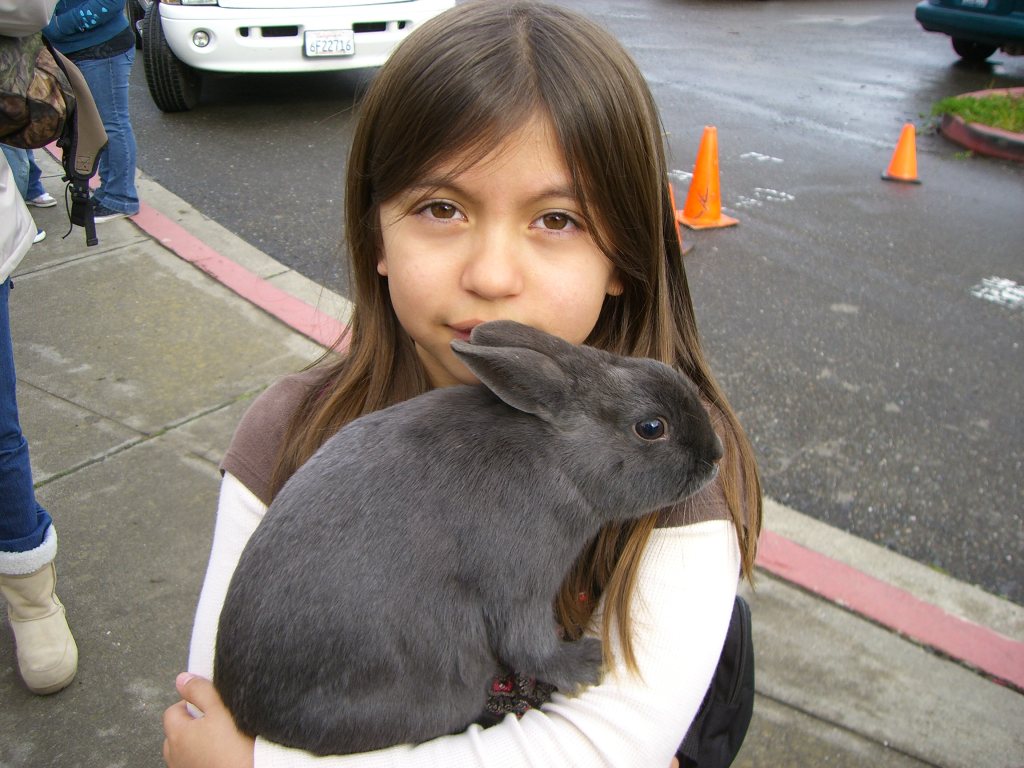 Sofi brought in her rabbit, MistyMoe, on a "Bring Your Pet to School" day. We don't know about the rabbit, but the kids enjoyed it.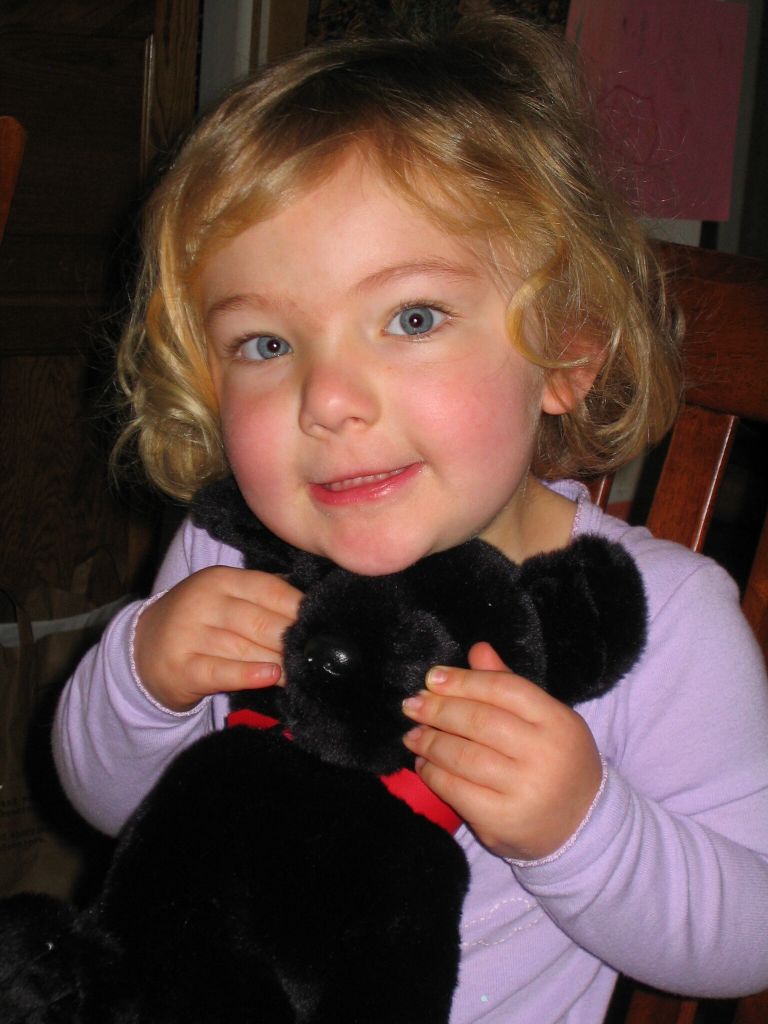 Grammy took this and the following two pictures on a visit to Berkeley.

Isabelle and Sandra construct a tower.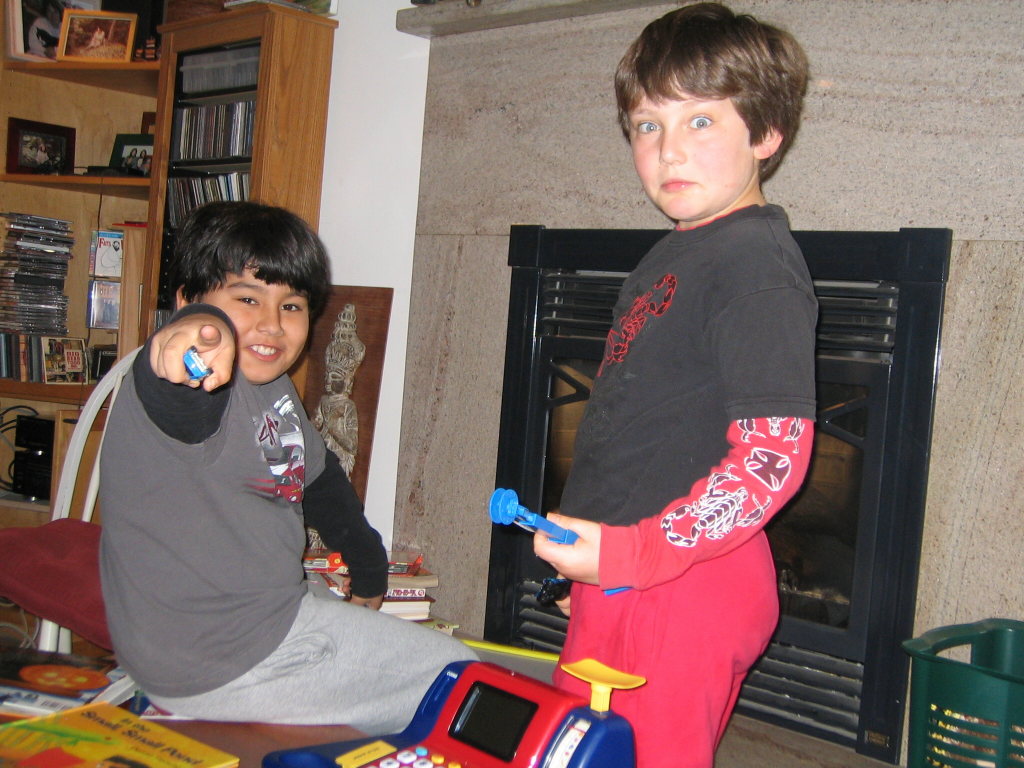 Zak visited Francisco for a weekend.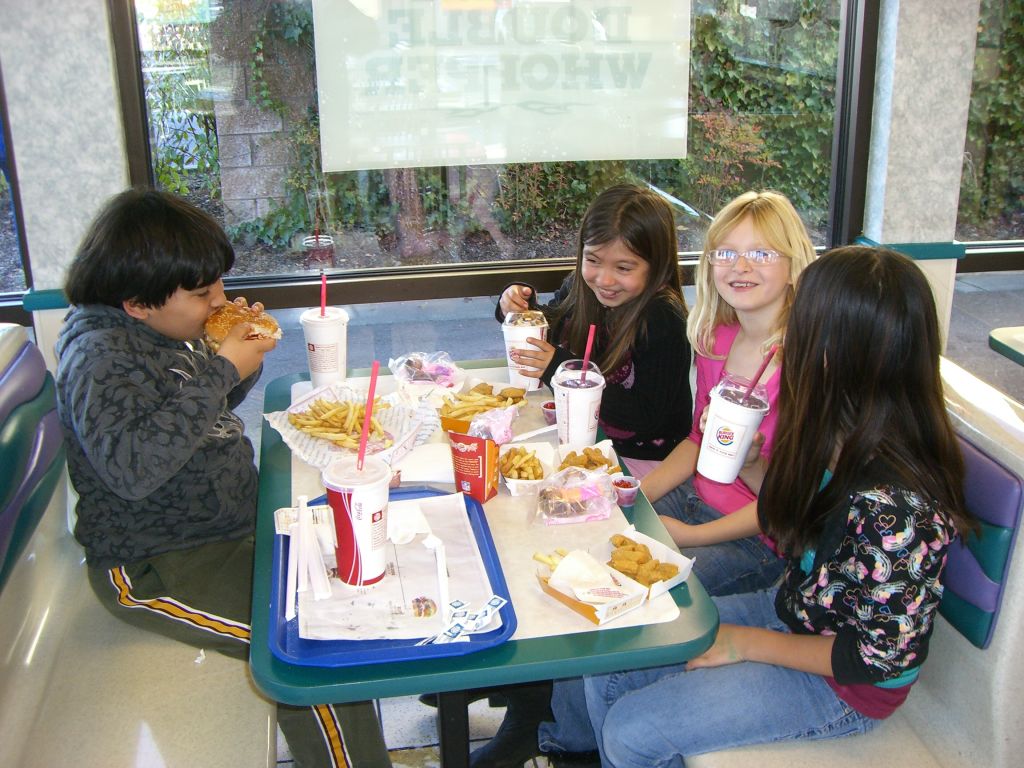 One of our favorite Friday afternoon activities is to go to Burger King after school. Sofi invited her friends, Nicole and Maddie.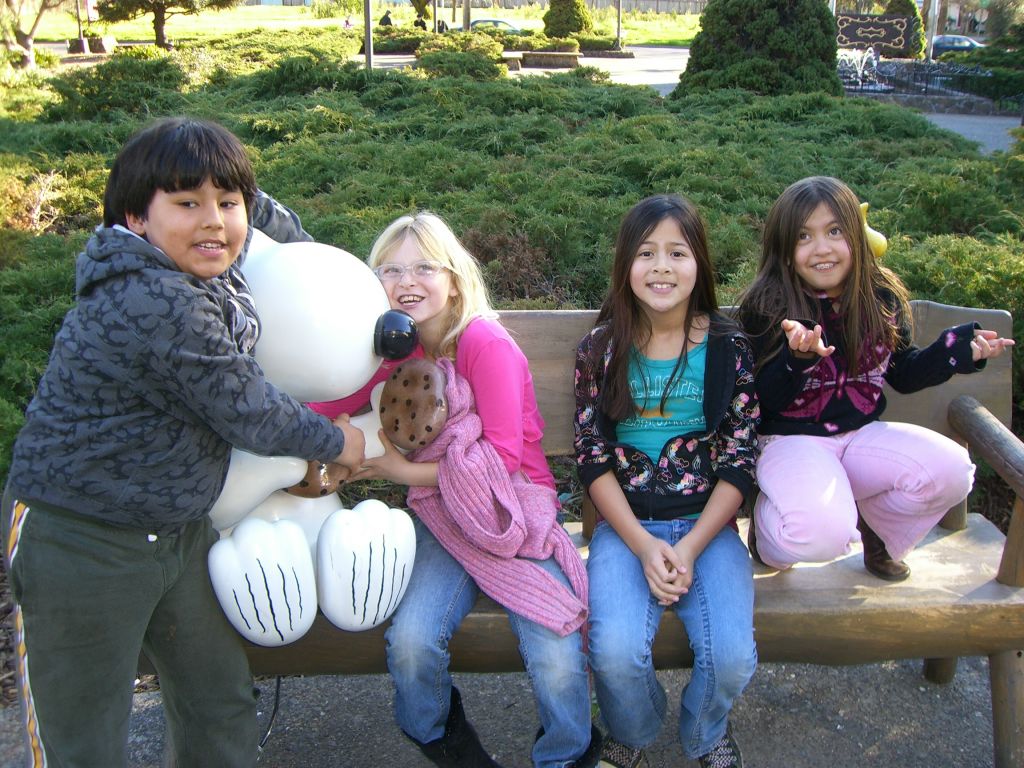 Here they are outside Snoopy's Home Ice, the local ice-skating arena.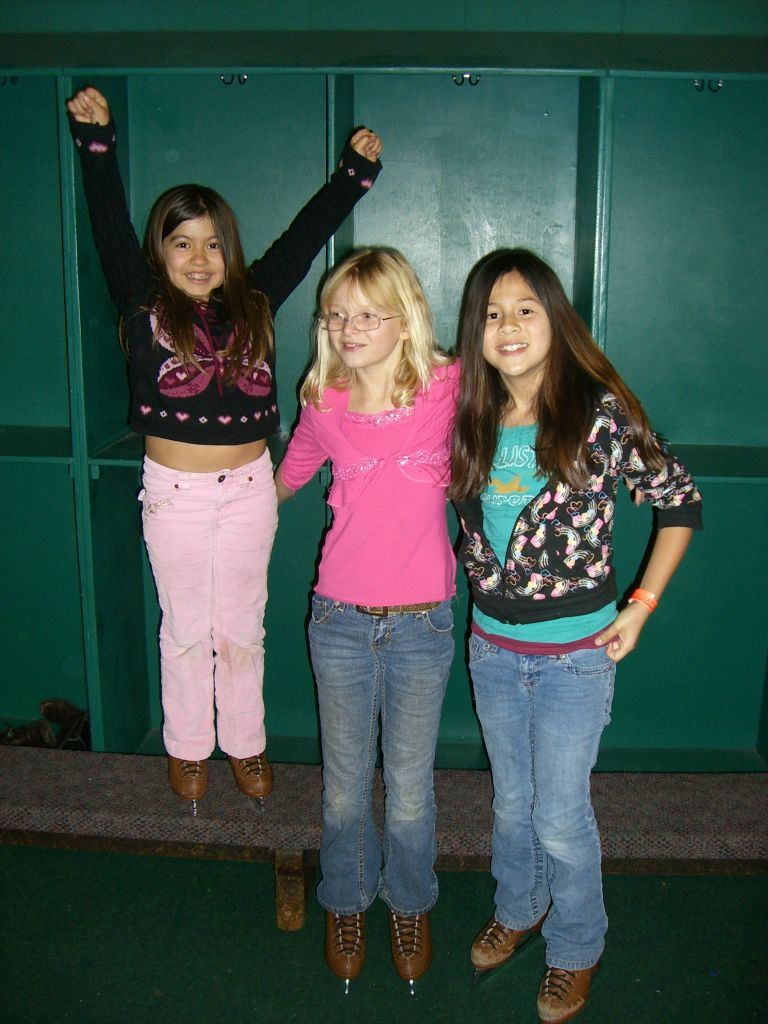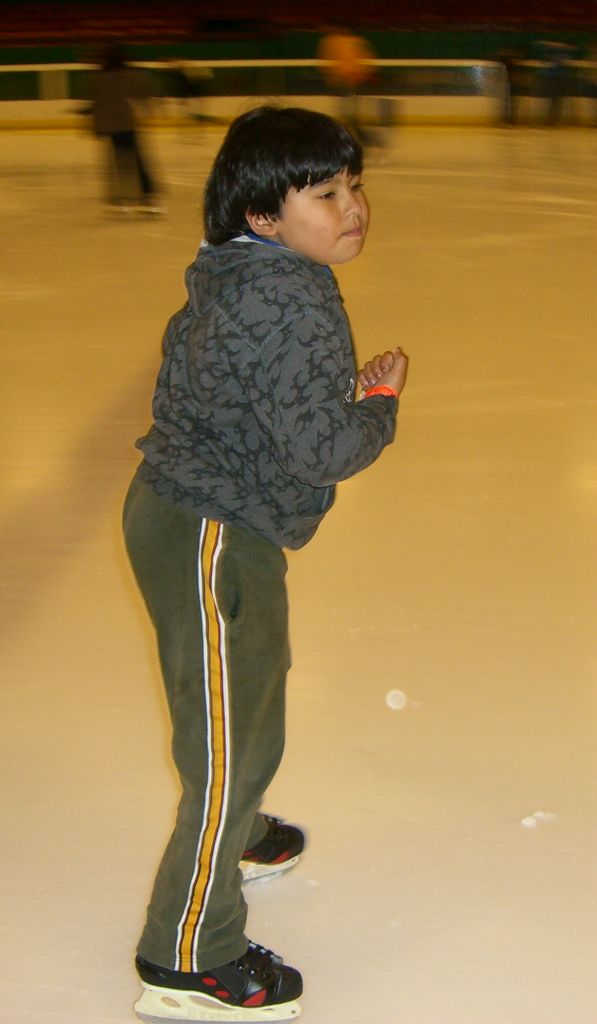 Here are the girls with their ice skates. Zak zooming past, on the ice.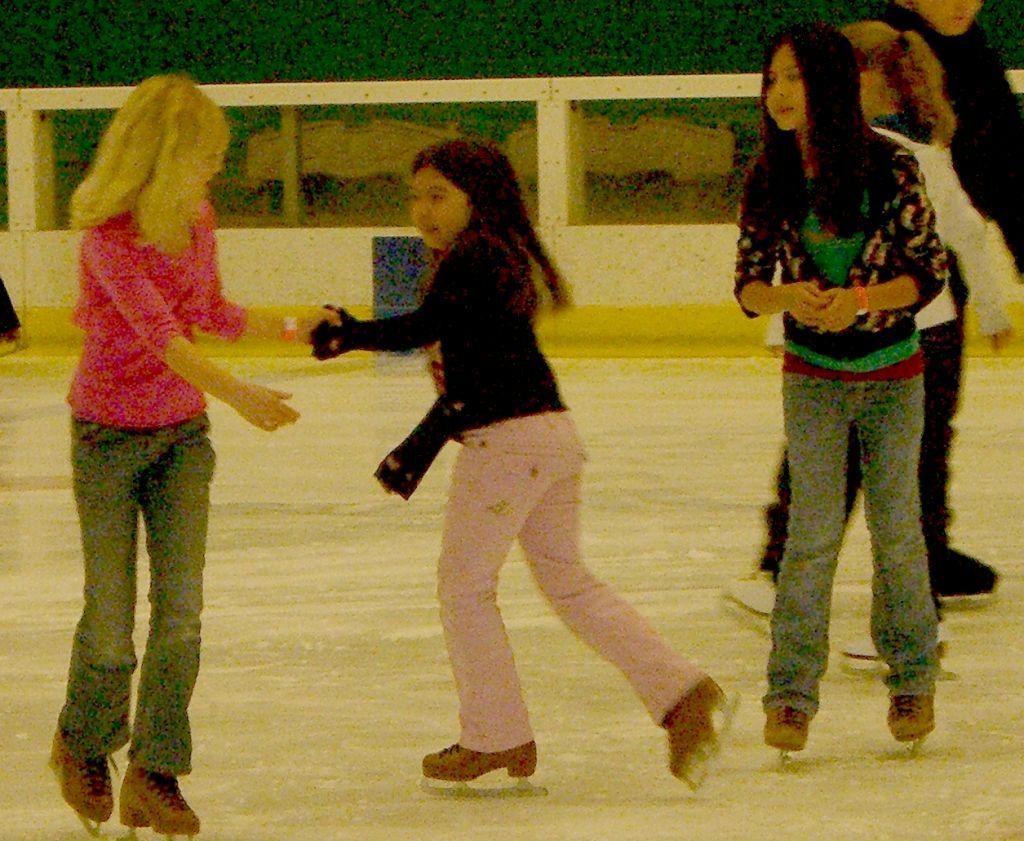 Nicole, Sofi, and Maddie, practicing figure-skating moves.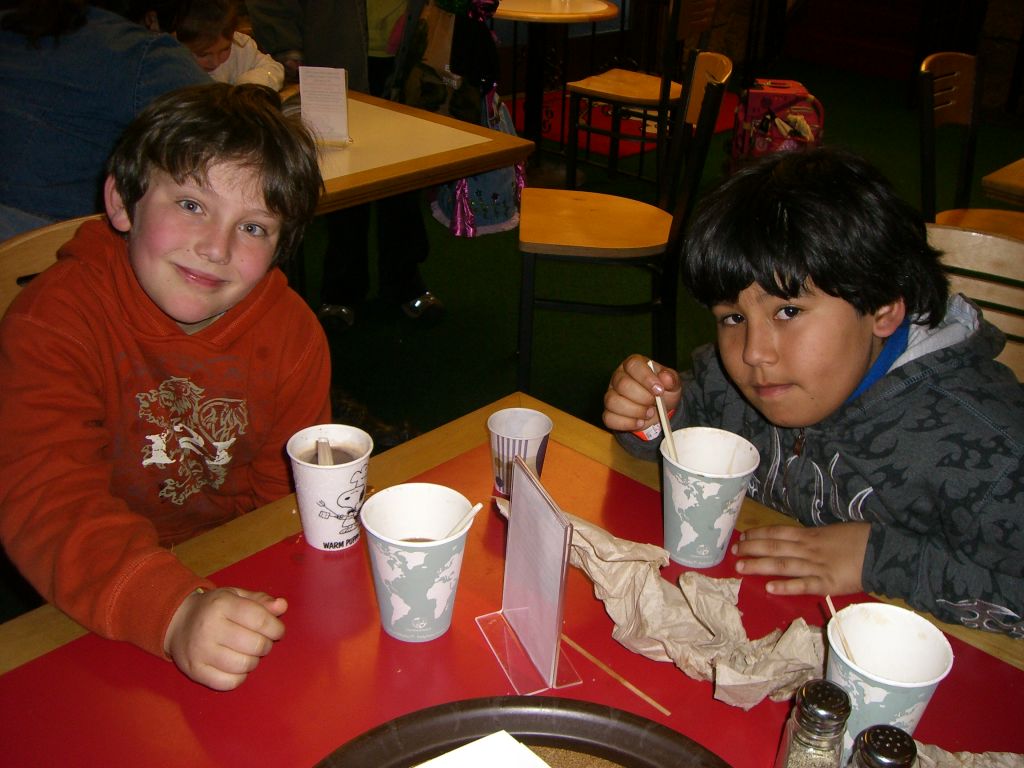 One weekend Francisco joined us for skating. Here he is with Zak in the Warm Puppy Cafe, drinking hot chocolate.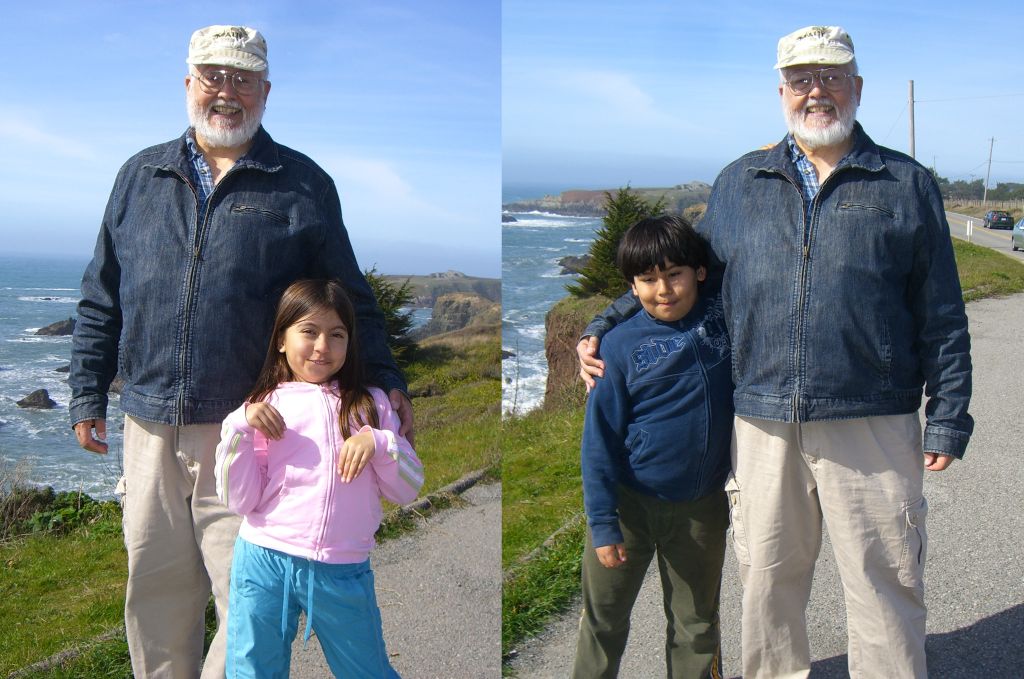 In February, on one of the President holidays, we went to the ocean. Here we are at Goat Rock State Beach. We stayed well above the sleeper waves.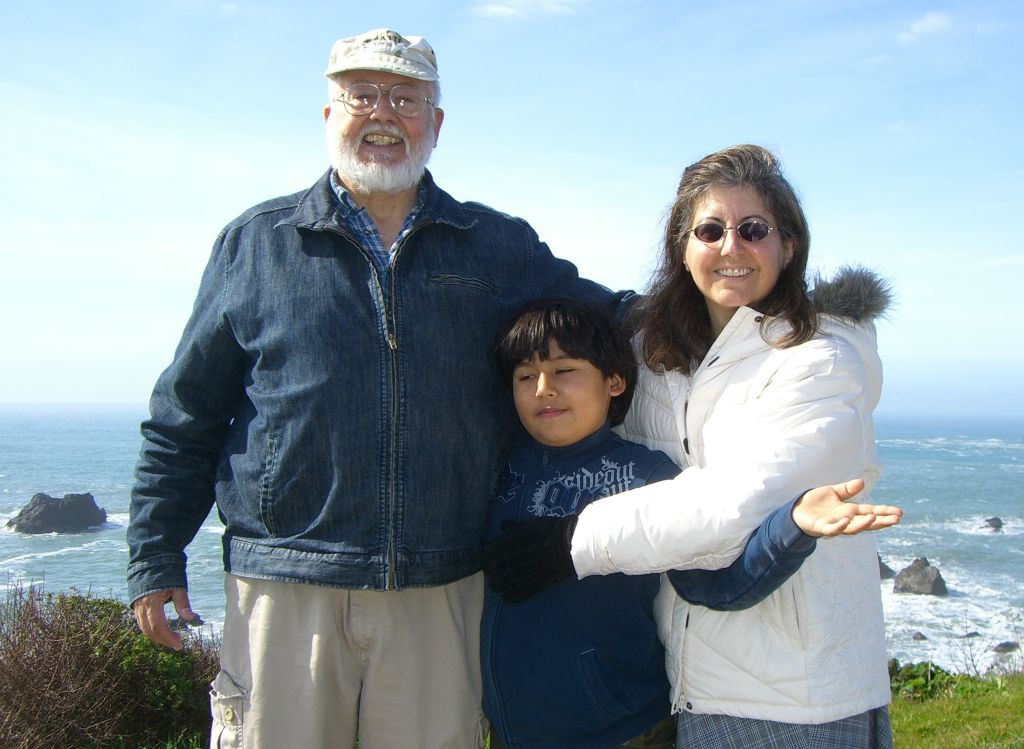 Sofi took this one of Grandpa, Zak, and Suzy.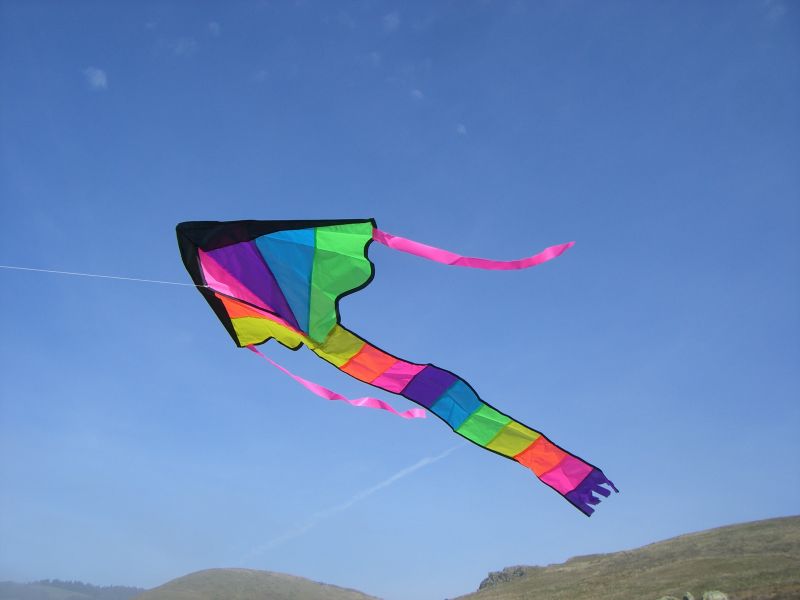 We brought a kite.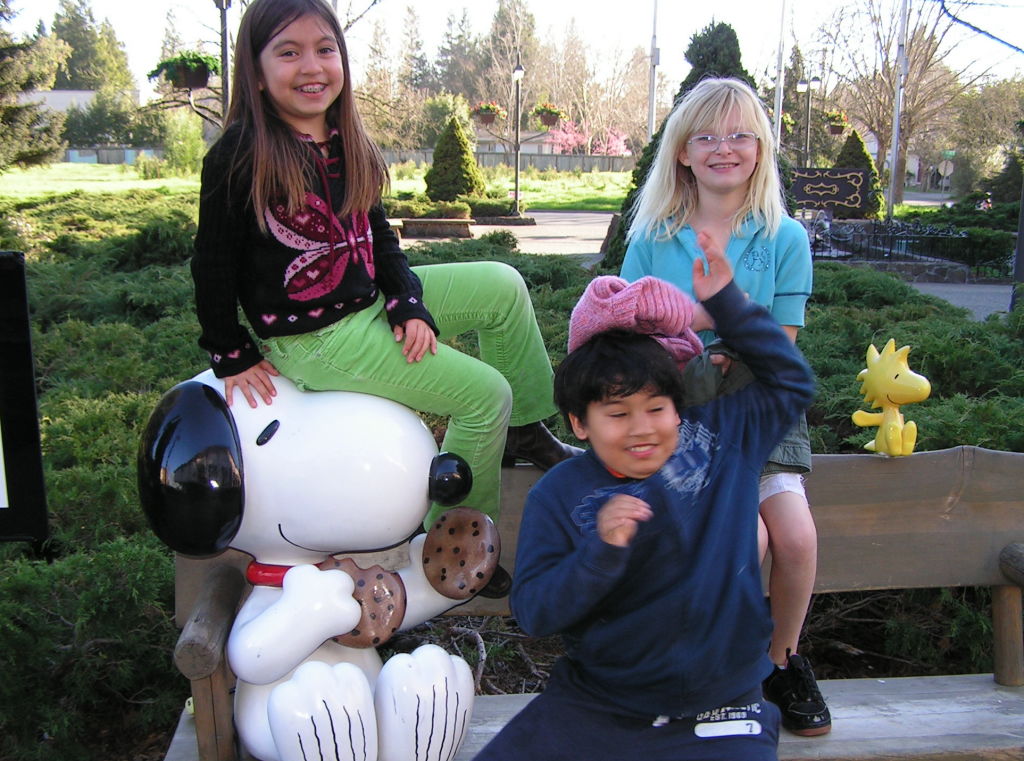 One Friday we went to the ice arena but couldn't skate due to a hockey game between local teams. So we did other stuff.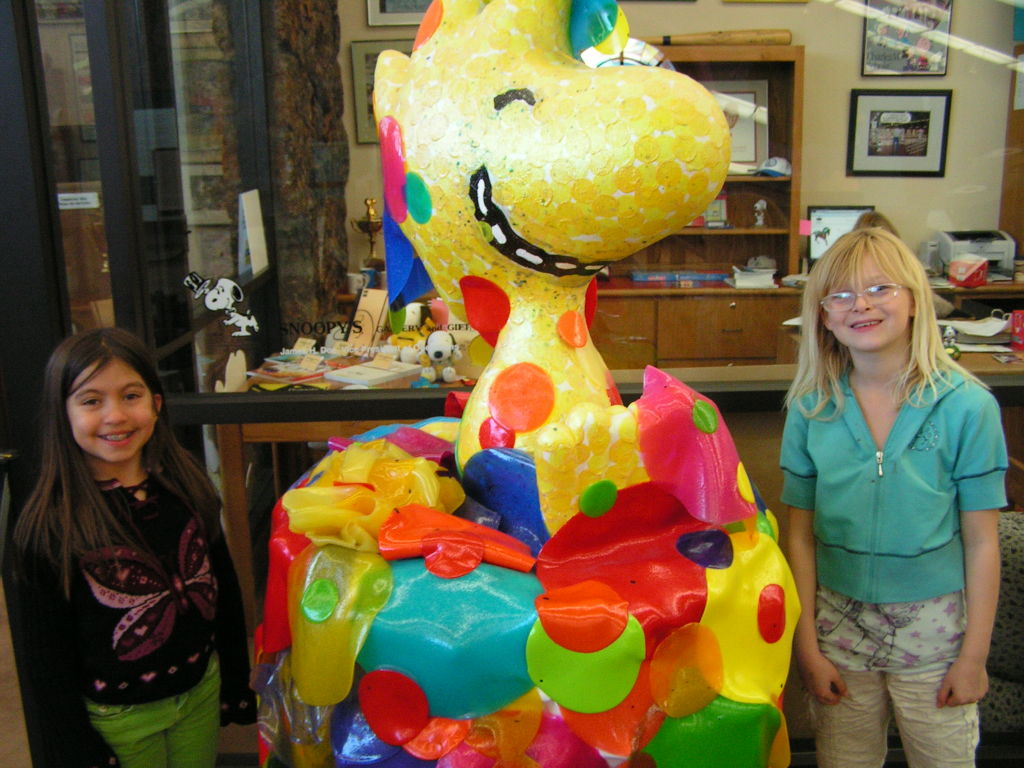 We visited Snoopy's store.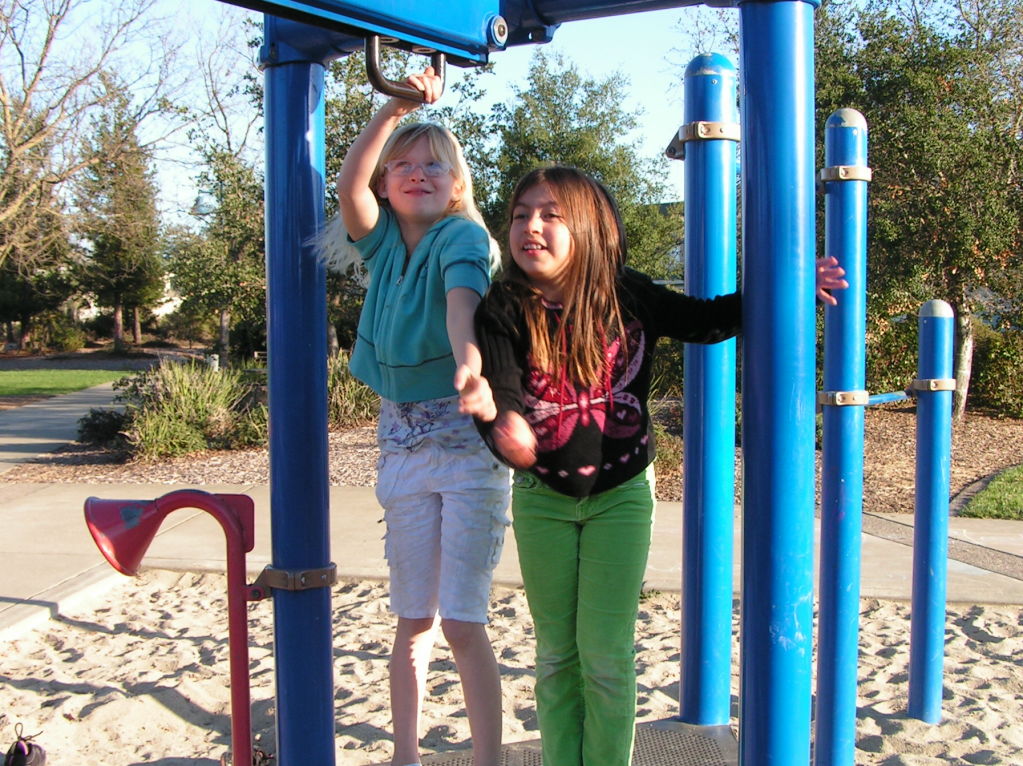 Then we went to Pioneer Park. Nicole and Sofi rode the trolley.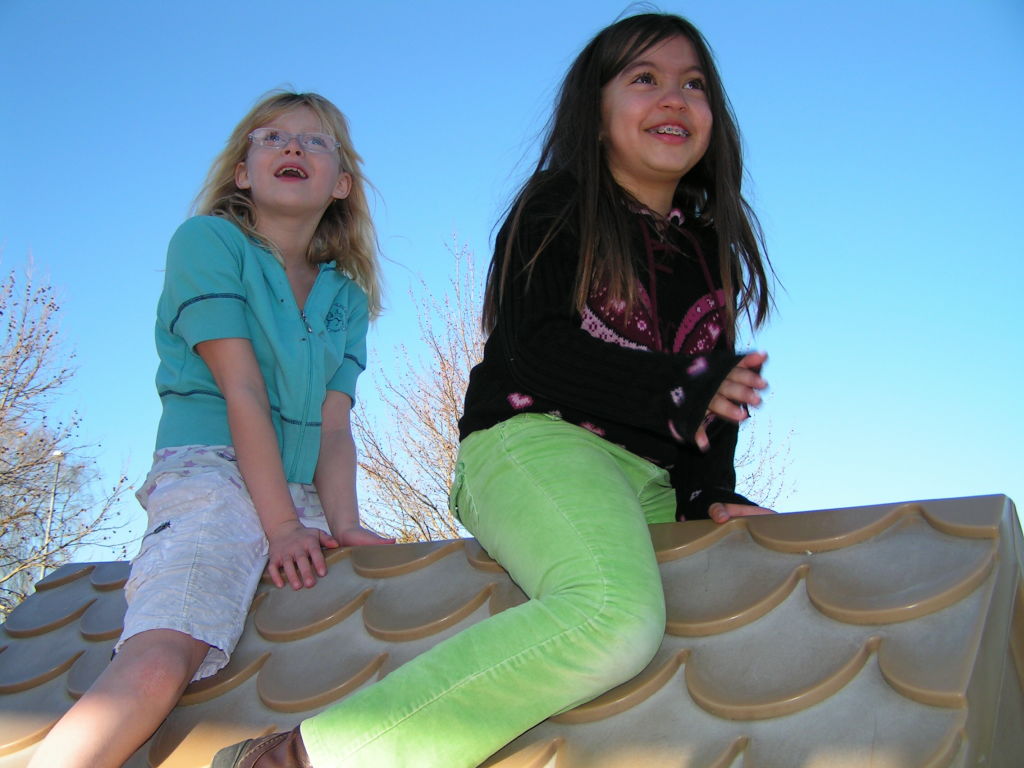 Then they went for a dog-house ride...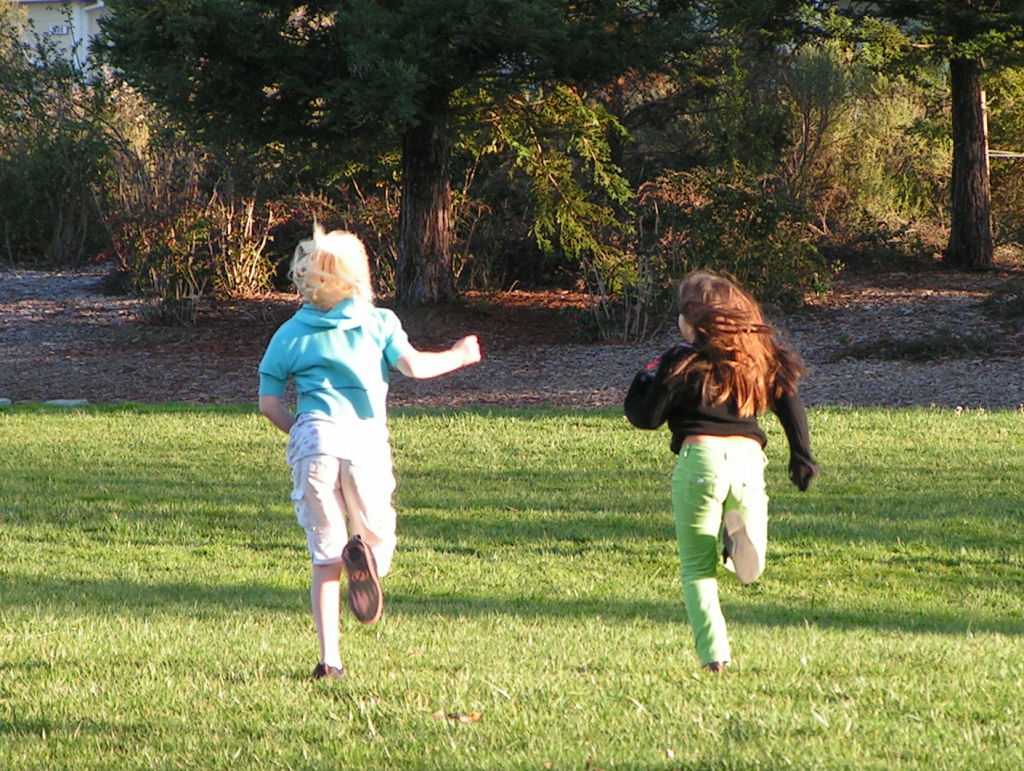 ...and discovered an "island."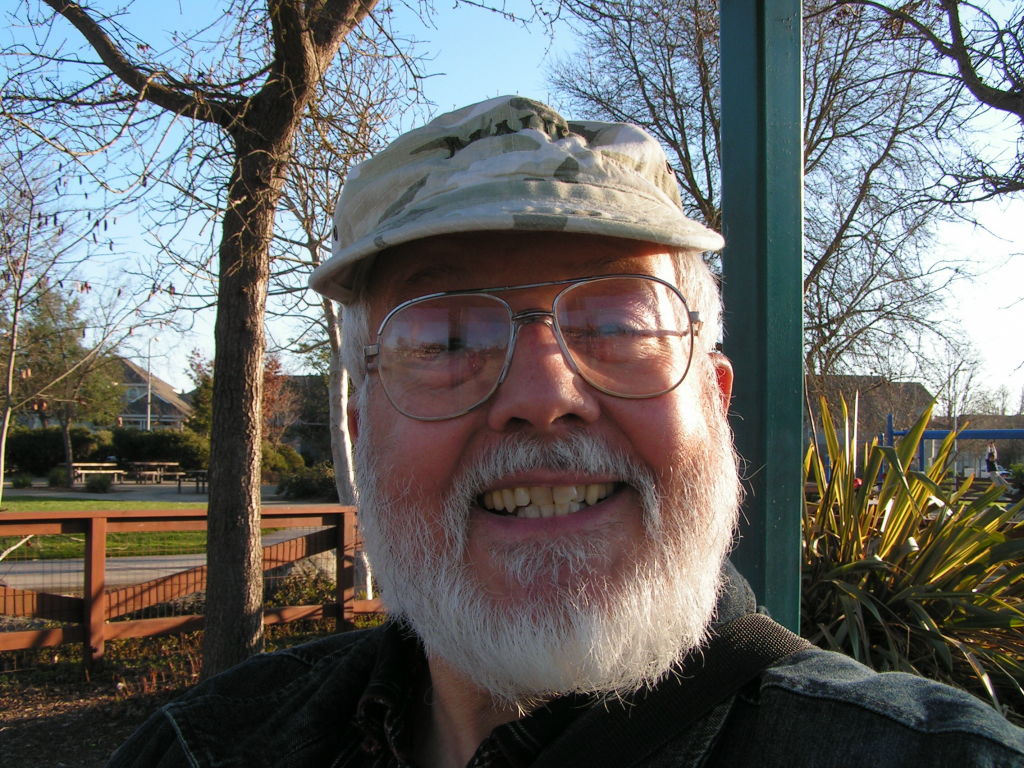 Grandpa enjoyed the late winter sunshine.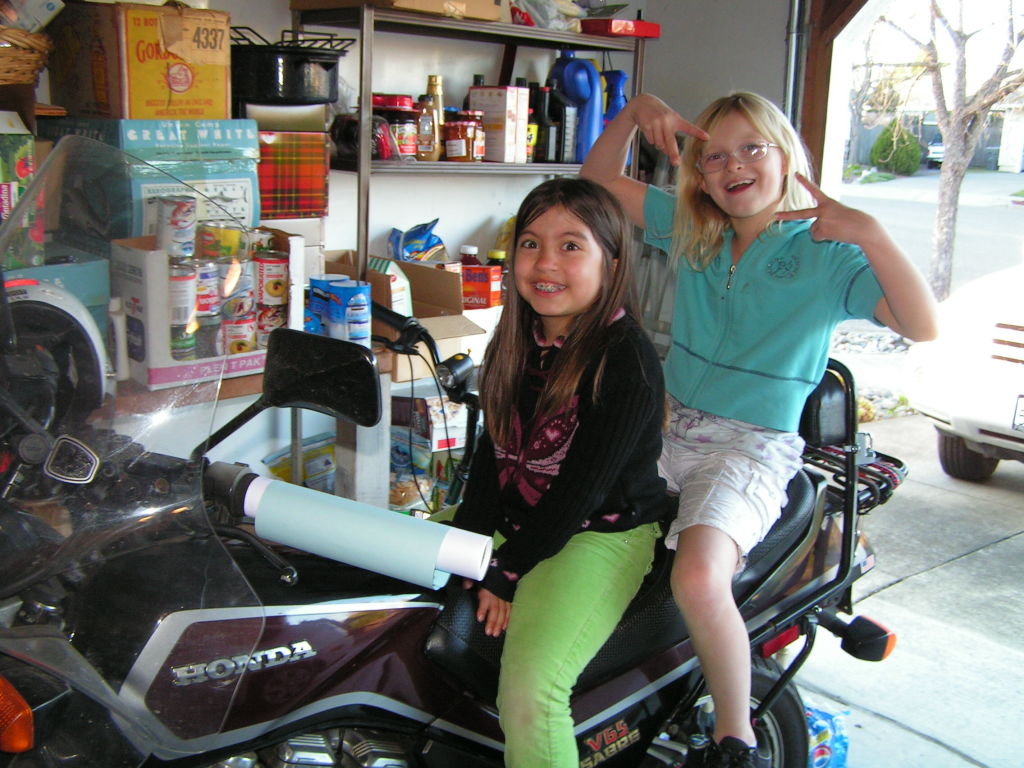 Sofi and Nicole posed on Grandpa's motorcycle.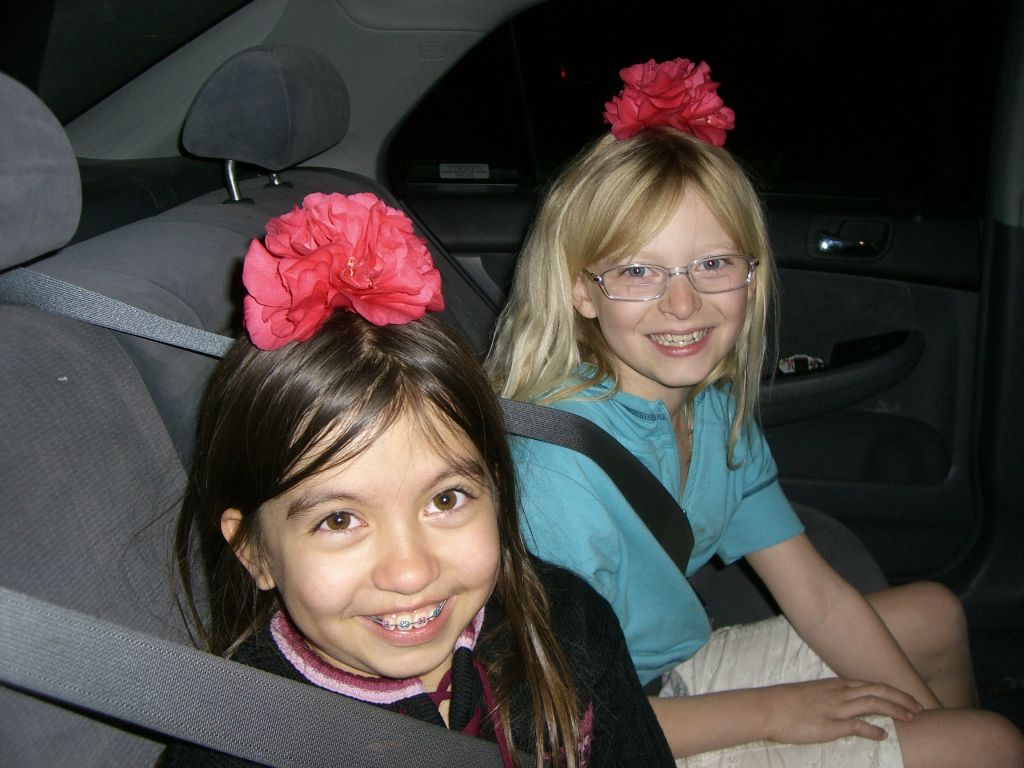 When Sofi and Nicole left, they wore flowers in their hair from Grammy and Grandpa's camelia bush.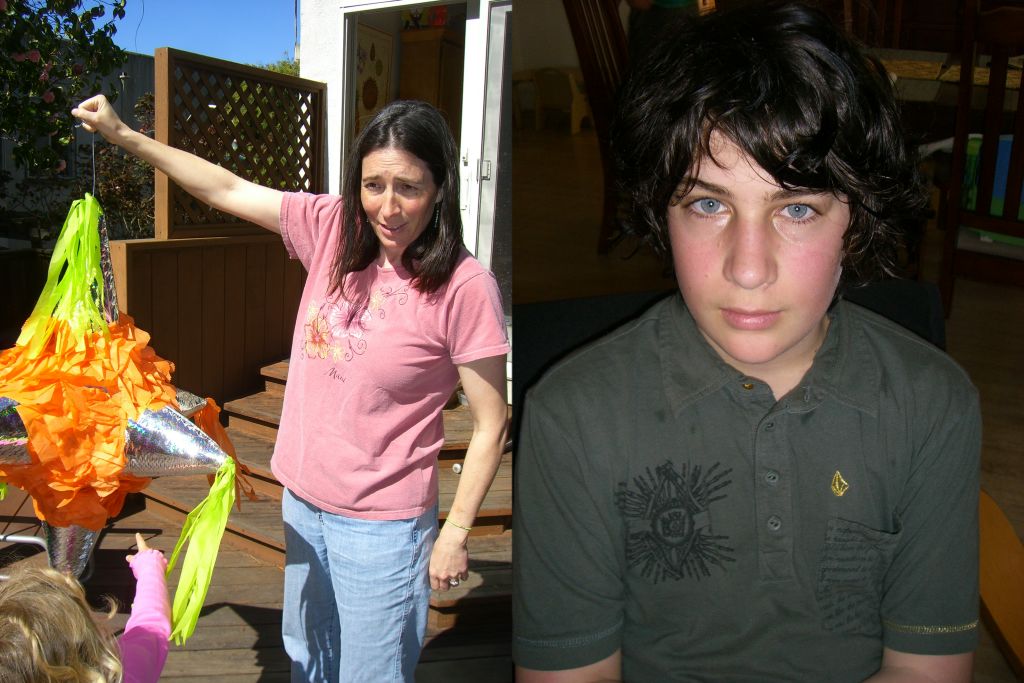 Sandra put up a pinata for Francisco's birthday party. Cassidy combed his hair with a towel.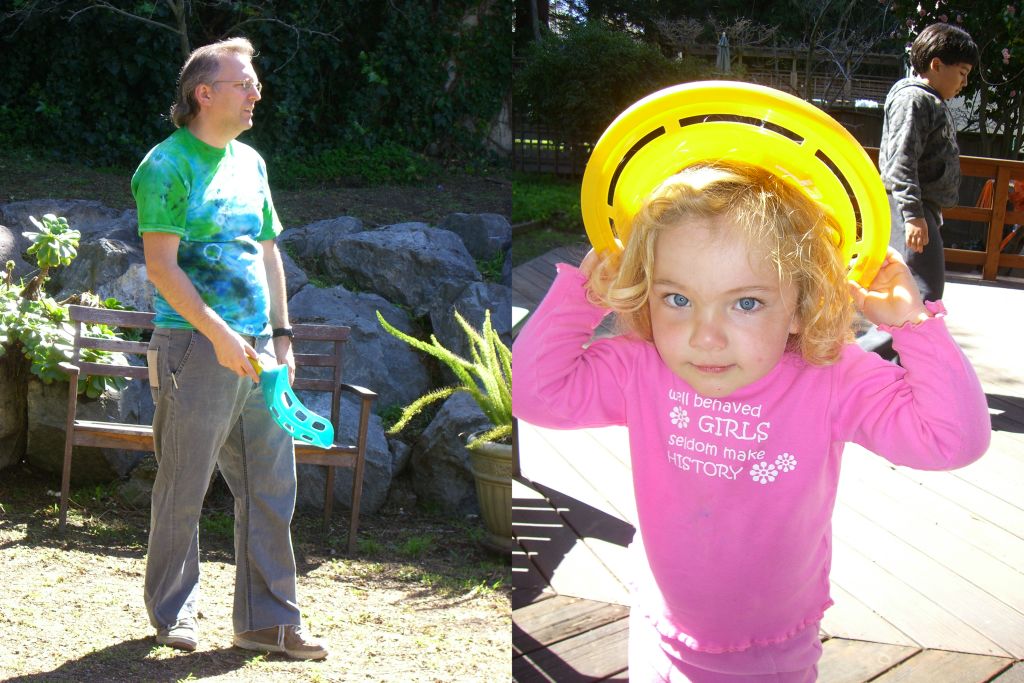 Eric got a work out playing jai alai. Isabelle shows off her halo.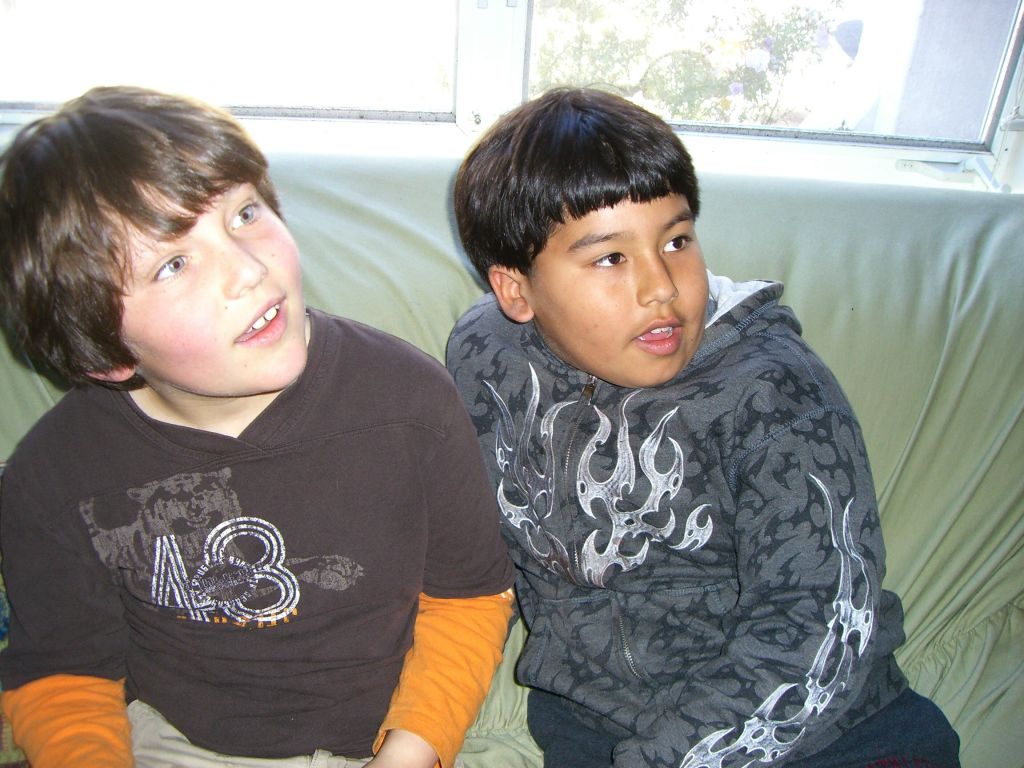 Francisco had Zak stay over for the weekend.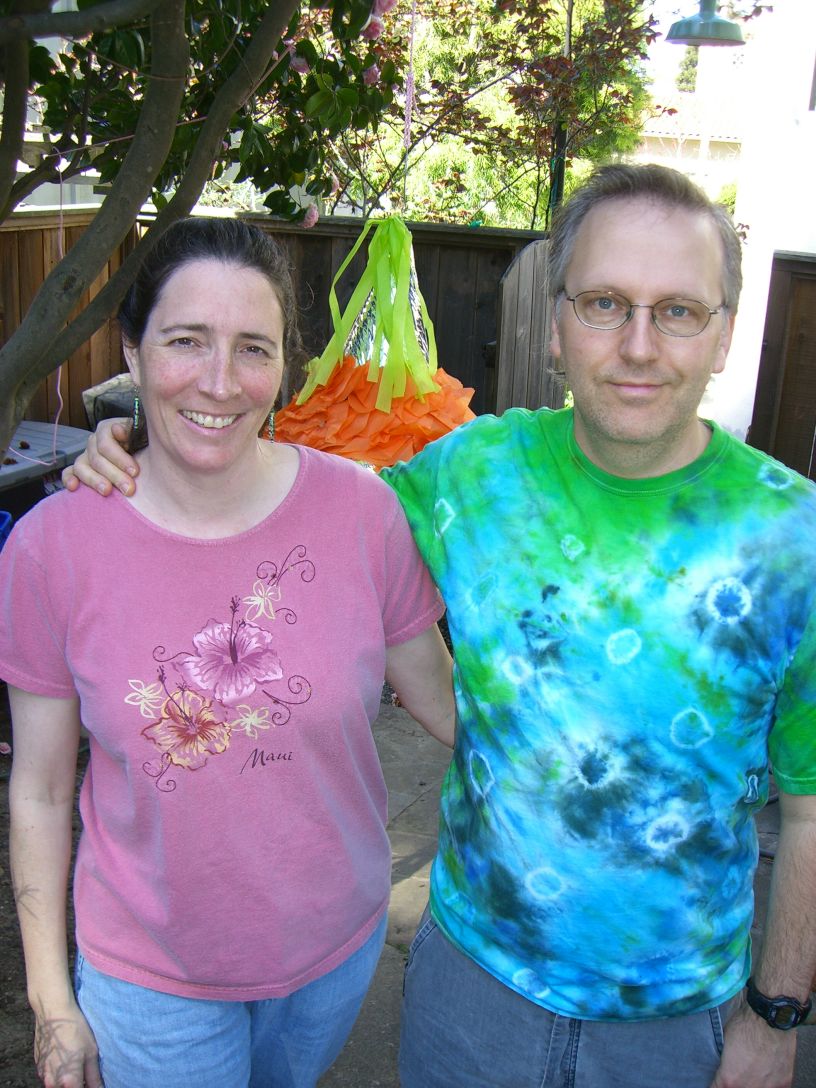 And here...(drum roll, please)...are Sandra and Eric, the newly engaged couple! (applause, audience shouting and whistling)
We are all very happy about this.
---

You have just seen photos of 03-17-08

Photos from the past year or so.