These photos were taken between 03-10-12 and 07-14-12.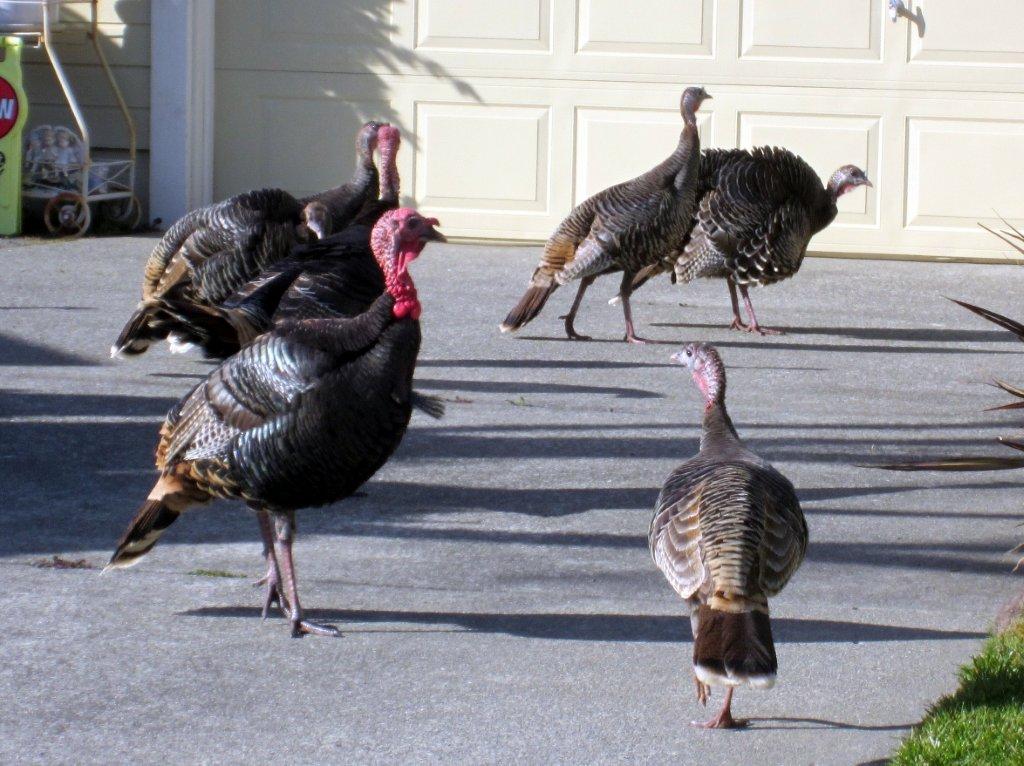 Got turkeys? We do, a whole bunch of feral turkeys that are getting less shy all the time. Just give Grandpa an excuse...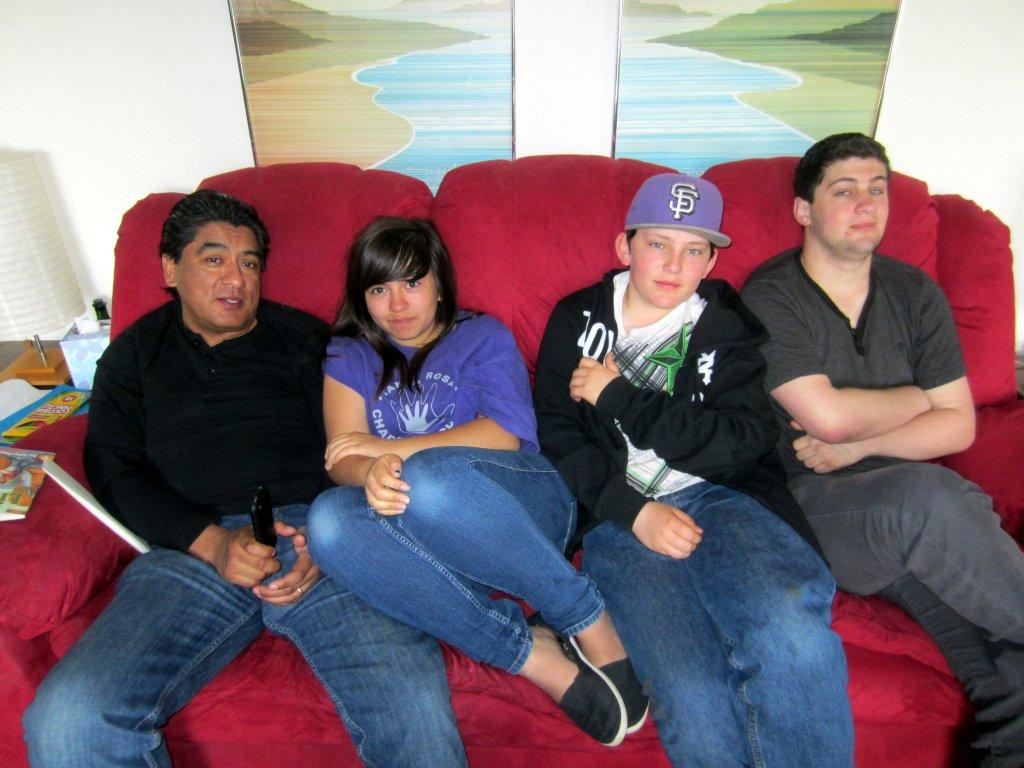 Mundo, Sofi, Francisco, and Cassidy. We all got together on Easter weekend.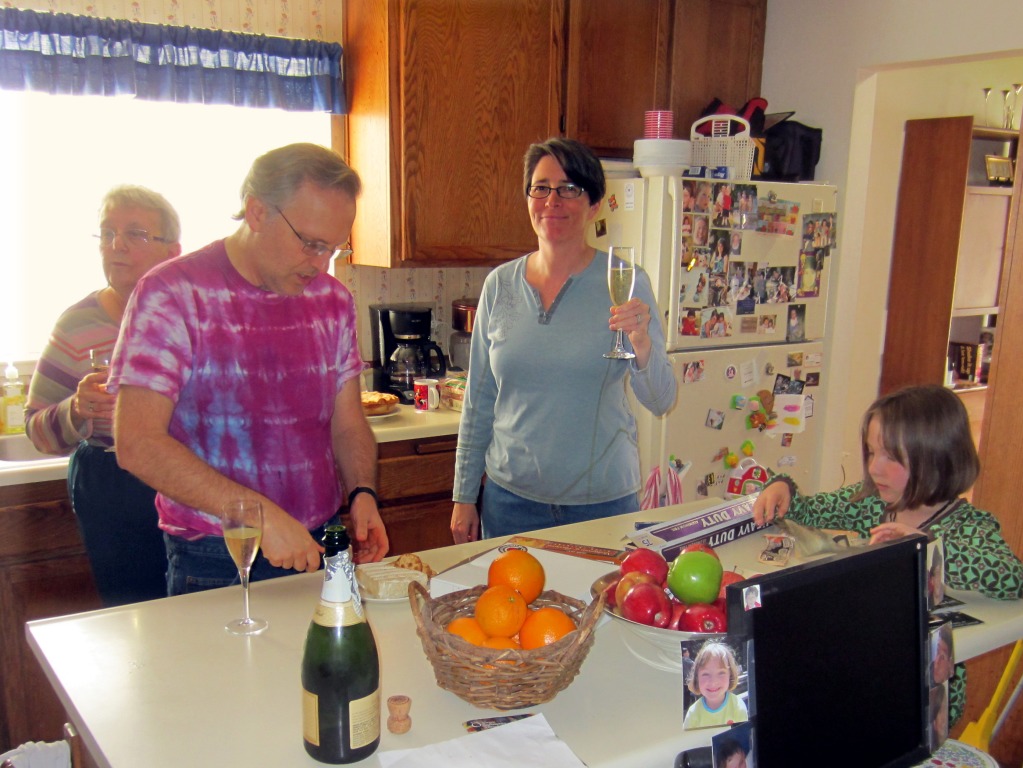 Grammy, Eric, Sandra, Isabelle, and a bottle of champagne


Catherine came up for a visit with Grammy.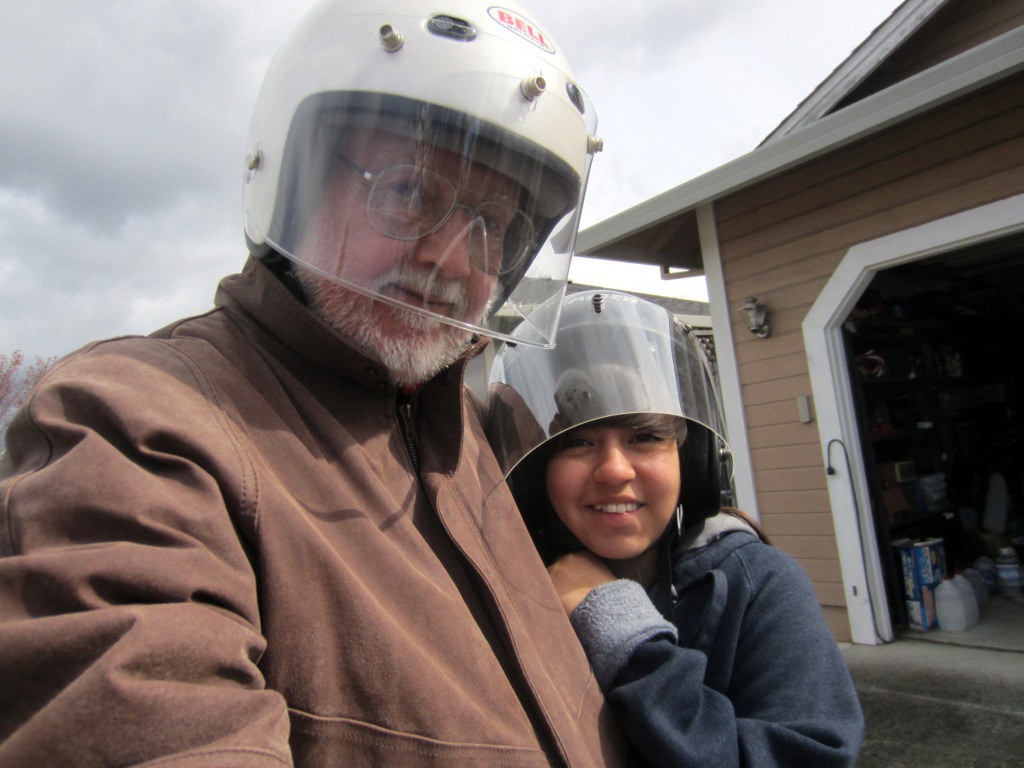 Grandpa & Sofi took a mototrcycle ride on a sunny but cool spring day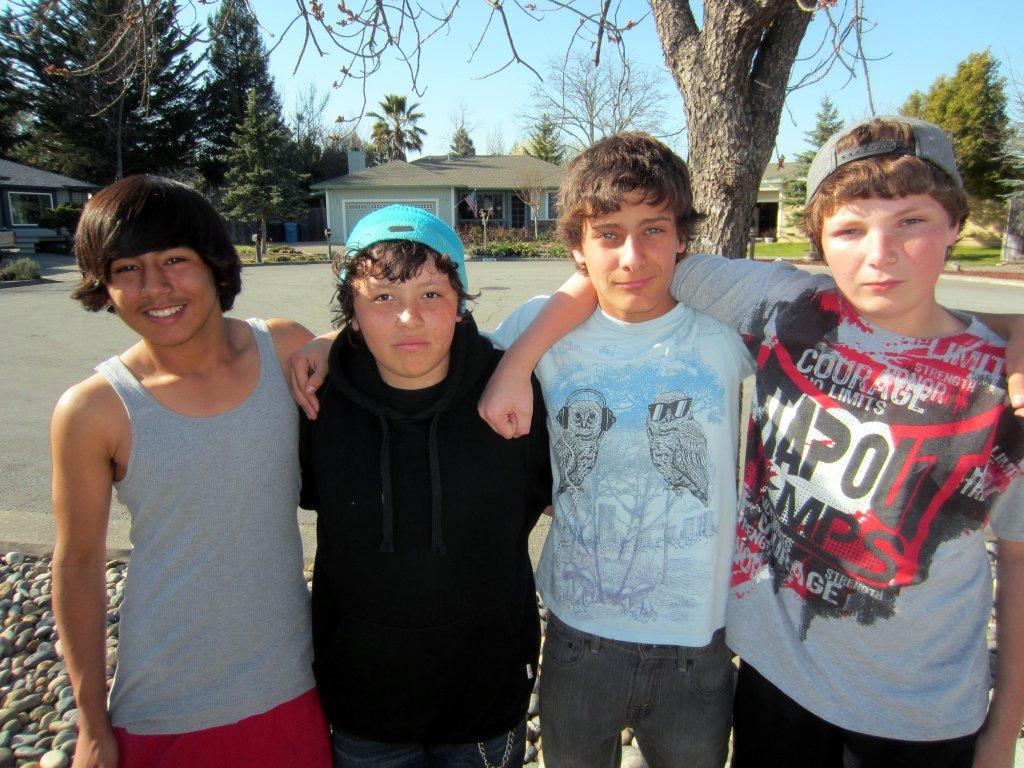 Zak and his friends, AJ, Aaron, and Max, after a basketball game outside our house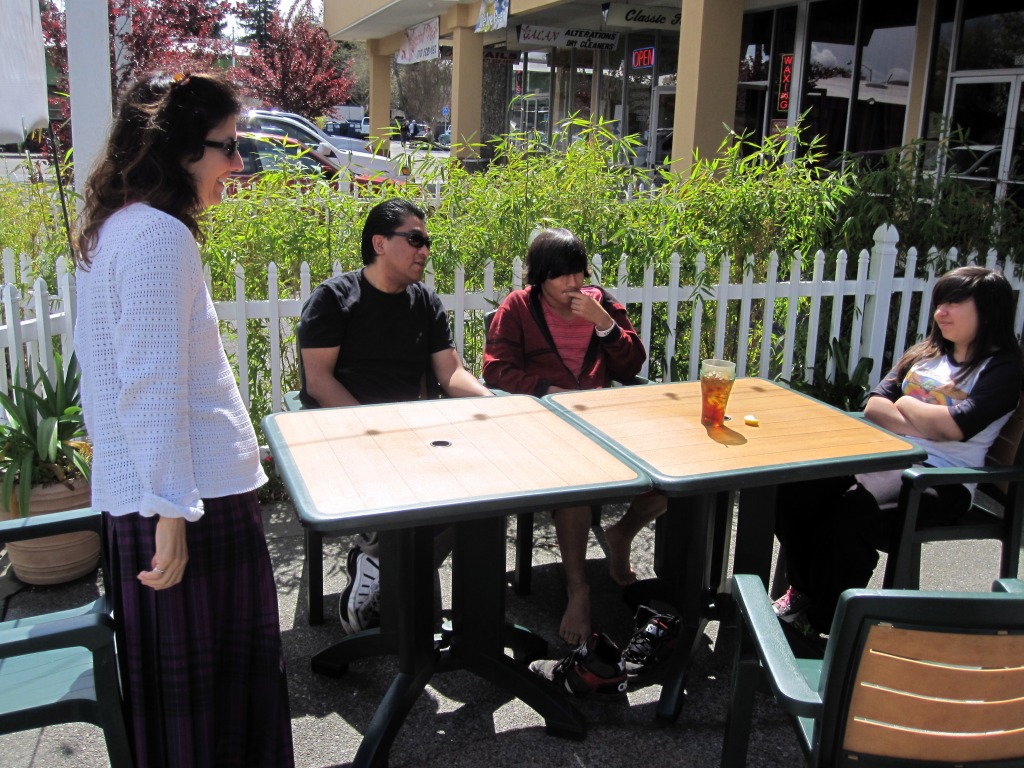 Suzy, Edmundo, Zak, and Sofi outside Lita's on a sunny spring day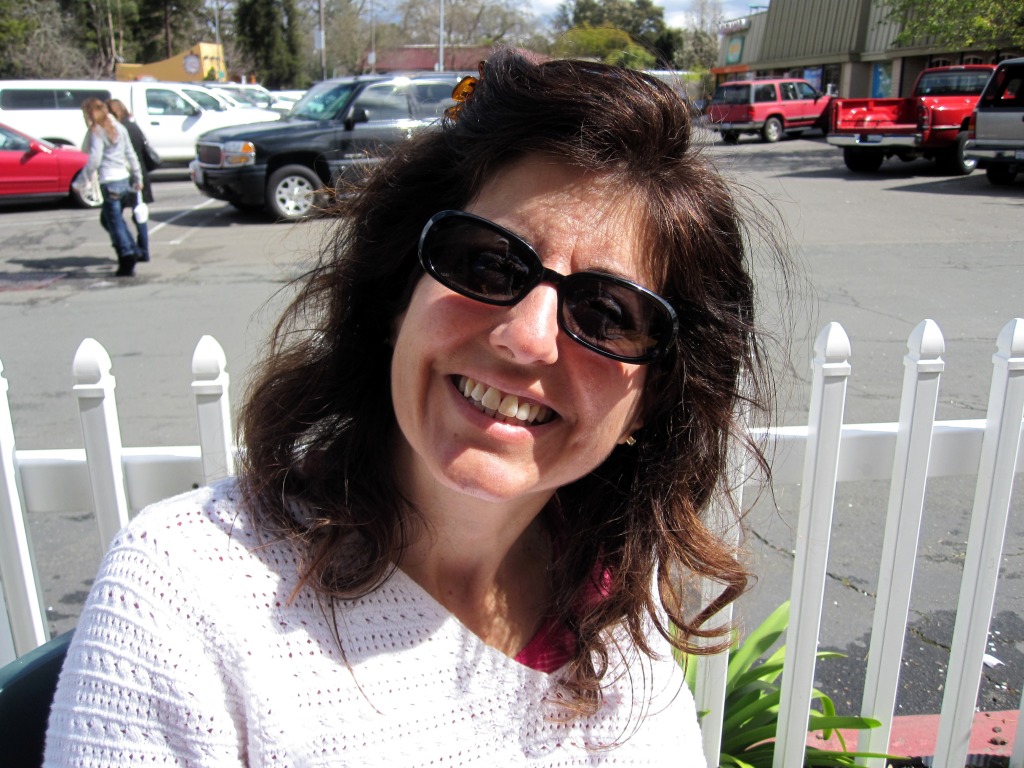 Suzy at Lita's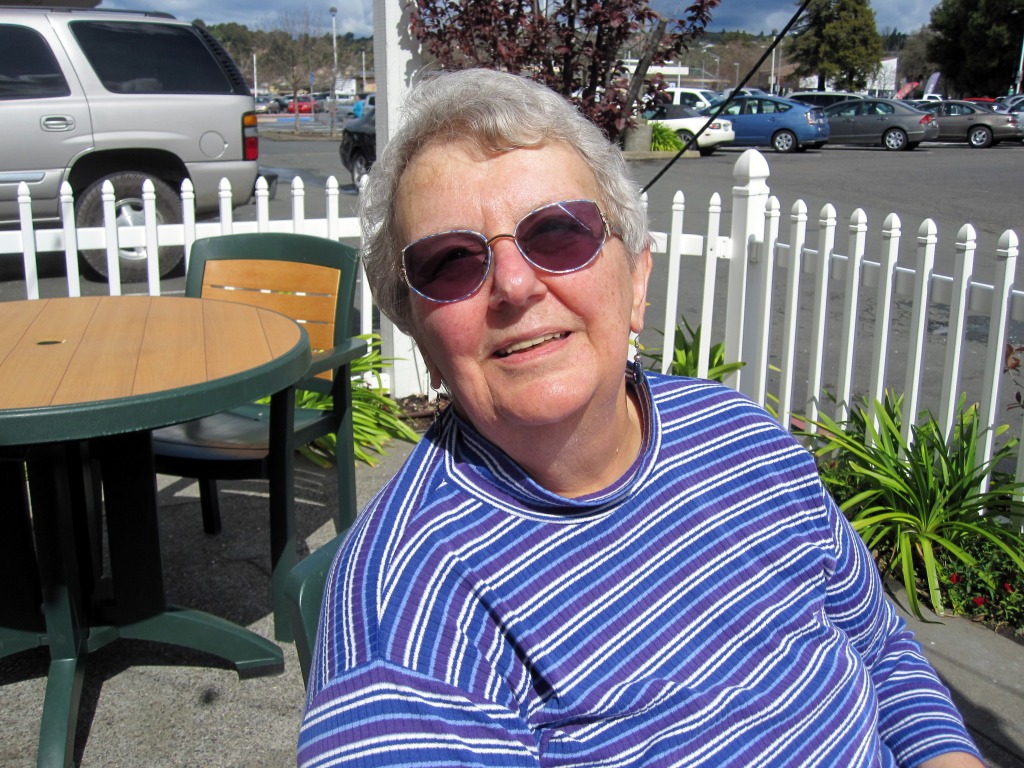 Grammy at Lita's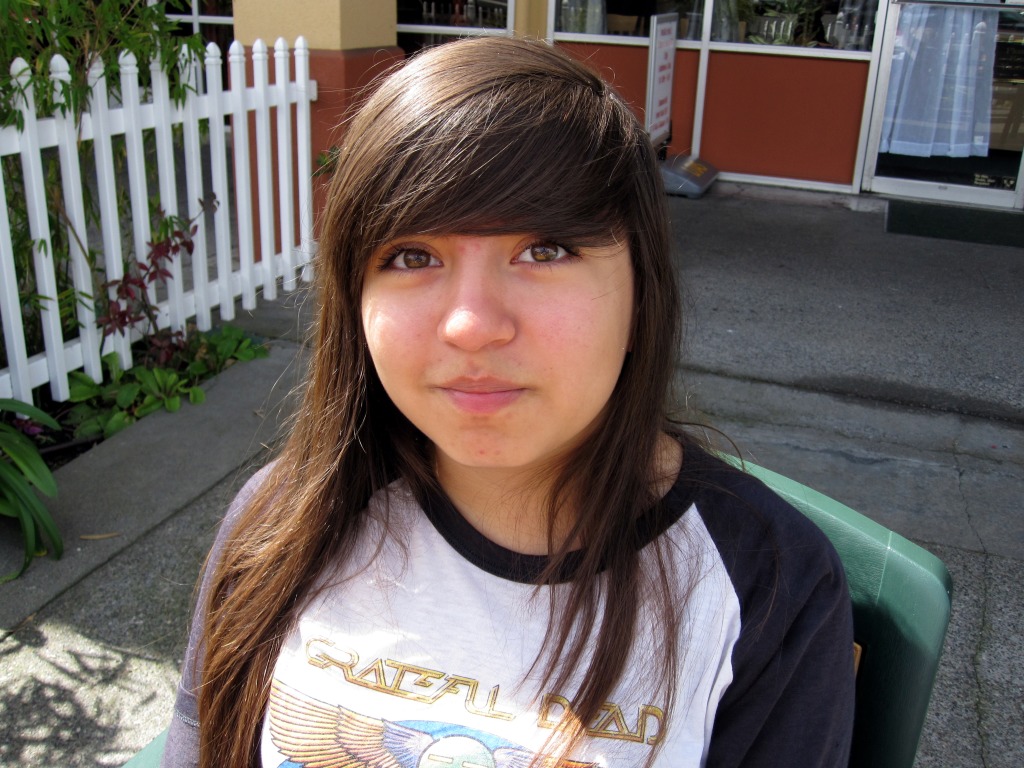 Sofi at Lita's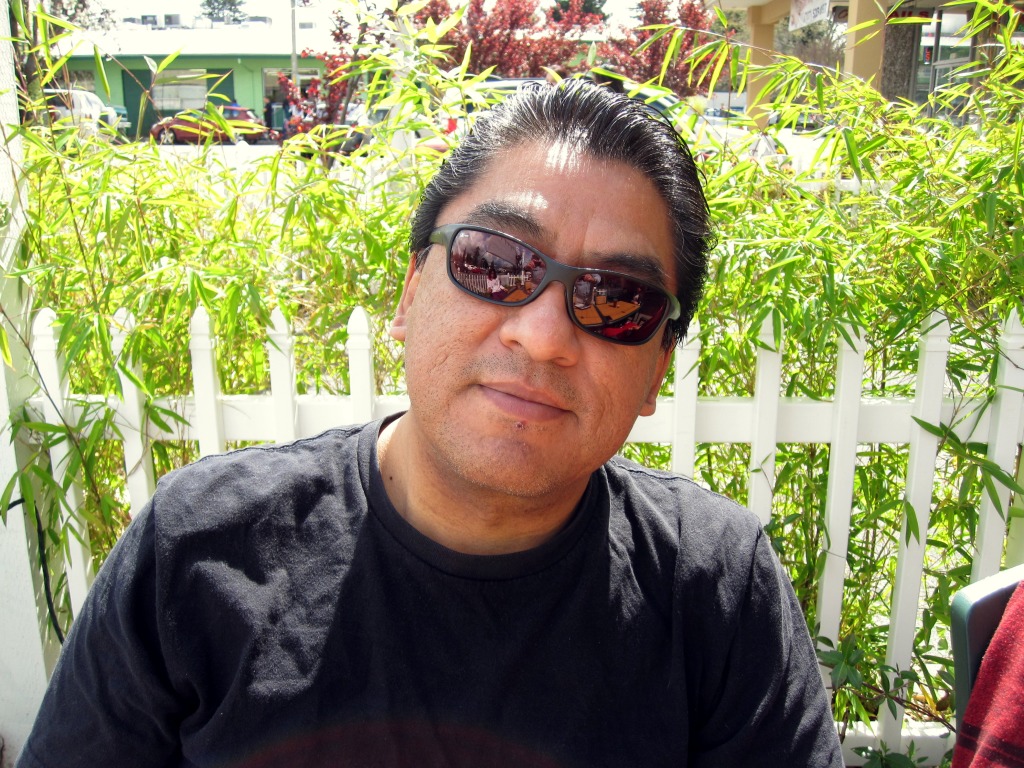 Mundo at Lita's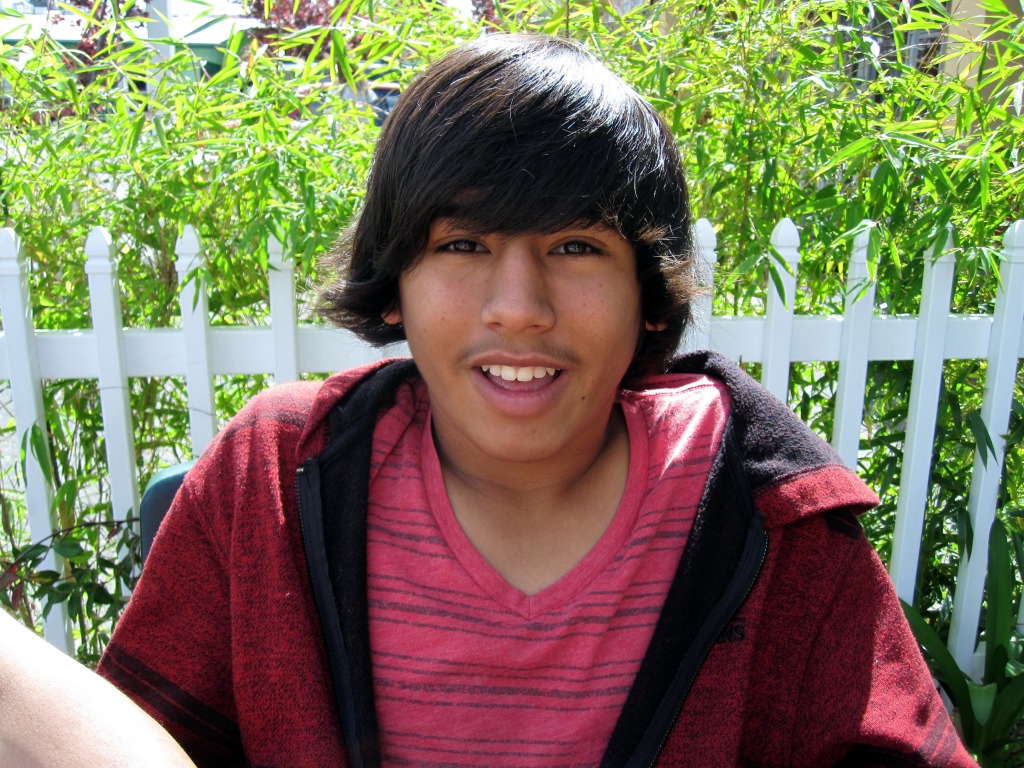 Zak at Lita's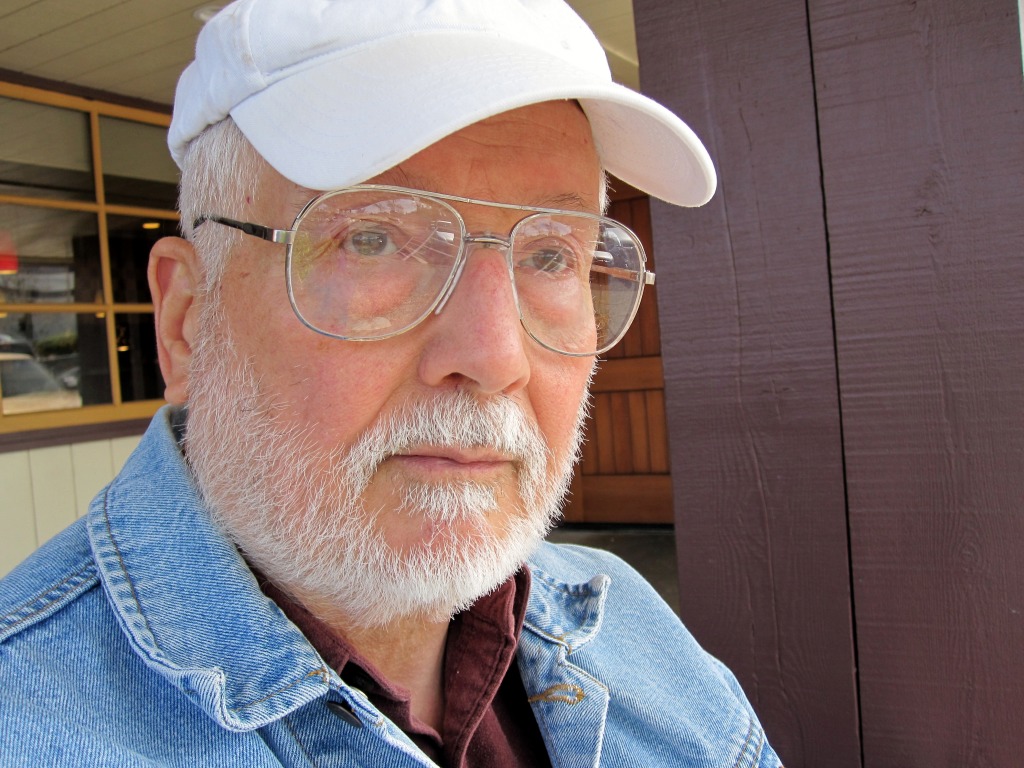 Grandpa at Lita's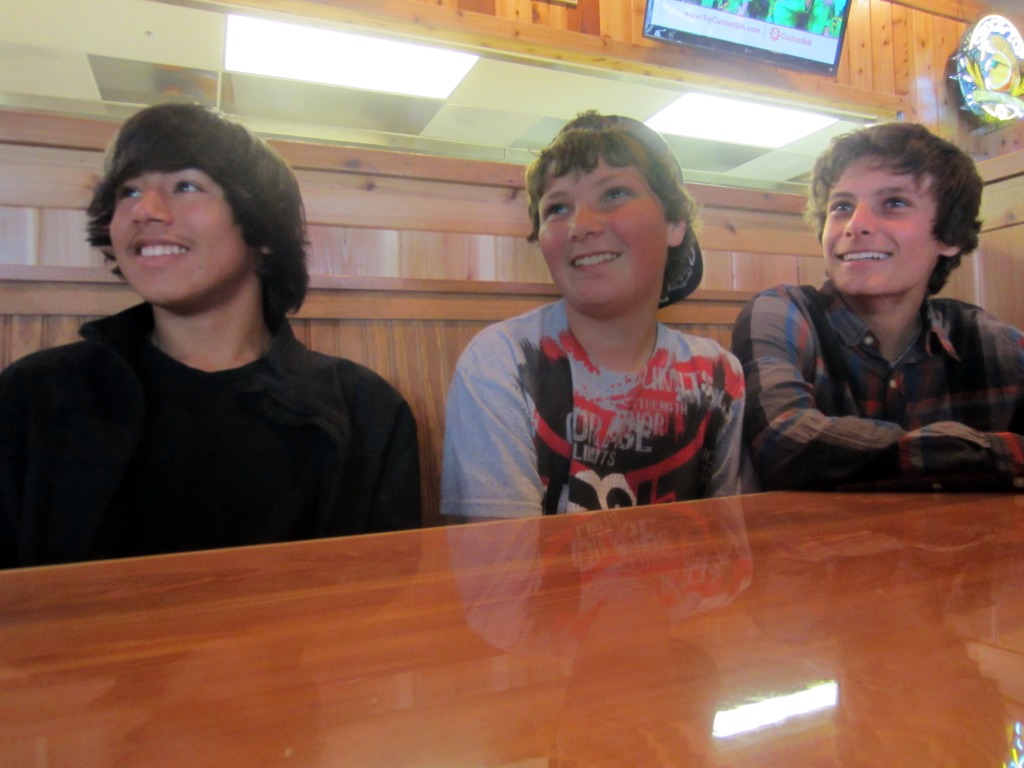 Zak had been to a Hooter's restaurant before, but his friends Max and Aaron had not...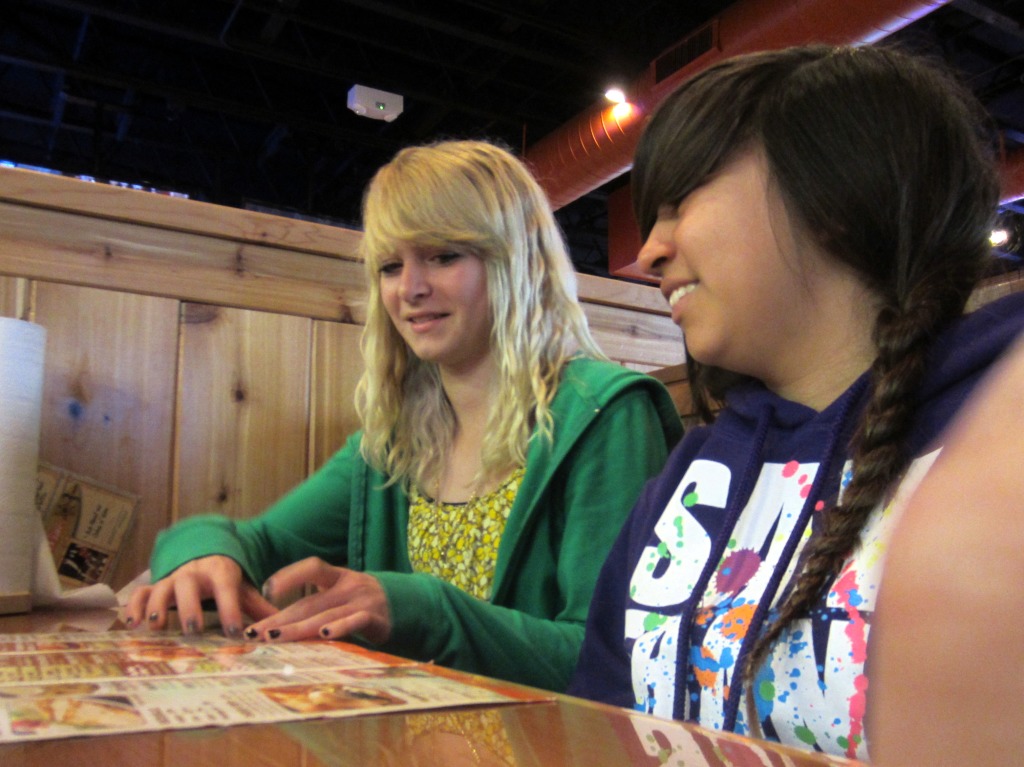 ...we brought Nicole & Sofi too.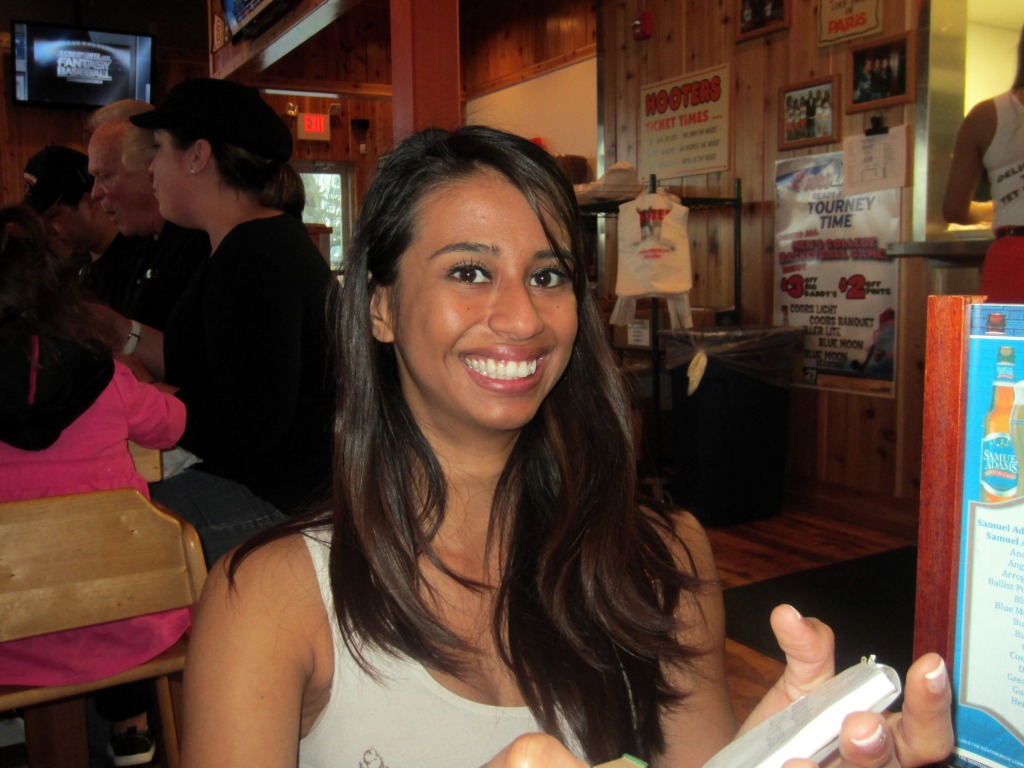 This was our waitress...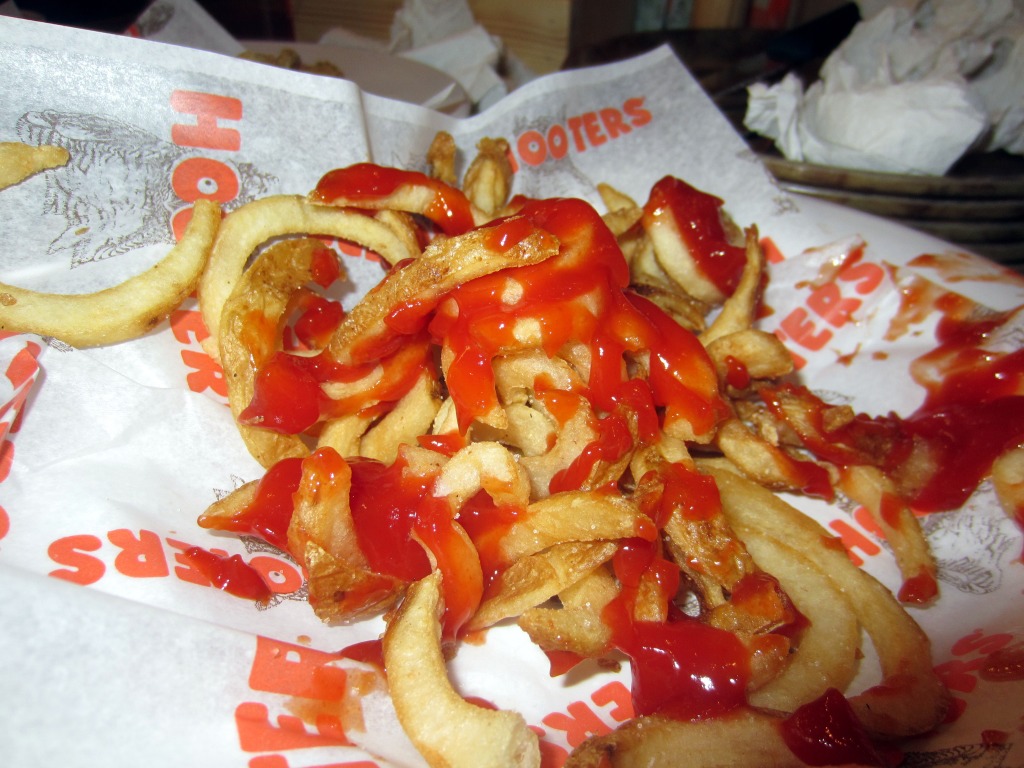 ...and here is what the kids did to the fries.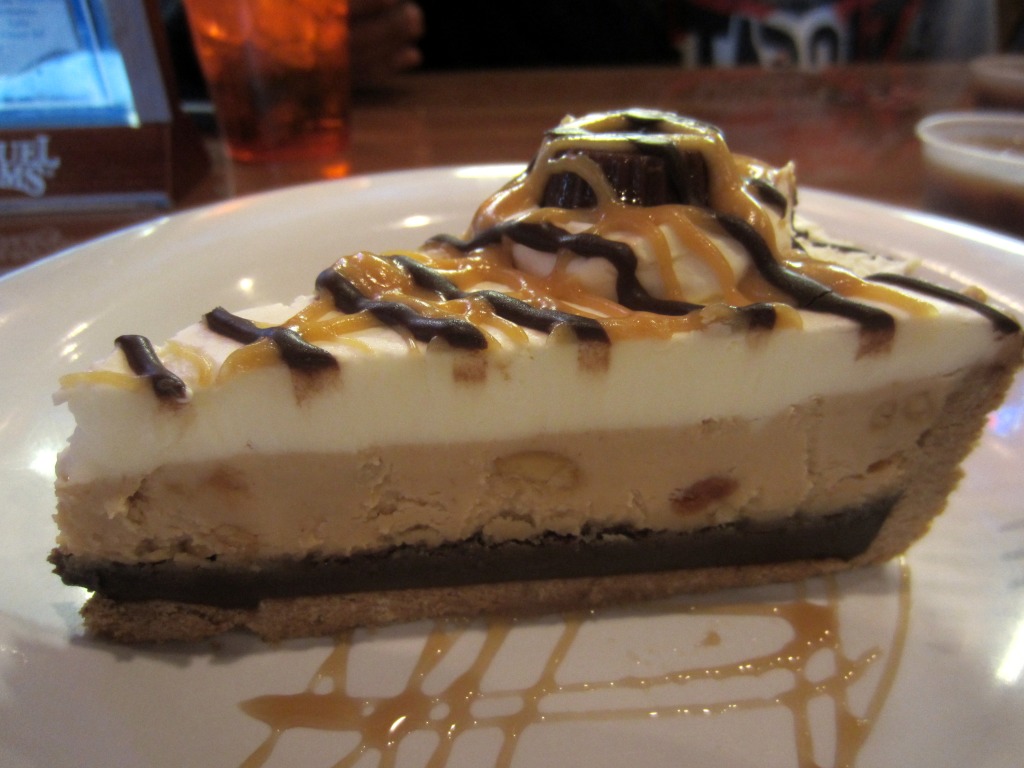 Peanut-butter-chocolate pie. Really good!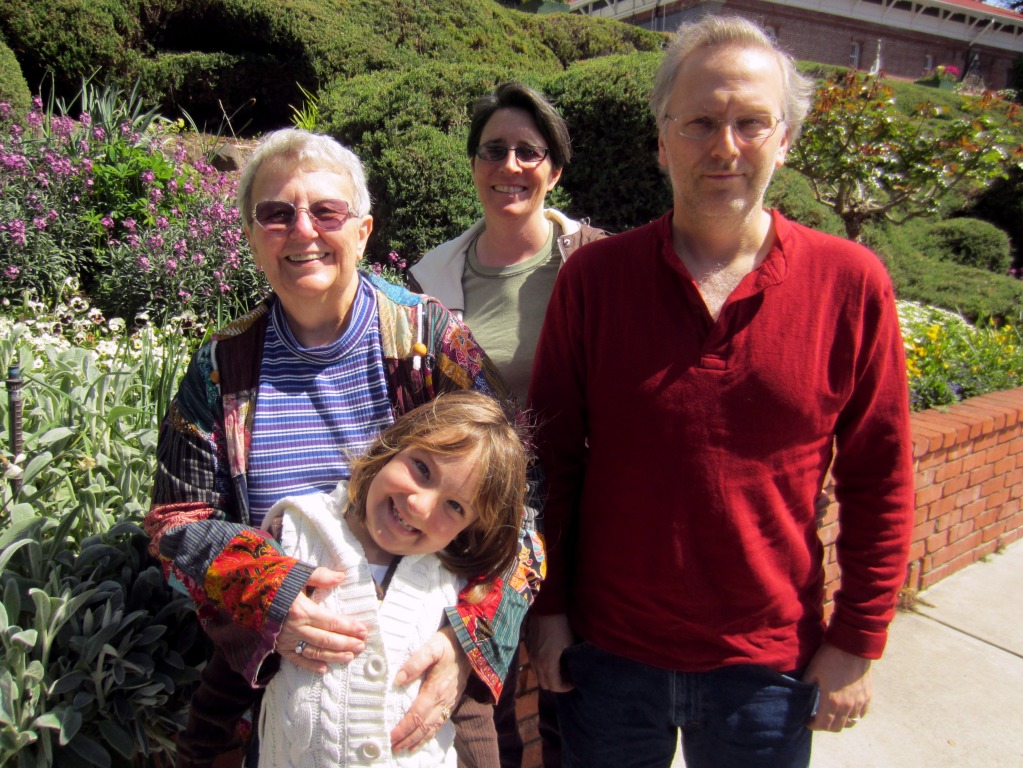 We went to a fair in Occidental (see below) and stopped for lunch at Korbel's. Grammy, Isabelle, Sandra, and Eric.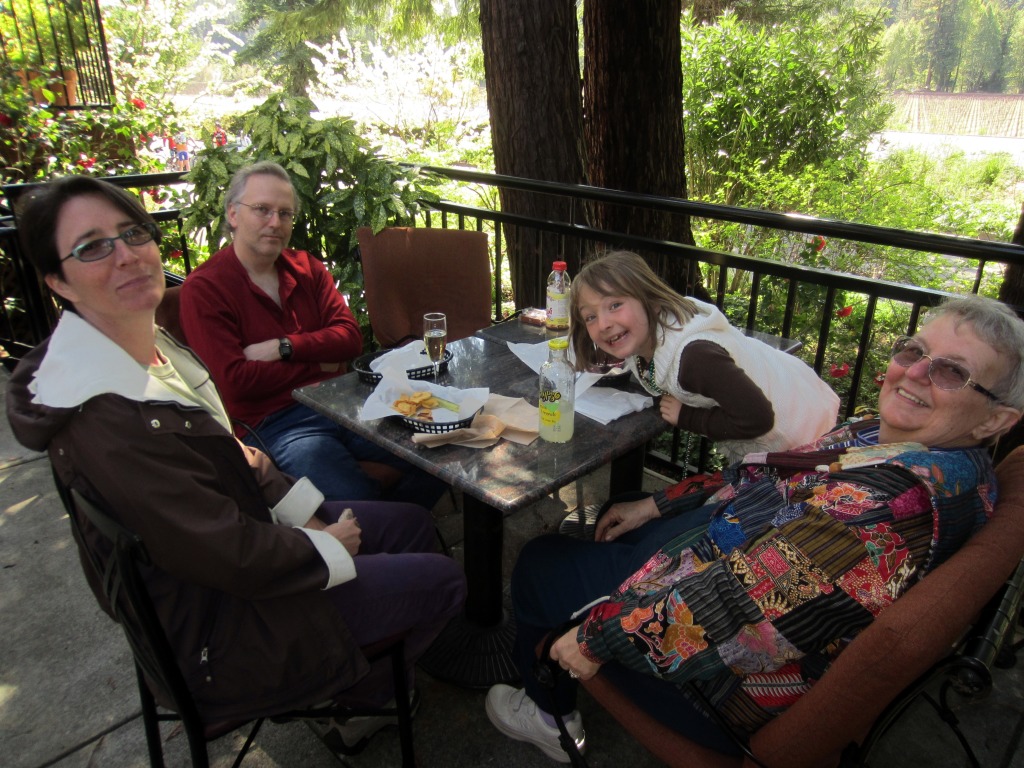 Lunch at Korbel's. Inefficient but tasty. Sandra, Eric, Isabelle, Grammy.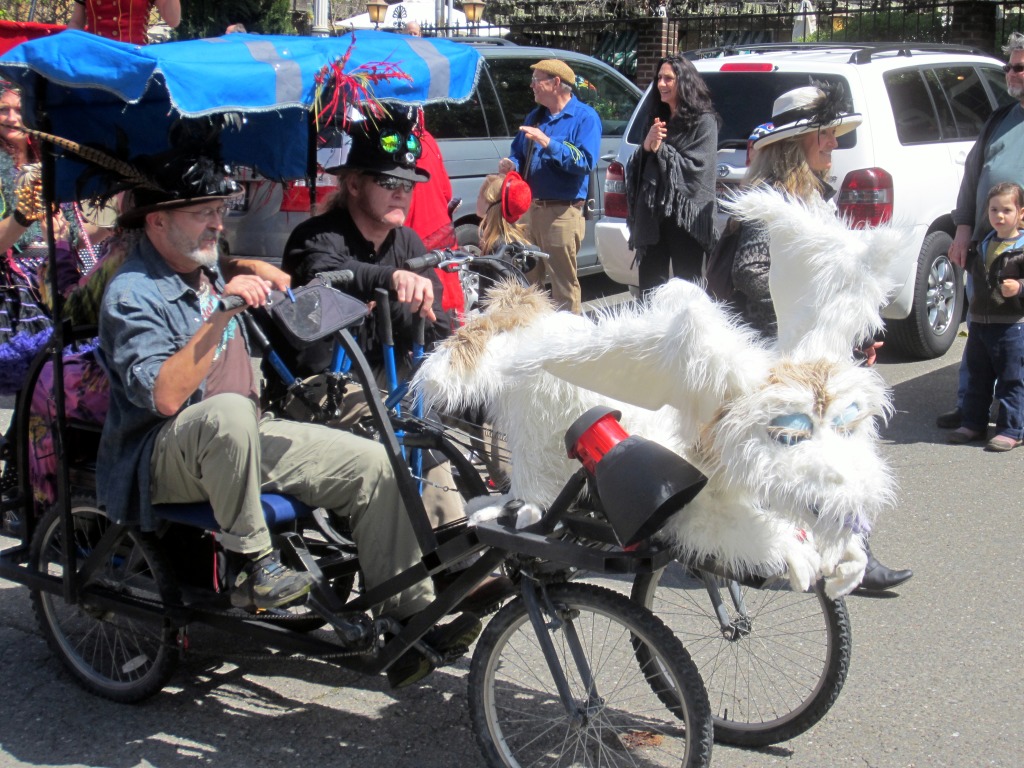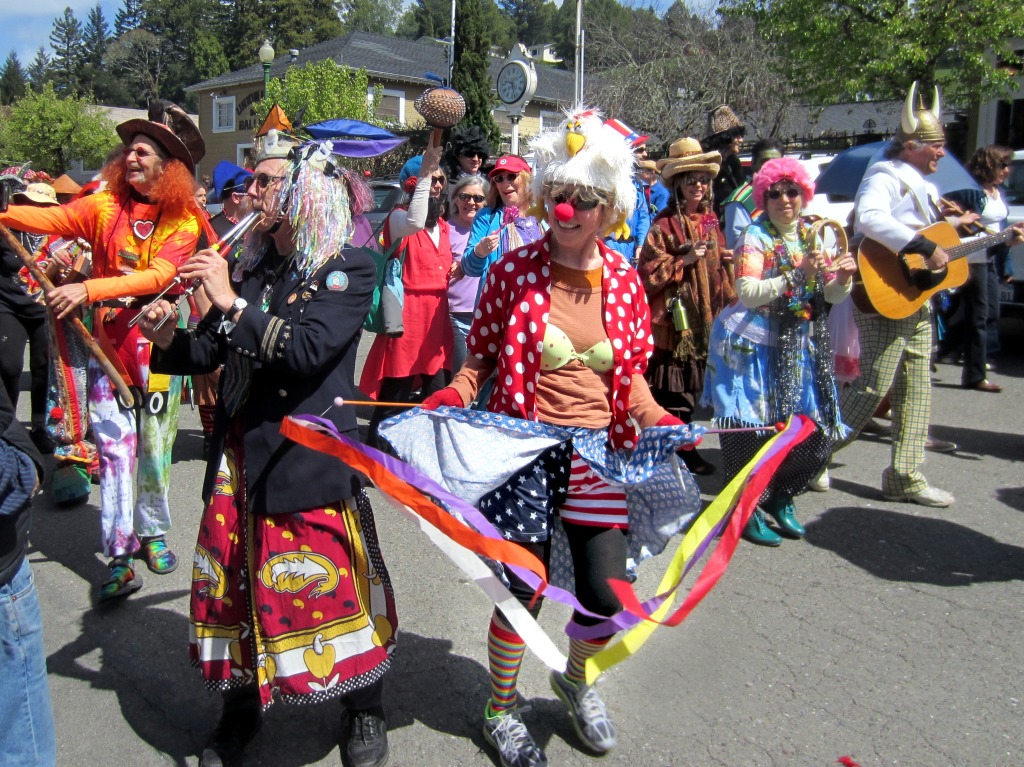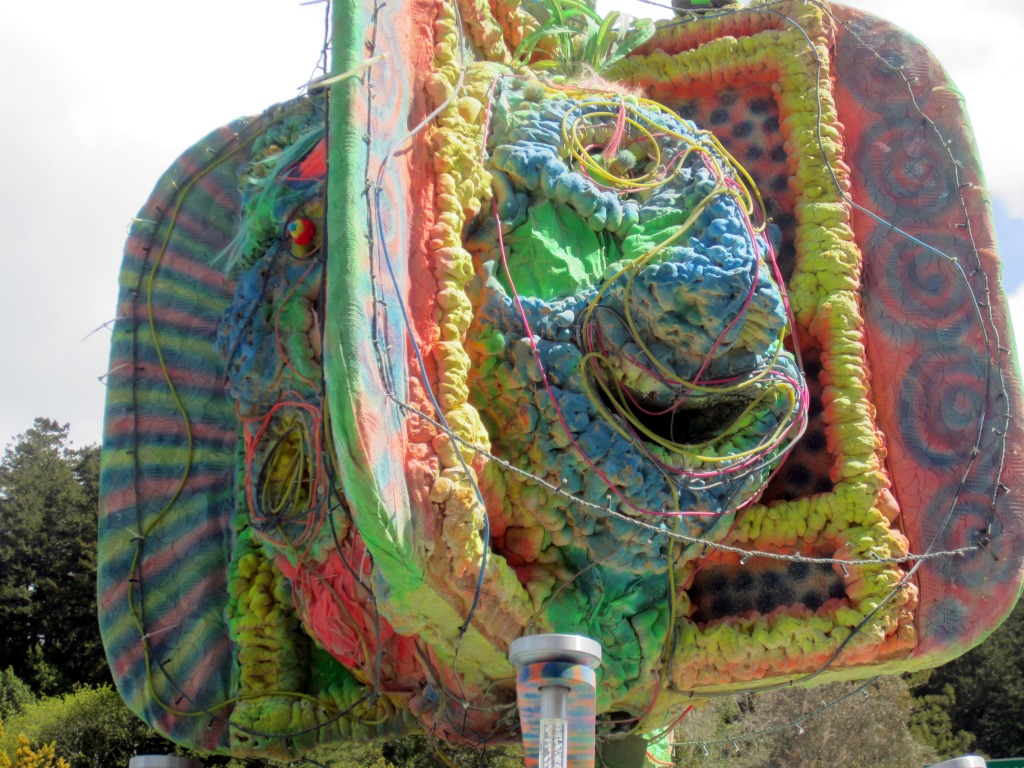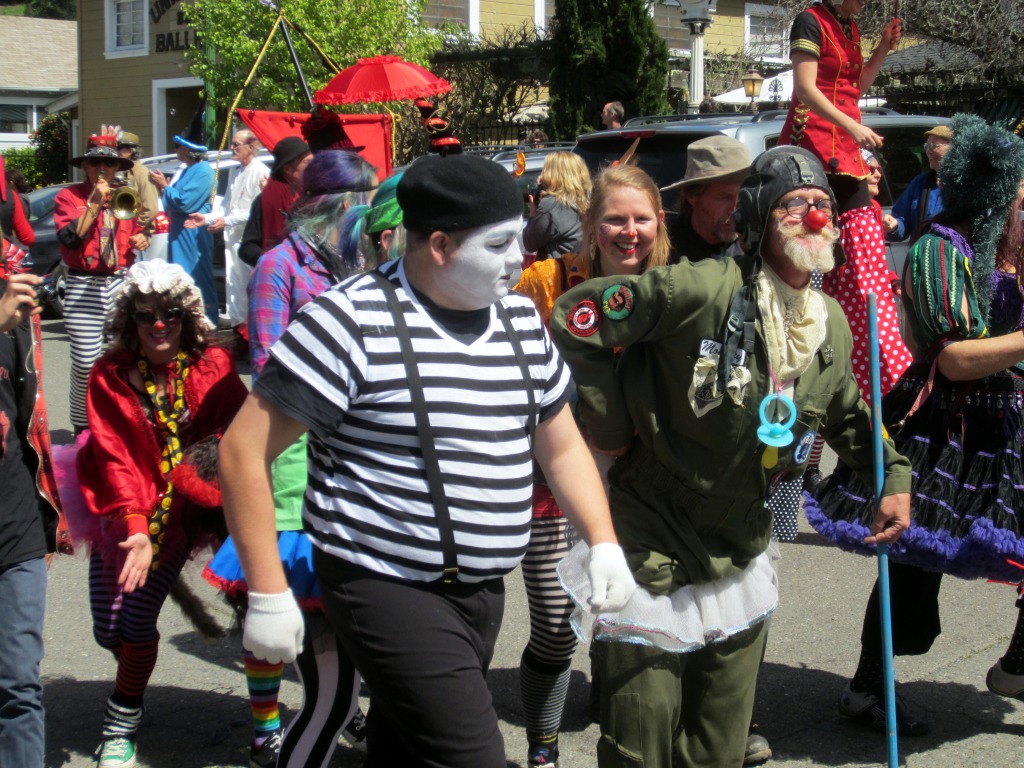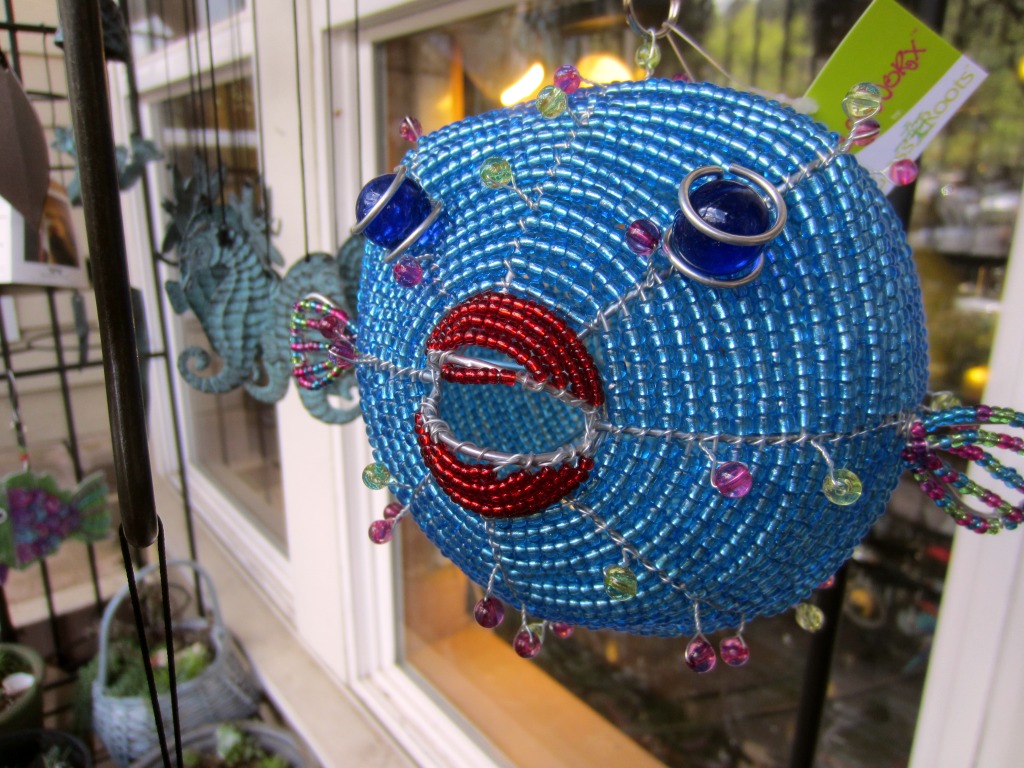 Images of the Occidental Fool's Day Parade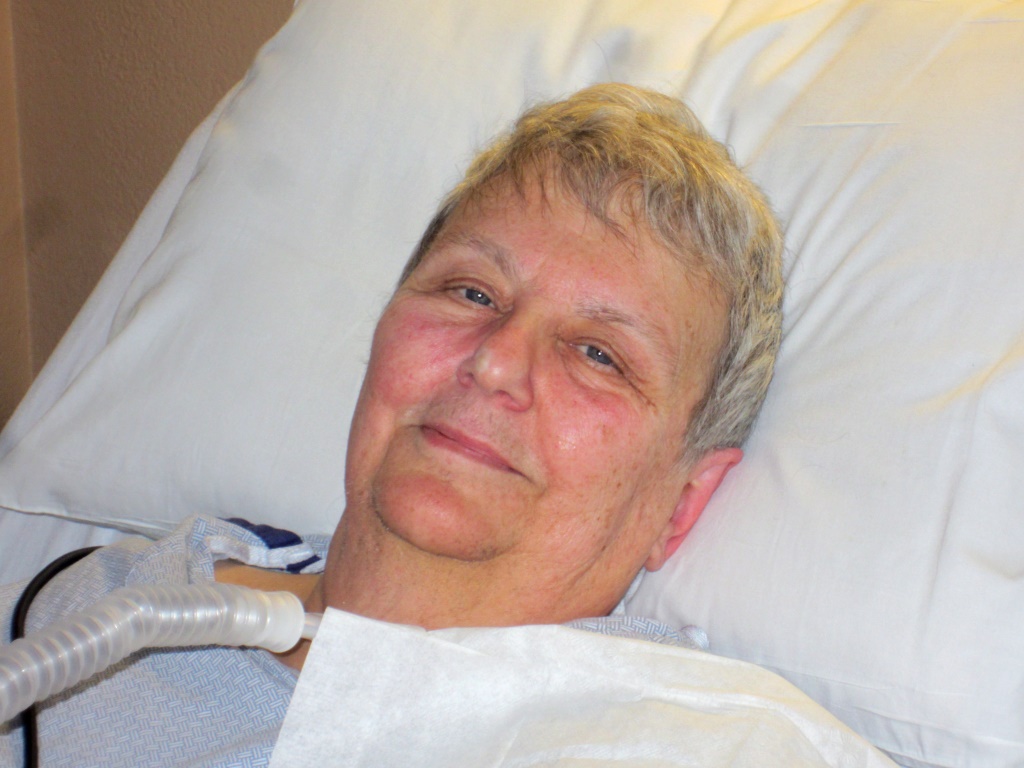 On April 5 Grammy had lower back surgery similar to the surgery that Grandpa had back in December. She recovered quickly and is doing very well -- actually both are.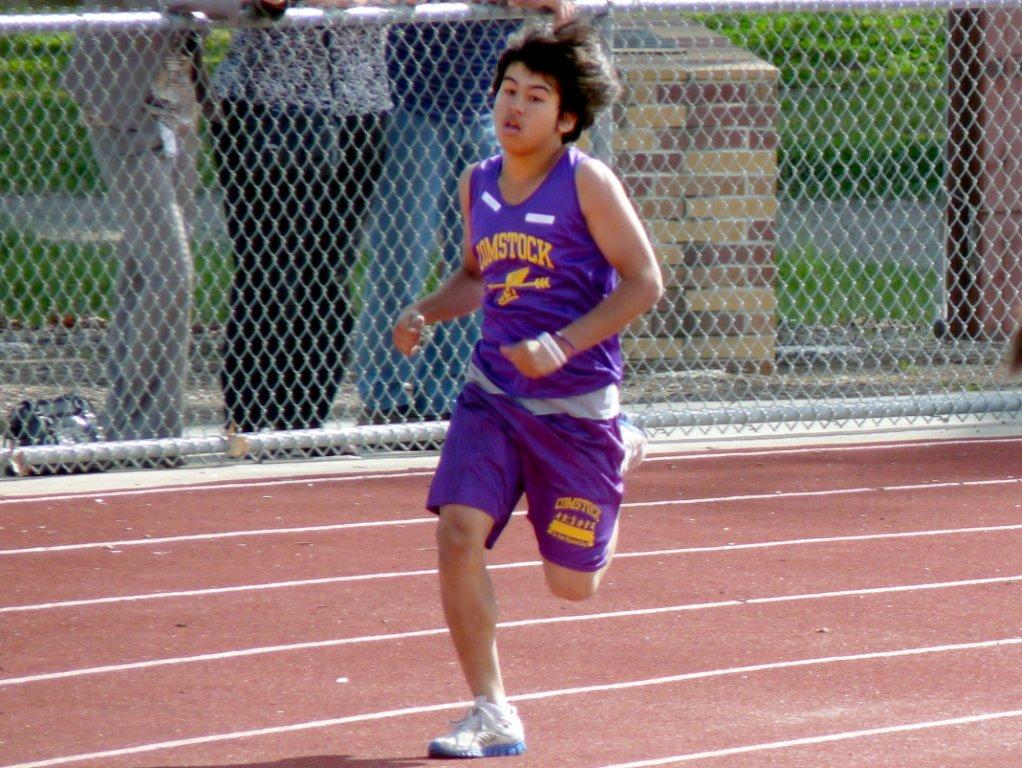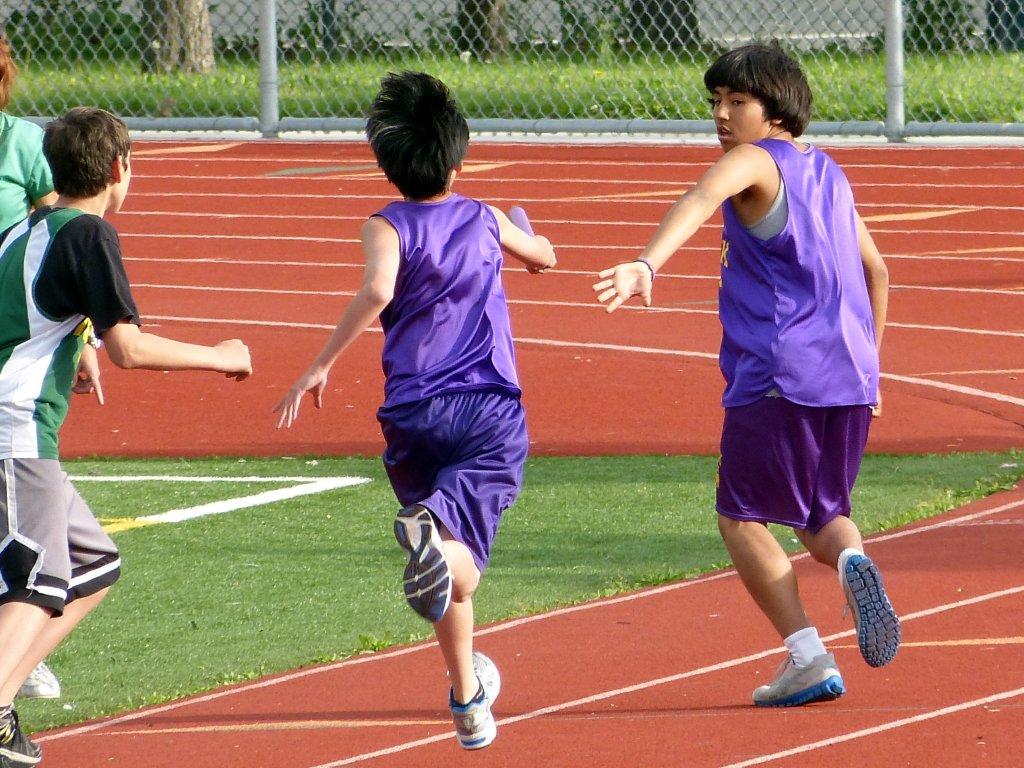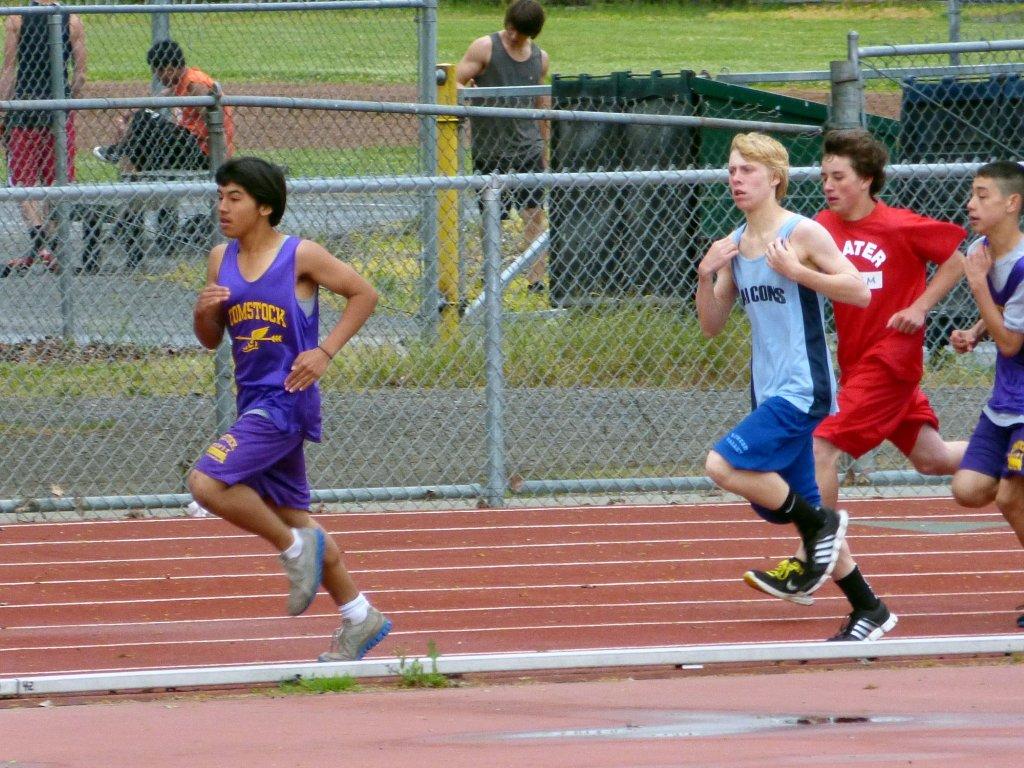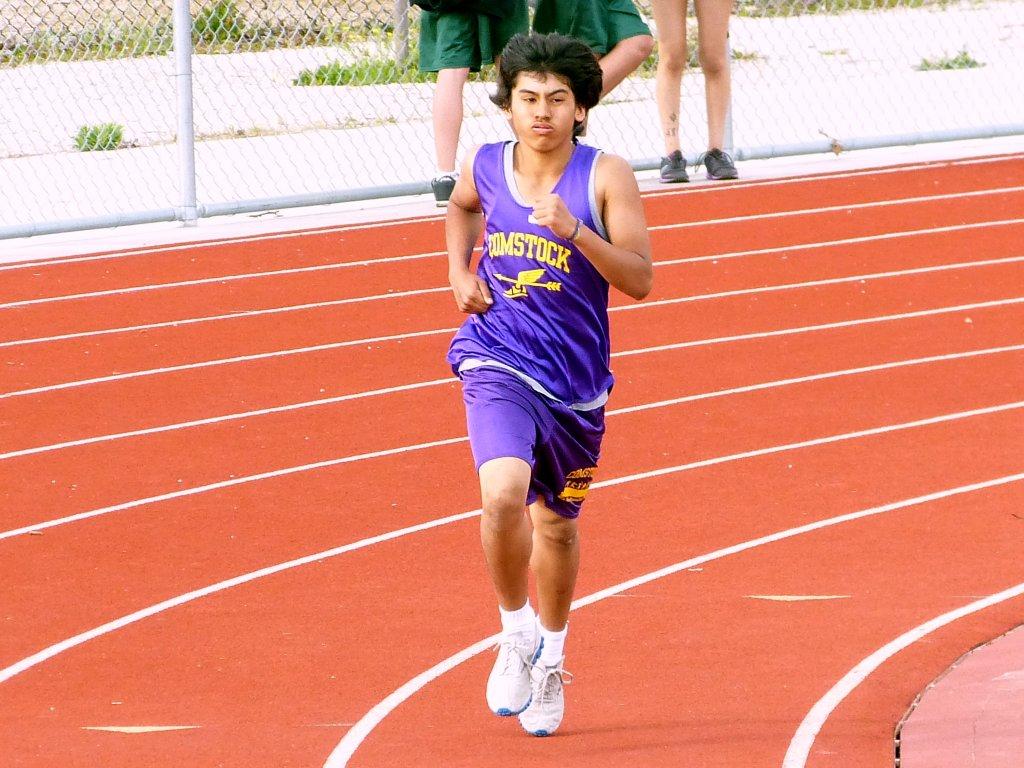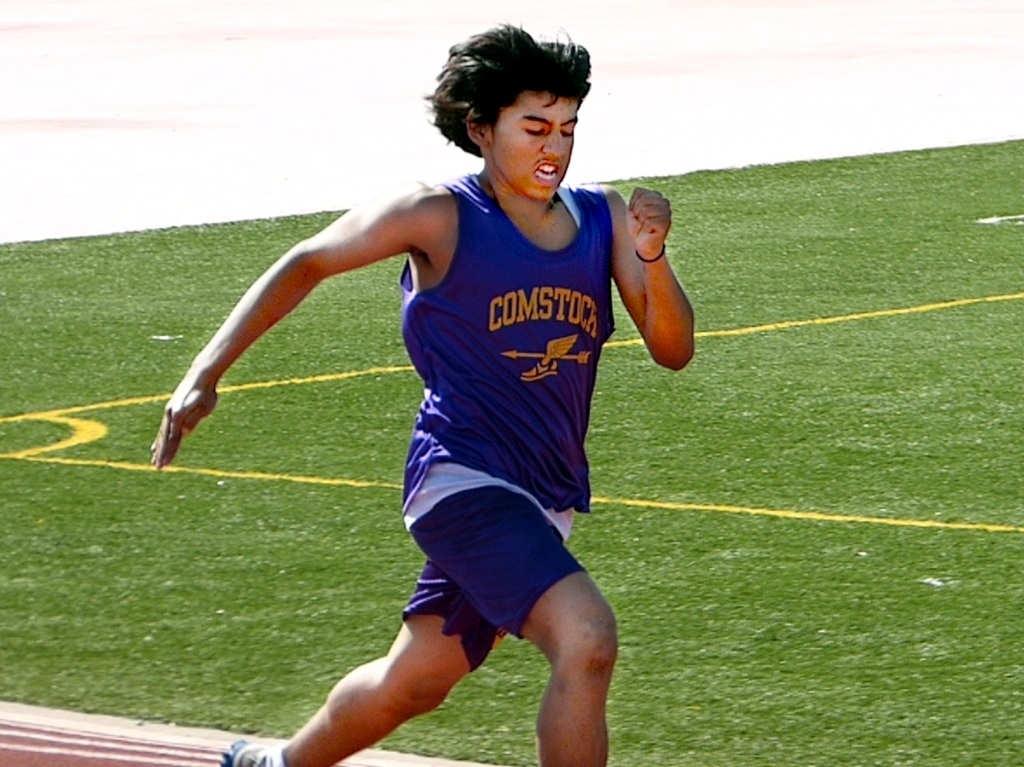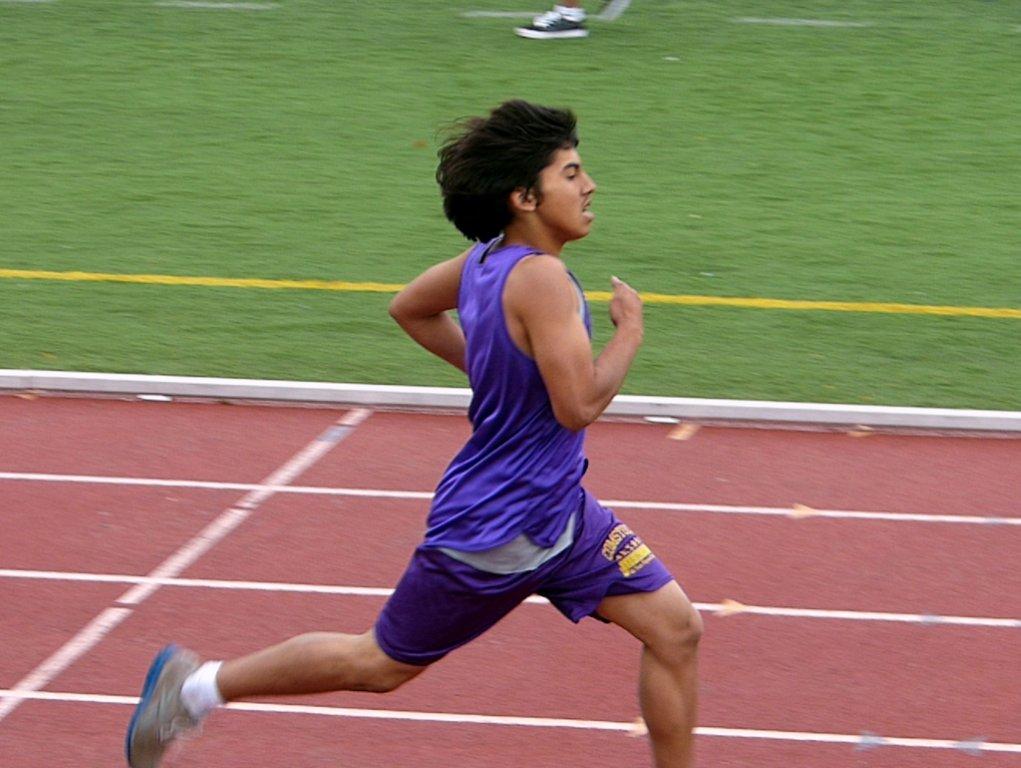 This spring Zak discovered a talent he didn't know he had -- he can run! He won several races (in one of his one-mile races he lapped the last 6 runners!!!) and found himself in the
semifinals. In the finals he came in third overall in the 1-mile race, competing against students from all of Santa Rosa's middle schools. We are soooooo proud of him! By the
way, though he runs in a Comstock uniform he actually goes to Santa Rosa Charter School. The two track teams are merged because Comstock's is bigger and better-funded.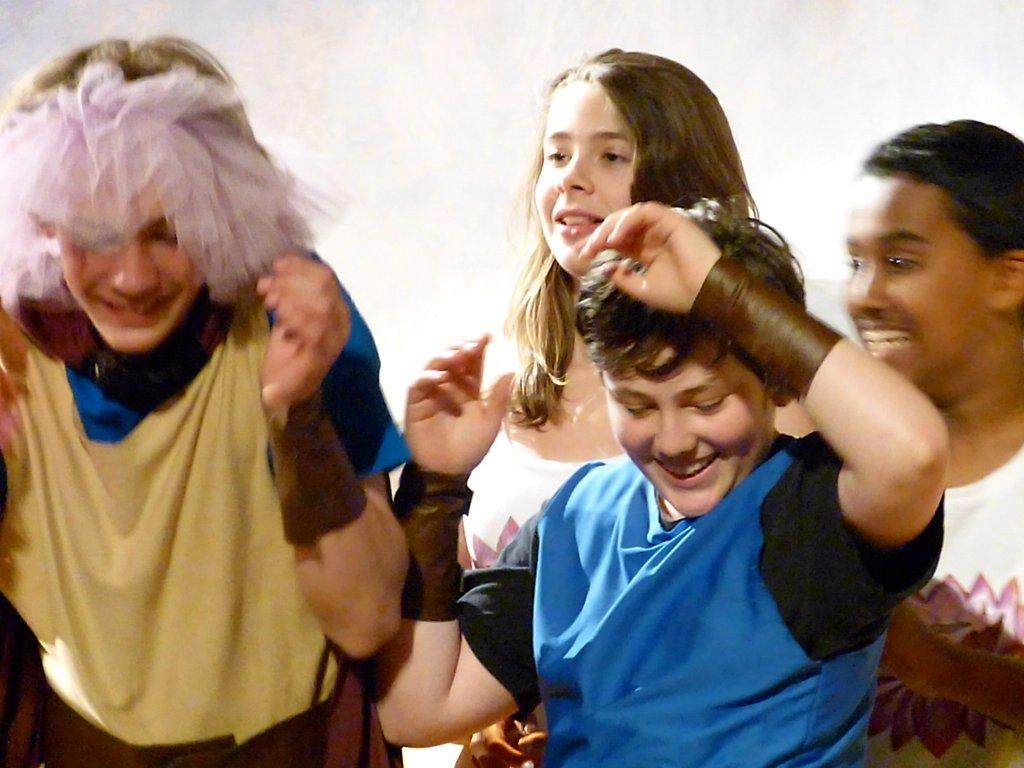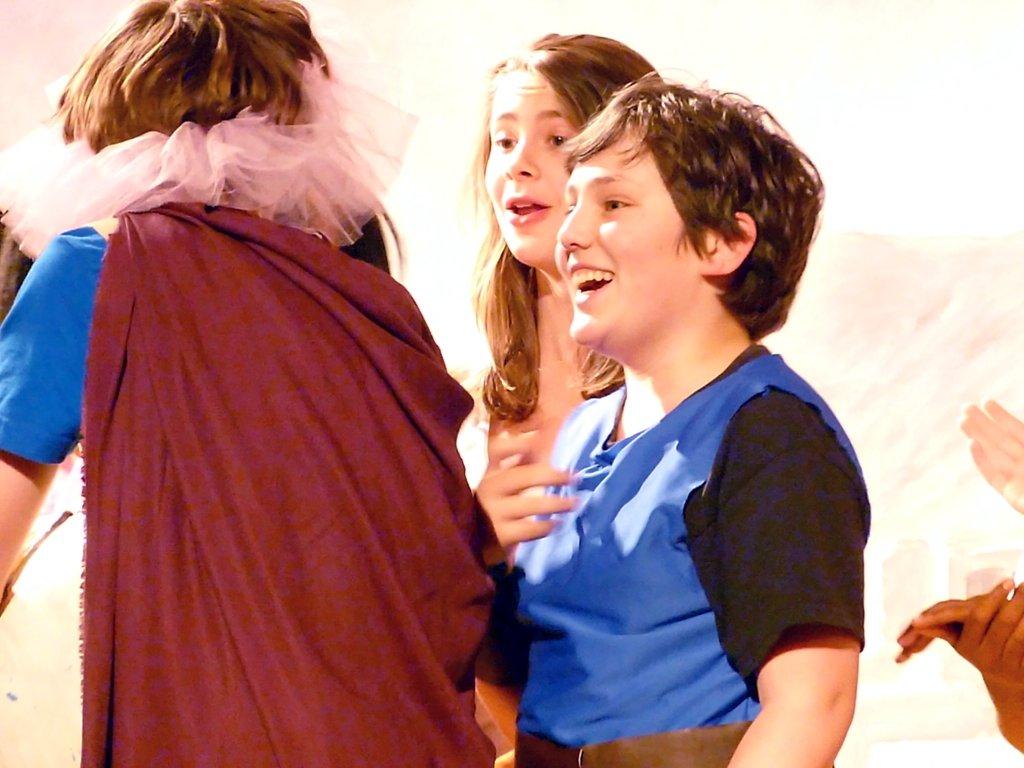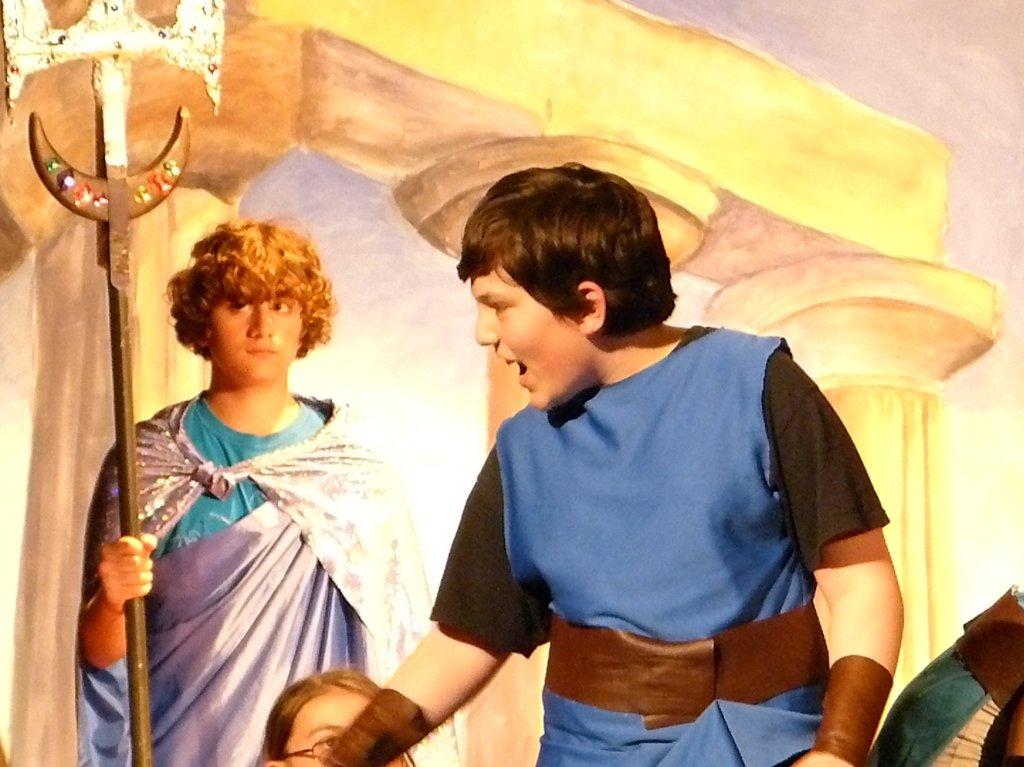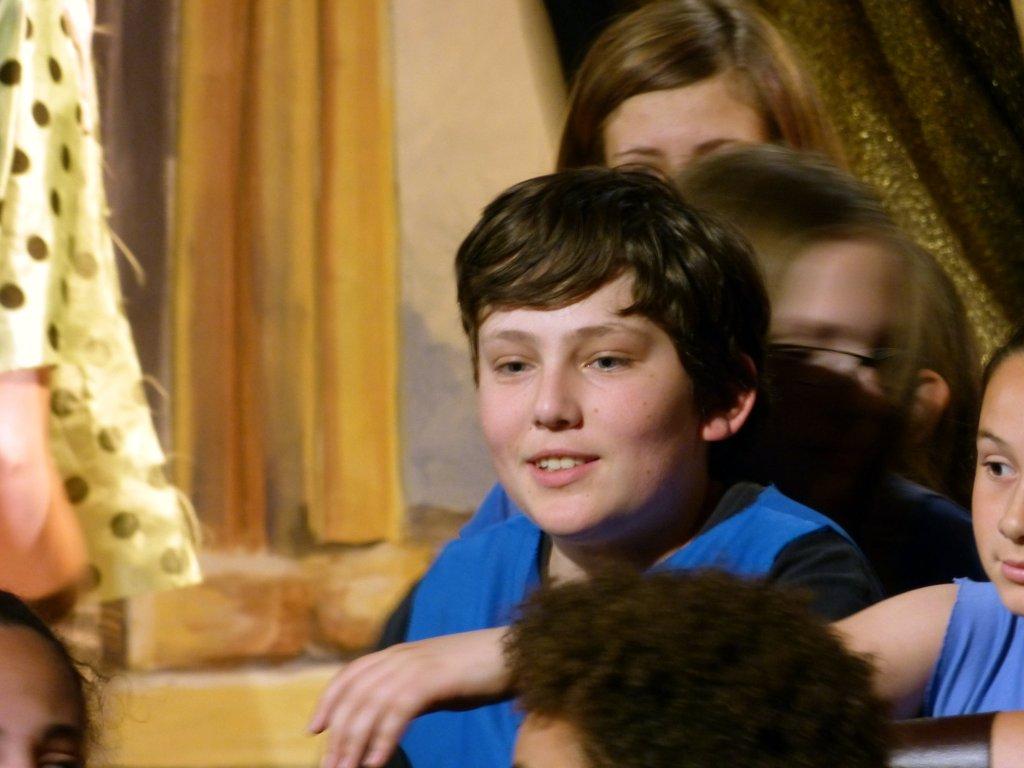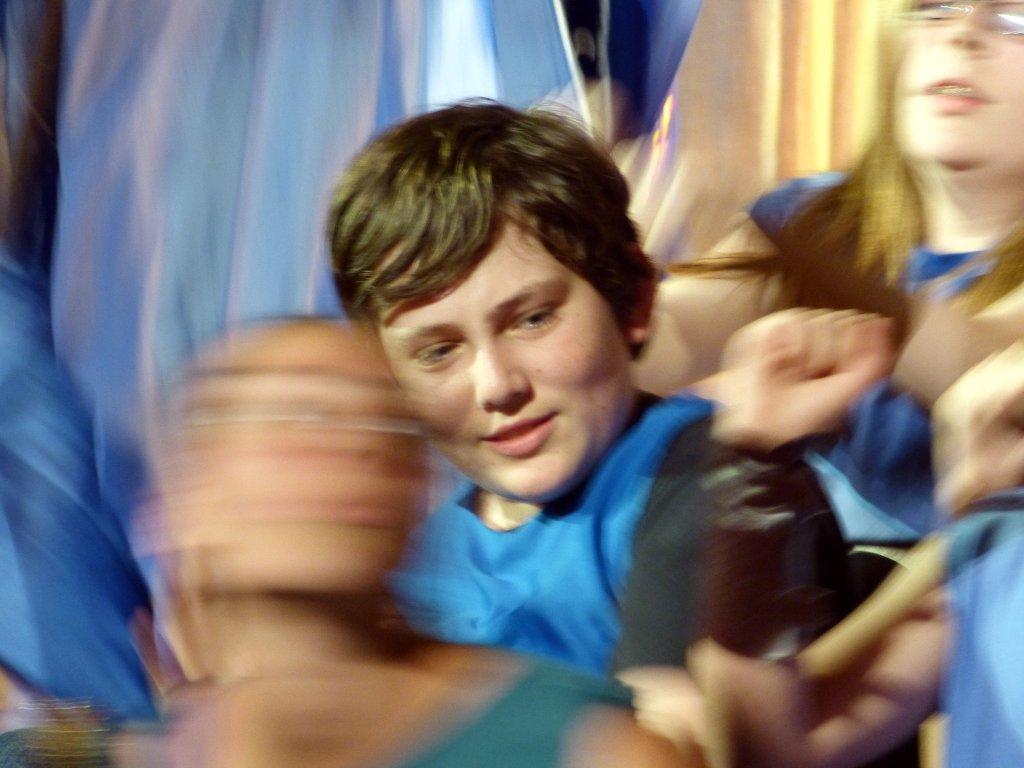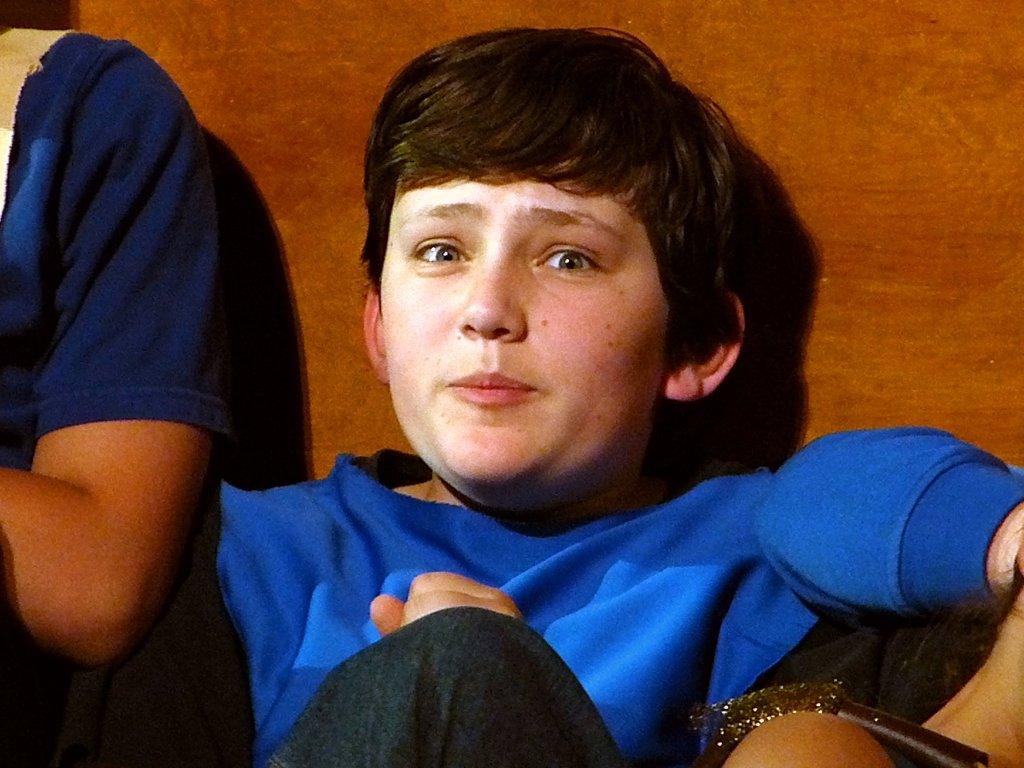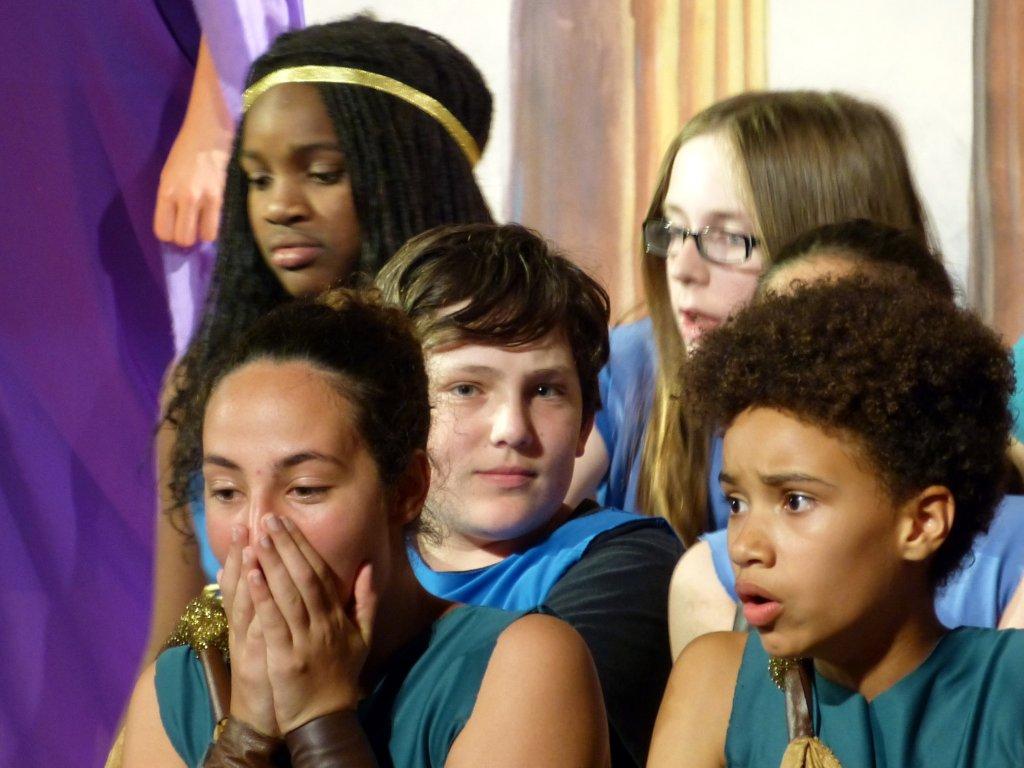 Francisco was in a school play, a musical production of The Oddysey. He played a sailor in Odyssius' crew. Francisco is a good actor and he seems to enjoy it. Grammy
and Grandpa enjoy watching him.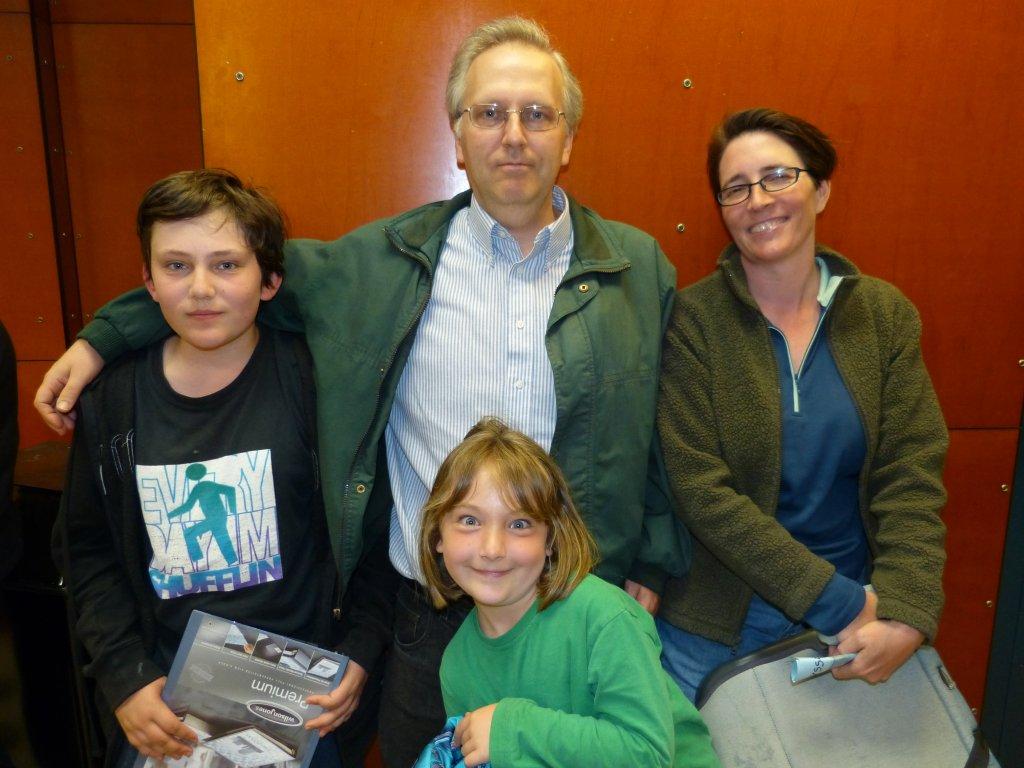 Francisco, Eric, Isabelle, Sandra, after the play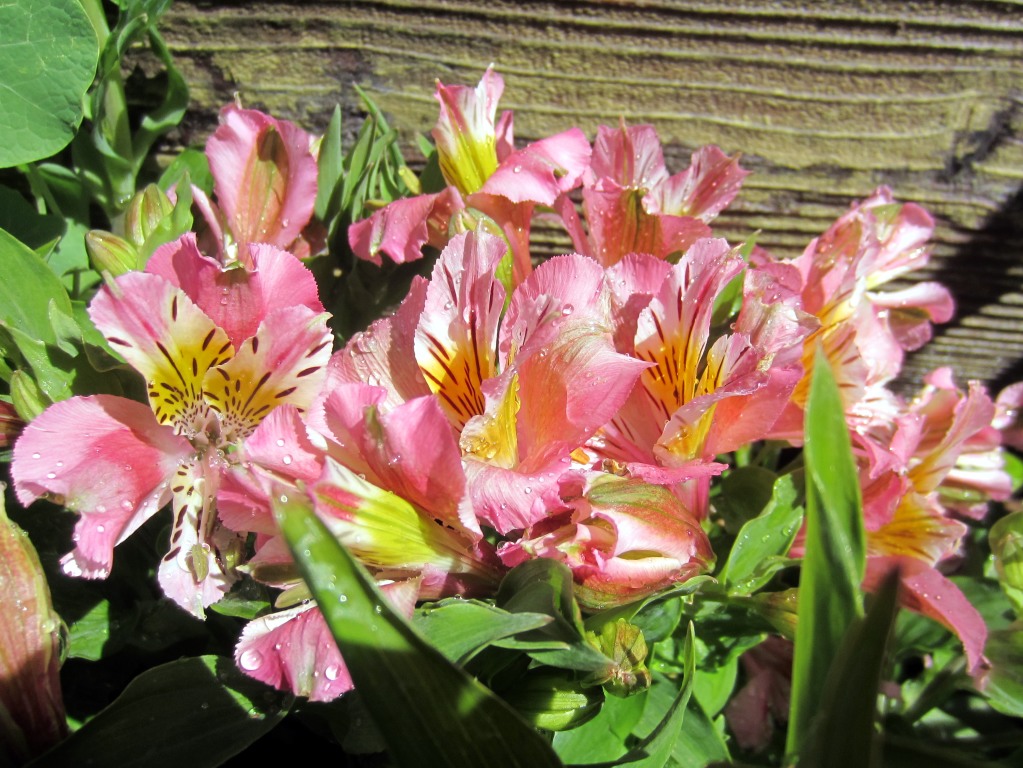 Just one of the dozens of photos of our garden this spring.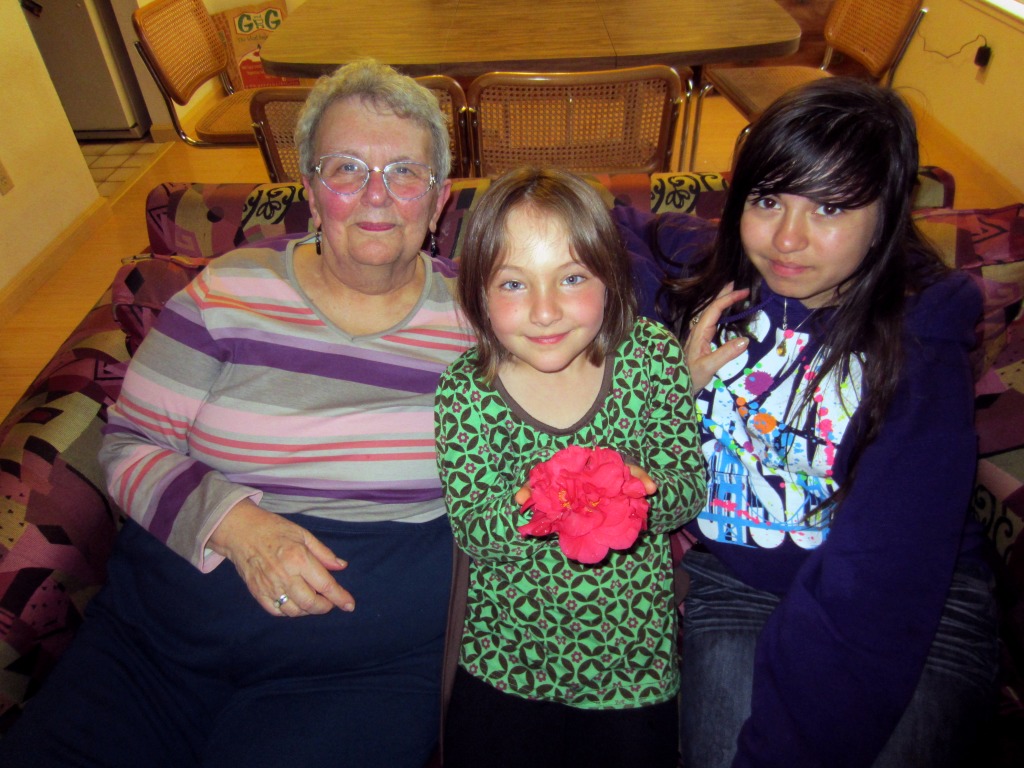 Grammy, Isabelle, Sofi. Isabelle likes the camellia's that grow in our garden.



Here we are at Coco's. Grandpa, Suzy, Sofi, Zak, Mundo.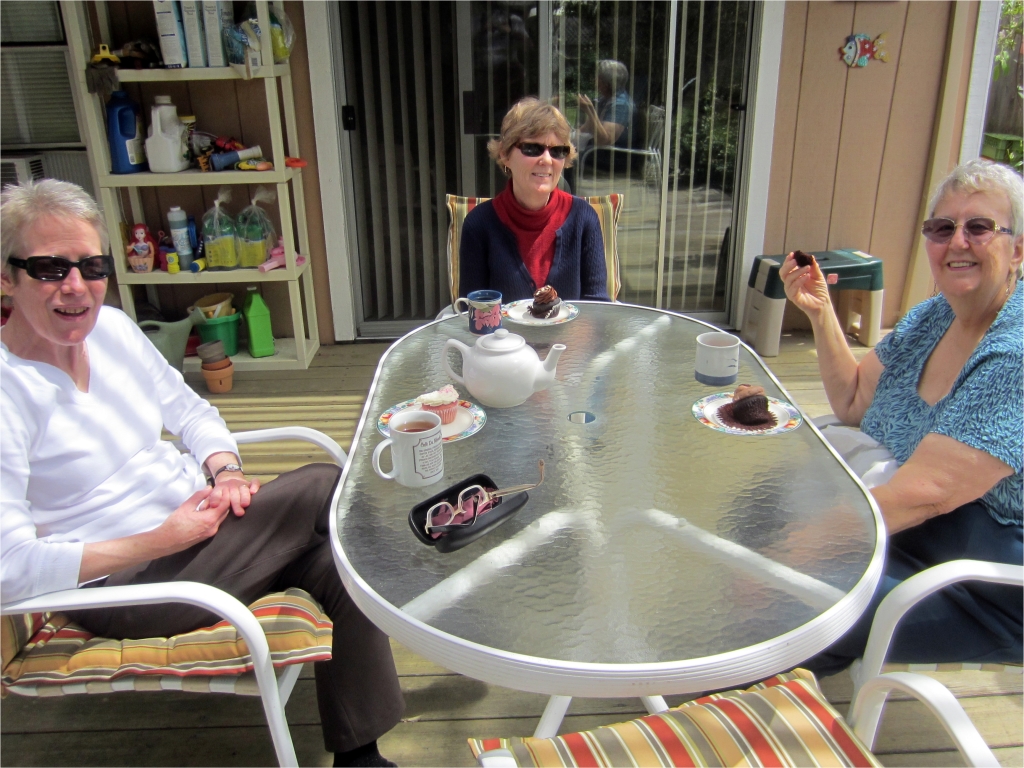 Grammy's friends, Lynn and Dayle, came for a visit.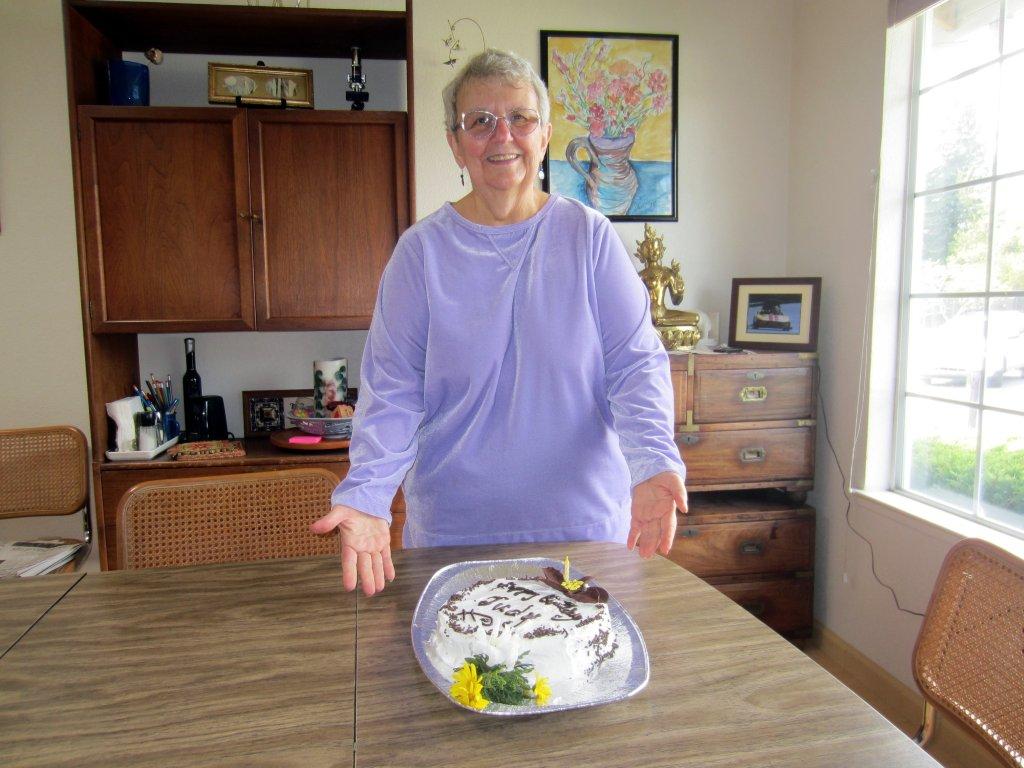 Grammy with birthday cake given to her by friends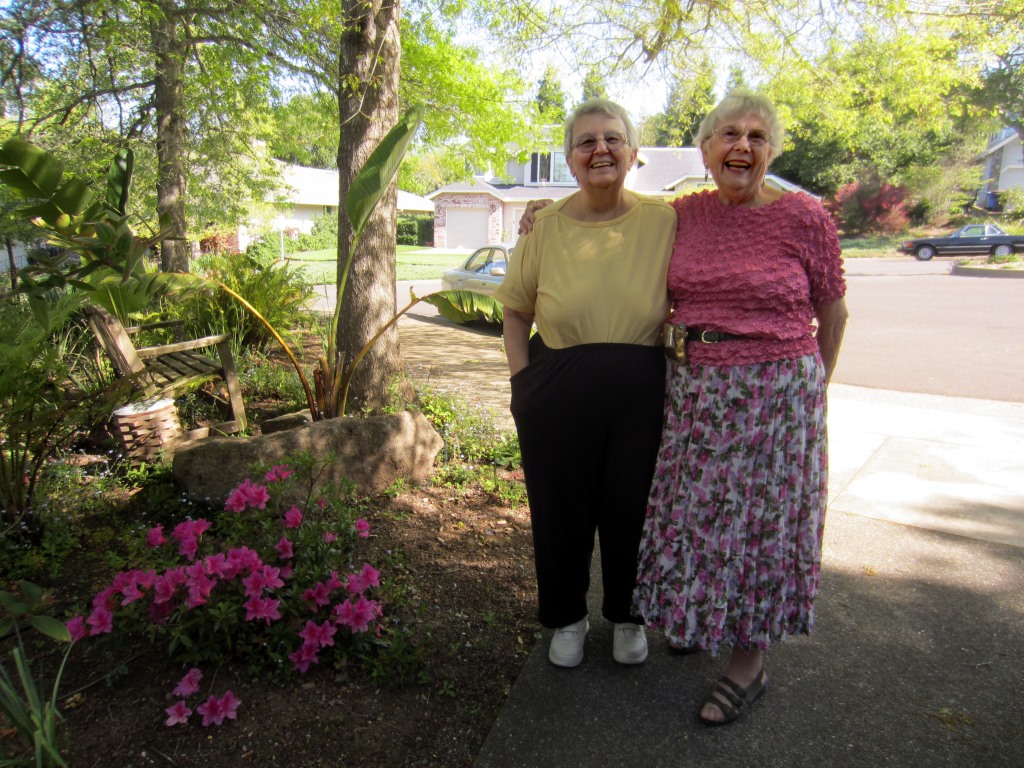 Grammy with her friend, Phyllis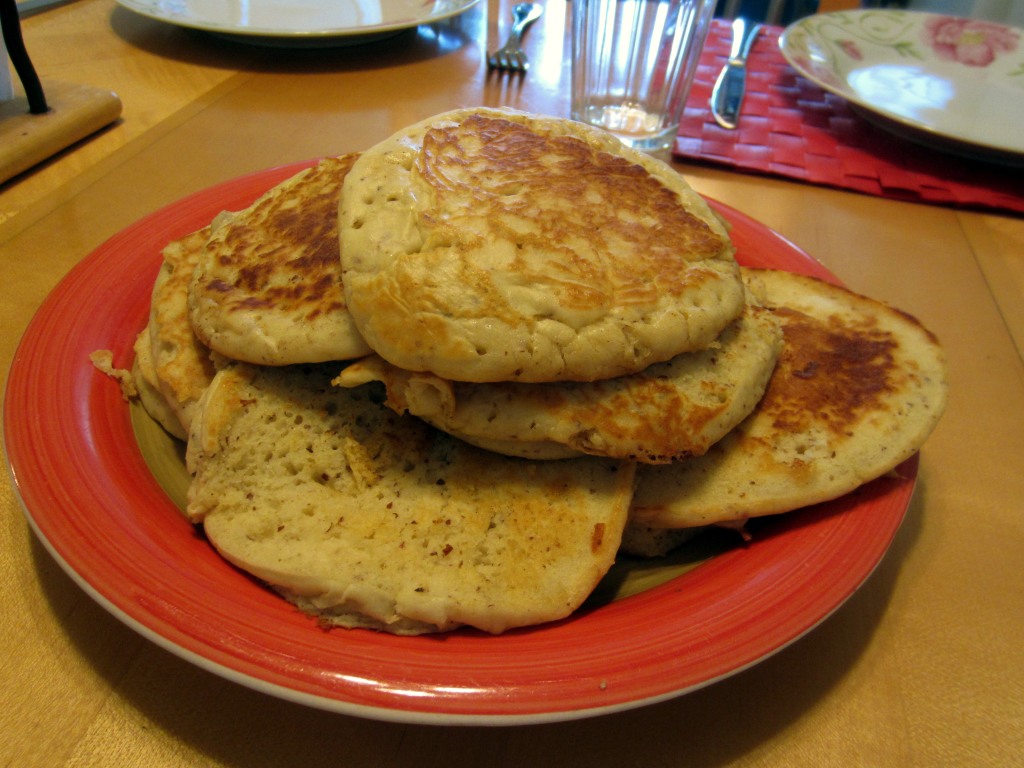 Every so often the Suzy's invite us over for a Sunday brunch. Suzy makes lots of gluten-free pancakes that she and Grandpa can eat. They are good.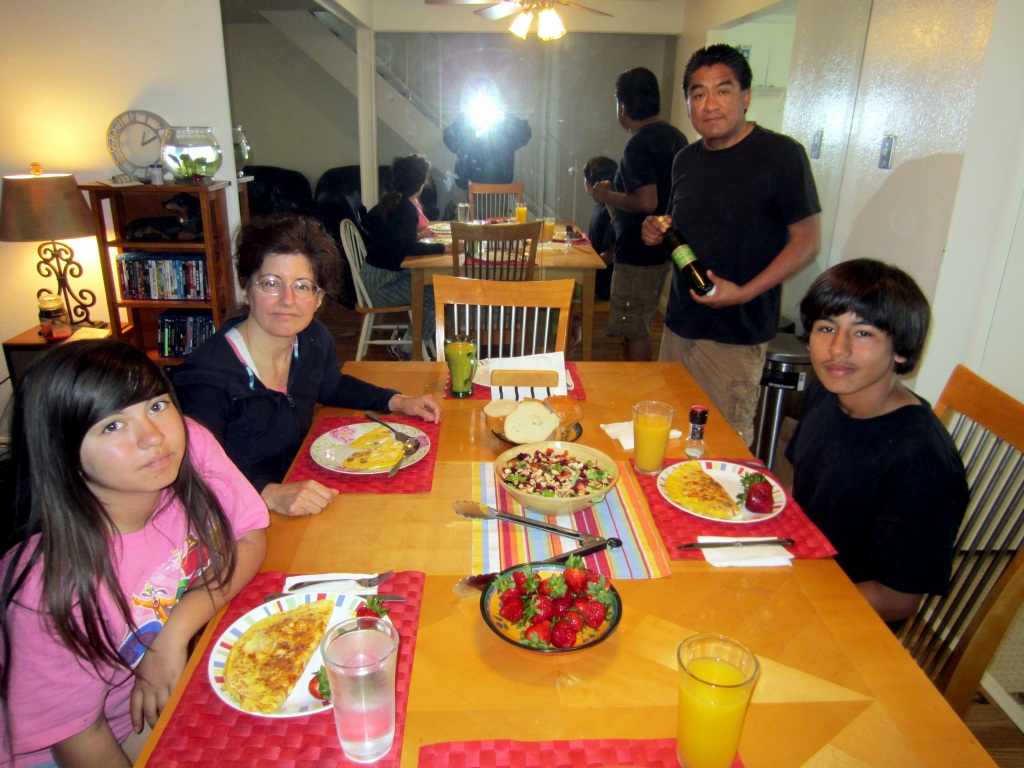 Sunday Brunch at the Suzy's. Sofi, Suzy, Grandpa behind big flash in mirror, Edmundo, and Zak.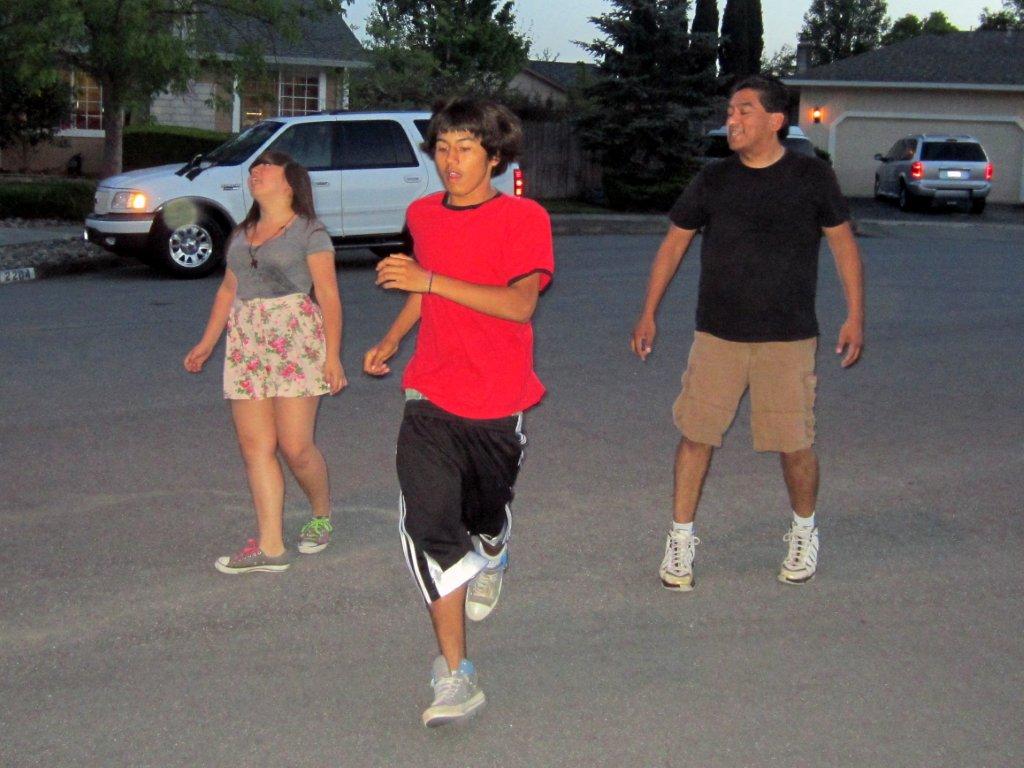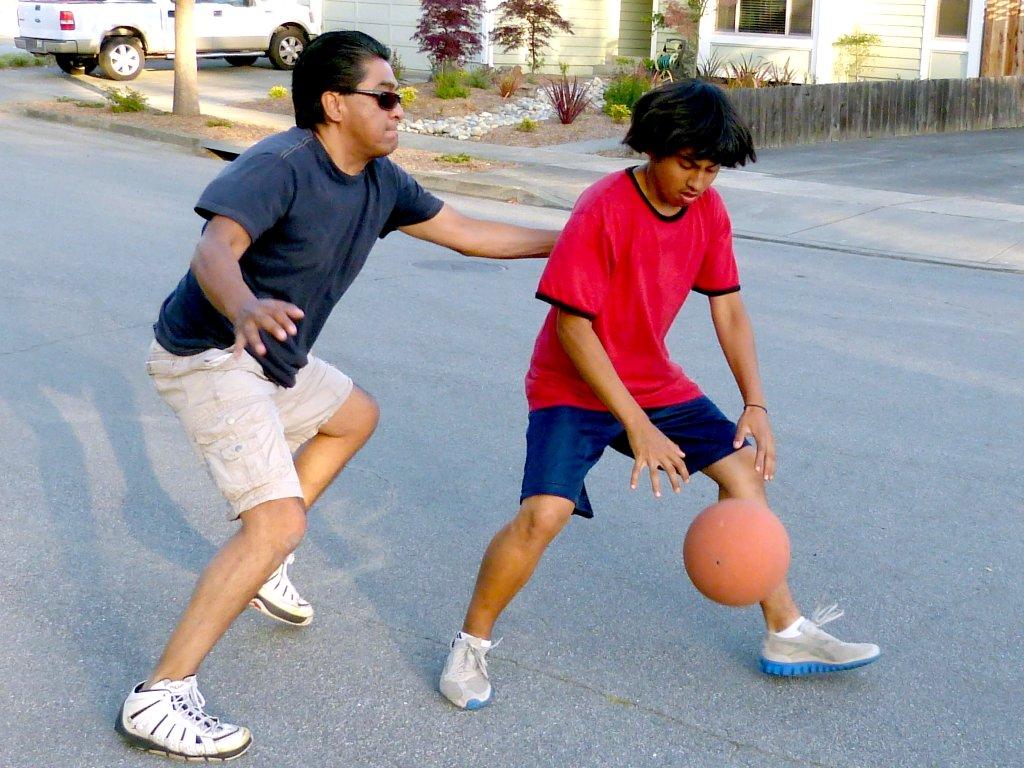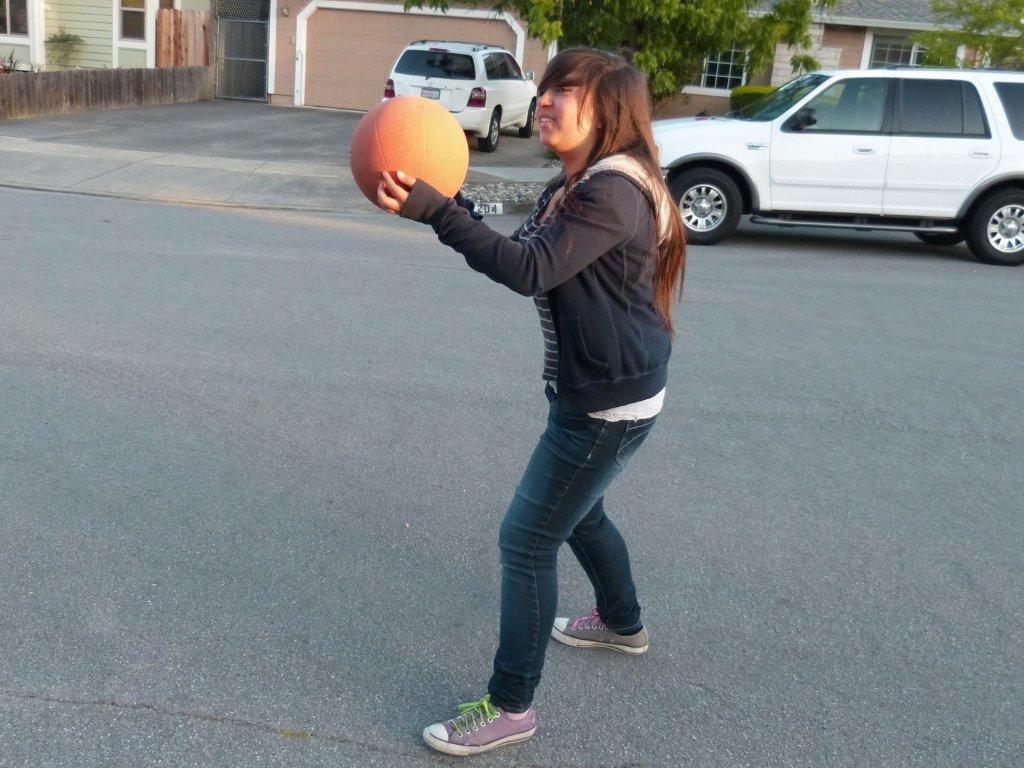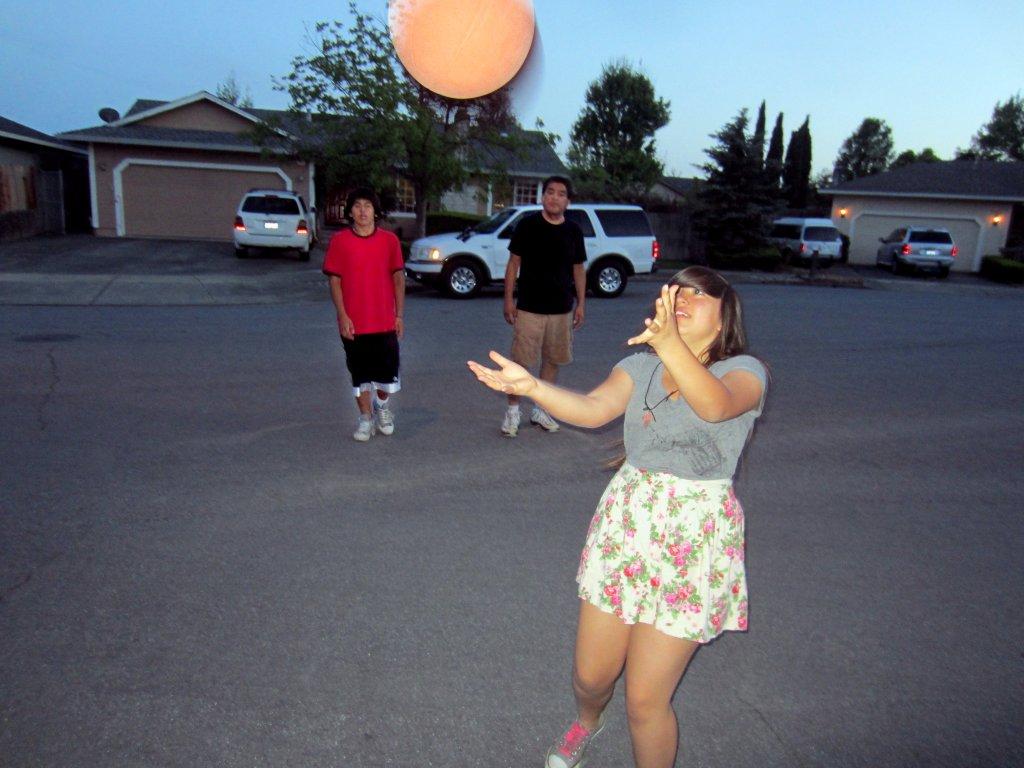 Sofi, Zak, and Edmundo play basketball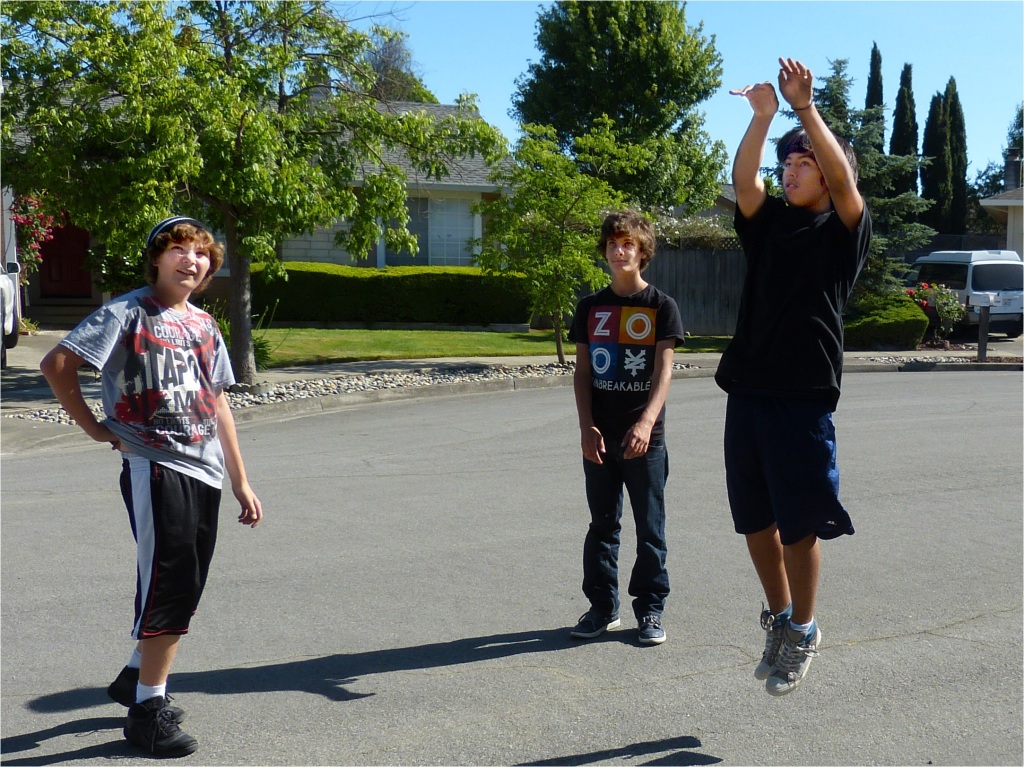 Zak playing basket ball with his friends, Max and Aaron. His Sony Zero-Grav Basketball Shoes add a new element to the game.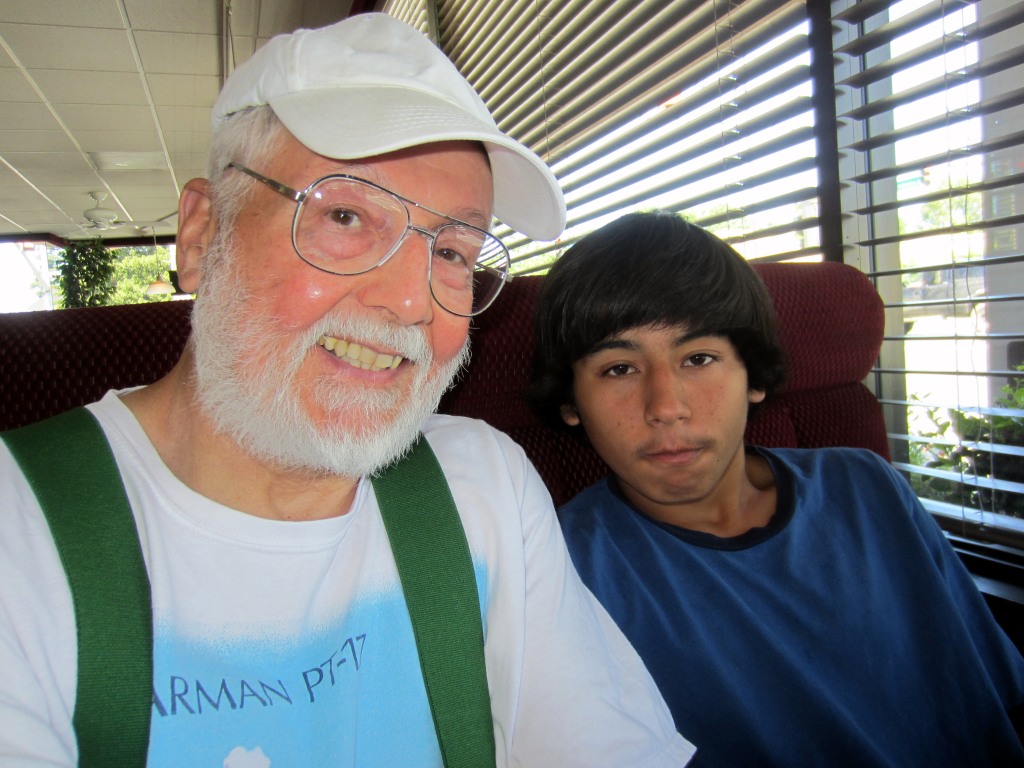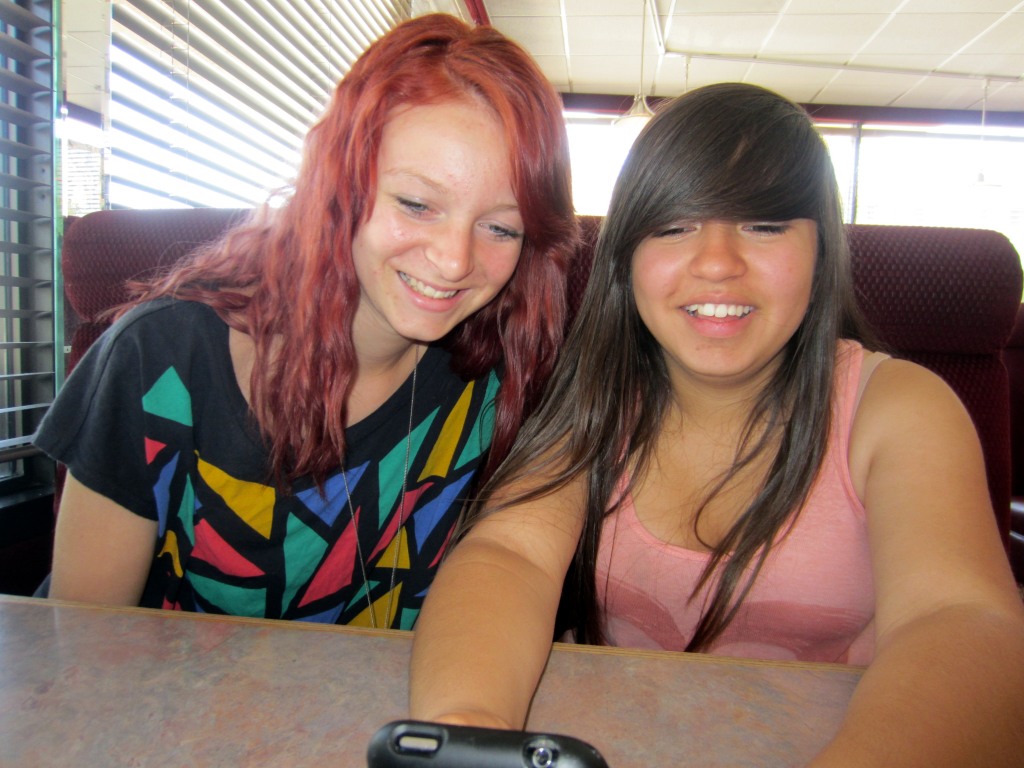 Grandpa, Zak, Nicole, and Sofi having lunch at Adel's. Nicole is a redhead now.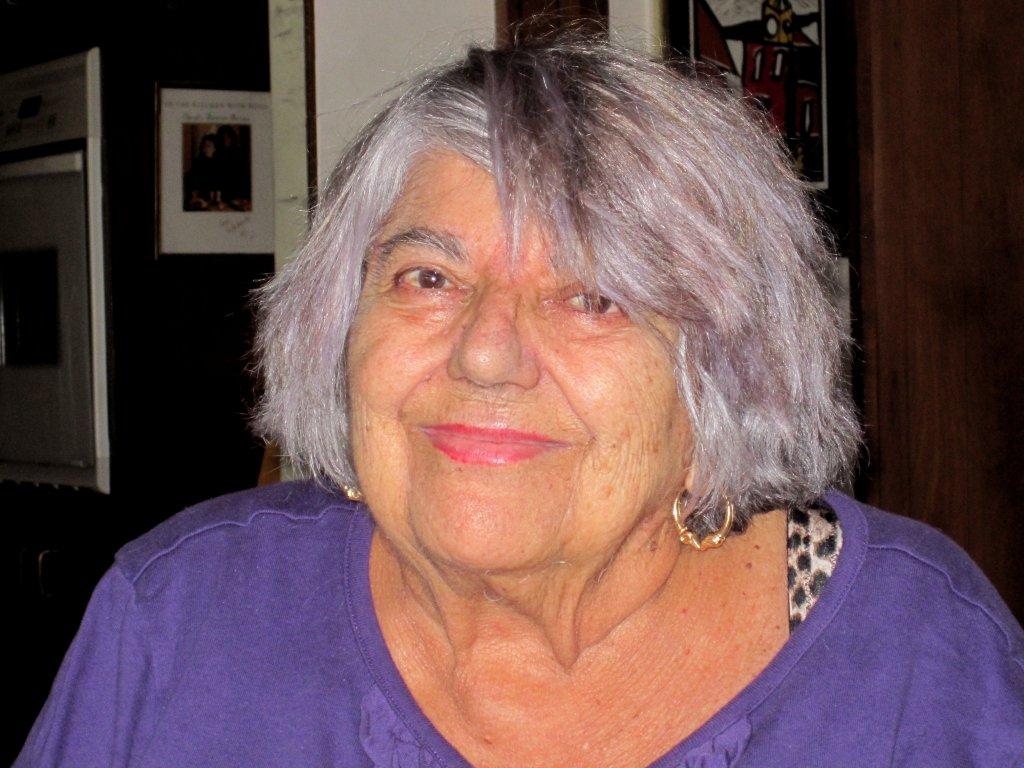 Grammy went to visit Rosemary in Claremont.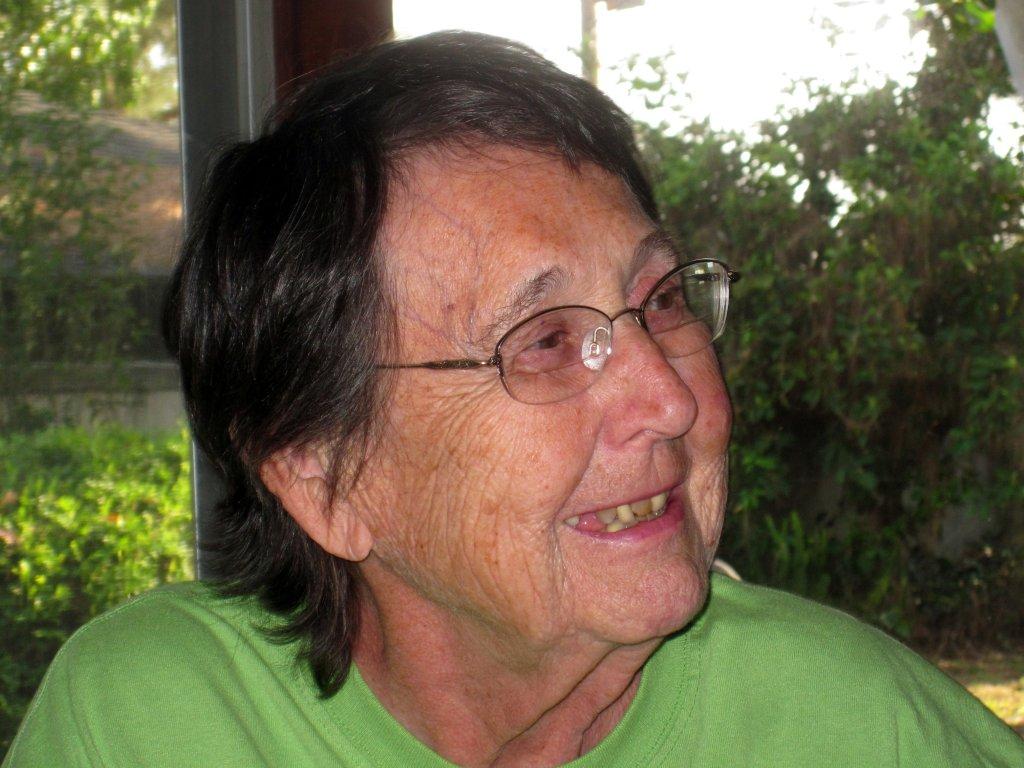 Joanna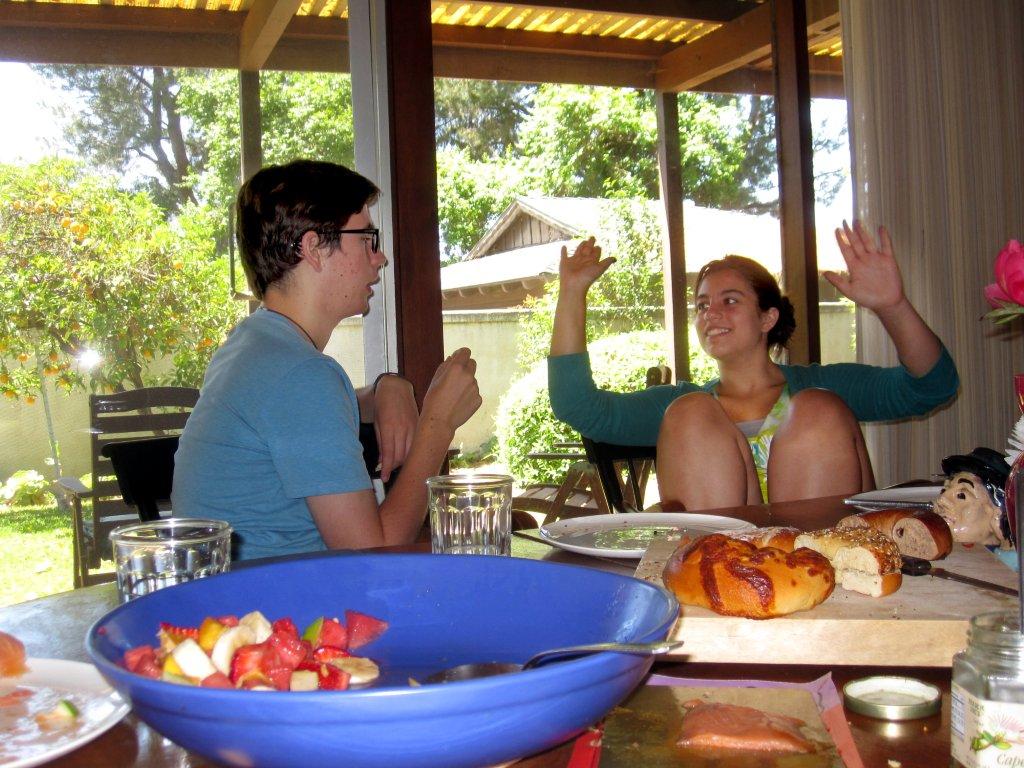 Evan and Amy. All three photos above were taken by Grammy.



Isabelle, Francisco, Eric, and Sandra having breakfast at their house. Photo by Grammy.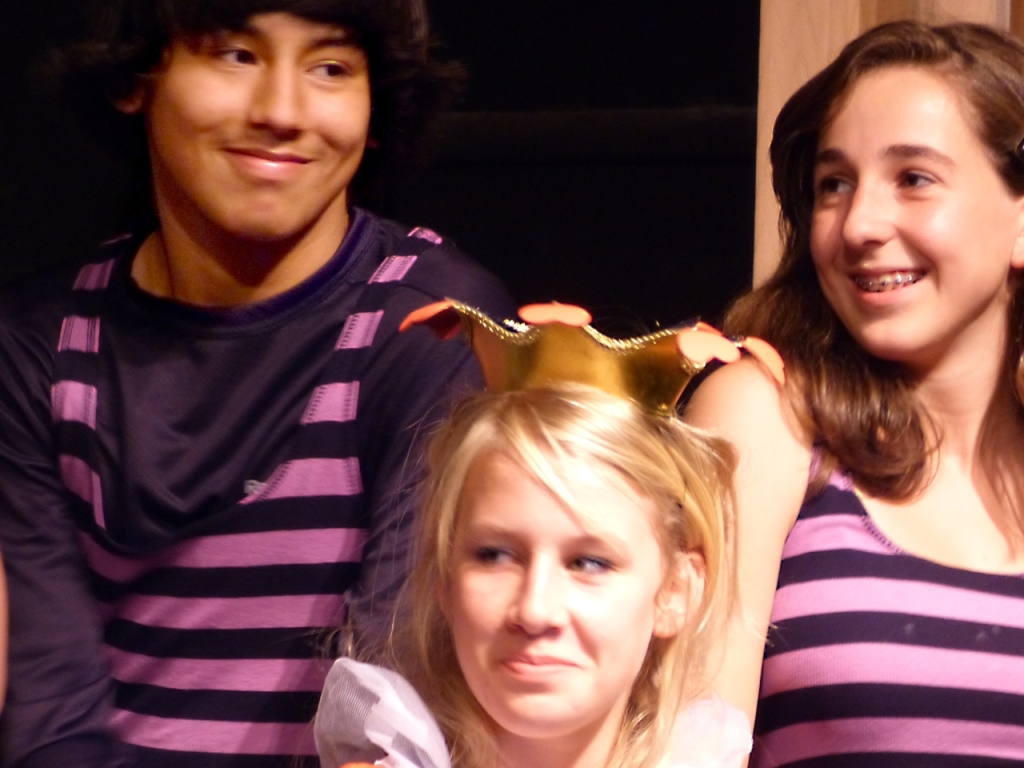 Zak and Sofi were in a musical production of Alice in Wonderland. Here is Zak with the Queen and another Cheshire Cat.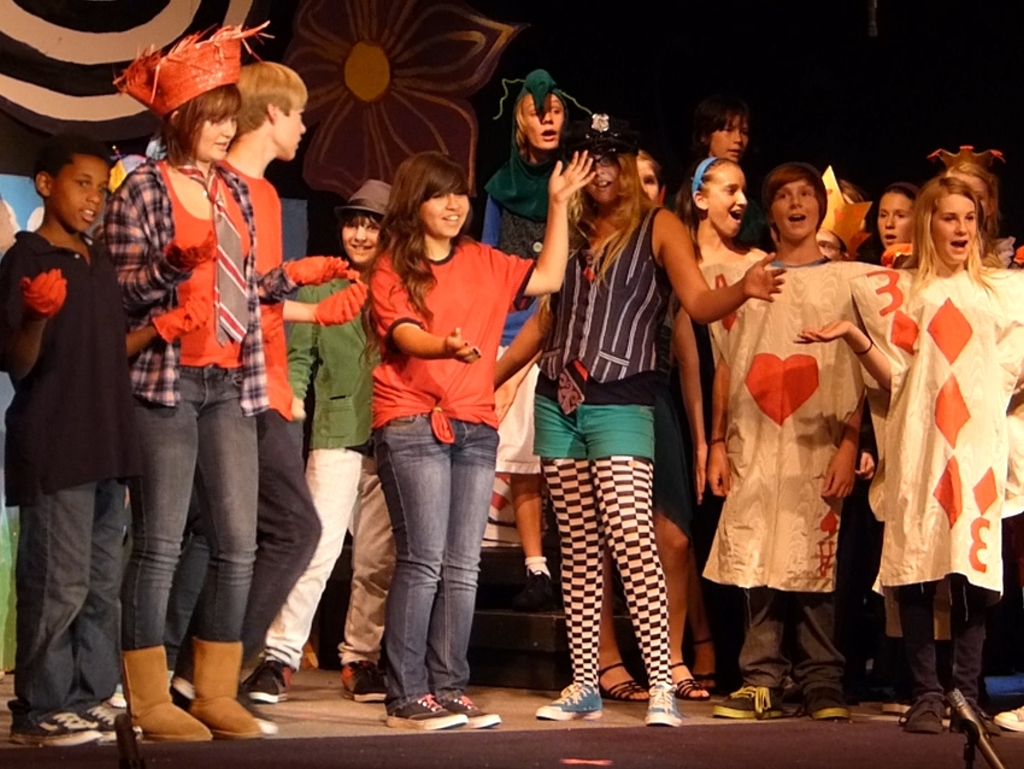 Here is Sofi singing with the chorus.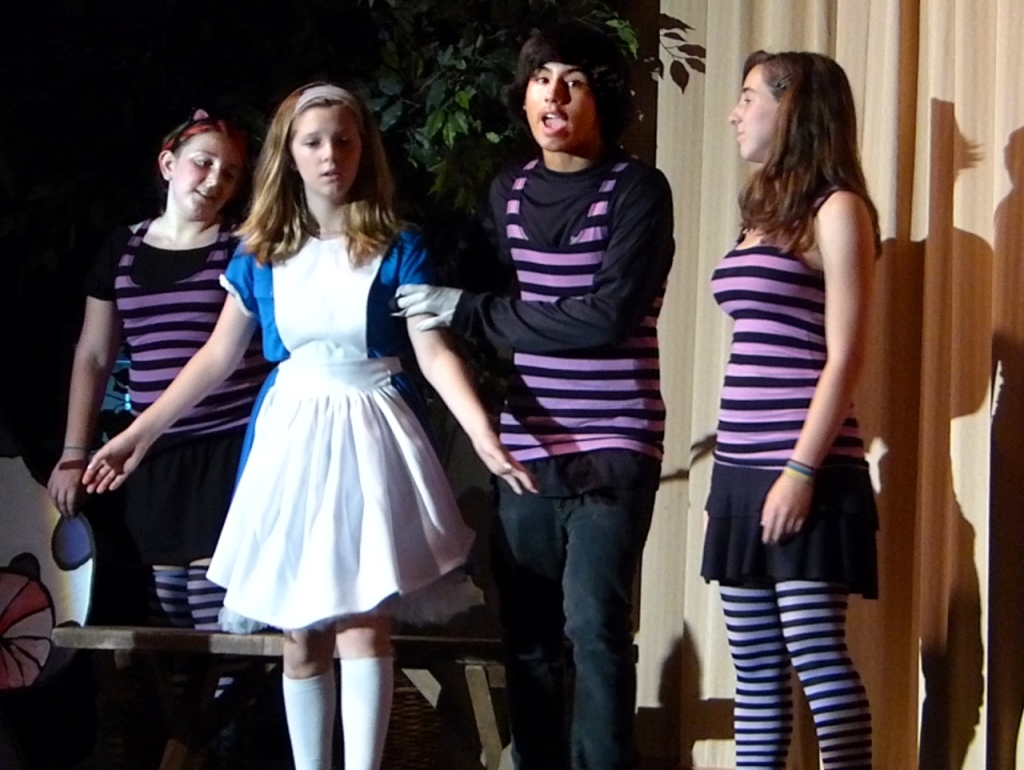 Zak and the other Cheshires with Alice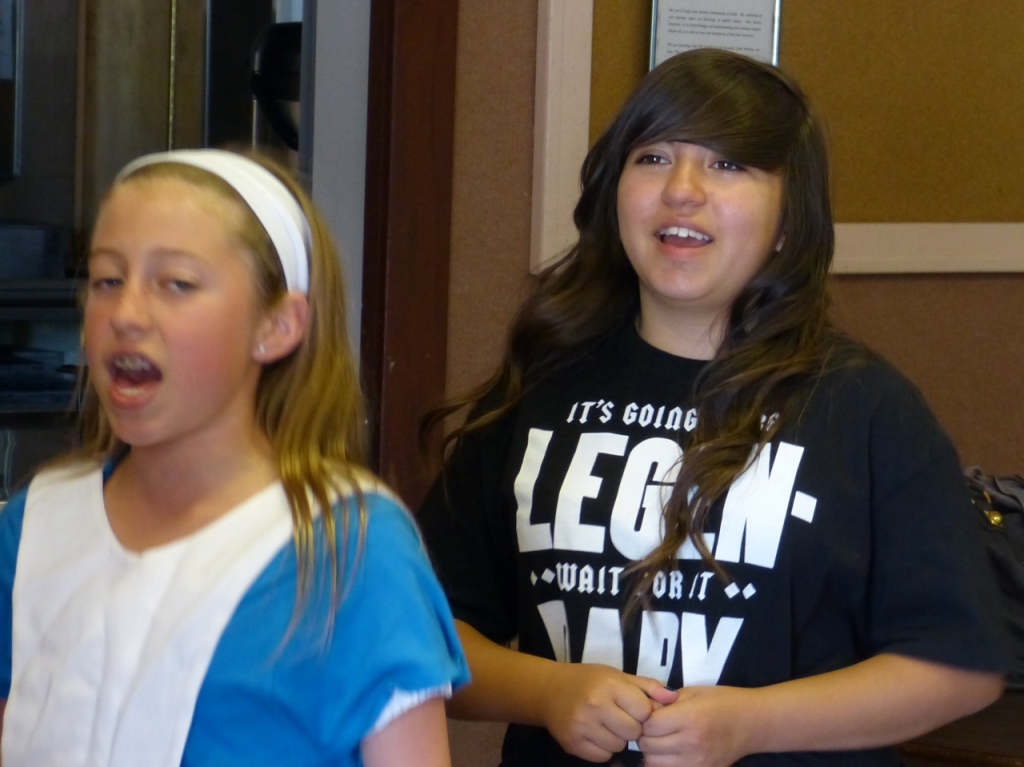 Sofi singing at rehearsal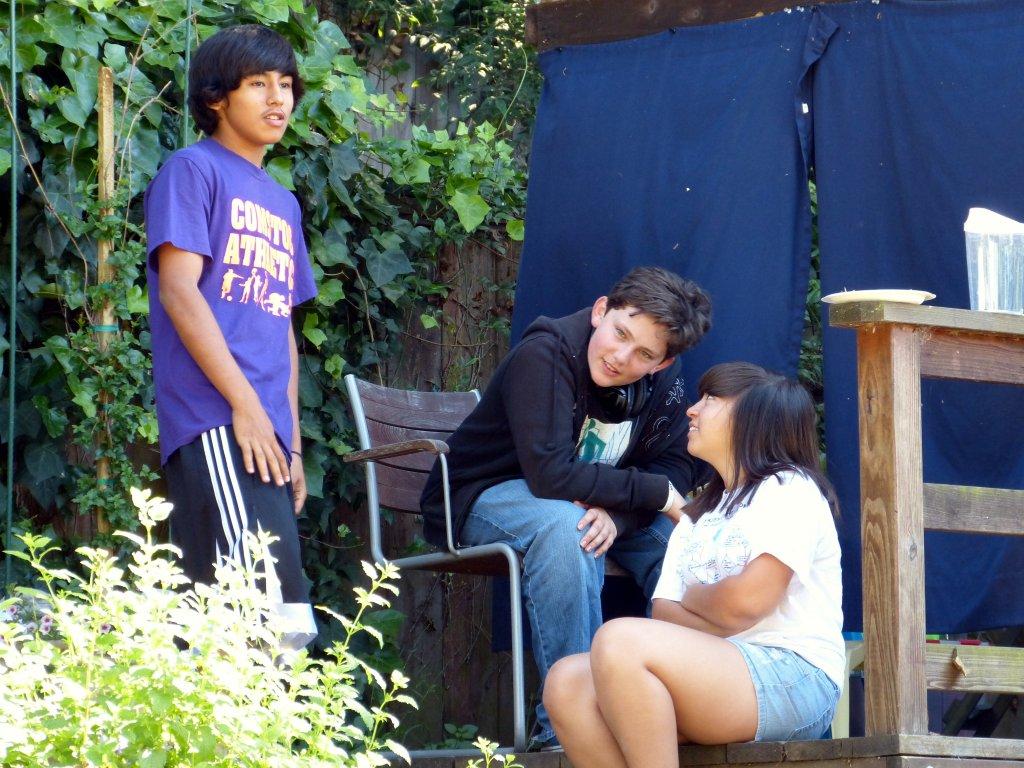 In early June went to Berkeley for Eric's birthday. Here are Zak, Francisco, and Sofi in the "Highlands" in the back yard.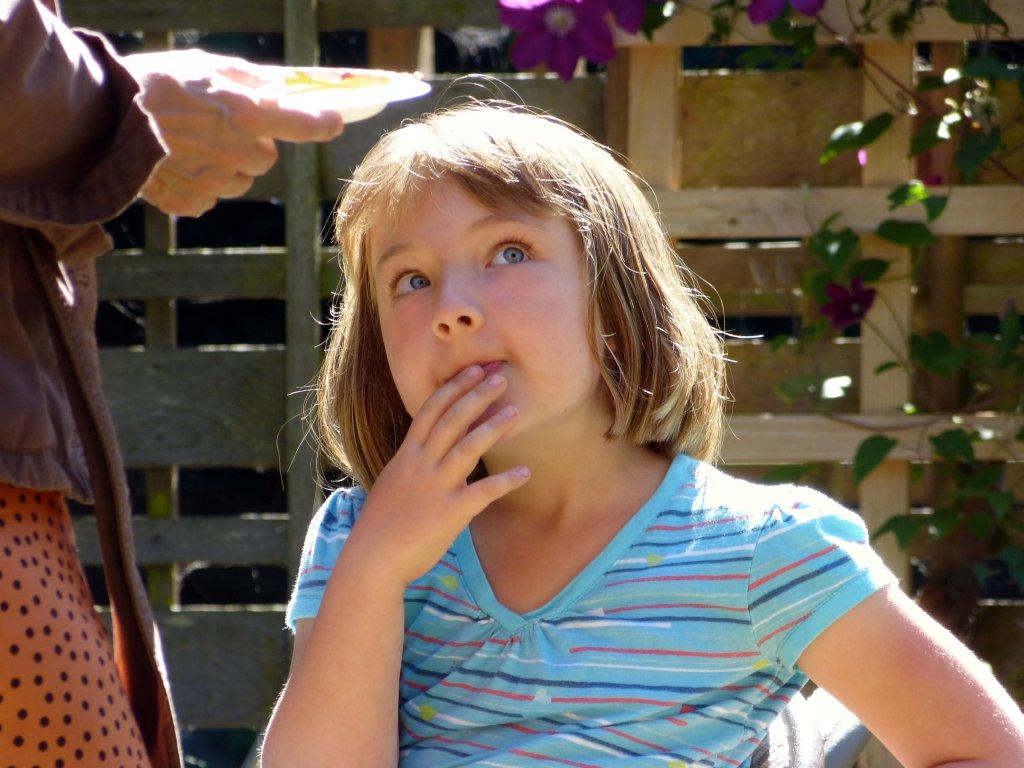 Isabelle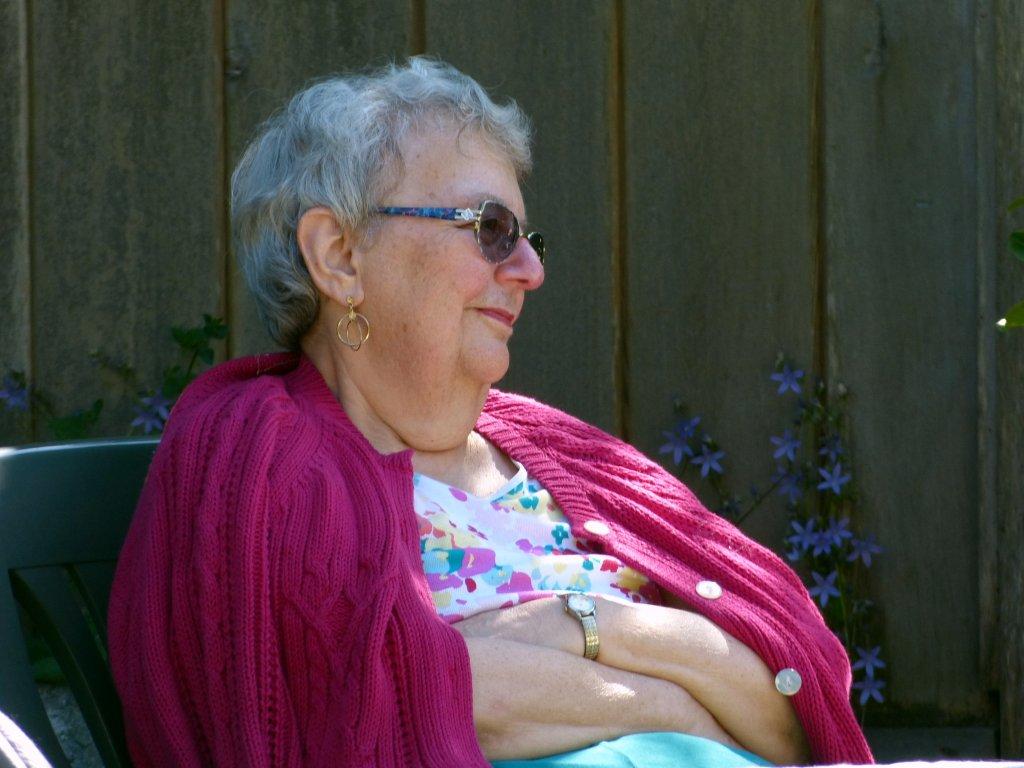 Grammy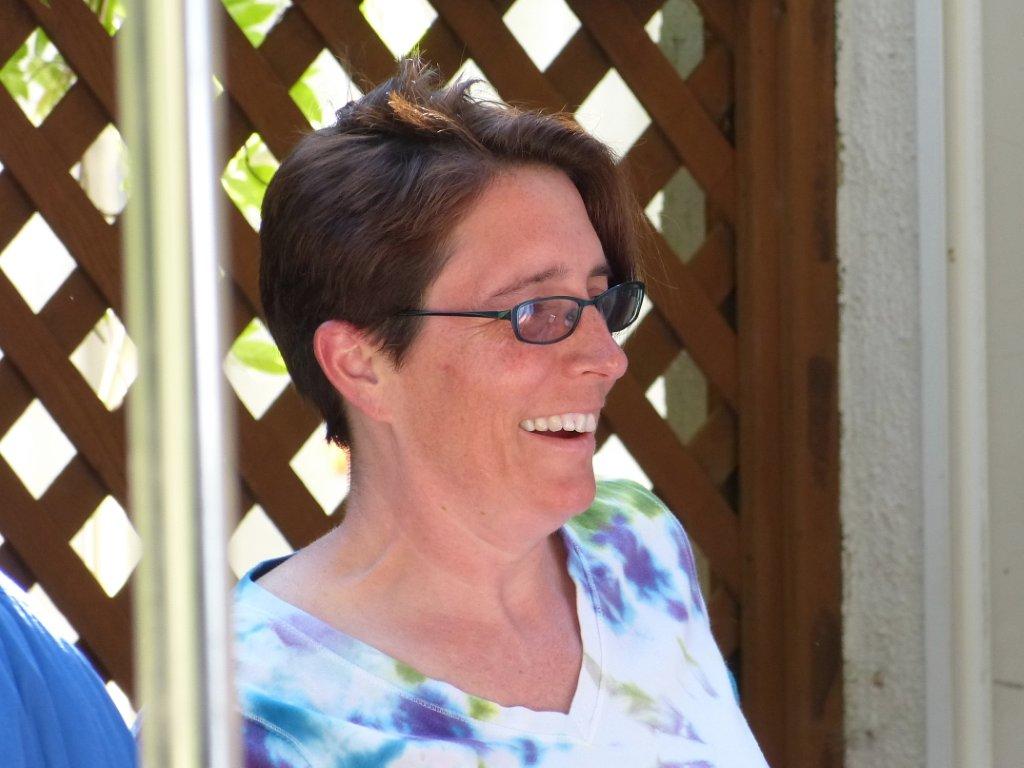 Sandra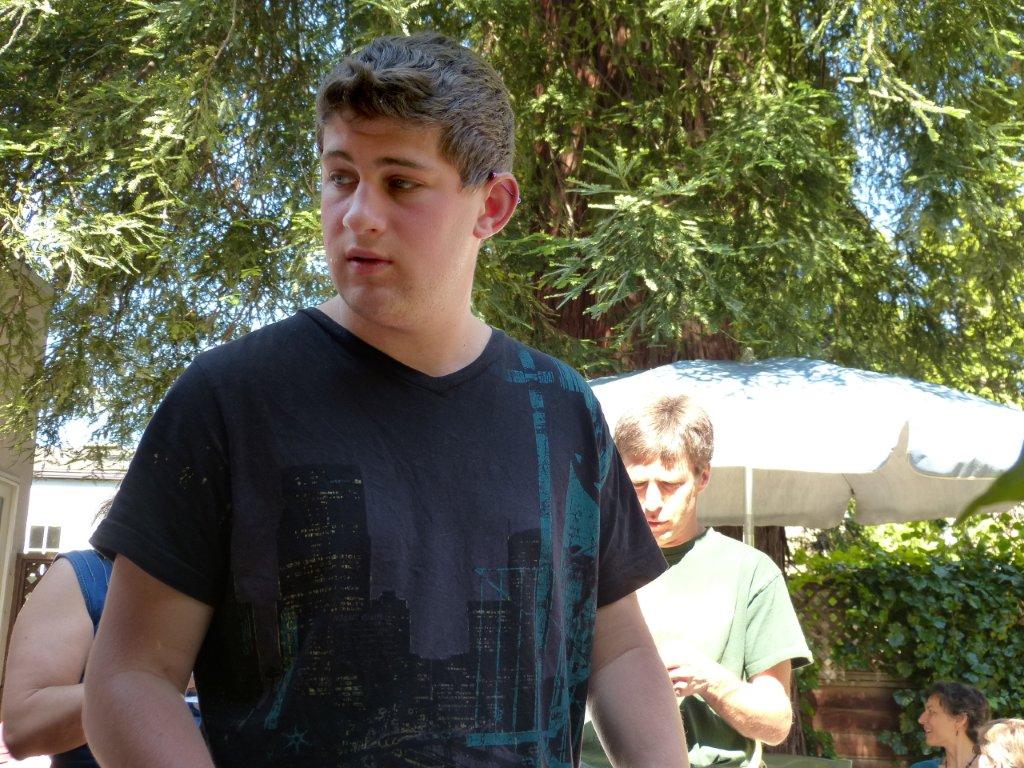 Cassidy was in charge of the barbecue. See photos of his high-school graduation below.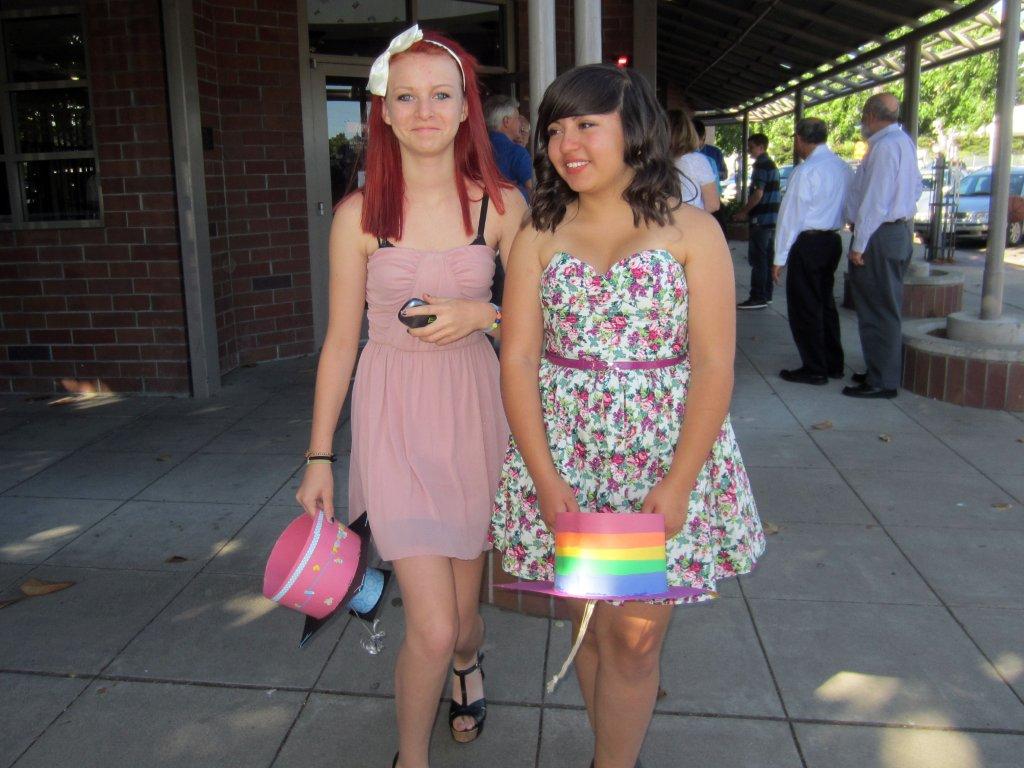 Nicole and Sofi just before their 8th-grade graduation.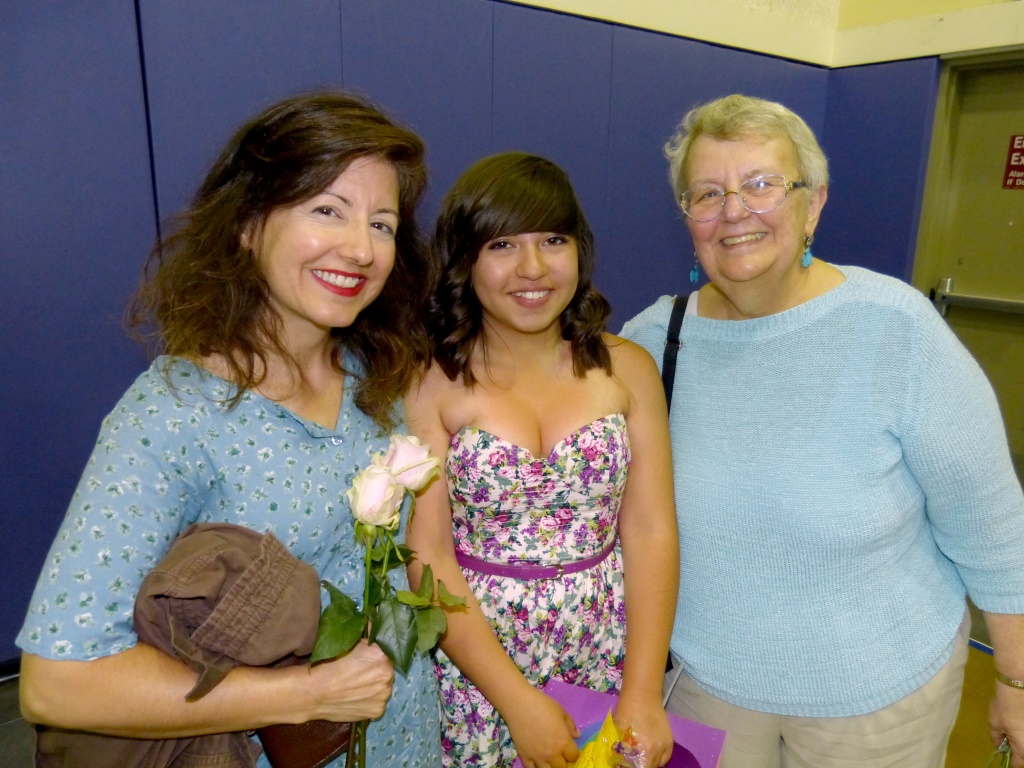 Suzy, Sofi, and Grammy after the graduation ceremony.



Zak was happy and proud to see his sister graduate.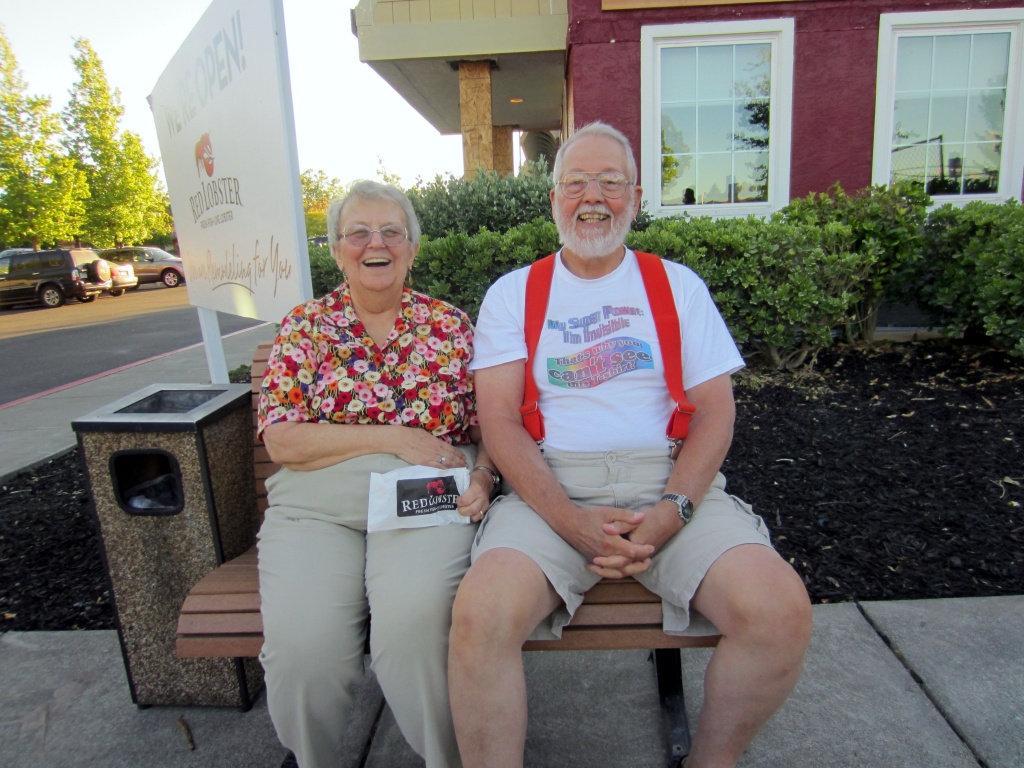 Grammy and Grandpa at Red Lobster after celebrating their anniversary.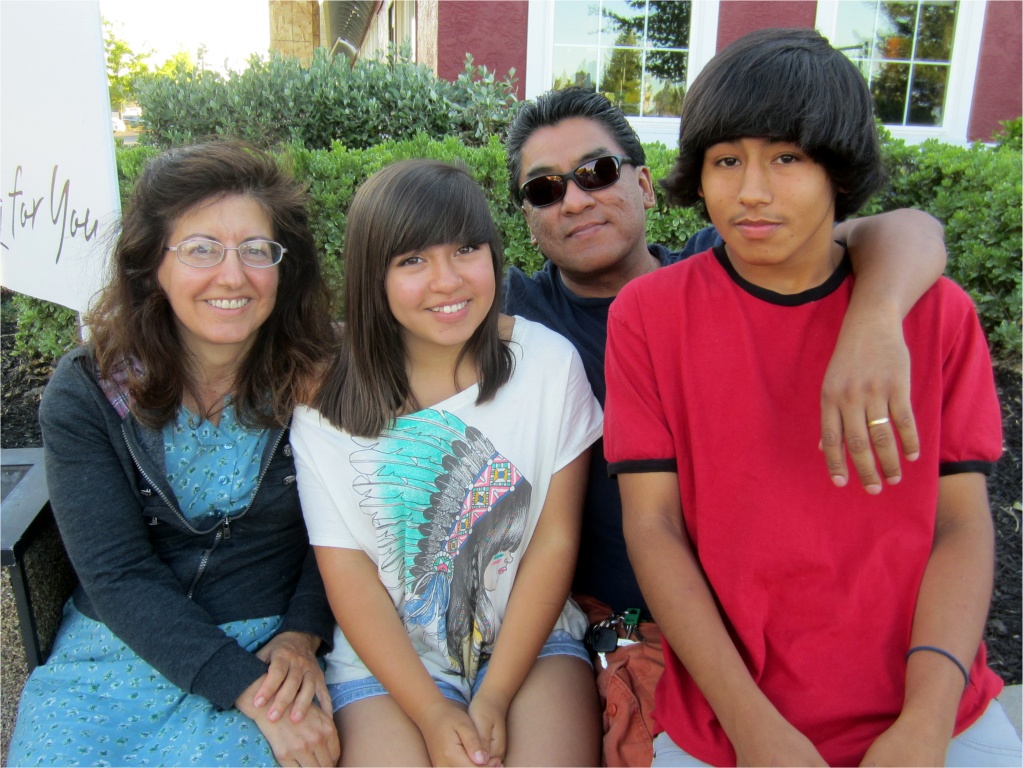 Suzy, Sofi, Edmundo, and Zak outside Red Lobster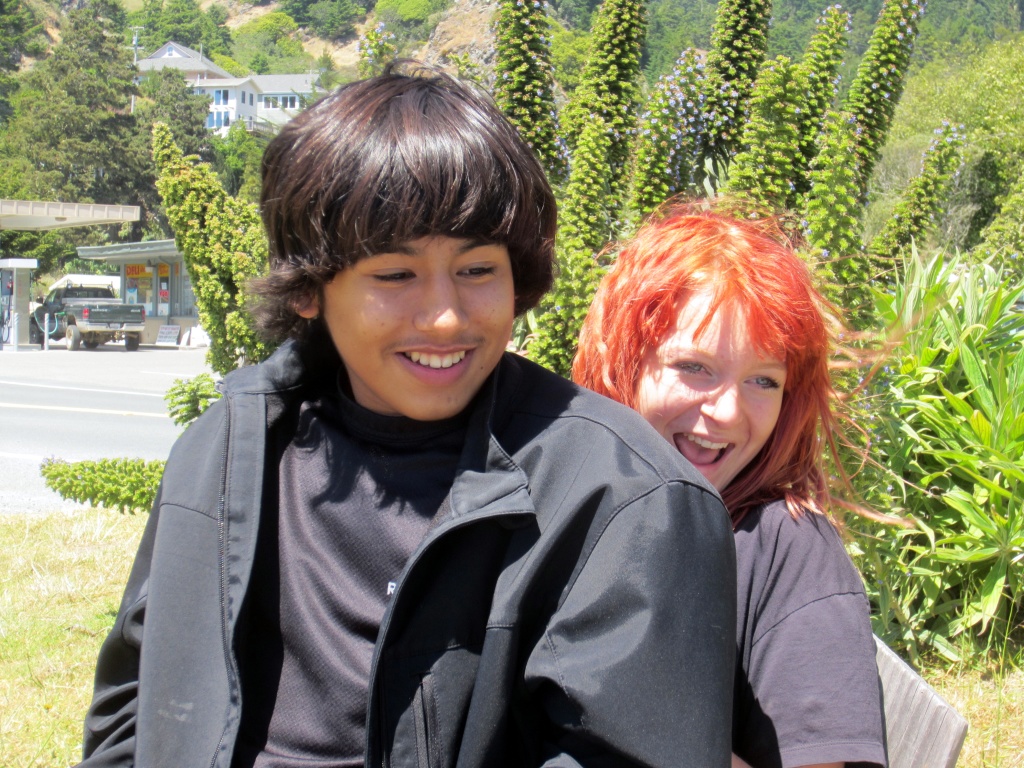 We went to the coast for a day and stopped in Jenner for a snack. Zak sat on Nicole. She's used to it.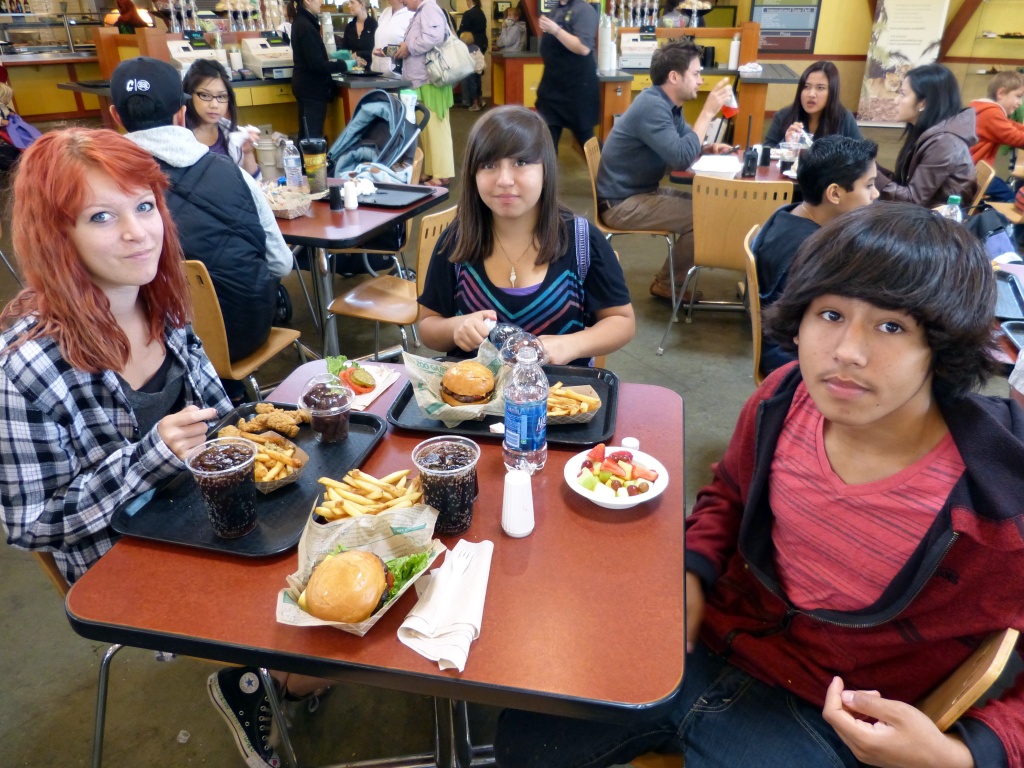 We went to the San Francisco Zoo. Nicole, Sofi, Zak, at lunch. Note that everyone else is having burgers and fries, and Zak is having fruit. He's keeping himself in training for track.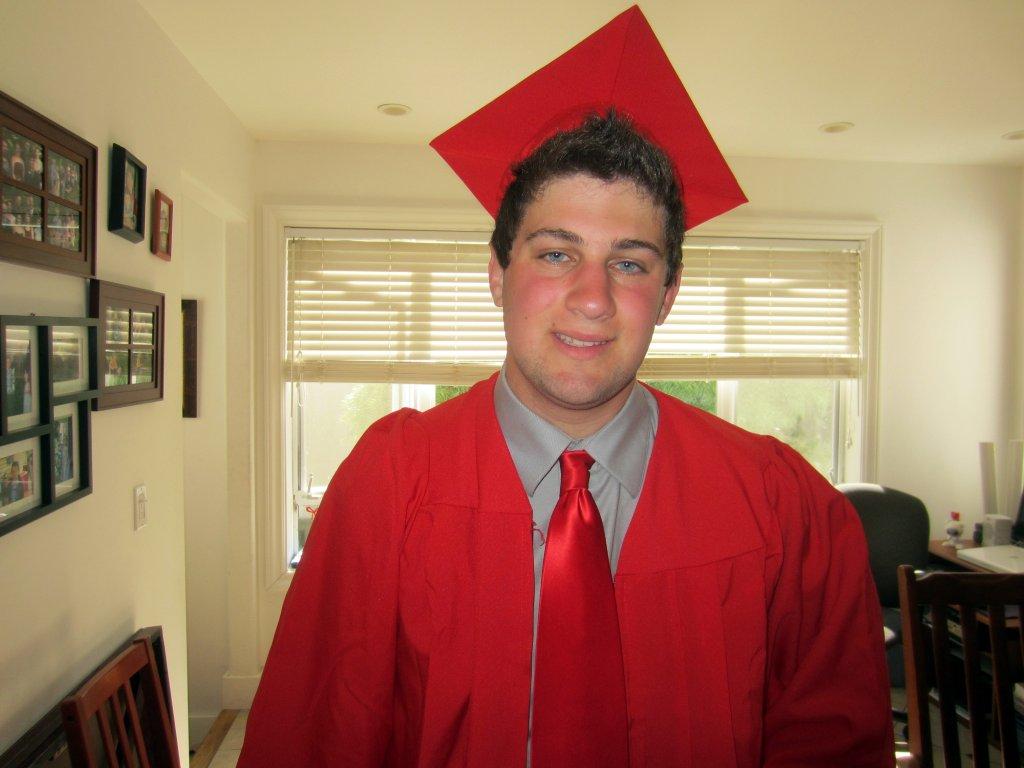 Cassidy in his cap and gown just before graduation.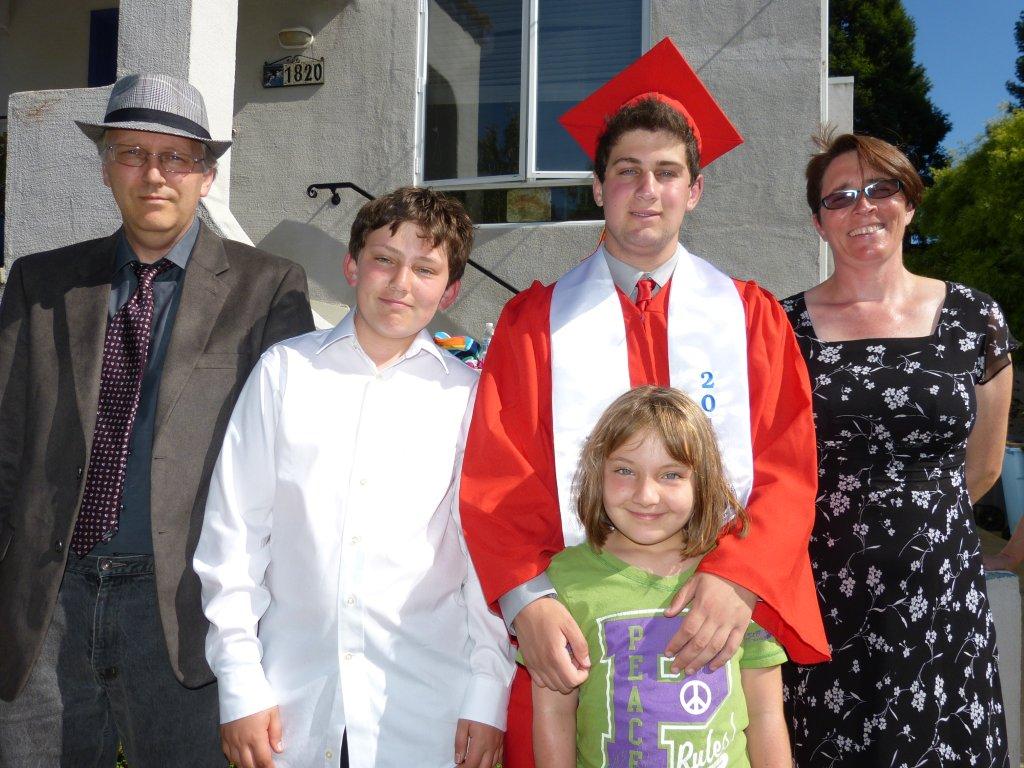 Eric, Francisco, Isabelle, Cassidy, and Sandra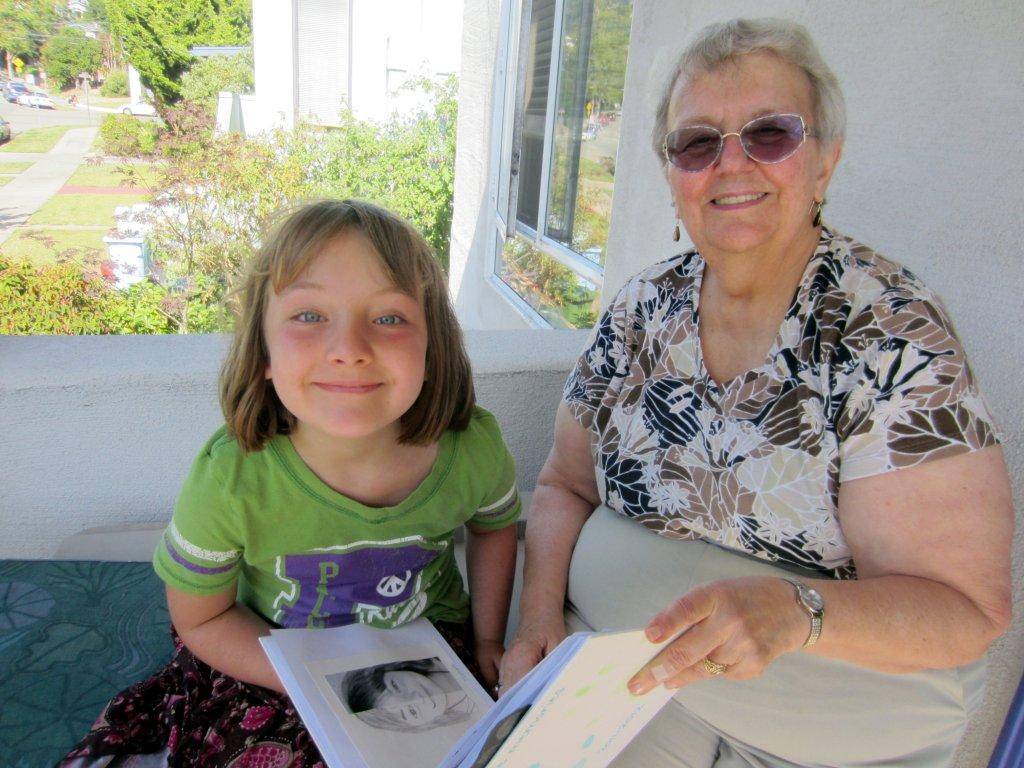 Isabelle and Grammy reading the book that Isabelle made in her just-completed first-grade class.



On Grandpa's birthday it was back to Hooter's for lunch. Photo by Mundo.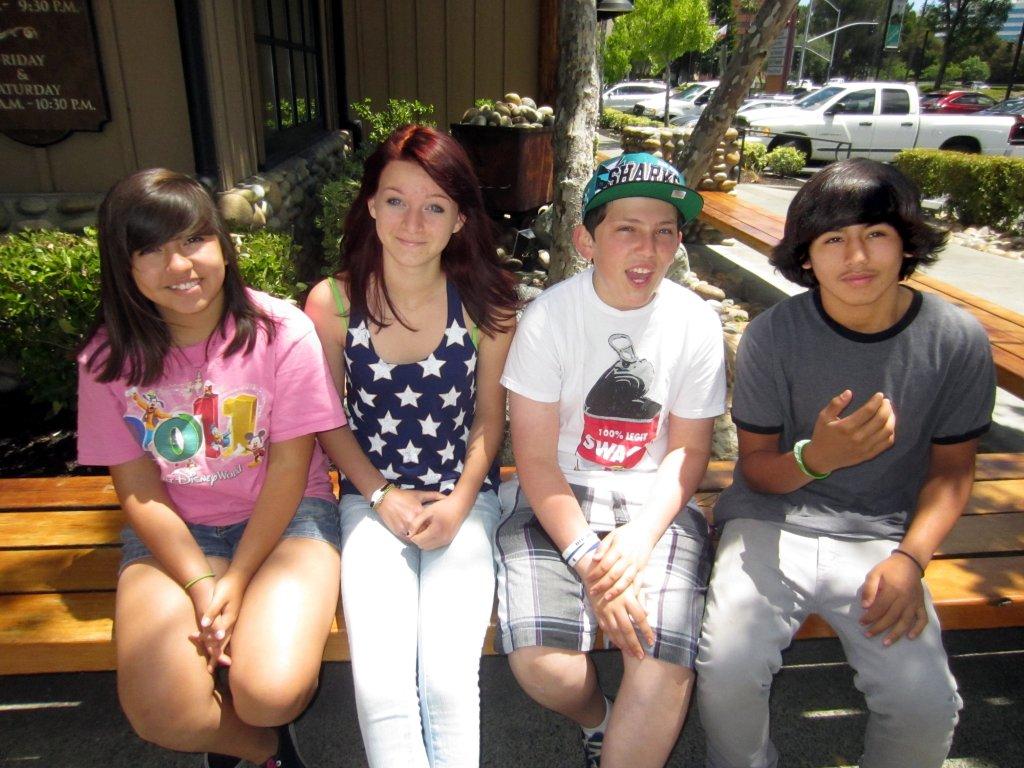 We began Camp Hudson 2012 with our traditional lunch at the Claim Jumper restaurant in Concord. Amazing desserts.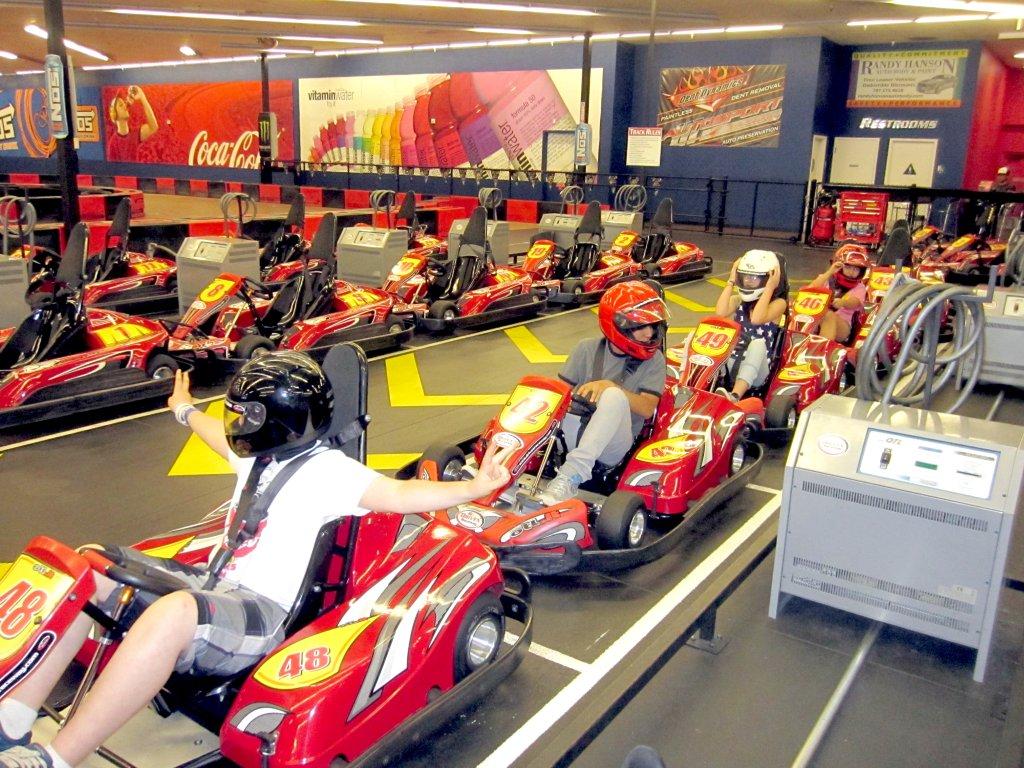 Then a visit to Driven Raceway in Rohnert park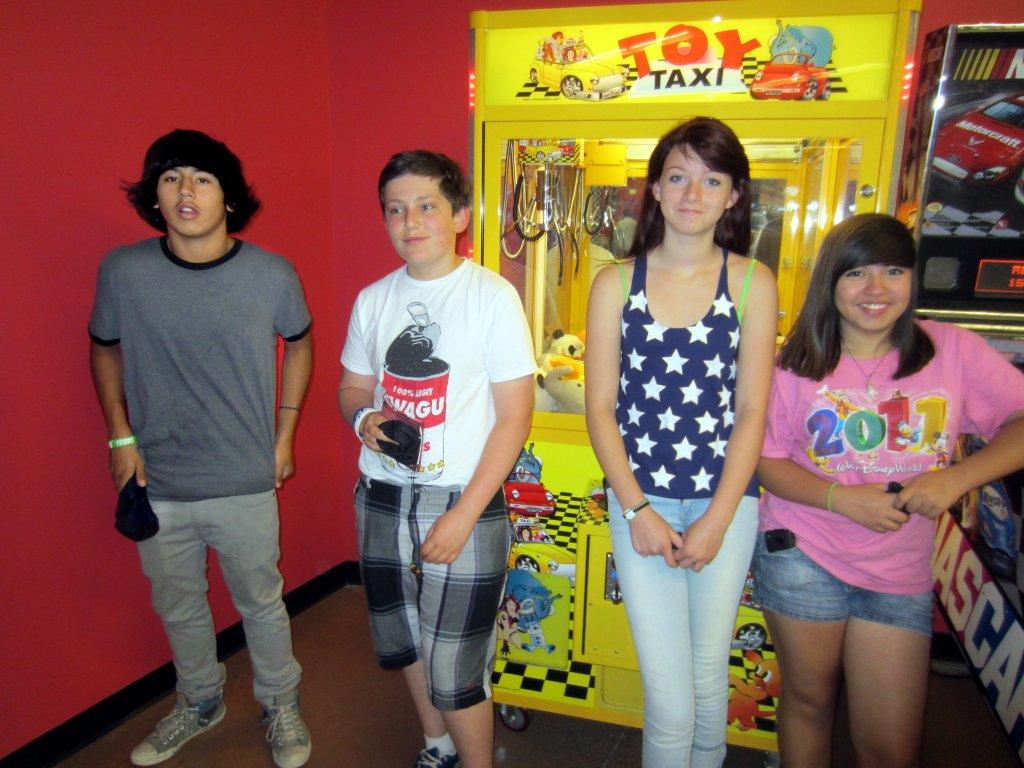 After the races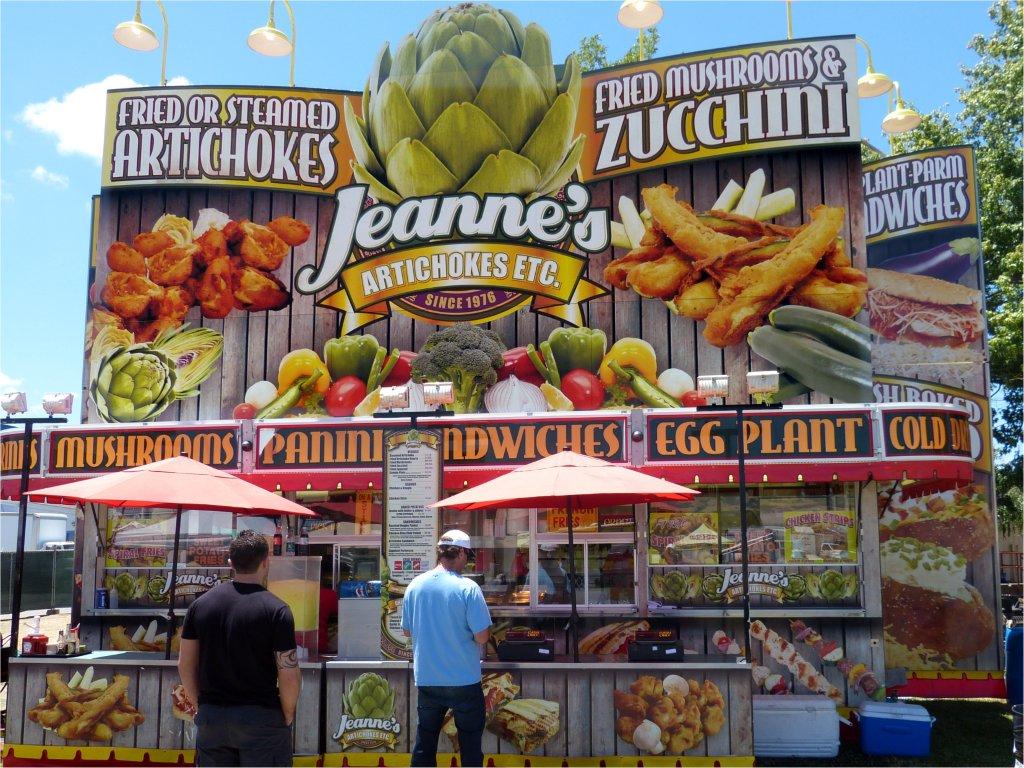 Then the Sonoma-Marin Fair in Petaluma. Lots of spicy food.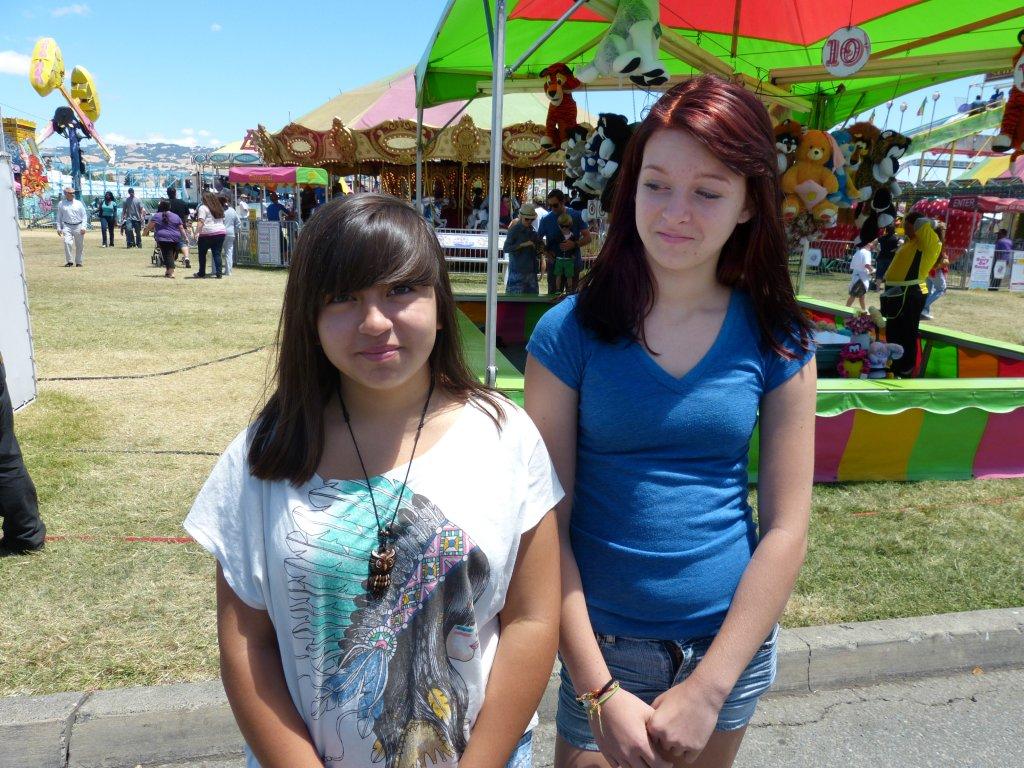 Only Sofi and Nicole went with Grandpa. The boys stayed at our house and watched TV.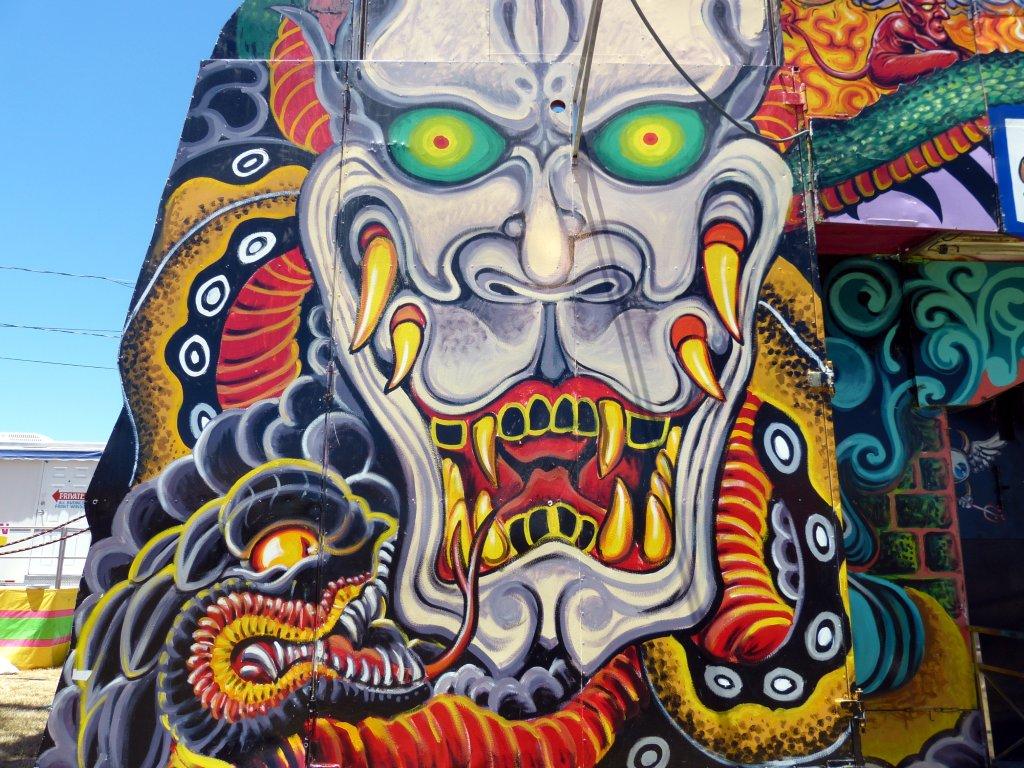 Here is a Fair patron that has consumed too much spicy food.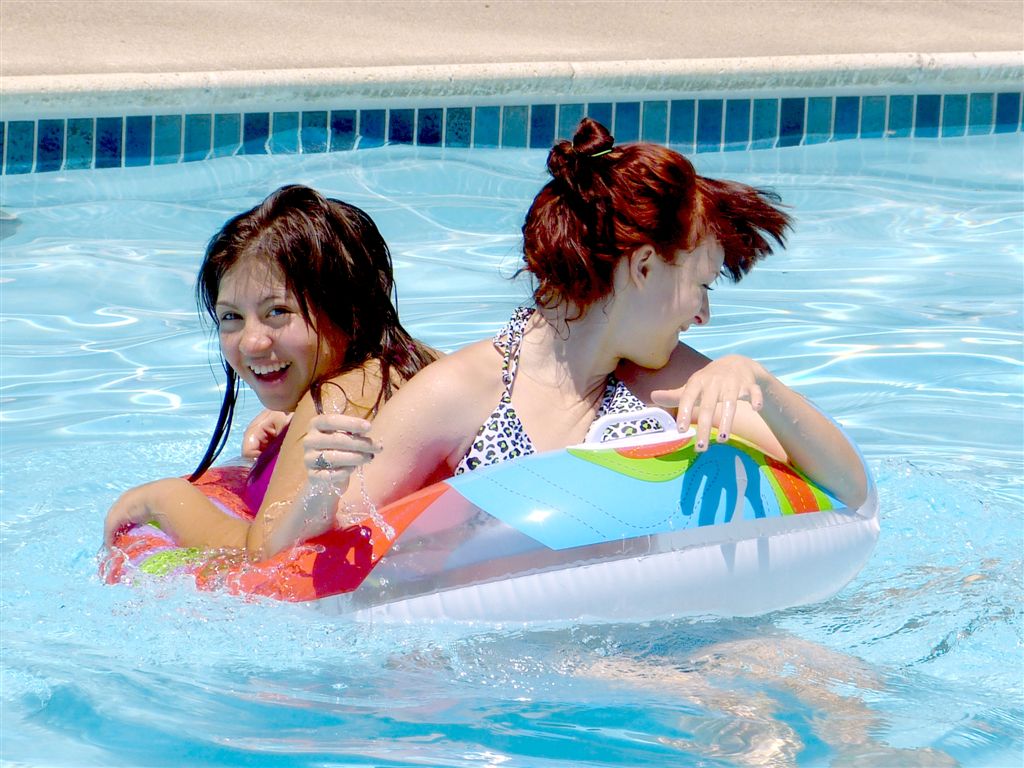 Then we went camping at the KOA in Cloverdale. We had a "luxury" cabin -- that means a bathroom and kitchen. Actually quite comfortable. The pool was very nice.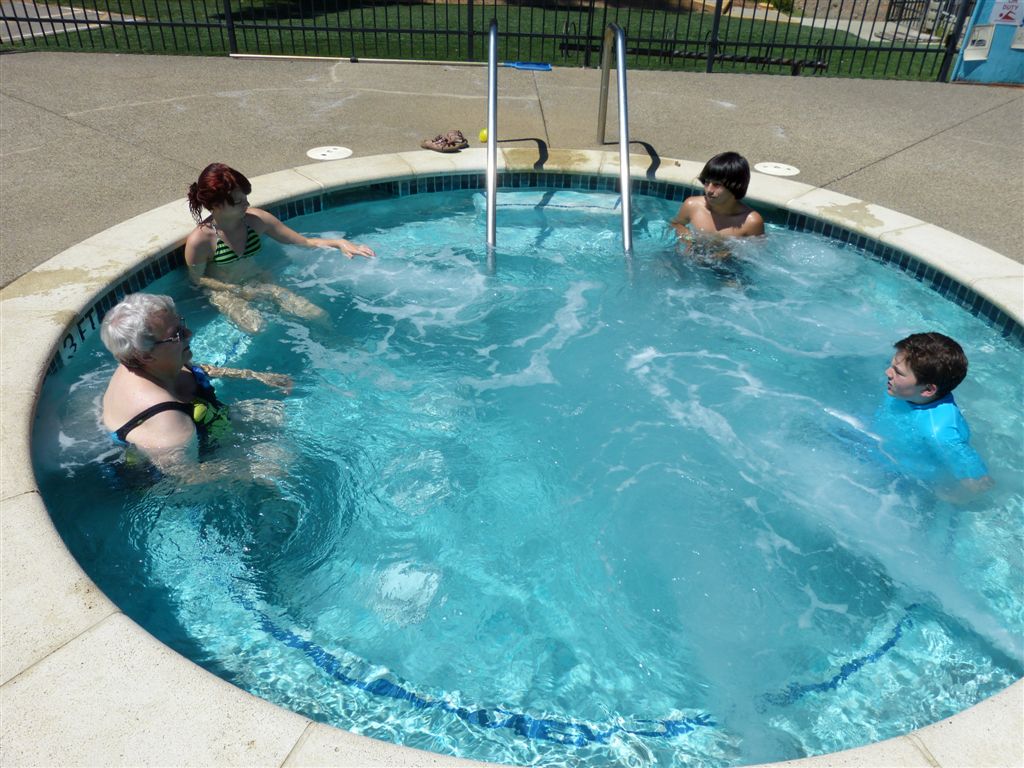 Grammy, Nicole, Zak, and Francisco in the hot tub.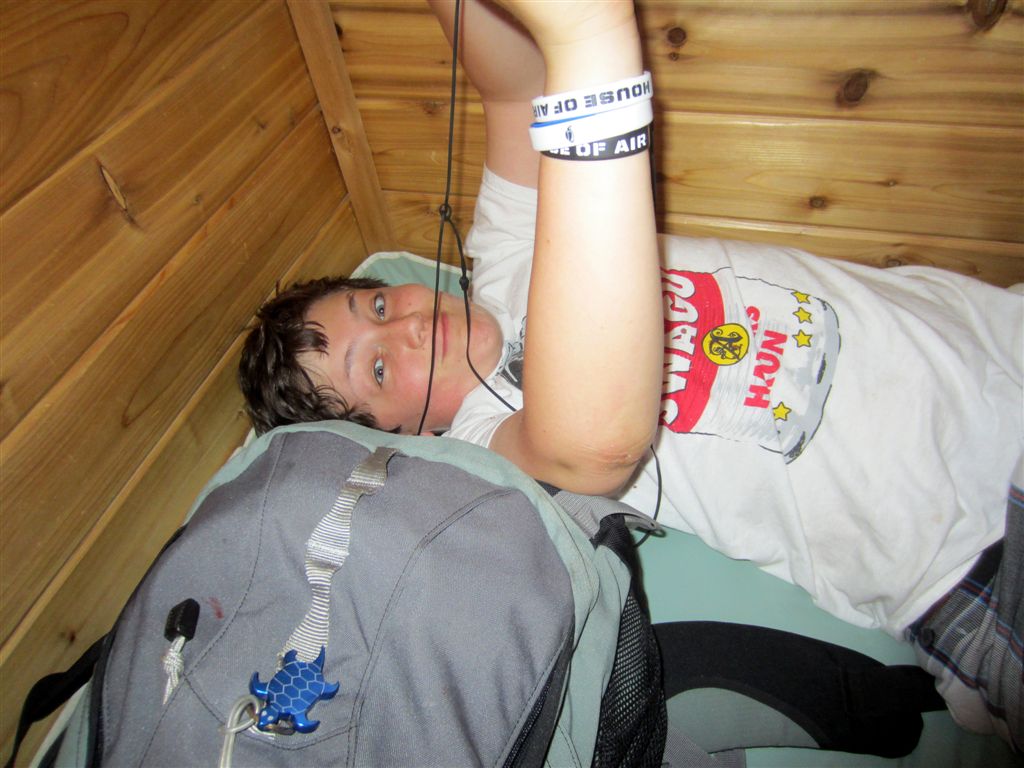 Francisco in his bunk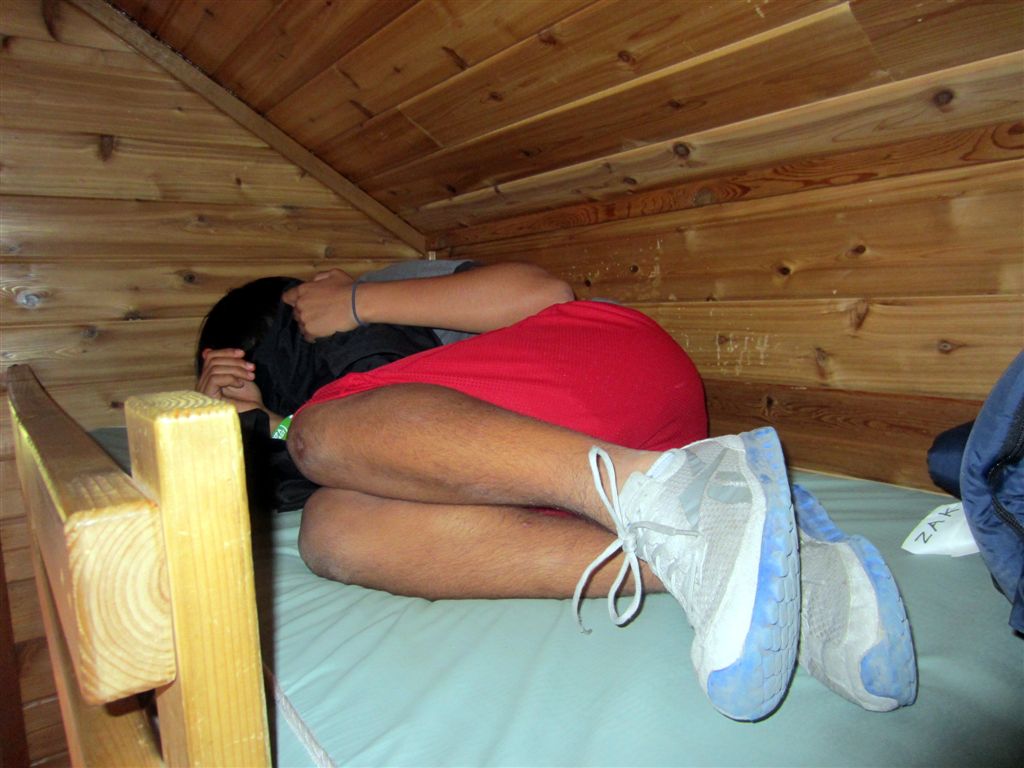 Zak in his bunk


Francisco, Nicole, and Sofi on the futon. It folded flat and, with the red air mattress seen in the picture, served as a bed for Nicole and Sofi...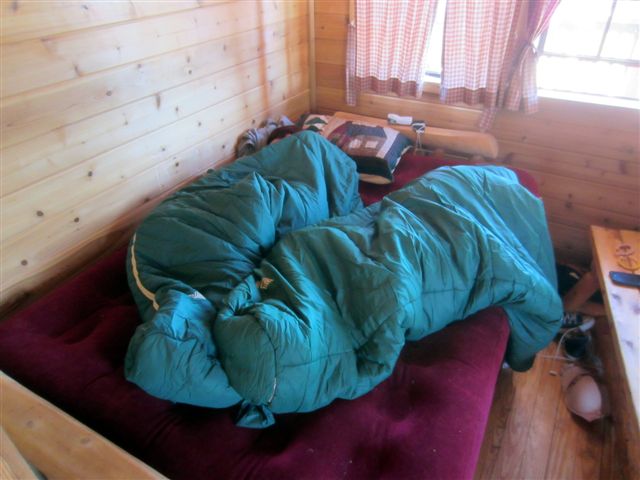 ...like this. Yes, they are in there...somewhere.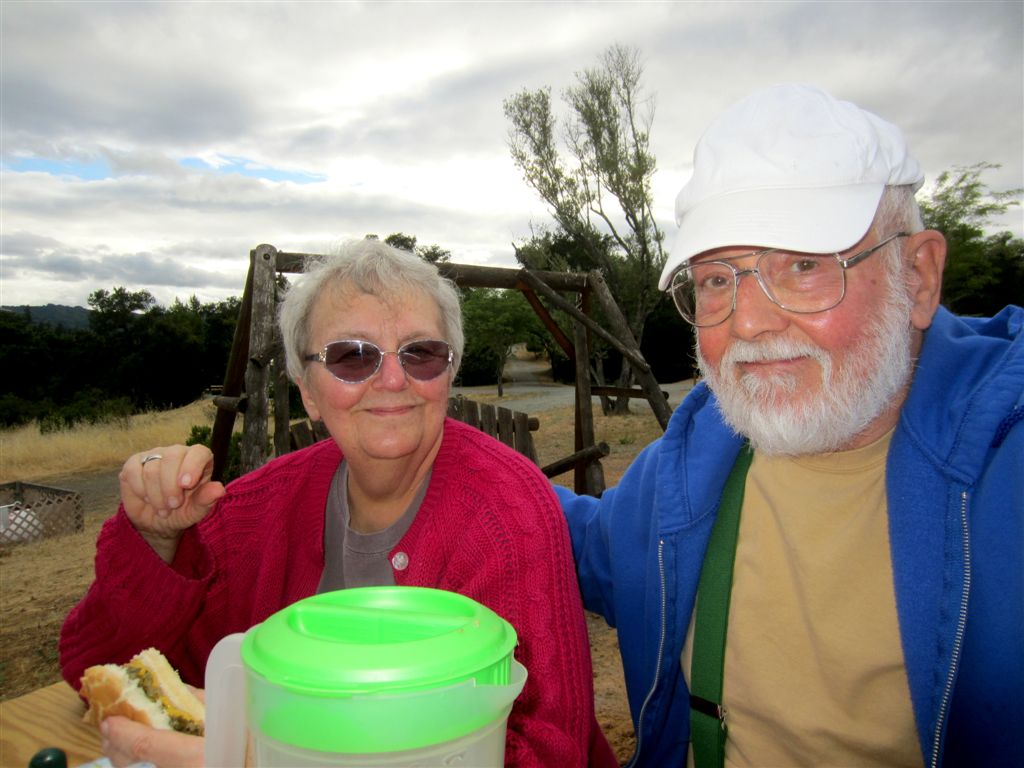 Grammy and Grandpa at dinner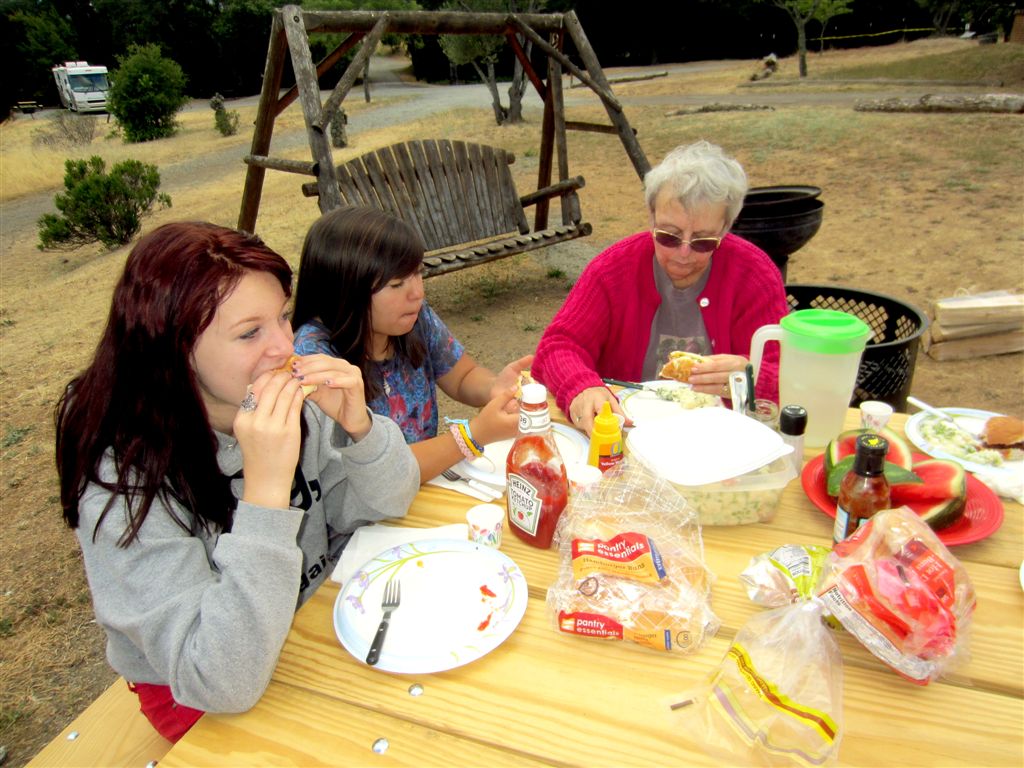 Nicole, Sofi, and Grammy at dinner. Hamburgers, hot dogs, salad, and watermelon.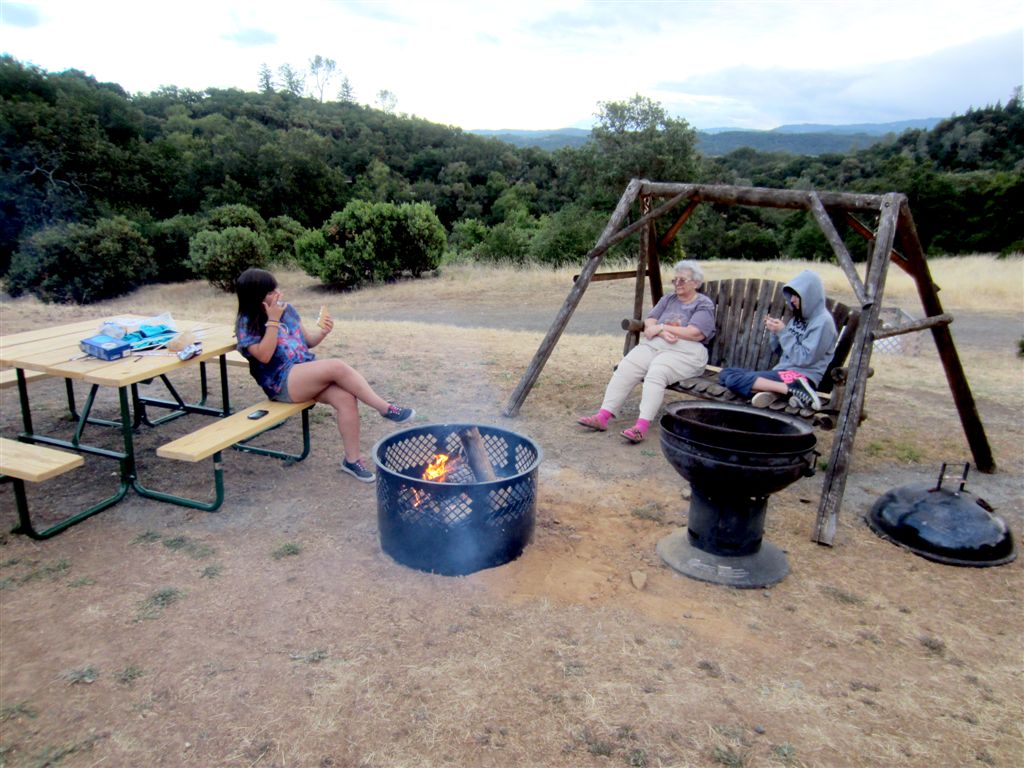 The campfire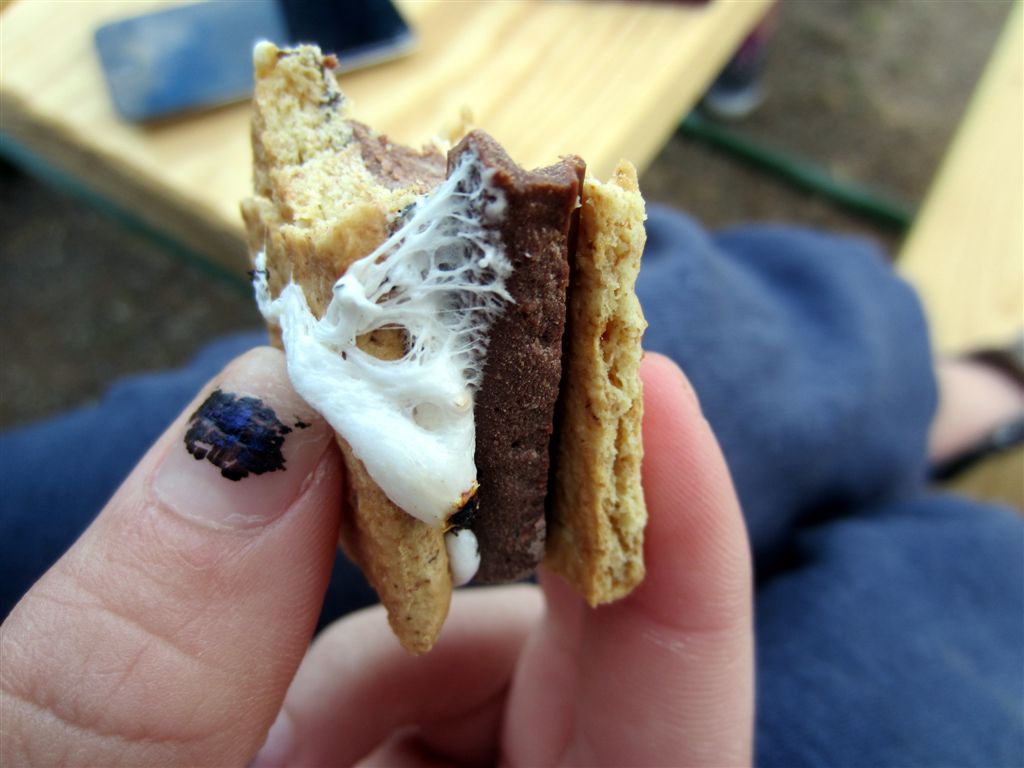 The kids made "smores" over our campfire. This one is held by Nicole.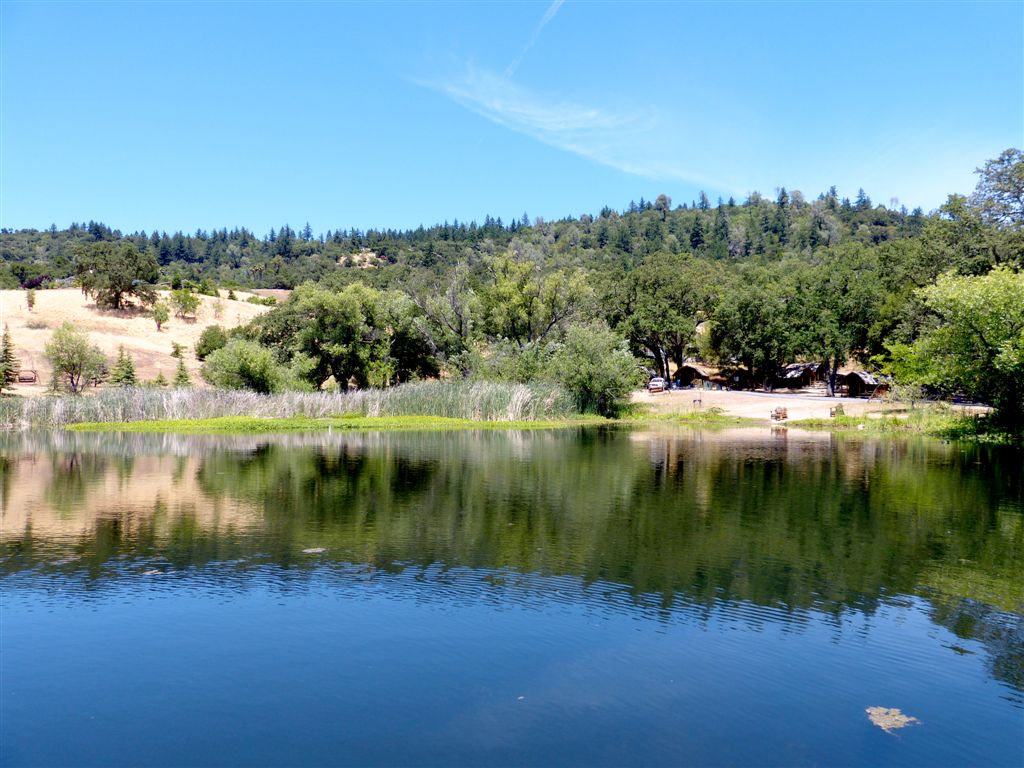 The fish pond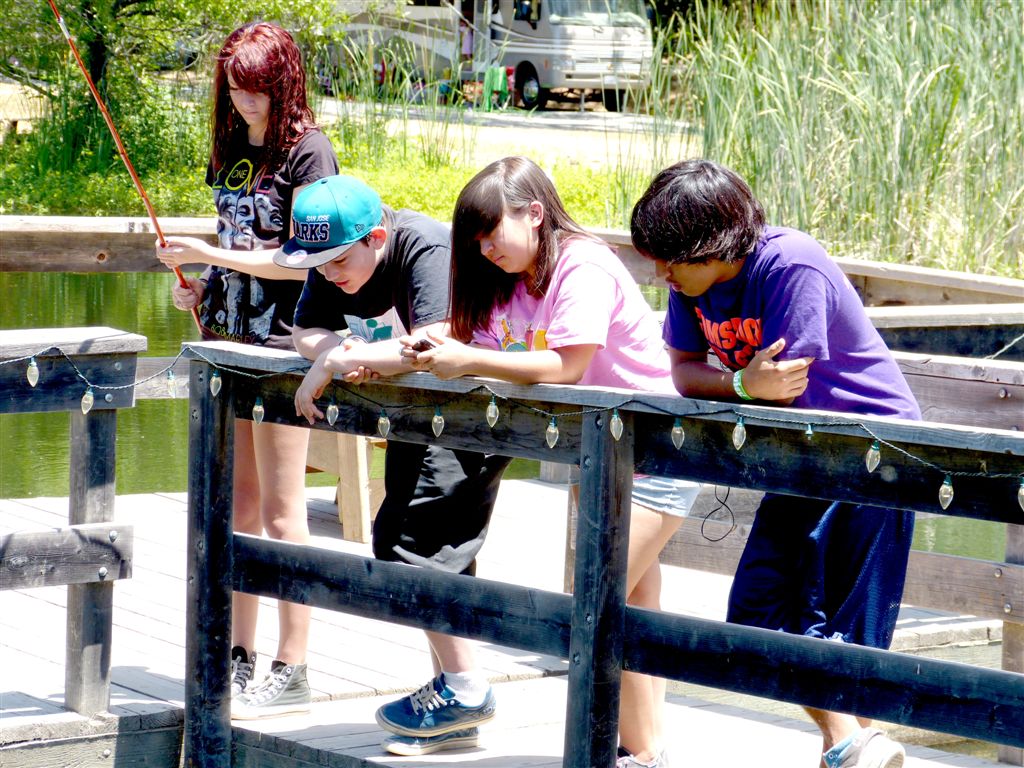 Nicole fishing, Francisco, Sofi, and Zak watch.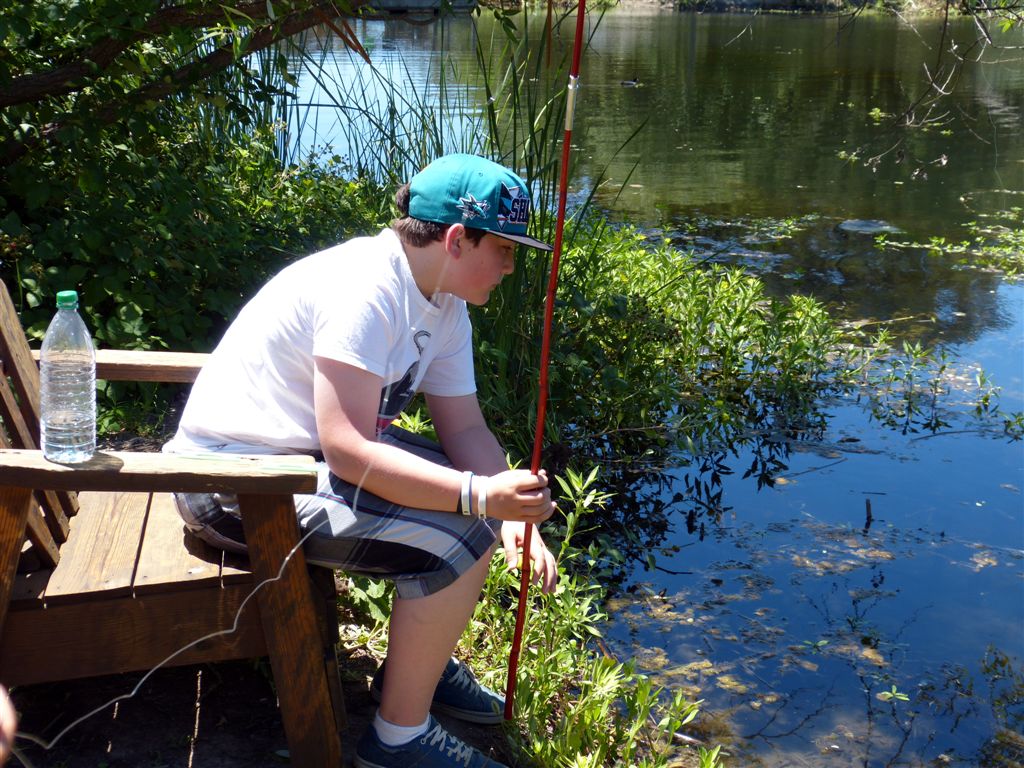 Francisco fishing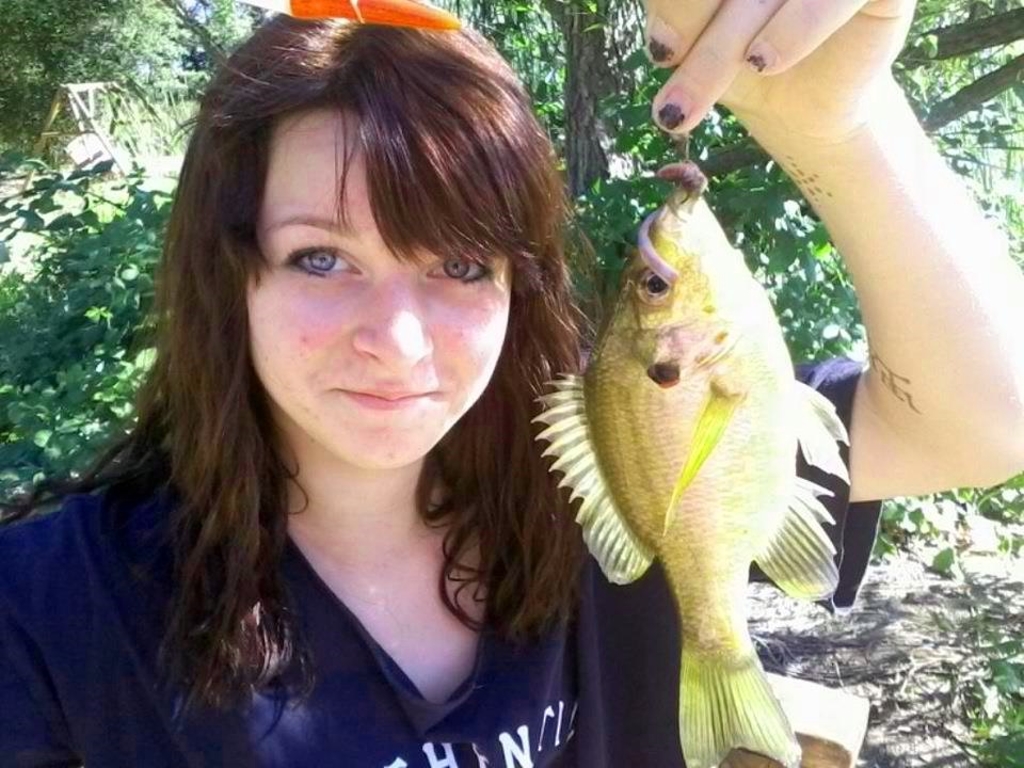 Here is one of the 4 fish that Nicole caught. Photo by Nicole.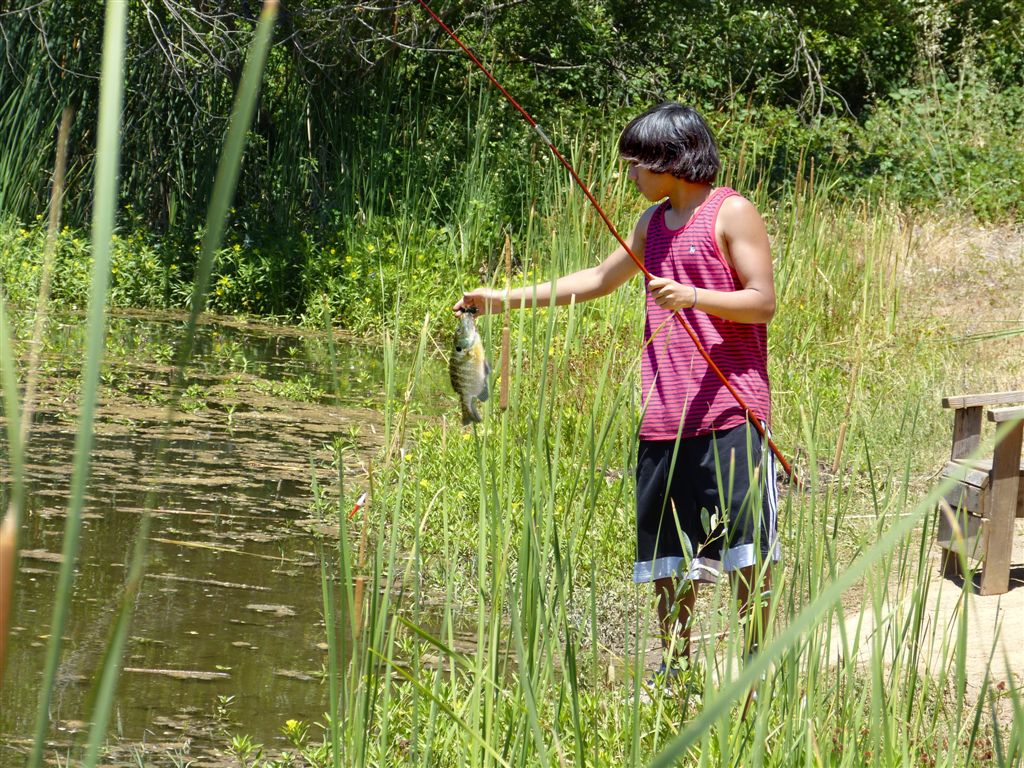 Zak caught 3 fish.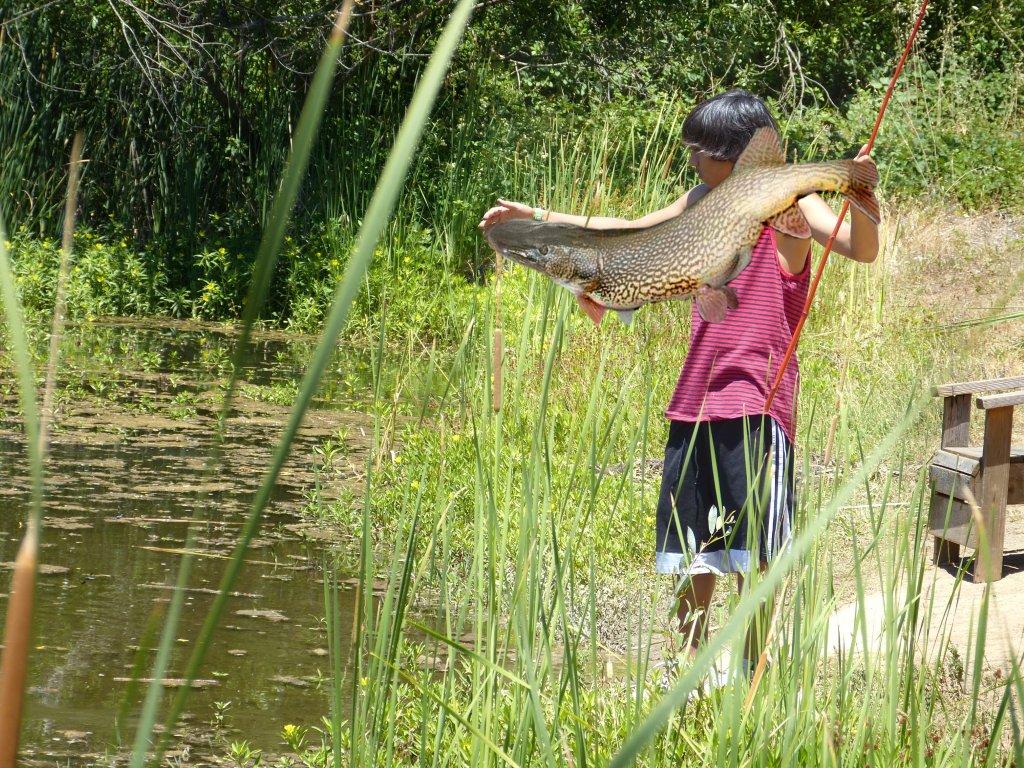 And have we got a fish story for you!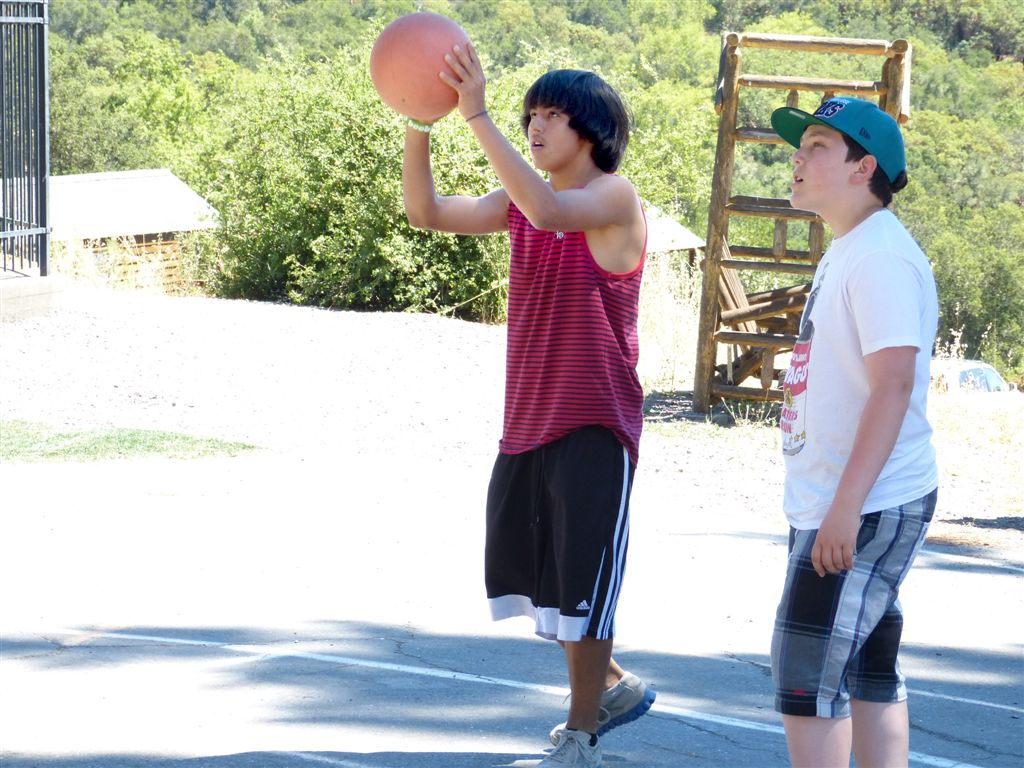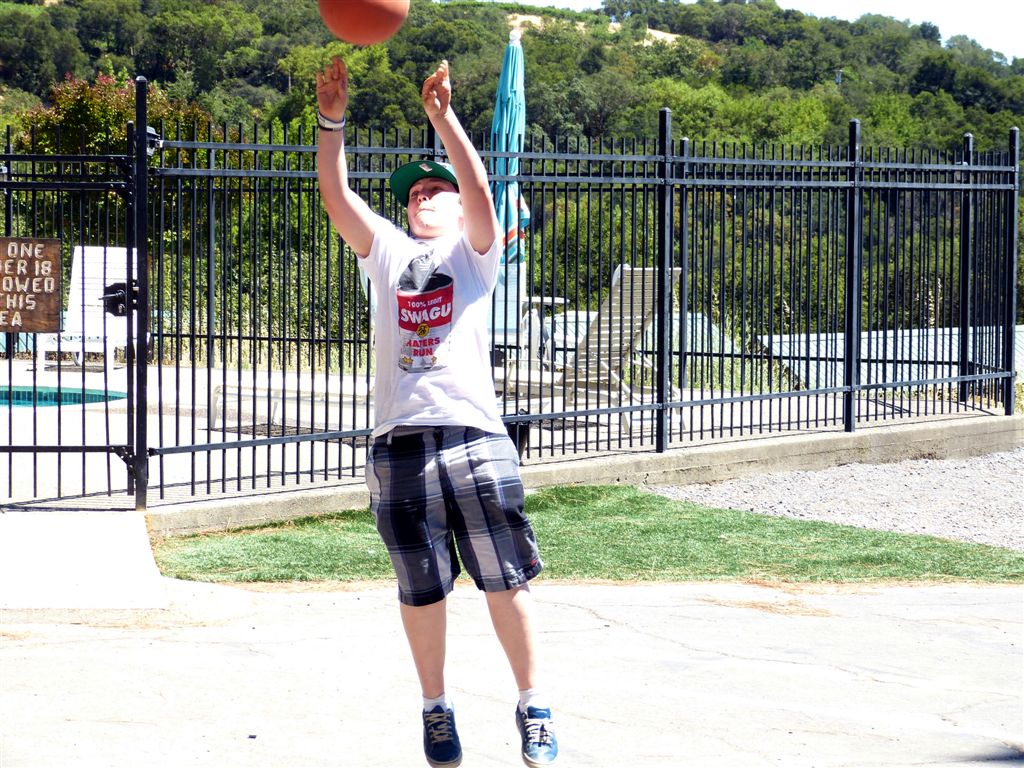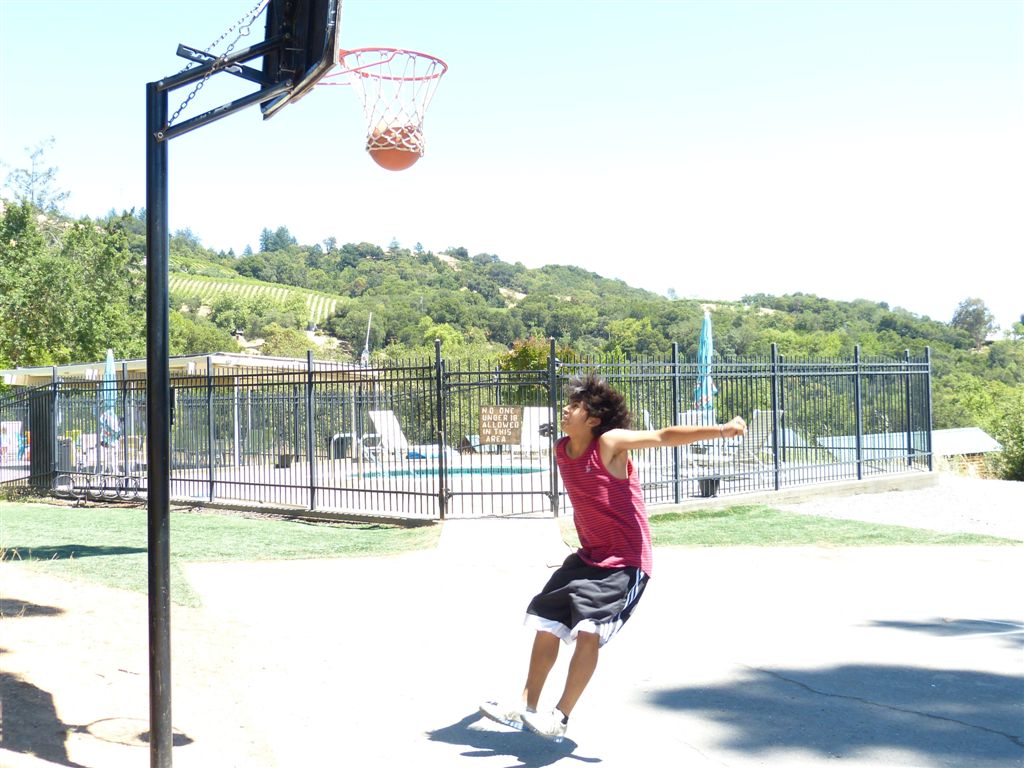 Zak and Francisco played basketball.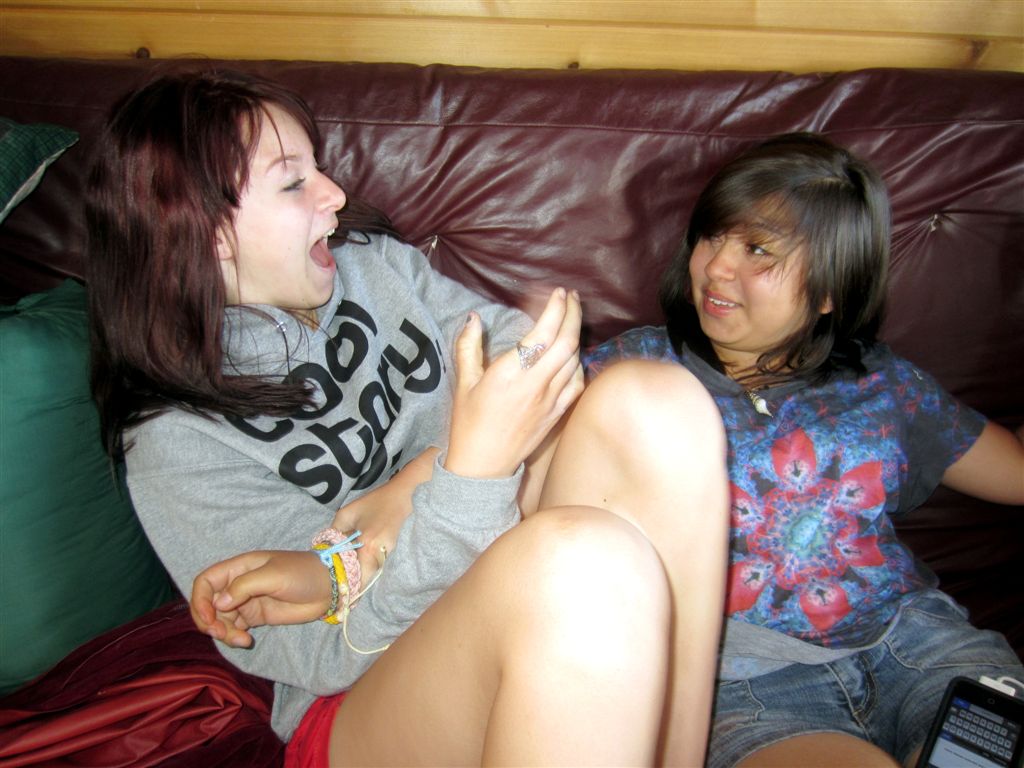 Nicole and Sofi having an intellectual discussion on the futon.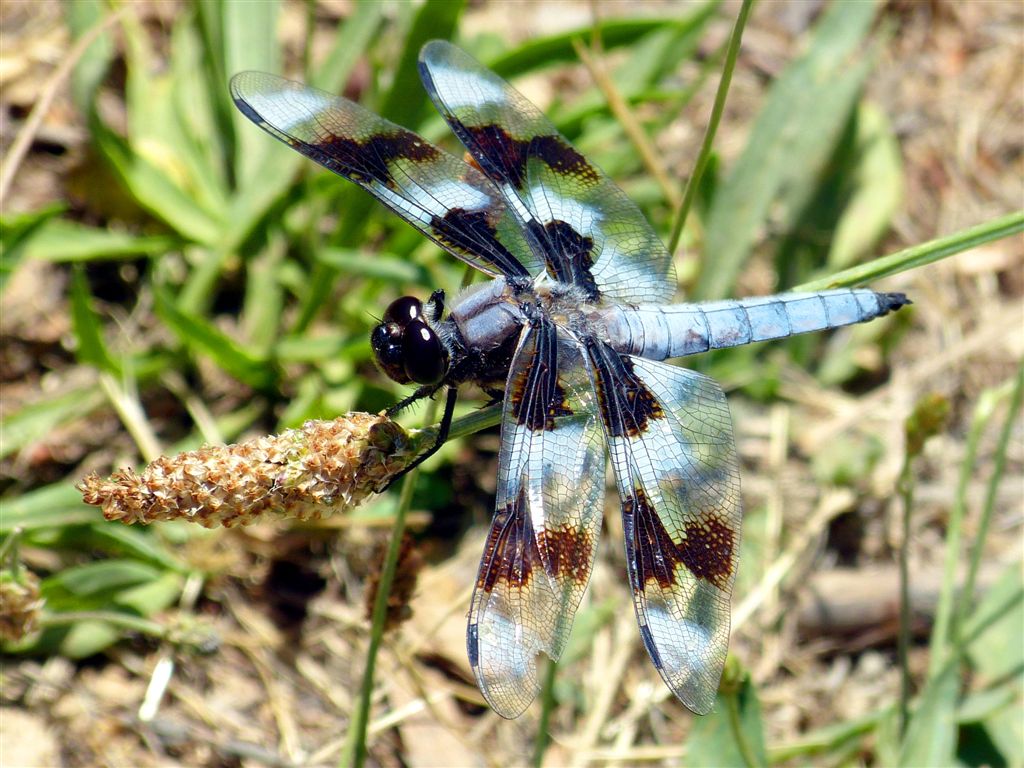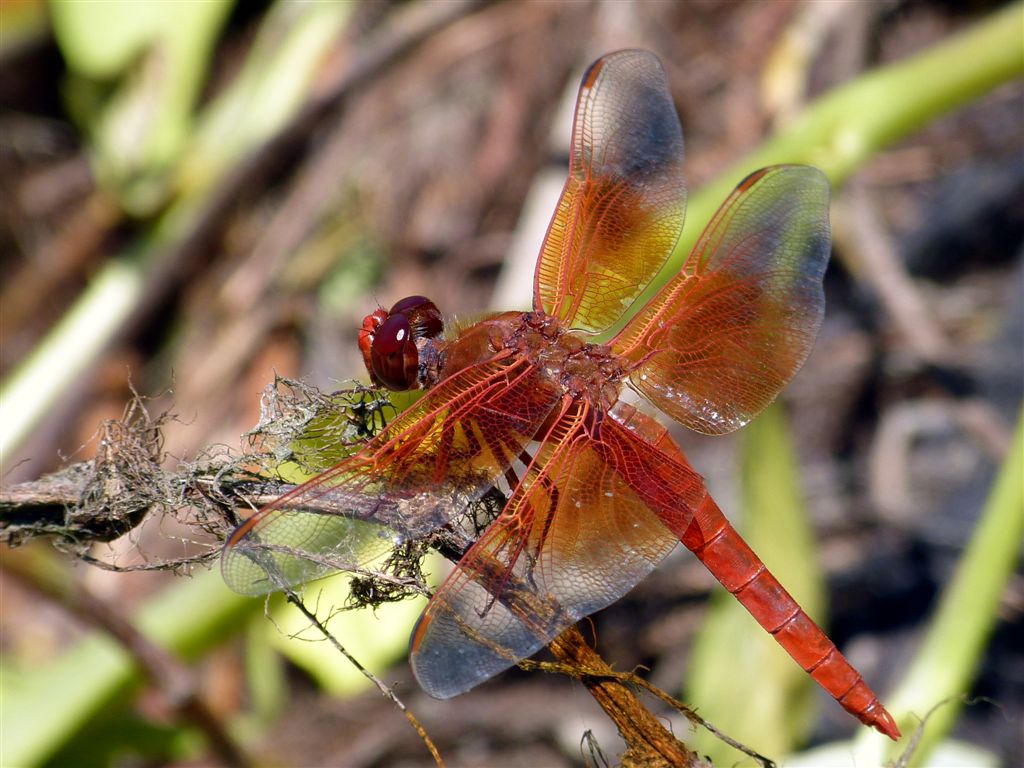 There were lots of colorful dragonflies at the fish pond. Grandpa had fun taking pictures of them.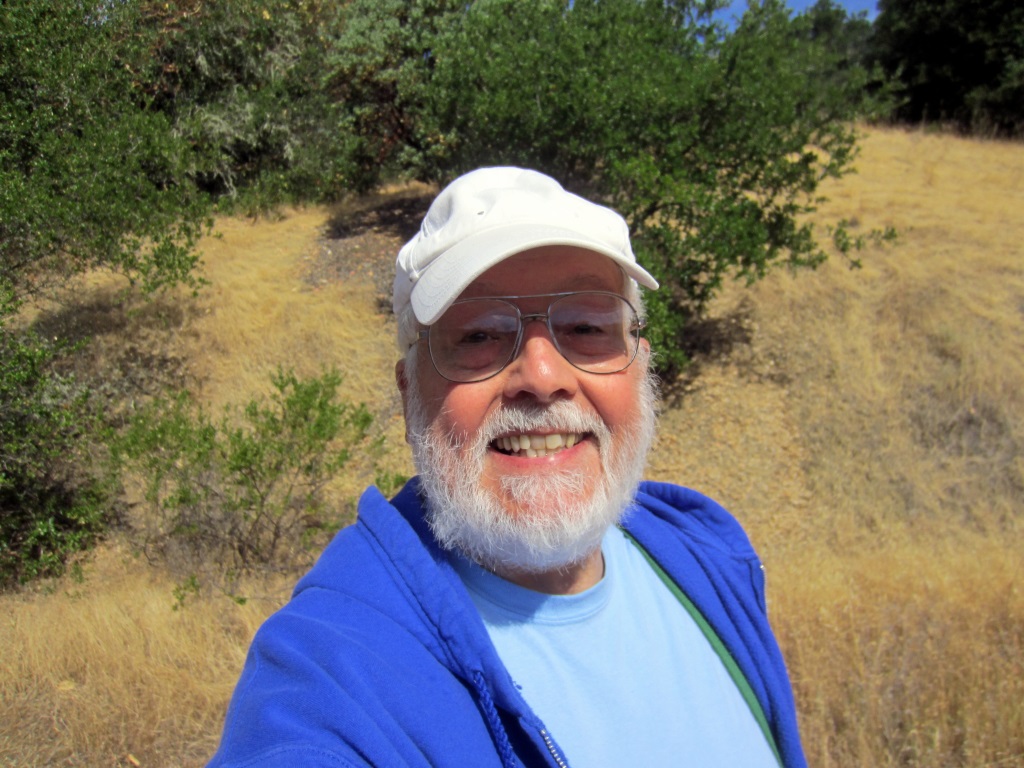 Grandpa went on a 3-mile hike. Really. This photo was taken on the hike.



On our way back from camping we stopped for lunch at The Downtown Grill in Windsor.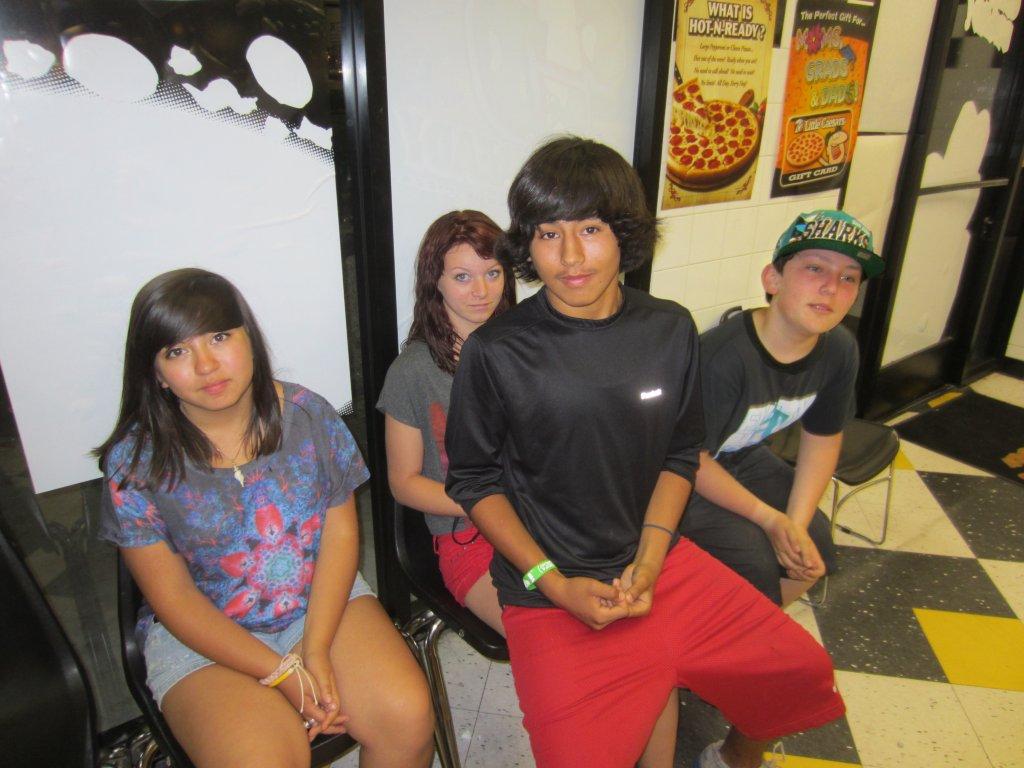 That evening the kids had pizza from Little Caeser's. While we waited, Zak sat on Nicole to make seating available to other customers. How considerate!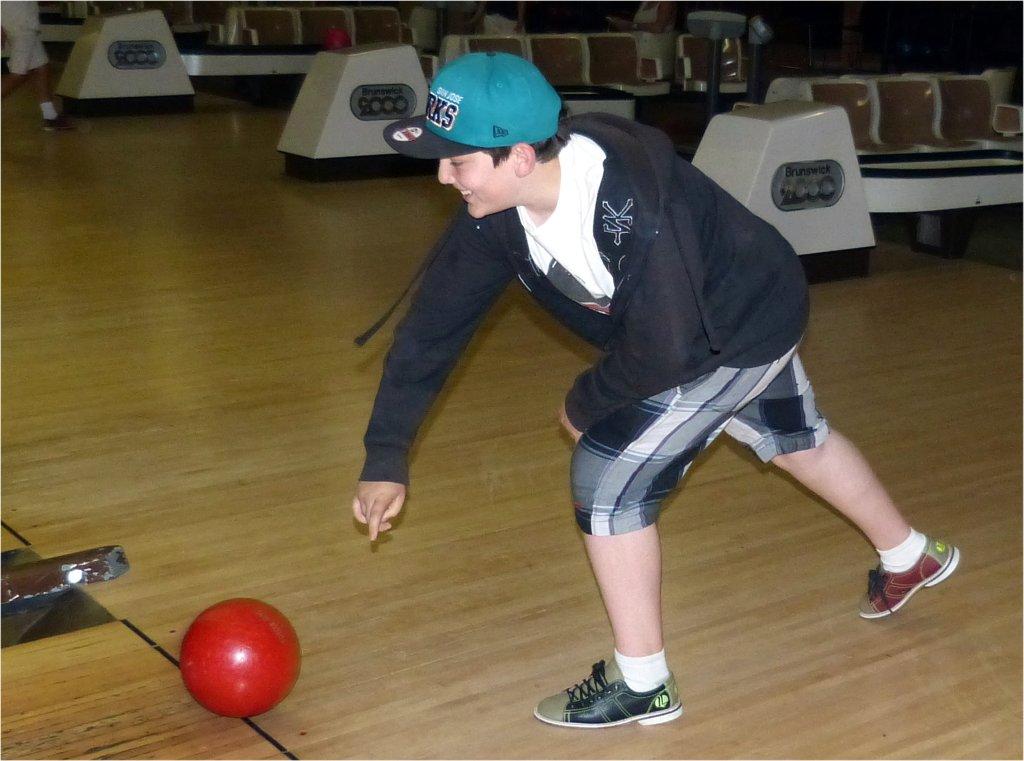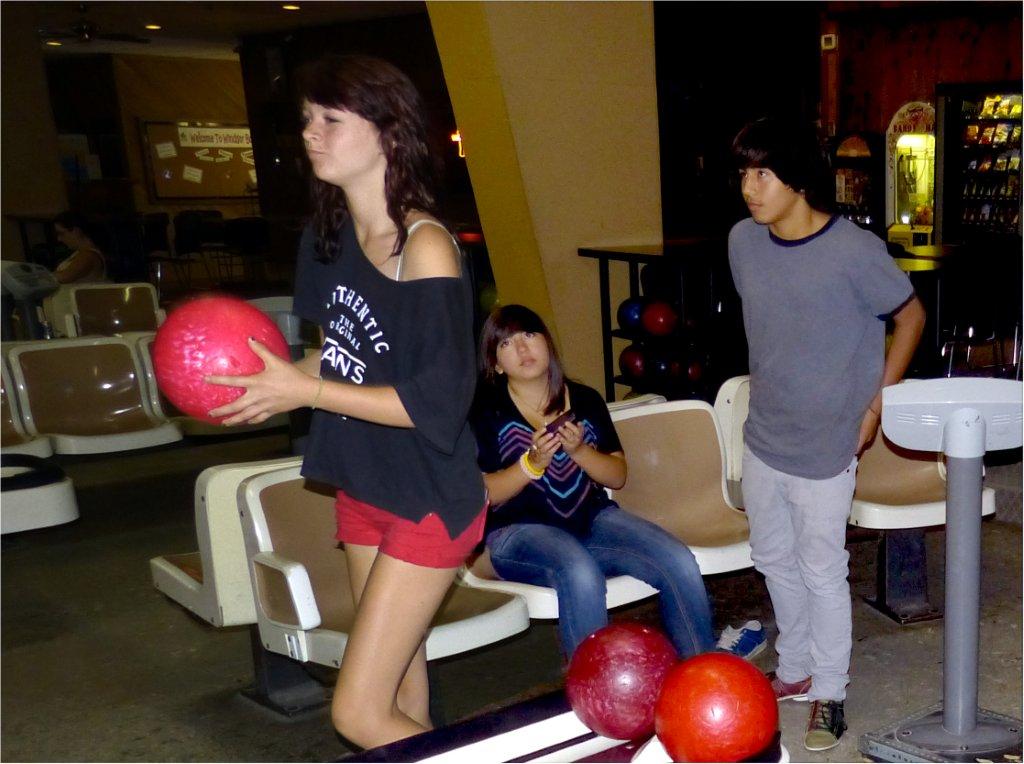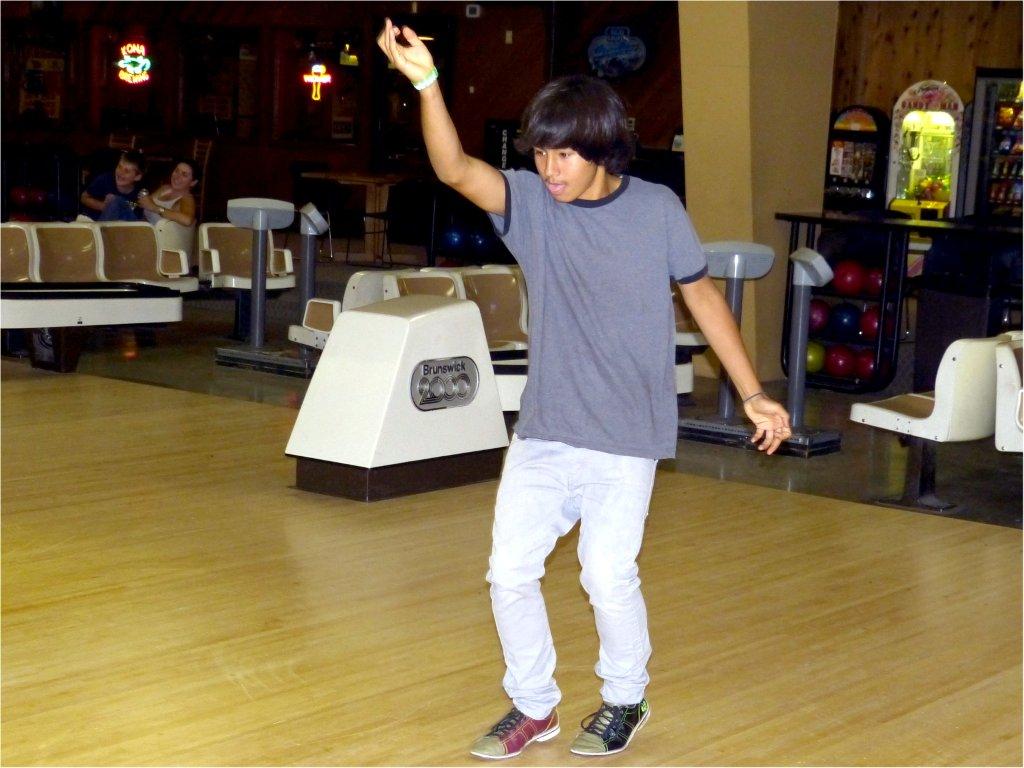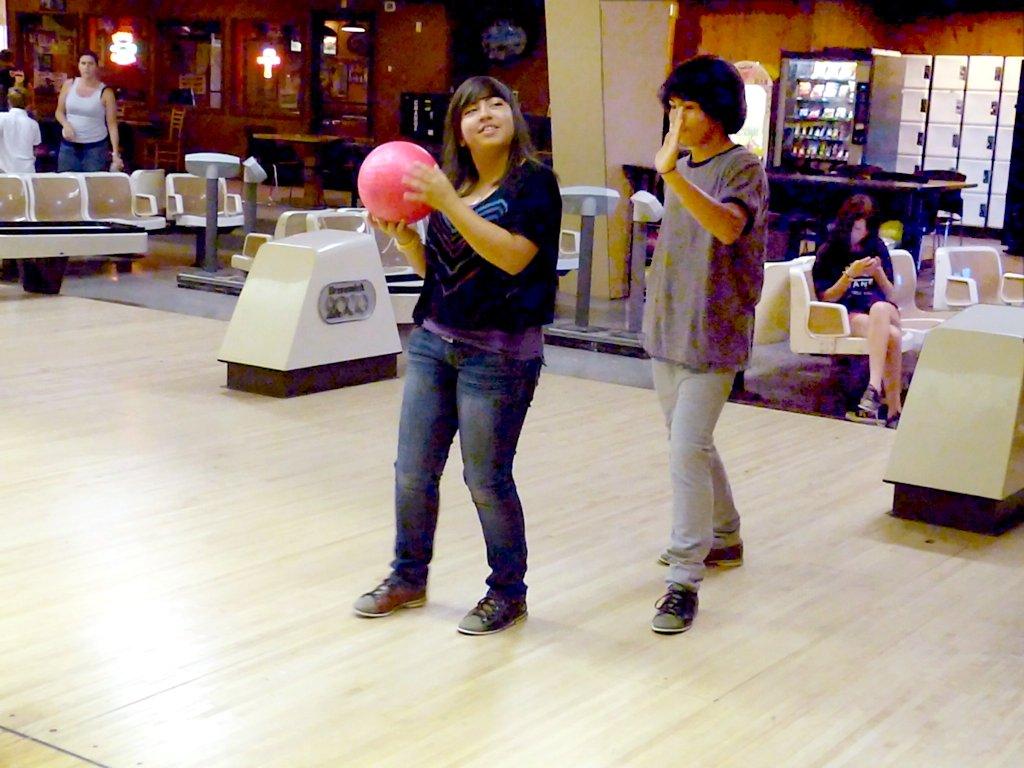 We went bowling at the Windsor Bowl. Francisco won. Nicole got the award for slowest ball. Zak may not get top scores, but he bowls with style (top photo).
Here (bottom photo) he is advising Sofi on style points.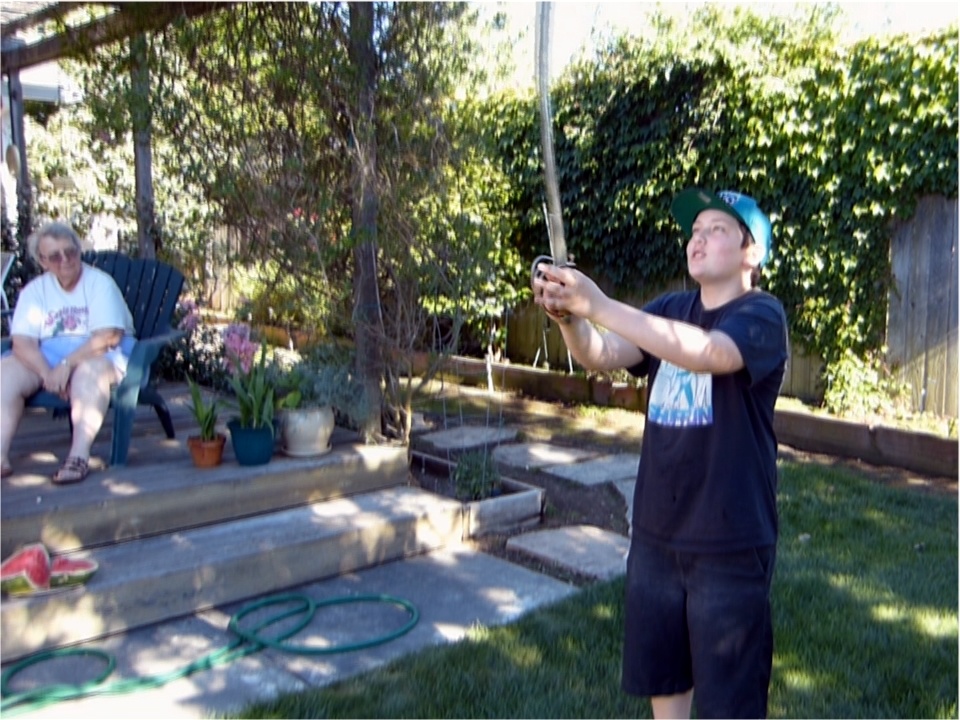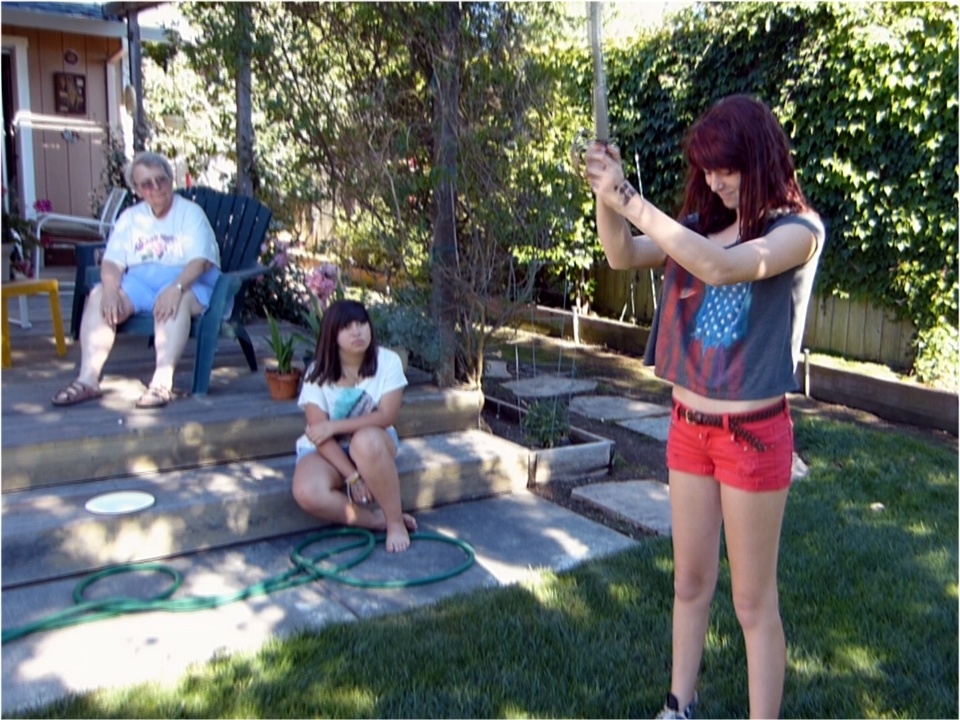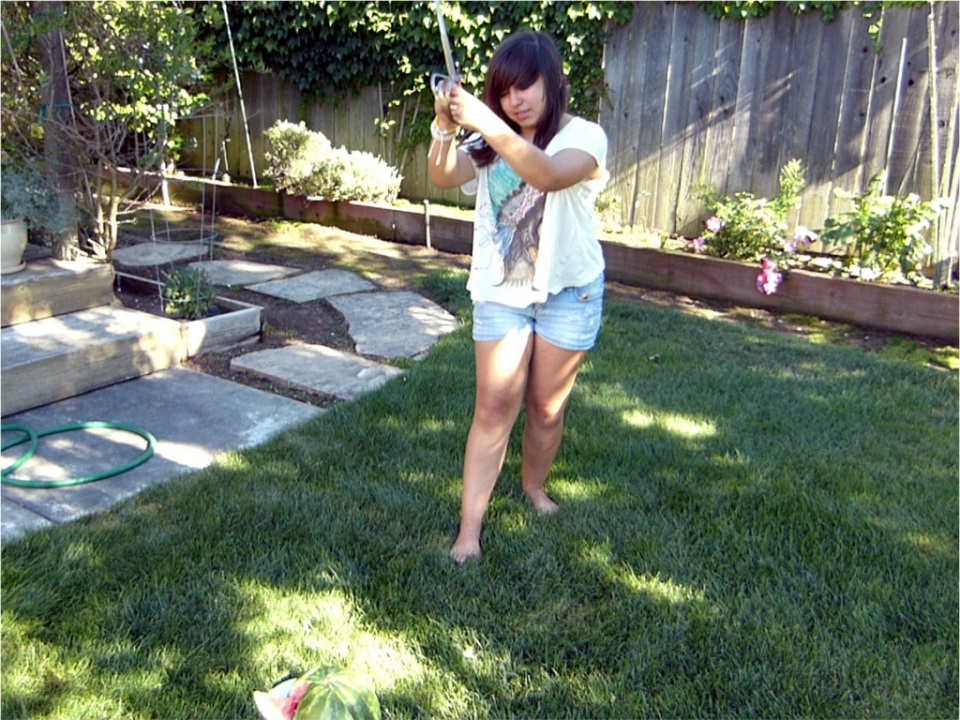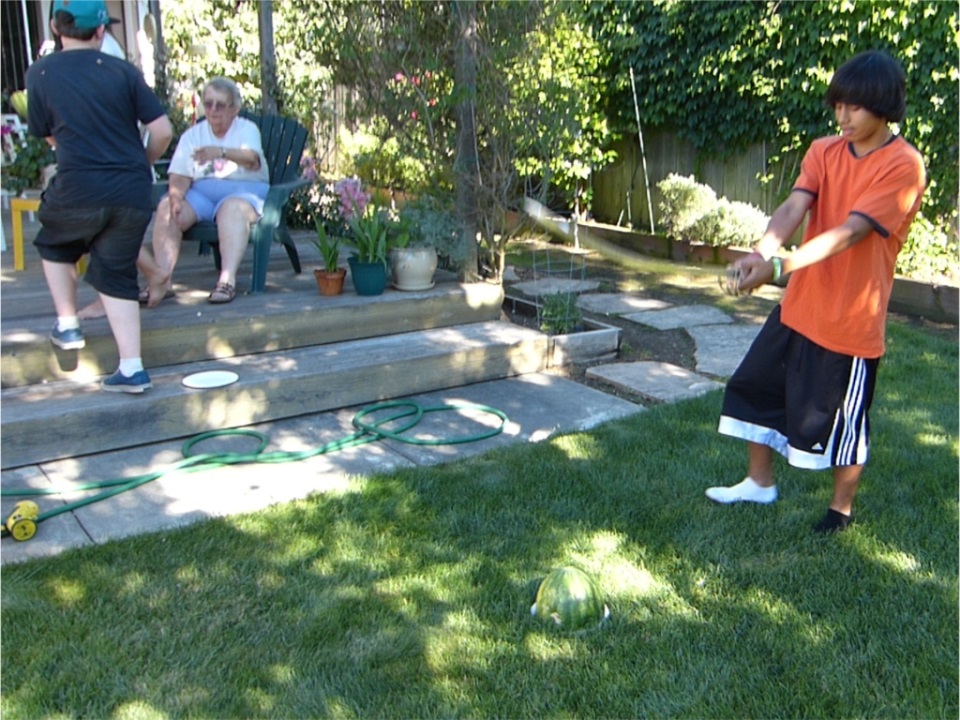 We had the annual Watermelon Whacking followed by a dinner with watermelon for dessert, in irregular slices. Please excuse the fuzzy pictures -- they are screen
shots from the video.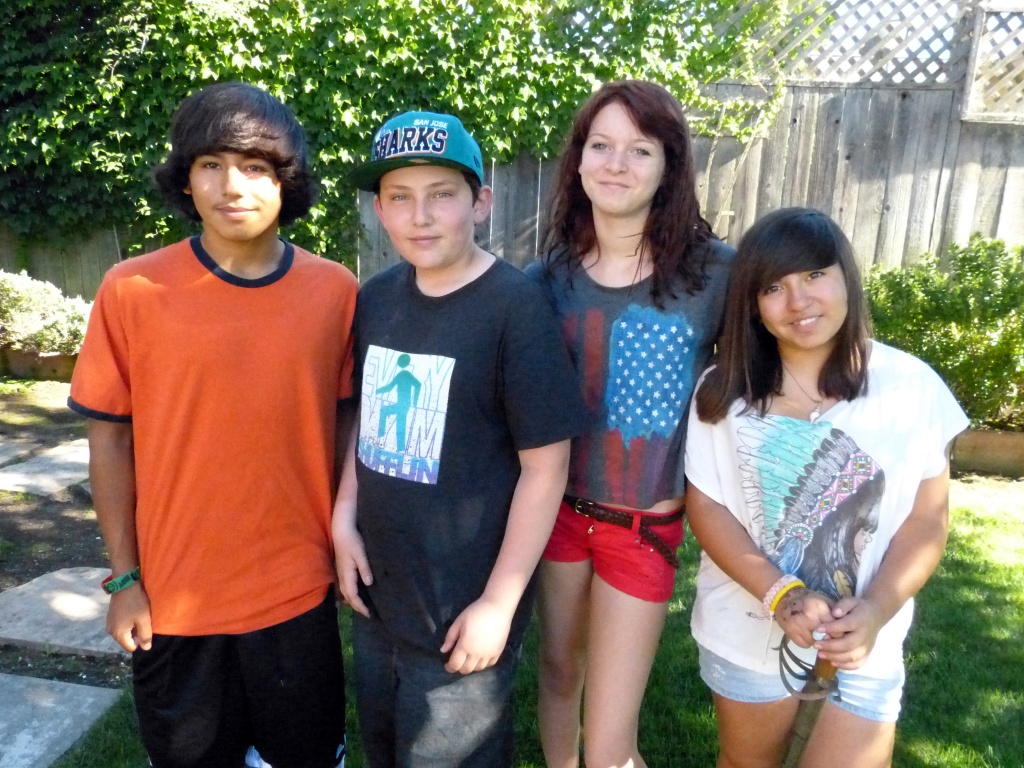 The Camp Hudson Watermelon Whackers, Zak, Francisco, Nicole, and Sofi.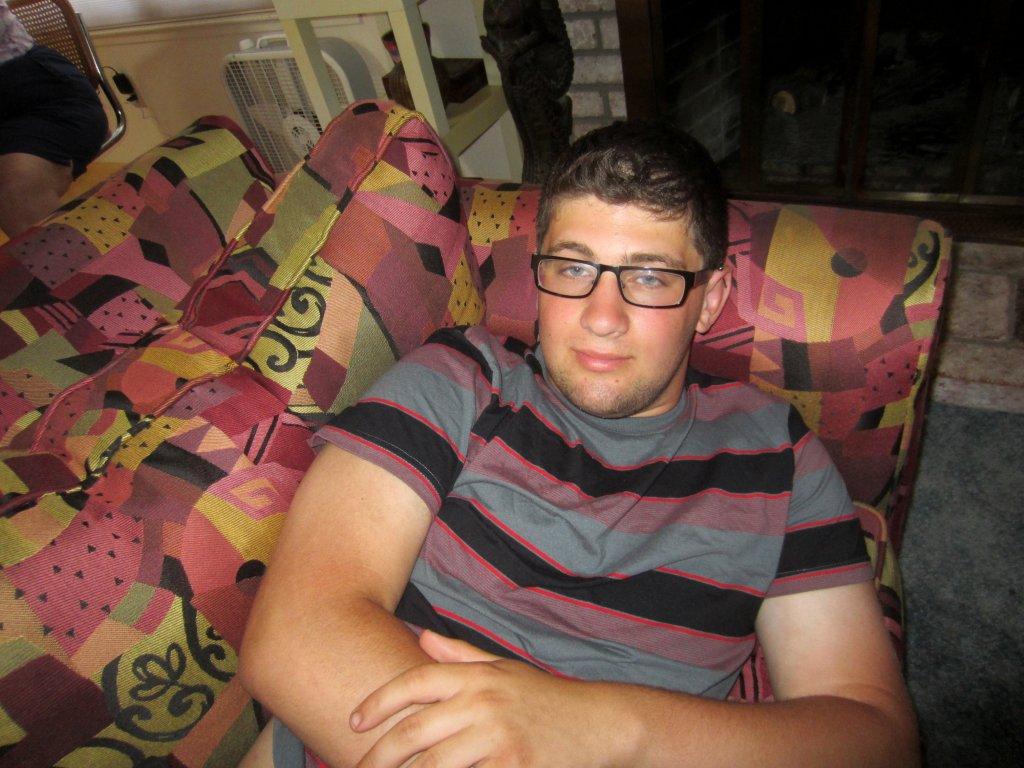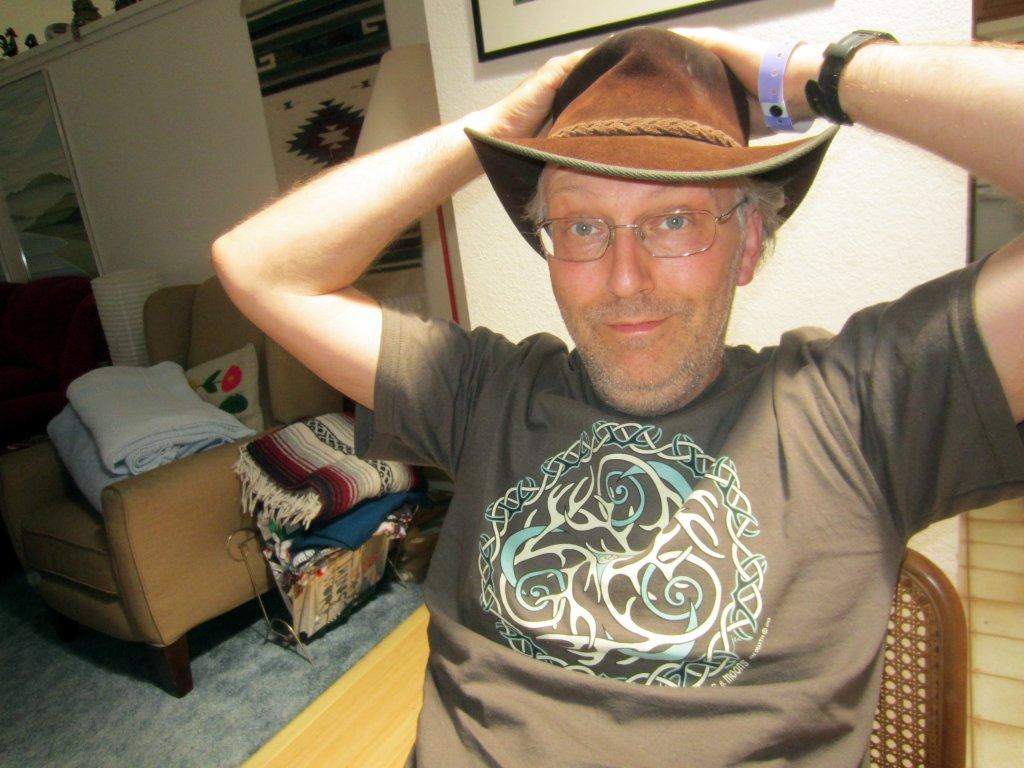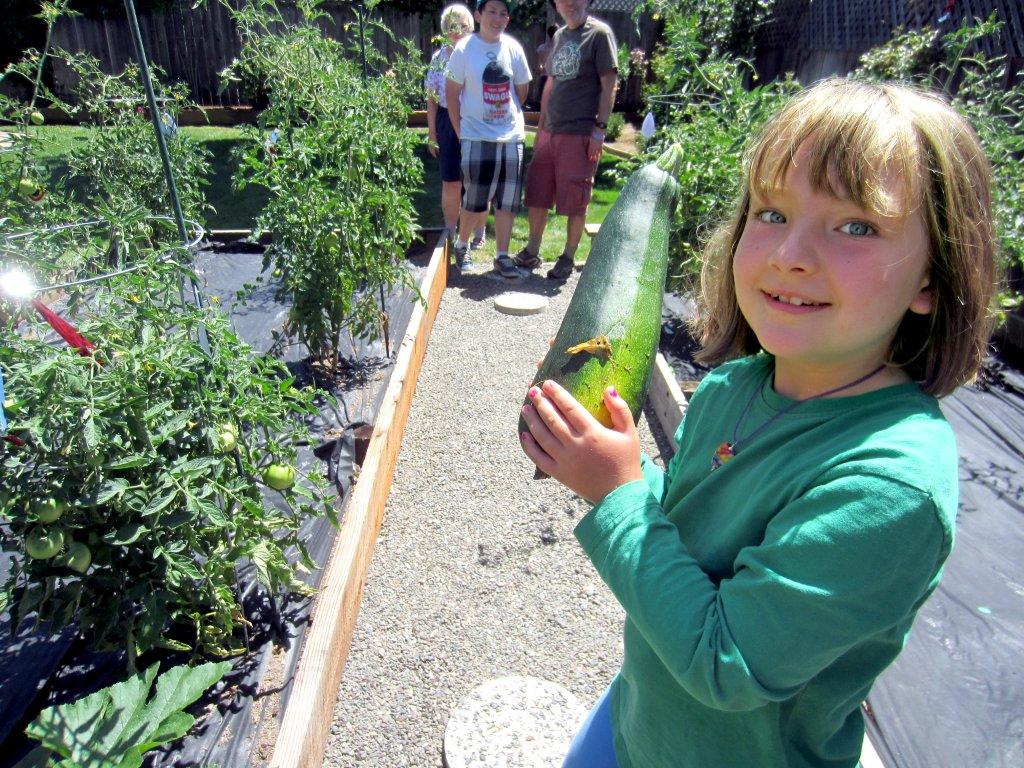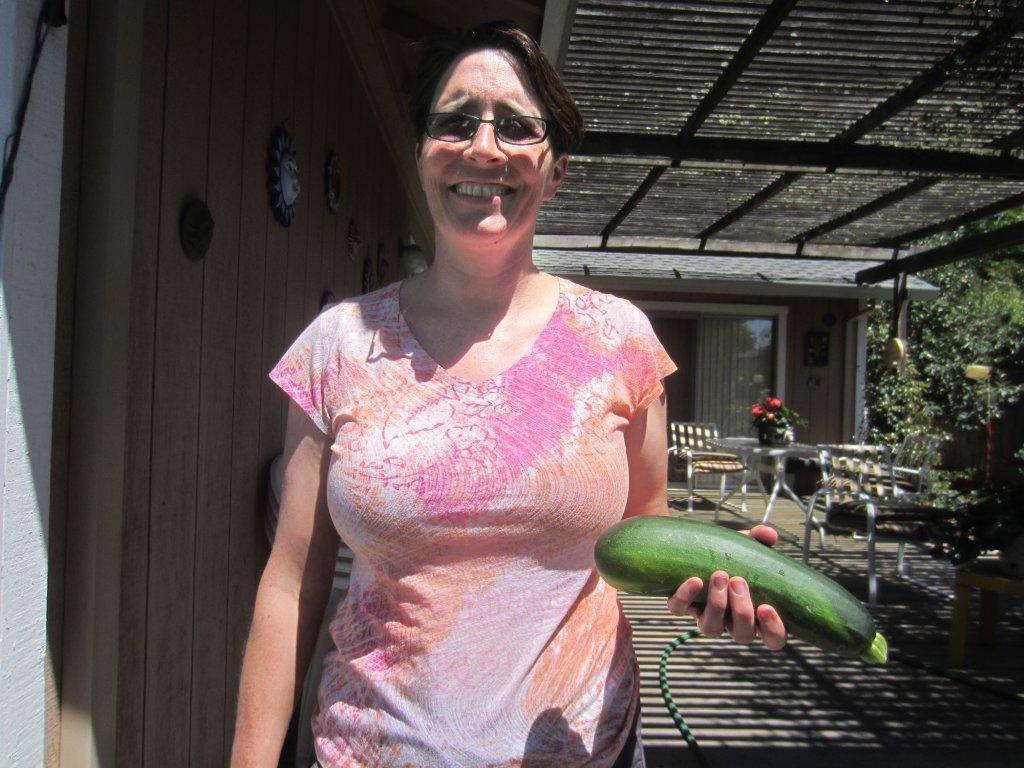 The Erics visited us on their way back from a camping trip of their own. Isabelle picked a fresh zucchini from our garden.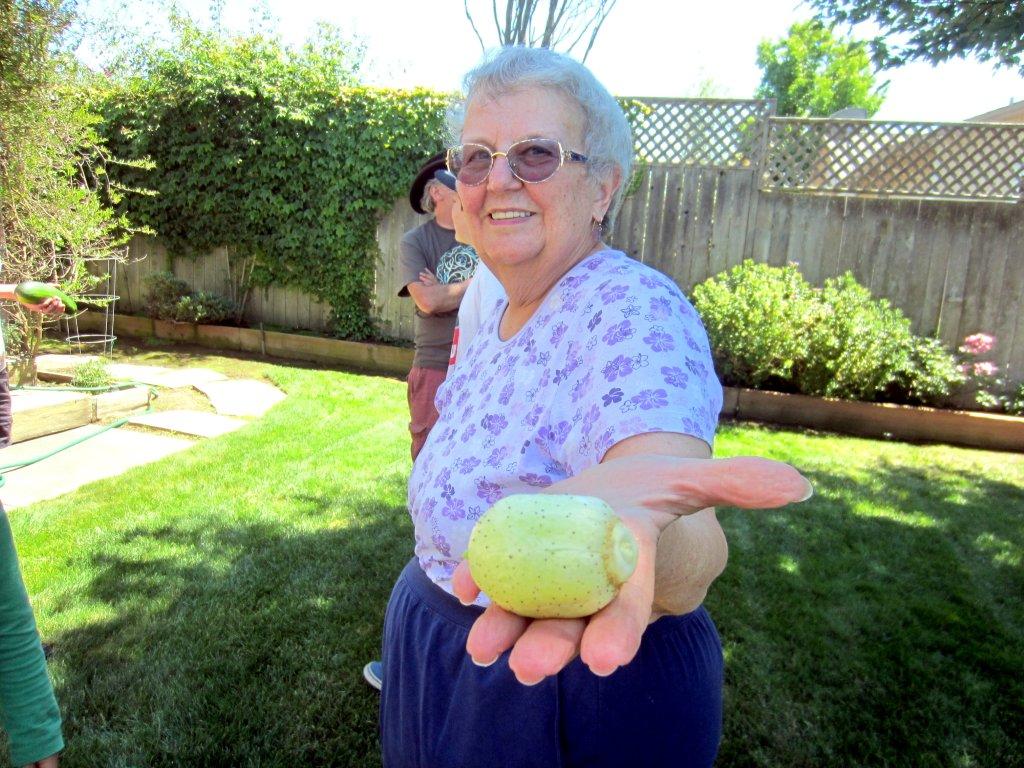 Grammy holds a fresh lemon cucumber from our garden.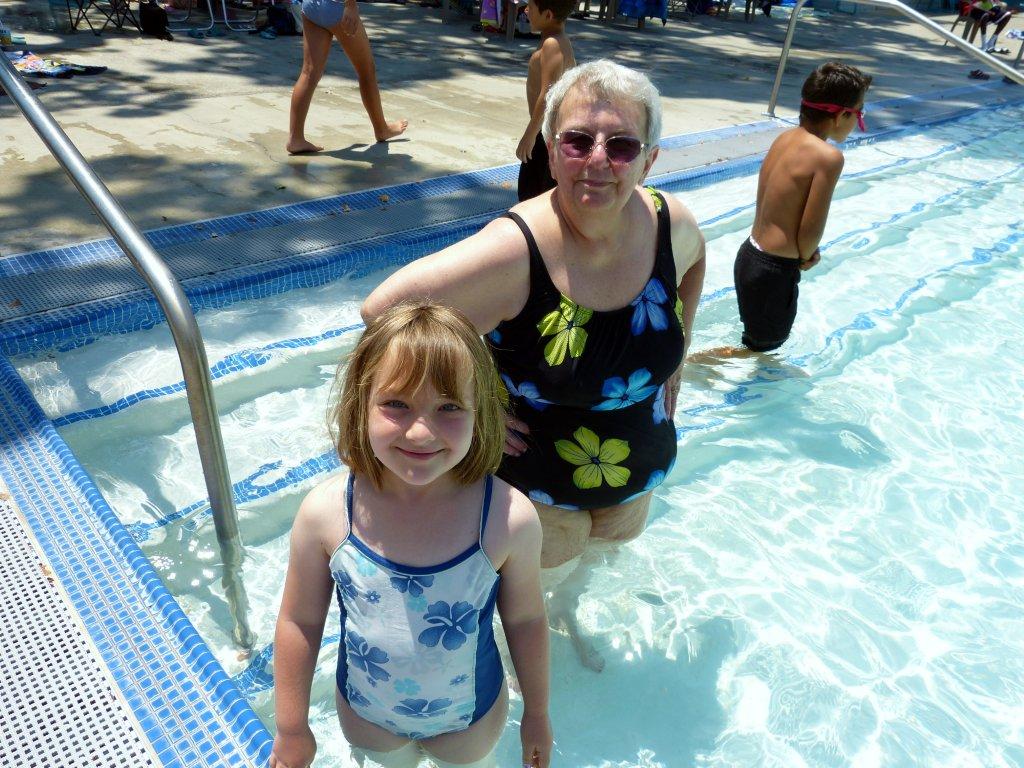 Isabelle spent a week with us. Here she is with Grammy at Ridgeway Pool.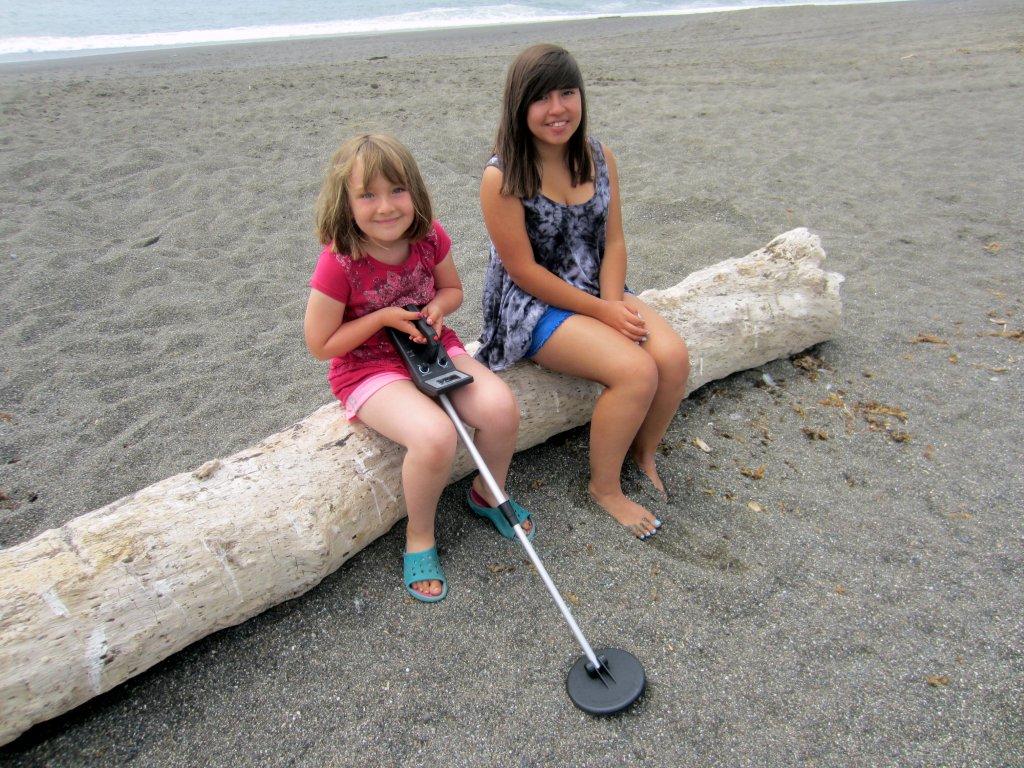 We went to Goat Rock State Beach. Isabelle used Grandpa's metal detector. Here she is with Sofi, who shared some of our trips with Isabelle.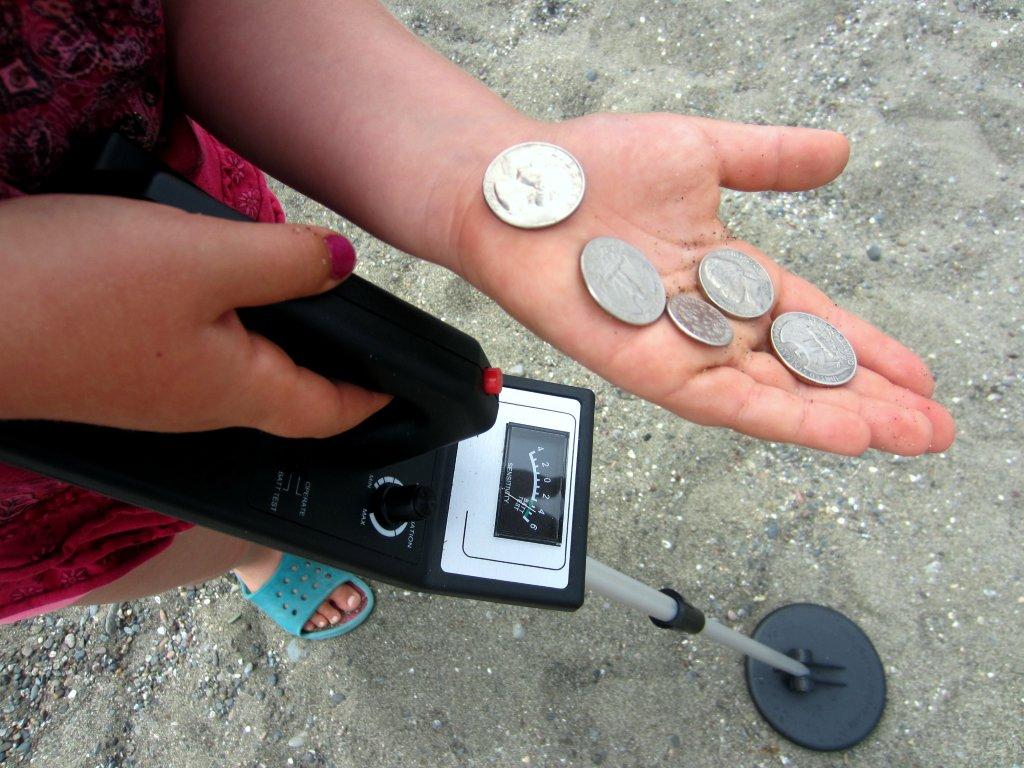 Here are coins that Isabelle found in the sand.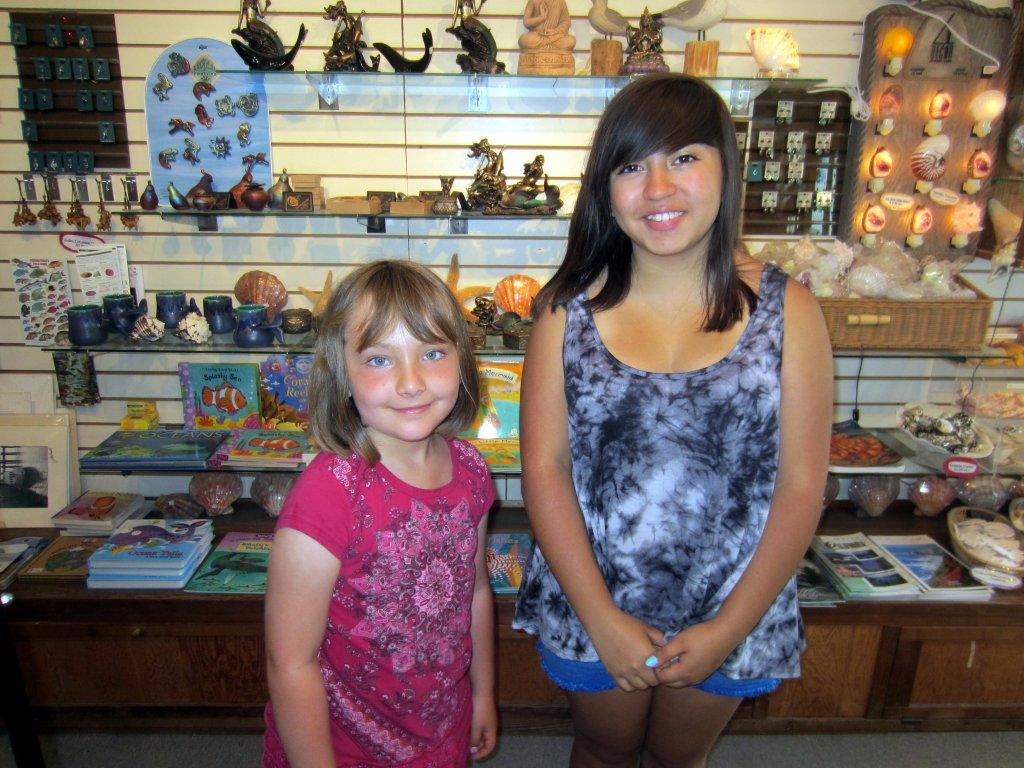 Isabelle & Sofi in the Trinket Store in Jenner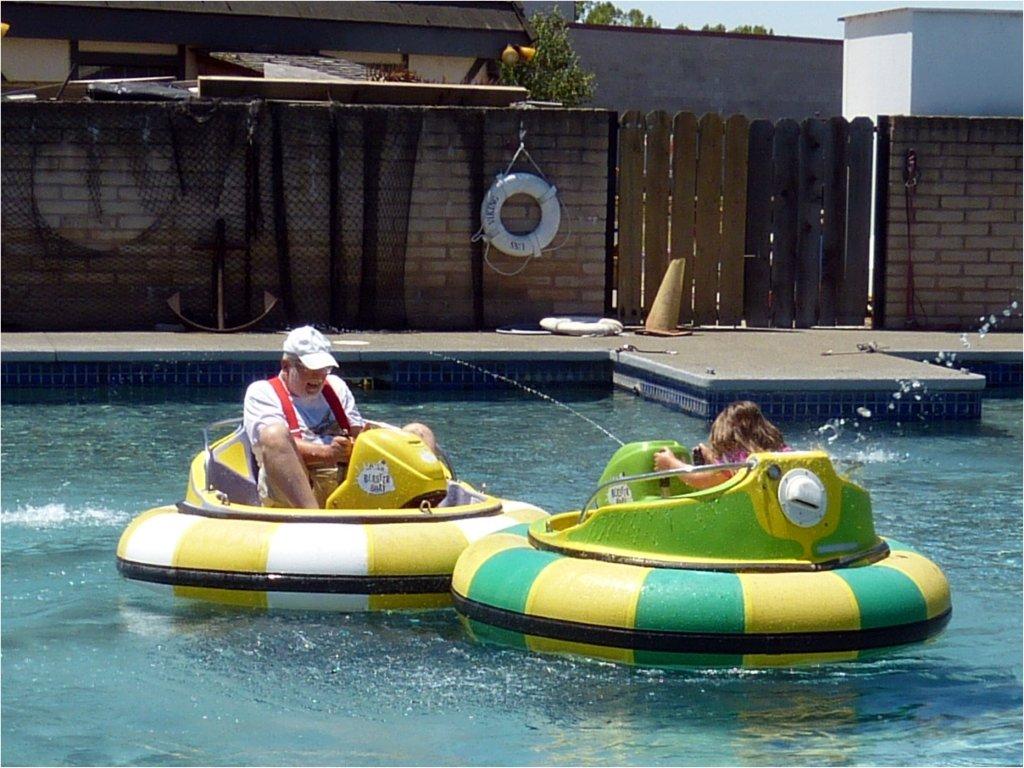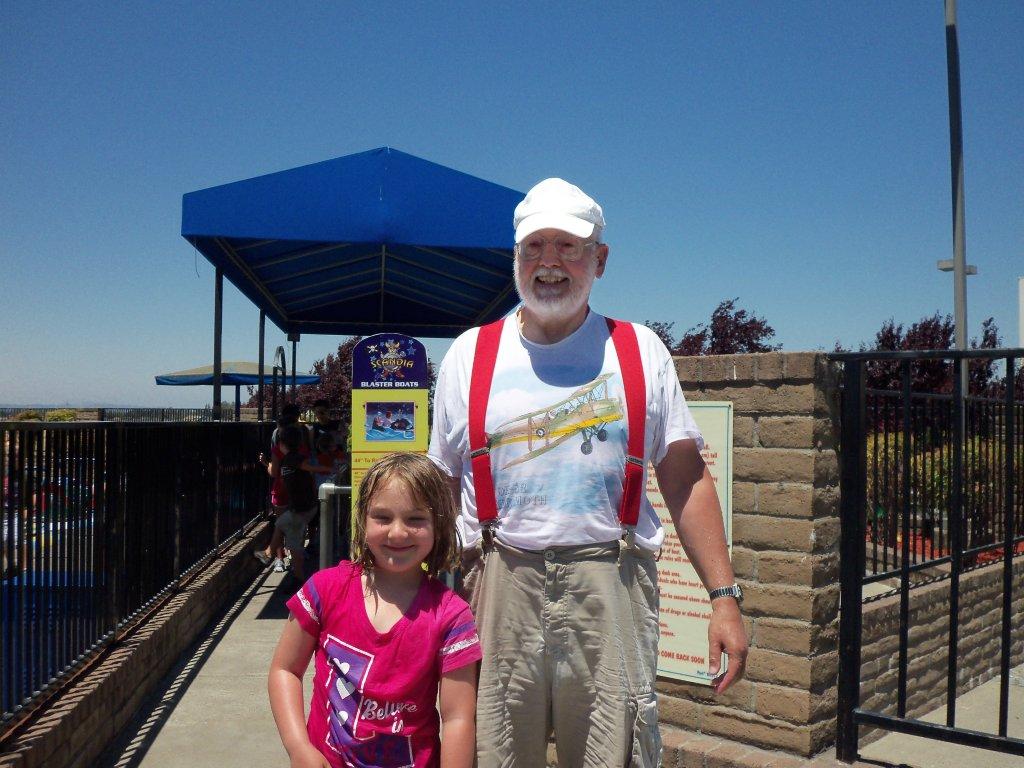 Isabelle and Grandpa drove bumper boats at Scandia. The boats are equipped with water canon. Both Isabelle and Grandpa emerged wet from their battle. The photo above
was taken by Sofi using Isabelle's camera.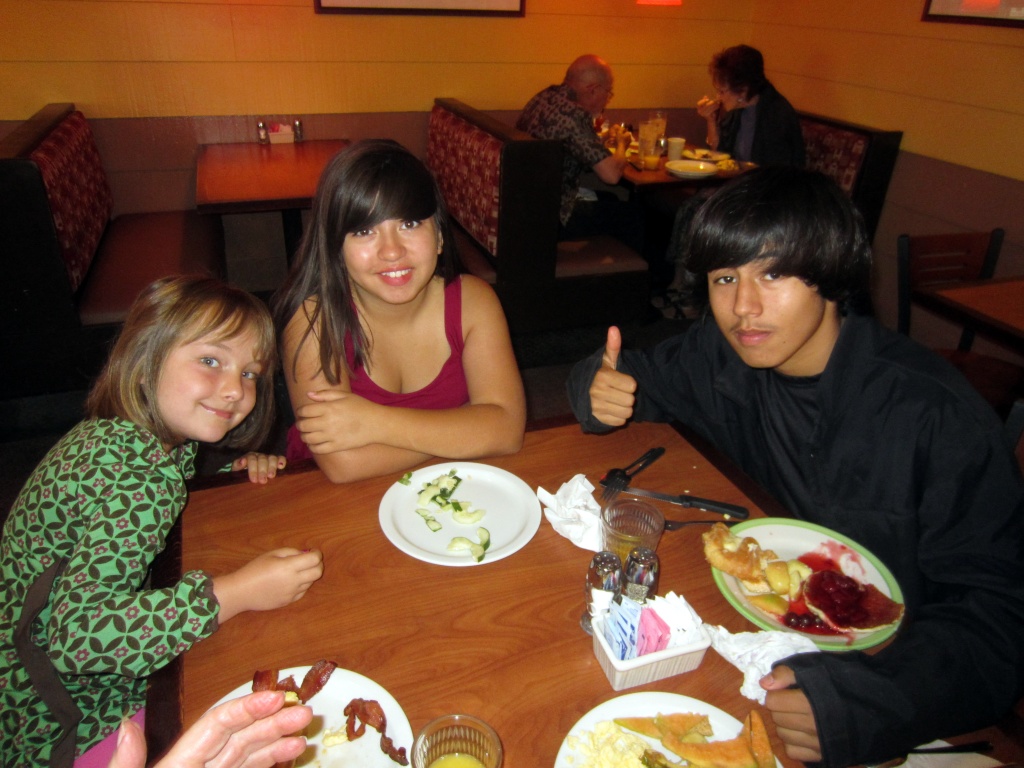 We got together for dinner at Coco's.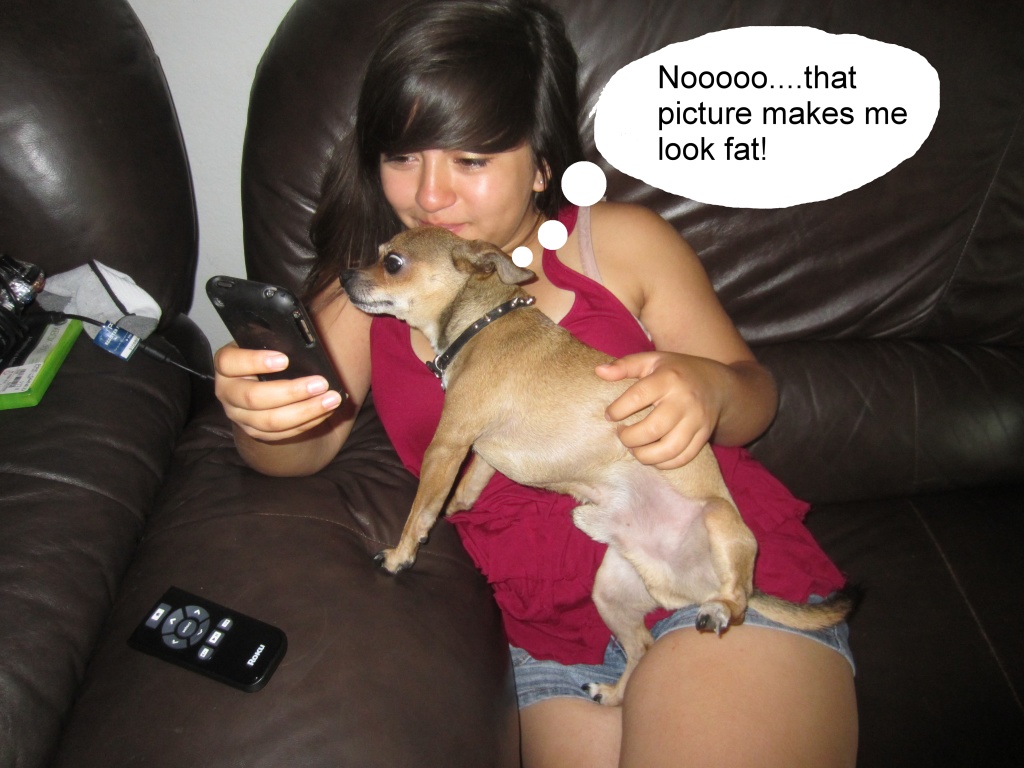 Chato checks out his Facebook page.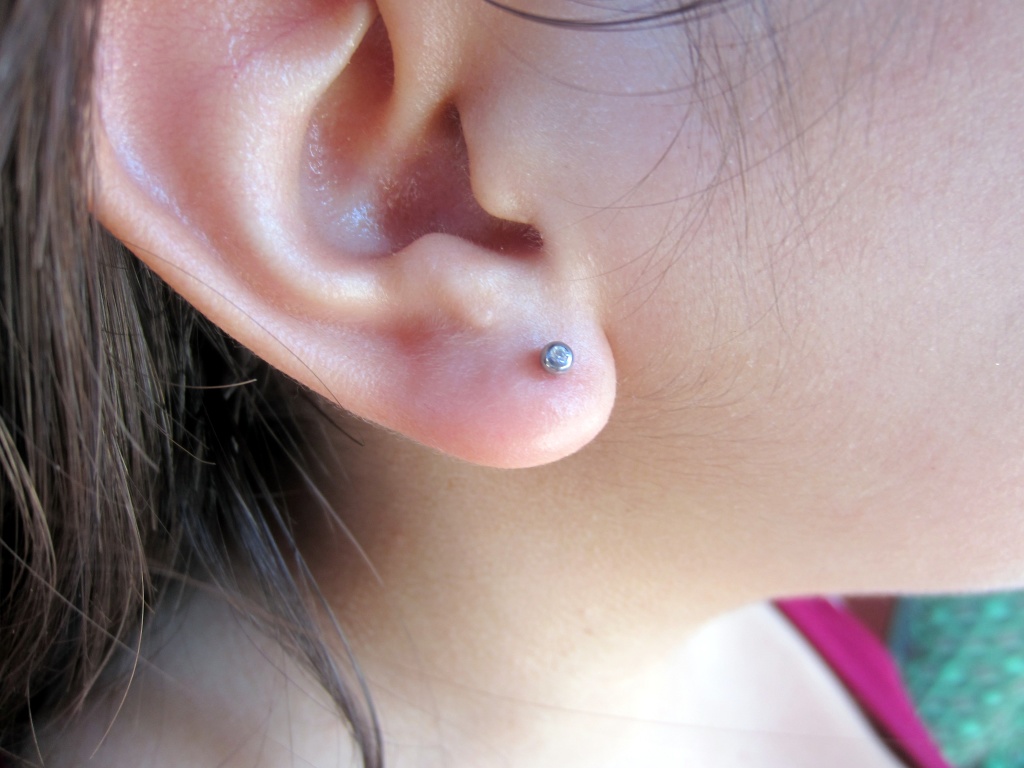 Sofi got her ears pierced.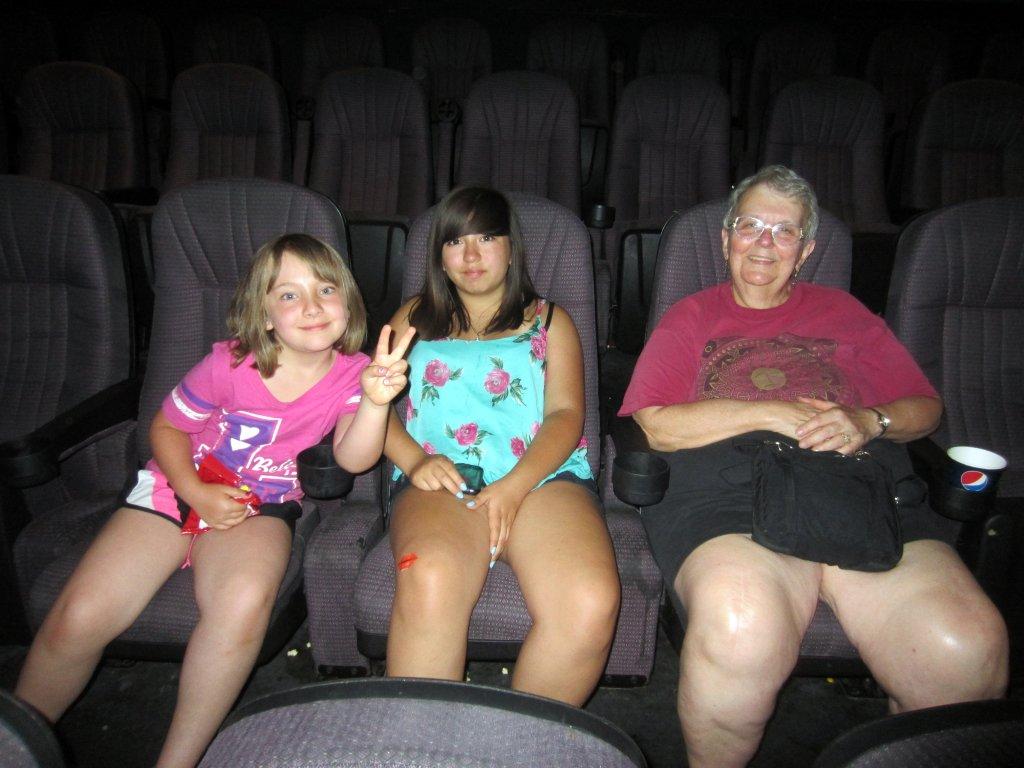 We went to see Madagascar 3 and Ice Age 3.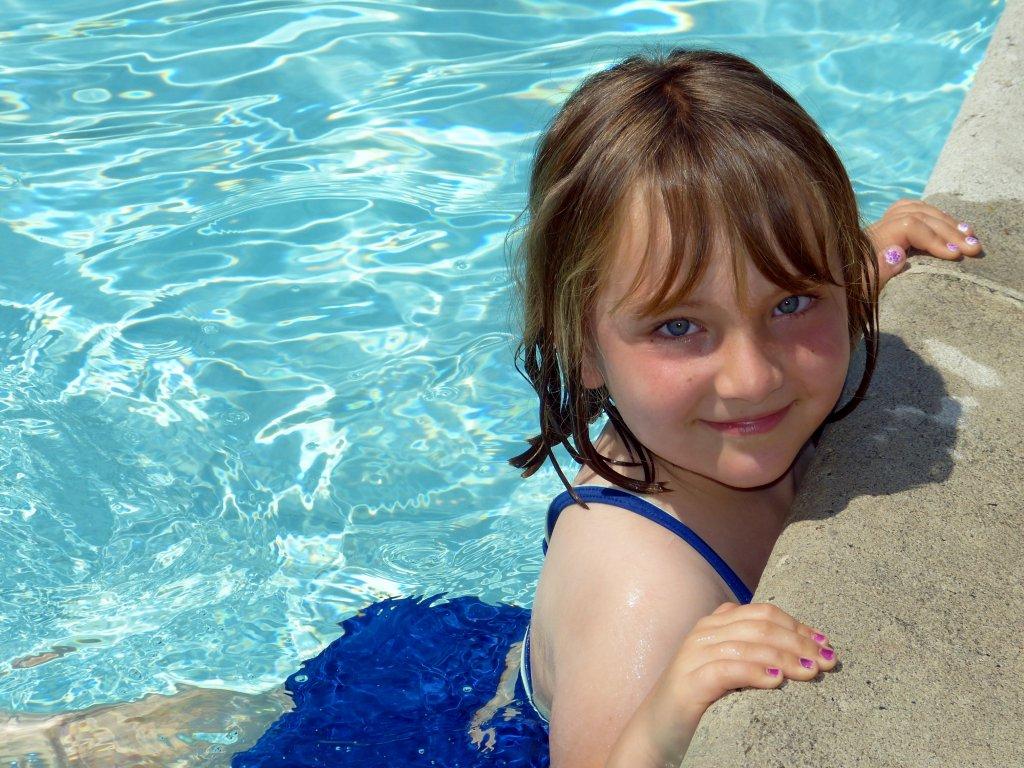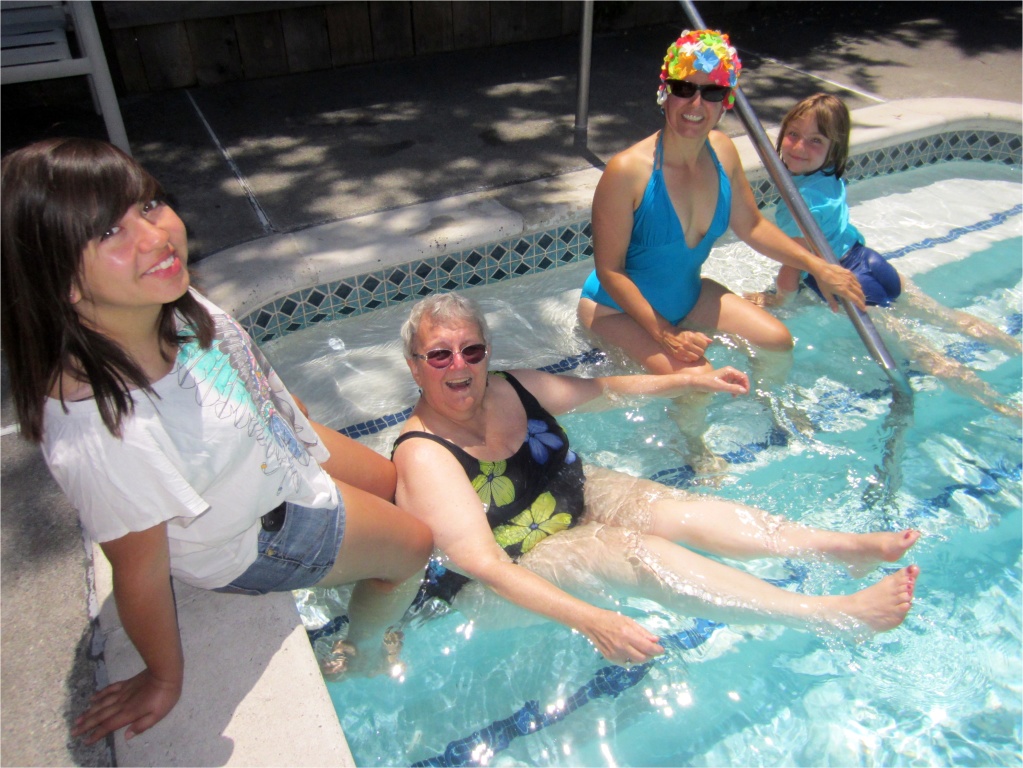 The weather was warm. We went to the Suzy's pool a couple of times. Bottom photo -- Sofi, Grammy Suzy, Isabelle.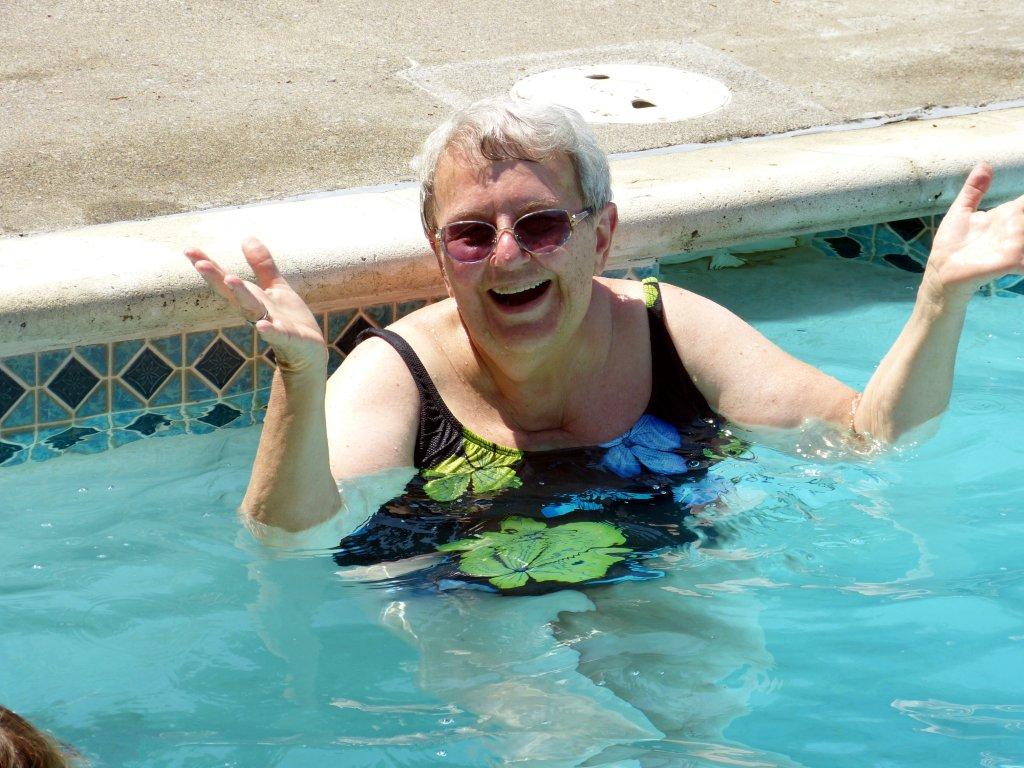 Grammy at the Suzy's pool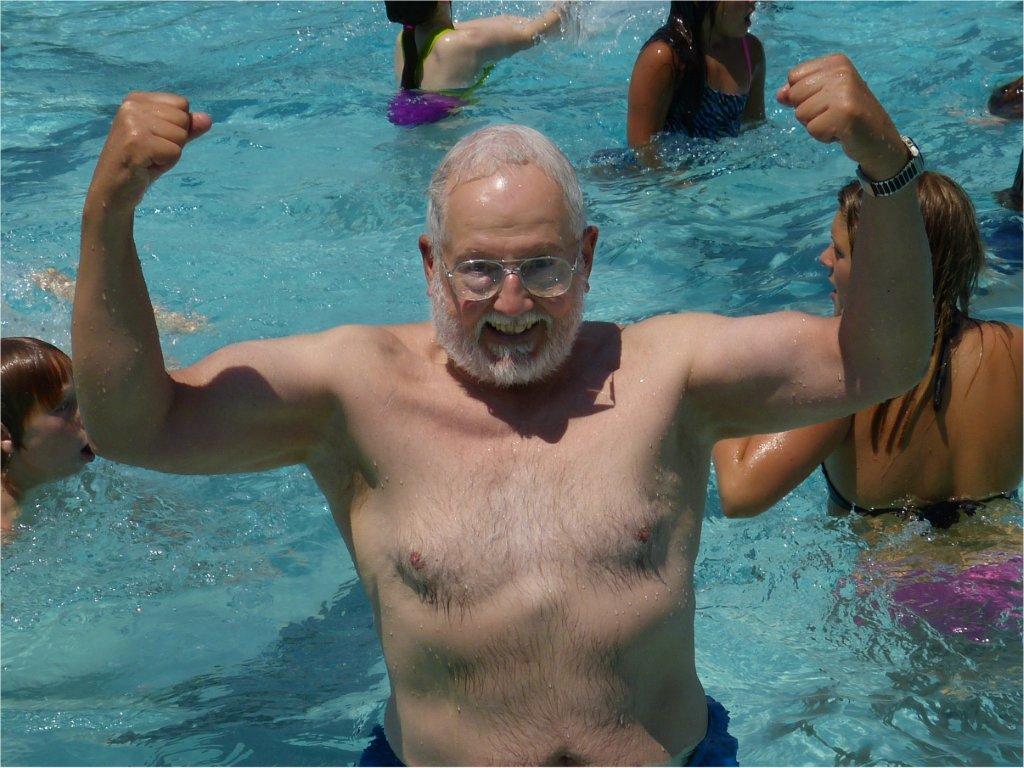 Grandpa at Ridgeway pool. He does 75 push-ups and 5 chin-ups in his exercise routine. He also walks 1-2 miles a day. And you should see him open jars!
All made possible because his back surgery was successful.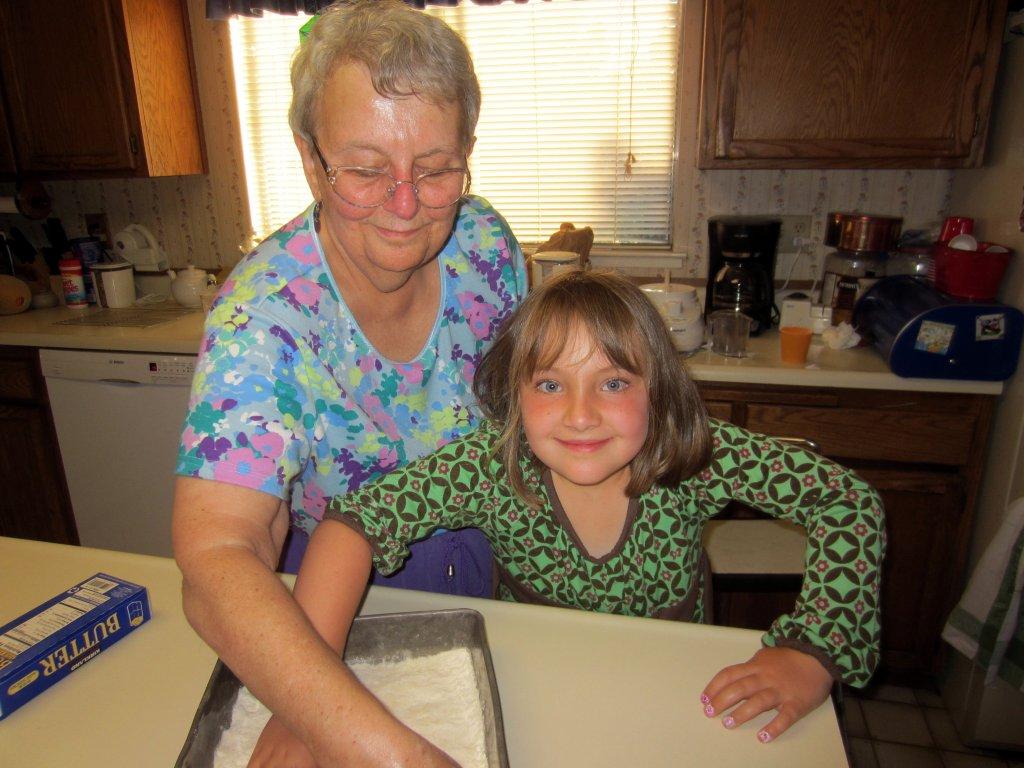 Grammy and Isabelle made lemon bars.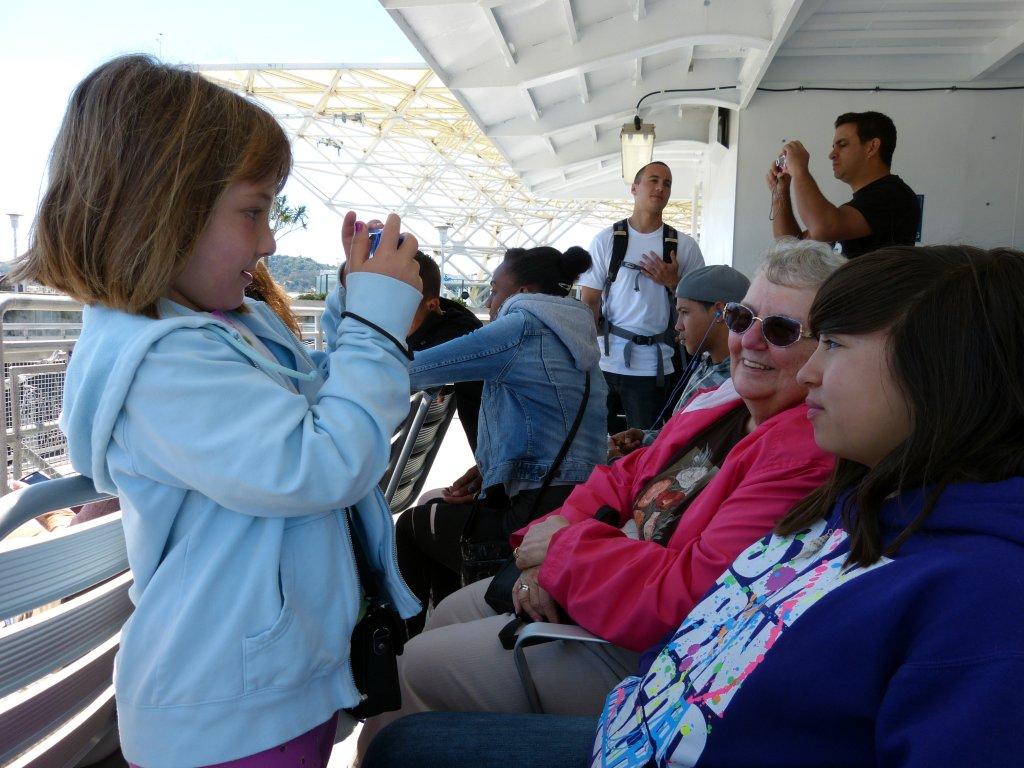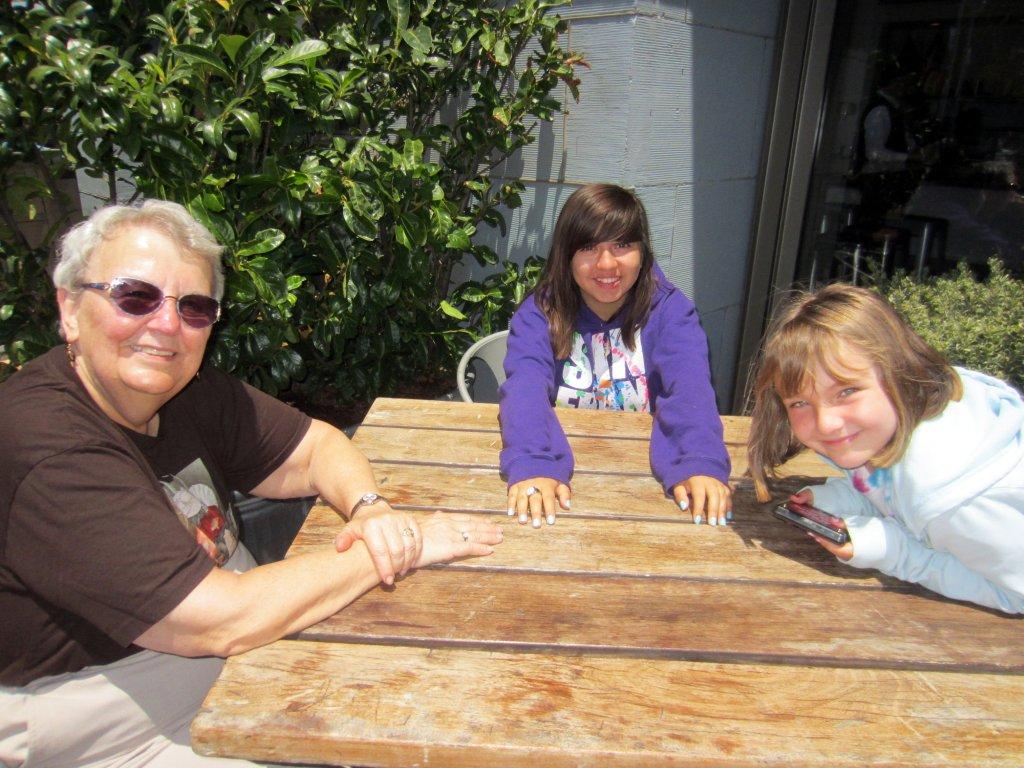 We took the Larkspur Ferry to San Francisco and had lunch at the Embarcadero. Isabelle had never been on the ferry before.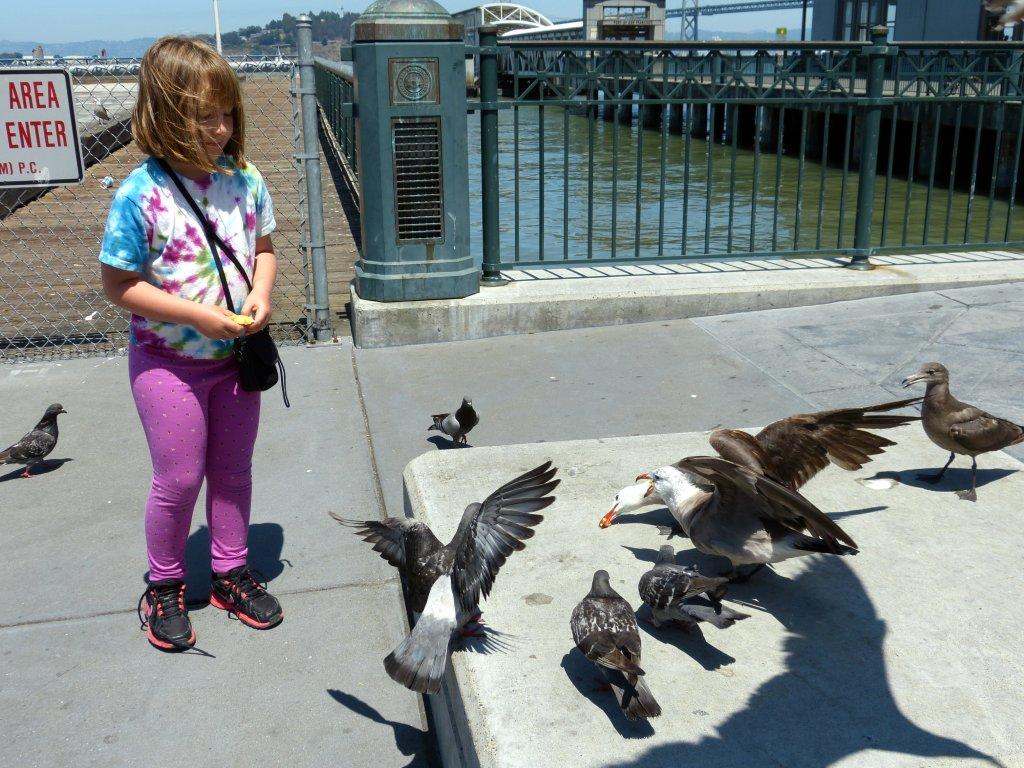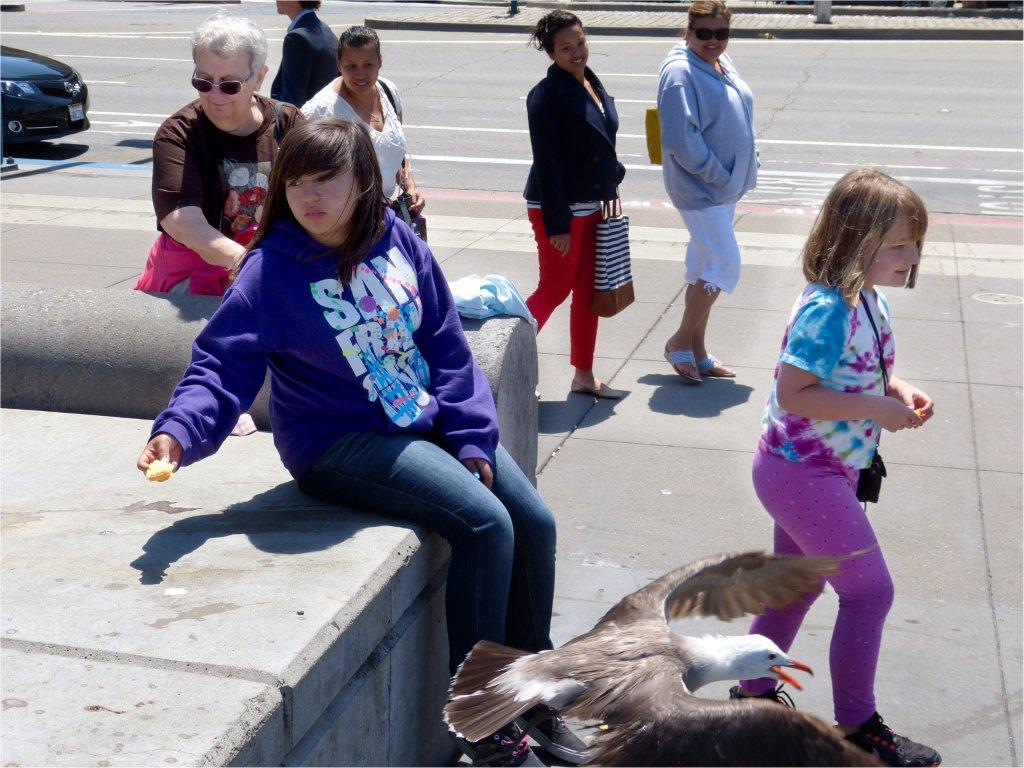 We fed the birds our left-over french fries and bread.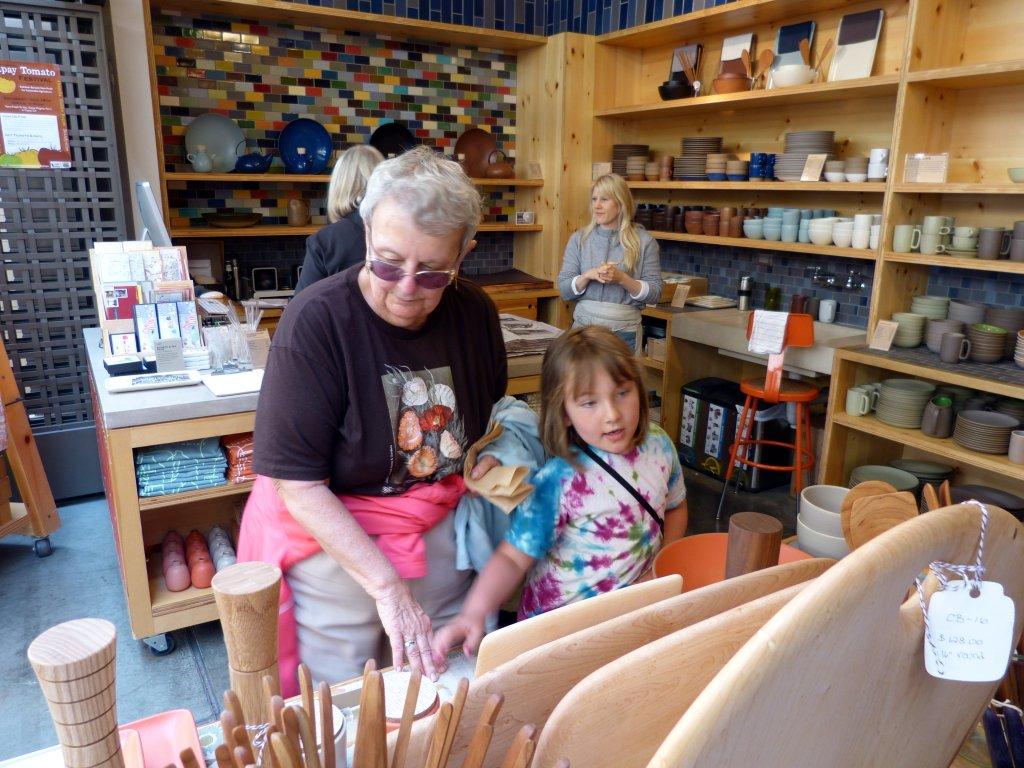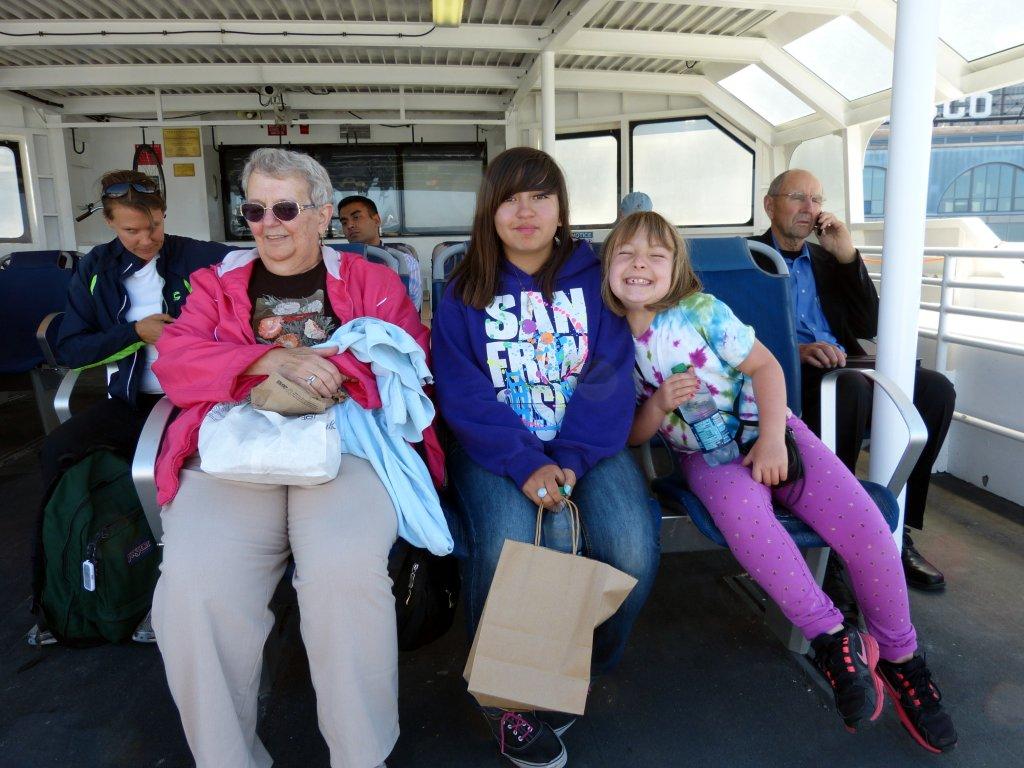 Then a little shopping at he Embarcadero and we took the ferry back.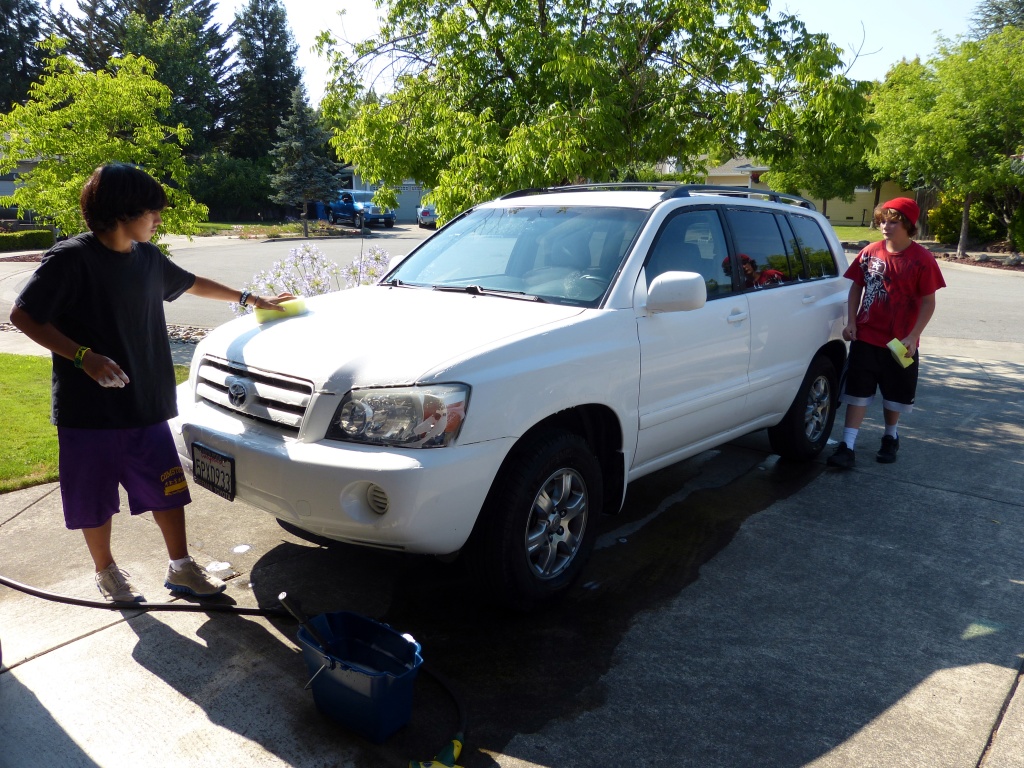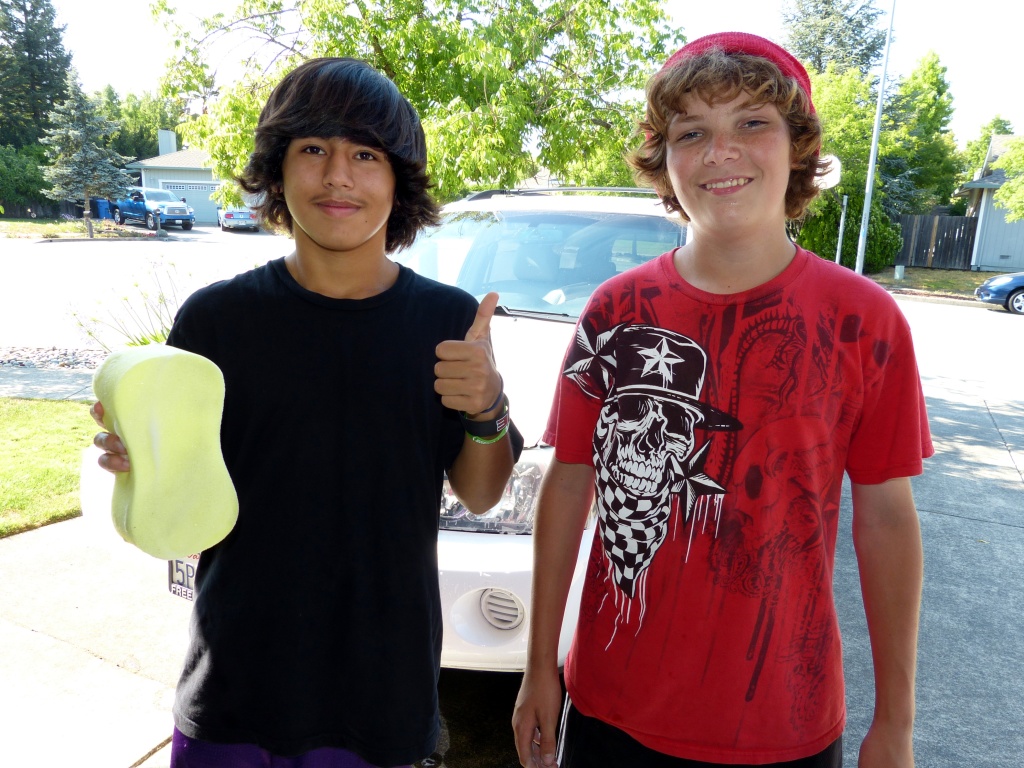 Zak and Max came over to wash Grandpa's car. They needed to earn money for new X-Box games.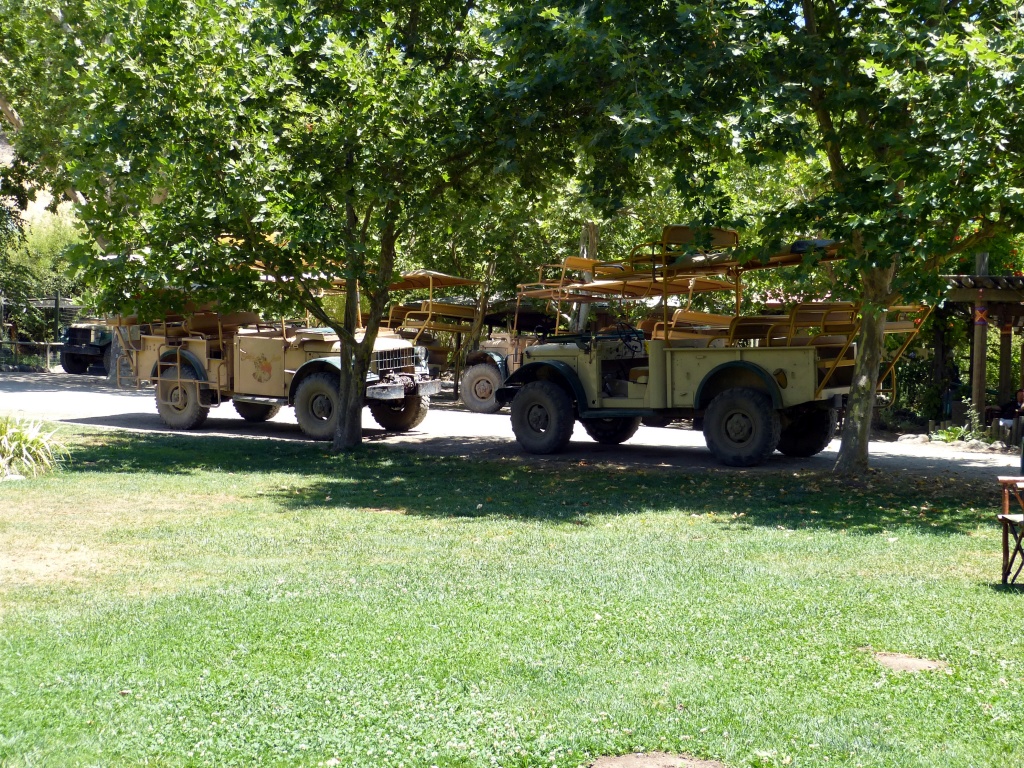 We went to Safari West, a wildlife park near Santa Rosa. The vehicles are Dodge Power Wagons from the 1970's.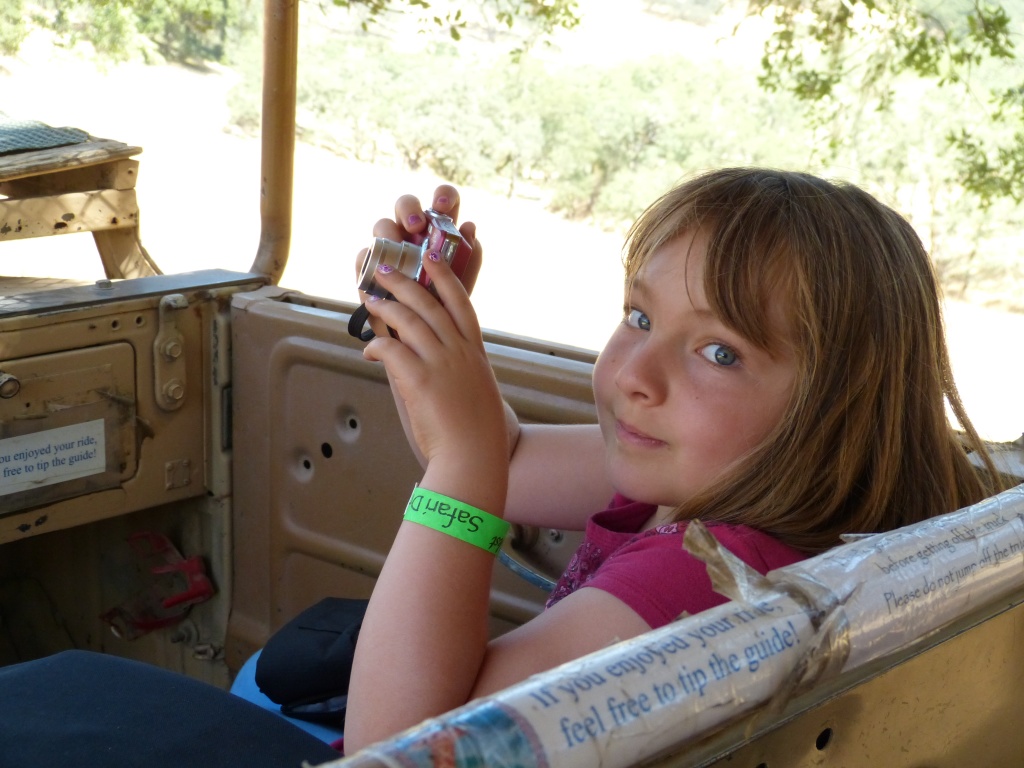 Isabelle sat up front with the driver -- and she gave him directions!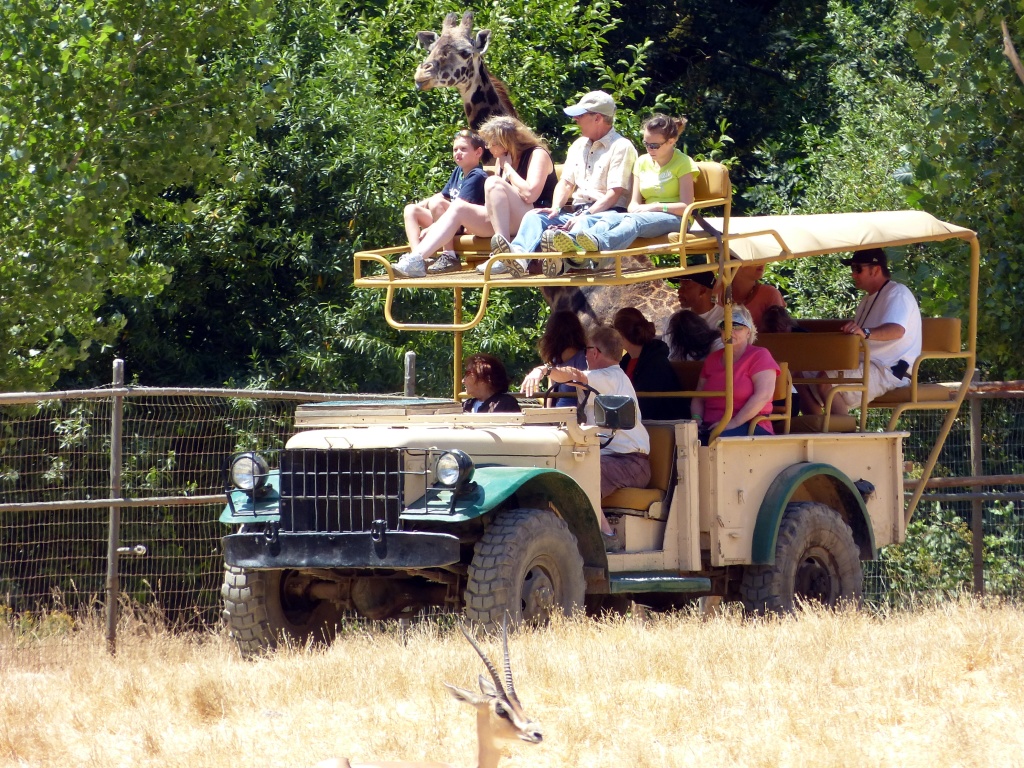 Here's another Power Wagon going past a giraffe, to show how the seats are arranged. The only hazard is that the people on top sometimes get kissed by giraffe.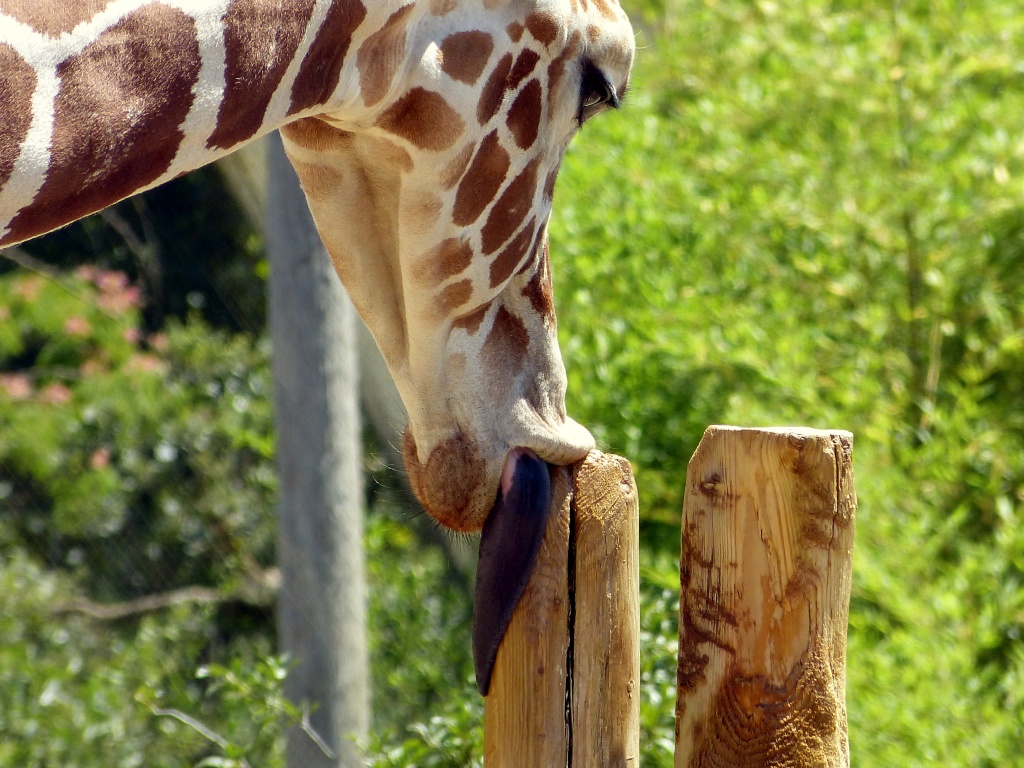 This is not trivial. A giraffe's tongue is blue and 9 inches long.



This is not a trick photo. The back end of a giraffe looks like a smiling elephant. Really.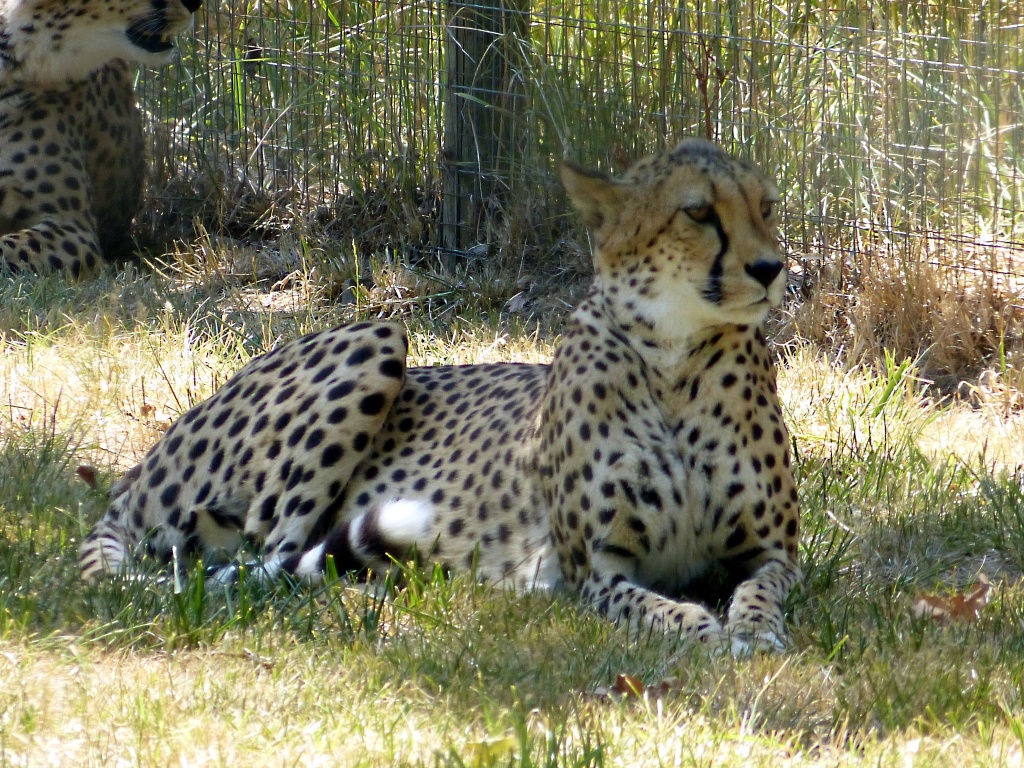 Cheetah. We were told that they like to chase frisbees and that they purr when you scratch them behind the ears. We didn't test that statement.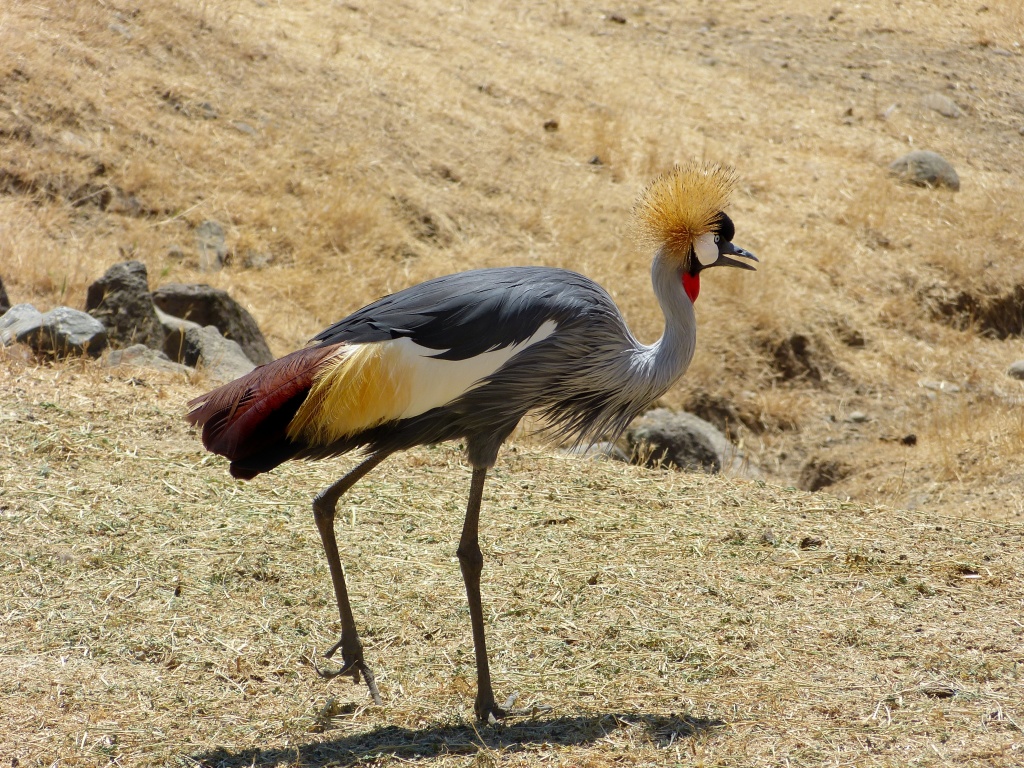 Colorful birds roam freely among the giraffes.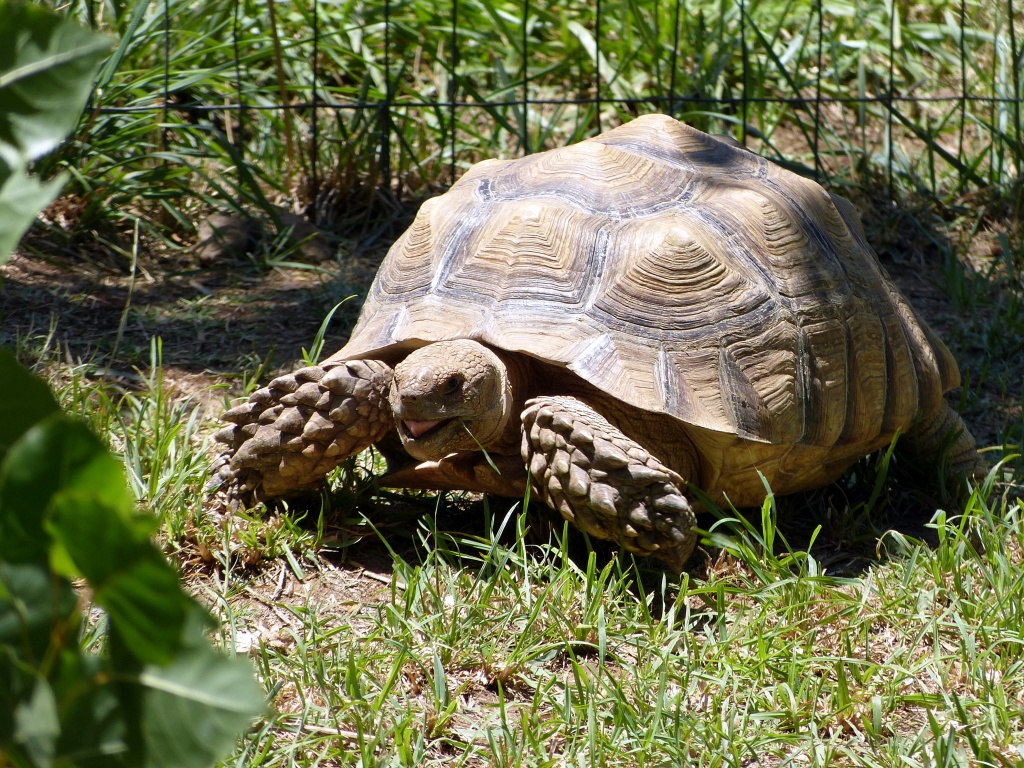 We were just in time for the tortoise races. This guy won.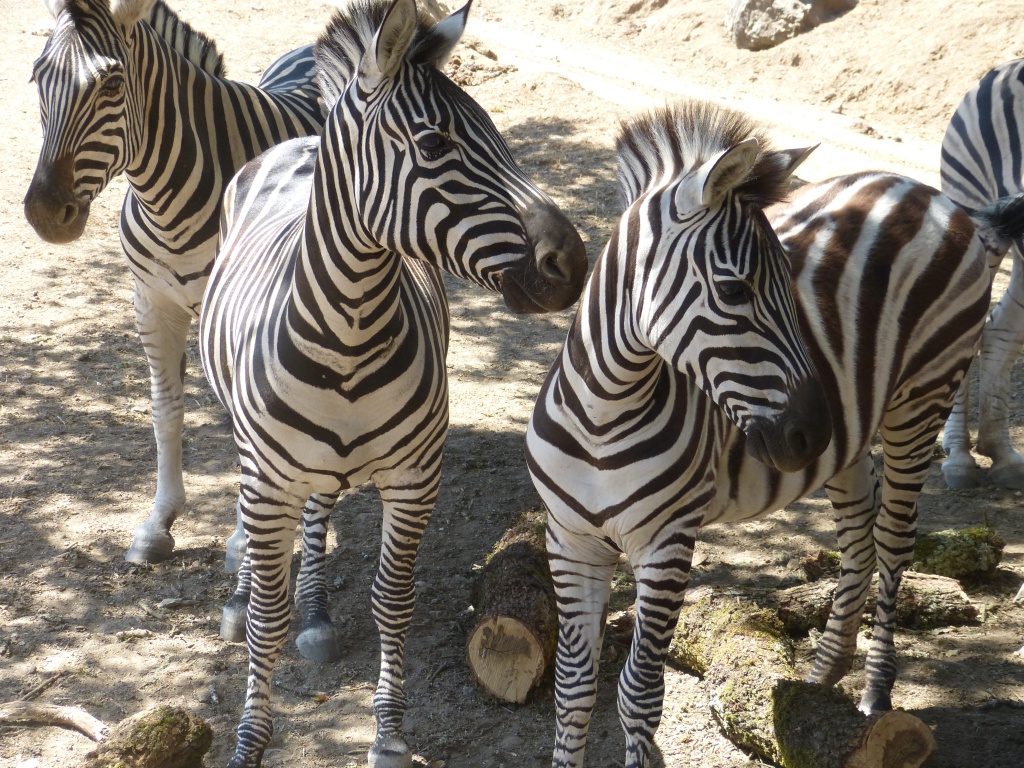 The zebras can tell each other apart, contrary to Chris Rock's account in Madagascar 2.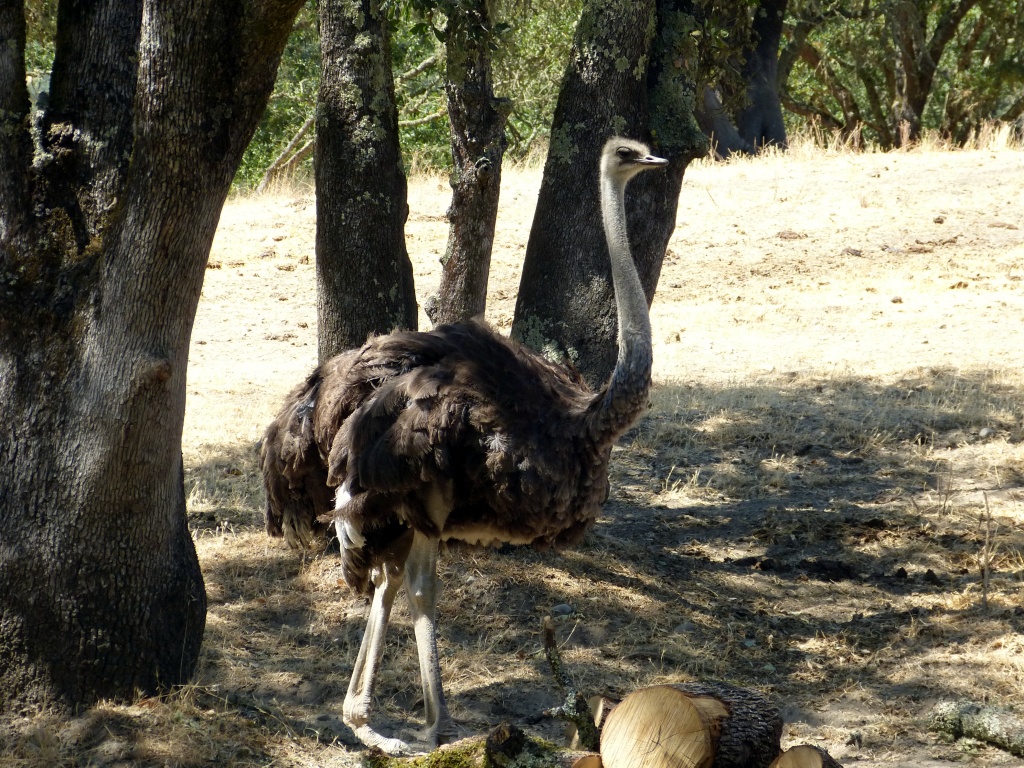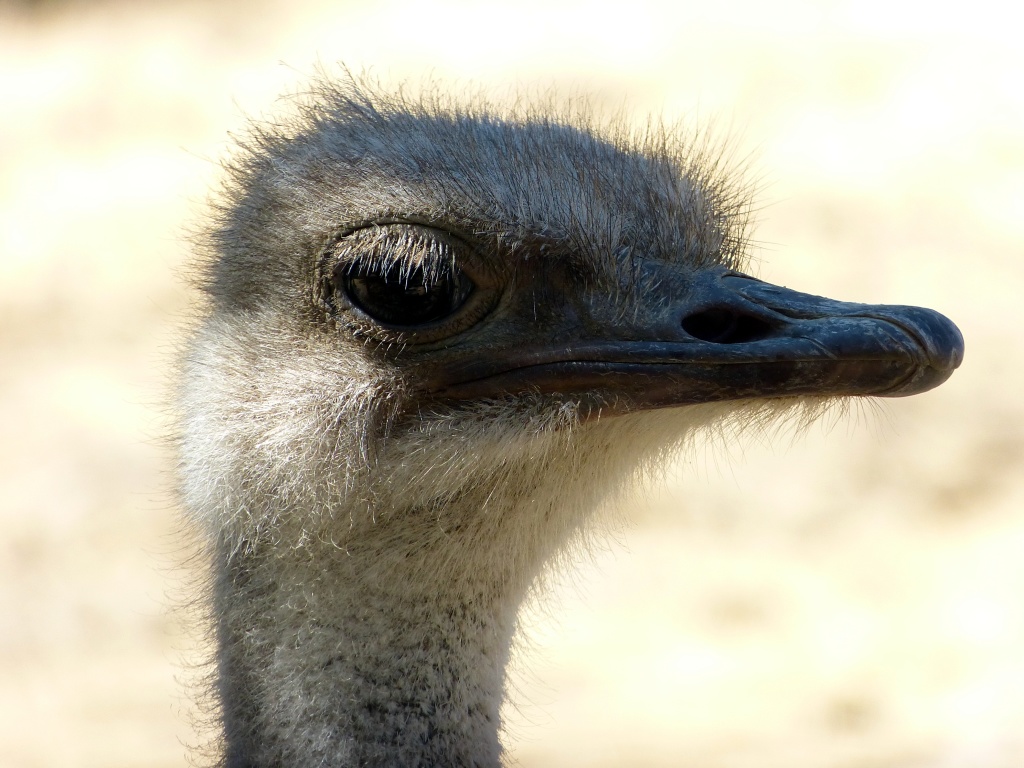 An ostrich's eye is bigger than it's brain.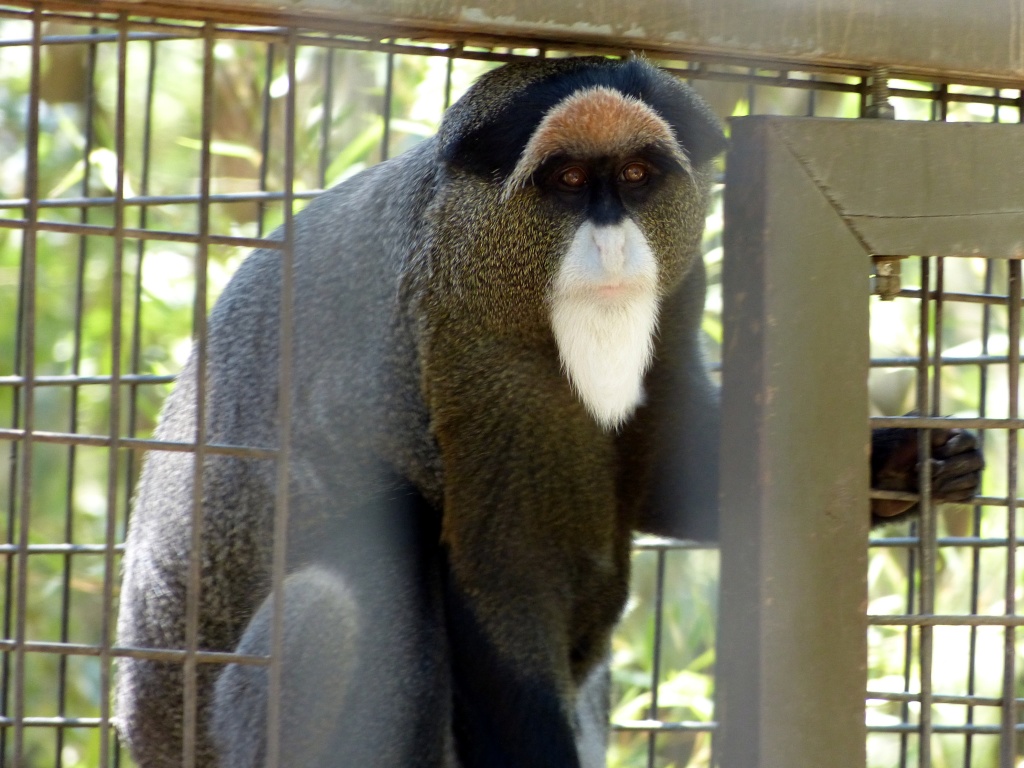 Grandpa tried out one of the monkey cages. (Well, doesn't it look a little like Grandpa?)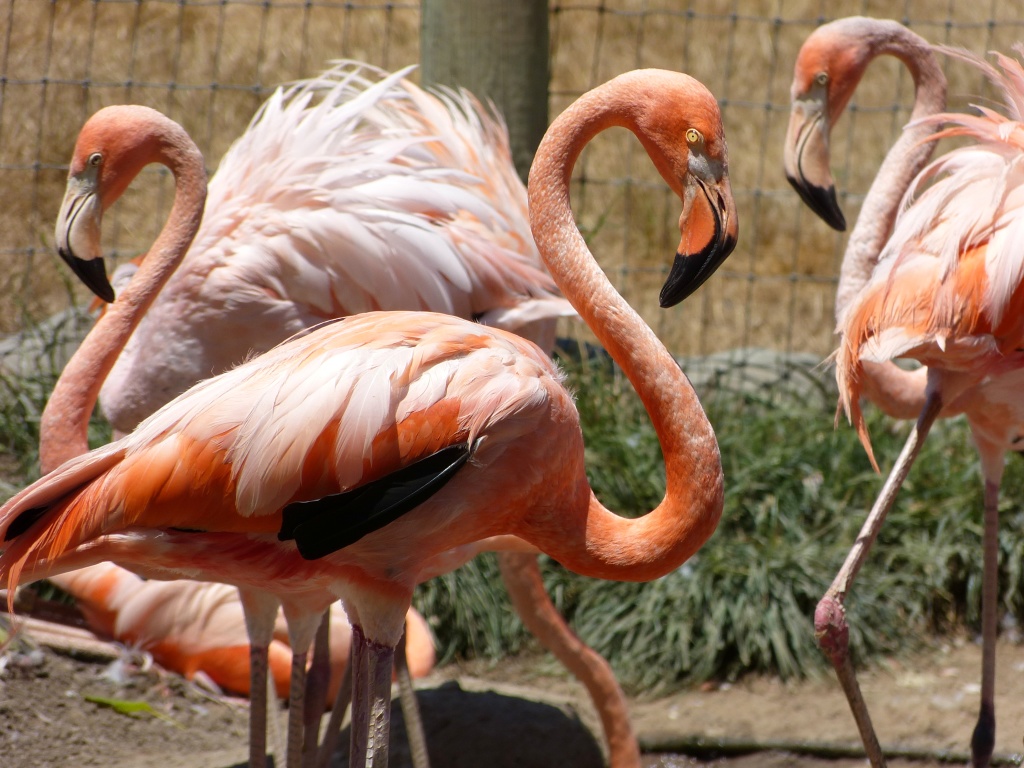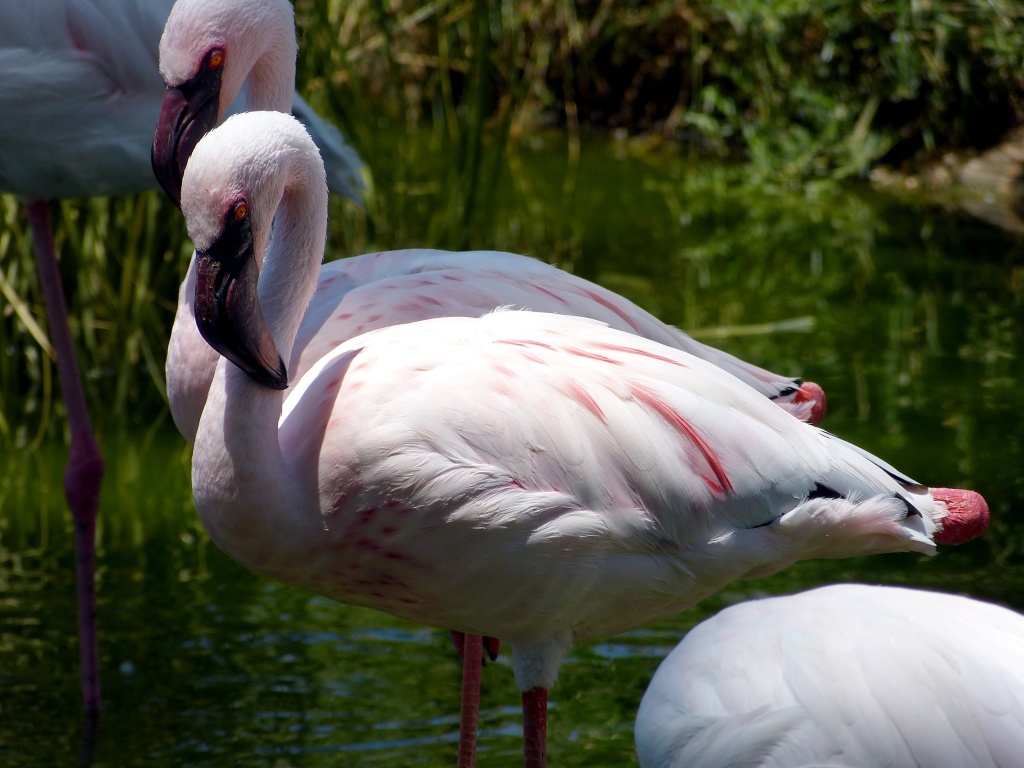 The pink flamingoes get their color from eating shrimp. The striped flamingoes get their color from eating pink flamingoes.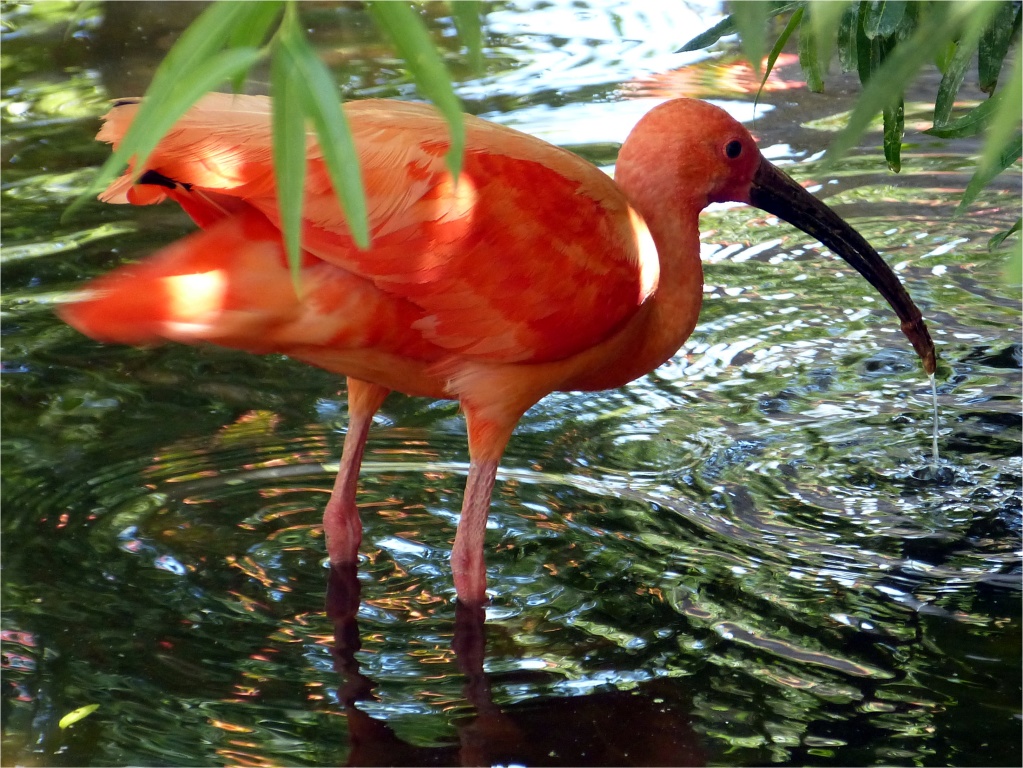 This one gets its color from eating Crayolas.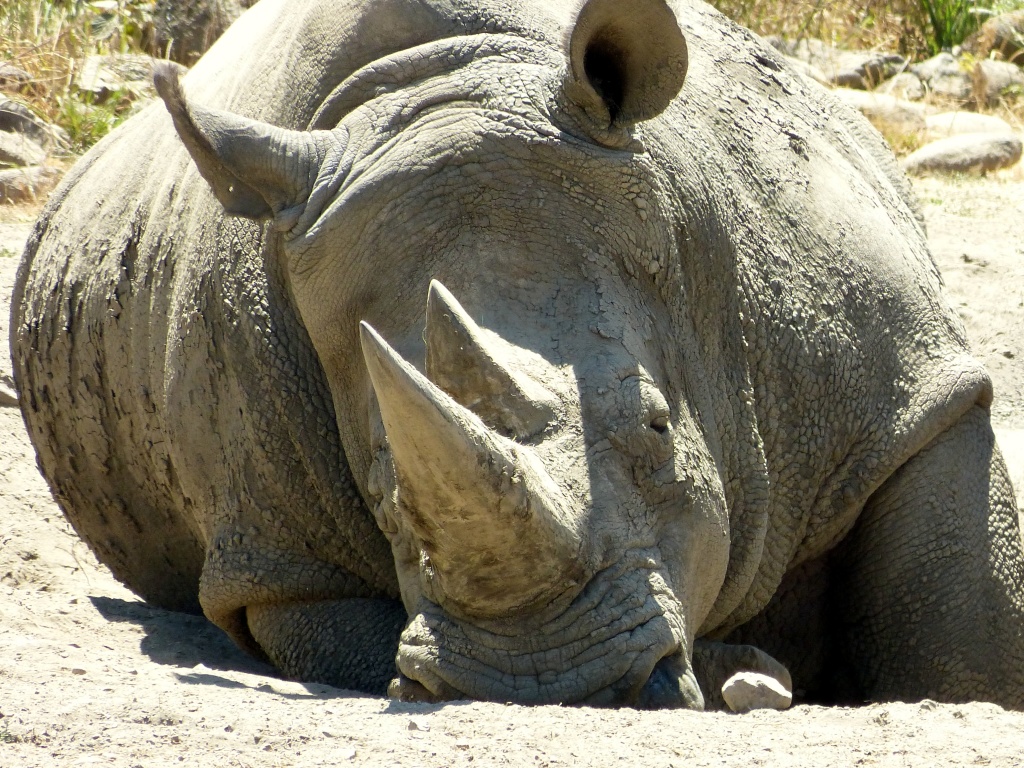 Plasty, the Rhino.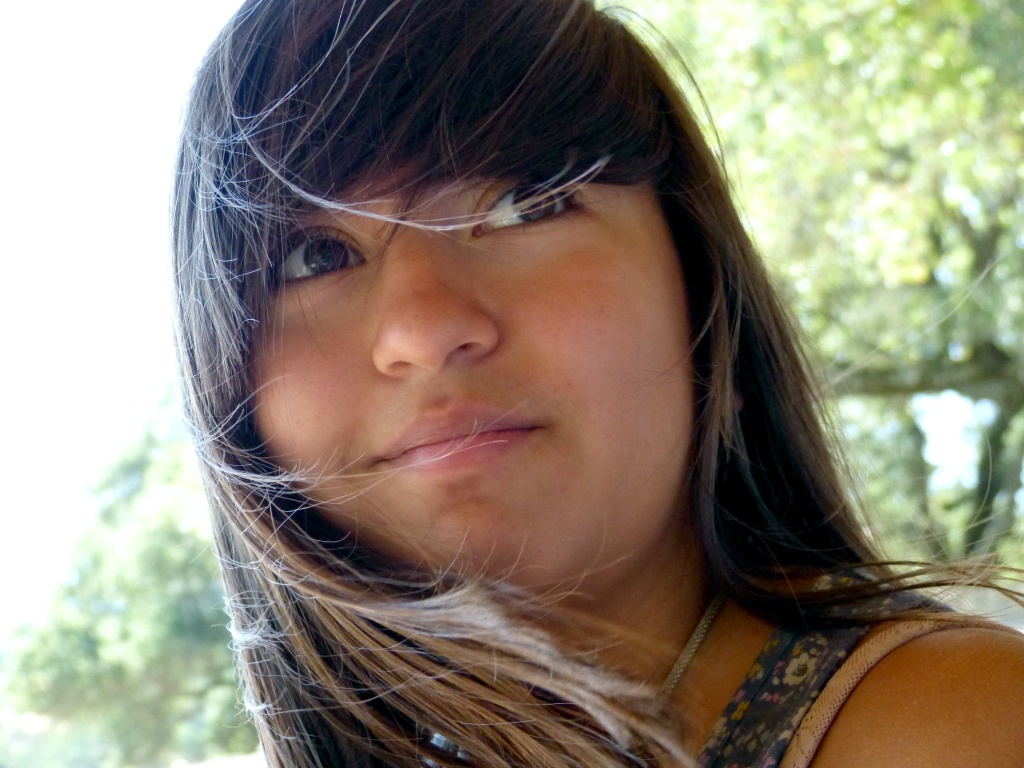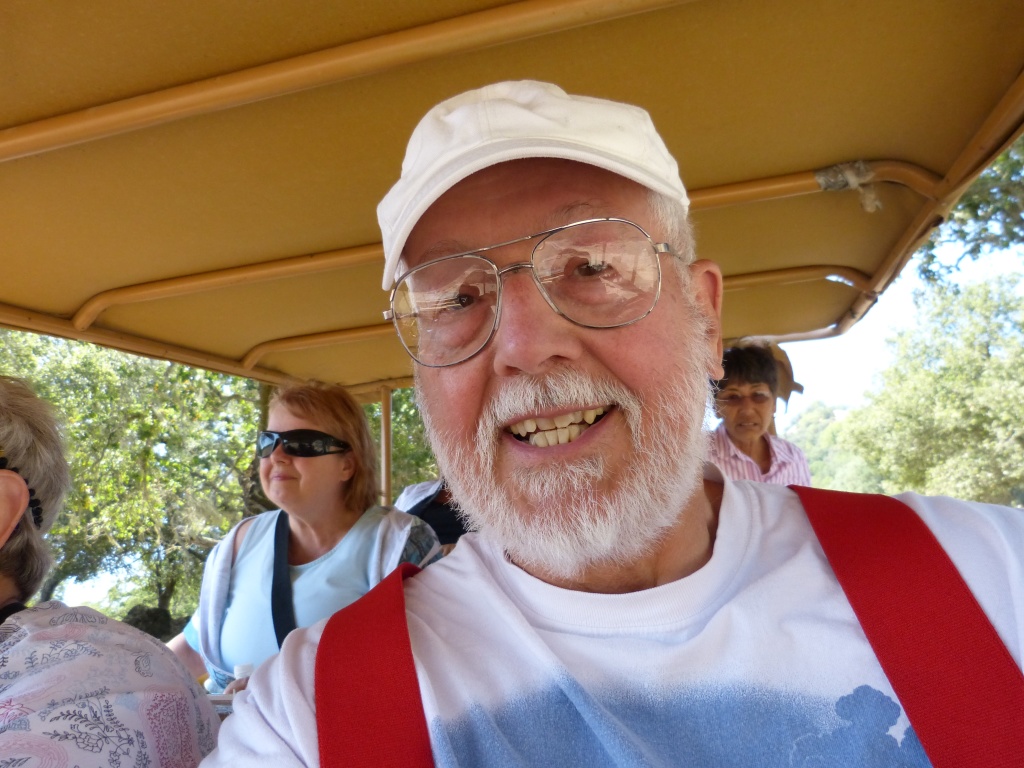 Sofi and Grandpa in the Power Wagon.


---
You have just seen photos of 07-15-12

Photos from the past year or so.