These photos were taken in the last three months or so, up to about 09-01-07. This page includes the third annual Camp Hudson and our trip to Hawaii.

Many of the pictures below were taken by other photographers in our family, including Eric, Francisco, Edmundo, Sofi, and Zak. Individual credit is not always shown, but in at least some cases you can guess who took the picture.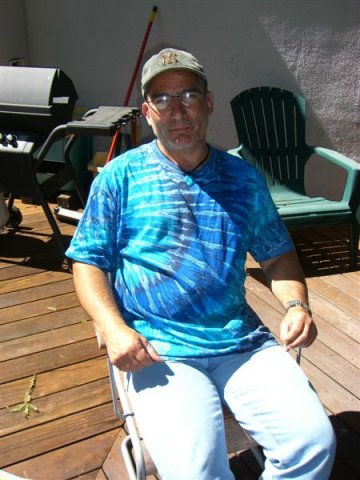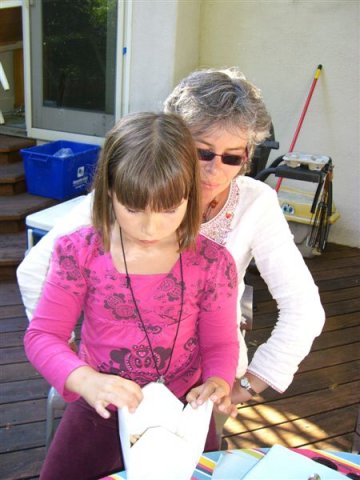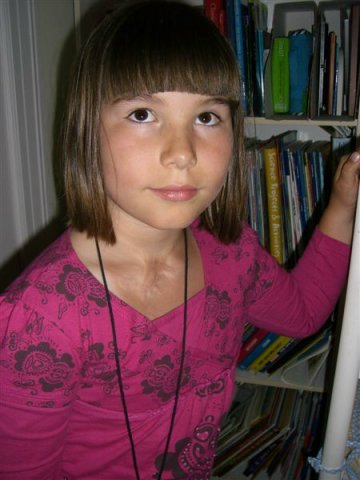 Igor, Floss, and Olivia came for a visit in June.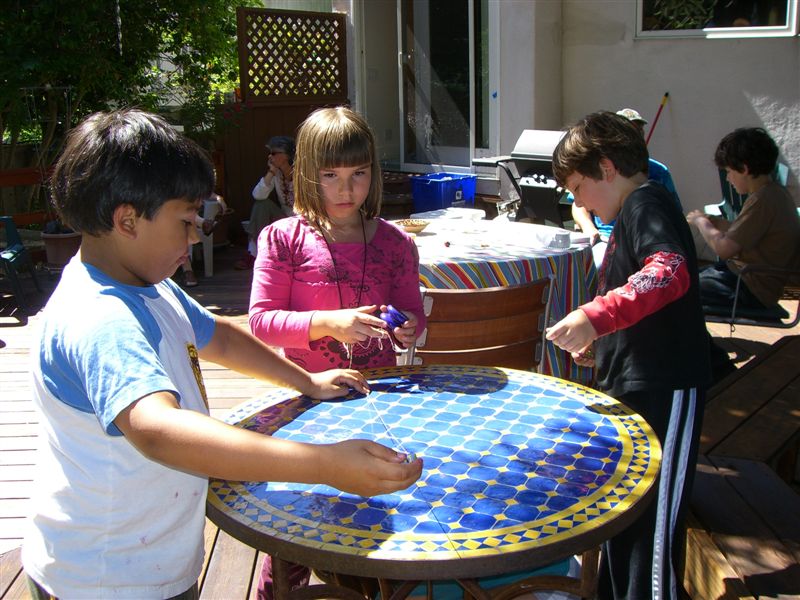 Zak, Olivia, Francisco, and Sofi (not shown here) got along as if they see each other every day.

This is Chi, the newest cat in Isabelle's household, thanks to Sandra.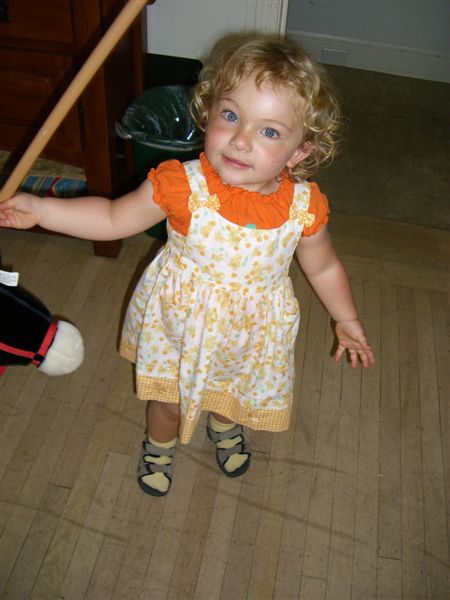 Isabelle likes her new dress and, when she is tired, comfort from poppa.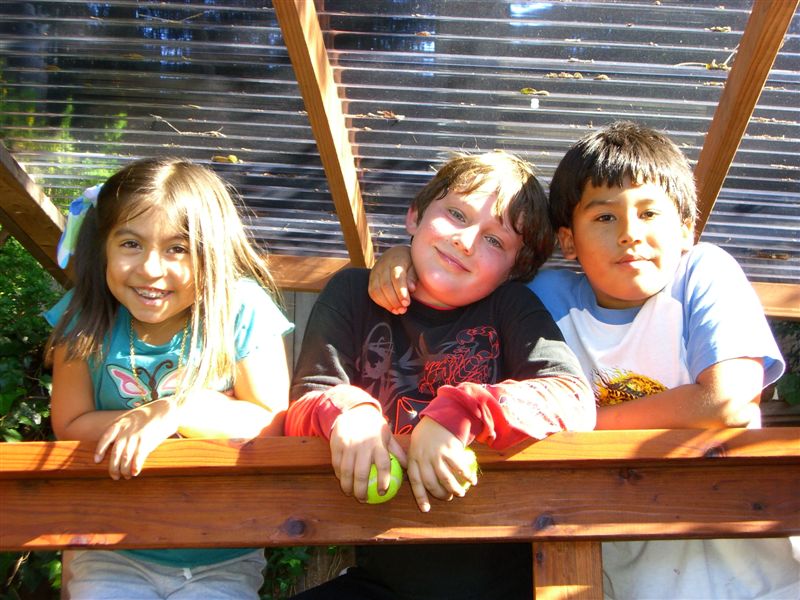 This summer Sofi, Francisco, and Zak spent a lot of time together. Here they are in the "fort."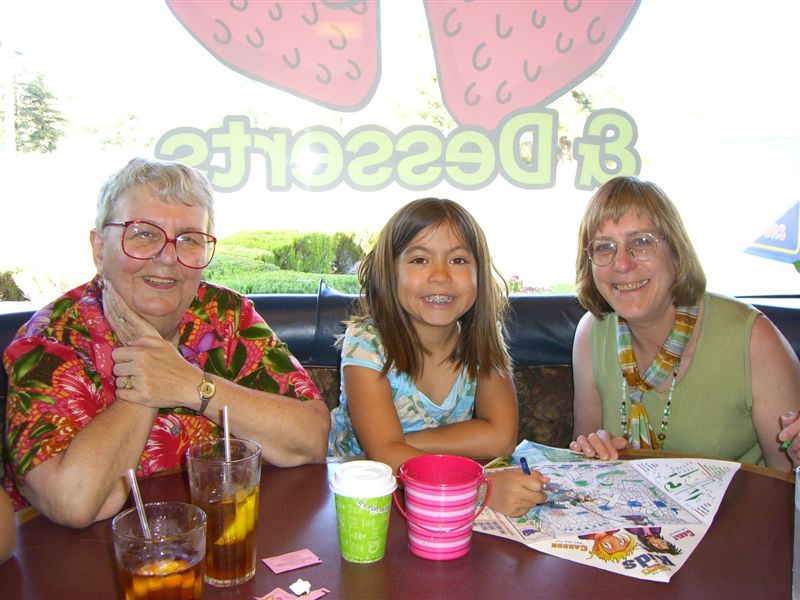 Debbie visited us. We had dinner at Carrow's.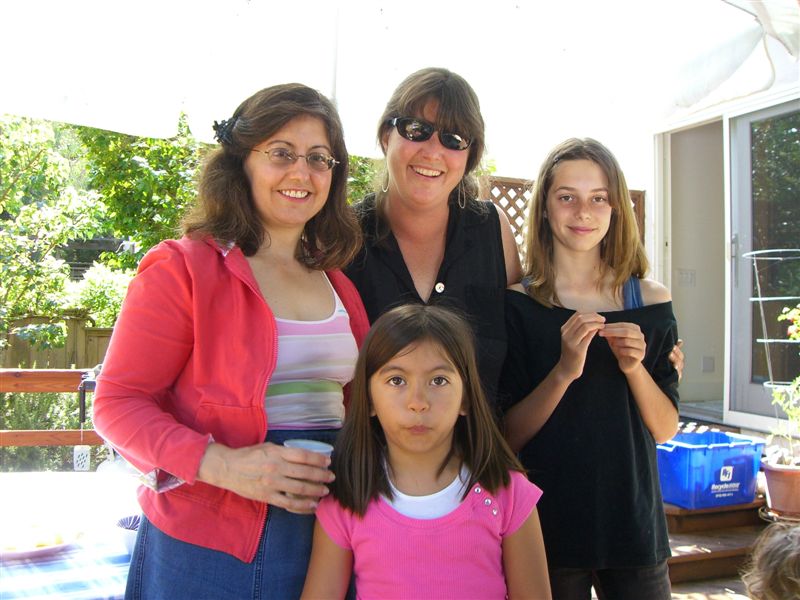 Suzy, Sofi, Lynn, and Nina in Berkeley. Nina is getting tall.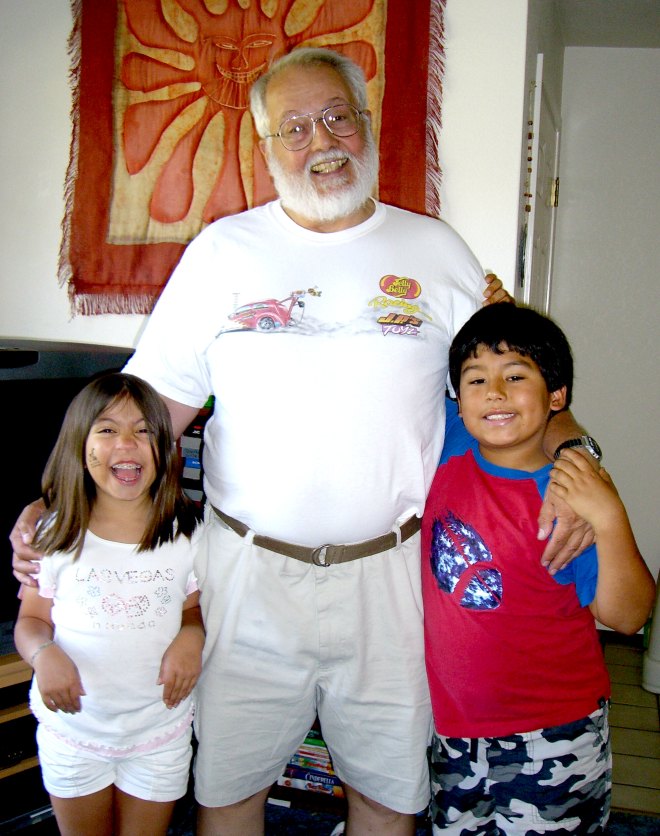 Sofi and Zak visited Grandpa on his 70th birthday.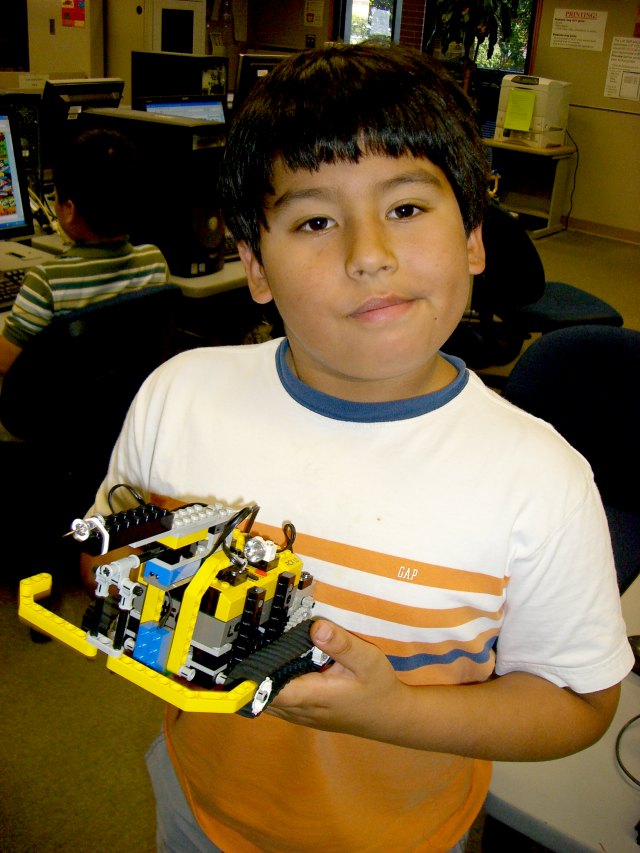 Zak holds the robot he built in Lego Camp, held on the campus of Santa Rosa Junior College (SRJC). It worked.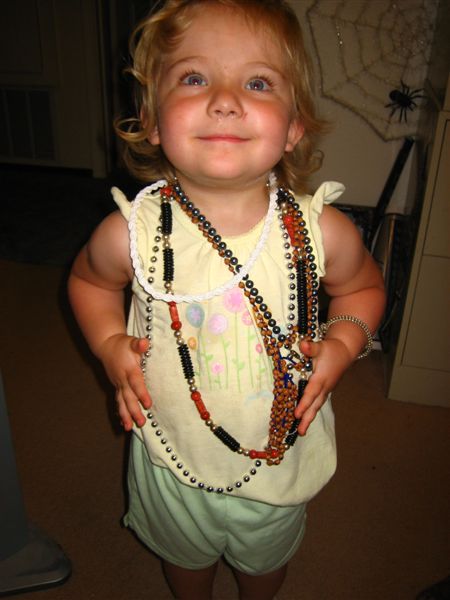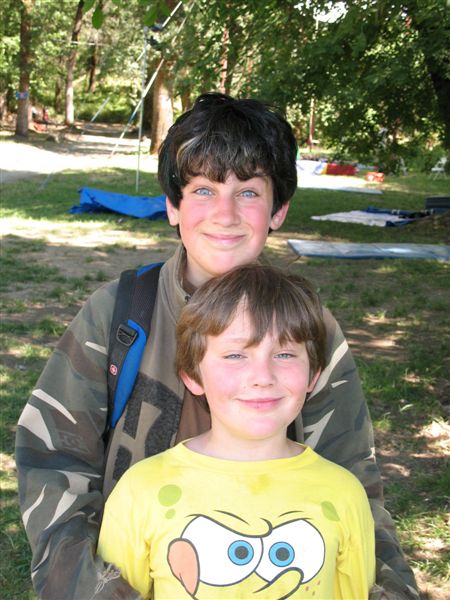 Isabelle visited us for a few days in June while her brothers were at camp. She found Grammy's costume jewelry drawer. Here are the boys at camp.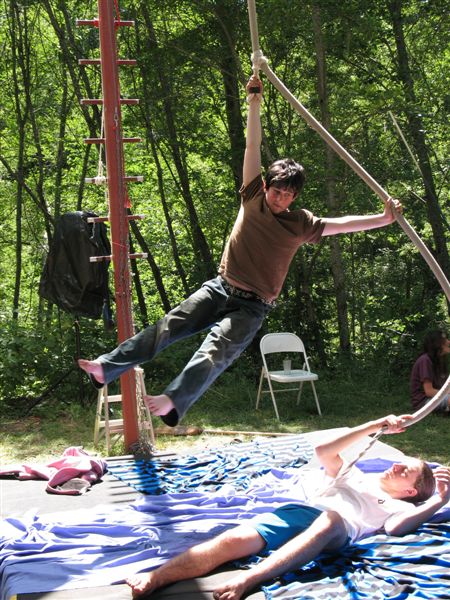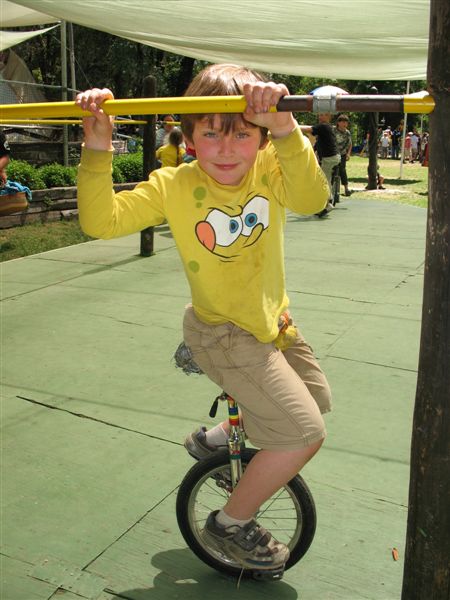 It was a circus camp. Here is Cassidy twirling on a rope, and Francisco learning to ride a unicycle. Last 3 photos by Eric.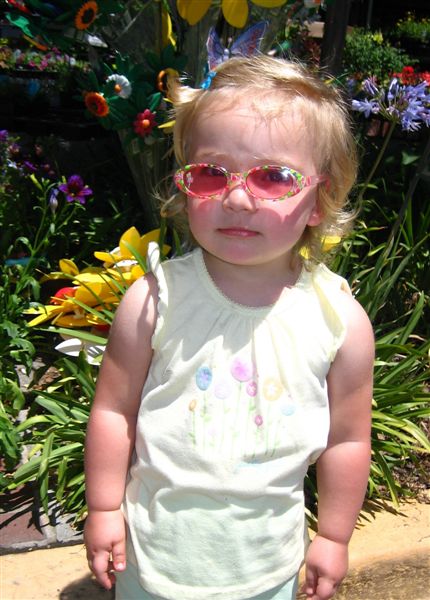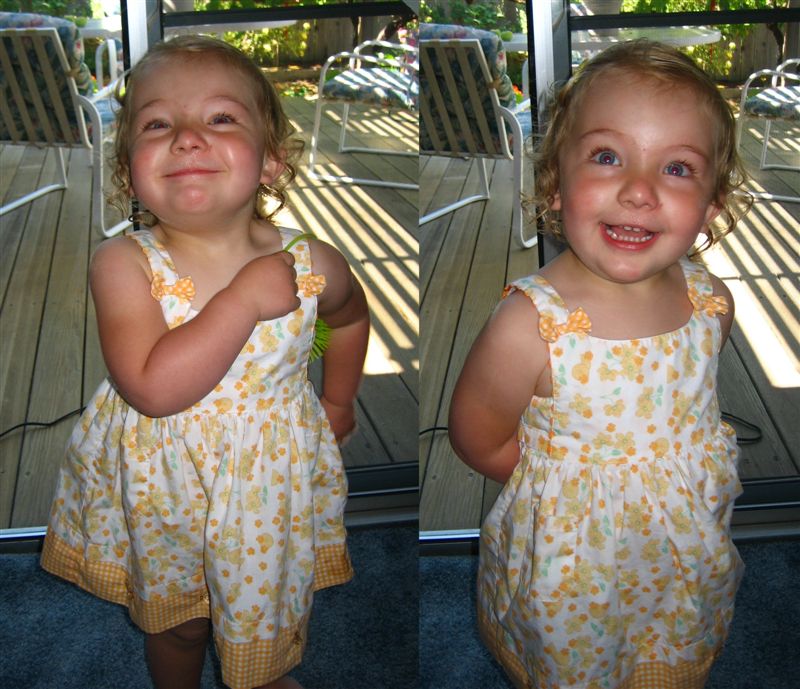 Isabelle can be cute with or without sunglasses. This kid has lots of personality.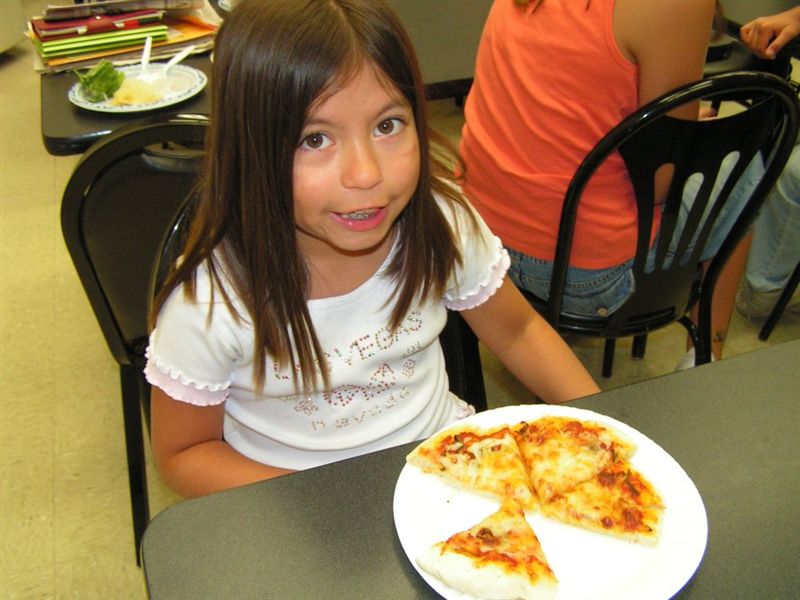 Sofi took a course in bread making at SRJC. Here is a pizza she prepared from scratch.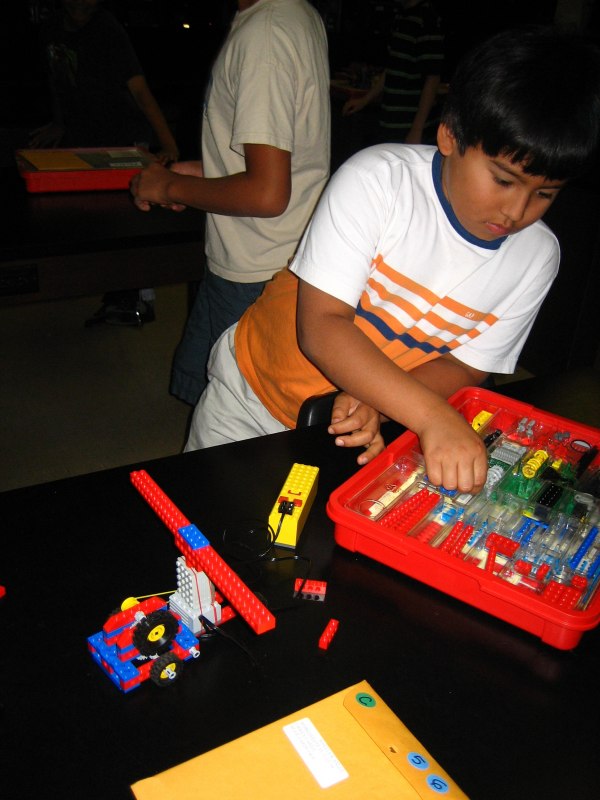 Zak took another Lego course at SRJC. In this one he built a battle-bot, a machine that fights other machines.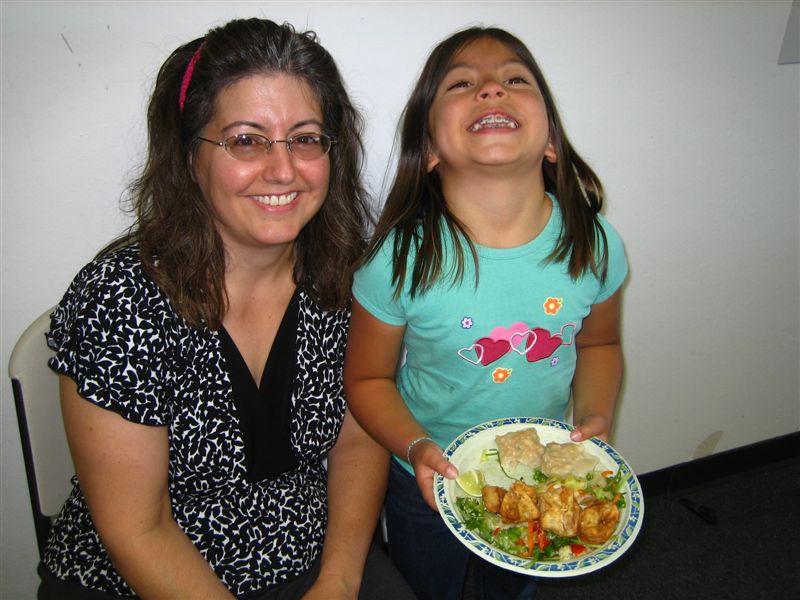 Sofi took a course in international cuisine at SRJC. Here she shows her mother some Asian dishes she prepared in one session.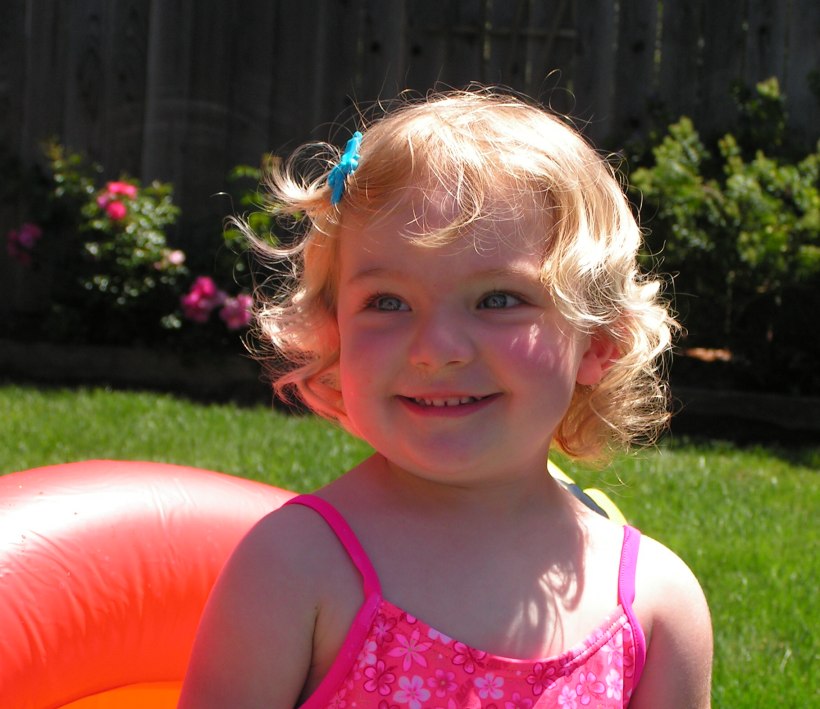 Isabelle spent nearly a week with us in early July. She enjoyed a small wading pool in Grammy and Grandpa's back yard.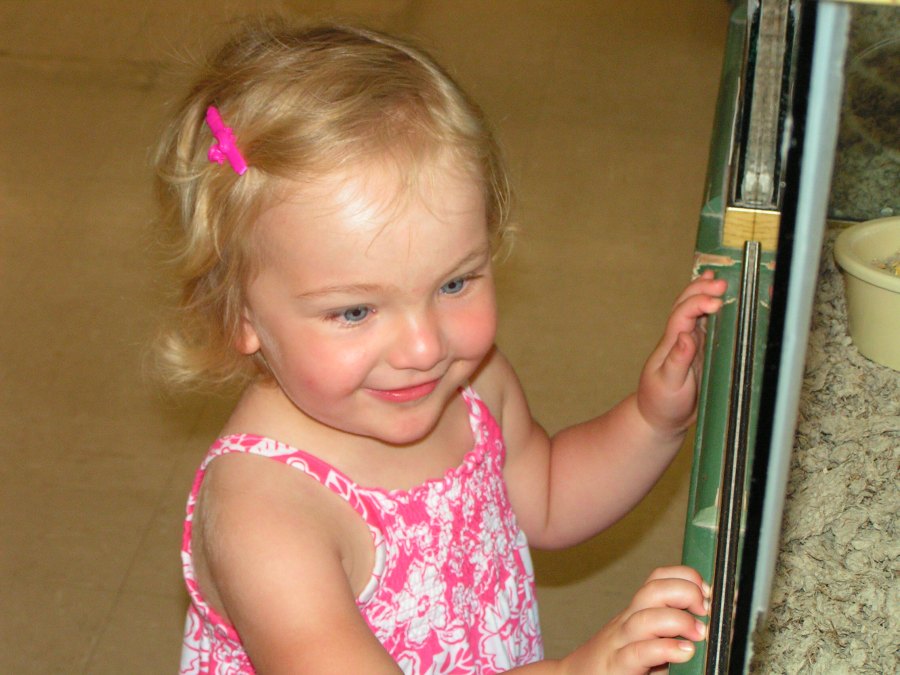 We took Isabelle to a couple of pet stores. Here she looks at rabbits.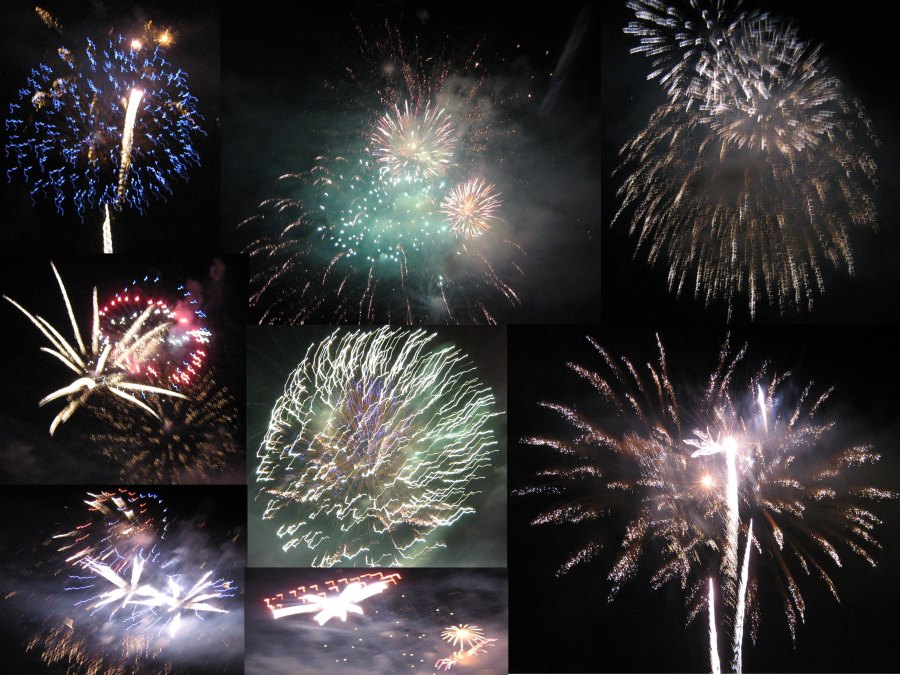 The Suzys went to a fireworks show on the Fourth of July. Here is a collage of Zak's photos. As you may recall, each of the older
grandchildren has a digital camera. Some of them are becoming good photographers.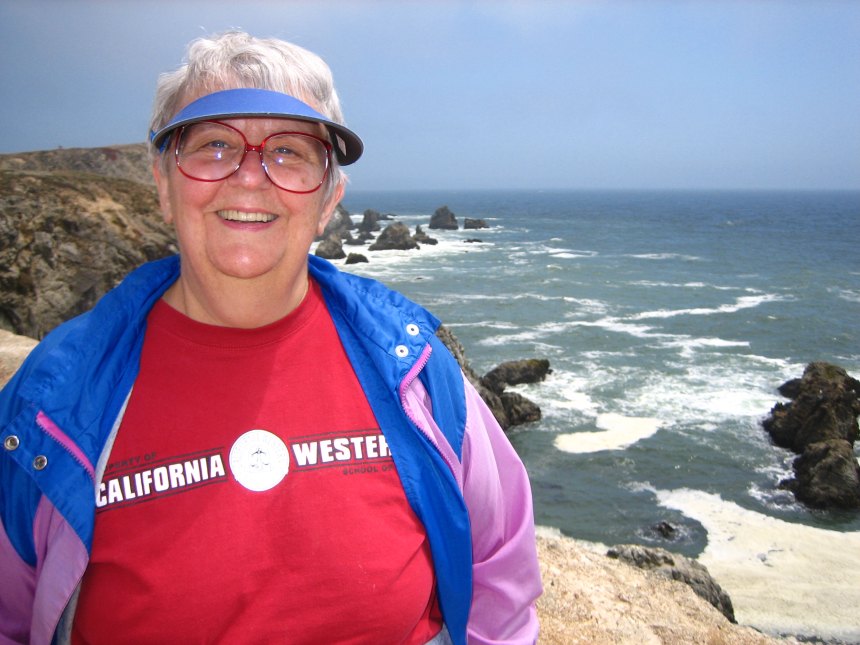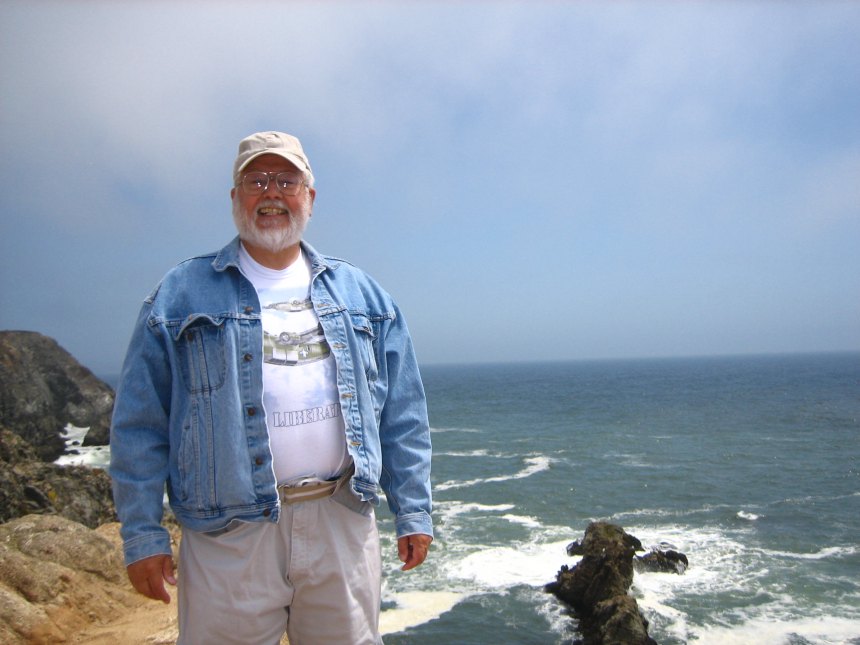 Grammy and Grandpa took a drive out to Bodega Head.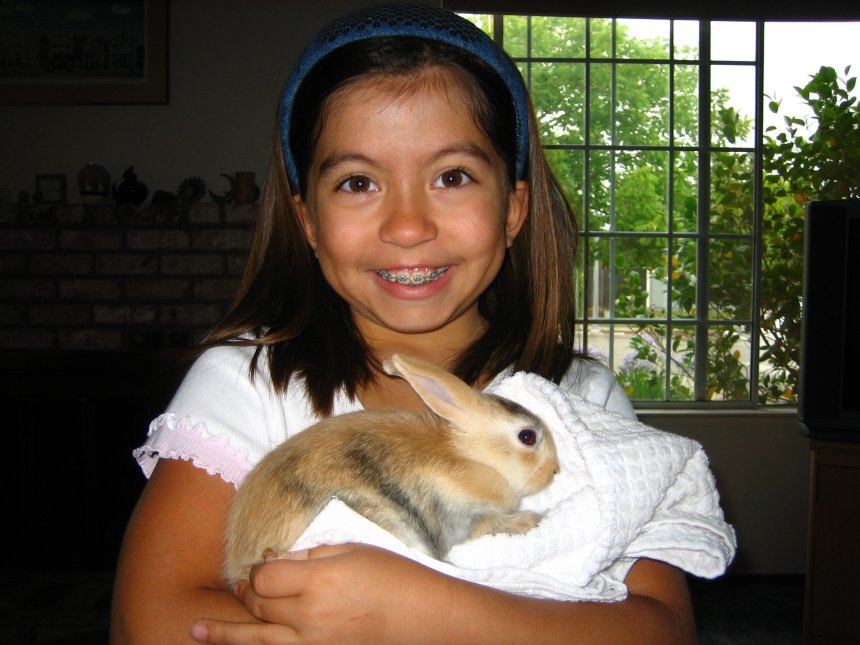 Sofi got a new rabbit, Chestnut.
In July, we had the third annual Camp Hudson. This is where the three middle grandchildren,
Francisco, Sofi, and Zak, stay with us for a week and do fun stuff. This year we went to Santa Cruz and Monterey.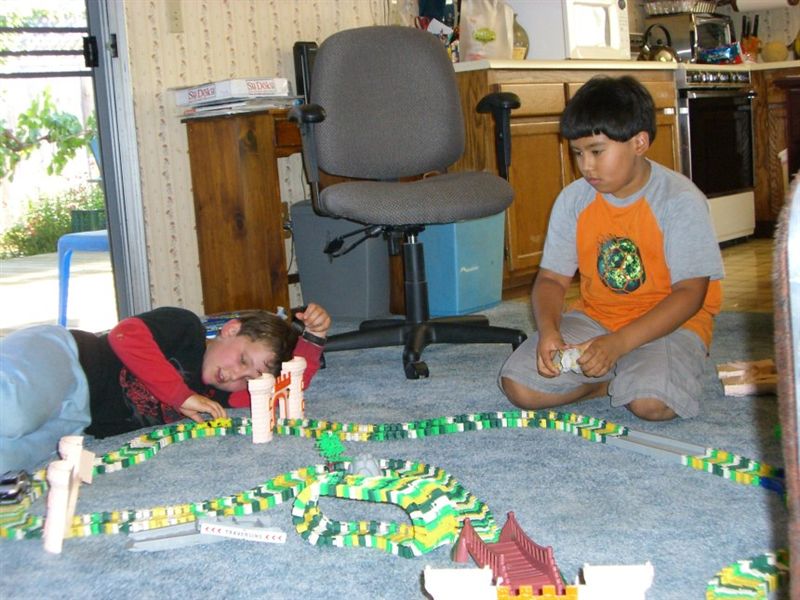 Francisco and Zak built an imaginative track for a little motorized car, including jumps and obstacles.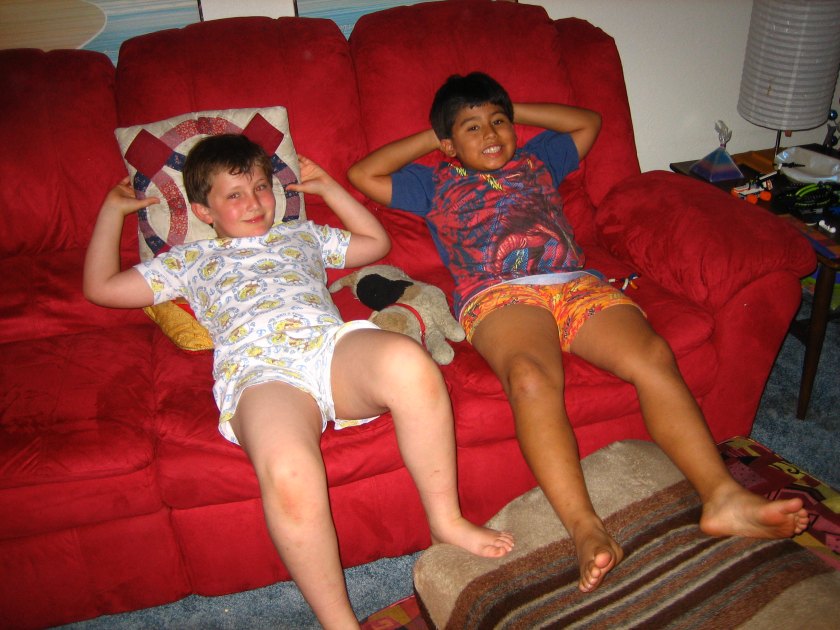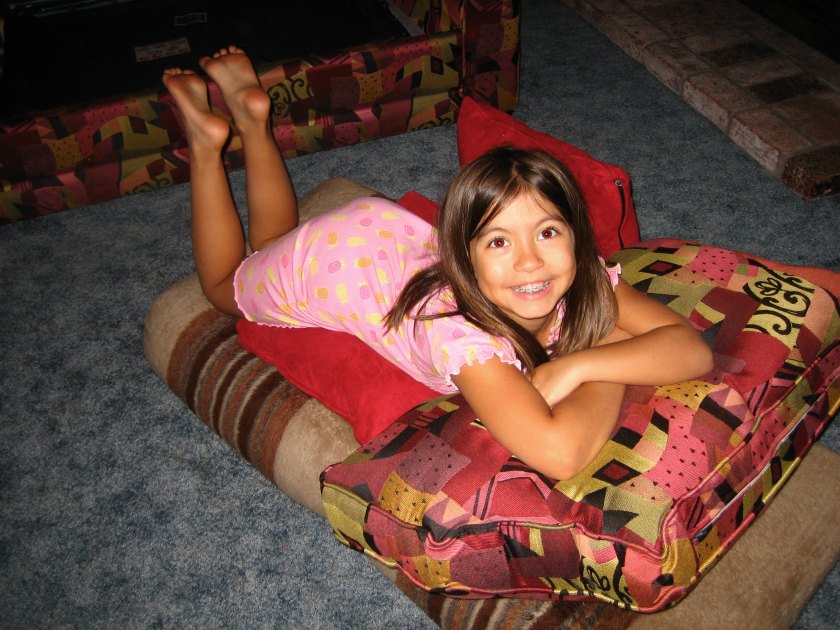 It is the custom to have a movie night each night we are at home during Camp Hudson. Here the kids are in their summer pajamas,
awaiting their bowls of popcorn and the movie. We saw Men In Black II, The Ant Bully, Ice Age The Meltdown, and Son of The Mask.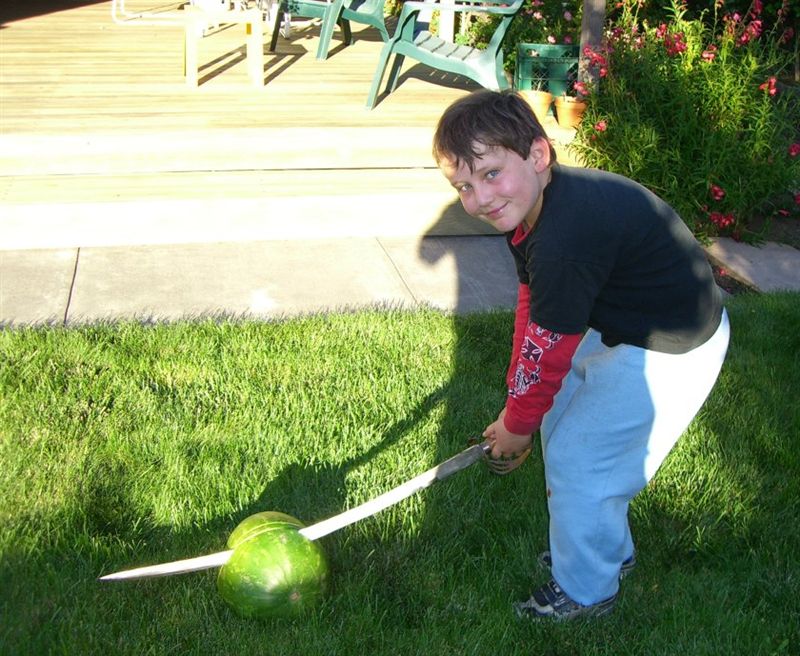 We had a "watermelon whacking." Remember last year's Camp Hudson when we had the pie fight? This year it began when
Grandpa told a story about how he once sliced a watermelon with a cavalry sabre. The kids said, "Gee, we wish we could do
that," and we said, "Why not?" So we put a watermelon on the lawn in our back yard, washed and sharpened Grandpa's cavalry
sabre (Where did he get it? Why does he need one? That's another story...), gave the kids basic instruction, and let them
whack away. See The Great Watermelon Whacking of 2007 Video.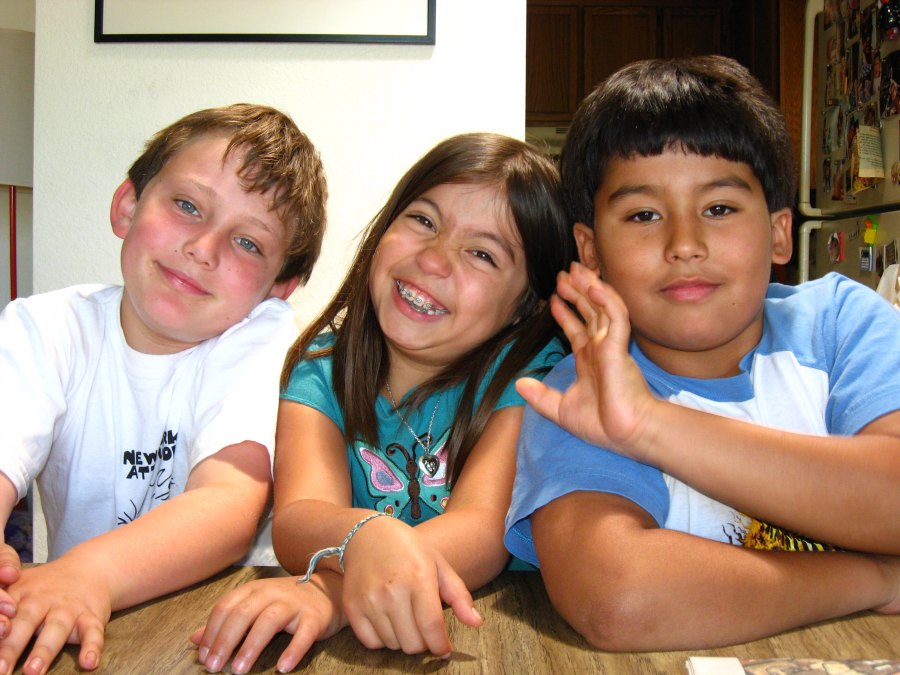 Francisco, Sofi, and Zak are The Morning News Team.. See the video.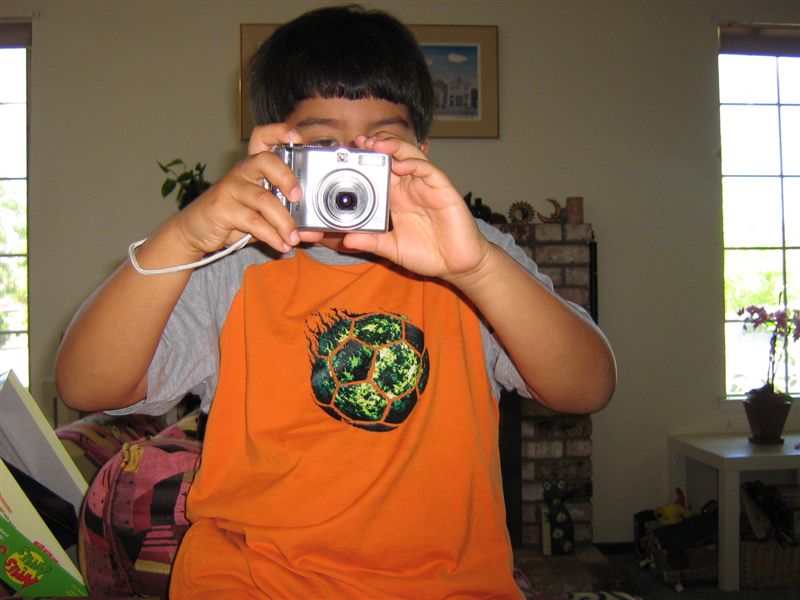 As mentioned above, each of the older grandkids has a digital camera. Here Zak is caught by Francisco.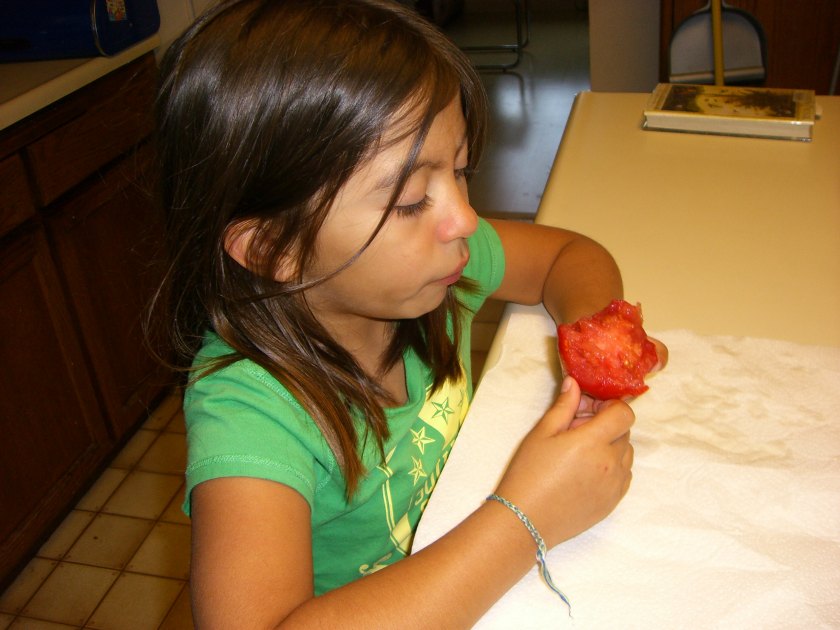 The kids like to pick and eat fresh tomatoes from the tomato forest (Grandpa's tomato garden).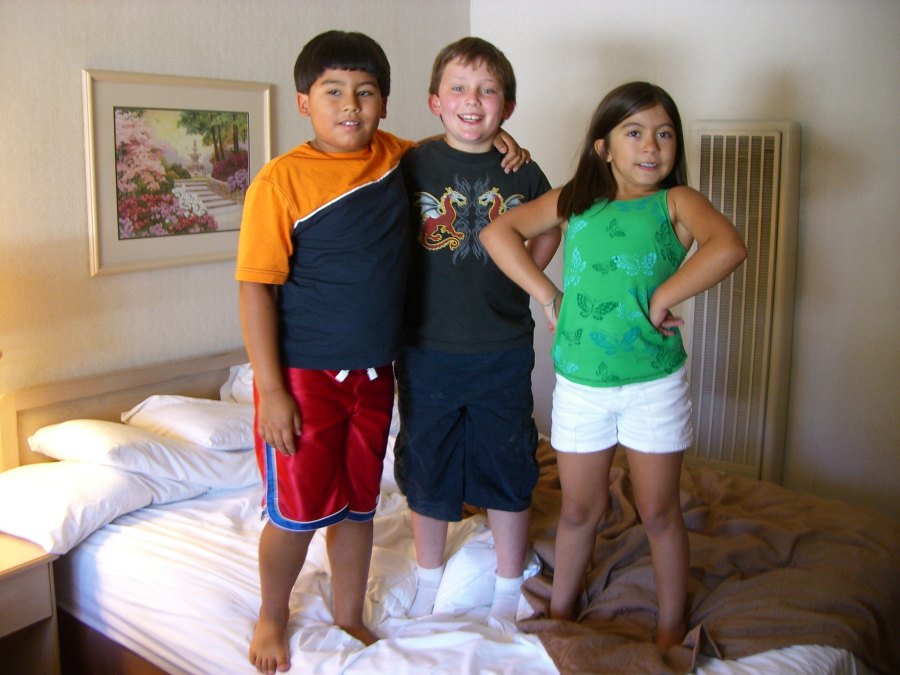 We went to Santa Cruz, a 3-hour drive. When we arrived at the motel, the kids needed to burn off lots of energy.
See the Bouncing Video.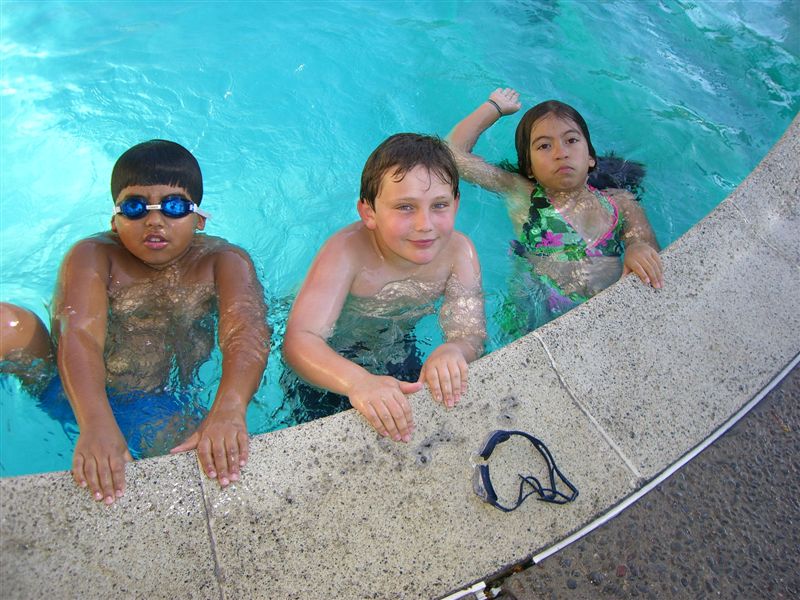 They expended some of the energy in the pool. A moment after this picture was taken, Grandpa got wet.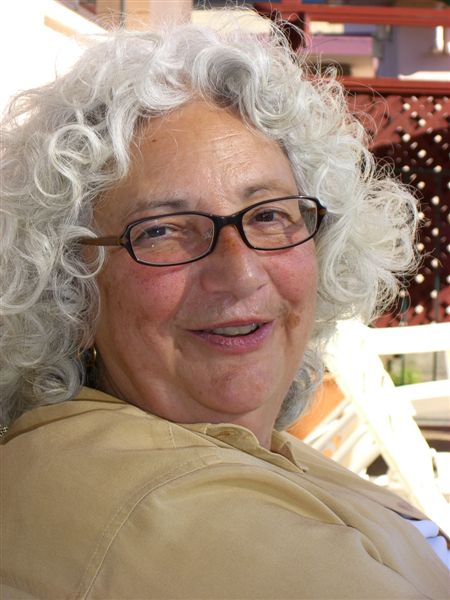 While we were at the pool we visited with Johanna.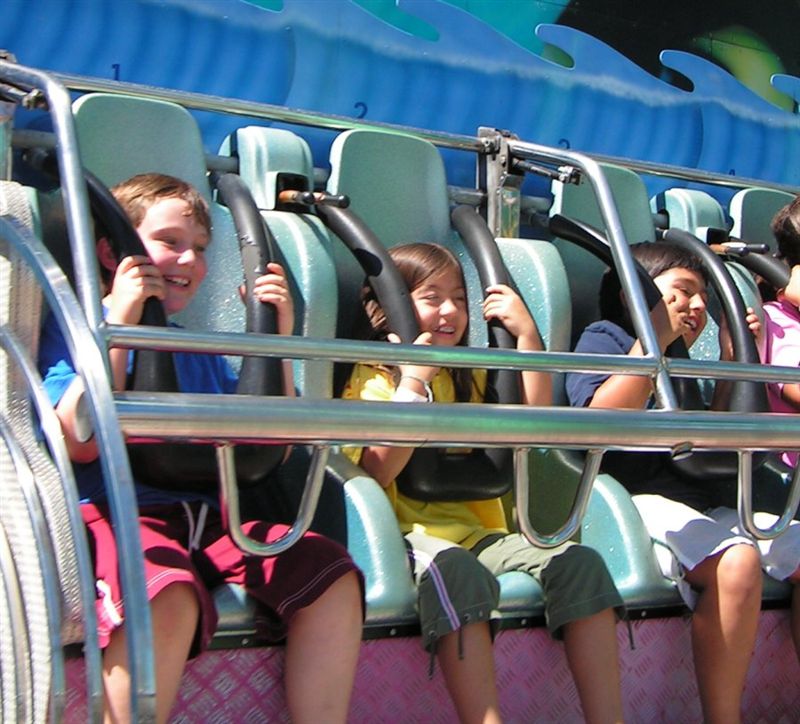 The kids enjoyed rides at the Santa Cruz Boardwalk, especially if the ride involved disturbance of the semi-circular canals of the inner ear.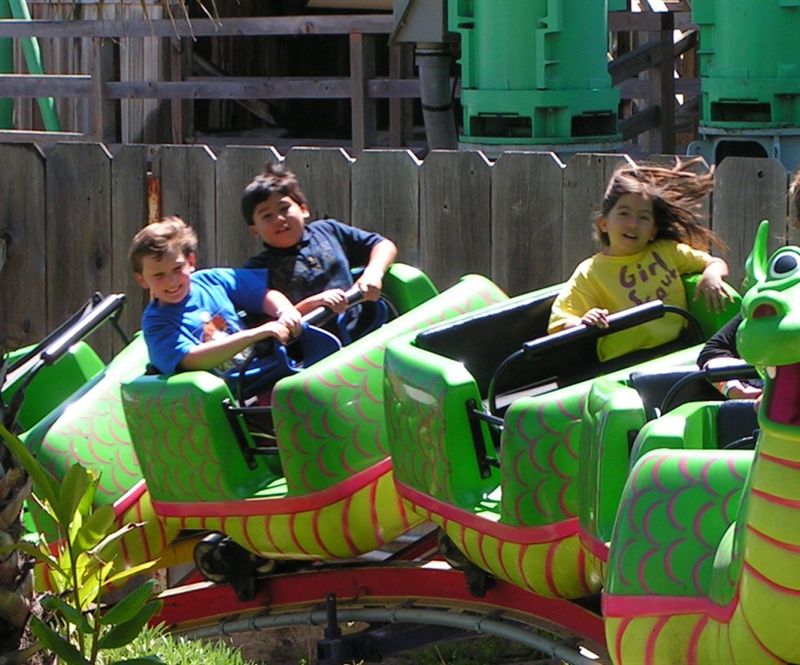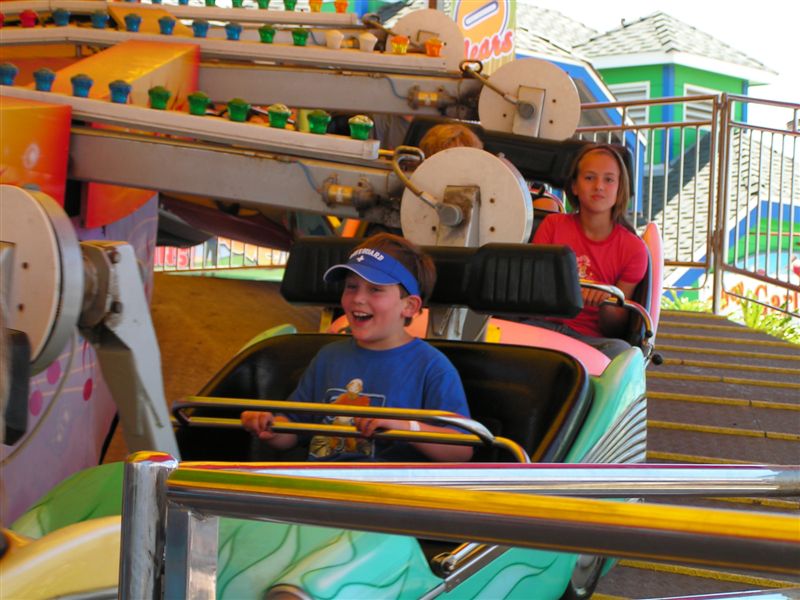 Last year Francisco declined rides like these. This year he ate them up.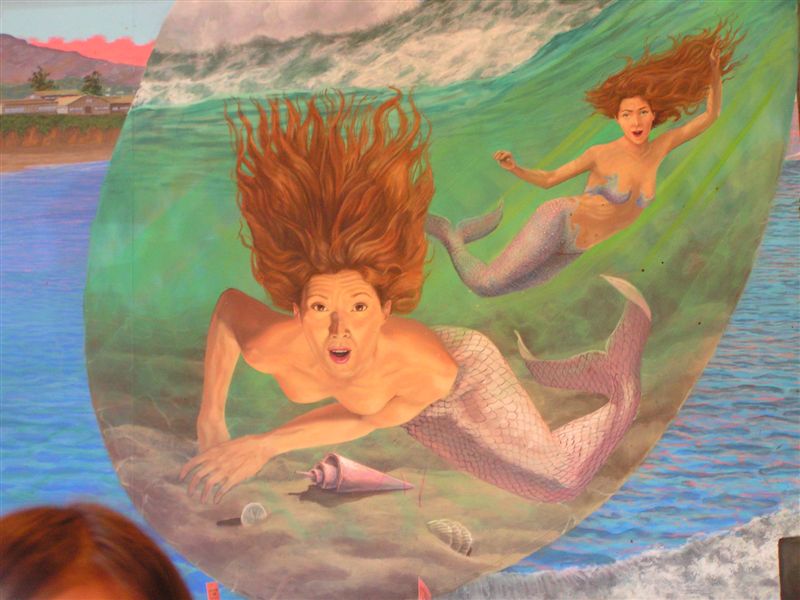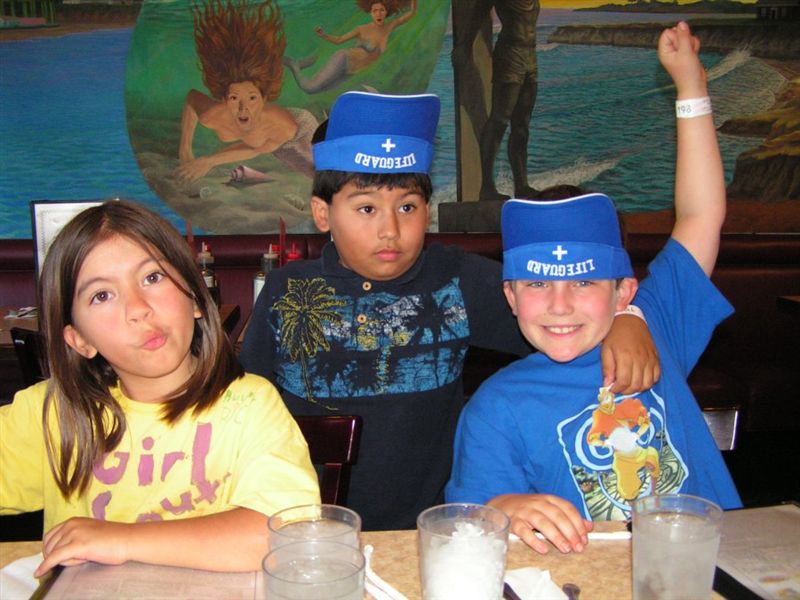 We ate some of our meals at a local diner with lots of atmosphere.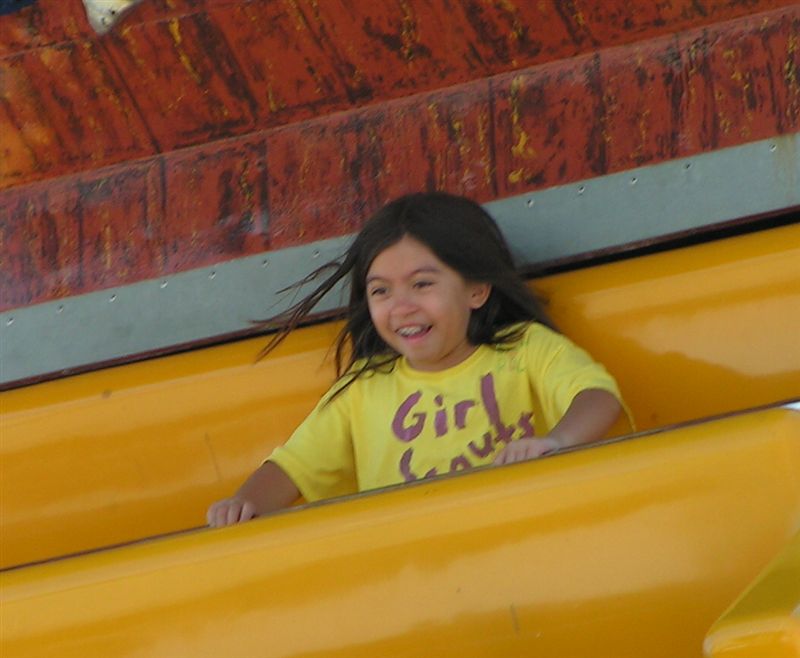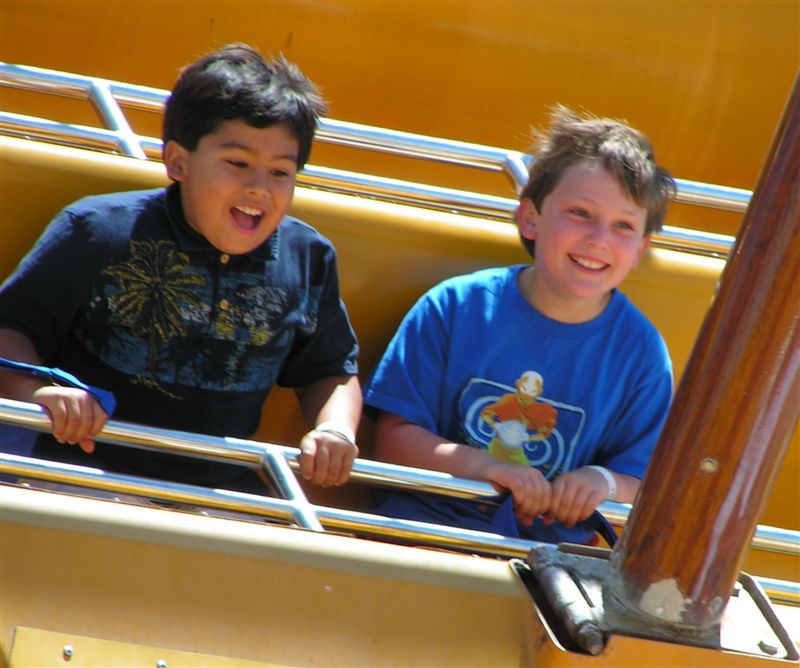 Sofi and the boys, sitting separately, enjoyed a pendulum ride in the shape of a pirate ship.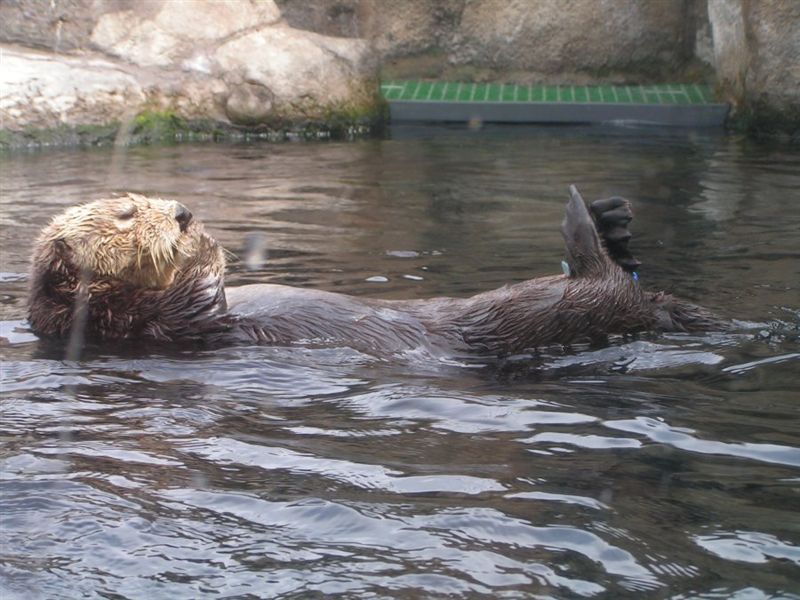 After Santa Cruz we went to the Monterey Aquarium. They were featuring sea otters. The kids were captivated by them.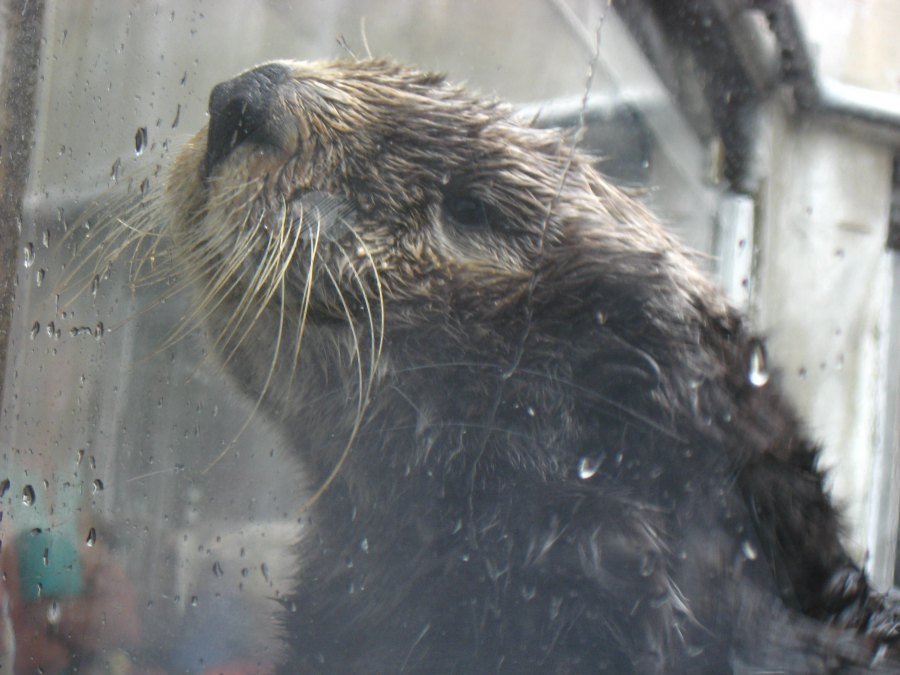 Zak got this close-up of a smiling sea otter.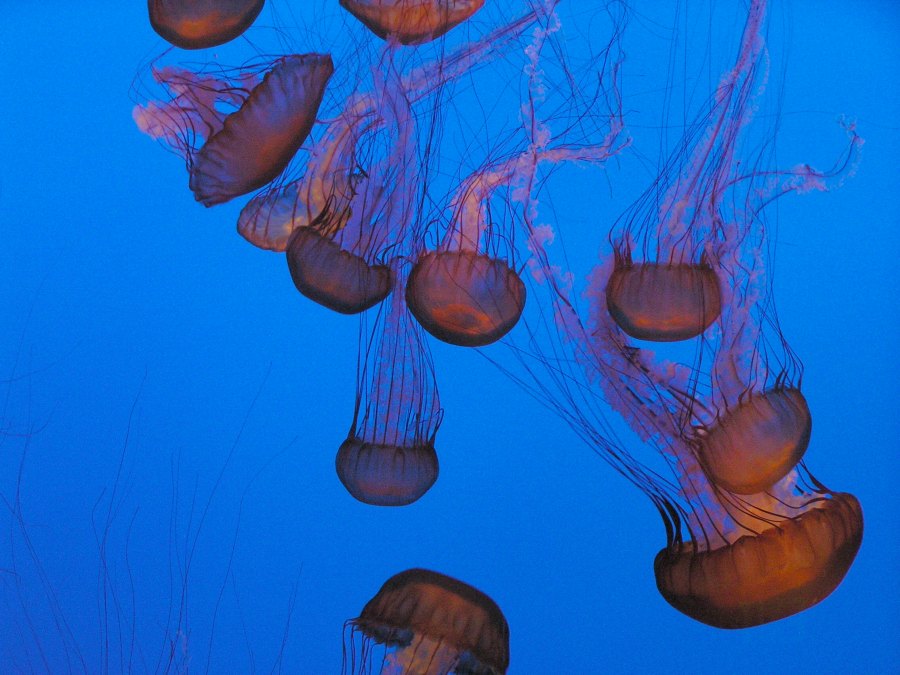 The jellyfish are strangely beautiful.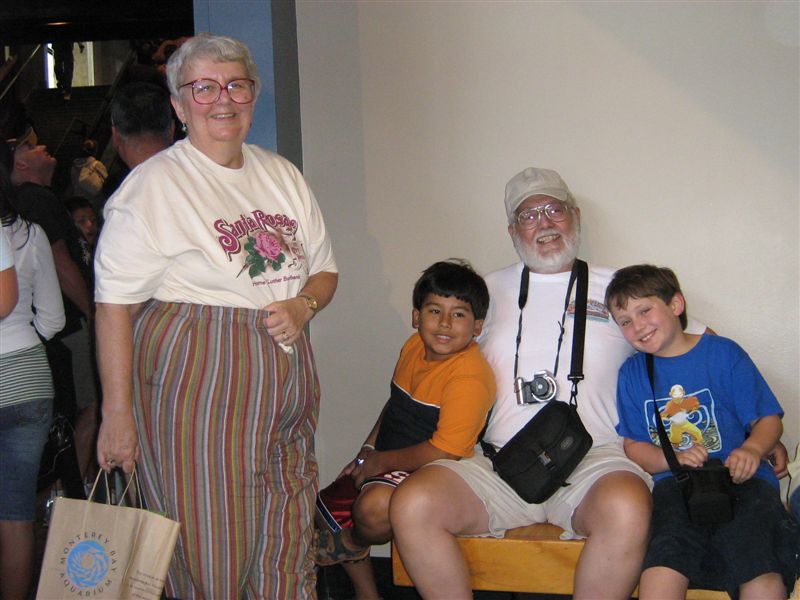 Sofi took this picture of us resting after touring the aquarium.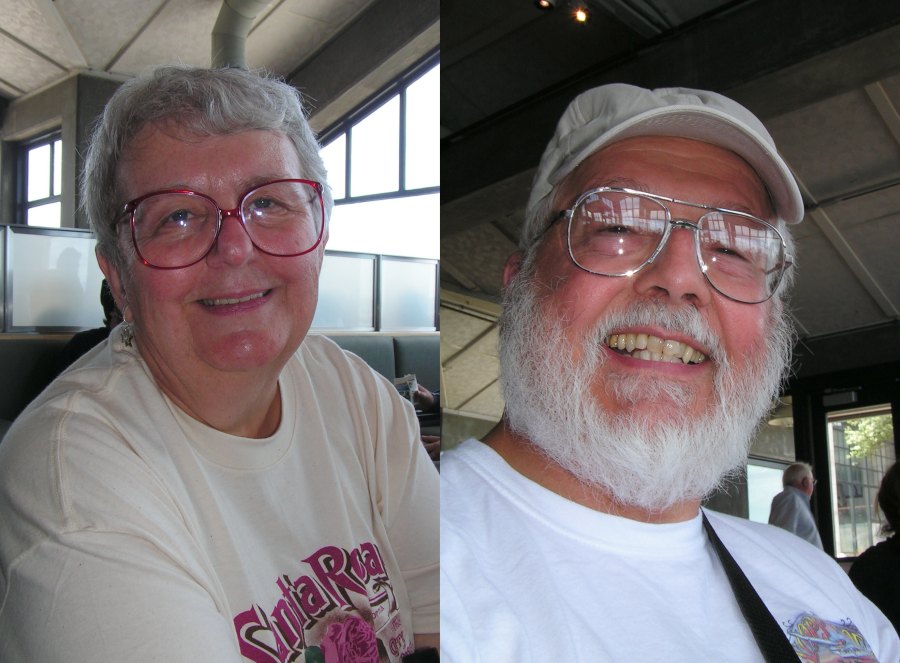 It was hot. Grammy and Grandpa welcomed chances to sit down and sip refreshing beverages.

There was clearly some educational value in the visit, but the kids enjoyed it anyway.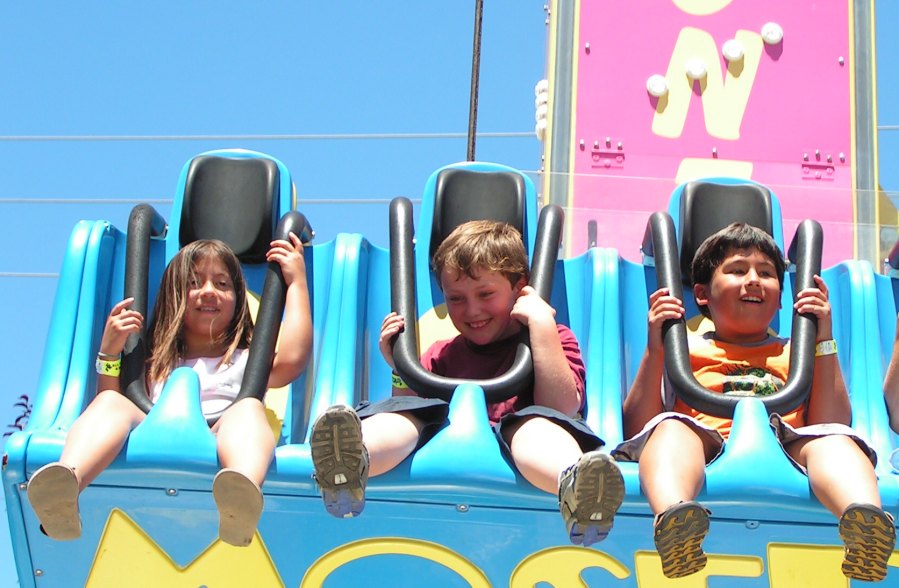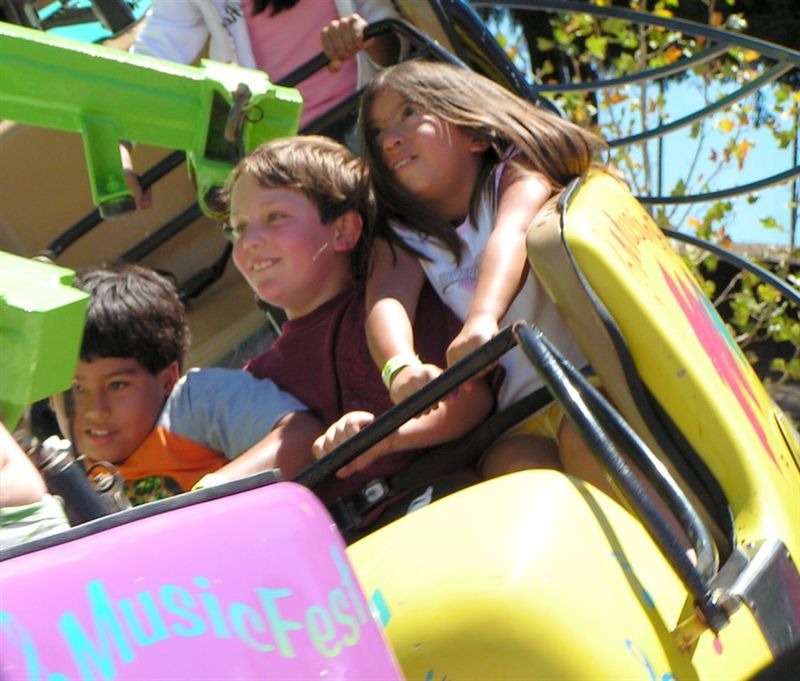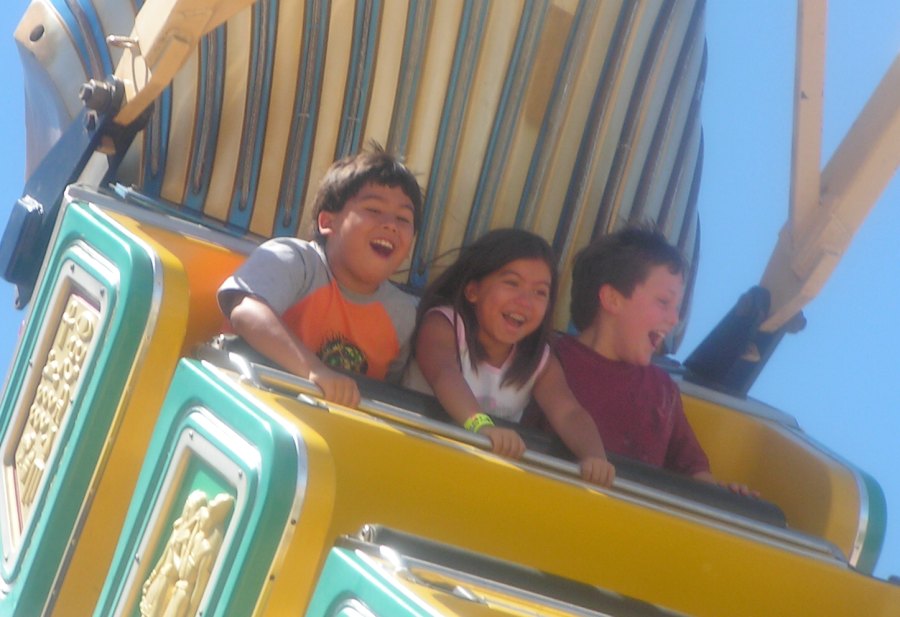 When we got back from Santa Cruz and Monterey, it was time for the Sonoma County Fair. Here the kids enjoyed more gravity-defying rides.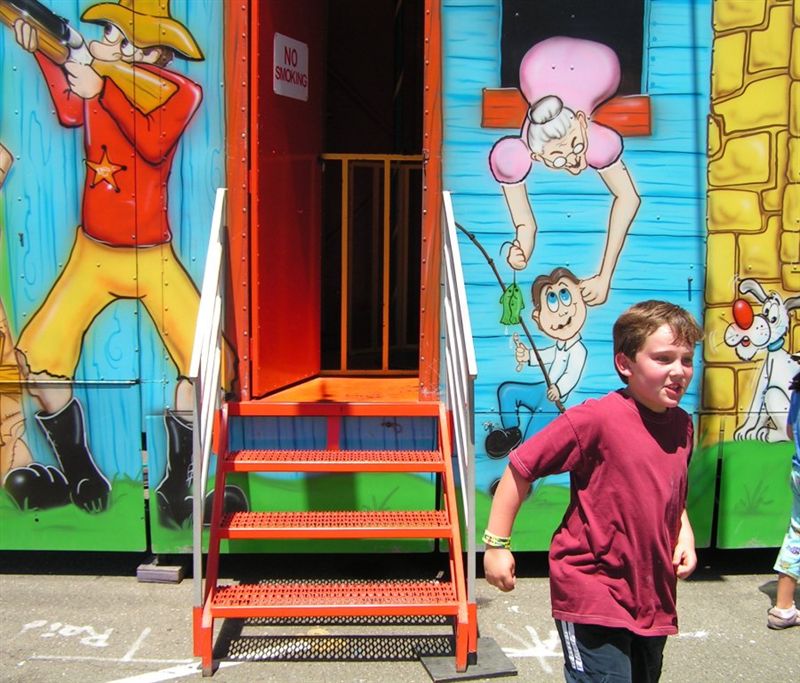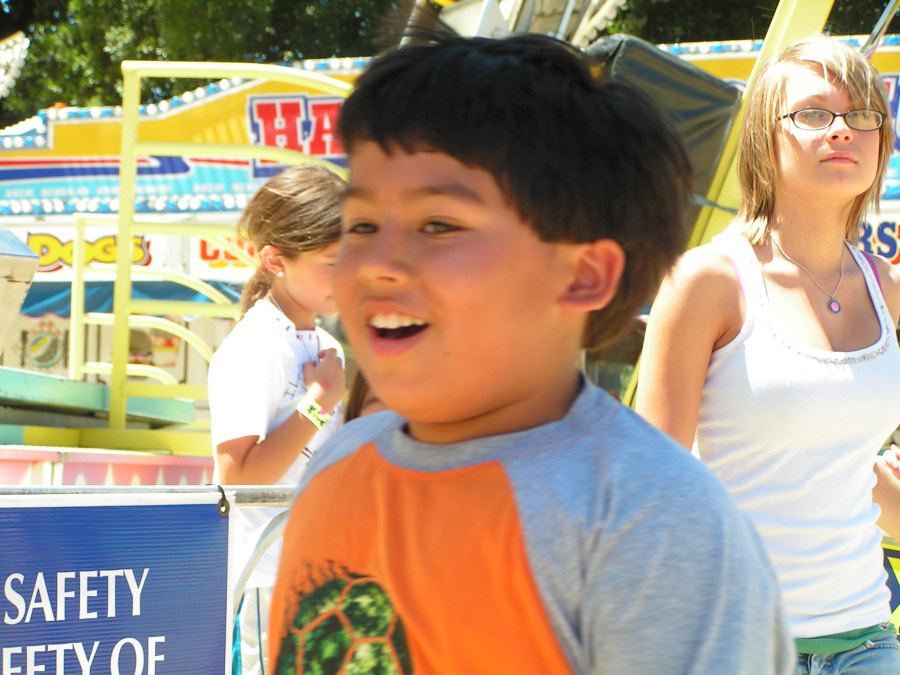 Sometimes the best expressions are seen after the ride.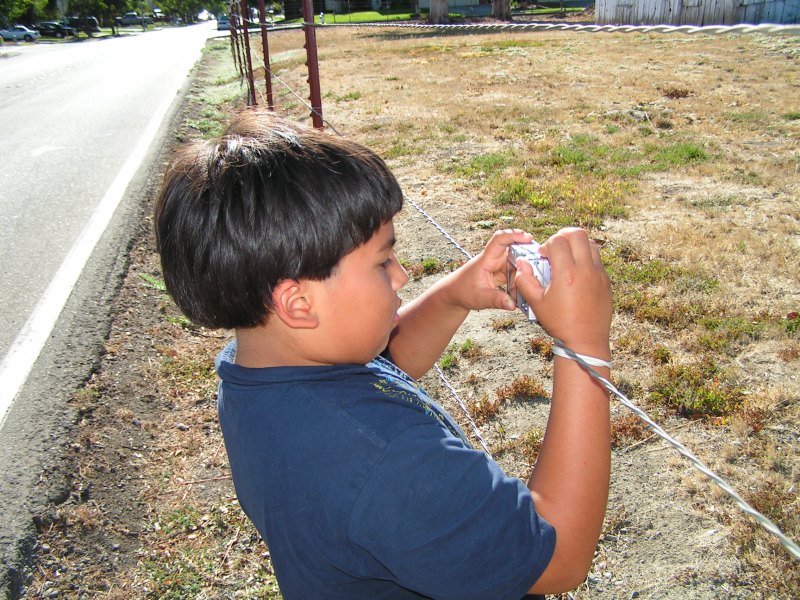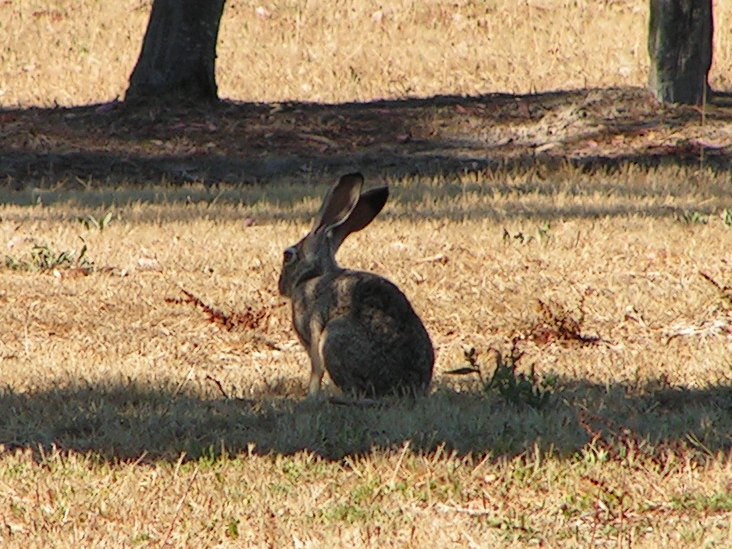 We saw jackrabbits in a field near our house. Zak was eager to get a picture of one.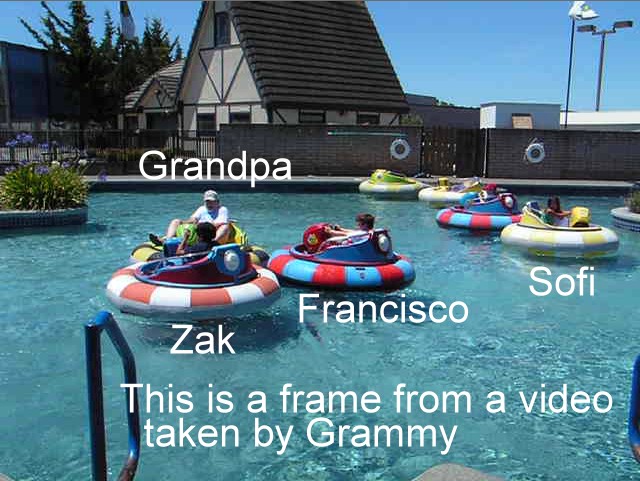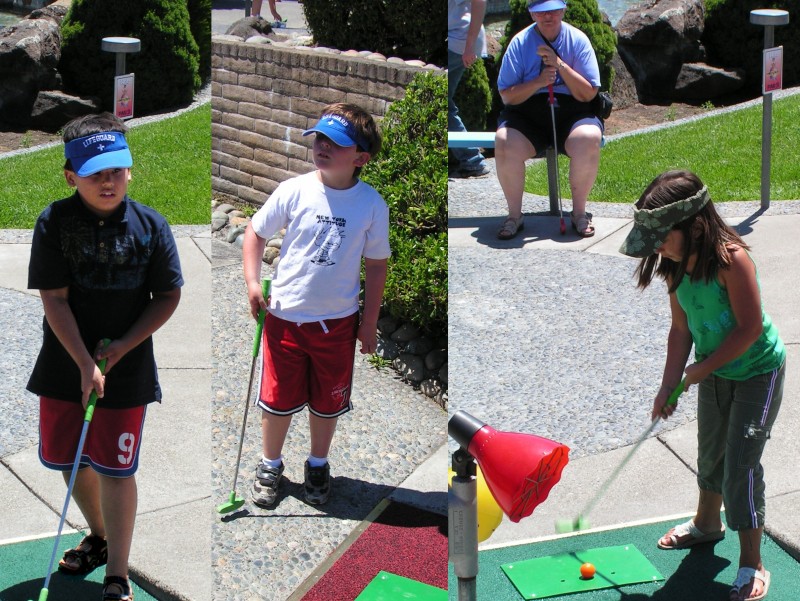 We went to Scandia, a small local amusement park. The bumper boats have water guns on them. Grandpa got very wet.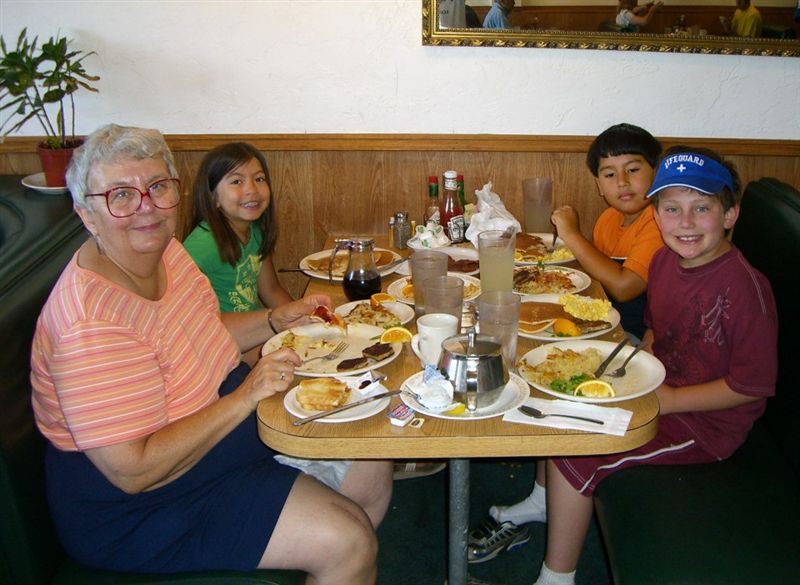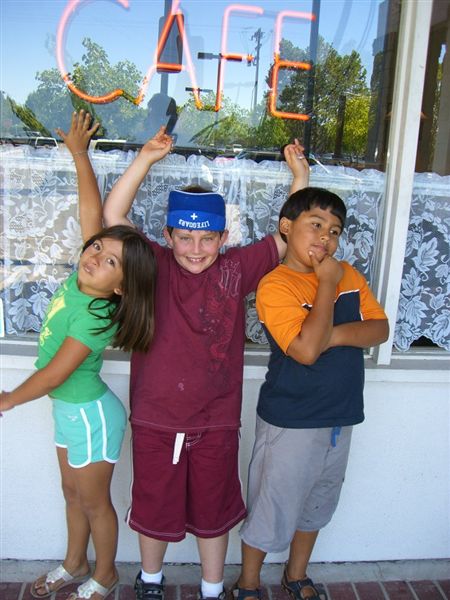 Breakfast at the Village Cafe on the last day of Camp Hudson 2007.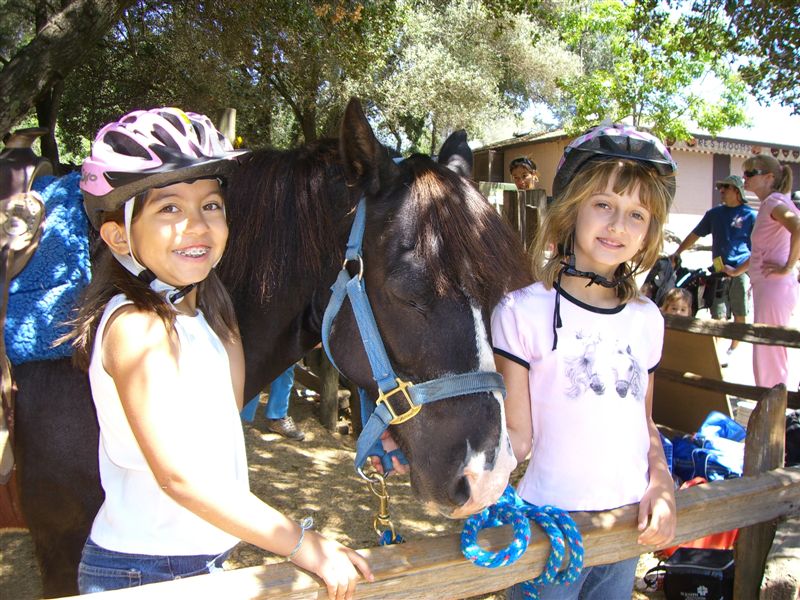 Sofi went to Pony Camp with her friend, Kendall.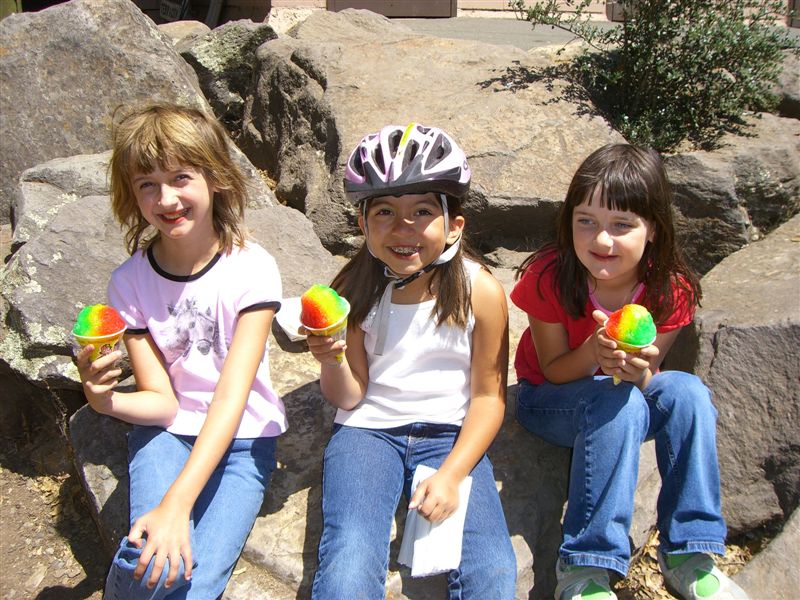 Kendall, Sofi, and Whitney with snow cones at Howarth Park after the riding sessions.
In August all eleven of us went to Hawaii! We stayed at nice
condos on the beach at Kanapali on the western side of the Island of Maui.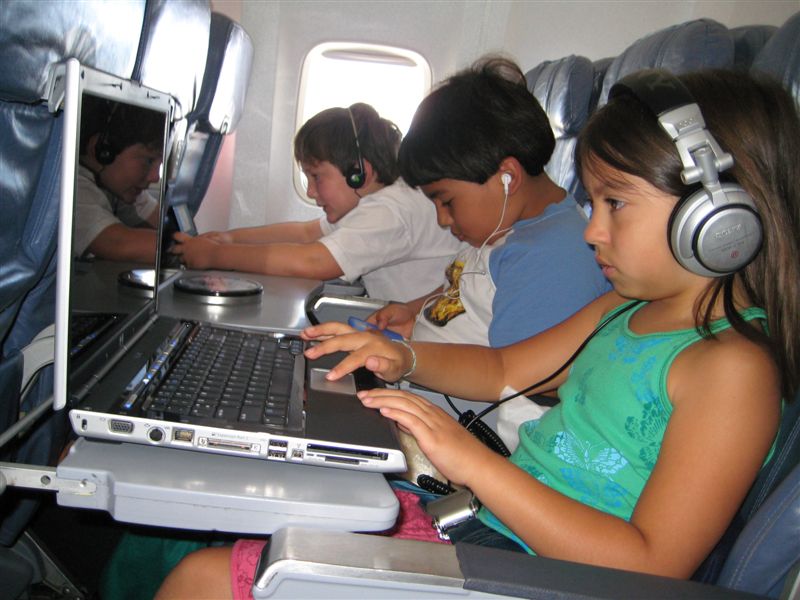 Here is how kids travel these days. These kids are all eight years old!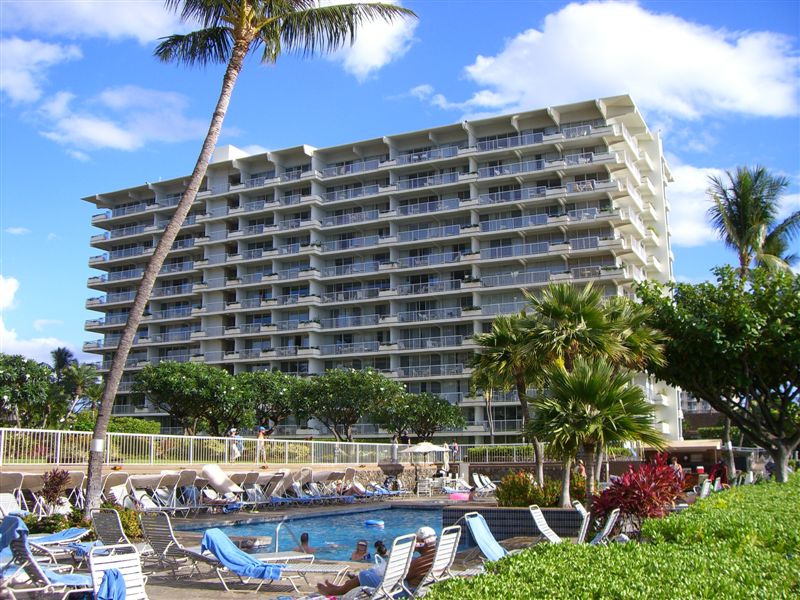 Our condo building and pool.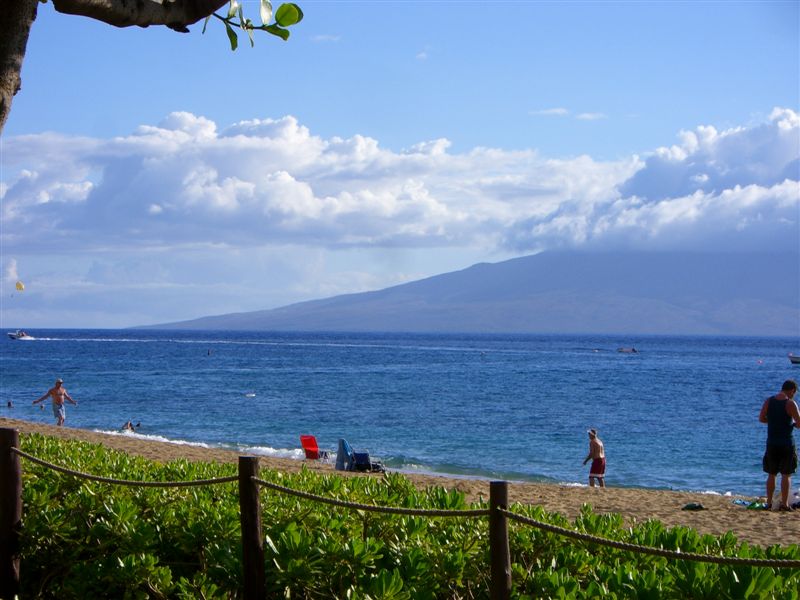 A view of the neighboring Island of Lanai, from our beach. The air is so clear you can see 100 miles or more.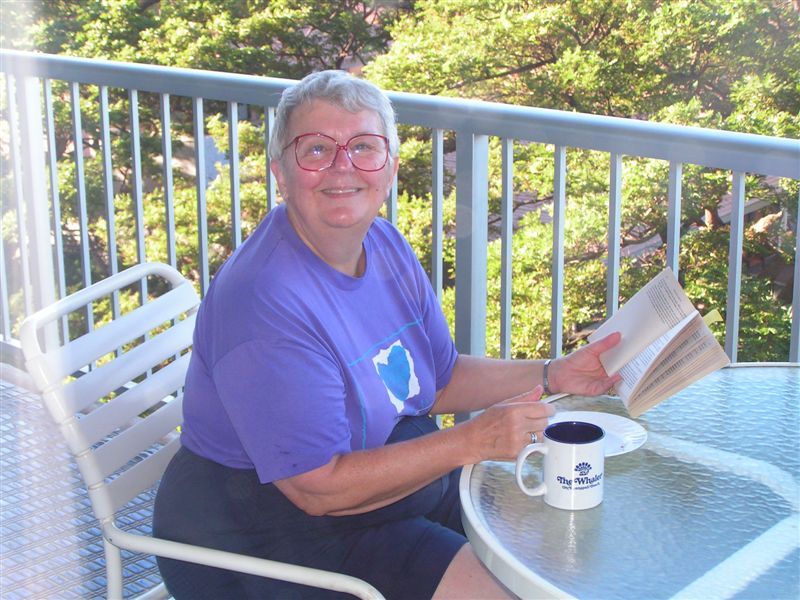 Grammy had breakfast on the terrace.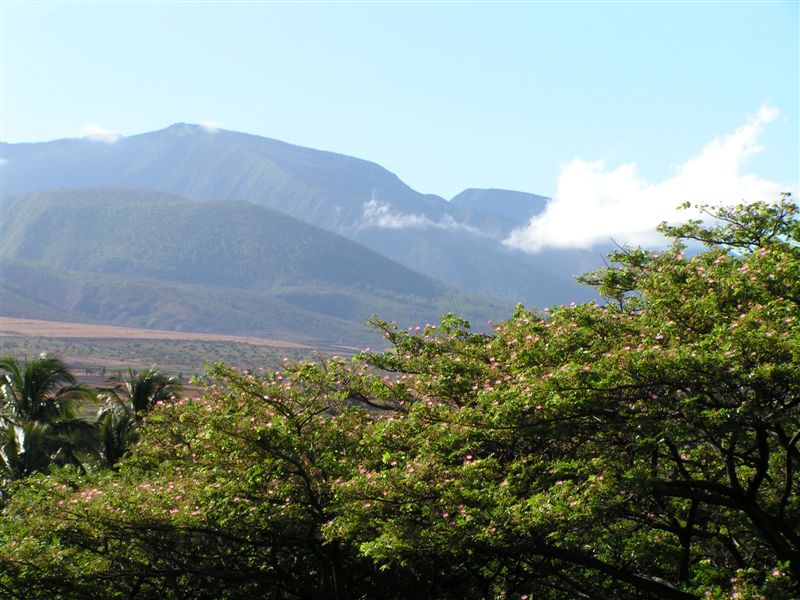 An inland volcanic mountain as viewed from our terrace.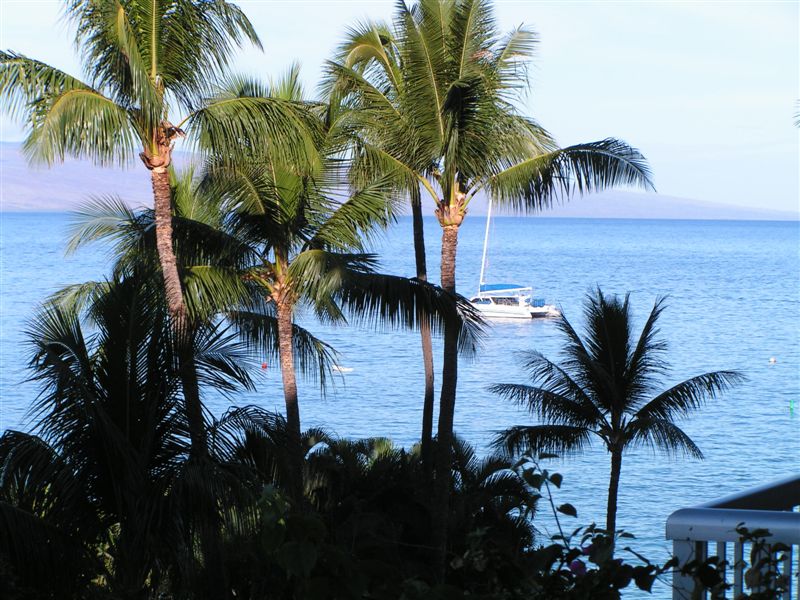 The shore as viewed from our terrace.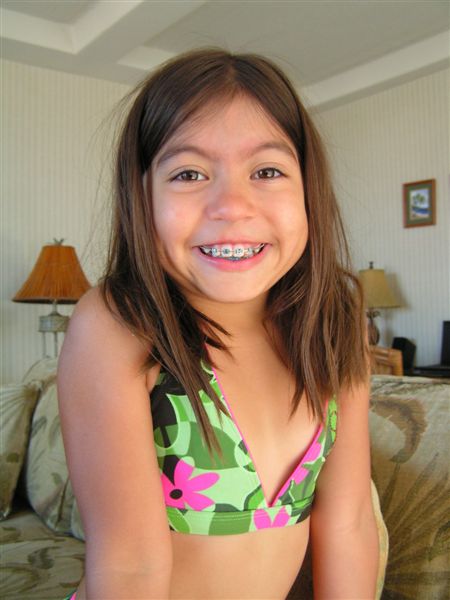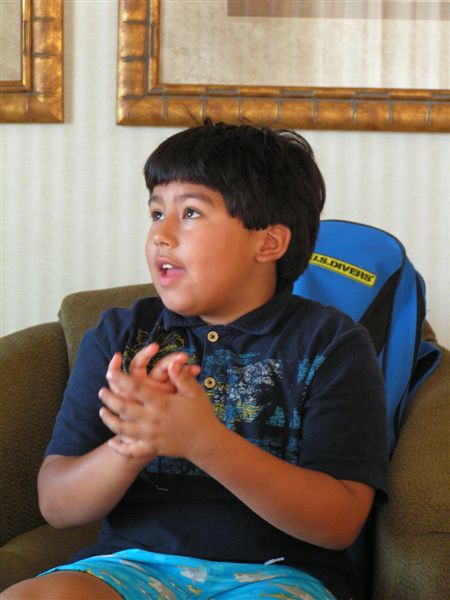 Sofi and Zak talk about their experience of swimming in the ocean with powerful waves.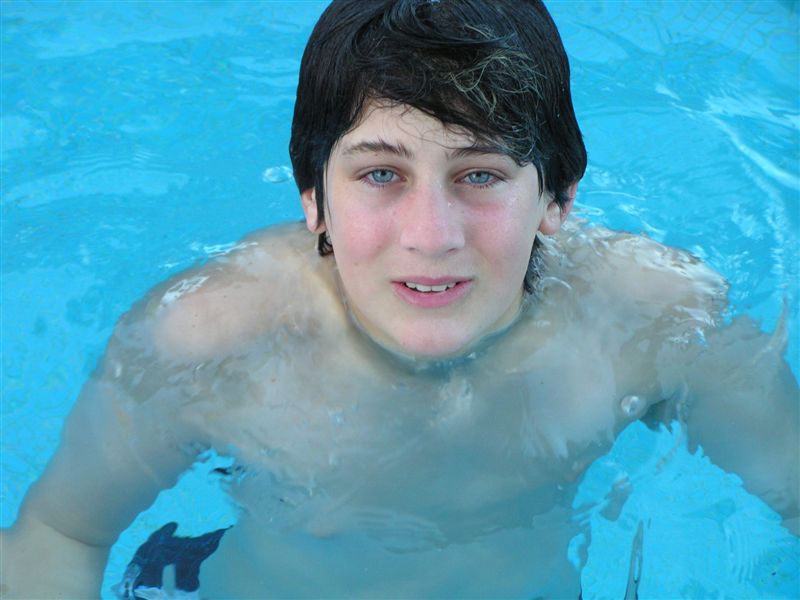 Cassidy in the pool.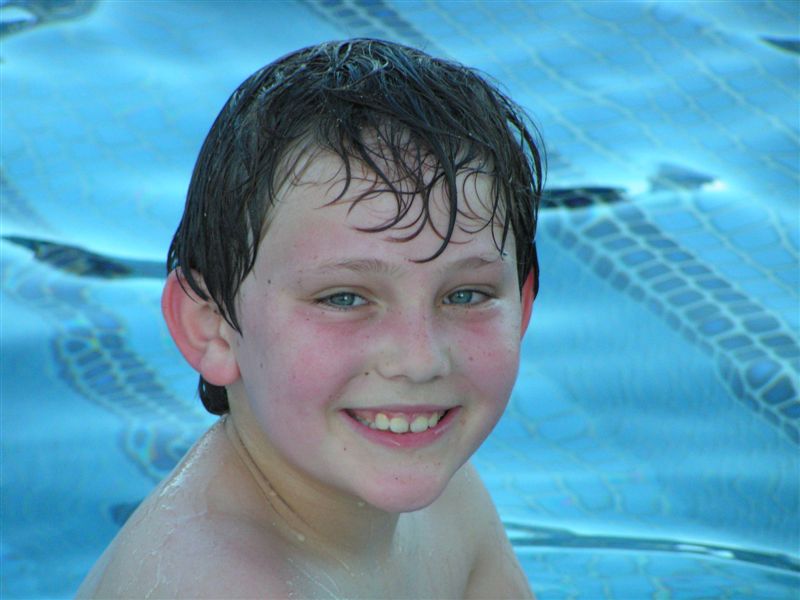 Francisco in the pool.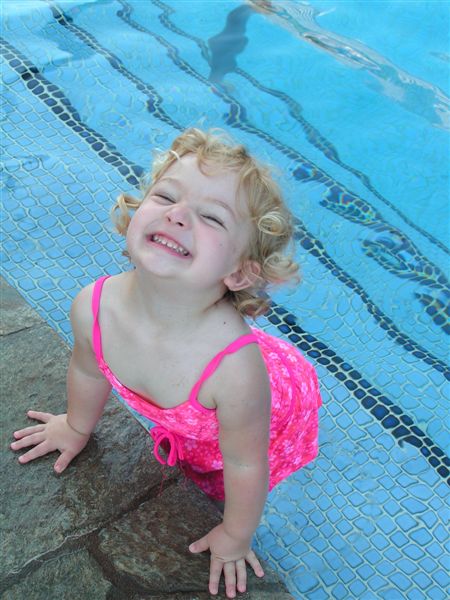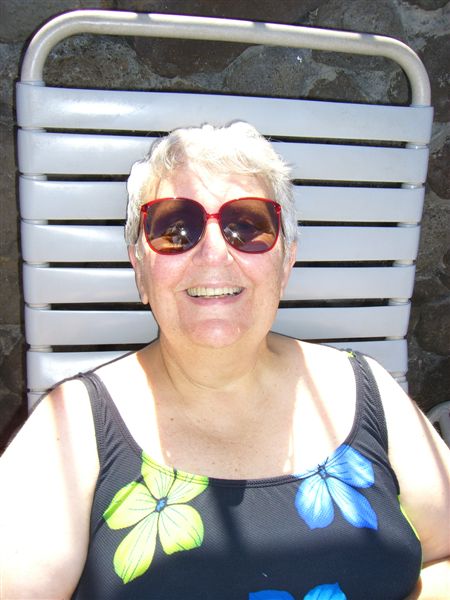 Isabelle and Grammy at the pool.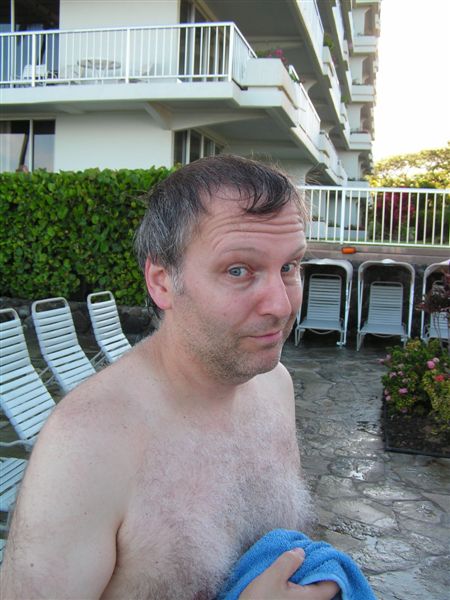 Eric and Sandra at the pool.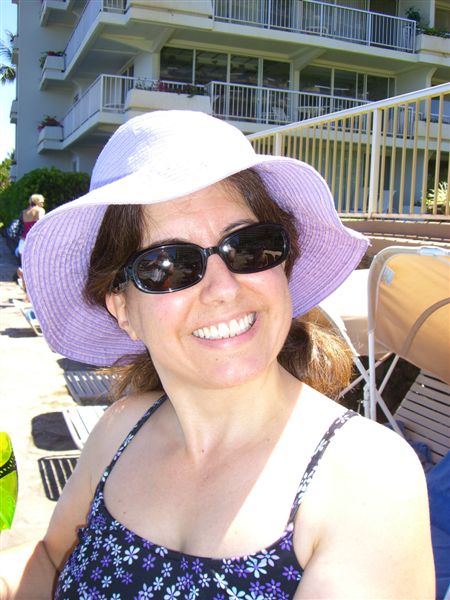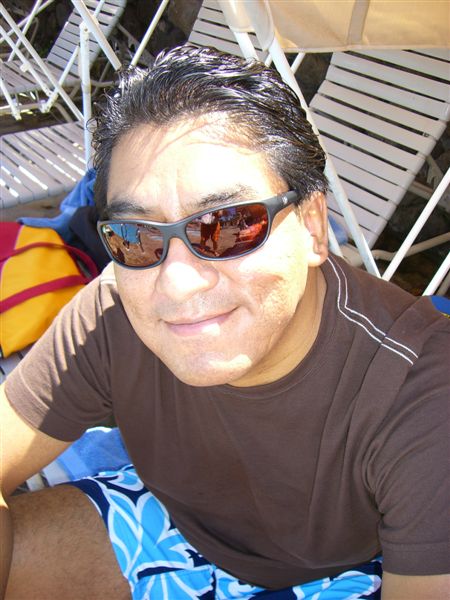 Suzy and Edmundo at the pool.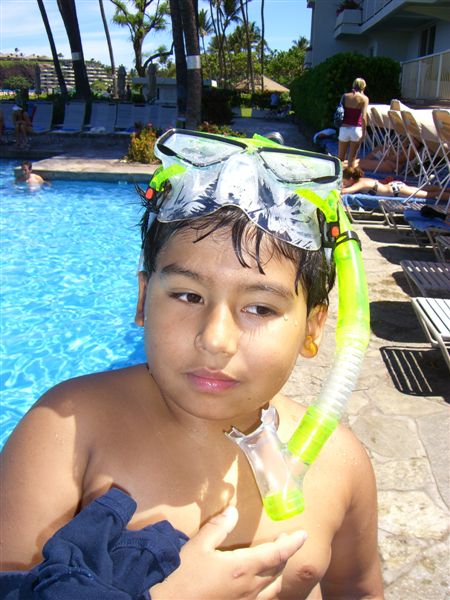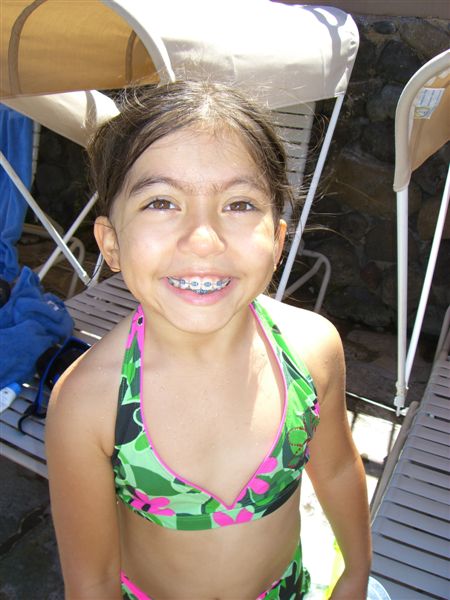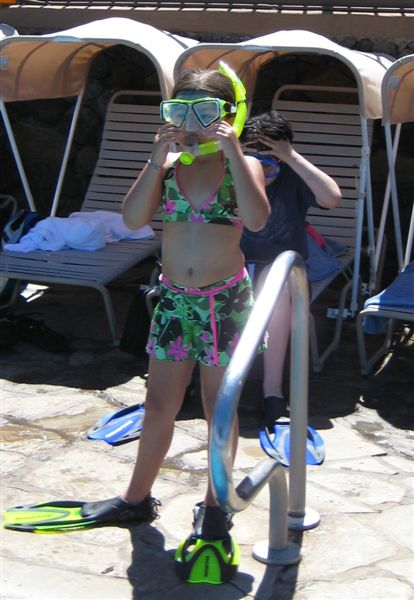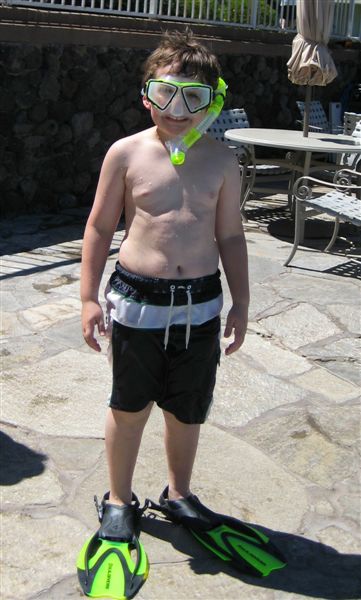 The kids tried out their snorkel gear, which they later used in the ocean to view fish and coral.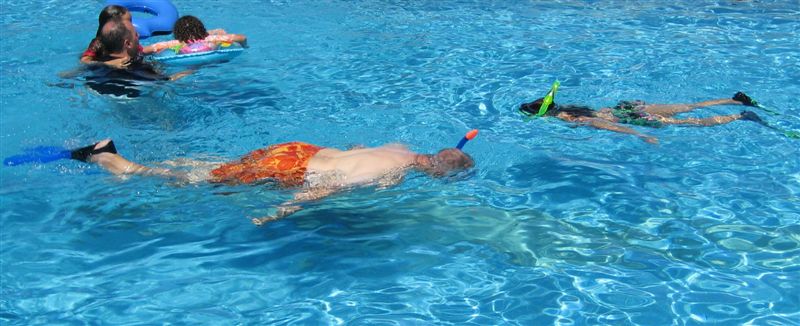 Grandpa and Sofi snorkel past each other.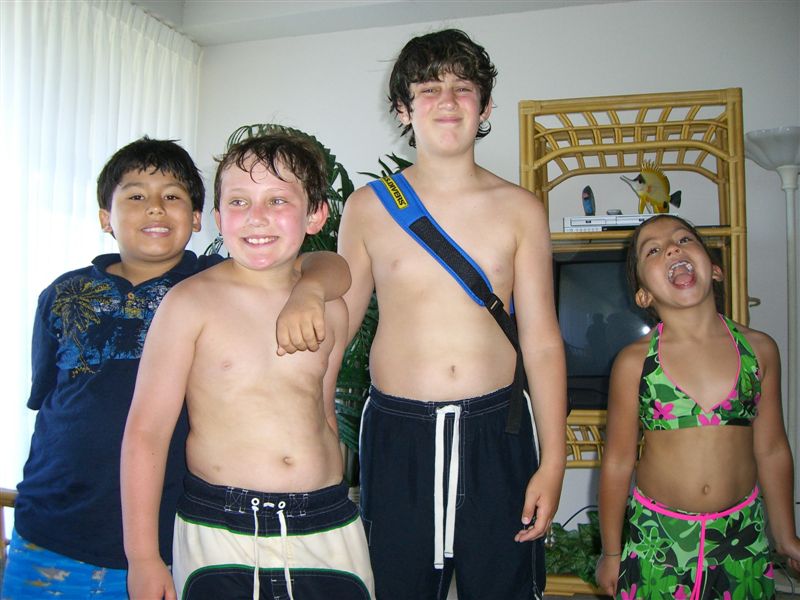 After trying out their snorkel outfits in the pool, Zak, Francisco, Cassidy, and Sofi were in high spirits.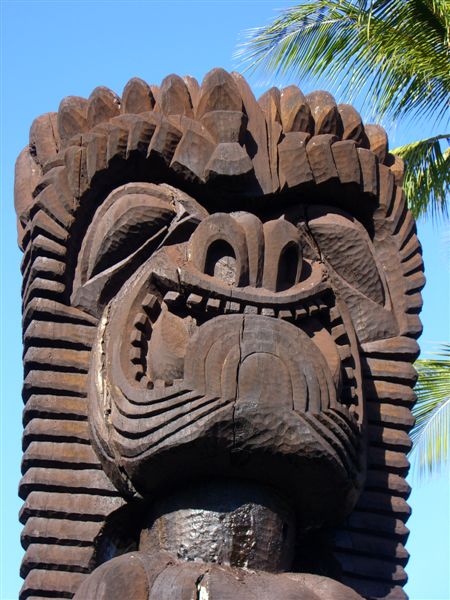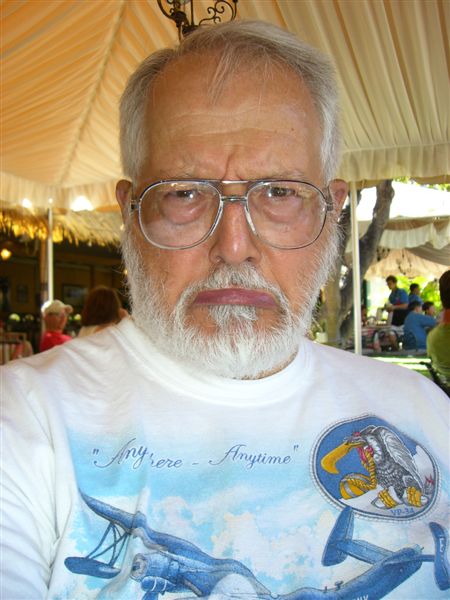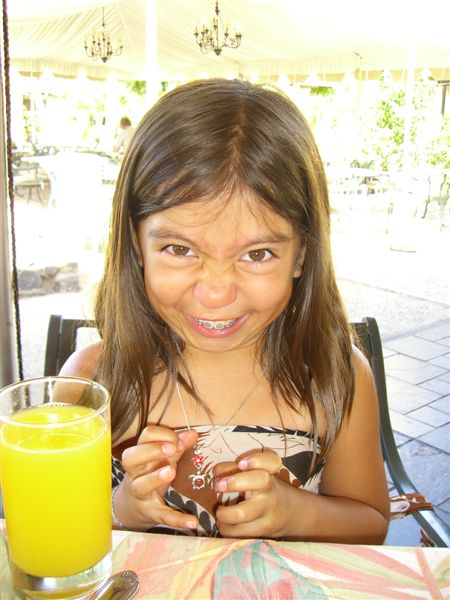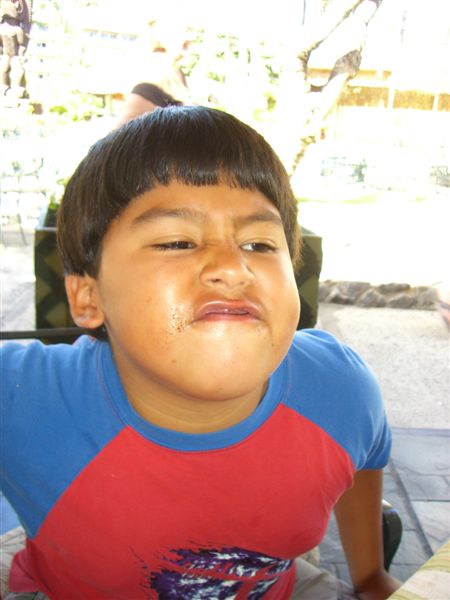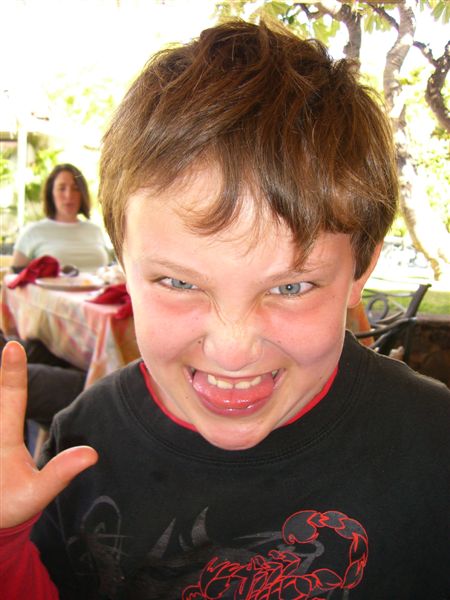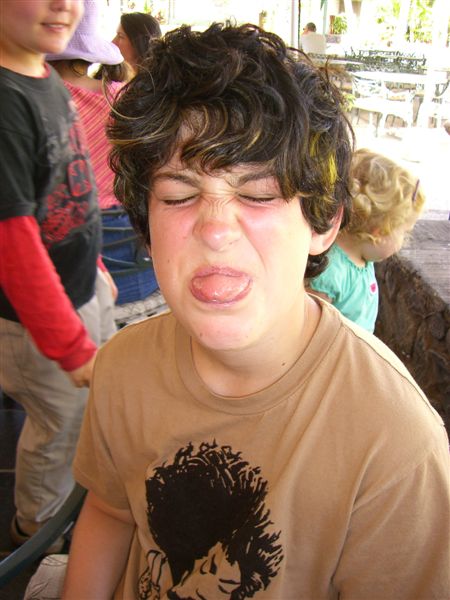 Inspired by this Hawaiian Gargoyle and Grandpa, the kids made scary faces.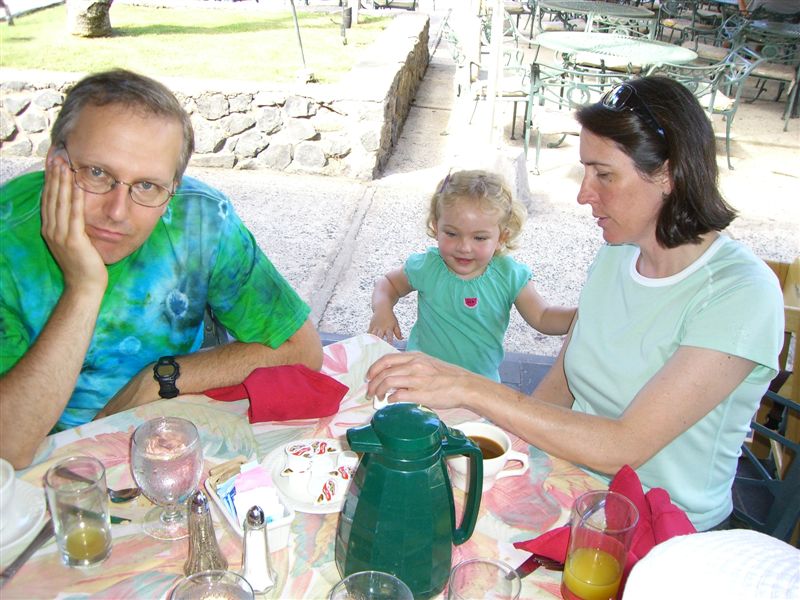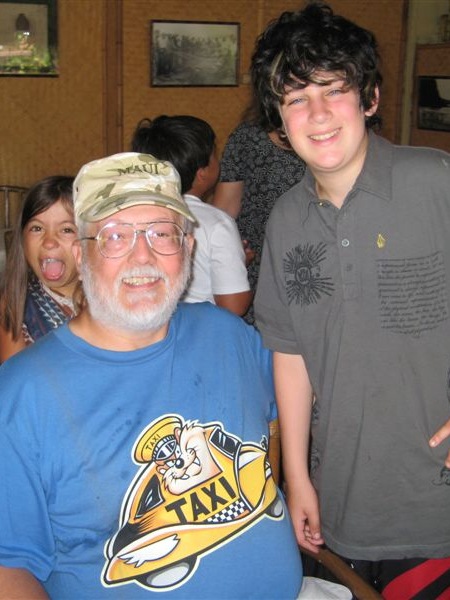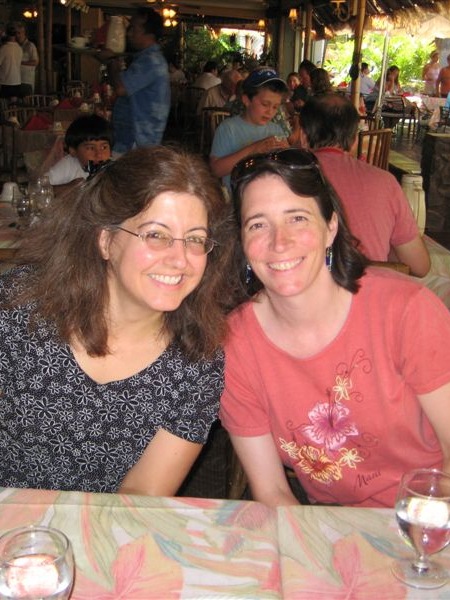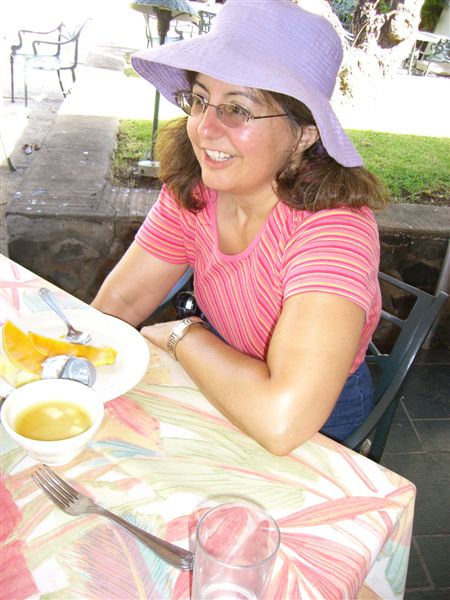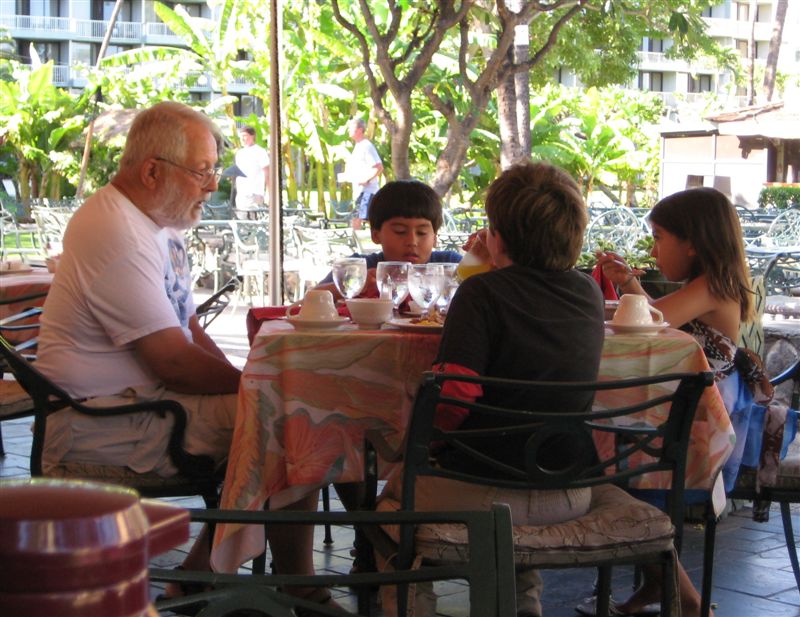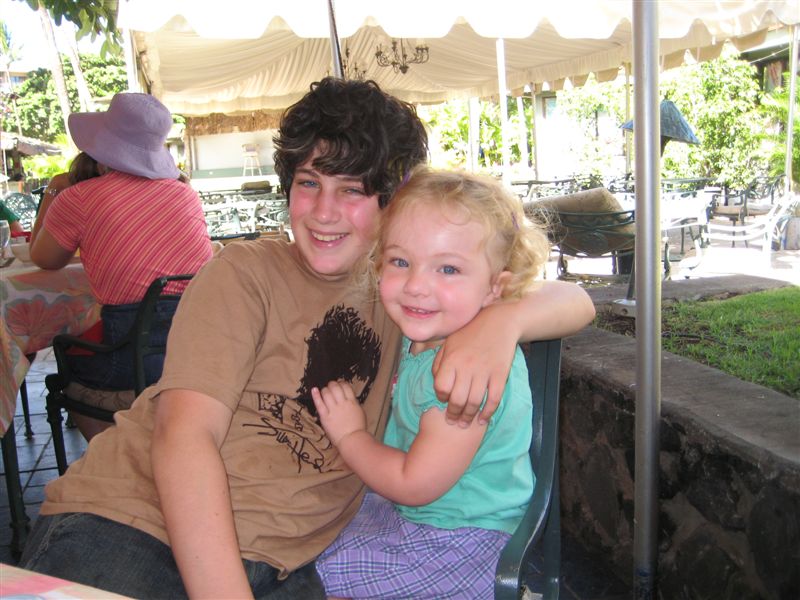 We had a delicious outdoor breakfast at the Tiki Grill with lots of fresh pineapple.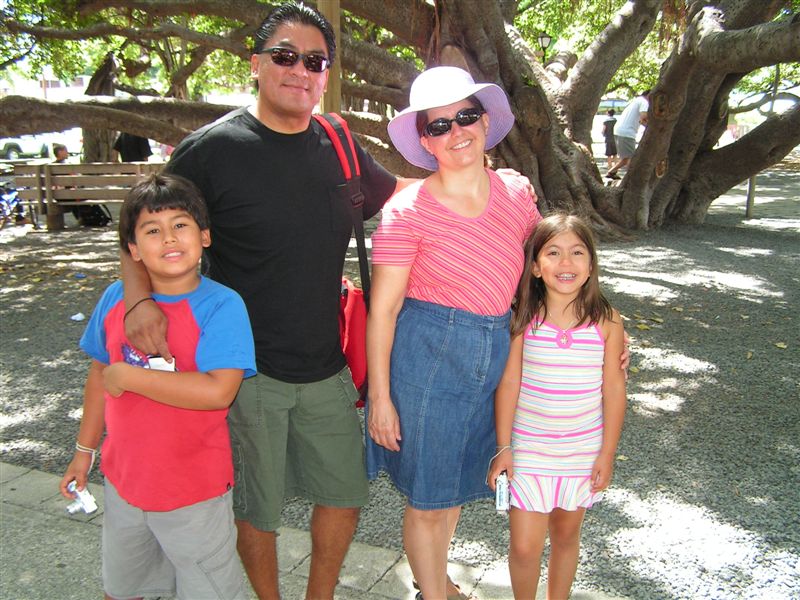 Zak, Mundo, Suzy, Sofi, under a banyan tree in Lahaina.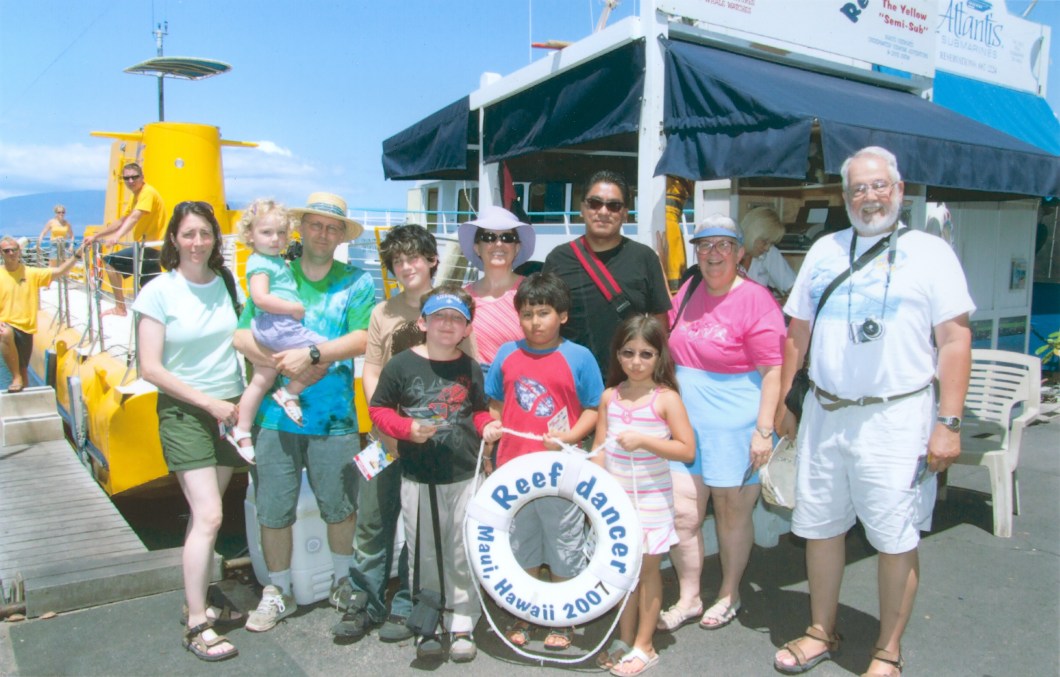 We all went out to a shallow reef in a glass-bottom boat, the Reef Dancer.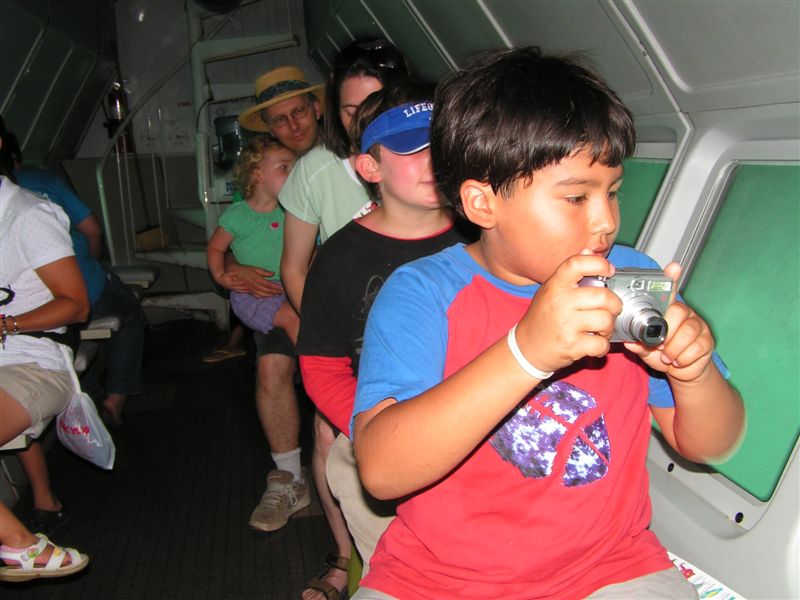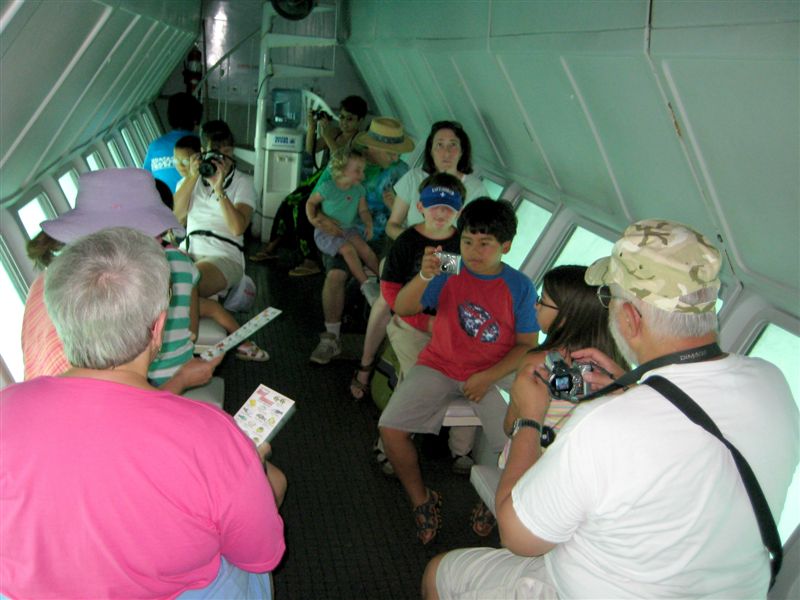 Inside the Reef Dancer. It was like being in a submarine with windows.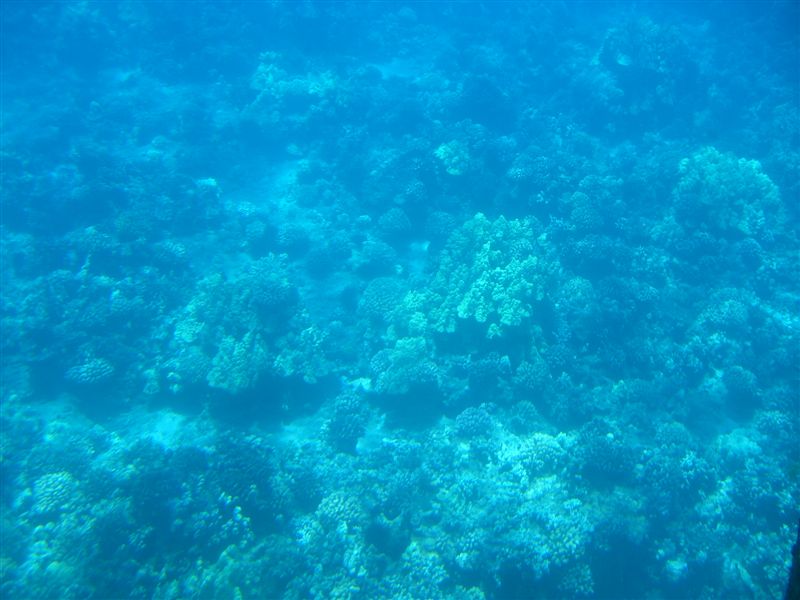 The coral reef.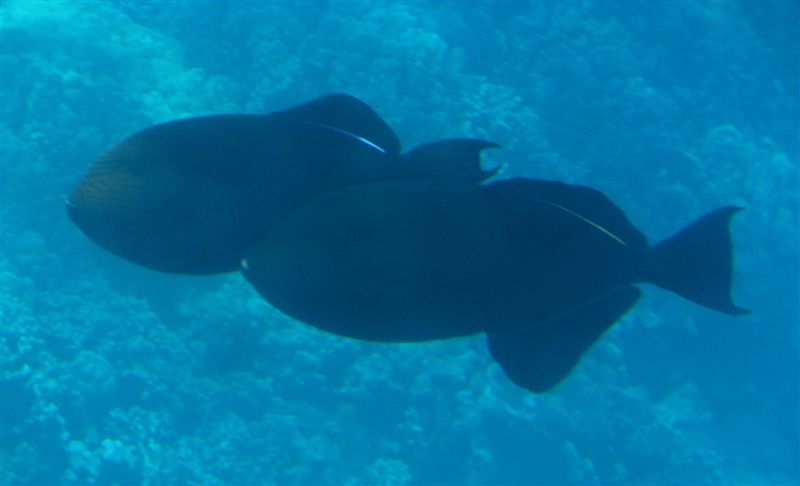 Local residents.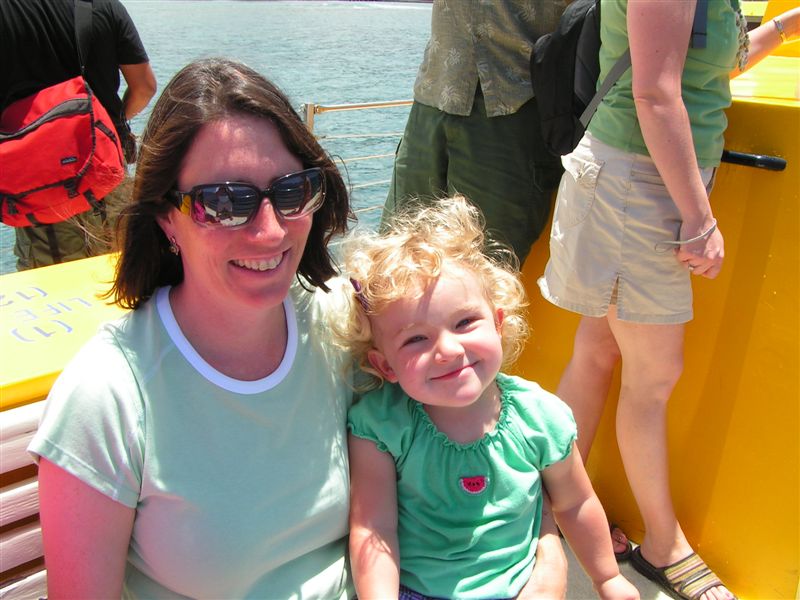 Sandra and Isabelle on the boat after viewing the reef.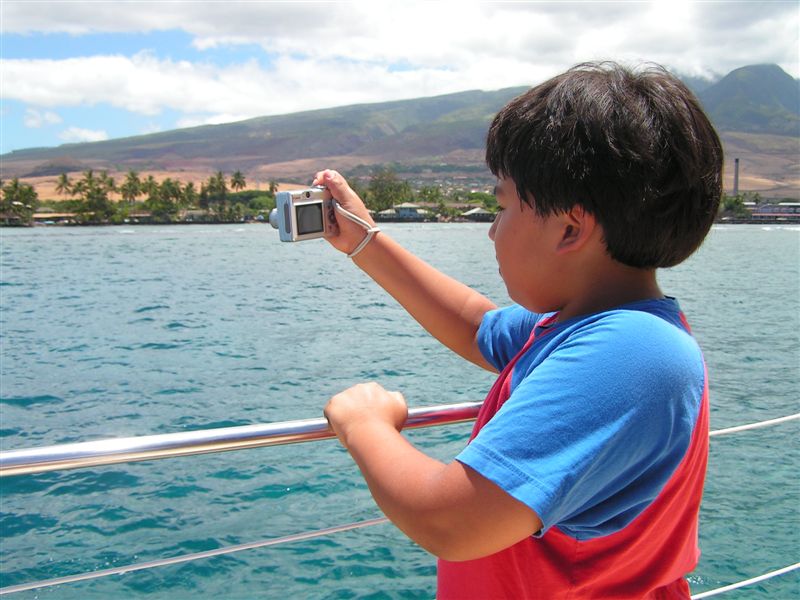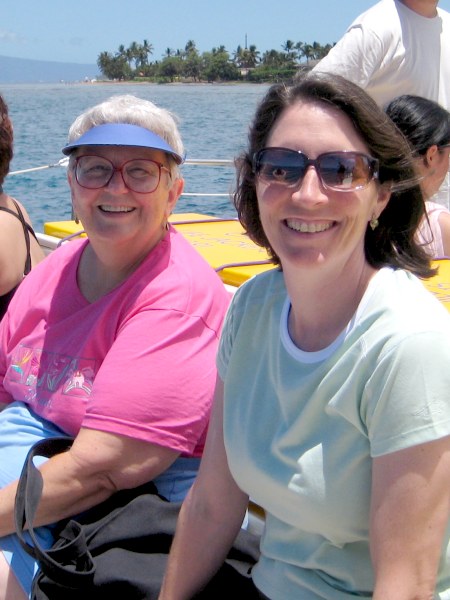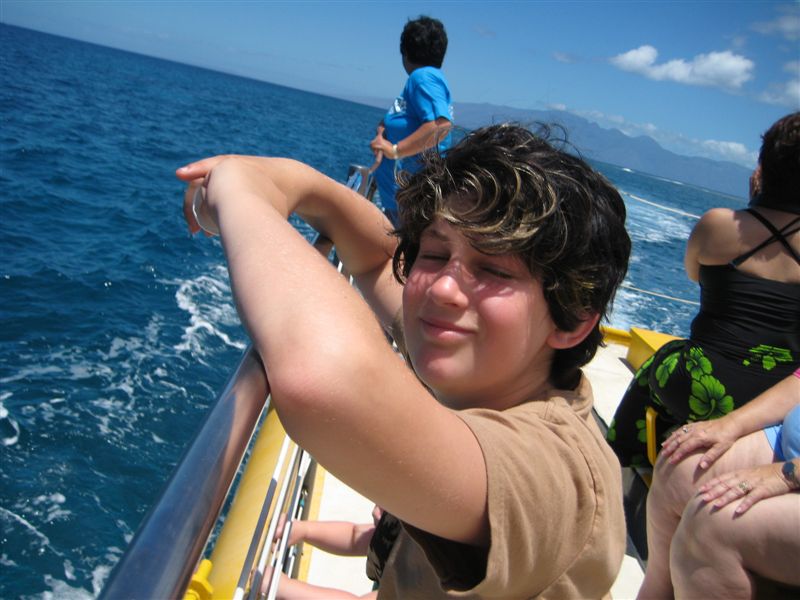 Zak, Sofi, Grammy, Sandra, and Cassidy on the deck of the Reef Dancer.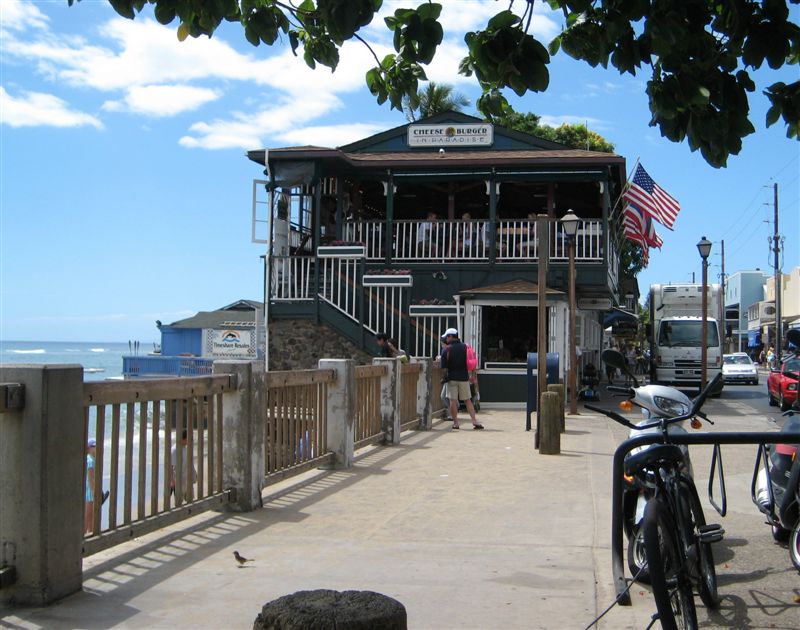 The semi-world-famous Cheeseburger in Paradise restaurant in Lahaina. We had lunch there after the ride on the Reef Dancer.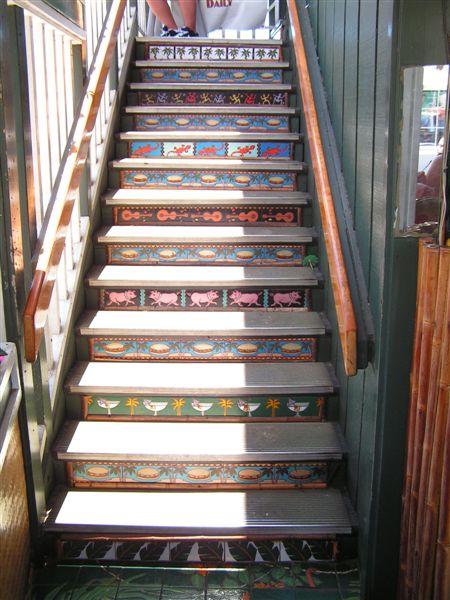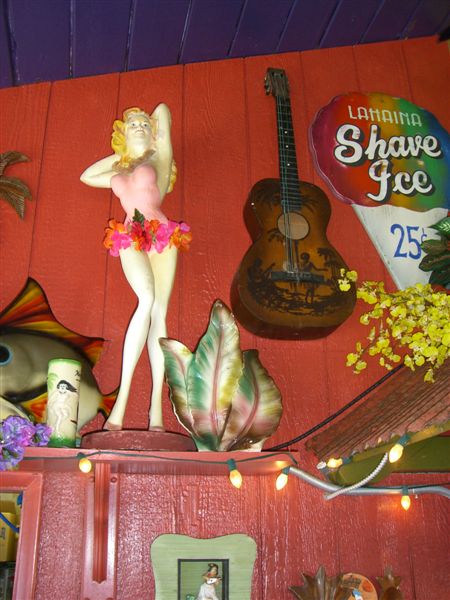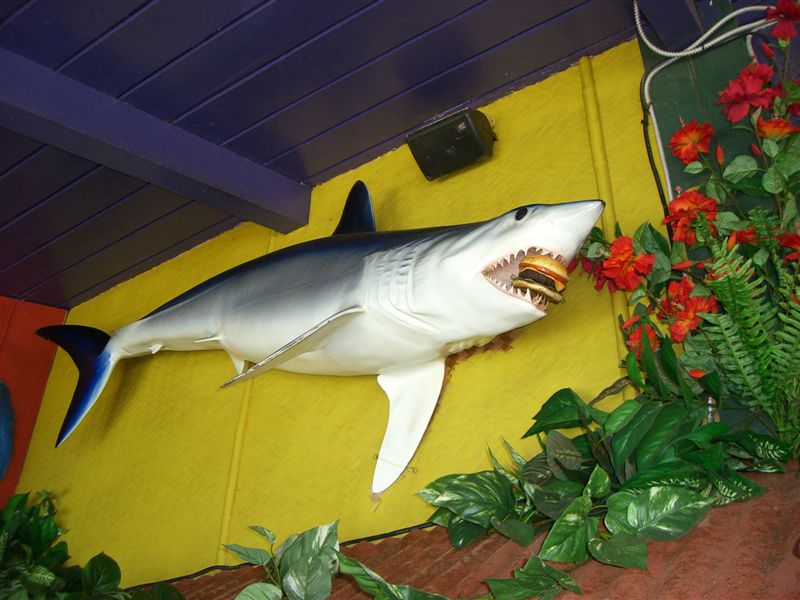 Decor at Cheeseburger in Paradise.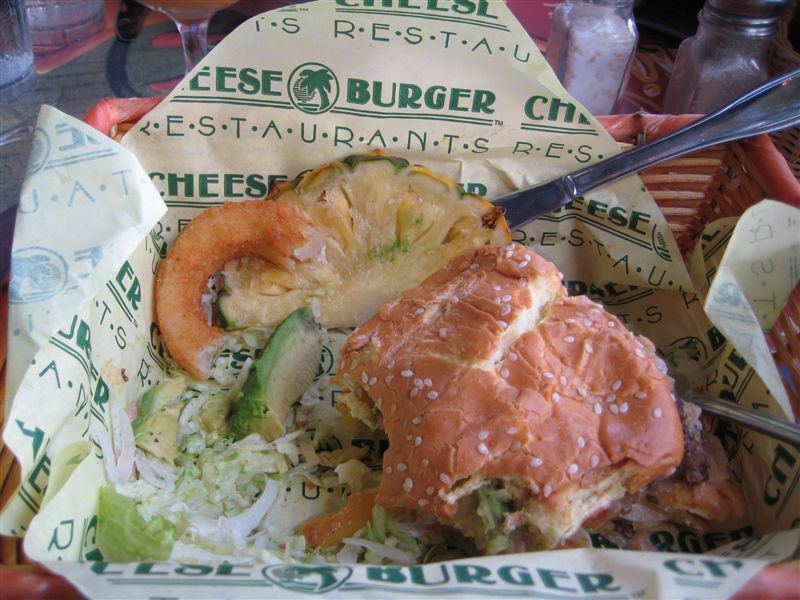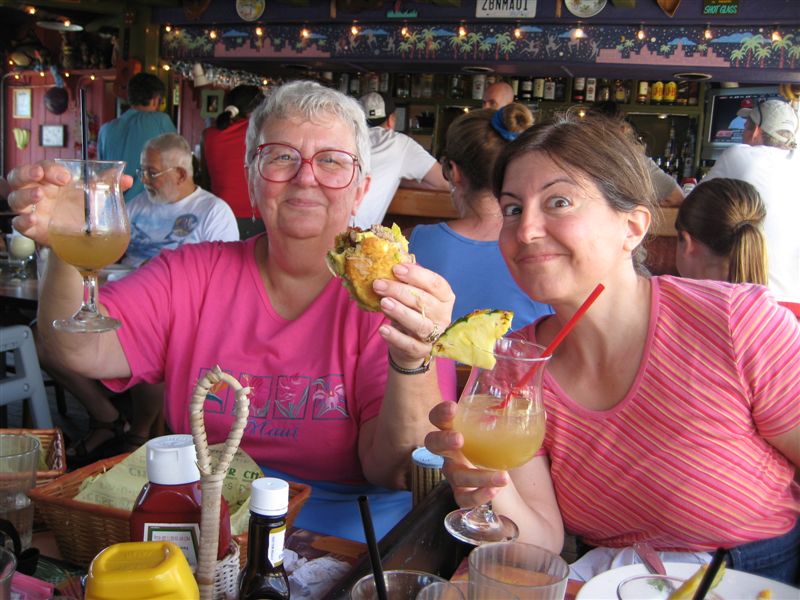 Grammy and Suzy enjoy cheeseburgers with pineapple, and Mai Tai's. You can see Grandpa in the background.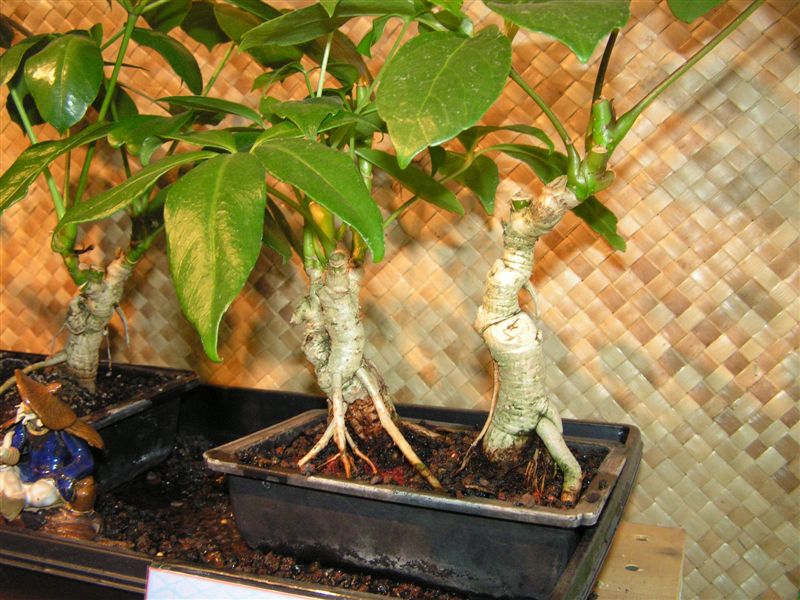 Later we Visited Dan's Greenhouse in Lahaina. They actually have plants there, but...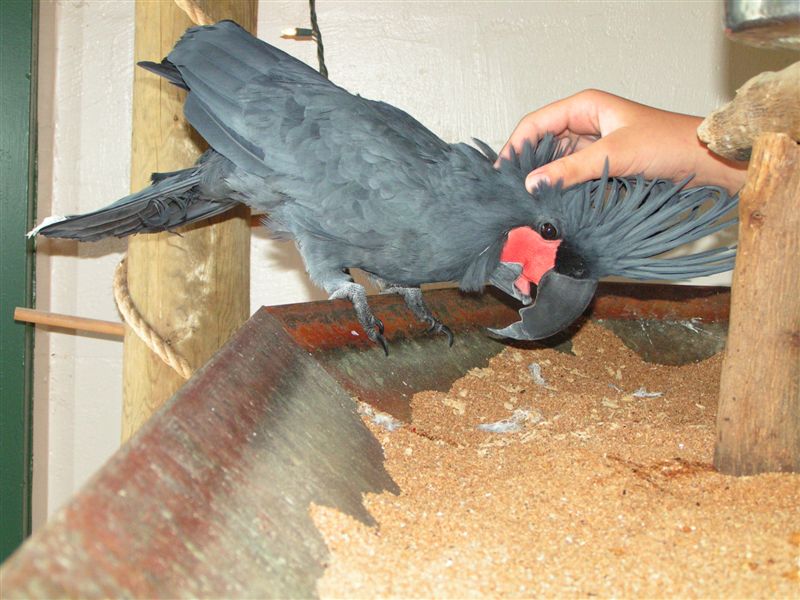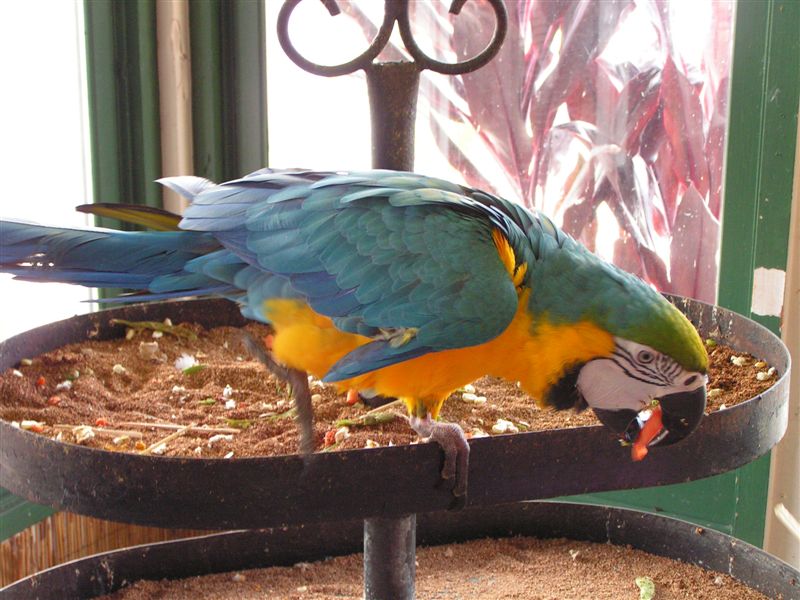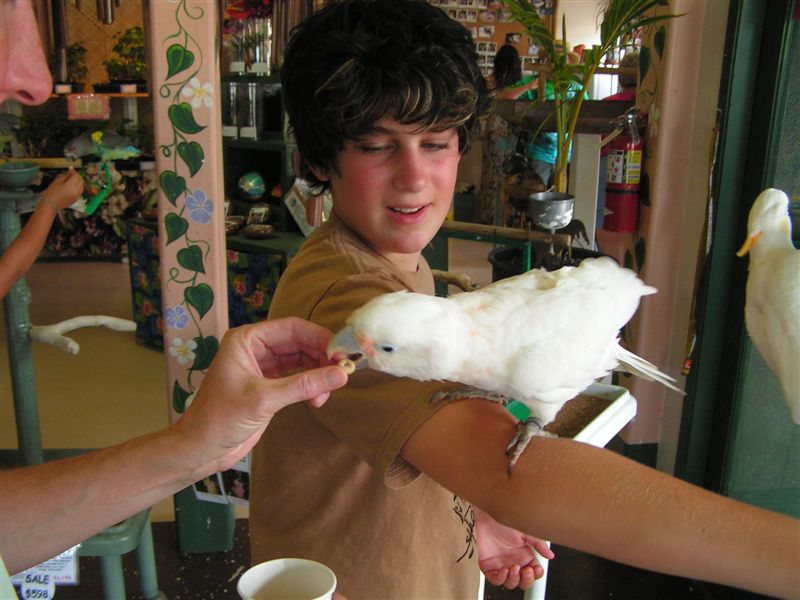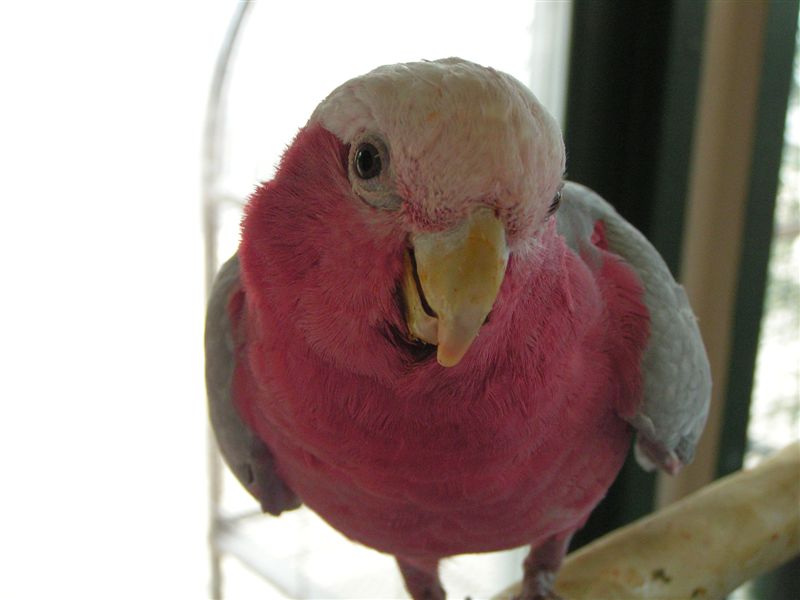 ...we went to see the parrots. The manager gave us flowers for the ladies...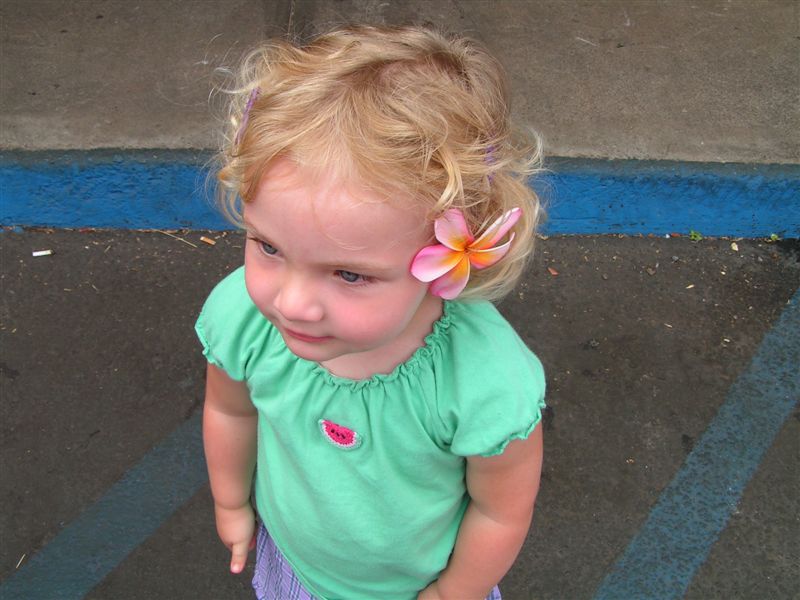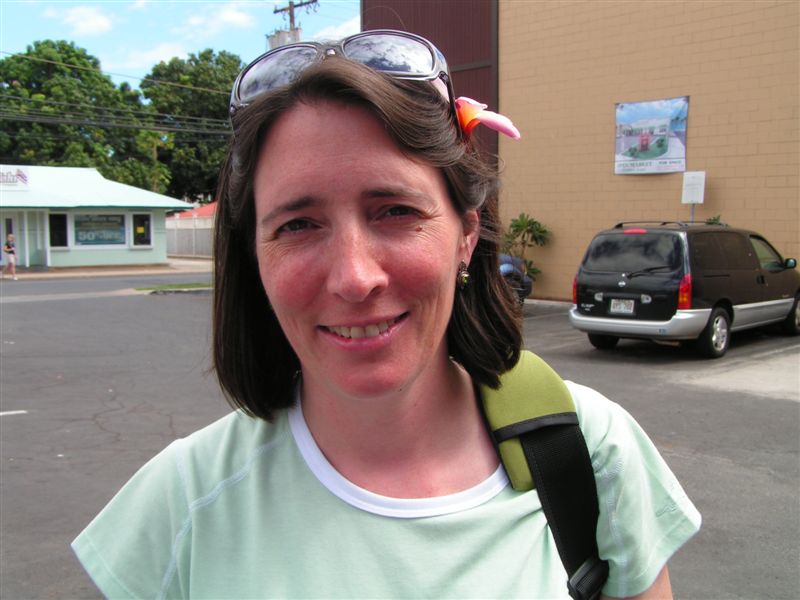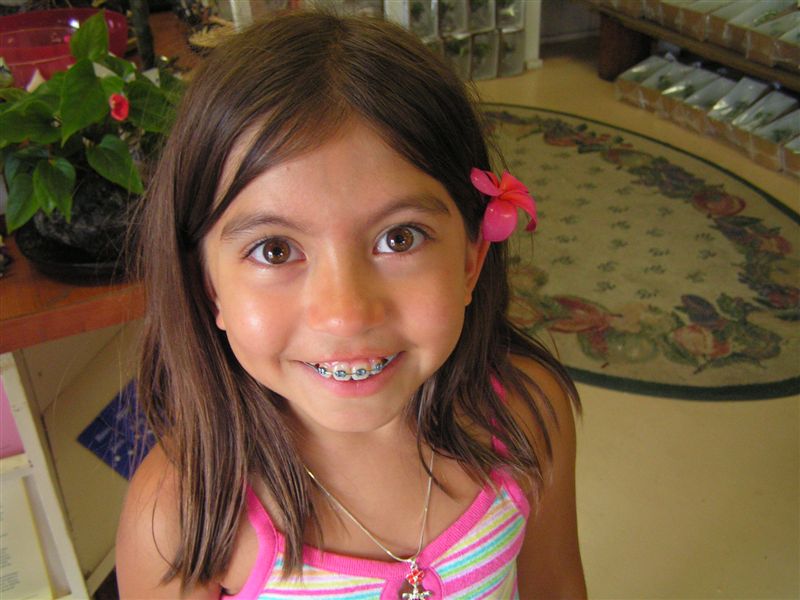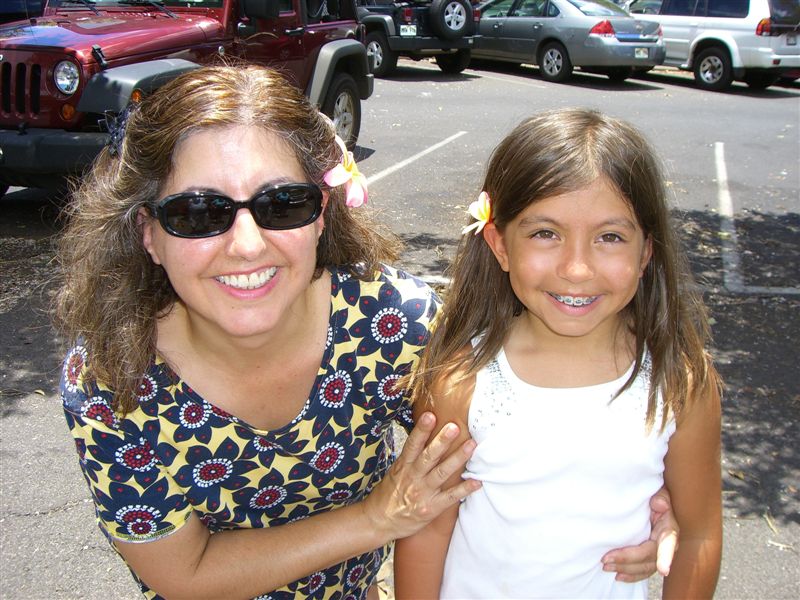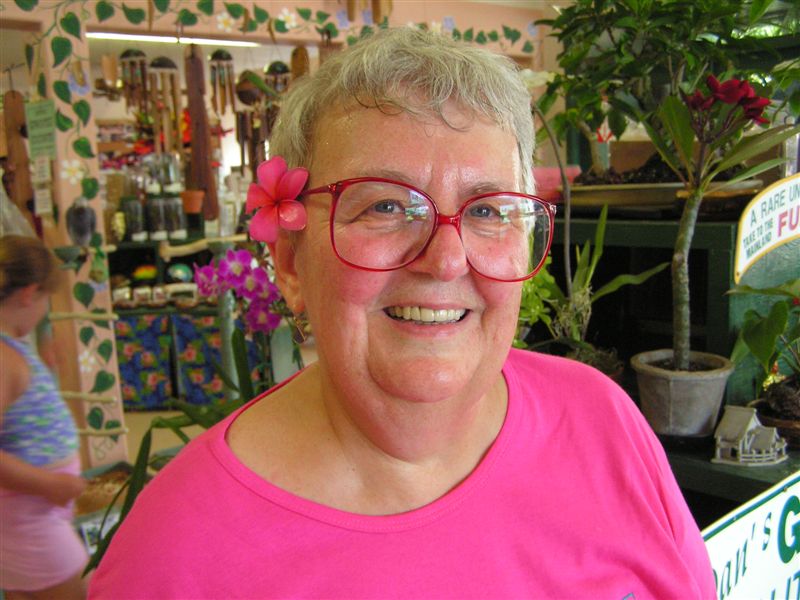 ...which they put in their hair.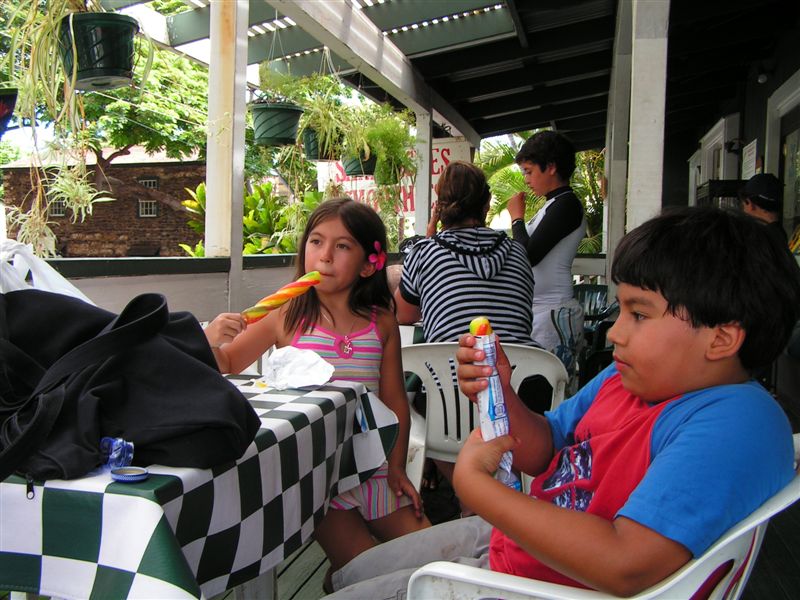 After the parrots some of us went for popsicles at a nice little indoor-outdoor grocery store.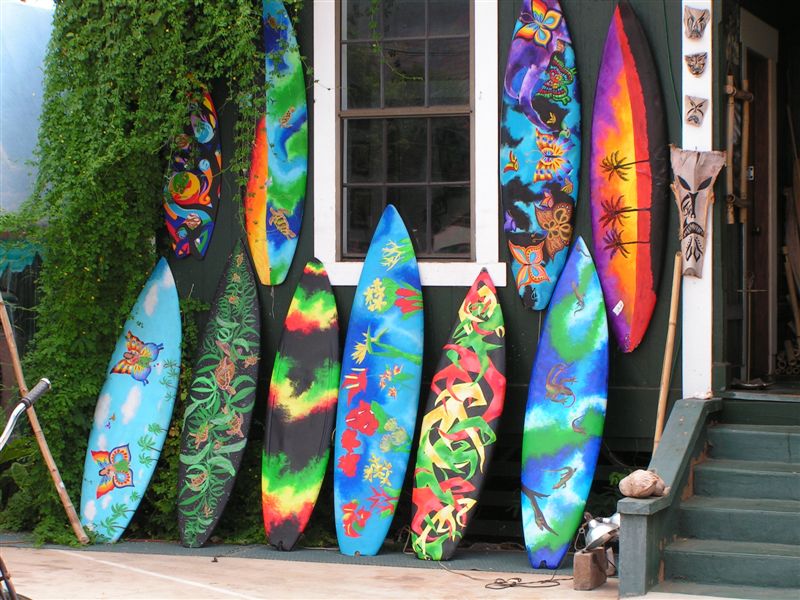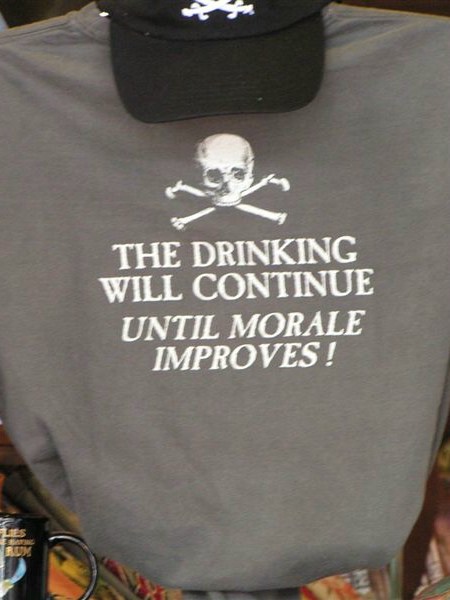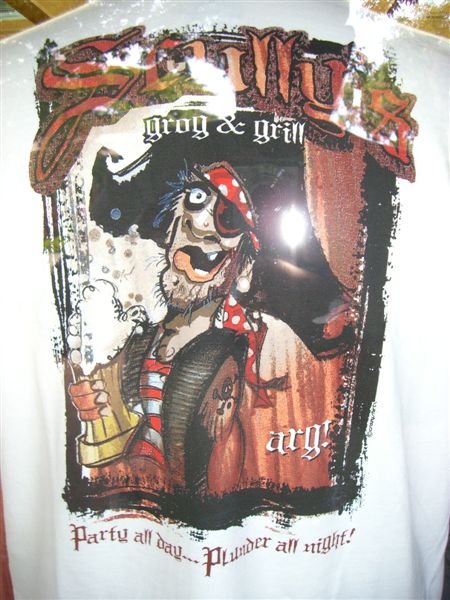 It was in a colorful part of Lahaina with high morale.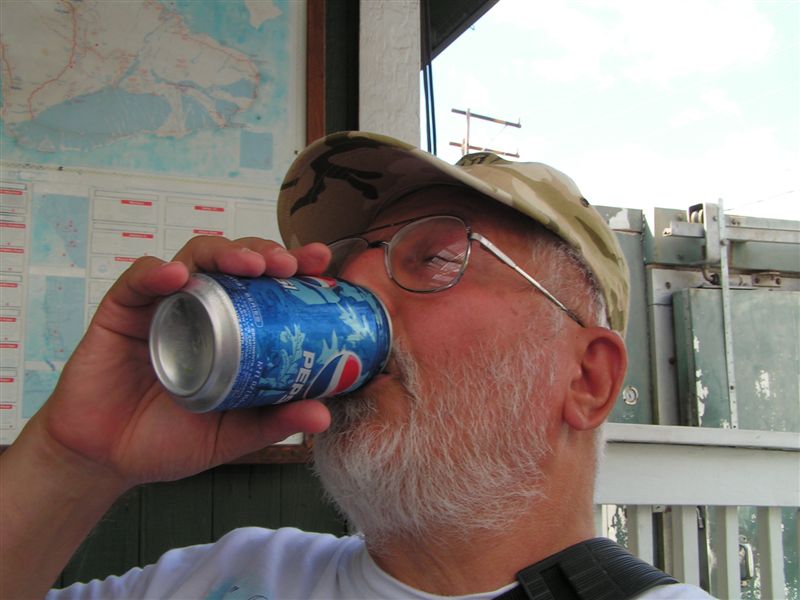 Did we mention that the weather was warm and humid? Grandpa consumed lots of refreshment.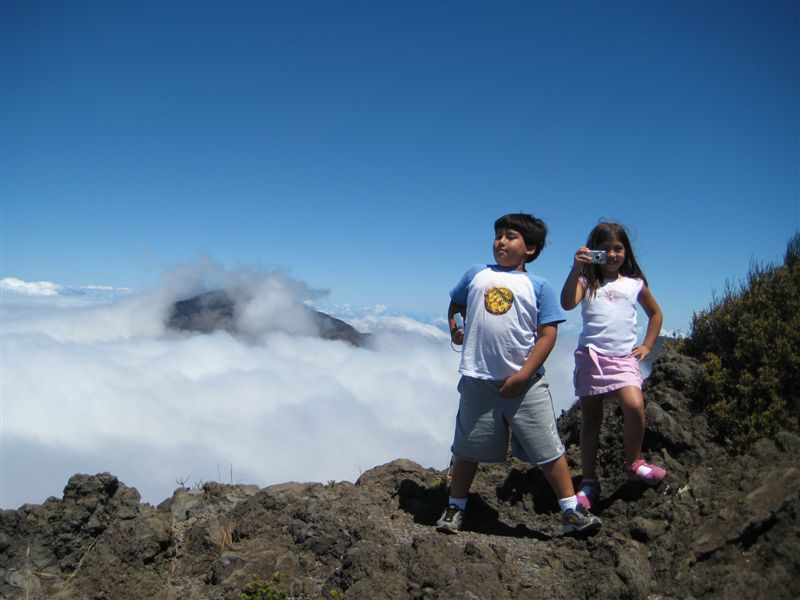 The next day we visited the Haleakala volcano, 10,000 feet up and above the clouds. The high altitude didn't slow down the kids.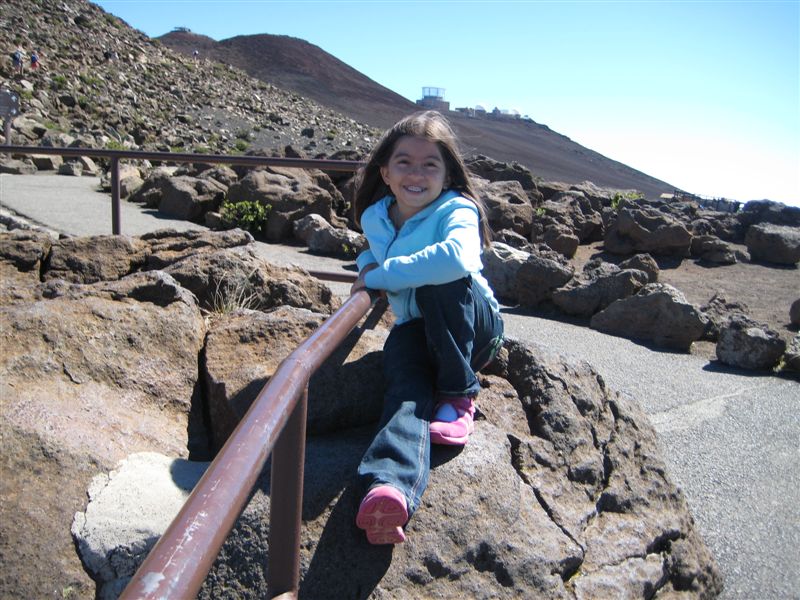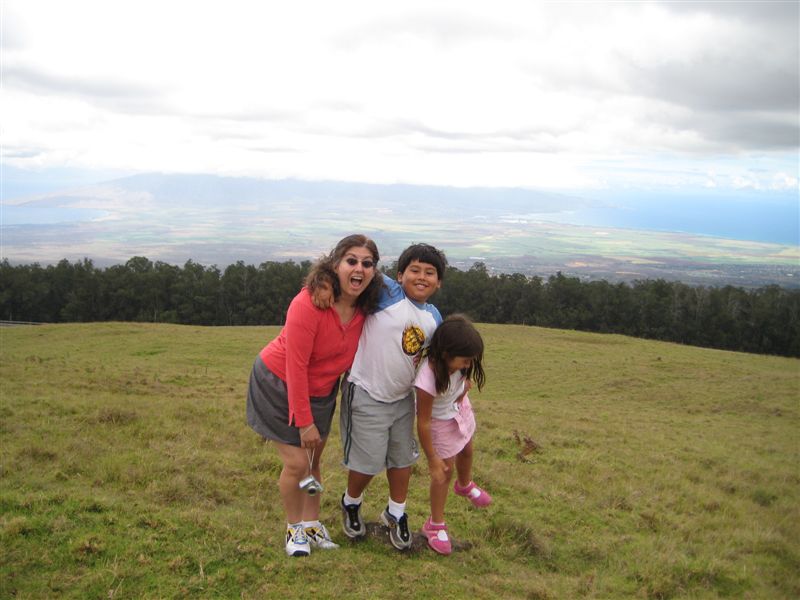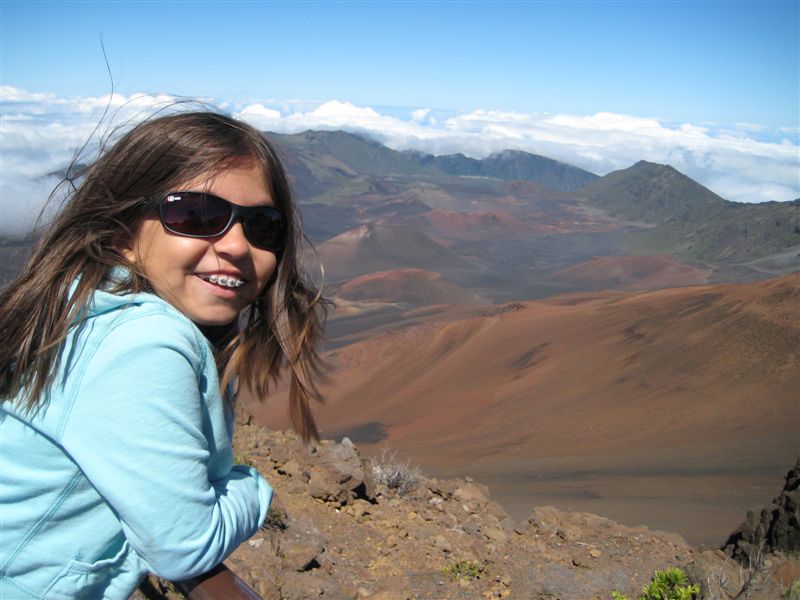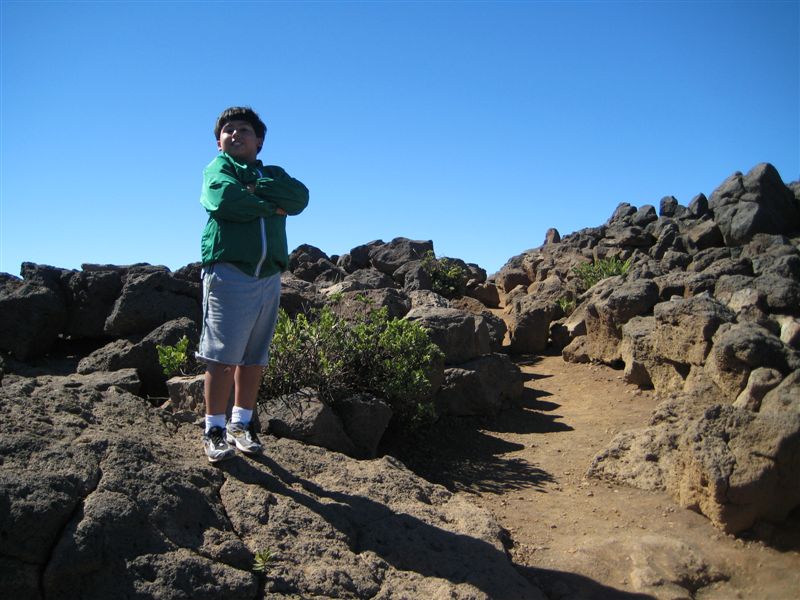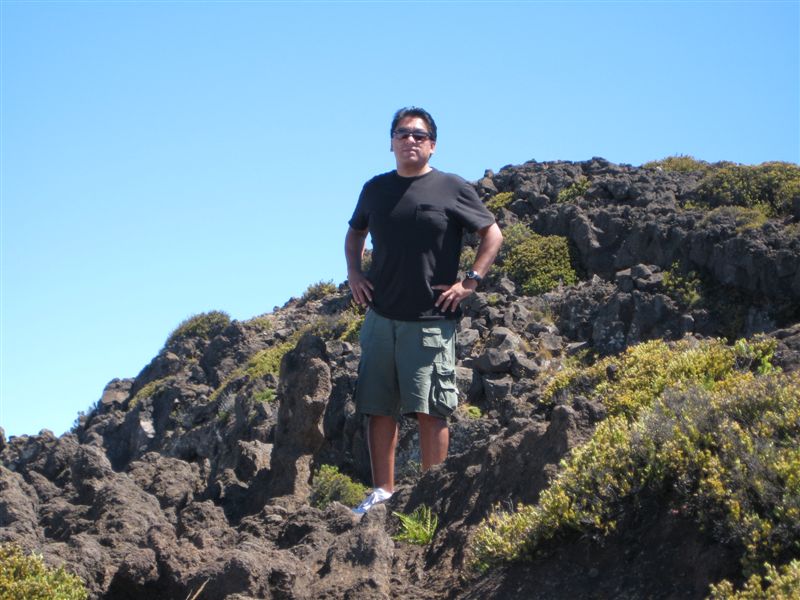 The Suzys at the volcano.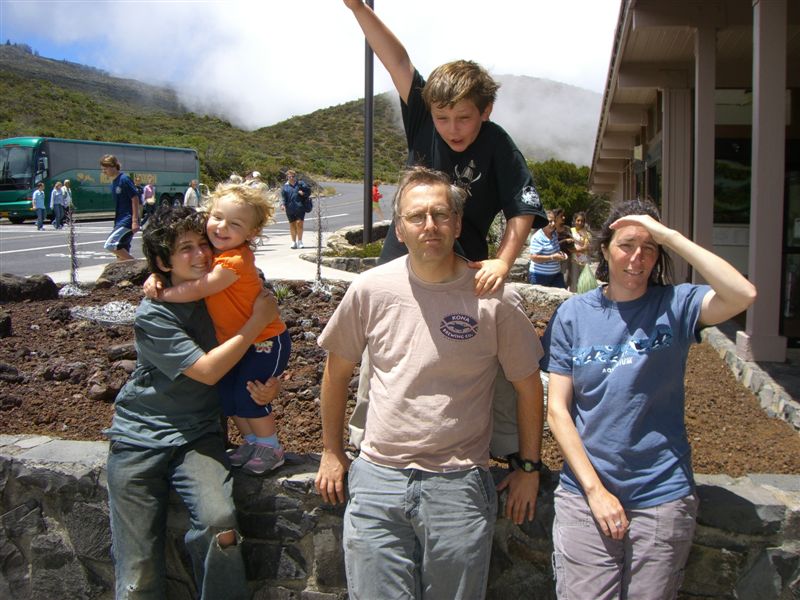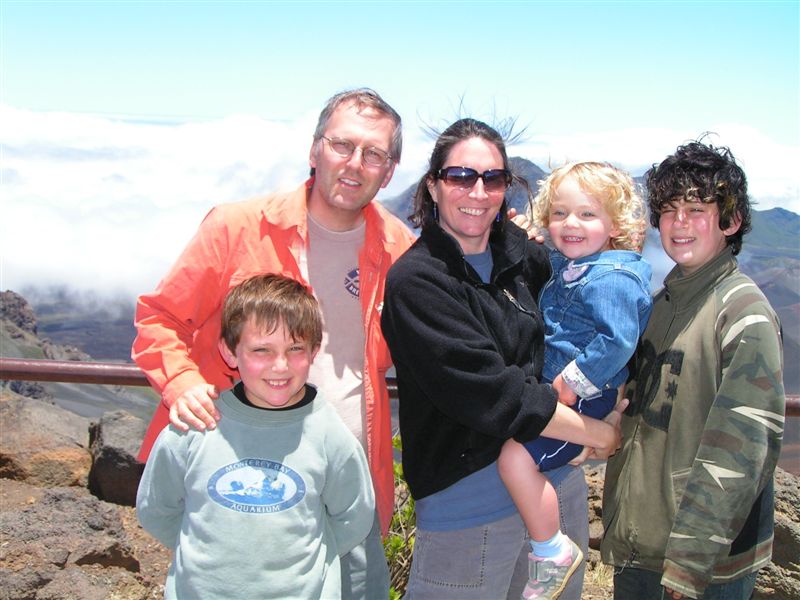 The Erics were also unfazed by the high altitude.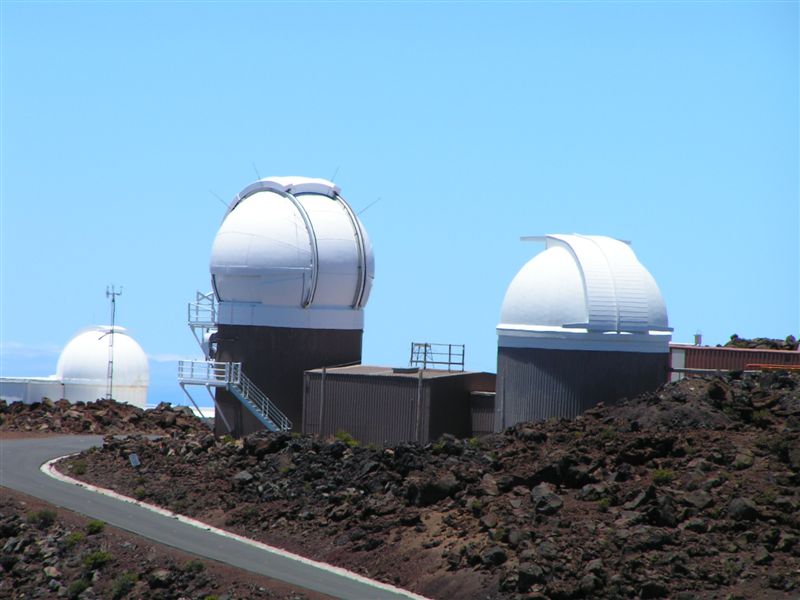 There is a major astronomical observatory at Haleakala to take advantage of the clear air and absence of light pollution.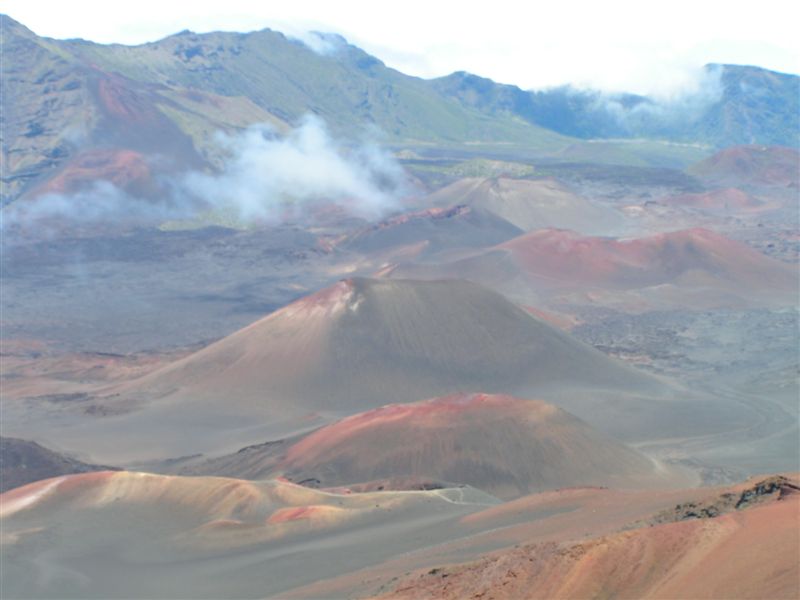 This is the interior of the crater, dormant, for now...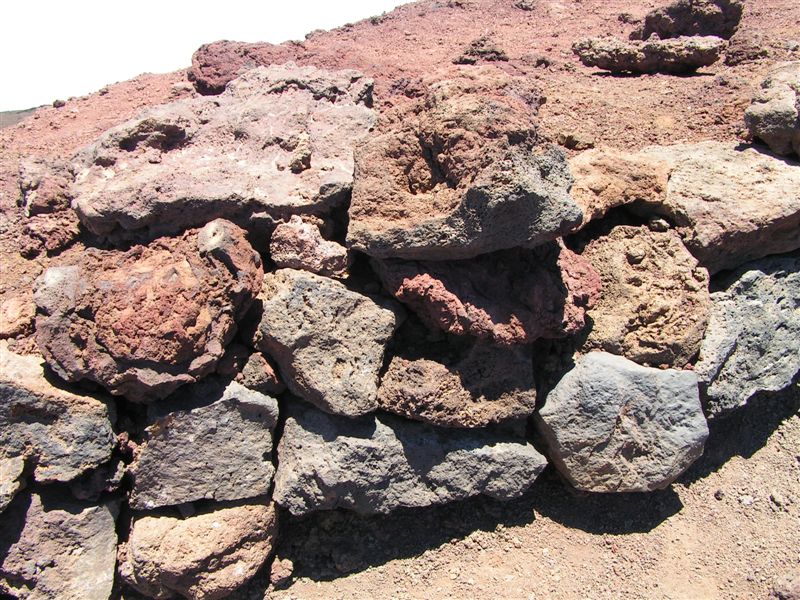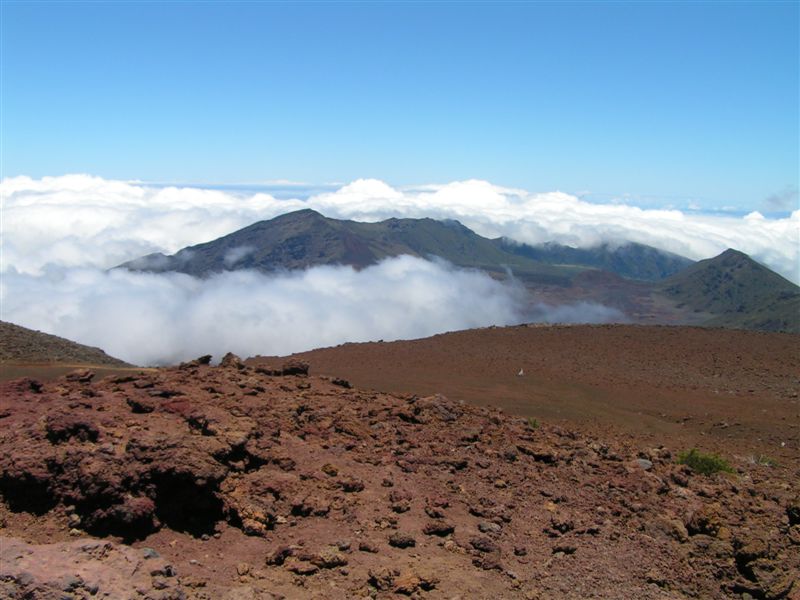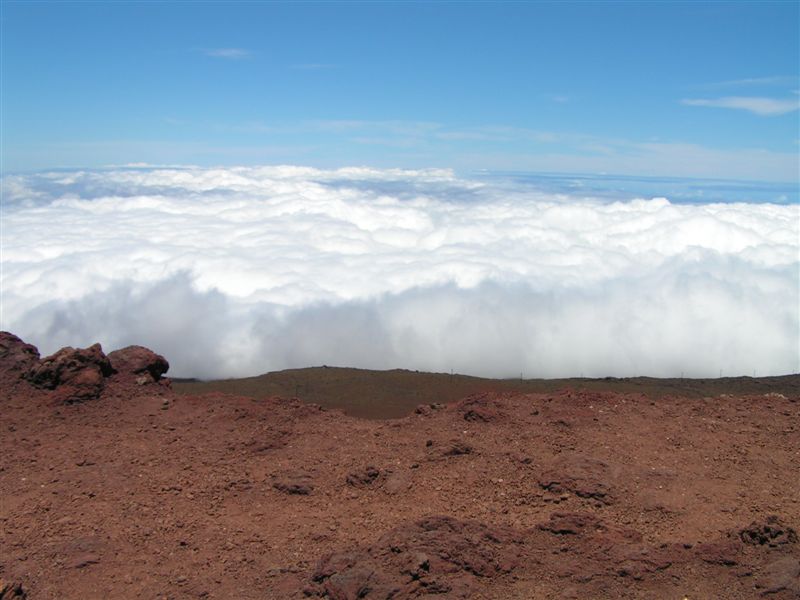 Other views, including individual volcanic rocks and The Sea of Clouds. At times you can see cloud waves slowly breaking on the shore.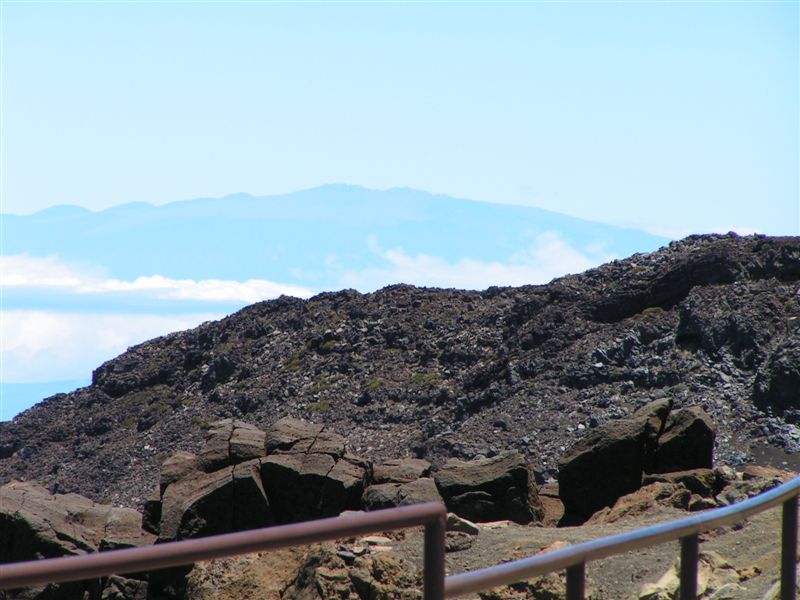 The mountain in the distance is a volcano on the big Island of Hawaii, 100 miles away.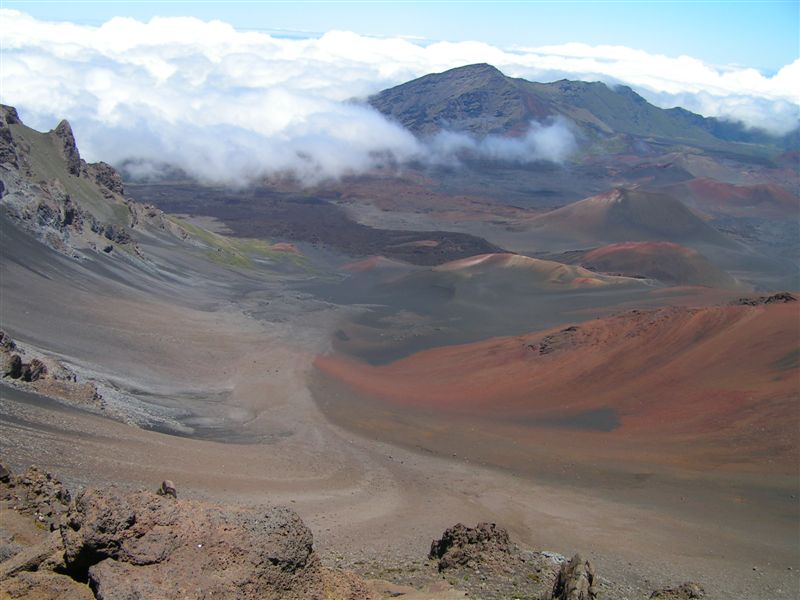 Path of the lava river, several thousand years ago. The rim of the crater is at left.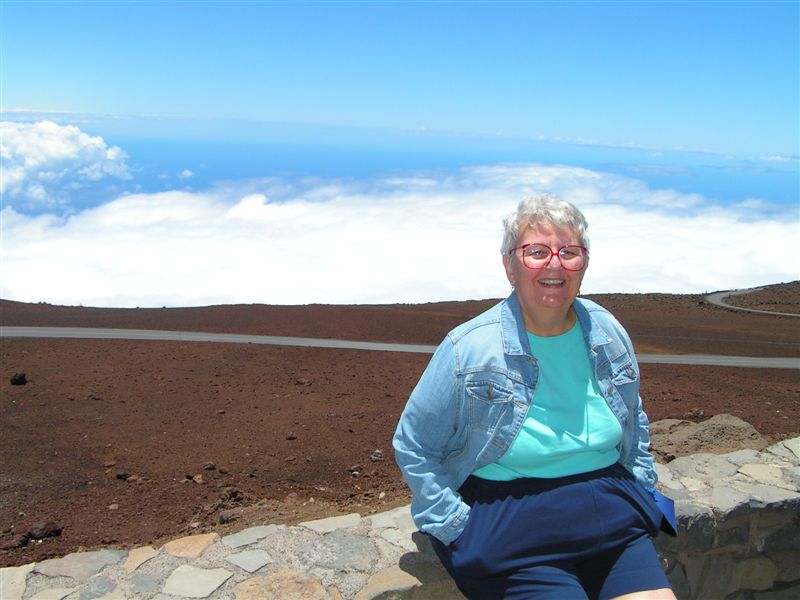 Grammy well above The Sea of Clouds.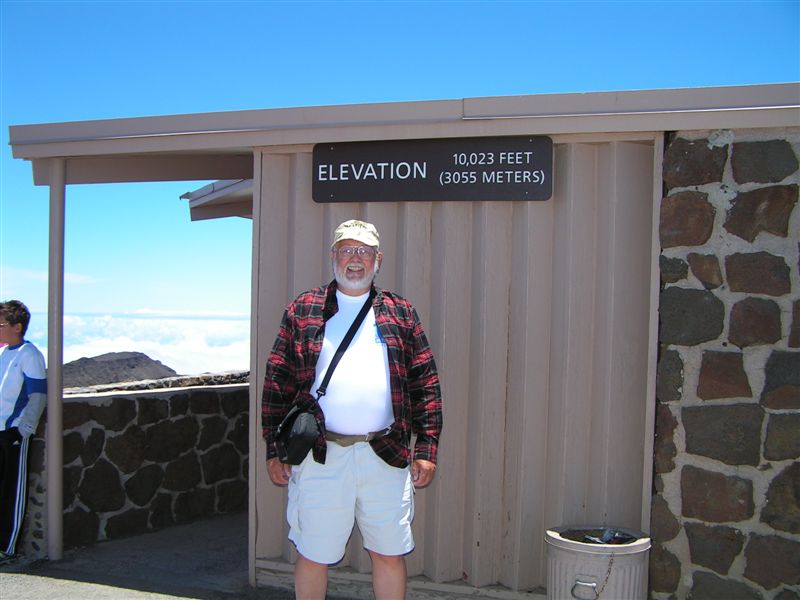 Grandpa with a flannel shirt from a local K-Mart, purchased on the thought that it would be cold at 10,000 feet.
As it turned out, it was almost unnecessary.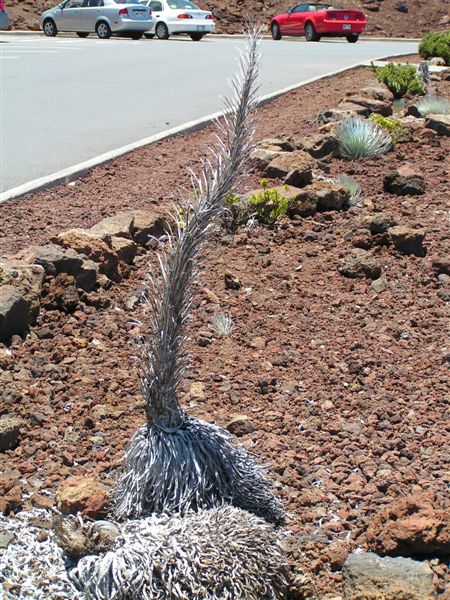 Tail of the Haleakala Volcano Monster as it quickly burrows into the ground.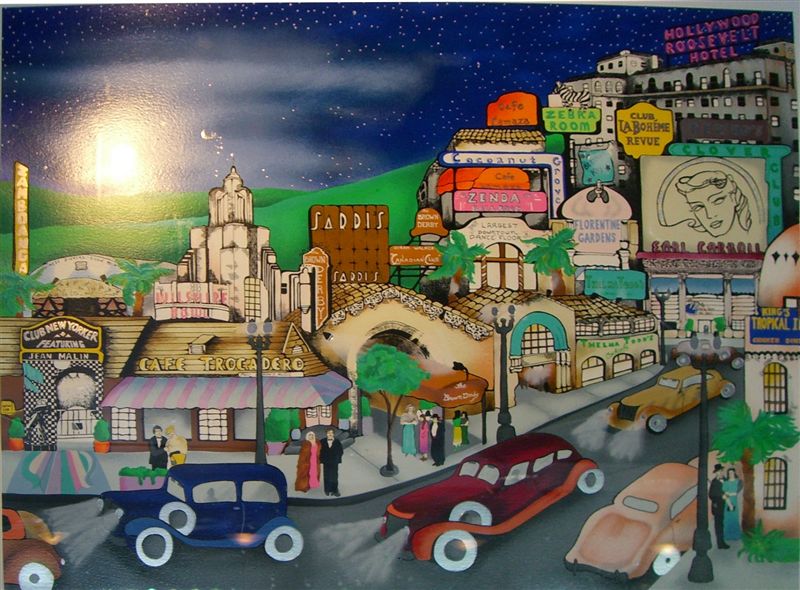 On the way back we stopped at a restaurant in Kahului and had excellent cheeseburgers. Grandpa liked the decor.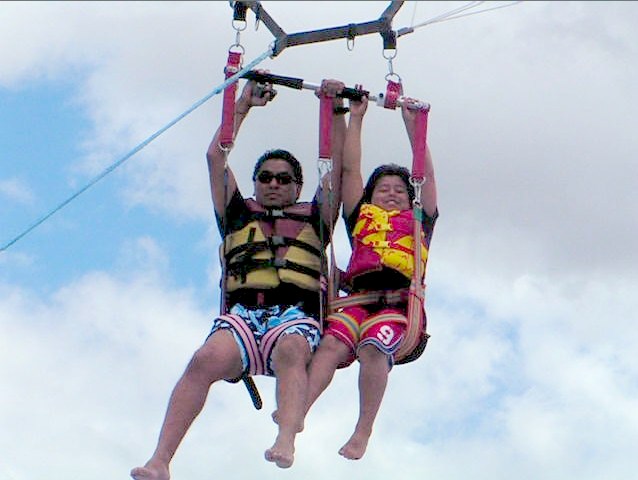 The next day some of us went parasailing. Mundo and Zak went up first.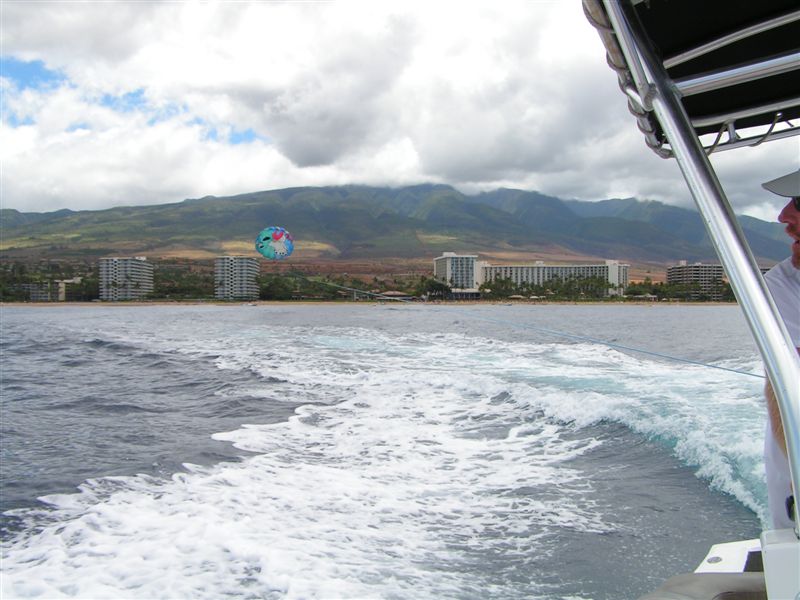 This is what it looks like from the boat, only usually the parasail was higher. The boat operator liked to get each rider's
feet just a little wet for an extra thrill. It worked.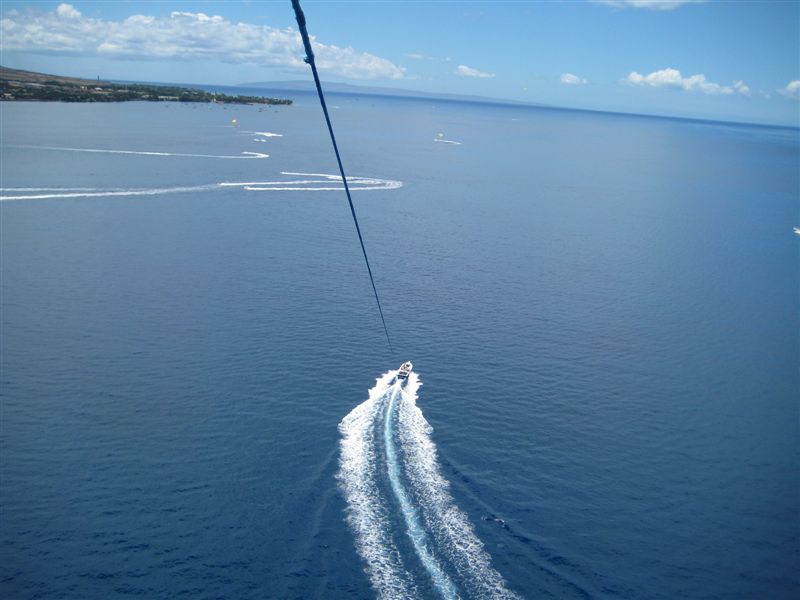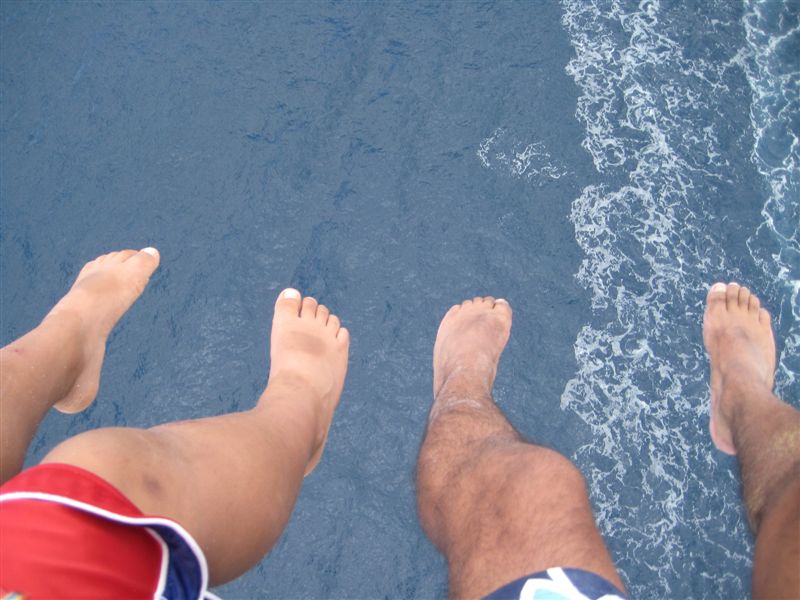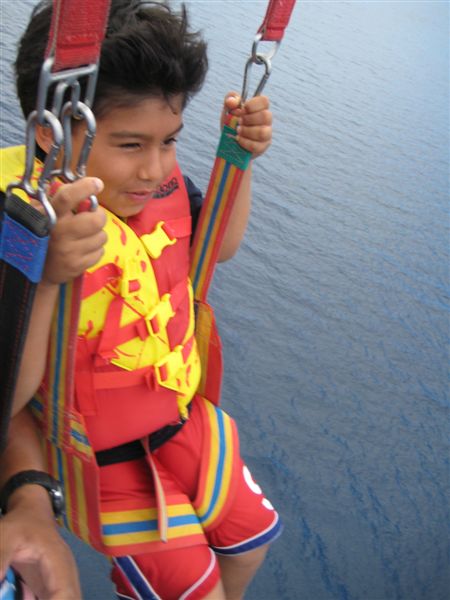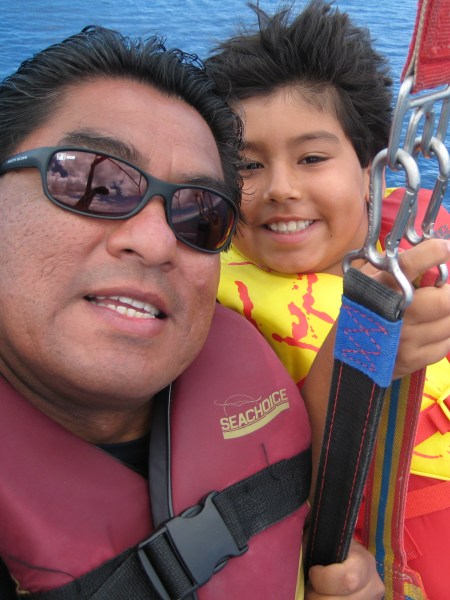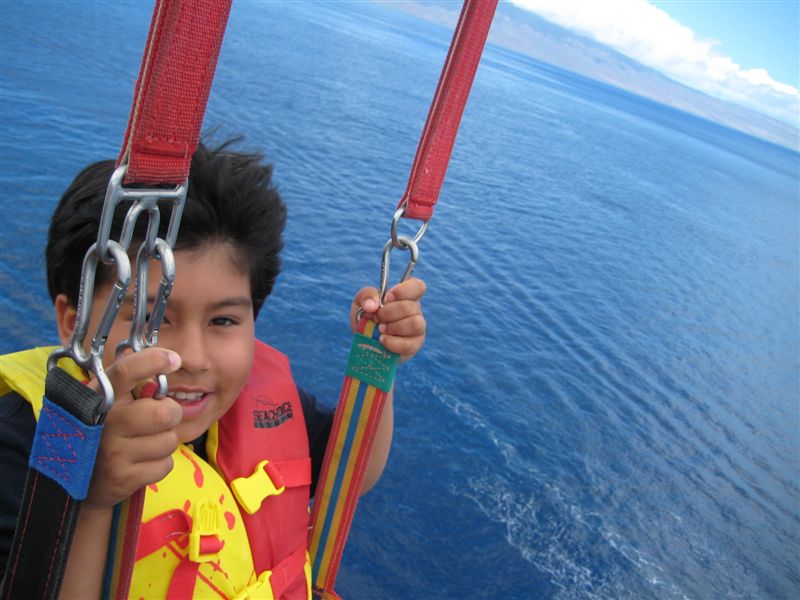 This is what it looked like from the parasail. Ever see a happier kid? (Zak enjoyed it too.)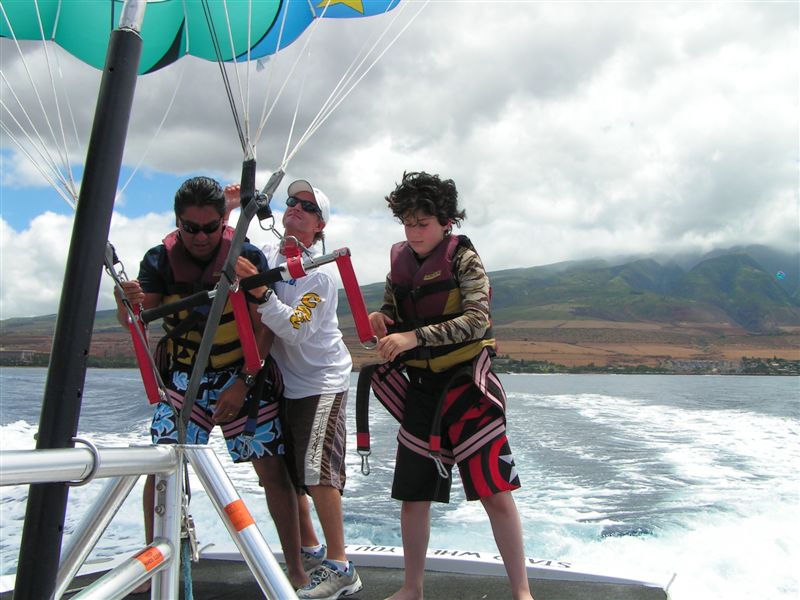 Mundo & Cassidy get into parasail harness.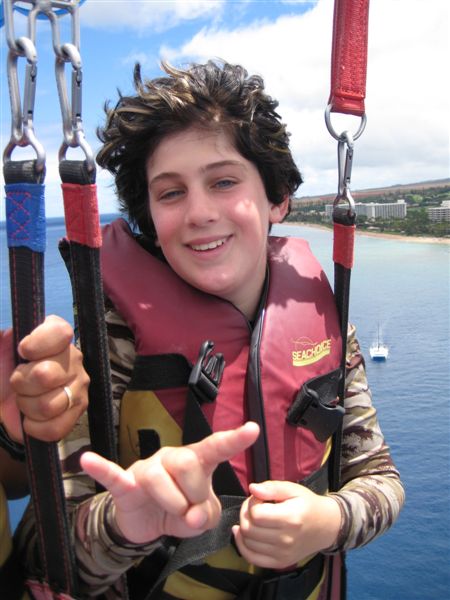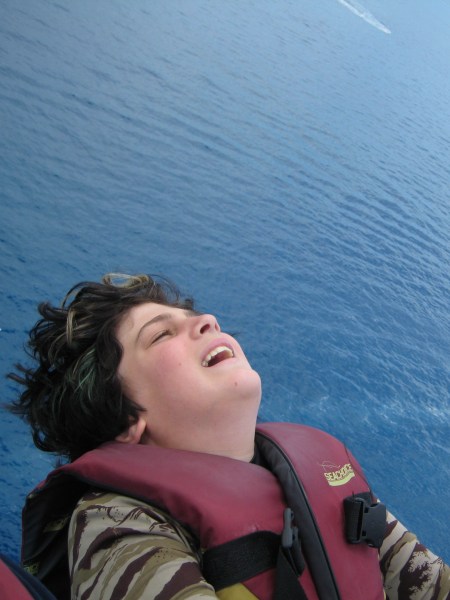 Cassidy flashes the Hawaiian "OK" sign. At one point he said, "Who says I can't fly?"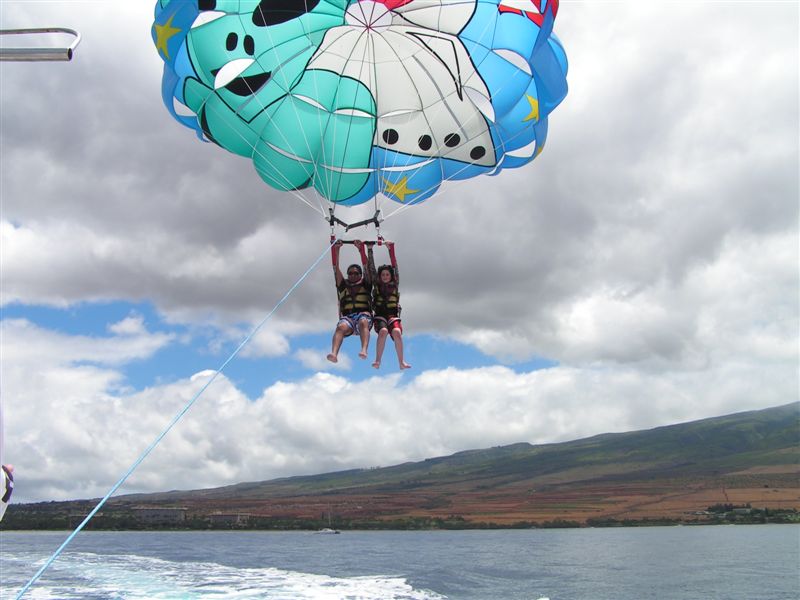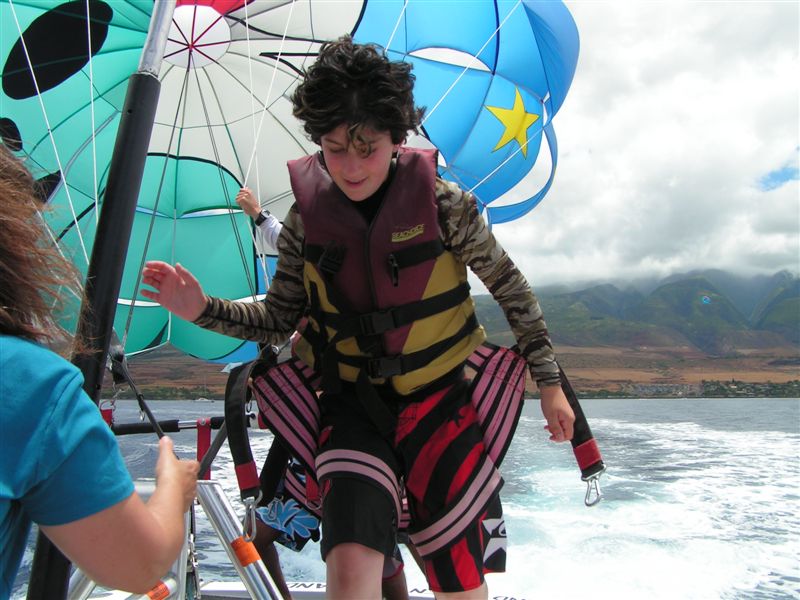 Cassidy enjoyed the ride.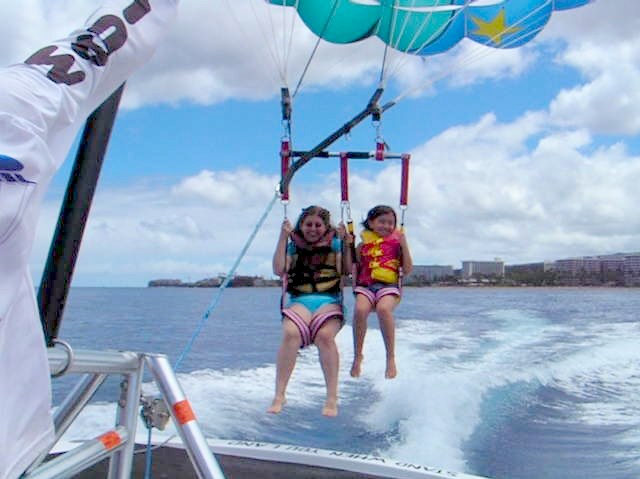 Suzy went up with Sofi.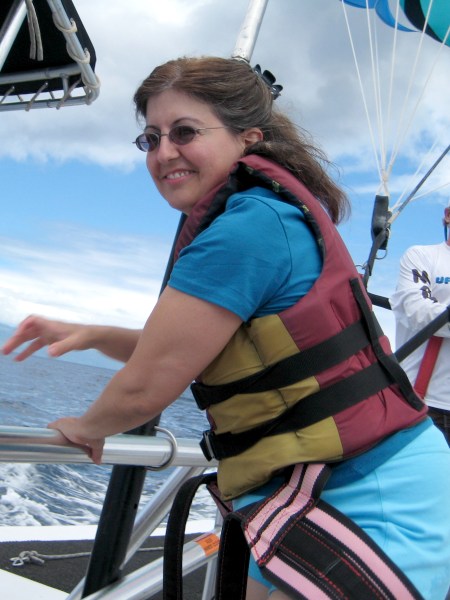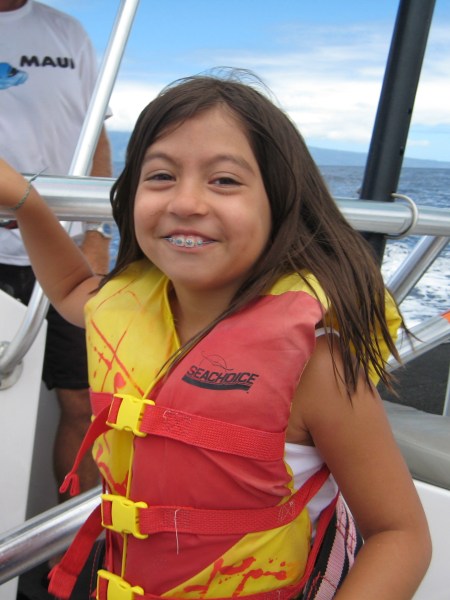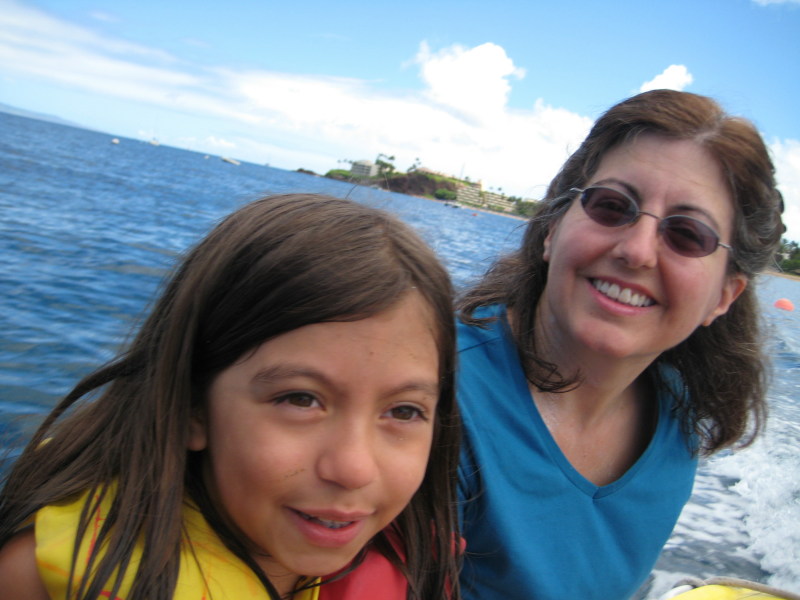 Suzy and Sofi after parasailing.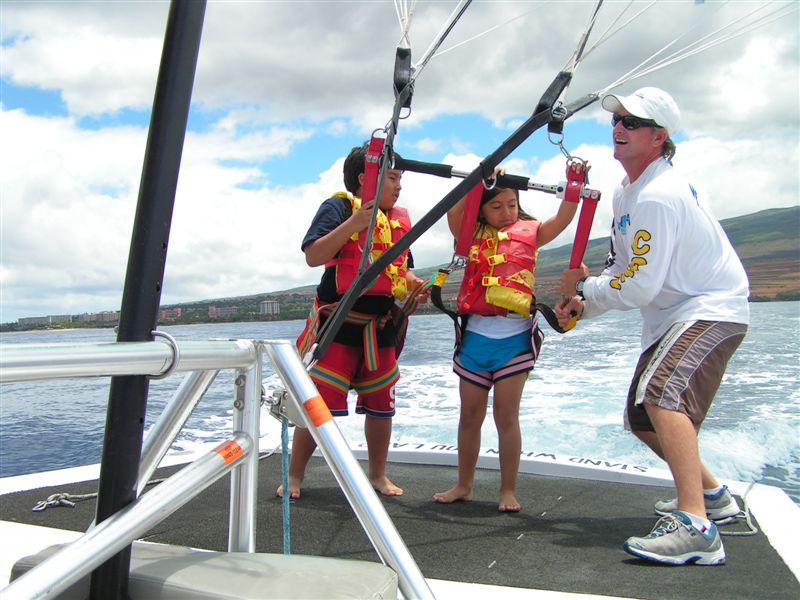 Then Zak and Sofi went up by themselves!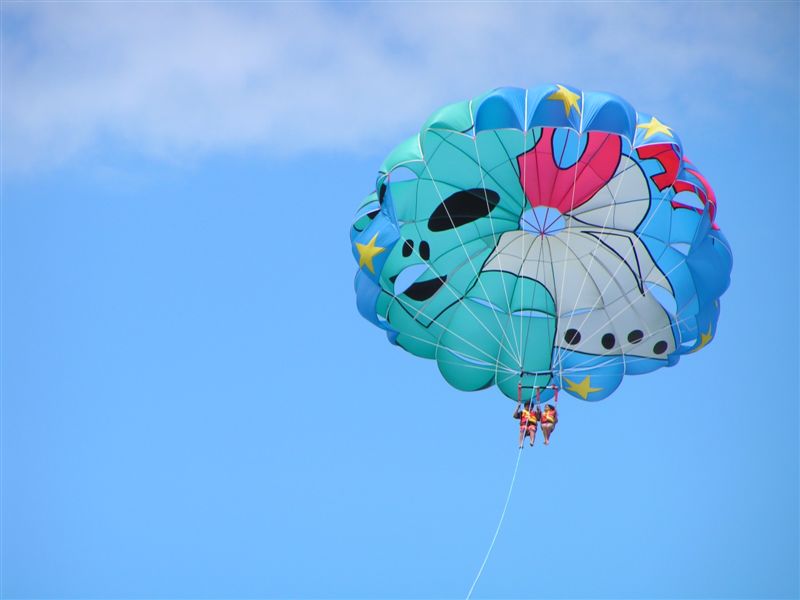 Here they are, high in the parasail.
Would you like to see a video of the parasailing?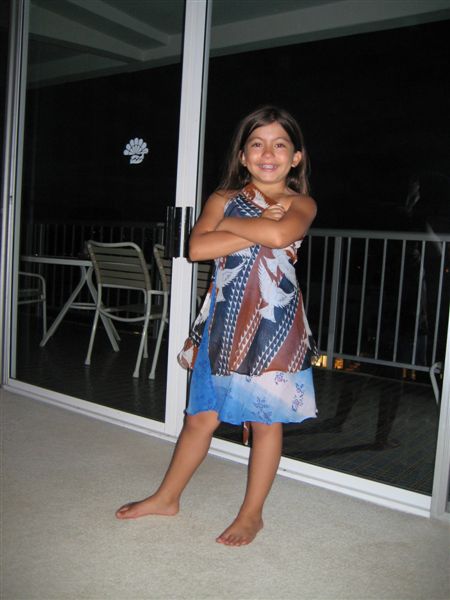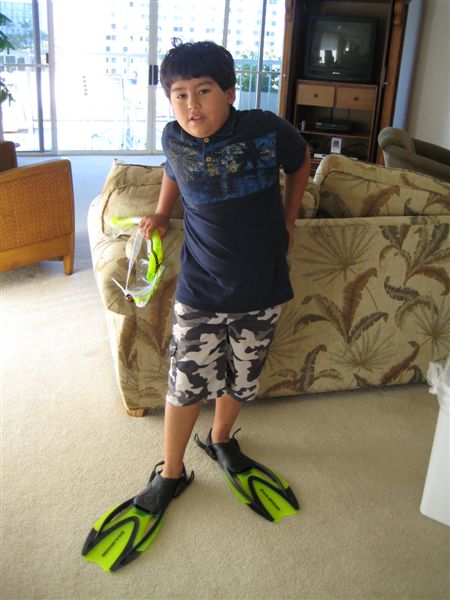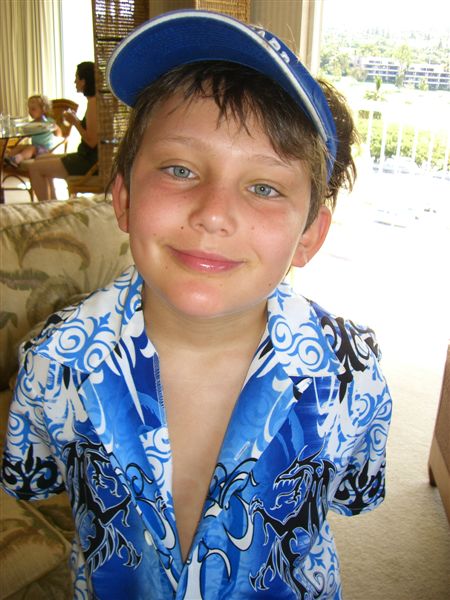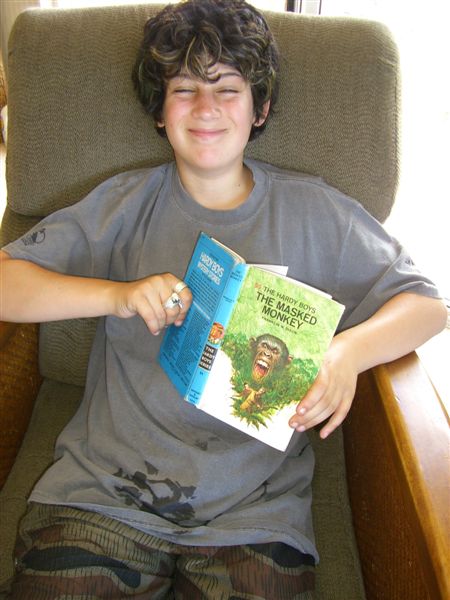 Kids in their Hawaiian attire. For some it is more a state of mind than a form of dress.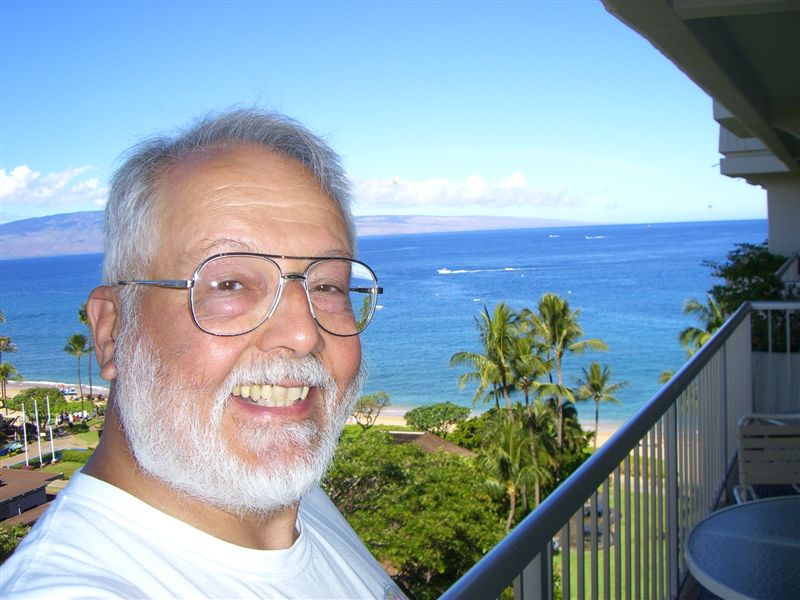 We had breakfast at the Suzy's condo. This is a view from their terrace.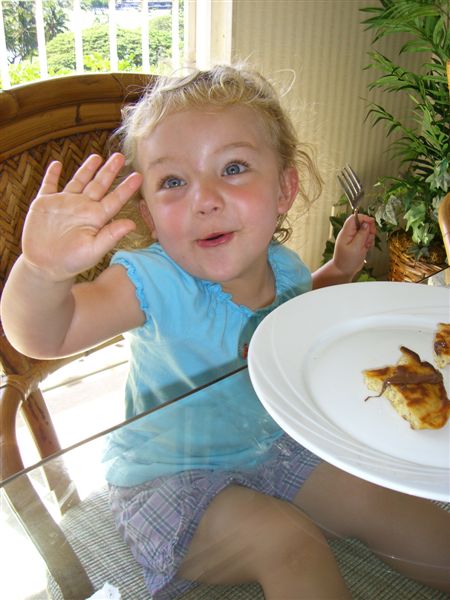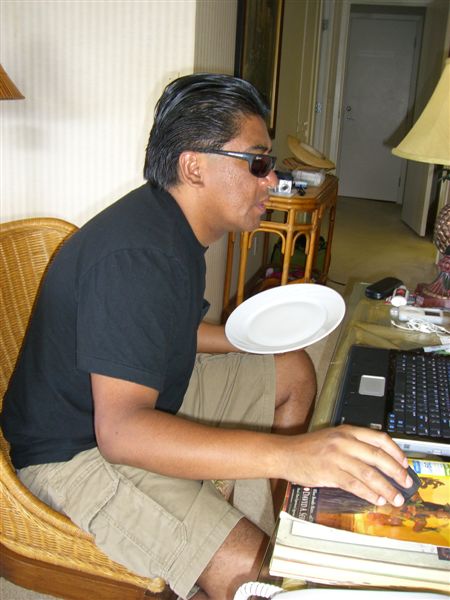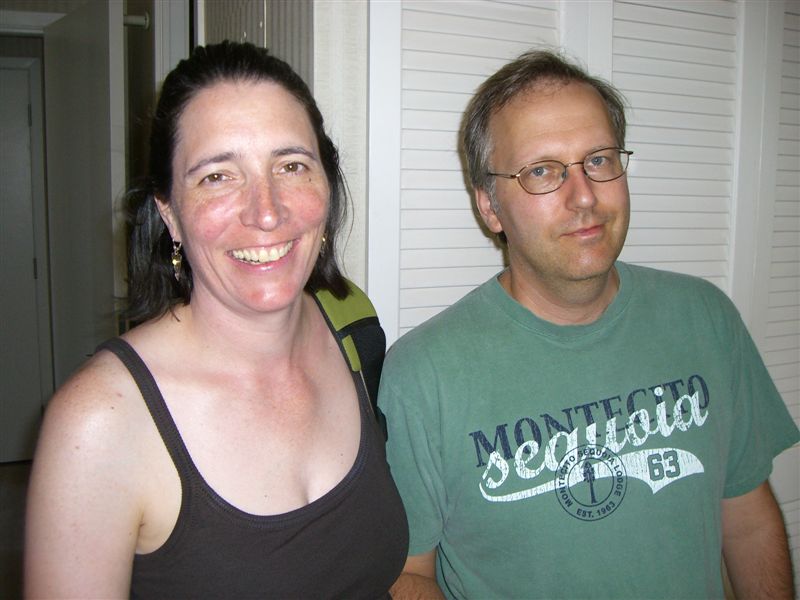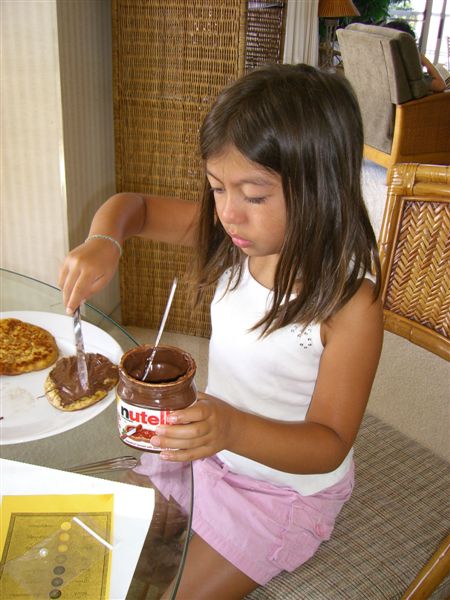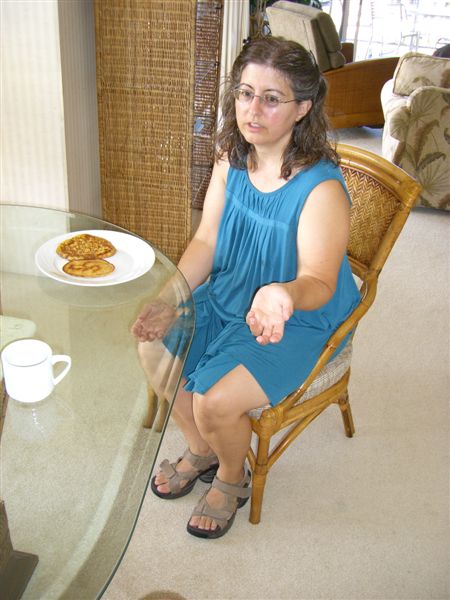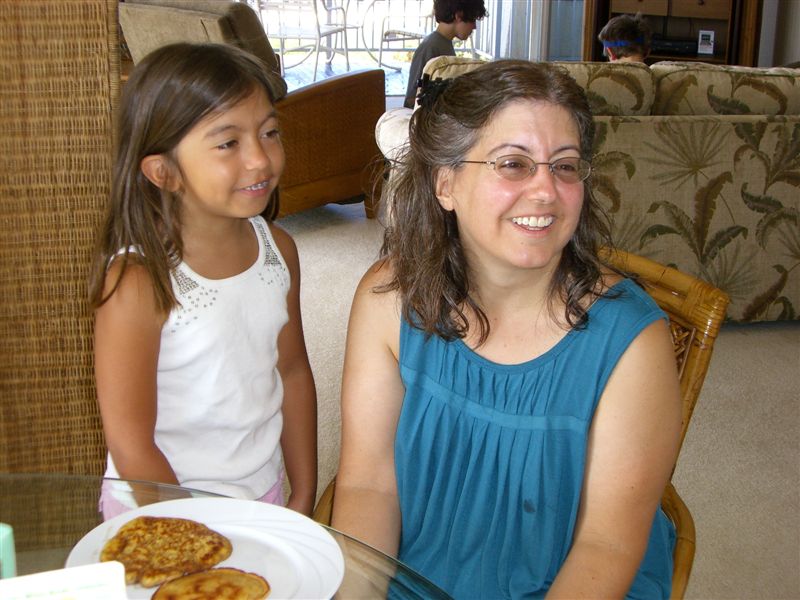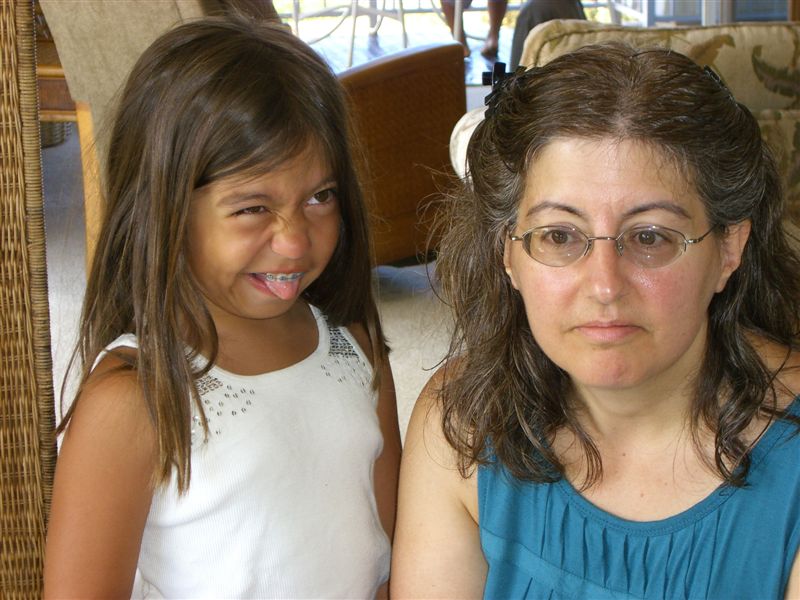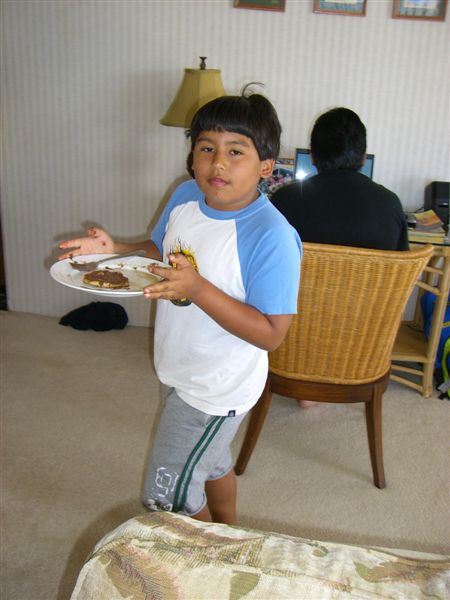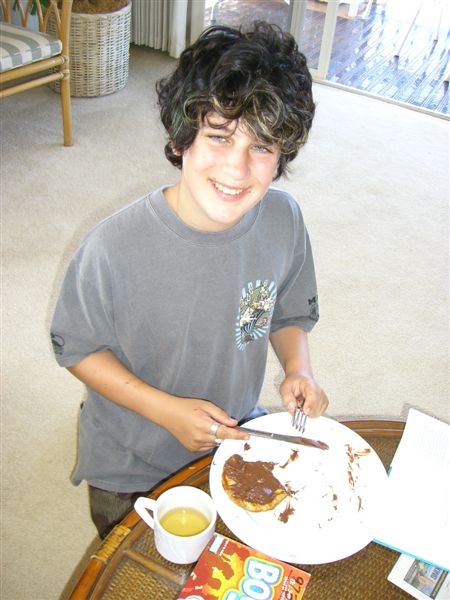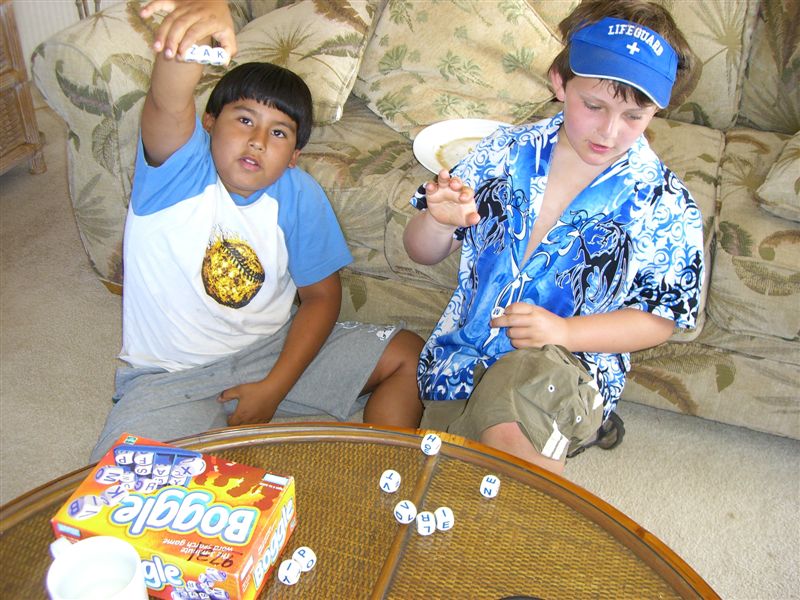 Suzy made gluten-free pancakes. Lots of them. We all had good appetites. Afterward Zak and Francisco played games.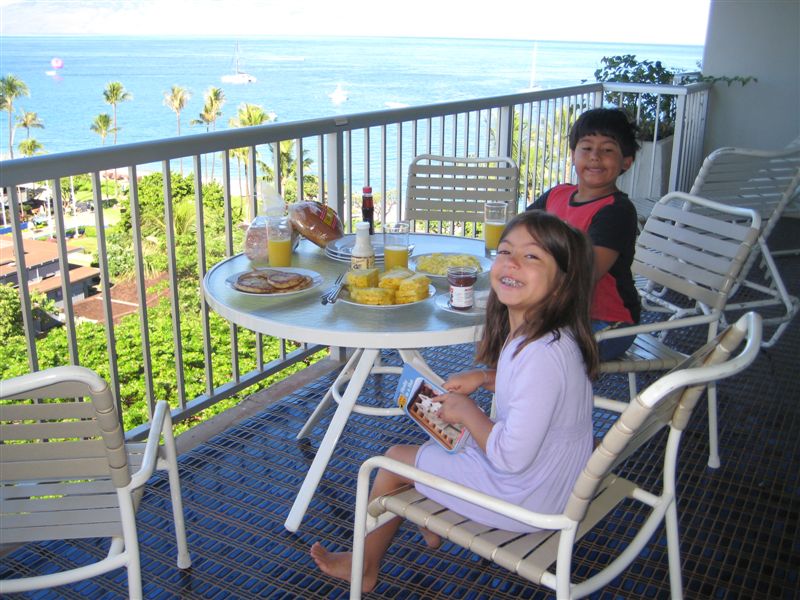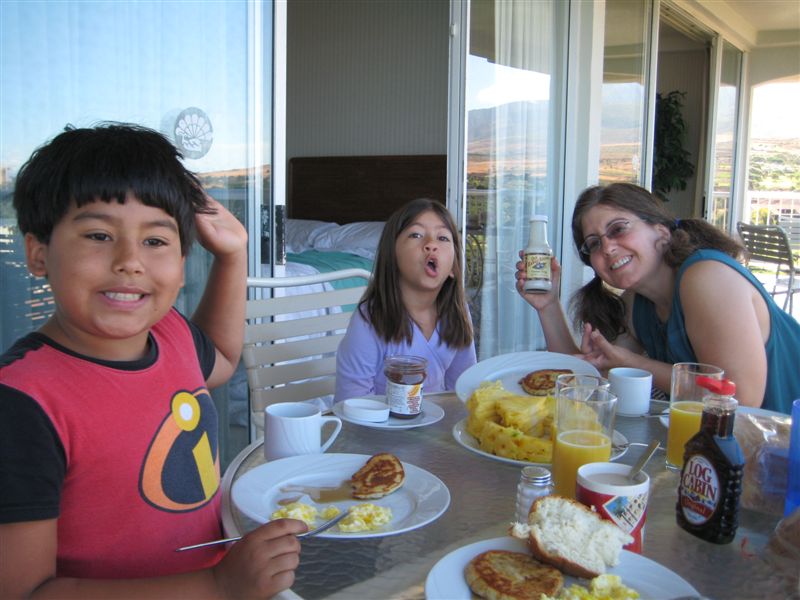 The Suzy's enjoyed other breakfasts on their terrace. There was lots of fresh pineapple.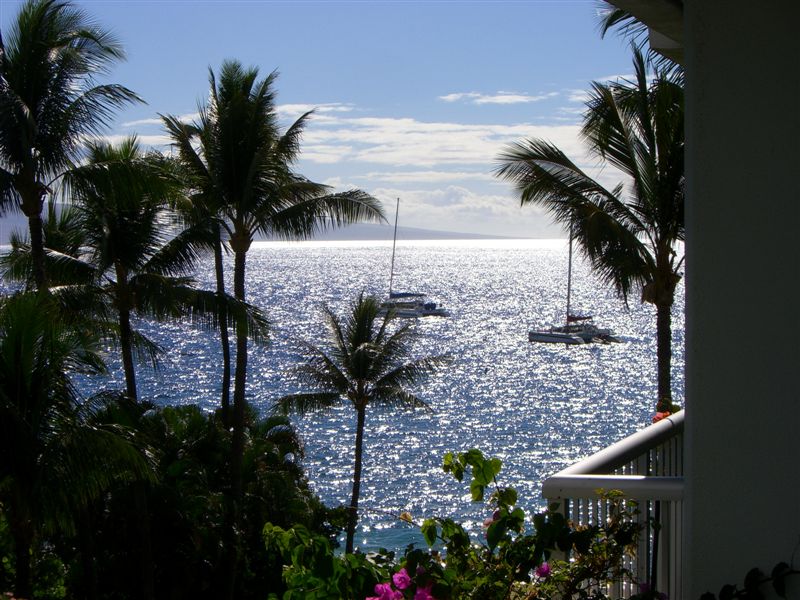 Sunset from Grammy and Grandpa's terrace.
Here are some photos from Kapulua Beach, a location about 15 minutes north of our condo
in Kanapali. The beach had a shallow drop-off that allowed snorkelers to see lots of stuff.
Grandpa felt like a Beach Boy.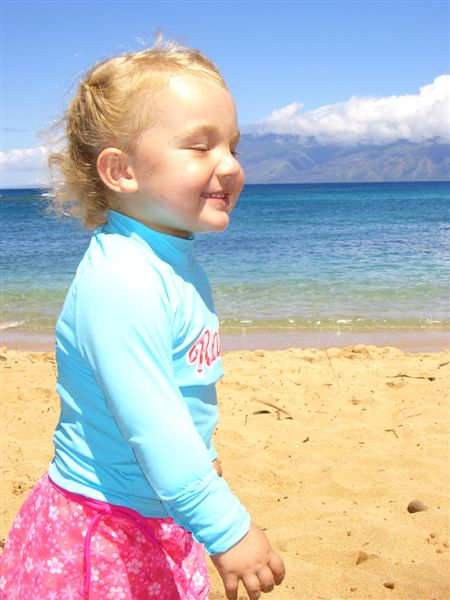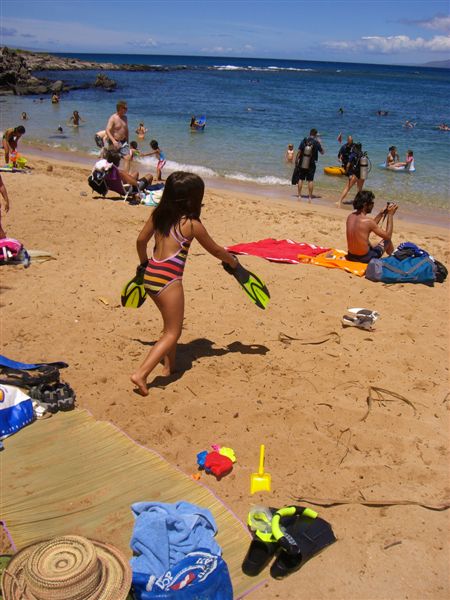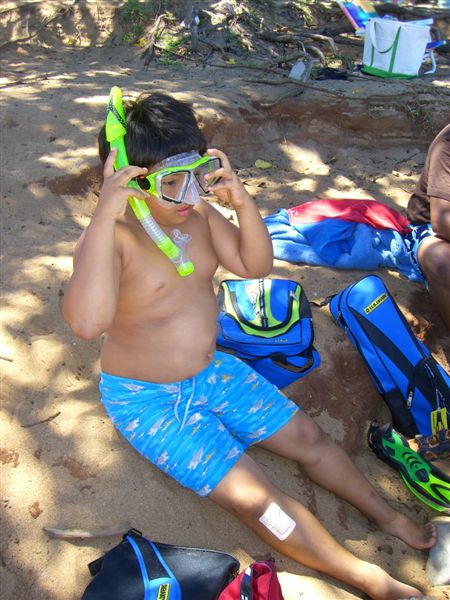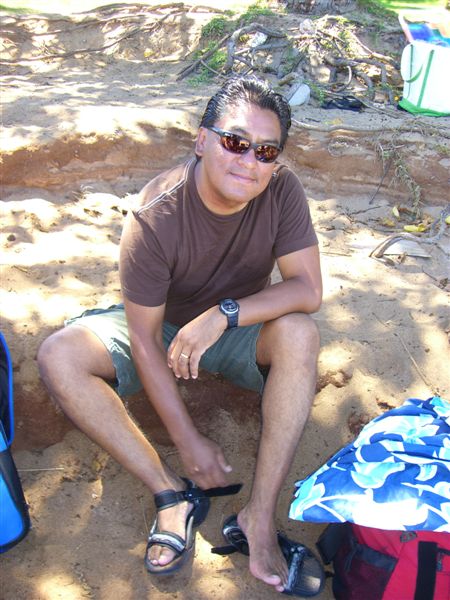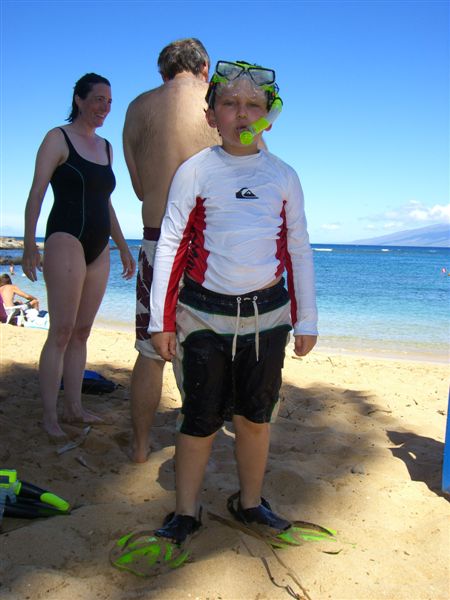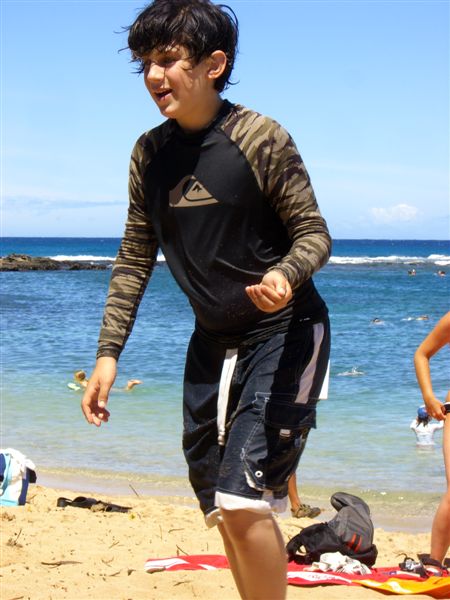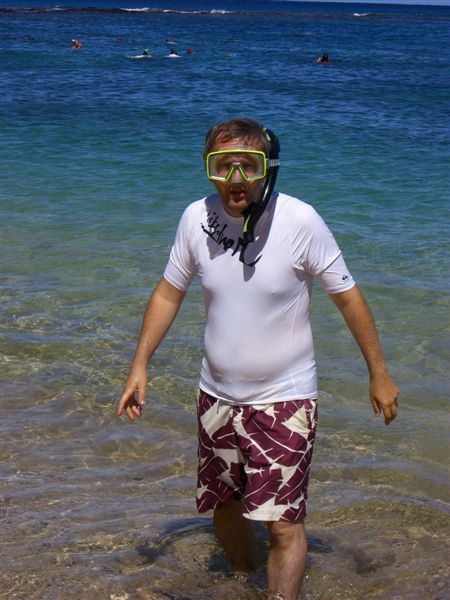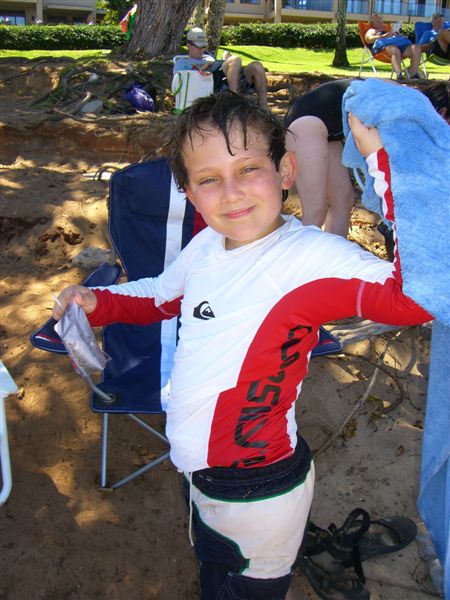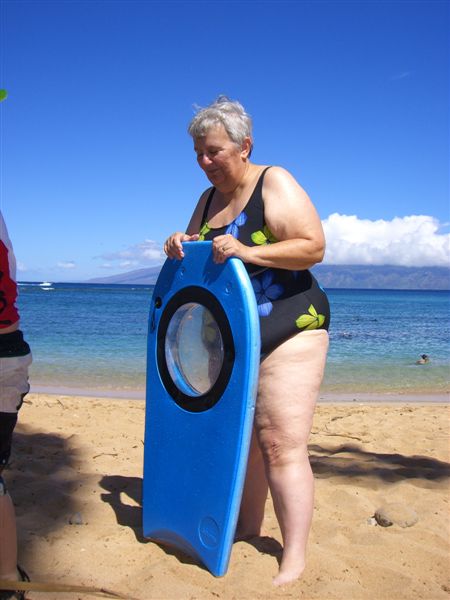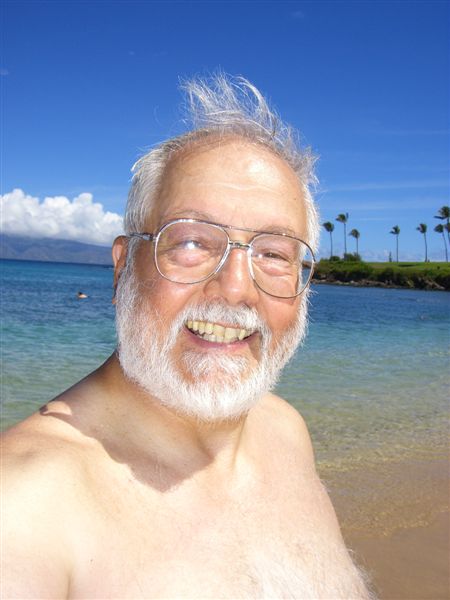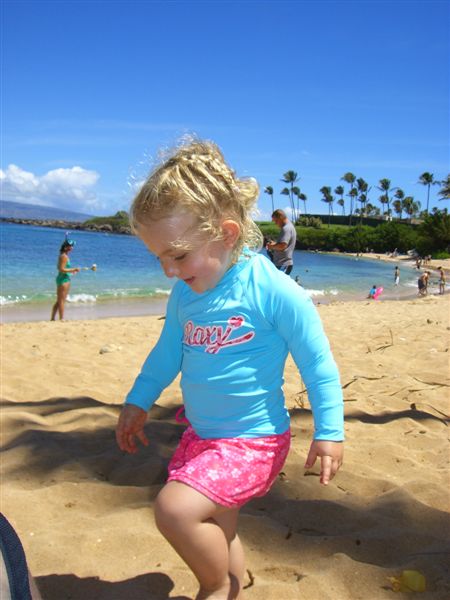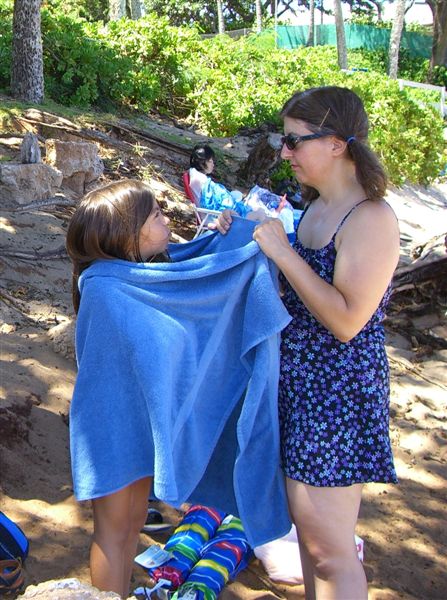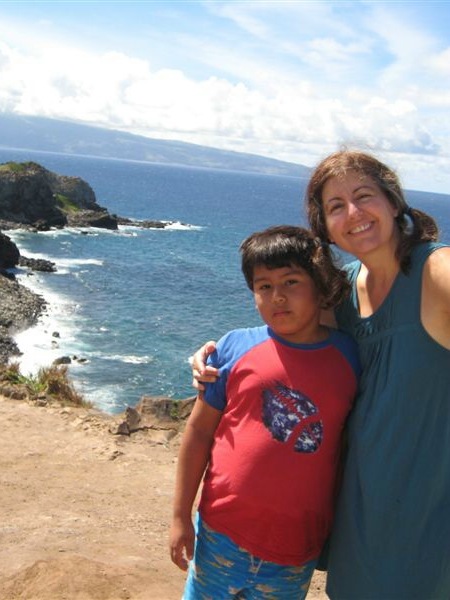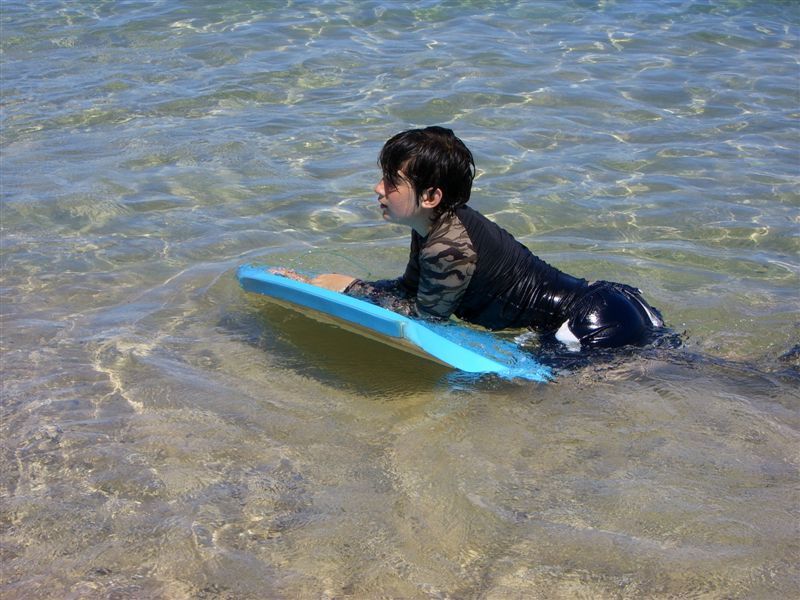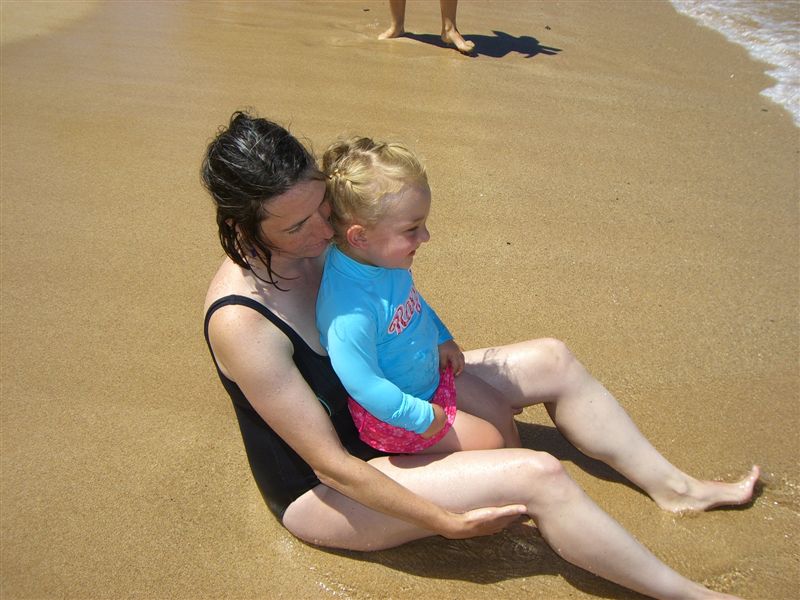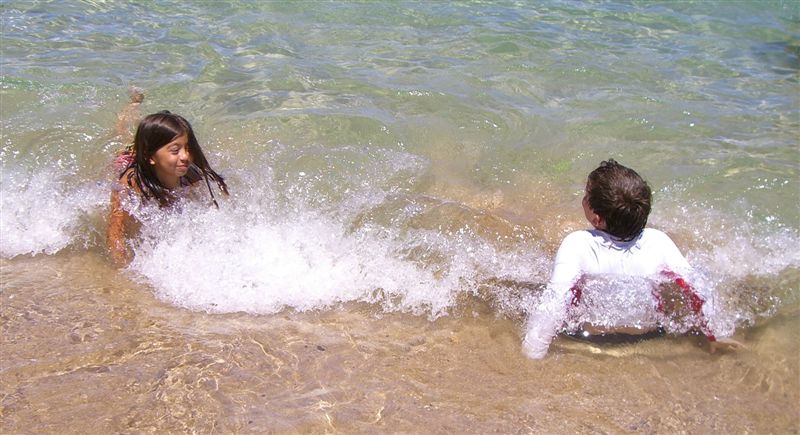 After the beach Grammy and Grandpa went to a tropical plantation.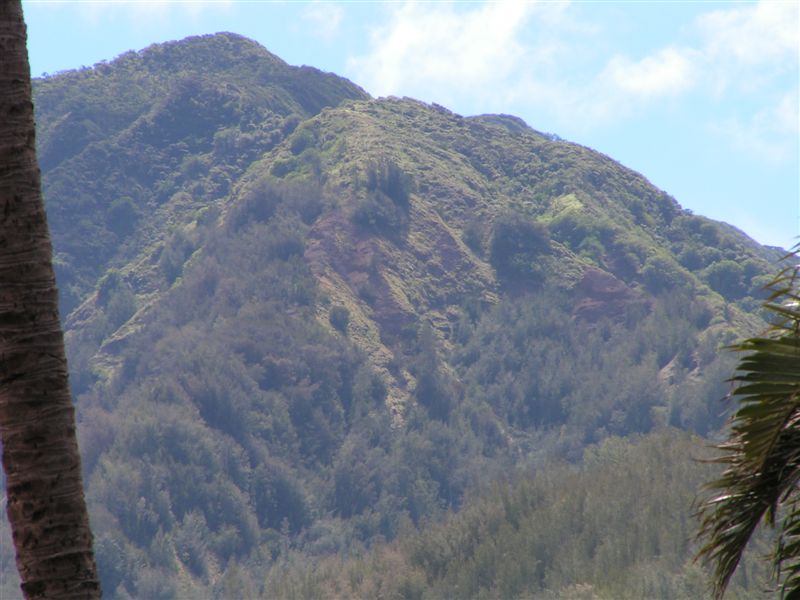 As Randy Newman would say, "It's a jungle out there."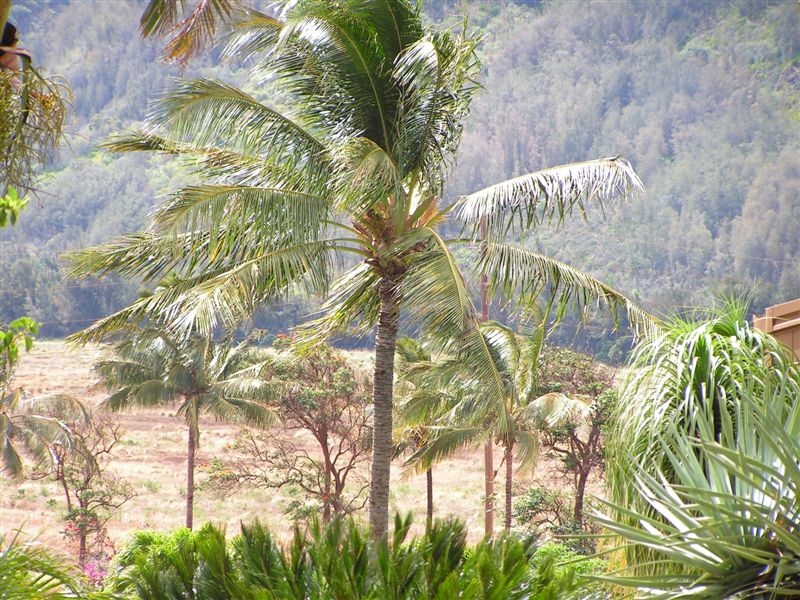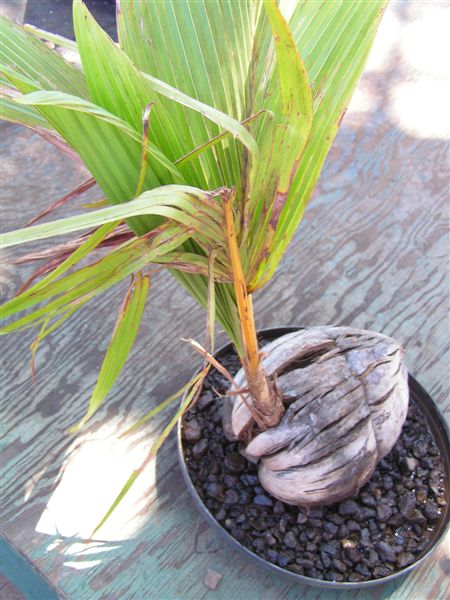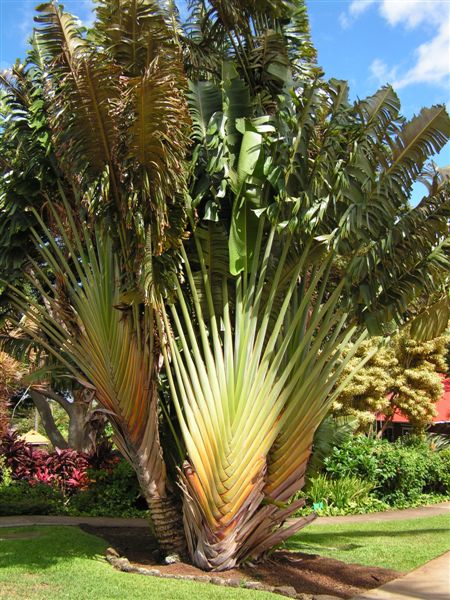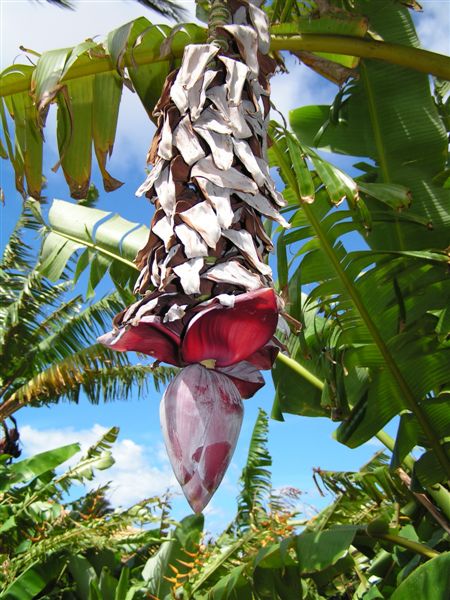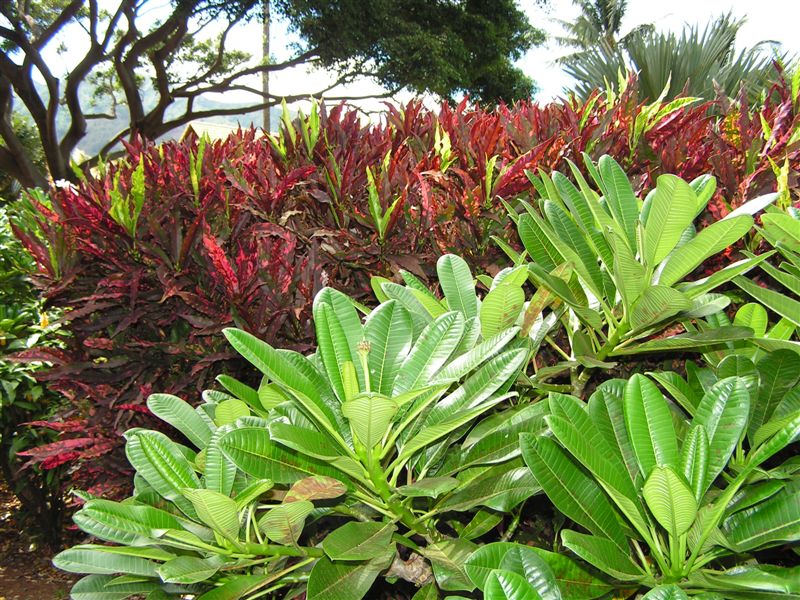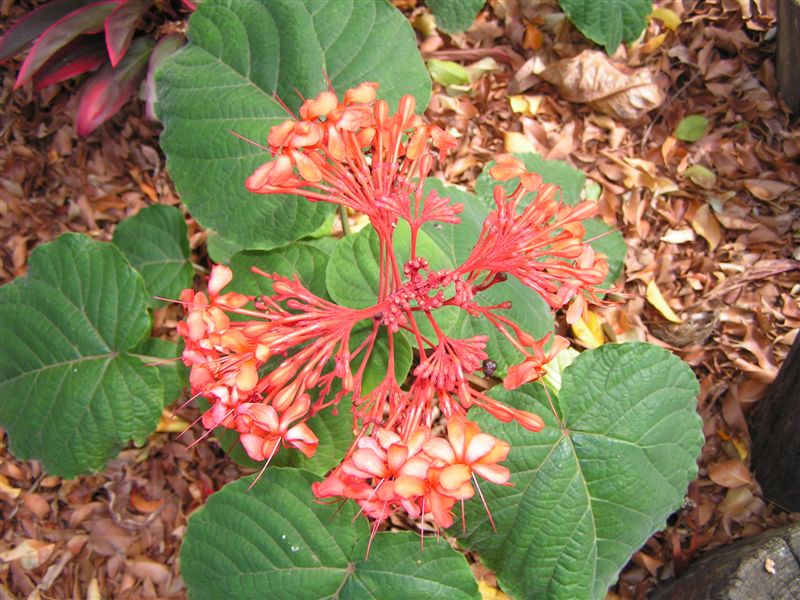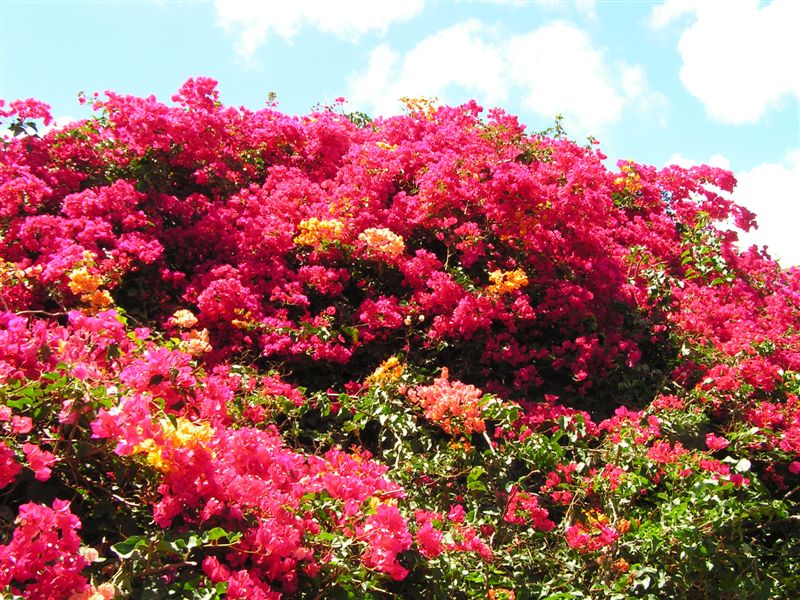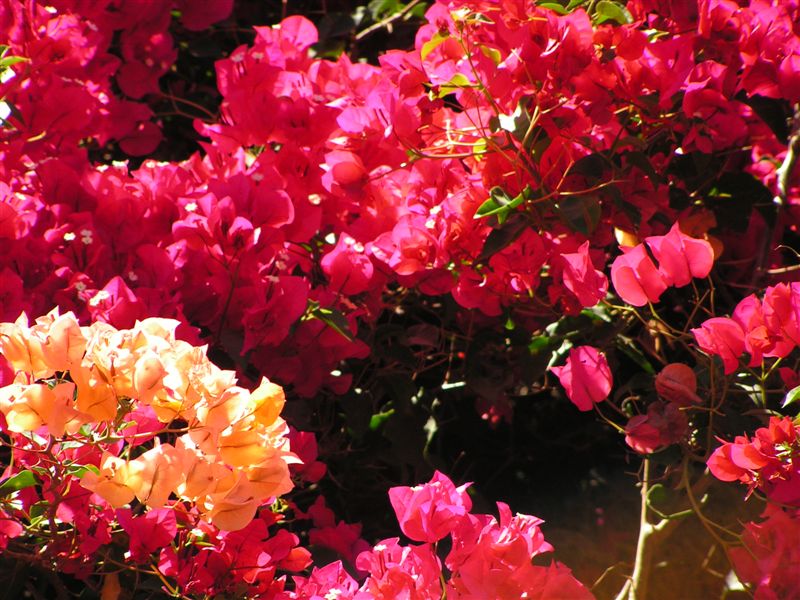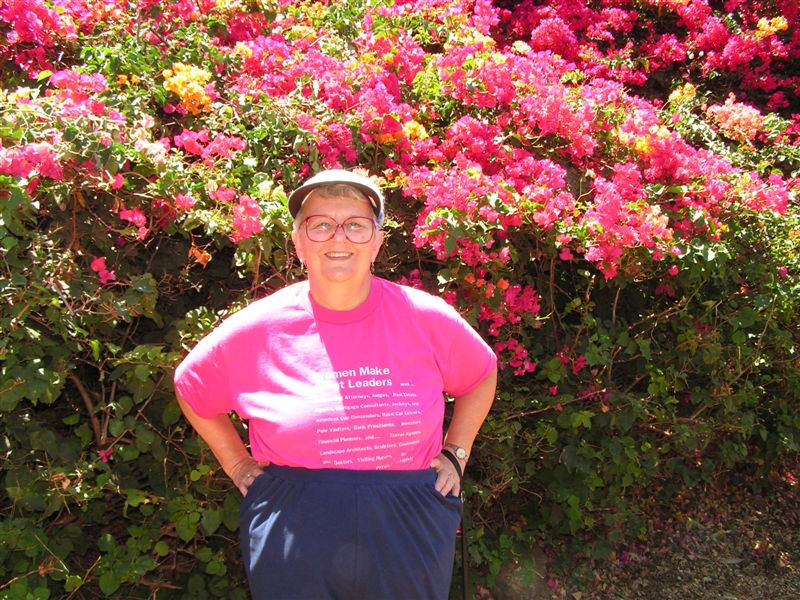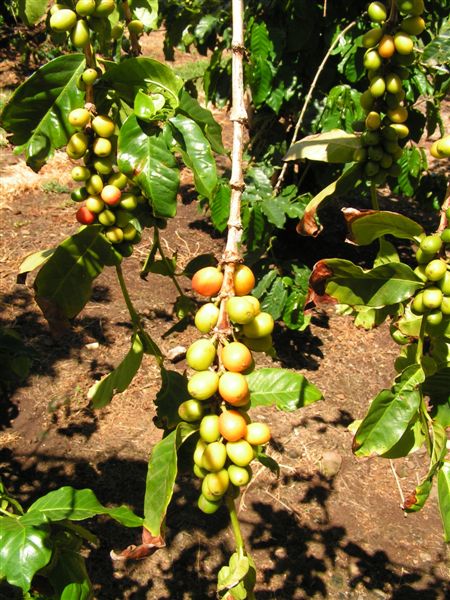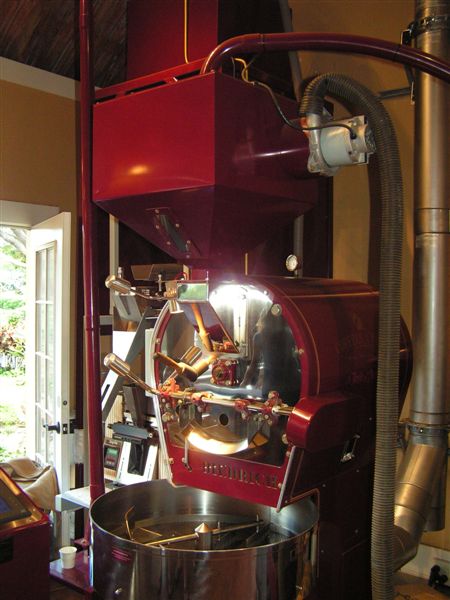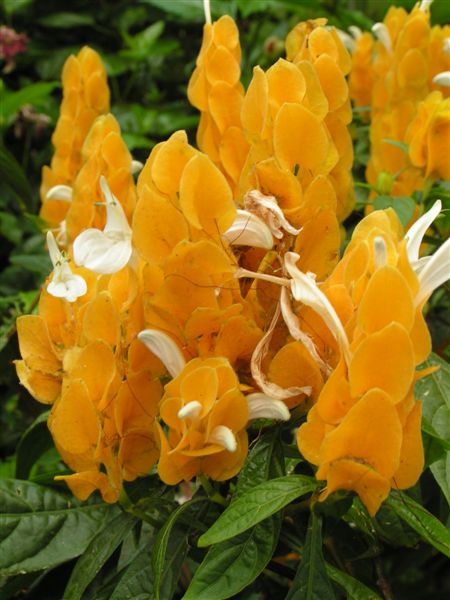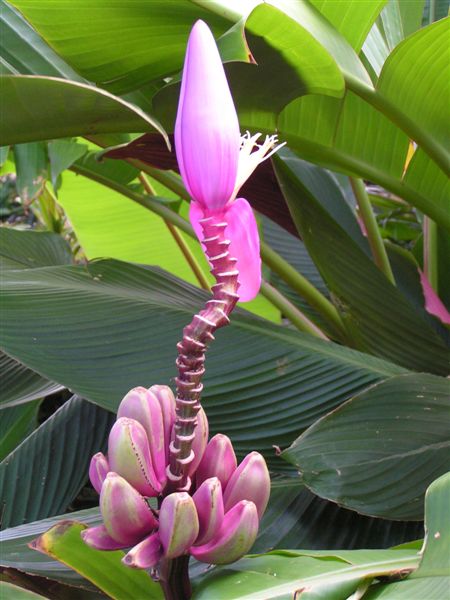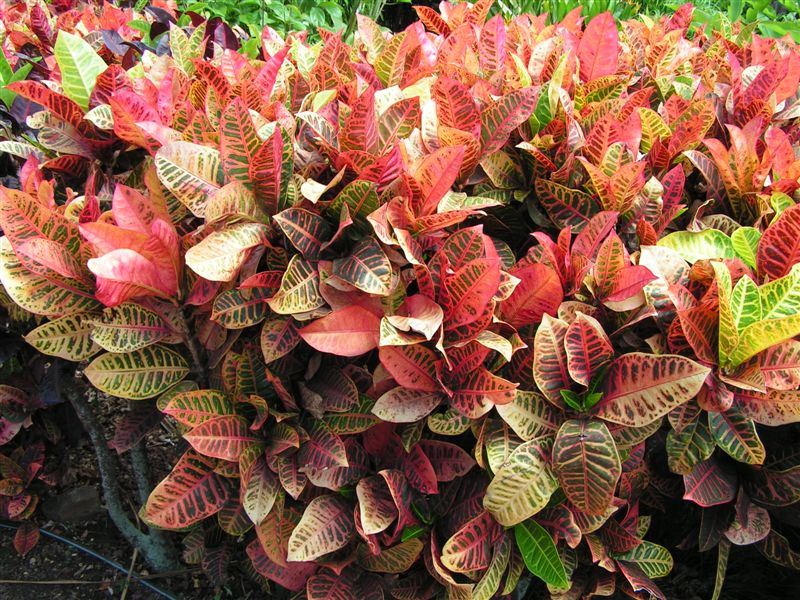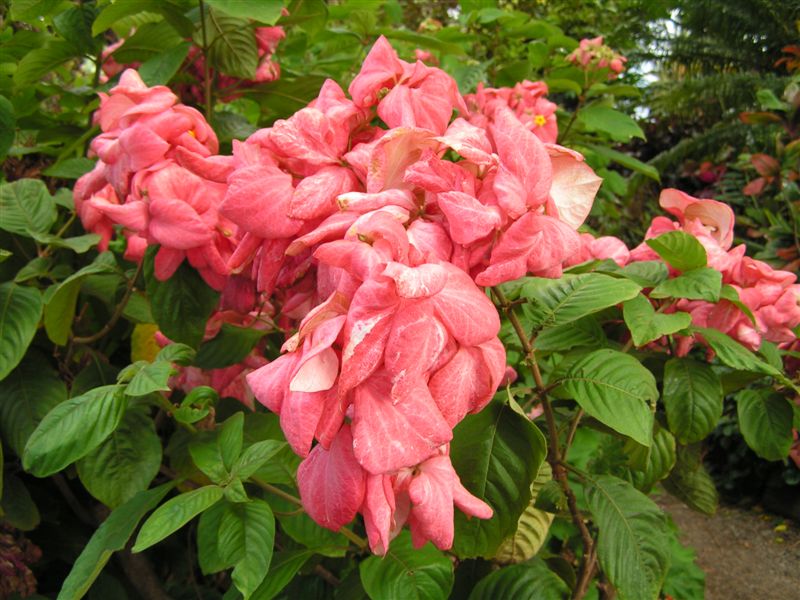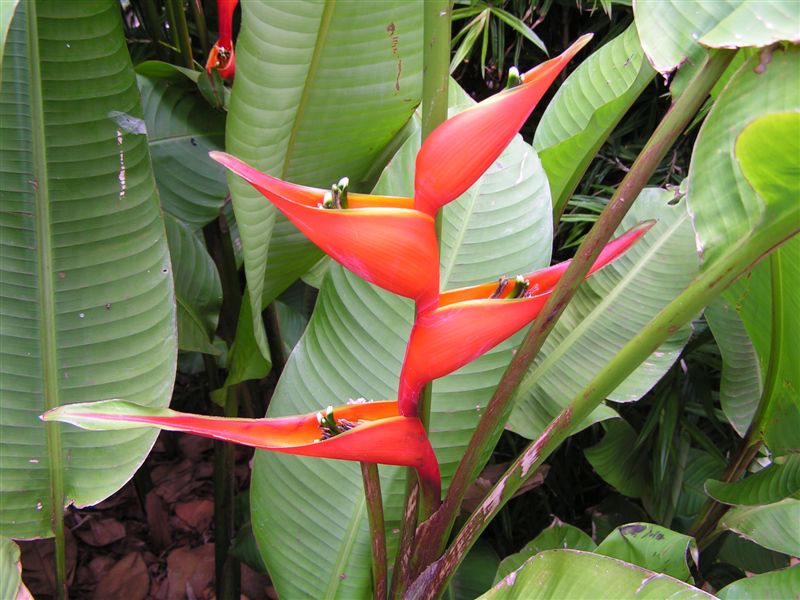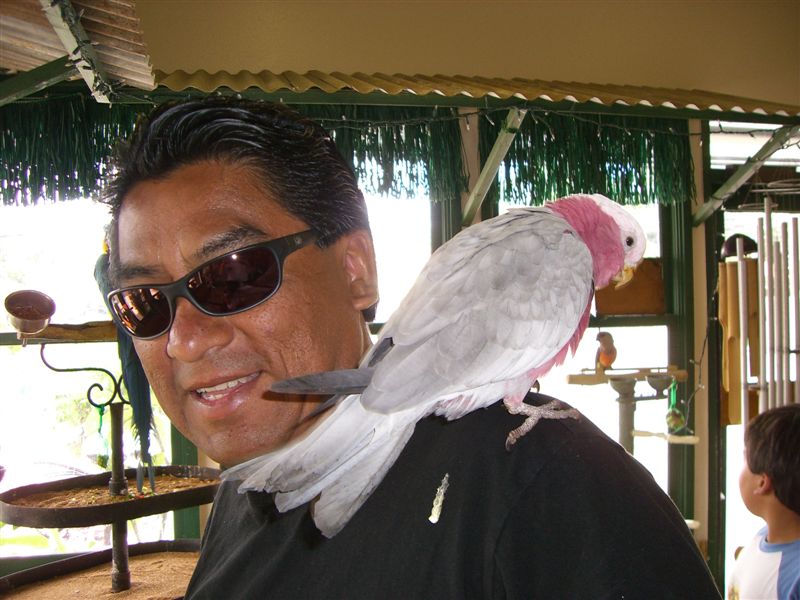 The next day we went back to the greenhouse to visit the parrots. This one left a present on Mundo's shirt.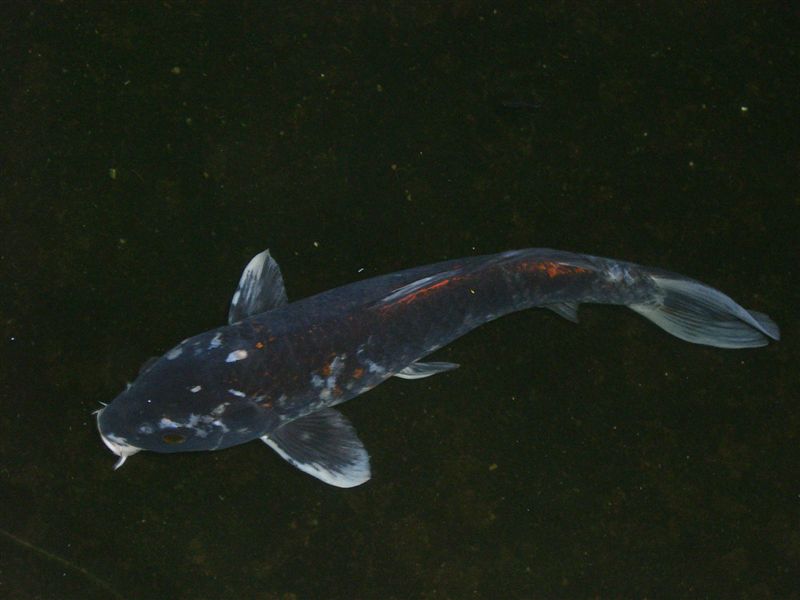 We went to the nearby Hyatt Regency to see the invisible fish.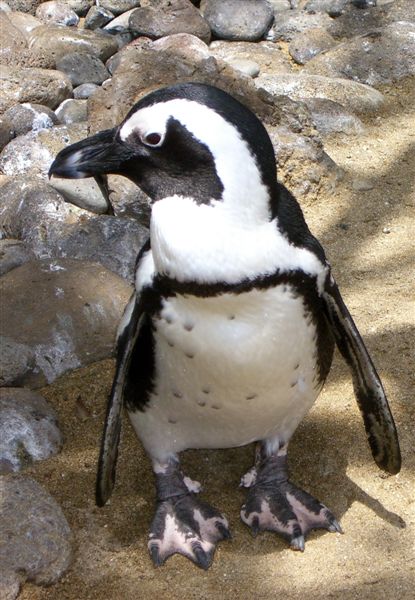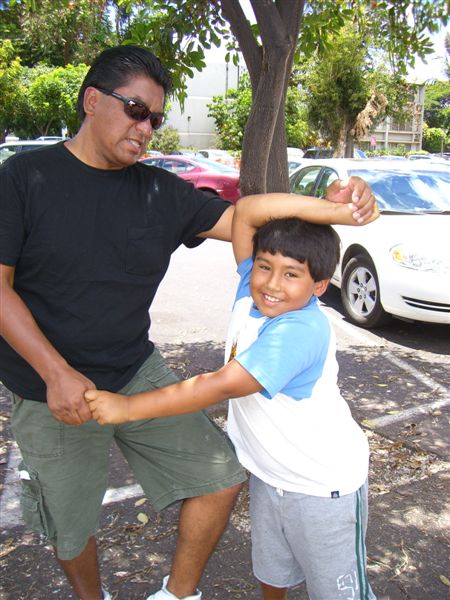 Grandpa saw a penguin. Other people said they could see it too, so he wasn't worried. Mundo and Zak
wrestled. You wouldn't believe how strong Zak is.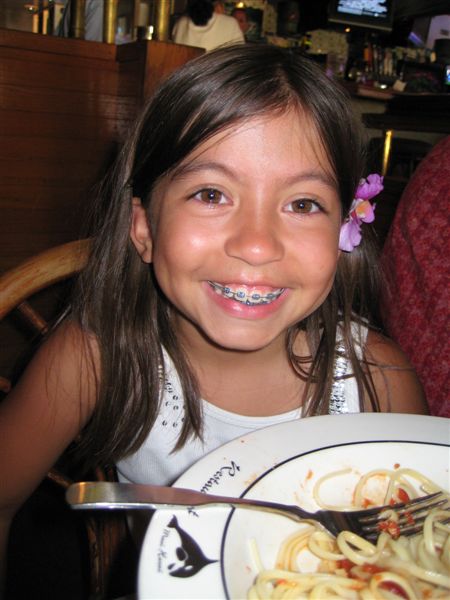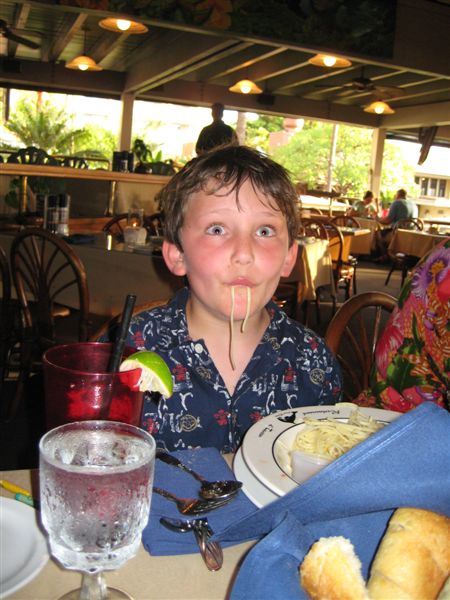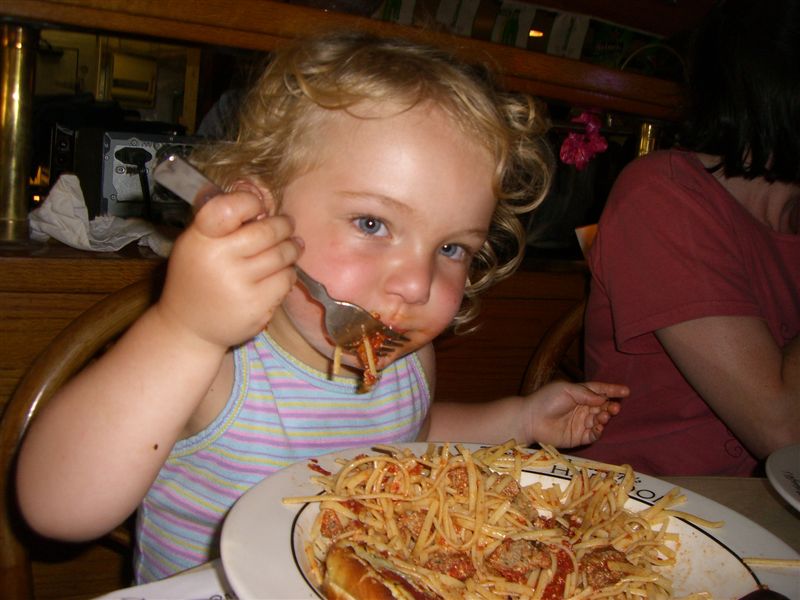 Dinner at the Rusty Harpoon. You've never seen anyone pack away spaghetti like these kids after a day at the beach.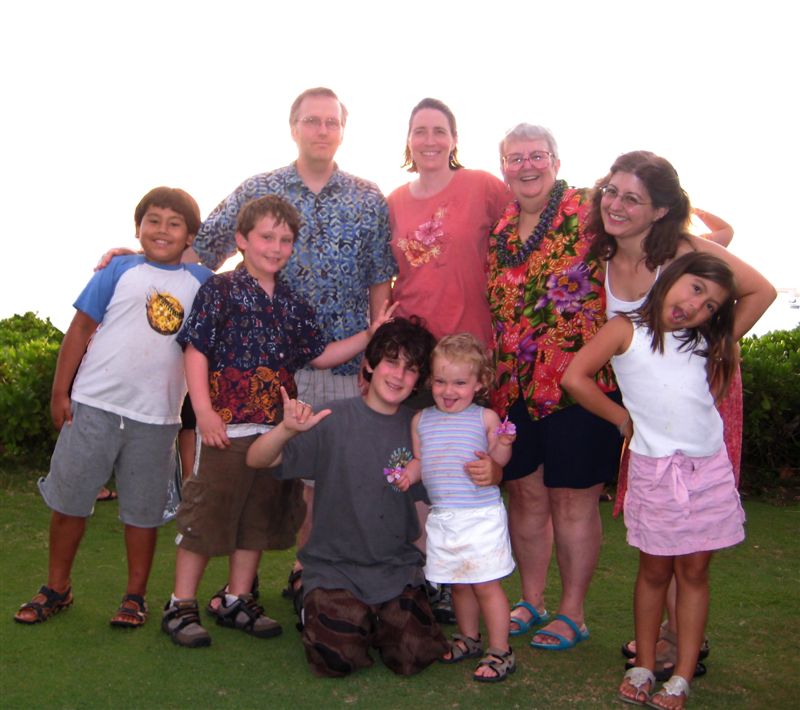 Zak Francisco Eric Cassidy Sandra Isabelle Grammy Suzy and Sofi at the Kanapali sunset.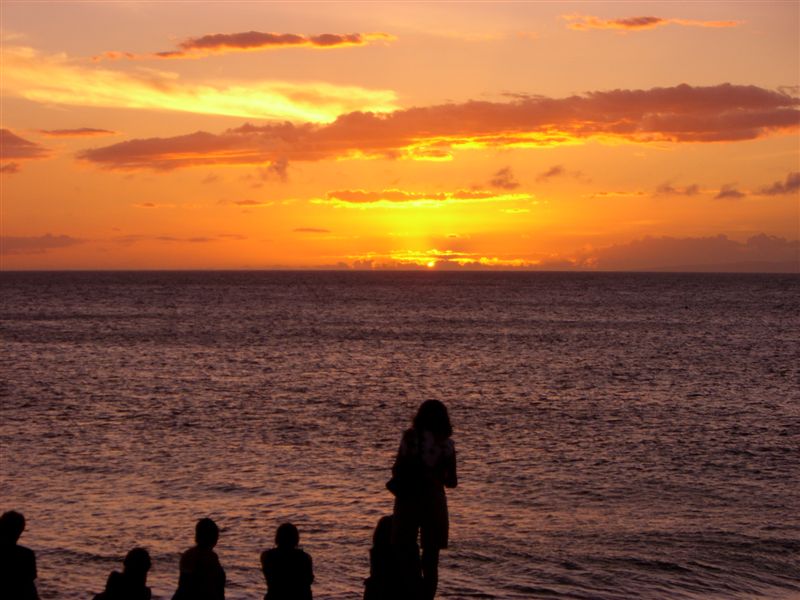 Sunset at Kanapali on the night before we left.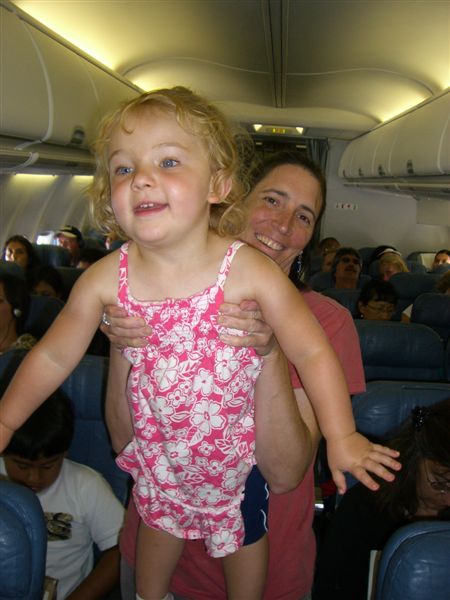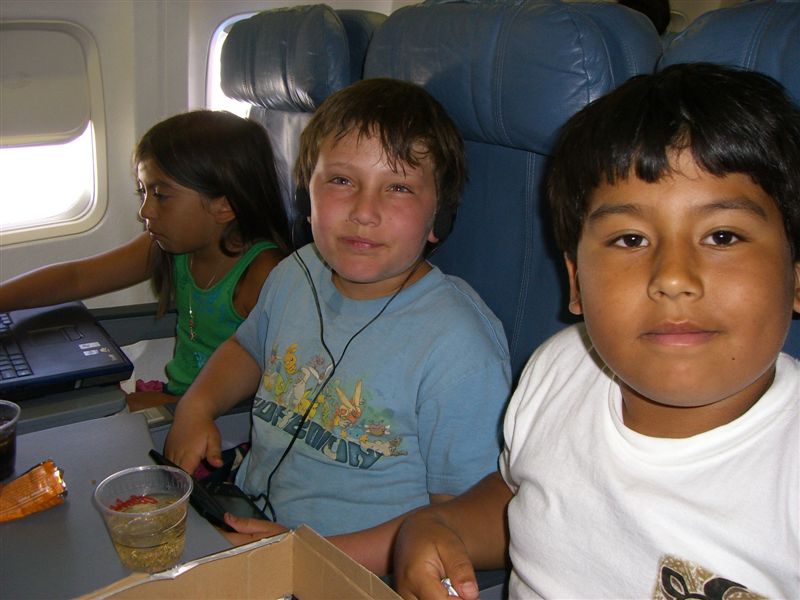 The return flight.
And as the sun sets slowly in the west, we bid a fond farewell to the islands. Aloha, Hawaii.
When we got home...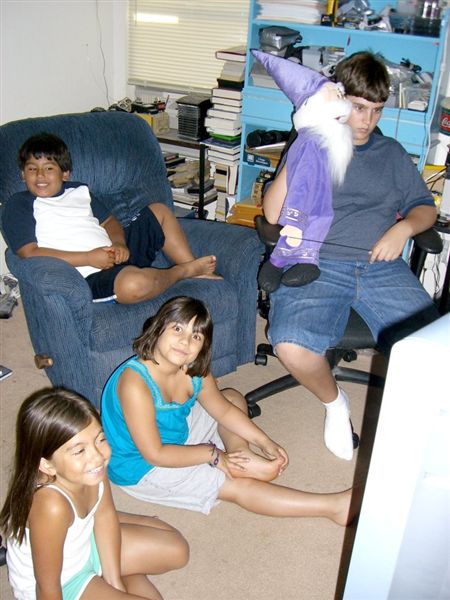 ...the Cindys visited us. Here are Zak, Sofi, Amy, and Evan watching Grandpa's big hi-def TV.
---

You have just seen photos of 09-01-07

Photos from the past year or so.